5 Call Center Trends in the Customer Engagement Market You Can Expect in 2015 - Contact Solutions Inc. - ContactCenterWorld.com Blog
Every industry is competitive—especially the contact center industry, now becoming the Customer Engagement industry which managed the consumer interaction inside and outside the Contact Center. One major way companies compete is by staying up-to-date with current trends and predictions within their specialized industry. The technology industry, for example, is always changing and falling behind can make or break the success of your company.
To avoid following in the footsteps of failed companies, it's imperative that a startup stays very current in the industry it's trying to break into. How can you stay up-to-date in the trends in the call center industry? Below is a list of 5 Call Center trends likely to become wide spread in the year of 2015.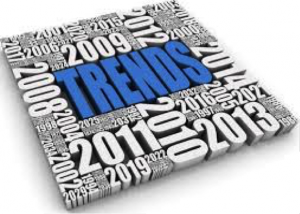 Browsers and WebRTC
How promising are browser-based call center solutions? Well, promising enough to allow Talkdesk, a brower based call center, to acquire $3.15 million in funding as of October 2014.1 Ease of use, accessibility, security, and cost efficiency are just few examples of how a browser-based call centers are superior to their hard drive running counterpart.
WebRTC, a set of protocols that utilizes various APIs to enable browser video, voice, screen and P2P file sharing, is able to provide call centers with a reliable, fully integrated solution for their communication needs. WebRTC is a major reason for the upcoming trend of browser-based call center solutions. Here are a just a few of the benefits that call center companies derive from browser and WebRTC integration:
Ease of use: A browser-based call center solution requires no installation and is accessible from any computer with an Internet connection and a browser.
Seamless integration: A browser-based call center solution provides seamless integration through standardized web protocols.
Reduced costs: By switching to browser-based call centers, companies are able to reduce the costs of their PSTN calls.
Security: WebRTC is a browser-based protocol; as such, it utilizes many of the modern day security protocols available to a web API.
Enhanced communications: browser-based call center solutions are able to provide a more interactive UI with more available functionalities to its users.
Brower-based contact centers provide a significant increase in functionality and efficiency with little to no drawbacks. As a result, it's easy to see why it is on track to be a major trend of 2015.
BPM and Work Flow optimization
BPM, through information technology, increases efficiency by optimizing business processes. According to Wil van der Aalst, a Business Process Management (BPM) researcher and professor at Eindhoven University of Technology, BPM is "supporting business processes using methods, techniques and software to design, enact, control and analyze operational processes involving humans, organizations, applications, documents and other sources of information."2
By implementing BPM, a company is able to optimize their business processes and benefit in the following ways:
Increased visibility: BPM makes all processes visible. Having little to no visibility is the reason why business processes are able to get away with gross inefficiencies.
Obtain analyses: In the absence of BPM, business processes are tough to analyze. BPM allows businesses to analyze and optimize their business processes that will result in increased efficiency and optimization.
Security: Companies find BPM to be a useful tool in fraud prevention, auditing, and assessment of regulation compliance.
Efficiency: Whether through convergence, reduced lead-times, increased potential to identify areas in need of optimization, or a better understanding and definition of in-company duties, BPM can drastically improve a company's efficiency.
Video
Video was a major addition to customer service support in 2014. The trend is unlikely to halt in 2015 and is, instead, expected to grow at a rapid rate. Video is a tool that companies are able to use to increase customer support through enhanced human interaction.
In January 2015, AT&T announced its plans to support WebRTC by allowing their customers to transfer their video calls to their smartphones without dropping the data.4 Microsoft also announced their support of video calling by promising WebRTC integration with Skype and Internet Explorer. As a result, it appears that browser-based video calling will become an industry standard and a major call center trend this year.
Gamification
According to the Oxford English Dictionary, gamification is "the application of typical elements of game playing (e.g. point scoring, competition with others, rules of play) to other areas of activity, typically as an online marketing technique to encourage engagement with a product or service."5 Although the term Gamification has been around since 2002, it has started to to gain more popularity over the years.
In 2011, Gartner, a world leader in information technology research and advisory, said, "By 2015, more than 50 percent of organizations that manage innovation processes will gamify those processes."7 Gartner's analysis was proven correct due to a survey conducted in February 2013 that revealed more than 70 percent of Forbes Global 2000 companies were either already implementing or had plans to implement gamification.
Because gamification is designed to encourage engagement with a product or service, it is not surprising that call centers are interested in how gamification can help them make their job more interesting to their employees.
Cloud-Based Software
As previously stated, Gartner has predicted many of the IT industry's trends. In October 2014, Gartner said, "Cloud is the new style of elastically scalable, self-service computing, and both internal applications and external applications will be built on this new style."
Cloud-based call center solutions offer fulfilling company's scalability, reliability, speed, reduced costs, increase capabilities and much more. Cloud utilization has seen remarkable growth over the past year and as a result, 2015 is now posed for an explosive takeoff of cloud utilization in call centers.
NexxPhase
NexxPhase, the leading Customer Engagement solution provider, is more then just a Cloud Call Center Provider. NexxPhase streamlines the way businesses digitally interact, communicate and operate with others in the industry. Optimizing the consumer interaction that drive loyalty and revenue.
As a company that enjoys being on the leading edge of the industry, NexxPhase makes every effort to stay ahead on industry trends and open standards for innovation. Allowing our customers that competitive and differentiated advantage they look to us for.
——–
1 Kia Kokalitcheva, "Talkdesk grabs $3.15M for Its 'Call Center in the Browser," Venture Beat, September 16, 2014, http://venturebeat.com/2014/09/16/talkdesk-grabs-3-15m-for-its-call-center-in-the-browser/
2 Ryan K. L. Ko, "A Computer Scientist's Introductory Guide to Business Process Management (BPM)," Crossroads, June 2009 http://dl.acm.org/citation.cfm?id=1558897.1558901&coll=ACM&dl=ACM
4 Micah Singleton, "AT&T is the First US Carrier to Support WebRTC," The Verge, January 5, 2015, http://www.theverge.com/2015/1/5/7494745/att-first-us-carrier-support-webrtc
5 "Oxford Dictionaries," Oxford University Press, February 27, 2015, http://www.oxforddictionaries.com/us/definition/american_english/gamification
6 Simon Carless, "AGDC: Paharia, Andrade On Making Dunder Mifflin Infinity," Gamasutra, September 17, 2008, http://www.gamasutra.com/php-bin/news_index.php?story=20288
7 "Gartner Says By 2015, More Than 50 Percent of Organizations That Manage Innovation Processes Will Gamify Those Processes," Gartner Press Release, April 12, 2011, http://www.gartner.com/newsroom/id/1629214
8 Brian Burke, "The Gamificiation of Business," Forbes, January 21, 2013, http://www.forbes.com/sites/gartnergroup/2013/01/21/the-gamification-of-business/
Source: http://www.nexxphase.com/blog/5-call-center-trends-in-the-customer-engagement-market-you-can-expect-in-2015/
Publish Date: April 23, 2015 5:00 AM
---
PREMIUM

Avizent Ltd
(VIEW OUR PAGE)

Advanced AI technology and Natural Language Processing delivered to clients in the Cloud that harnesses both voice and digital conversations. The focus is on building an environment where intelligent ...

(view more)

PREMIUM

HigherGround, Inc.
(VIEW OUR PAGE)

HigherGround develops data collection, information storage, and interaction analytics solutions that easily transform data into actionable intelligence, enabling operational optimization, enhanced per...

(view more)

PREMIUM

ConceptCall
(VIEW OUR PAGE)

Аутсорсинговый контакт-центр ConceptCall| КонцептКолл специализируется на исходящем и входящем телемаркетинге: мы предоставляем услуги по осуществлению холодных звонков и продажи по телефону, проводим...

(view more)
---
View more from
Contact Solutions Inc.
Recent Blog Posts:
| | |
| --- | --- |
| WashingtonExec Features Tim McCurry, Director of IVR Solutions, on Agency Fraud Prevention Strategies | April 15, 2016 5:00 AM |
| Is Your Company Asking the Right Questions During Customer Service Interactions? | March 13, 2016 5:00 AM |
| Cloud-Based Customer Service and Customer Experience: Verint's Acquisition of Contact Solutions | March 2, 2016 5:00 AM |
| Verint Extends Omnichannel Engagement Strategy Deeper into the Enterprise | March 1, 2016 5:00 AM |
| Verint + Contact Solutions: Taking Omnichannel Engagement to New Heights with Real-Time, Contextual Self-Service | February 20, 2016 5:00 AM |
| Don't Let a Blizzard Freeze Your Contact Center | February 4, 2016 5:00 AM |
| Make the Switch to the Cloud | June 9, 2015 5:00 AM |
| 5 Call Center Trends in the Customer Engagement Market You Can Expect in 2015 | April 23, 2015 5:00 AM |
| Why the SaaS Business Model Must Change to RaaS | January 30, 2015 5:00 AM |