Contivio - ContactCenterWorld.com Blog
Automatic Dialers are used to improve agent efficiency in outbound or blended contact centers. If your Sales or Customer Service team has hundreds - or thousands - of numbers to dial, automatic dialing maximizes productivity and saves hours of valuable agent time. With the extra time savings, agents are able to focus on what they do best: speaking to prospects and customers.
In this article, we'll walk you through the various types of automatic dialing options so you can make an informed decision on what's best for your contact center.
What is an Automatic Dialer (Auto Dialer)?
An Automatic Dialer (Auto Dialer) is a piece of technology or software that automatically dials a list of phone numbers so agents don't have to dial manually. Depending on the type of dialer you use and what your goals are, an Auto Dialer will automatically broadcast a message, or connect the line to a live agent. There are several types of Auto Dialers including: Preview Dialer, Progressive Dialer and Predictive Dialer.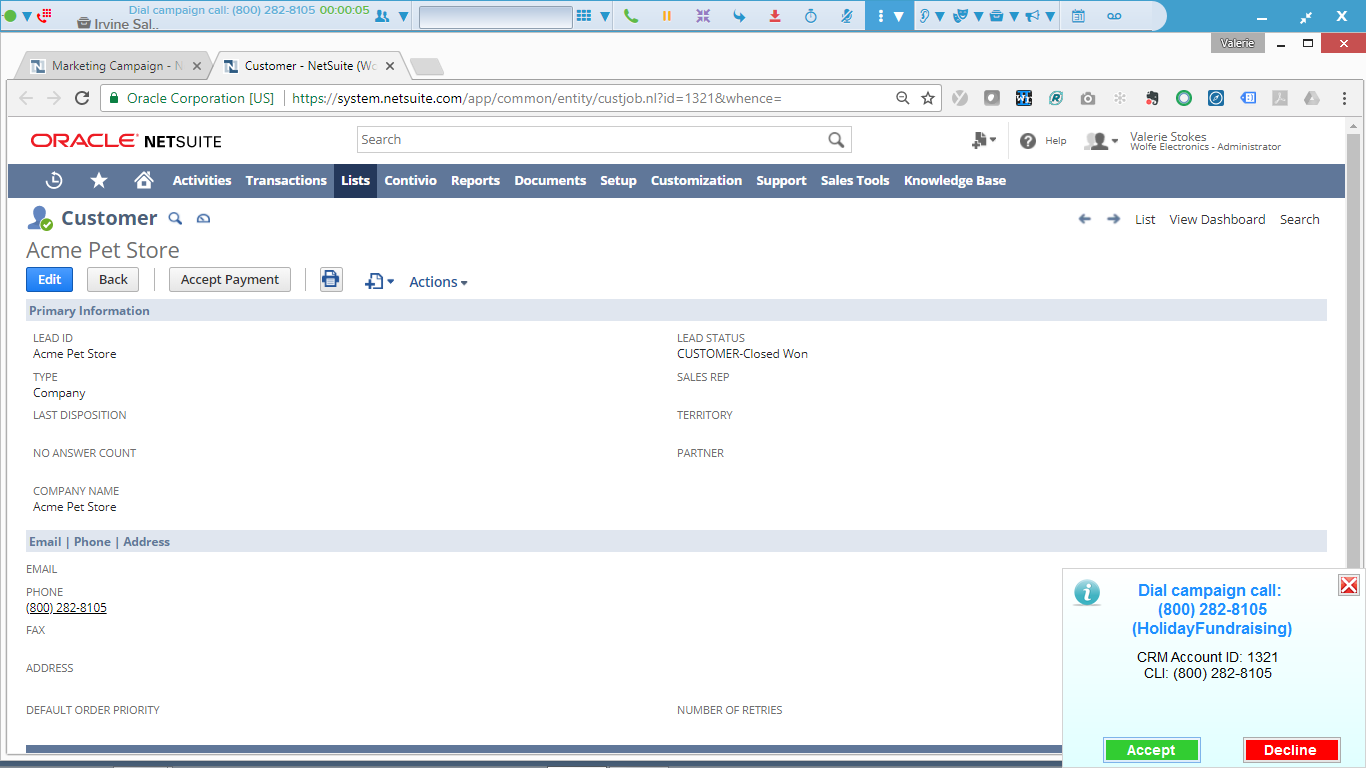 What is a Preview Dialer?
A Preview Dialer is an Auto Dialer that allows agents to "preview" or view information about the contact before dialing. With a Preview Dialer, calls in the campaign list will be offered to agents and only dialed if the agent confirms the dialing (or "accepts" the call).

The benefit of a Preview Dialer campaign is that it gives more power and control to agents, and helps ensure they are fully prepared before speaking to the contact. This approach typically leads to more personalized conversations. If this is the solution for you, we'd recommend choosing a contact center solution that integrates with your CRM so you can screen pop the contact's information and keep track of post-call activities directly within the CRM.
If you're looking for an even quicker way to connect with customers, Predictive or Progressive dialing might be worth exploring.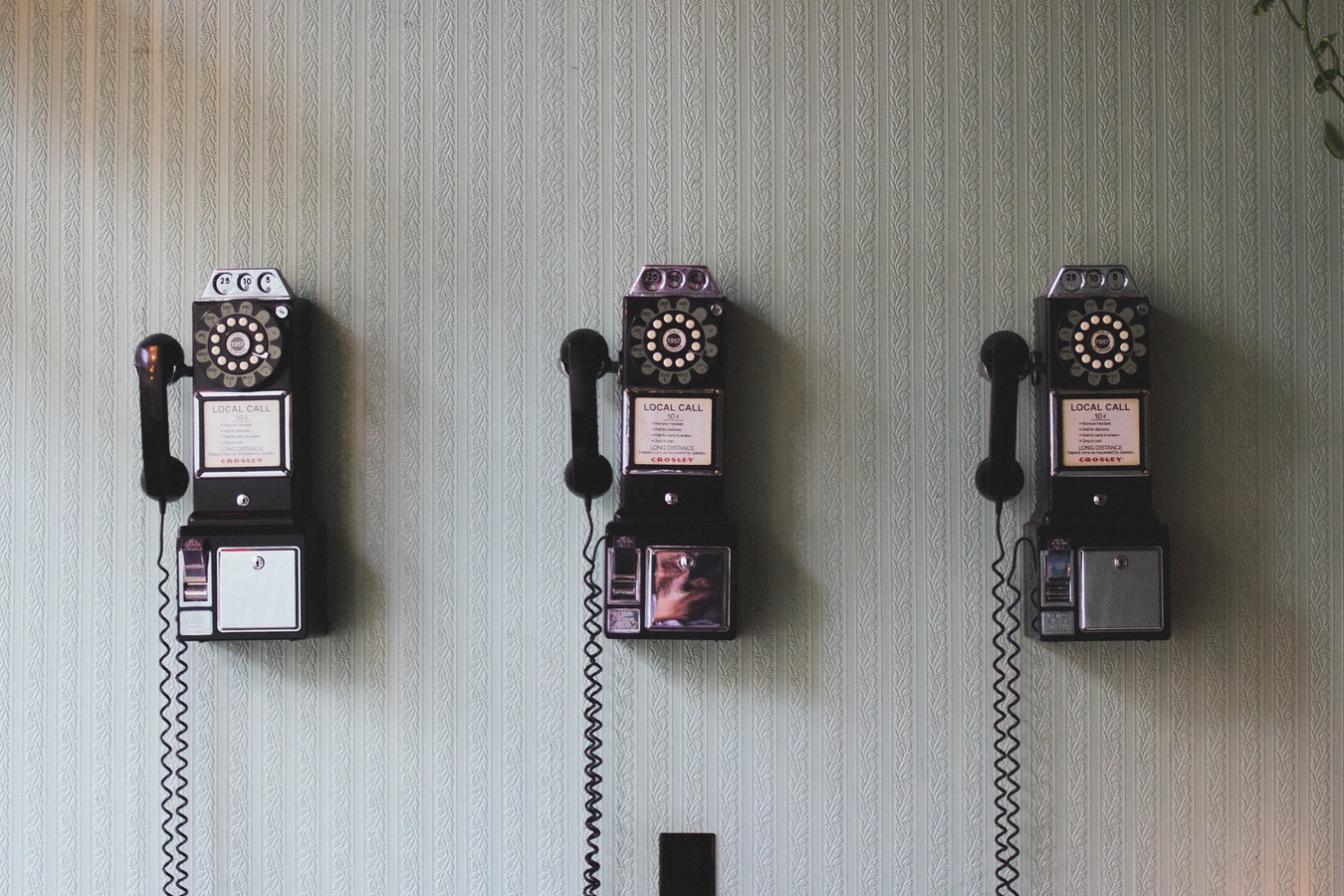 What is a Predictive Dialer?
A Predictive Dialer is an Auto Dialer that dials several contact numbers simultaneously if it predicts there will be enough agents to handle them. Once a call is answered, the Predictive Dialer will automatically connect the contact to a live agent.
Unlike the Preview Dialer where the agent has control over the dialing, the Predictive Dialer places more calls than available agents as it predicts that some of the calls won't be answered due to invalid numbers, or busy lines. In this mode, the contact center administrator or team supervisor can choose to speed up or slow down the dialer to control the number of parallel calls it attempts per agent.
The benefit of a Predictive Dialer is that it places many calls at once, making it faster for you to get in touch with a live contact. However, when using a Predictive Dialer keep in mind that it could lead to a poor user experience if there are no agents available to handle the call after the contact answered - also known as a Call Abandon. To prevent companies from taking advantage of customers, several countries have passed Abandon Rate regulations. For example, the United States has a 3% abandon rate threshold, and considers a call abandoned if the contact isn't connected within 2.6 seconds of answering the call. To avoid any issues, we recommend starting on the conservative side and increasing the dialer speed after reviewing performance.
If this is the solution for you, we'd recommend choosing a contact center solution that allows you to control the speed of dialing, and provides reporting that shows your abandon rates at all times. To start, we find it's best to set the dialer at 2 calls per agent and adjusting based on performance.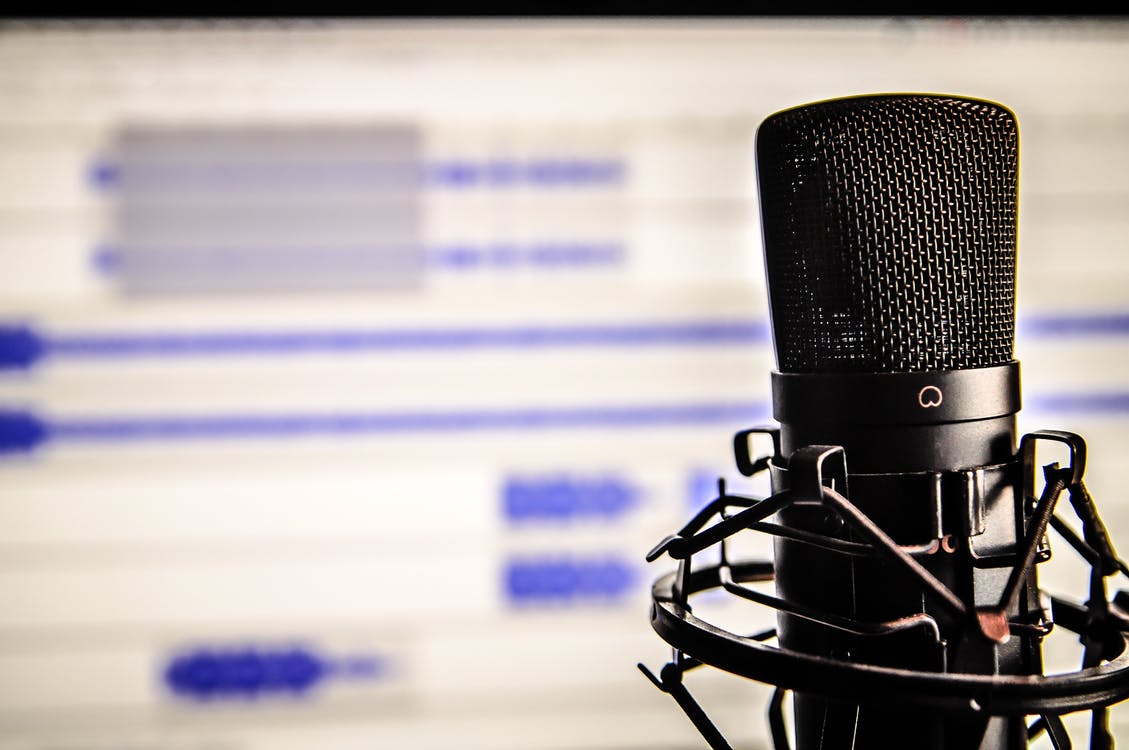 What is Voice Broadcasting?
Voice Broadcasting, used in conjunction with Predictive campaigns, allows you to automatically transmit a message to contacts who answer the phone instead of connecting them to a live agent right away.
A Voice Broadcast can be a simple greeting, promotional message, or a complex series of questions and actions where the final result would determine whether the call should be routed to a live agent, or disconnected. At Contivio, many of our clients use Voice Broadcasting to send alerts or notifications to customers, or survey customers on how their last call went.
Though this is a less personal approach, Voice Broadcasting is a powerful tool that allows you to reach many customers with minimal effort.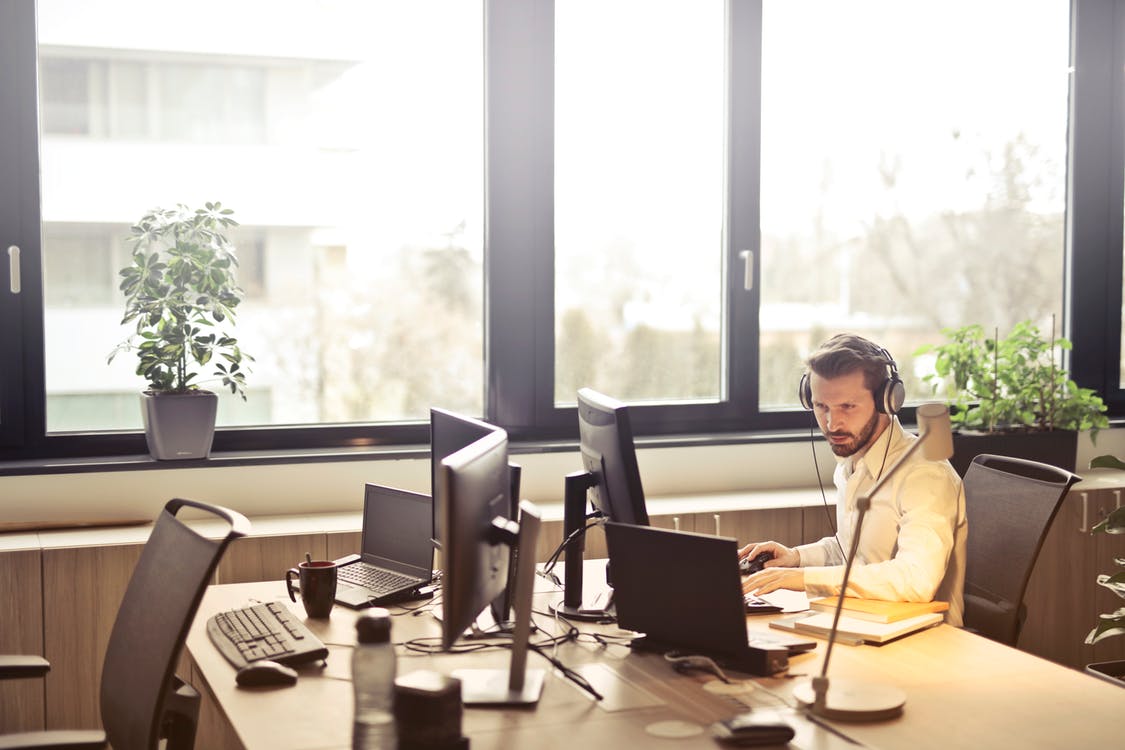 What is a Progressive Dialer?
A Progressive Dialer is similar to a Predictive Dialer, but only dials when there is an agent available, thereby eliminating some of the risks associated with Predictive Dialing. After the contact answers the call, the Progressive Dialer automatically connects the contact to an agent and the agent does not have the option of rejecting the call.
The benefit of a Progressive Dialer is that it ensures you'll always have an agent on hand before dialing a contact, which keeps your organization ahead of abandon rate regulations and helps provide better experiences for customers. The downside of Progressive Dialing is that unlike Preview Dialing, your agents won't be able to read up on their contacts before speaking to them, and you won't be dialing as many contacts as you would if you used Predictive Dialing.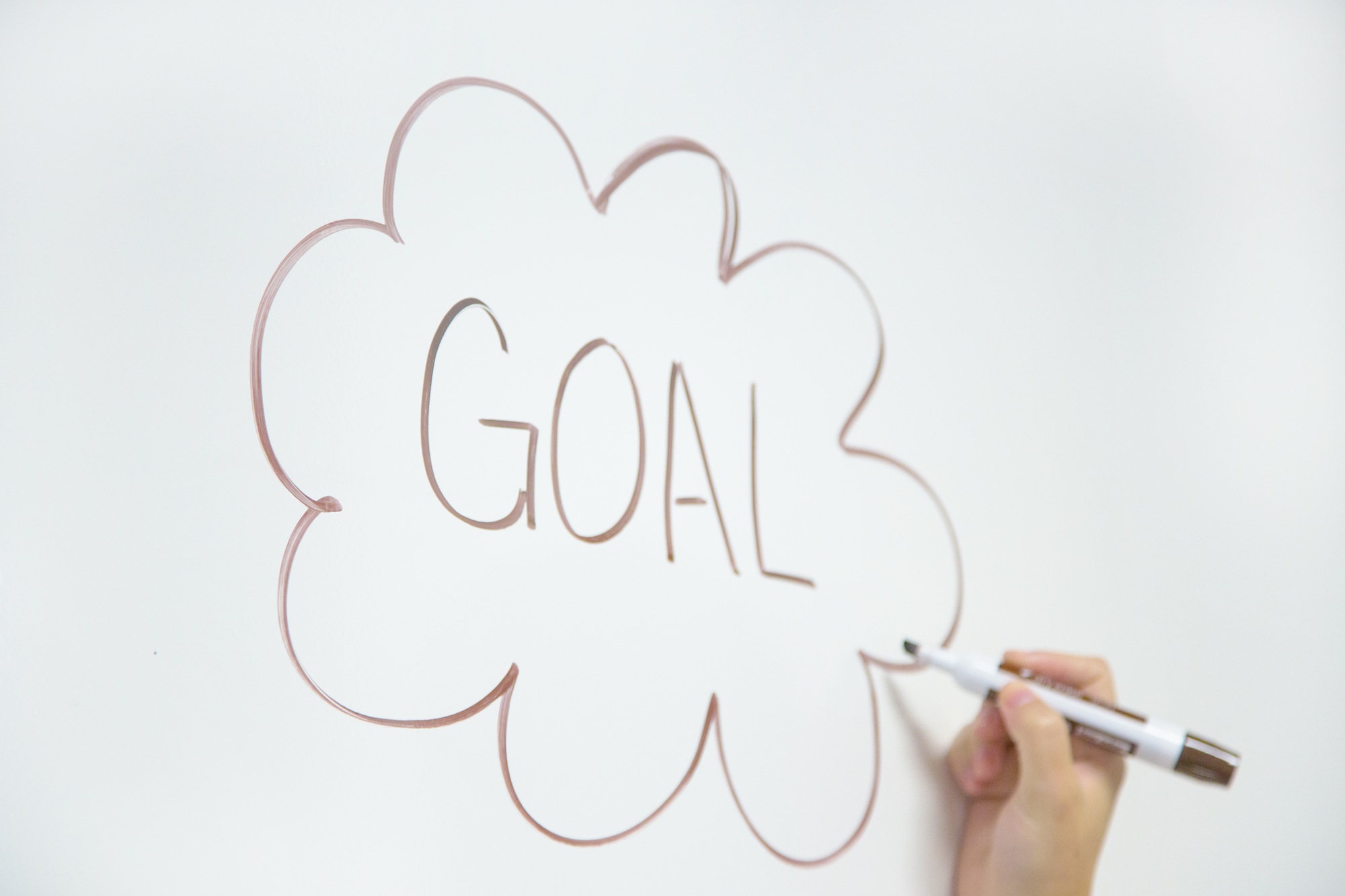 The Bottom Line
Now that you've learned about each type of Auto-Dialer, your next step is to search for the right software that can support your needs.
Regardless of your Dialer choice, we recommend that you choose a solution that integrates with your CRM to:
Automatically log activities, dispositions and notes
Screen pop customer information for your agents as they handle their calls
Tie calls and connection rates directly to client revenue and opportunities
Additionally, if you're placing a lot of cold calls and connection rates are important to you, we recommend that your contact center solution enables you to have local presence, which dynamically uses an outbound caller ID that matches your customers' area codes.
From a management perspective, you will profit from an abundance of benefits brought forth by a contact center software. Not only will you increase efficiency, but your overall customer satisfaction rates will steadily improve. Your sales and marketing teams will also be adequately equipped to reach target prospects, convert those quicker to opportunities, and close more deals in the process. The technology of today is unlike anything ever developed, so it is your turn to select a solution quickly to deploy - Chances are your competitors already are, and have been profiting off the functionality for years.
At Contivio, we recognize the value in Auto Dialing, therefore we bundle our dialer with our standard contact center product offering at no additional cost. We also provide advanced CRM integration, so your agents will be able to build their dialer campaigns from within the CRM and benefit from screen popping, and post-call activity logging (dispositions, notes, call duration, call recording etc.). Here's a video that shows how our Preview Dialer works with NetSuite:
To learn more, feel free to contact us at 800-282-8105 or book a demo with one of our Customer Success Managers.
Source: https://go.contivio.com/blog/automatic-dialers-101
Publish Date: February 26, 2018 5:00 AM
---
A lot of clients ask us about NetSuite's case management capabilities, and want to learn how they can integrate cases with their call center. We connected with our partners at NetSuite and our in-house CRM experts to give you the run-down on Case Management, and how you can take your NetSuite cases a step further with Contivio's Omnichannel contact center solution.

What is NetSuite Case Management?
NetSuite "Case Management," part of NetSuite CRM, is a ticketing system for organizing, routing and responding to customer inquiries or support issues that arise via email, or any other media channel.
Cases are automatically created from emails sent from leads, prospects or customers. These emails are usually sent to group email addresses (for example: sales@contivio.com or support@contivio.com). From there the case is routed to a rep, who can either resolve it, or escalate it to a more appropriate rep. When the customer receives the response from the rep, he or she can reply to the message, which will be added to the original case record and emailed directly to the previous support rep, or the next available agent. Once the case has been tagged 'resolved', the support rep can close it and move on to the next one.
Though email is the most common method, cases can also be created manually for other channels, real-time from calls or live chat using Contivio's Built For NetSuite ("BFN") offering. For example, if a customer calls or chats your customer care team about an issue, the customer care specialist is able to manually create a case under the customer's record.
What are the benefits of NetSuite Case Management?
NetSuite's case management is beneficial for almost any business because it helps automate and organize the business processes associated with customer inquiries & issues. Because NetSuite provides a 360-degree view of the customer, it's easy to track your support cases by product, issues, case type, rep and customer, and then tie that information back to your bottom line (in terms of renewals, revenue and customer satisfaction). They also have self-servicing capabilities so that customers can track the status of their cases, or access a knowledge-base to get the answers they need without intervening with your team.
How does Case Management tie into your Call Center?
We all know that NetSuite's Case Management product works well… but how can we take it a step further? Since Case Management goes hand-in-hand with customer service & support, Contivio has developed seamless integration with cases across all channels.
The benefit of tying Contivio into your NetSuite case management workflow is that Contivio can apply more advanced routing rules, offers additional self-servicing capabilities, and automatically screen pops cases through any channel including Phone, Email and Live Chat.
In addition to that, Contivio also provides holistic reporting with real-time dashboards so you can have a true sense of all of the customer interactions taking place in your Call Center at once. Learn more about how Contivio works with each channel using the links below:
Source: https://go.contivio.com/blog/netsuite-case-management-benefits
Publish Date: January 29, 2018 5:00 AM
---
Since NetSuite Case Management goes hand-in-hand with customer service & support, Contivio has developed seamless integration with cases across all channels - including live chat.
With Contivio's NetSuite integration, when a customer submits a live chat, Contivio can query NetSuite to find the customer's record, all the way down to the case level. If the customer wants to chat about a specific case, he or she can type in the Case ID# into the chat form. From there Contivio finds the case in NetSuite and screen pops it. Here's an example from one of our customers. In the screenshot you'll notice that they have an optional field specifically for Ticket Number.
If the customer doesn't include a case #, but requests to speak to the support team, Contivio can screen-pop a new case for the agent and link it to the customer's record based on email address.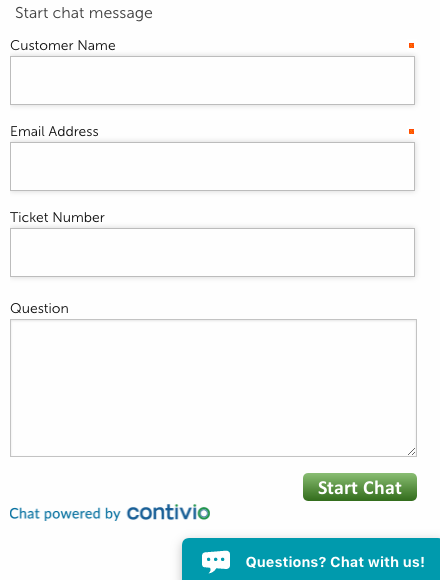 Source: https://go.contivio.com/blog/how-can-you-incorporate-netsuite-cases-into-live-chat
Publish Date: January 29, 2018 5:00 AM
---
Since NetSuite Case Management goes hand-in-hand with customer service & support, Contivio has developed seamless integration with cases across all channels - including phone.
Many of our clients have an option in their IVR to reach customer service. With Contivio, it's a best practice to give the caller a choice to either:
Report a new support issue, i.e. create a new case.
Check in on an existing issue, i.e. look up an existing case.
When the rep is offered the call, he or she will get a NetSuite screen pop with either a new case (if the user selected option 1), or an existing case record (if the user selected option 2).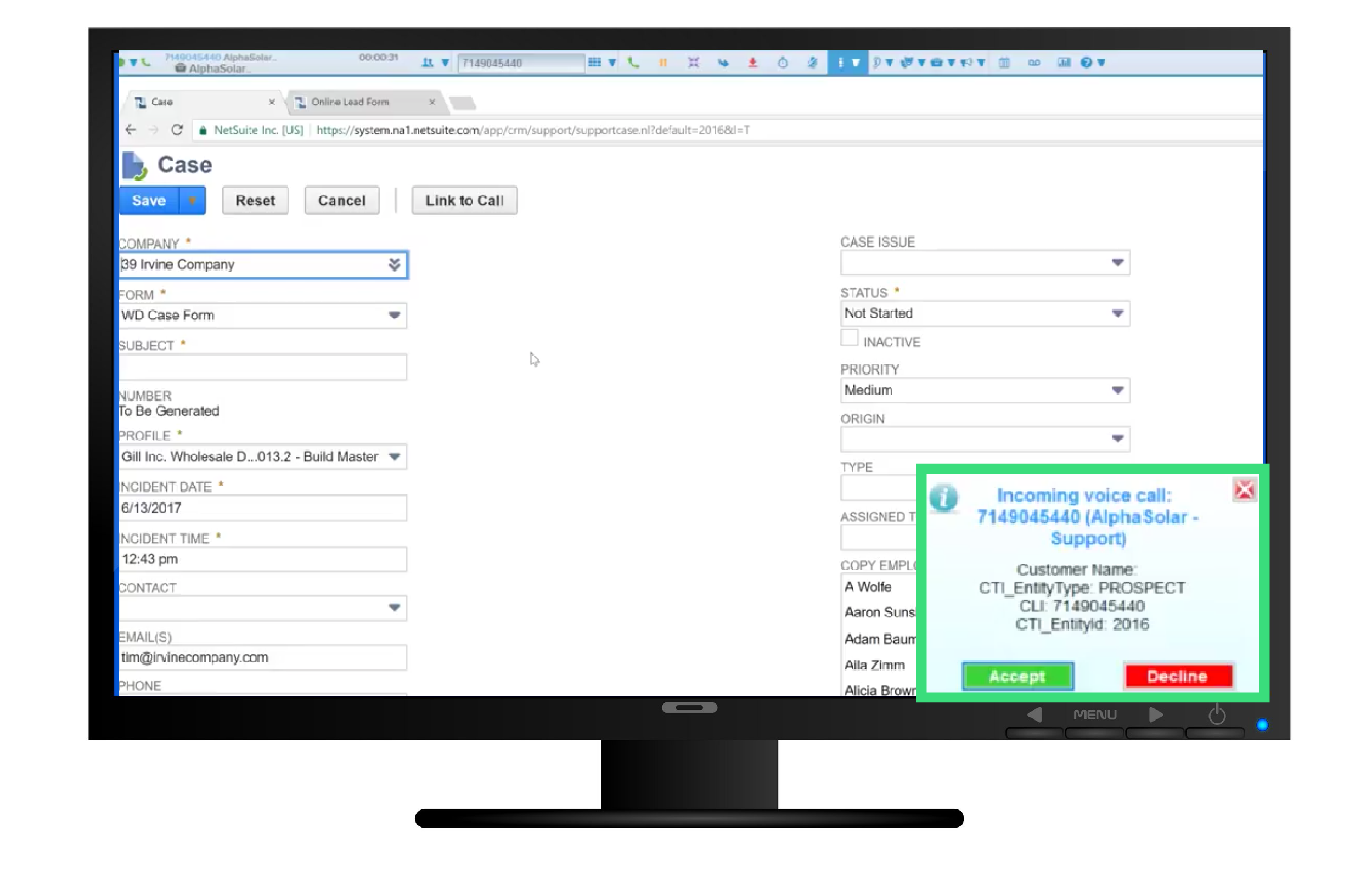 Contivio can also add specific routing rules so that the caller is routed to the agent that was assigned to the case, or the customer's dedicated Sales rep in NetSuite. After the call ends, you can configure Contivio to automatically push notes, dispositions and call recording URLs within NetSuite as an activity attached to the case or customer record - so you can reference it in the future.
In addition to screen popping and routing, Contivio also has IVR self-servicing capabilities. This means that Contivio can reference NetSuite to feed information back to the customer, without any agent involvement. For example, if the customer presses "2" for an existing case, the IVR can prompt them for their case # and return the latest status (i.e. Escalated, Completed, In-Progress). From there, if the customer wants to speak to the representative anyway, all they would need to do is stay on the line. When the rep gets offered the call, they'll have the case screen pop for quick review.
Source: https://go.contivio.com/blog/integrate-netsuite-cases-into-your-call-center
Publish Date: January 29, 2018 5:00 AM
---
Whether you're using Customer Satisfaction (CSAT) or Net Promoter Score (NPS) methodologies, Customer Surveys are an integral part of contact center management as they help bring to light any issues - or strengths - that are arising in your contact center.
Collecting feedback from your customers post-communication allows you to get insights on:
Personnel:
Which agents, queues or departments are delivering the most satisfied customers.
Which agents, queues or departments need improvement or further training.
Product & Company:
Receive feedback that could inform you about product-wide issues or malfunctions.
Identify issues that are happening across the company or cross-departments.
Efficiency:
Understand which questions or issues customers are constantly contacting you about so that you can resolve the gaps through proactivity (i.e. through writing a help guide or support article).
Gain insight into the customers' satisfaction with your call handling time to ensure your goals are aligned.
There are a few different ways to administer post-communication Customer Surveys. Based on what we've seen with our customers, contact center managers typically offer surveys through their IVR (Interactive Voice Response), or ask for feedback after the call via SMS or email. Contivio takes our survey capabilities one step further than most contact center solutions by offering the ability to store survey responses within most CRMs, including NetSuite.

Phone & IVR-Driven Surveys:
The Benefits:
Collecting survey results over the phone is beneficial because your customer is engaged and has the conversation fresh in their mind, meaning you'll see higher response rates with the most accurate information. On the phone you also have the ability to connect your customer with a live agent to collect further feedback if necessary, and hear your customer's responses verbatim.
Another benefit is that you'll be able to collect survey results quickly, opposed to other methods like Email, which may take longer to get feedback.
The Challenges:
If your call center has a large volume of calls, it can be more costly to collect feedback over the phone. Additionally, keep in mind that your customer likely won't want to be on the phone for a long period of time, so you'll want to keep your survey questions short and sweet.
For those who prefer to take customer feedback over the phone, Contivio offers 2 options:
Include a message in your Welcome prompt to ask the customer if he or she wants to participate in a brief survey after the call. From there Contivio will add the customer to a Campaign, which will automatically call the customer back after a set time period (i.e. 5 minutes or 24 hours) and ask them a series of questions driven by your IVR. From there, the customer will use their dial pad to respond to the questions, and the responses will automatically be stored in your CRM, like NetSuite, against the phone call record.


Your agent can ask the customer to hold on after the call to participate in a brief survey. From there, the agent will route the call to a Survey queue, which will prompt an IVR (or a live agent) to ask your customer a series of questions. The customer can respond by typing into their keypad, and the output will be recorded in your CRM. However keep in mind that the downside to this method is that if an agent feels the call didn't go well, they may not ask the customer to complete the survey.

SMS Survey Capabilities:
The Benefits:
As consumers' email inboxes continue to fill up, many contact center managers are turning to SMS to capture the attention of their customers. SMS response rates tend to be higher than other methods like email and online surveys, and the feedback is often given quickly.
The Challenges:
If you're texting your customers, you need to ensure you have their cell phone numbers on file, which might not work for some businesses. You'll also need to make sure your survey is mobile friendly and keep your questions limited so that your customers don't get bored or distracted.
Contivio offers 2 survey options for SMS, but keep in mind to use these features you need to work with an SMS gateway provider like SMS Global.
Automatically text your customer upon call completion with a survey link URL (similar to how it would be done via email). Depending on the survey software you use, Contivio may be able to pass call parameters from your CRM to the survey form which will help identify the customer and speed up the questionnaire.


After the call ends, automatically text your customer a series of questions asking them to rate certain aspects of their experience. All responses will be saved within your CRM for you to reference and pull reporting on. Contivio can also ask conditional follow-up questions if the customer enters a certain score threshold. For example, if the customer rates their call below a 4, we can automatically prompt a follow-up message asking for additional feedback.

Emailing Surveys Post-Communication:
The Benefits:
Email is one of the most cost-effective ways to collect feedback from your customers, and there are many tools available that you can leverage to track the responses back to each customer. With email, you can also get more creative with your survey questions (i.e. you can show visuals) and you can afford to include a few more questions than you can on phone and SMS.
The Challenges:
While they're easy to deliver, emails may get lost in your customer's inbox, which may lead to lower response rates. If your survey email does get noticed, it's likely that your customer will wait to fill it out, which could impact the accuracy of the responses. To get the most success with email, we recommend incentivizing the user to participate, creating a sense of urgency (i.e. enforcing a short time frame, sending a reminder), and personalizing the email to make the customer feel like their feedback matters.
There are several ways email surveys can be sent out, but a couple of common ways include:
Create a Saved Search or campaign in your CRM and automatically send emails through your CRM with survey links or questions to users who called in or chatted with your team during the past 24 hours.


Similar to the above, send out survey links or questions via your ESP like Bronto, MailChimp, SendGrid, HubSpot, Marketo or many more.
For more information on how to add survey collection to your Contact Center with Contivio, please feel free to reach out to us at sales@contivio.com or book a free demo.
Source: https://go.contivio.com/blog/best-ways-to-survey-your-customers-from-your-call-center
Publish Date: November 27, 2017 5:00 AM
---
The Contivio team is back on the road and headed east for the annual Oracle+NetSuite SDN Partner Roadshow! The first stop is Chicago on 11/6, followed by Boston 11/8, and then finally Toronto on 11/9. For those of you who aren't familiar with the SDN Roadshow, it's an event designed to connect partners with the Oracle+NetSuite Sales team to generate awareness about their solutions.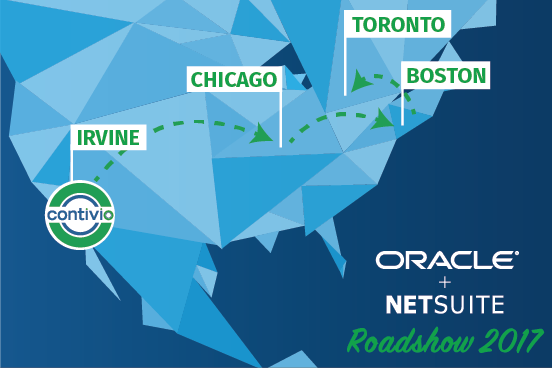 During the event, our team will be demonstrating some of our newly released features such as:
New Live Chat design & functionality
Dynamic SMS updates based on Sales Order, Case or RMA status changes in NetSuite.
Lead auto-dialing - Automatically dialing a lead who just filled out a web form.
Triggering & syncing scheduled calls from NetSuite
Self-Service IVR capabilities based on fields within NetSuite
If you're attending the event or in the surrounding area, please feel free to reach out to us at sales@contivio.com to schedule a meeting with us, or stop by our booth to learn more.
Look forward to seeing you all there and don't forget to pack your warm clothes!
Source: https://go.contivio.com/blog/contivio-joins-the-oraclenetsuite-sdn-partner-roadshow-2017
Publish Date: November 1, 2017 5:00 AM
---
Some of you may have noticed that Contivio.com recently got a makeover! With the launch of our new website, we've also revamped our Live Chat to match - and - the best news of all is that the new enhancements are now available to our clients as well!
With Version 4.0, Contivio Chat customers have access to new functionality and sample styles to further optimize their chat conversations just in time for the holiday season.

Below is a list of all the new chat enhancements that can now be implemented, and we've also created a new Live Chat Setup Guide & API Integration Document to guide you through the process step by step. Current customers can contact us at support@contivio.com to receive a copy of the new document.
Live Chat Feature Highlights:
New Chat Bubble style that's easy to set from the Admin Portal - No code required!
Add images to your Waiting & Thank You pages.
Easily copy Contivio's new style code to your website - All you have to do is swap out the images with your own!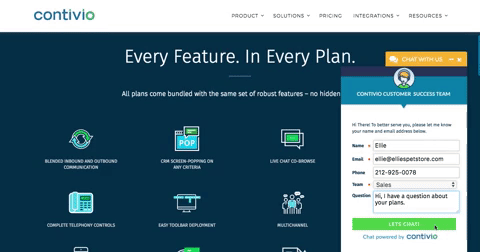 We understand that some of our clients may not have the resources to implement all of the customizations they want, so with this new update we're also offering:
Free Live Chat Consultation - Talk to a Senior Engineer who will help you and your developers get started.
Branded Chat Designs - We'll work with you to style your chat to match your website. Email us for a quote.
If you're a current client and you'd like our help redesigning your chat, please reach out to us at sales@contivio.com for a quote.
If you're new to Live Chat and you'd like to add it to your Contact Center, contact us at sales@contivio.com and we'll send you the steps to get started.
A Closer Look at the New Enhancements in Version 4.0:


All chat pages are now fully customizable by custom style sheet (steps 1-4 above).

Custom style pages can now be set from within the Admin portal and style both the customer and the agent chat consoles.

We have introduced a new "bubble" chat style which you can select from the Admin portal (see step 3 as an example) - No code required!

Chat sessions will now remain active as your user navigates across your site! With Version 4, the chat is now active for 7 seconds to allow the user to navigate to another page or refresh the existing page without losing the chat session. When refreshing the site or visiting another page, the Contivio chat plugin will look for evidence of ongoing chat session then re-establishes connection with the chat server enabling the user to continue on with the conversation.

Introduced new chat integration code samples to allow your web developer to incorporate the Contivio chat within your website in either iframe or separate window.

Included integration sample code to allow your web developer to detect if the customer is using a cell phone and open a full chat window, which is the recommended integration mode for small screens.

Fixed an issue related to chat not accepting customization when used with Internet Explorer version 11 and Chrome 61.0.3163.100 on Apple IOS 10.0.3

New API functions were added to allow you to:

Customize the Question field label and default text on the Chat Query page (step 1)

Set the Waiting page image (step 2)

Set the Thank You page image (step 4)

Include a "Send" button to the customer chat console, enabling the "Enter" key to be used to insert new lines (step 3).

Customize the time stamp (displayed with or without seconds) in the chat conversion. You can also remove the time stamp altogether (step 3).

Customize the "End Chat" button.
All of the new features can be referenced in our new API Integration Guide. Please contact us for a copy of the new guide at support@contivio.com.

Again, please feel free to reach out to us at sales@contivio.com if any questions arise.

Happy Chatting!
Source: https://go.contivio.com/blog/new-live-chat-features-released-october-2017
Publish Date: October 17, 2017 5:00 AM