Conversational - ContactCenterWorld.com Blog Page 11
Page: 1 | 2 | 3 | 4 | 5 | 6 | 7 | 8 | 9 | 10 | 11 | 12 | 13 | 14 | 15 | 16 | 17 | 18 | 19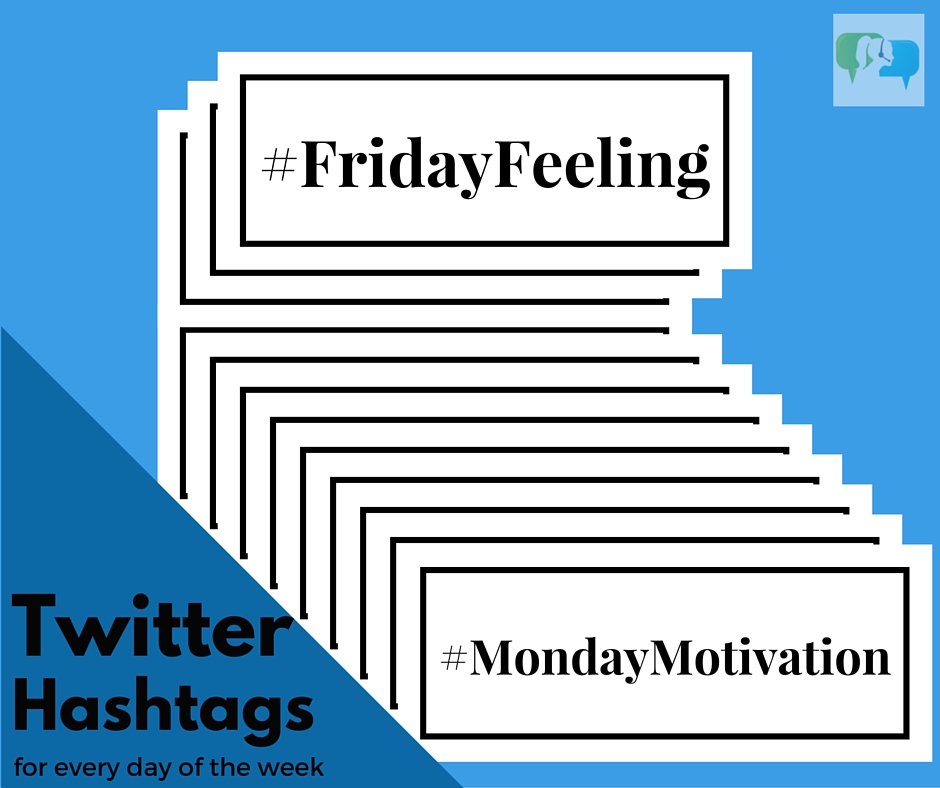 Twitter is a hot spot for user engagement. It's an active social network with millions of updates being sent out each minute. Hashtags make it easier for your content to be seen by the masses. When you use hashtags that lots of other people are also using, you join a wider conversation that sends people to your profile and familiarizes people with your brand.
Hashtags that follow the days of week are especially popular–you've probably seen #WednesdayWisdom or #ThrowbackThursday. There are hashtags for every day of the week.
Here's a guide to using hashtags for engagement every day of the week. These hashtags are also active on Instagram!
Hashtags for Every Day of the Week
Monday Twitter Hashtags
#MondayFunday
#Mondaze
#MondayMadness
#MondayMotivation
Tuesday Twitter Hashtags
#TransformationTuesday
#TravelTuesday
#TuesdayTips
Wednesday Twitter Hashtags
#WednesdayWisdom
#WednesdayWellness
#HumpDay
Thursday Twitter Hashtags
#ThrowbackThursday or #TBT
#ThursdayThoughts
Friday Twitter Hashtags
#TGIF
#FridayFeeling
#FollowFriday or #FF
#FollowBackFriday or #FBF
#FridayReads
Saturday Twitter Hashtags
#Weekend
#SaturdayPlans
#SocialSaturday
Sunday Twitter Hashtags
#Weekend
#SundayFunday
#SundayNight
#SelfieSunday
#SundayBlogShare
There are tons of hashtags for each day of the week, so you can switch it up and use different hashtags each week. Before you post using any hashtag, make sure you do a quick search to ensure the hashtag's other posts fit with your brand image. Sometimes hashtags can be "hijacked" and used for another purpose, and if that happens, it can be a recipe for a branding disaster.
Remember the rule of 2 when it comes to using hashtags: If you're using more than 2 hashtags, it's 2 many.
Studies have shown that Twitter posts that include more than 2 hashtags get around 35% less engagement per extra hashtag than those with 1 or 2 hashtags. One or two seems to be the sweet spot–posts without hashtags get less engagement across the board.
Source: https://www.conversational.com/twitter-hashtags-engagement-every-day-week/
Publish Date: April 29, 2016 5:00 AM
---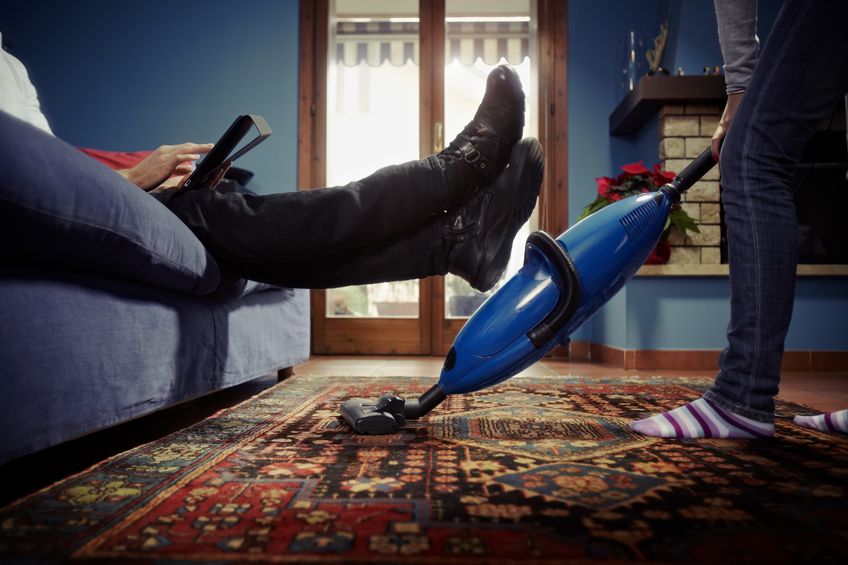 Sweatpants and messy hair might be the overarching stereotypes when you work from home, but there are many more on the list. And while we might laugh and shake our heads at them, we can't help but admit that in ways, they're a little bit true.
When you work from home, you experience some serious and not-so-serious struggles that you don't experience when you hold a "traditional" job and go to the office each day. If you work from home, you'll understand these 10 struggles more than you care to admit.
Please note that these struggles are written tongue-in-cheek and are not meant to diminish the remote working industry in any way, only unite home workers with a bit of humor.
10 Struggles You Only Understand When You Work From Home
1. Your neighbors think you're jobless. They see you aimlessly amble out to the mailbox around the same time each day in an outfit that appears to be designed for lounging purposes only. What are they supposed to think? That you're inside master-minding an online business that allows you to balance your time between work and family while netting a nice little profit?
2. Strange knocks at the door are often ignored. You know that when you hit that groove of productivity, you can't let anyone or anything interrupt it. Not even the incessant, pounding, ominous-sounding knocks at your door. It's probably just the neighbor lady who brings you muffins and jam because she thinks you're agorophobic, so if that's the case, she'll just leave the basket by the door as usual. No need to leave the couch.
3. You're always home, but household chores never seem to get done. How is this possible? It's an inexplicable phenomenon, but somehow, when you've been working hard all day, it's tough to get to the housework. This seems unbelievable to onlookers, family, and outsiders in general–"You're home all the time! You must get sooo much laundry and different home renovations done!" But when you work from home, the home is usually what gets neglected first. Social life second.
4. You catch yourself working at 10pm or before anyone else is awake. Yes, you've heard of "business hours" and "normal working times" but that information does not seem to compute. You're awake, it's quiet in the house, and there is always work to be done. You'll just hop on the laptop for a minute and get some stuff ready for tomorrow. (3 hours later) Well, time to get a few hours of fitful sleep and start back at it bright and early!
5. You have amazing surges and serious dips in productivity throughout the day. Boy, if the people at the office/your clients/mom and dad could only see you now–working so hard, being so unbelievably productive! And really, you've been so productive that it seems like a good stopping point for a quick break. Maybe a walk around the neighborhood. Or a quick trip to town to grab lunch. And maybe stop and pay the electric bill and get ice cream on the way back. Possibly just make it a day trip to the beach.
6. You rely on coffee more than some people rely on significant others. And that is a fact. When you work from home and it's so quiet and you're in charge of motivating yourself, coffee is gracious enough to step in and do the motivating for you. The problem is, the motivation only lasts for a short bursts and therefore must be continually refueled throughout the day. No problem. You'll stay close to the coffee maker.
7. You develop a deep, meaningful (sometimes one-way) connection with your pets. Is it just you, or can other people see how smart and hilarious your pets are? In case they can't, go ahead and start your pet an Instagram account and post as though you are that animal. Act as though your pets have human personalities and complex emotions just like you and sometimes put sweaters or shirts on them. NOW, you're working from home.
8. Your friends wonder where you went. You're still here, but kind of off the radar since you've been working from home. Not going to office all day kind of dampens your desire to trek out to happy hour or drive across town to meet friends for lunch. In all seriousness, working from home can get lonely, so don't ditch your friends just because you've been busy!
9. Your sense of time is a little warped. Is it Tuesday or Friday? Remember when not a day went by that you didn't know exactly how long it was until quitting time on Friday? Those days are over. It's a good sign, because you don't hate your job so much that you consistently count down to the weekend. These days, the weekends roll up as a nice little subtle surprise. You work through most of the weekend anyway, so no reason to make a big deal out of it.
10. You eat meals at strange times. It's your 3rd cup of coffee, so does that mean it's breakfast time or lunch? May as well skip both because of the confusion and just wait for dinner. Besides, you seriously cannot fathom eating another sandwich or frozen thing for lunch today. But maybe tomorrow.
Source: https://www.conversational.com/10-struggles-understand-work-from-home/
Publish Date: April 28, 2016 5:00 AM
---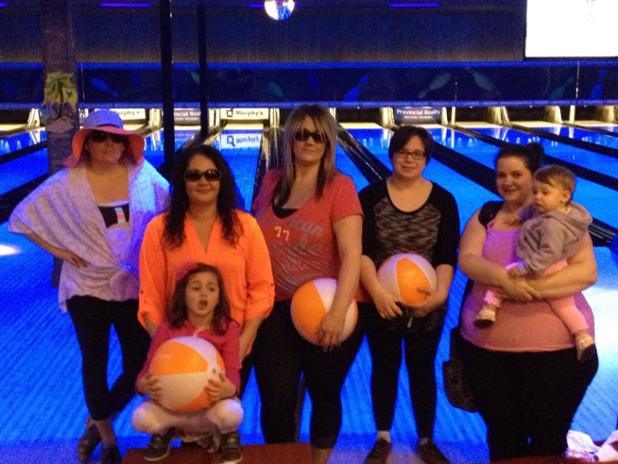 Ever wondered what virtual receptionists actually do? It's a common question we get. While we'd love to tell you all about our virtual receptionist services and how they can benefit your business, we'd rather go straight to the source and let our team tell you themselves.
"What's the most enjoyable thing about being a virtual receptionist at Conversational?"
We asked our team to tell us the best part of being a virtual receptionist. We loved their answers and wanted to share them with you! Our virtual receptionists are truly committed to our clients.
As one of our team members put it, "It's about so much more than answering phones."
Why Do You Love Being a Virtual Receptionist?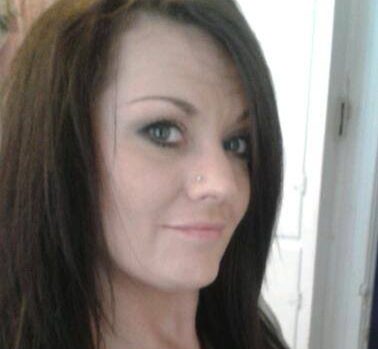 Tawnya Thompson-McConkey
Tawnya likes meeting and dealing with new clients. "Being a virtual receptionist allows me to deal with a vast array of clientele in multiple demographics and industries, always making for an ever-changing day."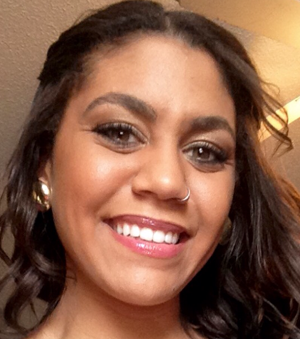 Machal Schoolfield
"Being a virtual receptionist is about so much more than answering phones. It's about helping people take care of the things that are most important to them. From scheduling counseling sessions to making hair appointments–I love helping people make their lives a little less complicated."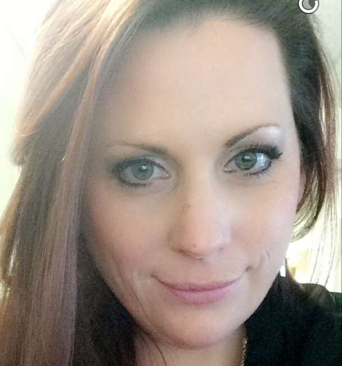 Crystal Verhulp
Crystal likes working with people and the flexibility of working as a virtual receptionist. "The reasons I enjoy working as a virtual receptionist: I get to help people in need. I am subjected to all kinds of personalities each day. I can dress comfortably at work. I get to learn new skills every single day!"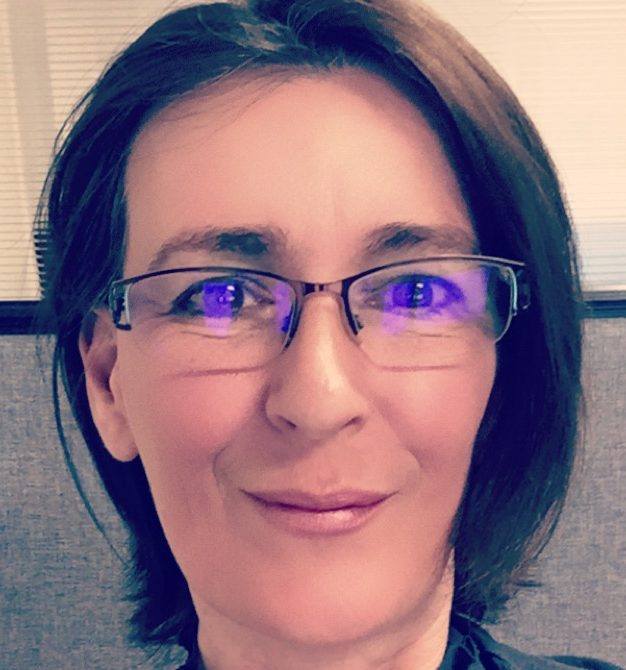 Cindy Lee
Cindy is always learning something new. "I love that every day at work is different. I get to stretch my knowledge of different client software and booking systems and watch our clients' businesses grow! That's exciting."



Sara Brehaut
Sara is working toward her future and enjoys meeting new people through her work. "I love my job, it gives me the opportunity to broaden my skill set while meeting fantastic new people on a daily basis."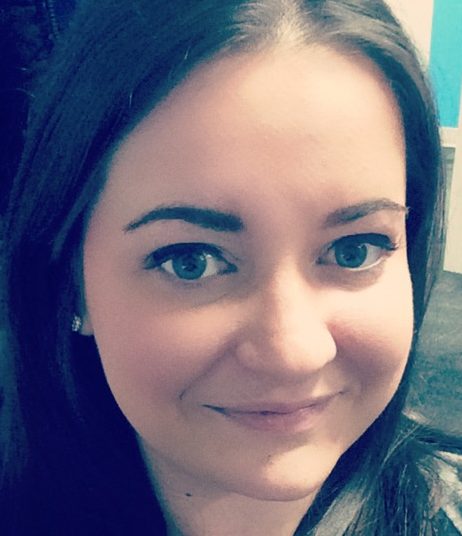 Jenna Thomson
Jenna likes the excitement and regular change of pace. "I love being a virtual receptionist, it allows me to use my education and social skills in so many different areas of business, making every day exciting and enjoyable!"


Source: https://www.conversational.com/we-asked-best-part-being-virtual-receptionist/
Publish Date: April 28, 2016 5:00 AM
---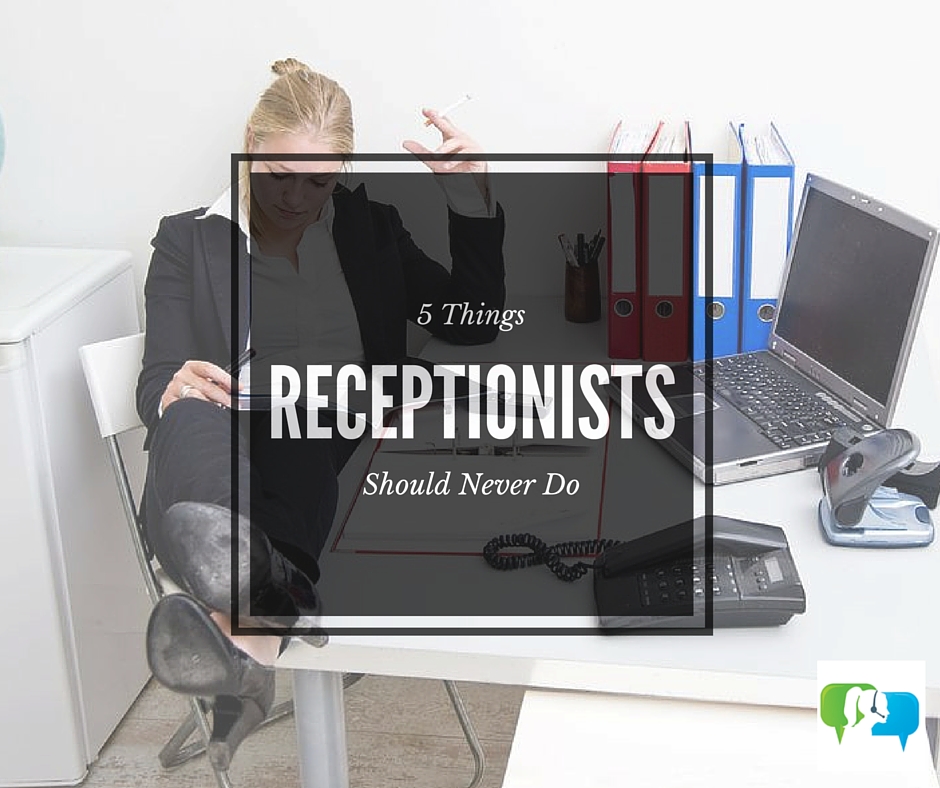 The ideal receptionist is professional, friendly, a fast learner, resourceful, and dependable. Most companies go through a careful process when looking for a new receptionist or virtual receptionist to ensure they don't hire someone who represents the company negatively.
There is no shortage of great receptionists, but likewise, there is no shortage of bad receptionists, either. Chances are, you'll be saddled with at least one bad receptionist at some point during your time as a business owner.
It's helpful to have specific behaviors and signs to look for when you're unfamiliar with the receptionist position and what is and is not expected of the role. Here are 5 things receptionists should never do on the job.
5 Things Receptionists Should Never Do On the Job
1. Gossip about customers or coworkers
It's common for people to gossip at work, but it's a detrimental practice. Work places with lots of gossip have lower morale in general and tend to form tight cliques, making effective leadership difficult. If a receptionist talks about customers or clients and is overheard, it's a risk for your business that can lose customers and break trust.
2. Dress unprofessionally
Receptionists are often the first face customers and clients see when they enter your office (or the first voice customers hear when they reach you on the phone). If receptionists are dressed unprofessionally, it sets the tone for the rest of the office and your business in general. The same is true for professionally dressed receptionists, so make sure your front desk employees are dressed in business casual attire to give customers a great first impression.
3. Take personal phone calls
Receptionists are usually great multi-taskers, but no one can handle two separate phone calls at once. Receptionists should never take personal phone calls on the job because every moment they spend on the call is taken away from the time they should be available for customers and callers. If your receptionist regularly spends time on the phone making personal calls, it might be time to step in and enforce a new rule.
4. Copy or share confidential information
Receptionists have unique access to customer, client, and business-related confidential information. It's important to ensure your receptionist fully understands any relevant privacy laws and knows not to copy or share any confidential information they may access.
5. Talk with a full mouth
Whether it's eating a snack or chewing gum, it's a turn off to customers when receptionists speak with their mouths full. It can be seen and heard in person and heard over the phone, so ask that your receptionist refrains from snacking or chewing gum while on the job.
These are 5 things we think receptionists should never do on the job. Can you think of others that we didn't mention? We'd love to hear your thoughts on things receptionists should always do.
As always, if you're looking for a dependable virtual receptionist to answer your calls and represent your business over the phone, consider Conversational. Click here to meet our virtual receptionists and see why they love the job!
Source: https://www.conversational.com/5-things-receptionists-never-do-on-job/
Publish Date: April 28, 2016 5:00 AM
---
Whether you're considering changing your home office up or just starting to create one, you can make a few choices that will result in a more peaceful, productive home office. If you're going for a focused-yet-relaxed vibe, check out these ideas for creating a home office that inspires you to settle in and get work done.
5 Ideas to Create a Peaceful, Productive Home Office
Before we get any further, let's be clear: There's no such thing as a productive home office. There are productive people who work from well-organized, visually appealing home offices, but there are no offices that inspire productivity all on their own.
These ideas will help you create an environment that encourages you to jump in and get more work done, be more mindful in your work, and get more satisfaction from doing your job.

Idea 1: Get several house plants and place them around your office
It's an instant boost to any indoor space, but it's especially invigorating to add house plants to a home office. A few splashes of bright and deep greens in your work space is proven to improve mood and increase oxygen levels in the room.
Idea 2: Spend a Sunday deeply cleaning and organizing the office
It's worth it to schedule one of your precious "weekend" days organizing your home office. Start at the bottom and work your way up. When you've committed an entire day to the process, you'll be pleasantly surprised when it only takes an hour or two. Do this monthly to ensure you never lose important documents or accumulate too much clutter.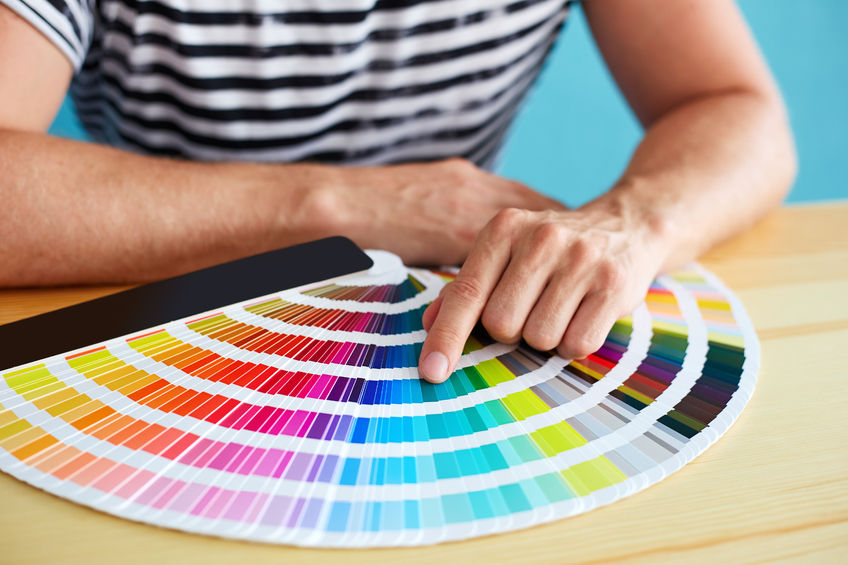 Idea 3: Choose a color that seems synonymous with peace to you
While blue is universally recognized as a peaceful color that depicts calmness and tranquility, not everyone gets the peaceful vibe from it. Choose a color that seems the most calming and peaceful to you, and make that your office's bold color. Pepper it everywhere you can, with storage cubes, the walls, a chair, and even staplers, keyboard covers, etc.
Idea 4: Get a label maker and create simple labels for trays, drawers, cabinets, etc.
Label-making comes naturally to some entrepreneurs, but for many of us, it's not exactly second nature. Once you create simple labels for your storage areas and document trays, your organization skills will improve. It's easier to remember to put the file into the right pocket when there's a clear space especially for it. If you have a tray labeled "Outgoing mail," it goes into the tray and not in a messy pile on your desk. Productivity!
Idea 5: Look for unique, comfortable furniture to sit on
Just because it's an office doesn't mean it has to be boring and traditional. If you prefer something a little different than the traditional desk chair, try something new! An extra large, over-stuffed beanbag chair could be a comfortable choice that makes you feel like you're having fun at work. You might try sitting on a fluffy pillow on the floor or switching to a wooden chair that is designed to encourage you to shift your weight or get up and move around every hour or so.
Source: https://www.conversational.com/5-ideas-create-peaceful-productive-home-office/
Publish Date: April 27, 2016 5:00 AM
---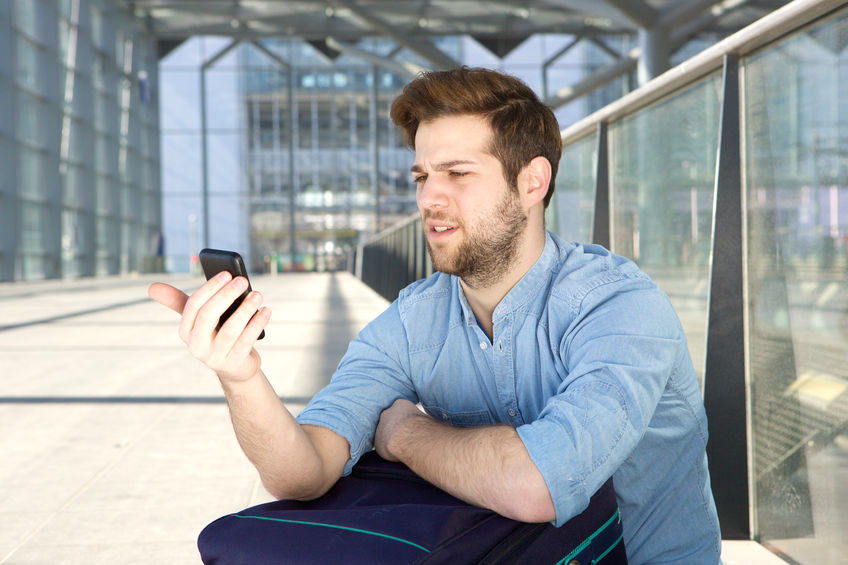 If you landed on this page, there's a good chance that, like most of us, you already hate automated phone systems. That's okay. We want to give you 3 more reasons.
If you've ever ground your teeth in frustration as you listened to endless telephone menu options, accidentally pressed the wrong number, and then sat through the entire process again, you're in the right place.
We're with you–automated phone systems are a nightmare to deal with. Maybe Michael Hess demonstrated it best in his article for CBS News:
Robot: "Your call is very important to us."
Victim: "No it's not, or we wouldn't be starting out this way."
Robot: "Please continue to hold, your call is very important to us."
Victim: "Um, we already covered that five minutes ago, so I have to assume my call is actually less and less important to you."
Robot: "Did you know you can get product information and answers to many common questions on our website?"
Victim: "Why, yes, I did! But I wanted to call you, that's why I'm on the phone and not my computer."
Robot: "Please enter your account number."
Victim: "Why? There is a 94.7% chance you will ask me for it again if/when a human being picks up."
Robot: "I'm sorry, I don't recognize your entry. Ending call now, goodbye." (Click)
Victim: "Did you just hang up on me?"
3 Reasons People Hate Automated Phone Systems
It's hard to deny–most people hate automated phone systems. We'll explain why below.
1. They give us all the run-around
"But you–
Why you wanna give me a run-around
Is it a sure-fire way to speed things up
When all it does is slow me down" -Blues Traveler, Run-Around
When someone calls a business, they're probably looking for specified help. The website FAQ didn't cover their question or need, and they're interested enough to initiate a phone call. They are closer to the mouth of the sales funnel than they've ever been. This is a critical time for a business. The response must be appropriate and not off-putting to the customer.
One thing that turns customers off right away? Automated phone systems. Just hearing the robotic voice causes some customers to hang up. Others begin getting irritated. When you know you have a question or issue that no programmed response will be able to resolve, it's frustrating to sit through a menu of options without access to any kind of human operator.
2. It's seriously frustrating
And when you make customers irritated, angry, or bored, you're turning what could have been a simple, positive phone conversation into what the customer will remember as a frustrating experience.
"Add to this the frustration caused by dealing with an automated phone line. Technology is a wonderful thing (said the science blogger), and it makes economic sense for companies to automate the time-consuming elements of running a business. And it would be wrong to say automated systems can't have benefits. But there are numerous psychological consequences for customers using the automated phone system." –Dean Burnett of The Guardian
3. It makes it seem like you don't care
A programmed message isn't exactly personal. Customer service has to be personal to make an impact on the customer! Even if you try to address that by apologizing for the wait or ensuring that a representative will be available soon in your automated greeting, customers see through it and feel slighted.
Michael Hess said businesses shouldn't think any kind of automated message will count as an explanation to customers:
"Don't think that saying you're 'sorry' or that all of your operators are busy counts as an explanation or apology. "You" are a recorded voice being played by a machine! Do you think I'm so dense as to not know that this message was probably recorded years ago? By a person who has no clue as to my current situation or even my existence? . . . It boils down to a company trying to placate customers who may have a genuine grievance, and doing it using a machine. That's how little they think of us; they think we're mentally inferior to machines. Perhaps they only mean well, but that's certainly how it comes across to us on the other end."
If you want to appeal to customers from the moment they place a call to your business, have a live receptionist answer your phone. Our call answering service packages range from 100 minutes to 500 minutes a month and ensure customers hear a friendly voice always picks up your phone.
Source: https://www.conversational.com/3-reasons-people-hate-automated-phone-systems/
Publish Date: April 26, 2016 5:00 AM
---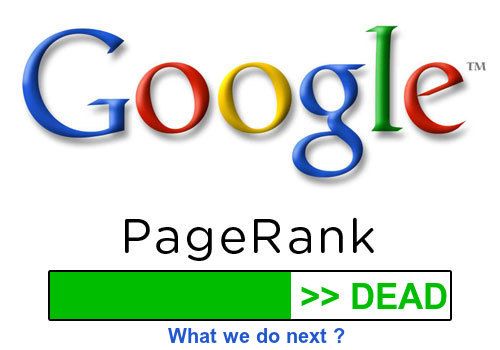 Google recently confirmed that it is pulling PageRank from its toolbar. The announcement is the first of its kind since October 2014, when Google's John Mueller publicly speculated that PageRank would not be updated again. As it turns out, he was right.
PageRank, the ultimate scorekeeper for the underground 'link economy', is officially dead. News sources point to the exponential growth of paid links and SEO tricks as having a major hand in the decision to shut down PageRank.
The Death of PR?
PageRank became accessible for web users in 2000 when it was added to the Google toolbar. While Google uses many other factors in ranking webpages, the PageRank score was an easily accessible way for site owners and link sellers to quickly "calculate" the value of a webpage and the resulting value of a link that could be placed on that page.
Pages with higher PageRank scores have been pelted with email pitches from so-called PR companies and link sellers ever since. These individuals and companies wanted sites with high PageRanks to link back to them, increasing their own PageRank and boosting them in search results. Paid links are the only way individuals can ensure well-ranked pages will link to their low-quality content.
The problem with this arrangement is the resulting content quality.
PageRank and Content Quality
When someone organically chooses to link to another article or webpage, chances are, it's because it's valuable information. When money enters the equation, however, site owners are tempted to place low-quality links in their blog posts and articles in exchange for fast cash.
While that might not seem especially problematic, as paid links increased, the general quality of linked content on the web began to fall.
Google didn't like that, and the decision to shut down PageRank is expected to help remove the influence of paid links in search results.
This isn't the first step Google has taken to fight back against paid links and the hijacking of PageRank for "black market" link selling–the last documented PageRank update took place in December 2013. Before that update, it had been 10 months since the last PageRank update. With Muellers' announcement about the uncertainty of PageRank's future in October 2014, the internet has just been waiting for the other shoe to drop.
As for the future, we will be watching to see how Google weighs inbound links as a factor in ranking search results. The web will certainly be different without PageRank, and we're excited to see what the changes bring.
Are you surprised Google shut down PageRank? Did you expect it? We'd love to discuss it with you on our Twitter page (@conrecept).
Source: https://www.conversational.com/many-paid-links-led-google-shut-down-pagerank/
Publish Date: April 25, 2016 5:00 AM
---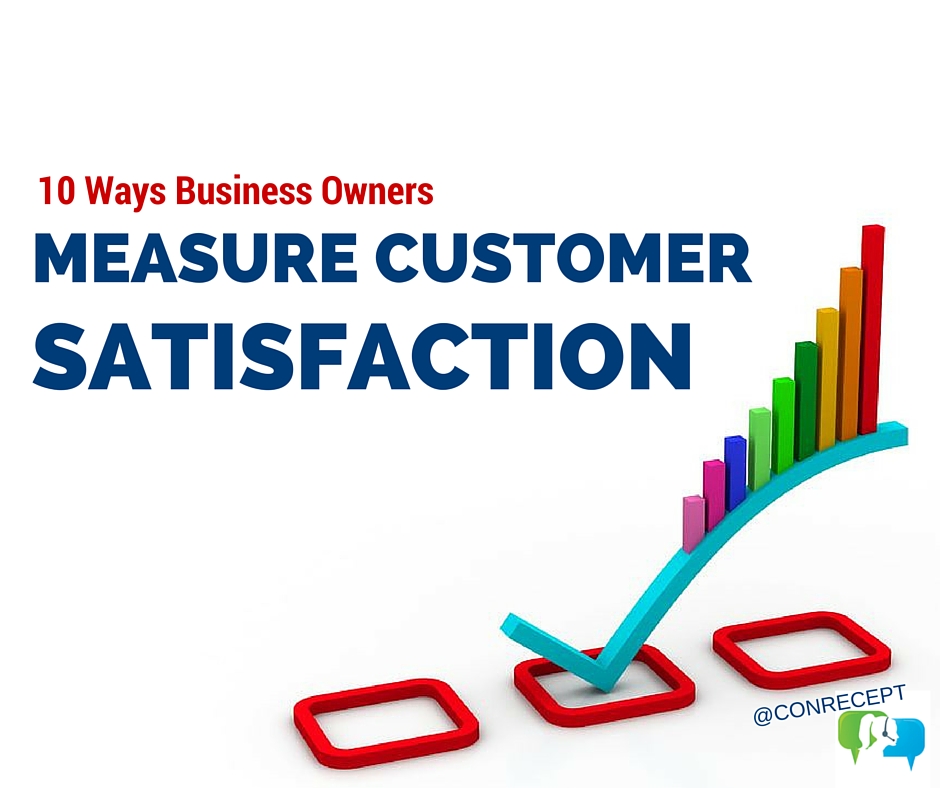 As a business owner interested in growing your business, providing great customer service is probably at the top of your list of priorities. It's not that complicated to direct your employees to be polite on the phone, use scripts for different scenarios, and maintain a positive inflection throughout interactions with customers, but trying to measure customer satisfaction isn't so easy.
Customers don't always jump at the chance to take surveys, no matter how short and painless you make them. You may not have a monitoring system or process in place that allows you to review actual customer service calls and encounters.
For many reasons, it's difficult to measure customer satisfaction. Business owners use a variety of methods and metrics to measure customer satisfaction and adjust their strategies accordingly.
Here are 10 ways business owners can measure customer satisfaction.
10 Ways Business Owners Measure Customer Satisfaction
Monitor reviews – Don't let ignorance be bliss for your business. Google your company to find reviews on sites like Yelp and read what your customers are saying about you. Set up an account so you can reply and engage with the site visitors. It's a great way to represent your brand and reinforce your values and emphasis on customer satisfaction.
Analyze exit rates – Exit rates are different from bounce rates, which measure the percentage of visitors that navigate away from your website after viewing a single page–the bounce rate is based only on sessions that start and end with that page. Exit rates measure the percentage of visitors that view a particular web page, total, including sessions that started with other pages (unlike bounce rates).
Record phone calls – The phone might be where most of your customer service takes place, so it's important that you monitor the customer service exchanges. It's common to hear the following recording at the start of a phone call with a business: "This call is being recorded for quality purposes." You must let customers know that calls are being monitored. Keeping track of phone calls enables you to listen in on customer service interactions and hear how your employees handle a variety of call circumstances.
Send in a mystery shopper – It's an old method, but a good one. Mystery shoppers can enter your place of business without being detected, which ensures they receive no special treatment from employees during the visit. They get a real sample of what customer service is like at your business and report the experience back to you.
Incentivize surveys – Customers don't always want to take the time to fill out a survey for a company when they get nothing in return. It's a simple cost-benefit analysis, and to tip the odds in your favor, you need to add some weight to the benefit side. Enter survey respondents into a special contest or offer promo or discount codes to get more responses and better results.
Net Promoter Score – Your Net Promoter Score is valuable when you measure customer satisfaction. Using a scale of 1-10, you ask customers how likely they would be to recommend your business to others. To measure your NPS, subtract the percentage of all survey respondents who said they were likely to recommend your brand from the percentage of respondents who said they were not likely to recommend your brand. The resulting score is your NPS.
Review written exchanges – Customer service can take place through email, letters, live chat, and more. Review written exchanges just as you review phone calls and face-to-face interactions to ensure your employees are providing a well-rounded customer experience.
Set up brand alerts – Use web alerts to notify you when someone mentions your business online. You might try related keywords to alert you when people use specific phrases that are key to your business. For example, a graphic design company might set up an alert for social media posts that include the phrase "Looking for a graphic designer" in order to reach out to anyone posting about a graphic designer search.
Use social media – Customers use social media a lot, and that means they're going to reach out to your business on social media. When customers send messages or post on your page, it's important to reply and engage them. Not getting timely or personal responses from brands on social media causes many customers to disengage. Customers will often tell you about their satisfaction (or dissatisfaction) on social media, so keep your ear to the ground.
Measure Things Gone Wrong (TGW) – Measure TGW by analyzing the rate of complaints to the number of products you sell. Divide the number of complaints by the number of products sold in a time period. The goal is to have as close a score to zero as possible.
Source: https://www.conversational.com/10-ways-business-owners-measure-customer-satisfaction/
Publish Date: April 25, 2016 5:00 AM
---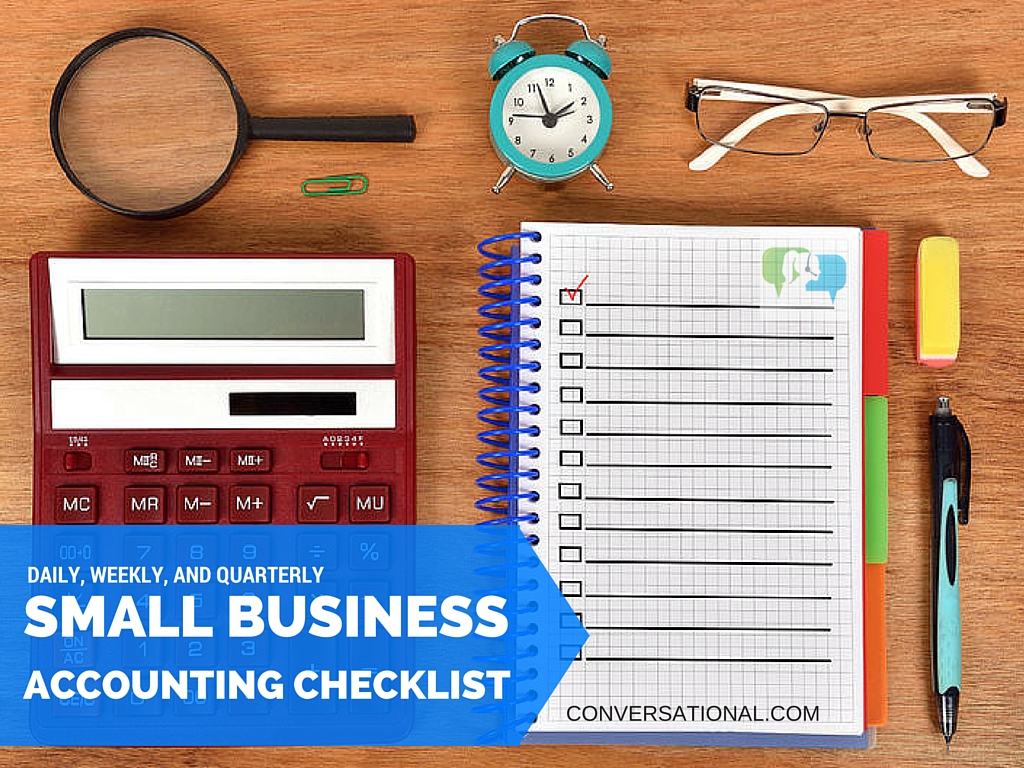 As a small business owner, you know that if you don't stay on top of your finances, things can quickly get out of hand. Accounting and bookkeeping are tasks that, if regularly managed, don't have to take up much of your time. You need a small business accounting checklist to help keep your finances organized.
If you're working with an accounting firm or virtual accountant, make sure they're following this checklist to ensure nothing is falling through the cracks!
These checklists are for daily, weekly, and quarterly accounting tasks. Most business owners don't spend time tracking and keeping up with finances daily, and that can be a costly mistake. Each small business accounting checklist task is short, easy to complete, and will help you make sure your small business is organized and up to date with all financial responsibilities.
Daily Small Business Accounting Checklist
These are small business accounting tasks you should take care of daily. Things can change quickly, and if you do daily checks, errors can be caught before damage is done.
Make note of all incoming and outgoing payments. With a list of all the money entering and leaving your business, you can mentally plan for your cash flow the next day.
Every morning, check your business bank account and keep track of the amount of cash you have. If you check every day, you can catch fraudulent or accidental charges quickly while knowing exactly how much money you have available to spend.
Weekly Small Business Accounting Checklist
Do these tasks every week to make sure you're keeping your finances organized and up to date.
Make sure you've paid your employees on time. Falling behind on payroll will lower office morale and damage trust between you and your employees.
Do all your invoicing – send out your business' invoices for the week and pay any invoices that are due. Make note of any invoice due dates that are upcoming and plan for them.
Take the week into account and update your forecasted cash flow. Based on the cash you've made this week, should your weekly forecast be updated to account for expected results next week?
Quarterly Small Business Accounting Checklist
Take care of these tasks once every quarter. If you've been keeping up with your daily and weekly checklist, the quarterly should be no problem!
Analyze your annual profit and losses. Take a look at the cash you're bringing in, how much of it is profit, your expenses, and the cost of sales. What are you left with? Does this seem to be in line with your annual projections? If not, you'll be able to make changes while there's still time in the fiscal year.
Make an income tax payment. If you're self-employed or a business owner, you know that tax time can be a real headache if you haven't been saving up for your tax payment. By making a smaller payment each quarter, you lessen the load that would normally fall on your all at once.
Source: https://www.conversational.com/daily-weekly-quarterly-small-business-accounting-checklist/
Publish Date: April 22, 2016 5:00 AM
---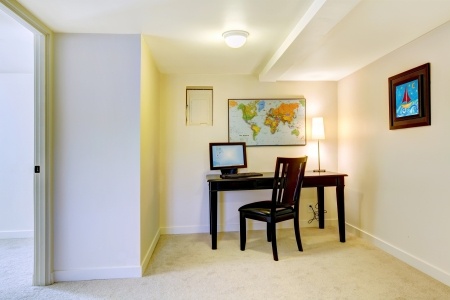 Contrary to popular belief, a great home office doesn't necessarily require an entire room with soundproof walls and a deadbolt on the door (you know, to keep the kids out while you're working). In fact, if you want to design a simple home office, you can work with just a bare corner in your living room and something comfy to sit on.
We'll show you 6 tips to help you design a simple home office without knocking down walls or doing a complete renovation.
Not sure a home office is right for you? Here's a post that will help you decide if you should rent an office or work from home.
6 Tips to Design a Simple Home Office
If you want a simple home office that doesn't take months of planning and a laundry list of renovations, you can put any of these smart tips to use. From the placement of your desk to the visibility of your cords, here are 6 ways to make sure your office looks simple, organized, and clean.
Use natural light from a window
If you set up your desk in front of a sunny window, you'll have natural light to work by and the view will recharge you each time you look up. If you add some plants to your office area, you'll get the added benefit of breathing fresher air.
Exposure to sunlight and fresh air have been shown to benefit your productivity and health in several ways.
Real Simple suggests adding a tall bookcase to the wall nearest the window, adding a lot of storage space and making the area seem larger.
Use the wall
We mentioned adding a tall bookcase to your simple home office because it takes advantage of vertical space, something many people fail to do when they design a home office. You can use the wall to create extra space in your office. Ideas include:
Attach metal cups labeled with their contents to the wall in front of your desk. You can add ribbon, fabric, paint, etc. if you'd like.
Install a shelf or two to keep your things organized and prevent yourself from making piles of papers all over your desk or cluttering the space with picture frames or knick knacks.
Hang a dry erase board, bulletin board, or chalk board. Use it to keep track of your things to do for the day, important reminders, tallies, etc.
Match your home's vibe
If the rest of your house is full of warm colors and wood, you don't want to design an office that focuses on shiny metal and angular silhouettes. Let your home office blend into the surroundings by bringing in some decor or furniture from other parts of your home and finding new furniture that is visually complementary.
Have furniture do double duty
If your space is small, you want to make sure every piece of furniture is functional and worth the space it takes up. Don't waste space on artsy pieces that look great but have no real purpose in your work space.
Use the rest of your home to focus on form; in your home office, focus on function.
Use a bold color that makes you happy
You don't have to be into interior design to have a color preference. Pick up some paint swatches or browse color shades online. Look for a color that catches your eye and visually appeals to you more than others. If you don't have a dedicated room for your home office, paint the wall closest to your desk in your chosen color.
Alternatively, incorporate the color with throw pillows, colored binders, or painted furniture.
Hide the cords
No matter how you decorate or design your simple home office, it will look better if cords are neatly hidden (but still easily accessible). You should first unplug, straighten, and untangle all the cords, then gather them and guide them through the hole or grommet near the back of your desk.
You can cover the cords with fabric to put them completely out of sight, and there are baskets and cord holders available that can help you keep them organized under your desk.
Source: https://www.conversational.com/6-tips-design-simple-home-office/
Publish Date: April 22, 2016 5:00 AM
---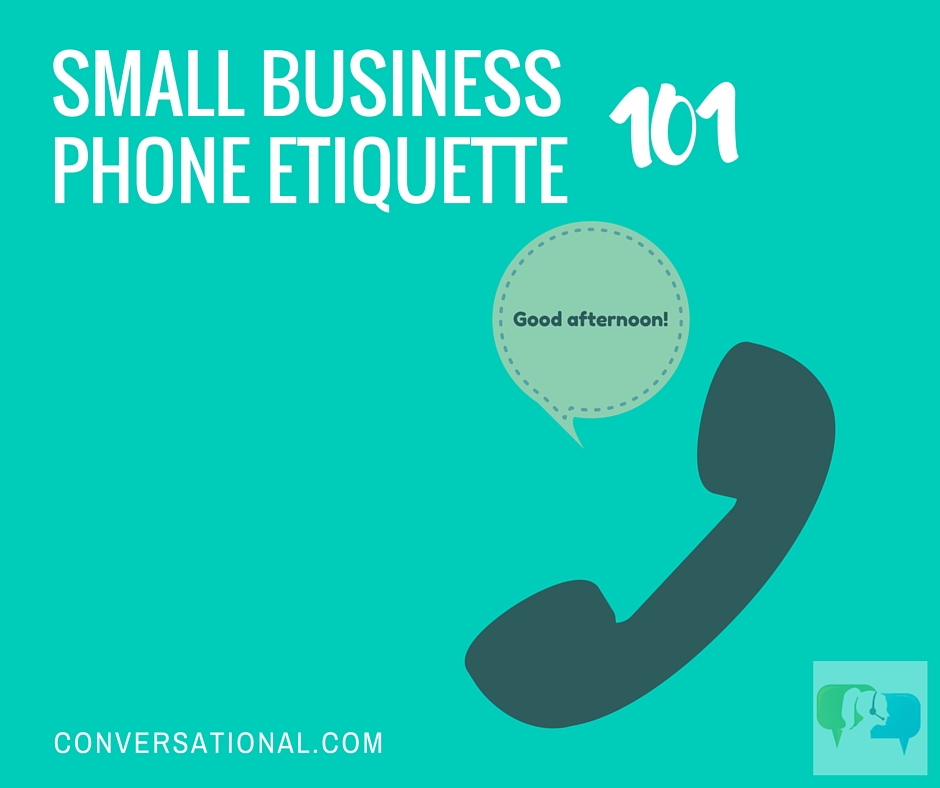 If you want to provide top-notch customer service, using proper small business phone etiquette is a must. You can't rely on face-to-face interactions alone because many people that interact with your business do so over the phone before entering your establishment.
If your business is run entirely online, the phone becomes an even more important centerpiece in your customer service offerings.
There are tons of articles online that give tips for answering the phone at a small business, and we found a lot of great tips this way.
However, we've been in the customer service and call answering business for more than a decade and have some tips of our own to share.
Over the years, we've discovered that answering the phone is an opportunity to not just give the customer information, but to connect with them and provide a branded experience.
Our guide to small business phone etiquette will help you use the phone to get closer to your business goals and win more loyal customers.
Small Business Phone Etiquette 101
Offering terrific customer service over the phone can be divided into a few segments. Answering the phone, handling caller requests, managing appointments, dealing with angry callers, and ending the call.
Answering the phone
When you answer the phone, provide as much information as possible. The caller needs to know they've connected with the right person, company, and department.
Sample script: Thank you for calling _____. My name is ____ and I'll be assisting you today. What can I do for you?
By clearly identifying the company and person who is answering the call, you're letting the caller know that you're paying attention to the call and are ready to help immediately. That goes a long way in providing great customer service and will be perceived by the caller as polite phone etiquette.
Handling caller requests
After you've greeted the caller and they've communicated their needs, requests, or questions to you, it's time to take action. While all caller requests will be different, proper phone etiquette dictates that you respond in one way: Graciously. Act as though fulfilling the caller's request would be your greatest joy in life. For increased effect, use the words "My pleasure" instead of "You're welcome" when a caller thanks you.
You should repeat the request the caller has made in your response to assure them that you've understood what they're asking for.
Sample script: I think I understand – you're having trouble signing in to make a payment on your account because the page won't load, is that correct? (Yes) I will transfer you to our tech support team to get that issue figured out right away. (Okay, thank you) Absolutely! It's my pleasure.
Managing appointments
If a caller phoned your business to make or cancel an appointment, they want the process to be quick and painless. If scheduling an appointment is too difficult or time consuming, they won't call back. We recommend that you use appointment management software to keep track of your appointments and meetings.
Our virtual receptionists can work with any appointment scheduling software you use to ensure you never double-book or forget an appointment. We also send out appointment reminder calls a day or two before the scheduled appointment, which we've found lowers no-shows by up to 75%. It's polite to call and offer a gentle reminder about upcoming appointments.
When a caller wants to cancel an appointment, treat that request just as you would someone calling to schedule one. Life is complicated, schedules are hectic, and the unexpected happens. Be gracious as you accept a cancellation, and if you notice that cancellations are happening more frequently, implement a cancellation policy that can be strictly adhered to. It's smart to offer to immediately reschedule an appointment when a caller cancels, as they're more likely to be interested in rescheduling right now than a few weeks down the line.
Sample script: I understand completely. Thank you for calling and letting us know you won't be able to make it. Can we go ahead and get you rescheduled?
Dealing with angry callers
Dealing with angry and rude callers is a necessary evil when you're in customer service. People can have bad days, abrasive personalities, and existing biases against customer service. We've put together some informative guides on dealing with angry and rude callers, so check those out for tips on handling these callers effectively:
How to Handle Rude Customers on the Phone
The 10 Types of Callers and How to Effectively Handle Them: Part 1
The 10 Types of Callers and How to Effectively Handle Them: Part 2
5 Steps to Follow If a Customer Insults You
Ending the call
You're not out of the woods just yet–ending the call is a great opportunity to reinforce your brand message and customer service priorities. There are a few ways you can end a call to remind the caller that you're still listening and always available to help.
Sample script: I'm glad that fixed the issue for you. I know it's frustrating when a page takes too long to load! You know that you can always call us with any other issues you may have. Enjoy your weekend!
Sample script: I'm so sorry we weren't able to help. I forwarded your suggestion to our product team and they will add it to their list of considerations. I want to thank you again for giving us your feedback! We rely on honest feedback like yours. Have a great afternoon.
Small business phone etiquette requires you to be personal, friendly, and always eager to help. If you're having trouble manning the phones at your business or simply don't want to hire a full-time receptionist, take a moment to look over our 3 virtual receptionist monthly plans.
Source: https://www.conversational.com/small-business-phone-etiquette-101/
Publish Date: April 21, 2016 5:00 AM
---
If you're the owner of a barber shop or salon, you're in a competitive industry. Depending on your location, there might be 10 other salons or shops within a square mile of yours.
The perceived abundance of barber shops and salons is what makes it important to deliver over-the-top customer service, a great atmosphere, and a smart business plan. Your clients could easily choose to go somewhere else, so it's your job to give them a reason not to.
We've collected some useful tips for running a successful barber shop or salon that you can put into practice right away.
Tips for Running a Successful Barber Shop or Salon
Think about your clients' wants and needs.
From the channel playing on the TV to the selection of magazines in your waiting area, your shop should be based around what your customer is interested in. Some salons ask the clients what channel or radio station they'd like to listen to, which is a good way to find the general "climate" of your clientele.
For example, some barber shops may find that their customers prefer listening to political talk radio while others like listening to music or watching ESPN. Tanning salons routinely leave radios in each room to allow the client full control over what he or she listens to during the session.
Understand your business plan.
Decide whether hiring commissioned employees would be a better choice for you than hiring independent contractors that pay booth rent. Both options have pros and cons, and it can be tough to transition from one to the other. Commissioned structures work best when you're hiring stylists or barbers with little experience and no existing clientele.
Beginners enjoy the commission structure because it guarantees them money while they get on their feet and really learn the business. More experienced stylists with large clienteles can benefit more from paying booth rent, buying their own supplies, and keeping the payment received from clients.
Streamline your reception services by working with a live call answering service for salons.
All calls to your business are answered within 2 rings and will be forwarded to your virtual receptionist, who will recite your desired script. Your receptionist can take appointments, cancel appointments, forward calls, direct calls to your voicemail, and send you email notifications of any new messages.
Without taking the time to answer every call and take messages for stylists and barbers who aren't in the shop at the time, you'll streamline the process for everyone at your salon or barber shop.
Advertise your business and run specials and promotions often.
If you haven't already, you should come up with an advertising budget. Each month, spend your allotted amount of money on advertising space that reaches your customer base. Some salons and barber shops have great success using Facebook ads to show their specials and promotions to clients in a given range (say, 15 miles from your business address). Try advertising in the local newspaper, and offer your existing clients discounts for referrals.
By consistently making your business known, you put your shop first in people's minds next time they need a hair cut. Running specials and promotions helps seal the deal–people are more likely to try a new place when they feel they're getting a really good deal.
Source: https://www.conversational.com/tips-running-successful-barber-shop-salon/
Publish Date: April 21, 2016 5:00 AM
---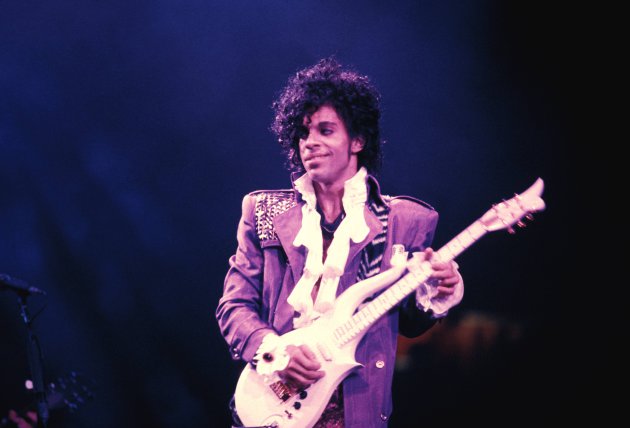 The world was shocked to hear the sudden news of Prince's death on the morning of Thursday, April 21. He is being remembered as an iconic musician, a game-changer, and a champion for artist rights. Prince had another great love in life: Owning and promoting small businesses.
"As good as he is artistically, he is a better businessman." -Randy Adamsick, Executive Director of the Minnesota Film Board
Prince spoke out about his belief in the passion small business owners must sustain to stay in business. Owning an independent recording studio showed him that in order to be successful, artists have to have a sense of ownership in the music they create.
Getting too far away from your roots can be a recipe for disaster, and Prince was firm in his belief that staying involved and taking pride in your product–whether that's a record or a haircut–is the most direct path to success in any kind of business venture.
"As a businessman and the owner of [independent label] NPG Records, I realize that record companies are a natural part of the food chain…but that does not mean that the label should own the final product, i.e., the masters." -Prince, from The Lyrics of Prince Rogers Nelson
Source: https://www.conversational.com/prince-had-passion-business-owned-recording-studio/
Publish Date: April 21, 2016 5:00 AM
---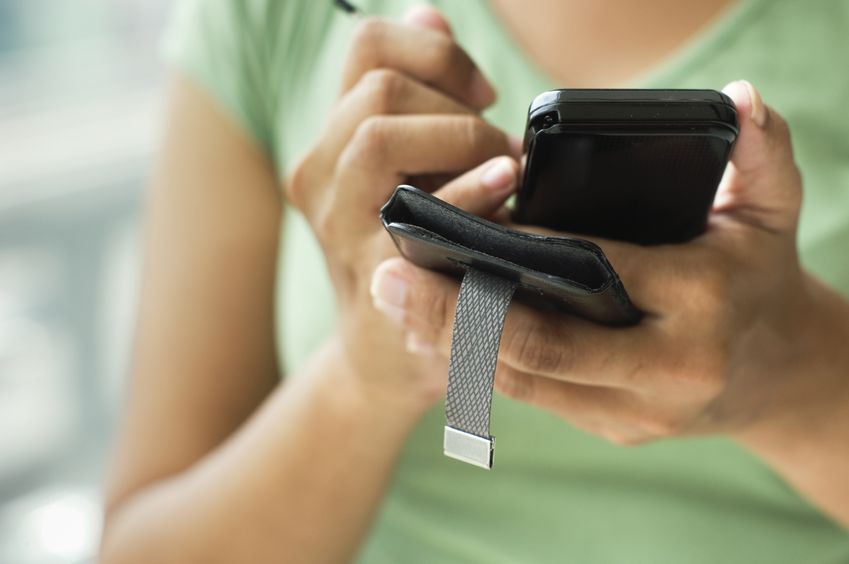 If you've ever heard from a customer that was unhappy with the customer service they received at your business, they might have told you they would be sure to tell everyone they knew about your company's mistake. As it turns out, they usually mean it–the average person tells 24 people about bad customer service they received (in person and online).
Even if you pride yourself on your company's great customer service, you can't completely ensure that a customer never has a bad experience. That's why it's important to know how to avoid situations that leave your customers complaining about your business to friends, coworkers, and family.
46% of people use social media to complain about poor customer service they've received
Nearly a third of people (32%) believe companies are less focused on customer service than ever before
93% of people say customer service regularly fails to meet their expectations
Here are 10 things that cause customers to feel they've had a bad customer service experience. If you can avoid making these mistakes with customers, you can help ensure your customers are leaving feeling satisfied with your business.
10 Things That Make Customers Complain About Your Business
Calling a company and not hearing a human voice – Source
Reaching out to a company on social media and not getting a response – Source
A company representative that's unable to answer questions about a product – Source
Waiting too long on a call – Source
A rude customer service representative – Source
Explaining an issue over and over to different employees – Source
Not being able to reach a resolution for an issue – Source
A loss of or inability to locate customer records or information – Source
Being unable to understand a customer service representative – Source
Being interrupted or cut off when trying to explain an issue – Source
How a customer might respond to bad customer service
When a customer perceives that your company isn't providing great customer service, they might brush it off and hope for the best next time. They might decide not to shop at your business anymore. They might decide to post about it on social media, telling 20+ people that your business doesn't provide good customer service.
The best way to avoid that is by consistently offering the best customer service possible.
Customer service needs to be a substantial part of employee training. Don't rely on employees to intuitively know how to offer great customer service. Give guidelines and scripts to ensure a consistent experience every time. Stick to your guidelines and strategies and you'll find that customers start responding positively to your changes. Remember: You catch more flies with honey than with vinegar.
Even if things go wrong during a customer service interaction at your company, if your representatives use the right listening skills and assistance techniques, the customer can leave feeling satisfied and ready to use your business again in the future.
Source: https://www.conversational.com/10-things-make-customers-complain-business/
Publish Date: April 20, 2016 5:00 AM
---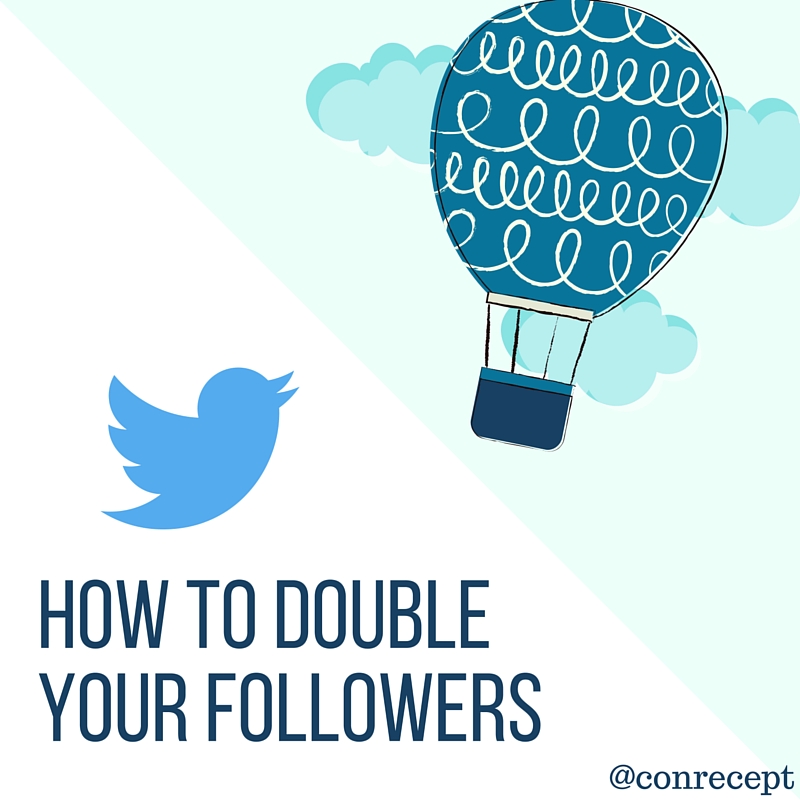 We all want more followers on Twitter. When your tweets reach more people, you get more engagement–more likes, retweets, and clicks to your website. The problem is, we don't all have time to hang out on Twitter all day, replying to a million users in attempts to get noticed and earn new followers.
That's okay, because the most effective actions you can take to win new followers on Twitter can all be completed in 5 minutes or less each day. By the end of the first week, you could double your followers and really boost your engagement.
If you've got 5 minutes to spare each day, you're ready to double your Twitter followers. Here's the 5 minute Twitter routine you need to make your Twitter account a roaring success.
The 5 Minute Twitter Routine That Will Double Your Followers in a Week
1. Tweet as many times as you can daily. The numbers of posted tweets on a given page are strongly correlated with the number of followers that account has. Studies show that the more often you tweet, the more retweets you get. Retweets show your tweets to an entirely new group of followers and always result in new follows. To give your account a boost, tweet often and tweet well. (1 min/day)
Source: https://www.conversational.com/5-minute-twitter-routine-will-double-followers-week/
Publish Date: April 19, 2016 5:00 AM
Page: 1 | 2 | 3 | 4 | 5 | 6 | 7 | 8 | 9 | 10 | 11 | 12 | 13 | 14 | 15 | 16 | 17 | 18 | 19