Conversational - ContactCenterWorld.com Blog Page 16
Page: 1 | 2 | 3 | 4 | 5 | 6 | 7 | 8 | 9 | 10 | 11 | 12 | 13 | 14 | 15 | 16 | 17 | 18 | 19
When you're looking for images to use on your website, social media, or blog posts, the options available can be overwhelming. Finding images that are available for you to use under copyright law and that look professional isn't as easy as it sounds.
That's partially because there are a lot of bad stock photos out there–really, really bad ones. Stock photos like this: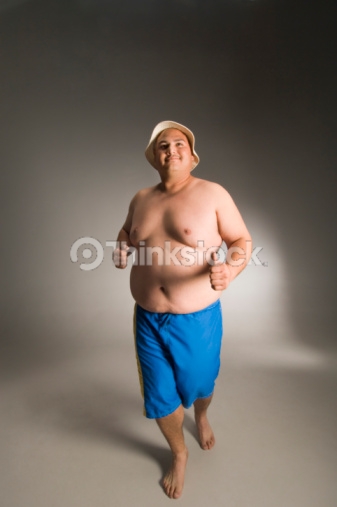 We know truly bad stock photos when we see them, but what is it that makes them bad? How can you tell a good stock photo from a bad stock photo? We figured out the formula.
Bad Stock Photos
Bad stock photos can fit under a few different categories. There are the business-themed stock photos that feature exaggerated facial expressions and the required suit and tie. There are the artistically blurred stock photos of objects sitting on desks.
And don't forget about the cringe-worthy vector images of conceptual ideas (this one's harder to describe, but you'll see examples below).
Examples of Bad Stock Photos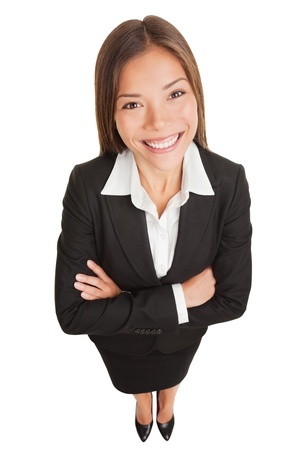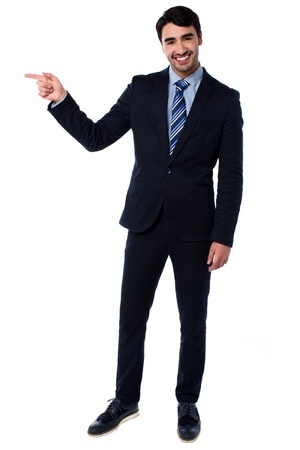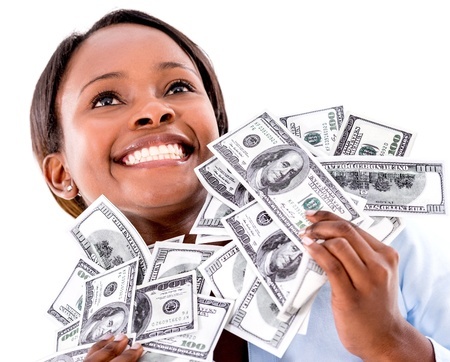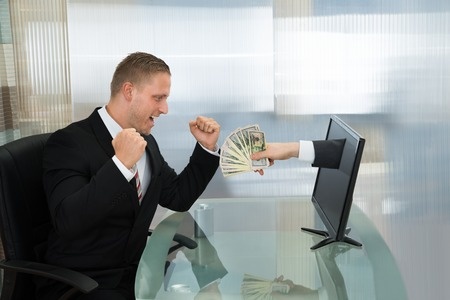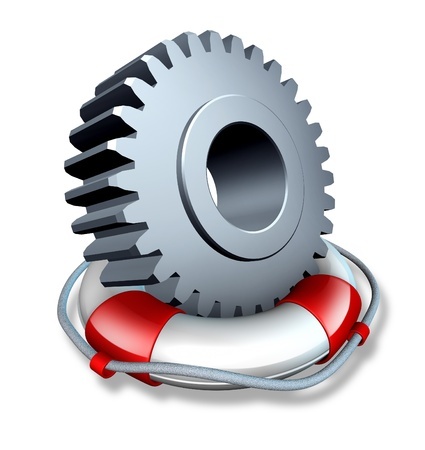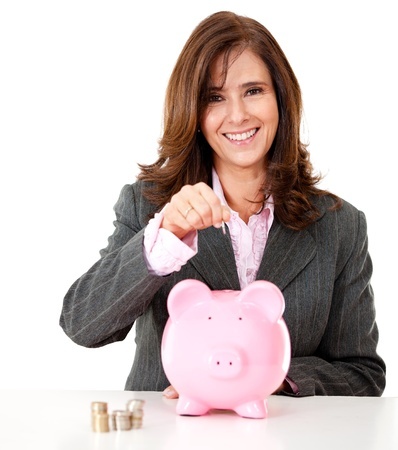 Good Stock Photos
Good stock photos are easy to point out. They're visually appealing, look professionally done, and don't feature outlandish scenarios or facial expressions (unless that's what you're going for).
The site we use to source stock photos from, 123rf, has a great selection of stock photos, and if truth be told, we had more trouble finding really bad stock images than we did finding really great ones.
What makes a good stock photo?
Good stock photos have a clear point of focus. There isn't too much going on in the frame, and the image should be crisp and clear. They are taken with the rules of composition and lighting in mind. They don't rely on stereotypes to convey a message (unlike our friend with the pink piggy bank representing saving money above).
Good stock photos can take an average blog post or web page and make it pop. And when visitors see great images on your site, they trust you more. After all, if you're so focused on your business and content that even the stock images you use are great, there's a good chance you provide amazing service to your customers.
Examples of Good Stock Photos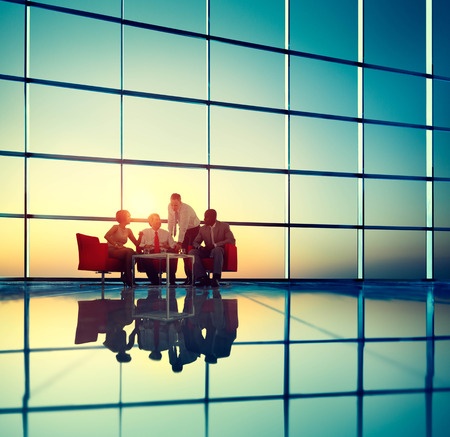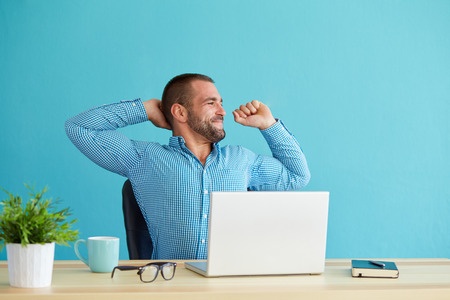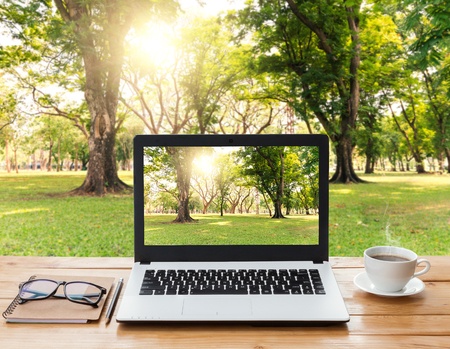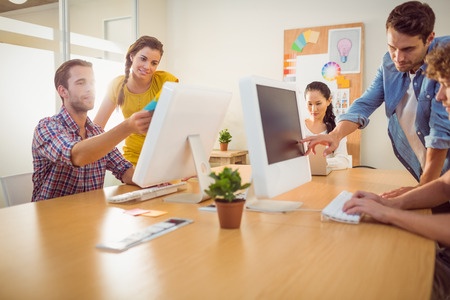 See how much cleaner and appealing these images are than the first batch? They feature scenarios that look realistic, or show a new way to view existing objects (like the laptop looking through to the trees). Interesting visual angles, bright colors, and clean lines make these stock photos look professional and enticing.
Bad stock photos are great for a laugh, but terrible for your business. If you can't find a great stock image to use for your idea, consider creating an image using Canva or a similar app. Remember: We are visual creatures, so the photos you use to market and promote your business are very important. Choose your stock photos wisely!
Source: https://www.conversational.com/good-stock-photos-vs-bad-stock-photos/
Publish Date: March 2, 2016 5:00 AM
---
What will $5 a day buy on Facebook ads? While the answer really depends on your business and the success you're already having with your Facebook page, we've found that spending $5 each day on Facebook has really paid off for our brand.
Is it frustrating that you have to pay to reach people who may have already liked your page, but don't get shown your posts? Yes. Is it hard to budget $5 to boost a great post? No.
We're going to show you how we use $5 a day to increase our reach, engagement, and brand awareness. Feel free to "steal" our tips!
What $5 a day buys in Facebook Ads
This depends on your objective for the ad–typically, buying page likes costs more than buying post engagements, and buying website clicks costs more than both page likes and post engagements.
If you're just trying to boost post engagement and get people active on your page, boosting an existing post is simple and effective. We boost nearly every post we publish, but here's the important part: We only post once per day. Boosting every post can get very expensive if you post several times a day, so keep your posting schedule in mind.
When we boost our post at $5, we are able to show that post to many more people than we could have without boosting–thanks, Facebook–and an additional benefit is the level of targeting we can use to make sure our content is landing in front of the right eyes and ears.
But how many more people can you reach with just $5? A lot, it turns out. Check out this example from our page: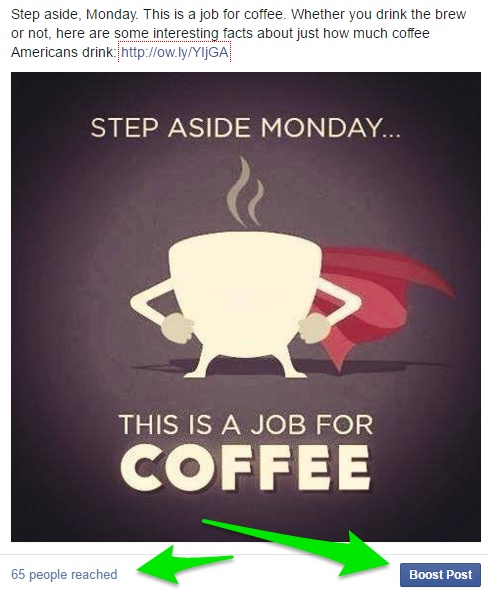 Just 65 people were reached on our unboosted post about coffee.
But take a look at the reach on a post that we boosted for 2 days at $5 (a total of $10):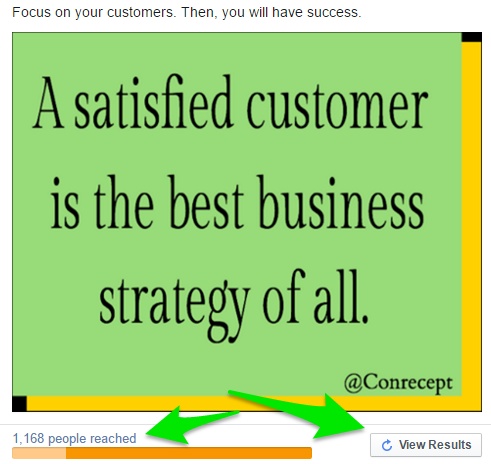 That's an increase of 1696.9% in reach. Wow! Not pictured are the number of likes, comments, and shares on each post. The first, unboosted post received 2 likes and 1 share. The boosted post received 62 likes and 3 shares.
The number of likes on our boosted post was a 3000% increase over the unboosted post. The number of shares saw a 200% increase over the unboosted post. And let us remind you: These increases came at a whopping cost of $10, total.
Ready to boost a post?
Go to your business's Facebook page. You can boost a post right from the Timeline! Find the post you want to boost, click the blue Boost Post button in the bottom right corner of the post, and add your daily or lifetime budget for the ad (we suggest starting with $5).
Choose the targeting for your audience by interests, job title, behavior, and more. Now you can sit back and watch the likes, shares, and comments roll in!
Source: https://www.conversational.com/what-will-5-buy-on-facebook-ads/
Publish Date: March 2, 2016 5:00 AM
---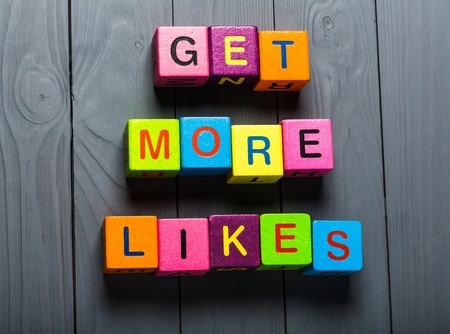 It's very likely that your business is active on social media already, but are you using Facebook ads yet? Wondering how to use Facebook ads to promote your business?
The major social network offers a great, cost-effective, and simple way to reach your target audience using ads that are shown to people you target.
But Facebook ads are a finicky beast, and must be created with care to appeal to the audience you target.
Images, text, and the link you choose to send viewers to (or the post you choose to boost, alternatively) are all important components of these ads. For the best results, you should use Facebook ads to bolster your current content marketing plan.
In this post, we will show you how to use Facebook ads to support your content marketing plan and bring new, targeted visitors to your site.
What are the different types of Facebook ads?
Facebook offers several options and objectives for creating ads. Your ad objective is what you want people to do when they see your ad. Are you looking to:
Get more likes on your Facebook page
Promote a contest
Send users to your website
Collect lead information
Boost an existing Facebook post
You can do all these things and more using the pre-set objectives in Facebook Ads Manager.
Most Facebook ad objectives require you to develop the ad creative–the images, text, and call to action shown with your ad. This can be time consuming, and it should be if you want your ad to perform well.
Keep your target audience in mind for every step of the process. For example, an ad for a product targeting women ages 25-45 would use a very different set of images and ad copy than an ad for a product targeting men ages 18-24.
One of the easiest and effective ways to use Facebook ads is by boosting existing posts. If you use this option, you won't need to create any text or images for your ad because Facebook will simply promote an existing post that you choose.
How does boosting a post work?
When you visit your Facebook Insights page, you can see which posts are performing well and which ones are being ignored. Don't make the mistake of boosting only the posts that aren't garnering engagement–that's a waste of your ad budget.
Instead, look at the posts that are already performing well and boost them to make them perform even better.
Here's an example of two different posts from our Facebook page: One boosted, and one not boosted.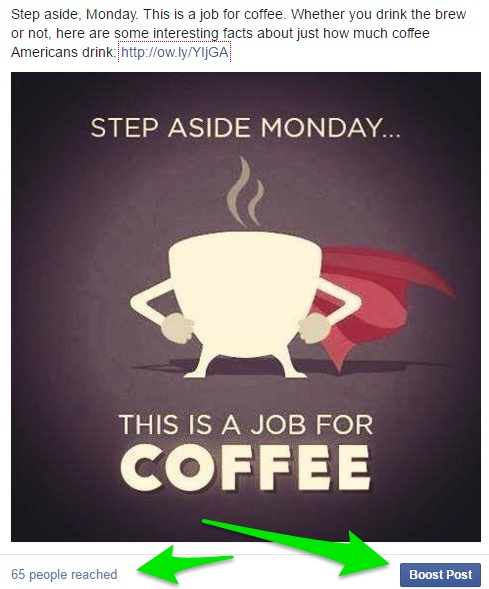 Notice only 65 people were reached without boosting the post (not uncommon with Facebook's constantly changing news feed algorithms!).
Now, take a look at the reach on a post that we boosted for 2 days at just $10: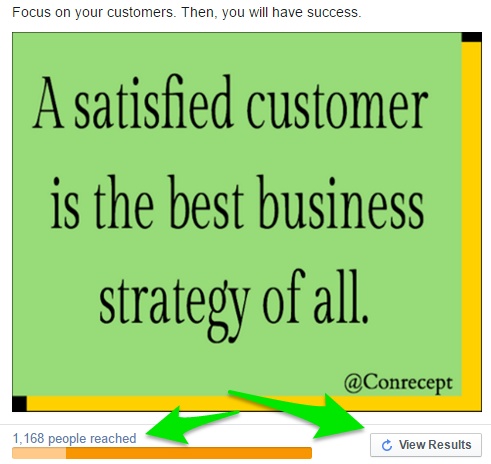 That's an increase of 1696.9% in reach! Not shown are the number of likes, comments, and shares on each post. The first, unboosted post received 2 likes and 1 share. The boosted post received 62 likes and 3 shares.
When you visit your business's Facebook page, you can boost a post right from the Timeline. Just find the post you want to boost, click the Boost Post button, and add your daily or lifetime budget for the ad. Choose the targeting for your audience by interests, job title, behavior, and more.
For example, if we were boosting a post about financial planning for business owners on the Conversational Facebook page, we might target users who are Small Business Owners (job title) interested in the topic of the post (for example, Financial planning) and have Liked Dave Ramsey's Facebook page.
This would give us a nice, niche audience to show our boosted post to, gathering more clicks, likes, comments, and shares than if we showed the post to our Facebook fans alone.
That's all you need to know about how to use Facebook ads! Stay tuned for our upcoming post: How Much Should I Spend on Facebook Ads?
Source: https://www.conversational.com/how-to-use-facebook-ads-to-support-your-content-marketing-plan/
Publish Date: March 1, 2016 5:00 AM
---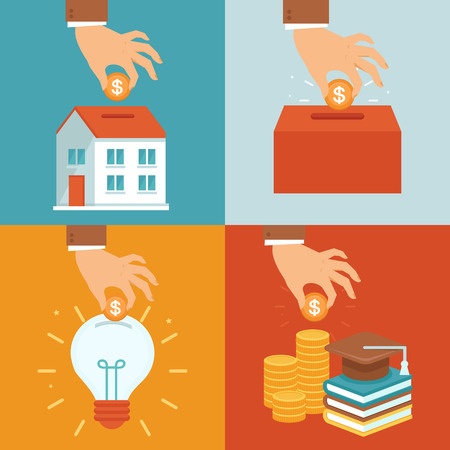 The roaring 20s might have passed you by, but you're in the financial investing sweet spot right now: Your career is on track, you're starting to save more money, and you're focused on your future.
Maybe you're dealing with pesky student loan debt, a hefty mortgage, and an ever-growing list of family expenses.
But time is on your side, and if you begin making smart financial choices and looking for ways to start investing now, you will reap the rewards later on.
Time Magazine said "Even small [investing] moves can make a huge difference long-term."
So let's get to it–here are 6 ways to start investing in your 30s.
How to Start Investing in Your 30s
Start slow
A word of warning for those new to investing: Slow and steady wins the race. Excitement can drive new investors to put all their eggs in one (faulty) basket, burn out on investing, and miss major financial rewards. Starting slow and investing in small amounts over time will yield the highest rewards for new investors.
Check out the video from CNBC below for more details about investing incrementally in your 30s.
Stock up
An alarming statistic for you to consider: Almost 40% of Generation Y say they will "never feel okay investing in stocks" after the financial crisis, according to MFS Investment Management. But portfolios mostly in stocks average gains of around 10.8% annually, while bonds average 4%.
Don't let fear of losing money intimidate you from investing in the stock market. If you invest in a smart way, you only have money to gain. Time recommends that in your 30s, most of your portfolio should be in stocks (50% in US equities, ~30% in foreign equity).
Avoid cashing out
If a person leaves a job in their twenties, there's more than a 50% chance they'll choose to cash out their 401(k) to get the money right away. Smart, right? Not really.
Picture this: If your 401(k) had a $10,000 balance and you decided to cash out, you'd be left with around $7,000 once taxes and penalties were taken out. But roll that 401(k) into an IRA or your new employer's plan (at a growth rate of about 6%), and you could see gains of more than $90,000 by the time you retire. That's a nice little nest egg!
Get accountability
Just like having an accountability partner helps with losing weight, kicking addictions, and getting work done, it's smart to have an accountability partner for investing. Choose a friend that knows what they're doing and is committed to helping you succeed.
Check in with your accountability partner with updates on your portfolio and investments, and you'll be less likely to start letting things slide or stop investing altogether.
Take a course
The more you personally know about investing, the better financial decisions you'll make and the more in control you'll feel. That's why we recommend taking a course to teach you the basics and nuances of investing.
You can learn about stocks and bond investing with Stanford University's free online course, offered here. Time Magazine recommends the Personal Financial Planning course found here.
Tackle small debts
It might seem counter-intuitive, but paying off small debts before tackling larger ones is a smart financial tactic. You could pay on some large debts for years before seeing real results; Start throwing money at a small debt, though, and watch it completely disappear.
That's peace of mind for you, and solid ground to start investing on. Did you enjoy our 6 ways to start investing in your 30s? Anything we left out? We'd love to hear your thoughts. Find us on Twitter @Conrecept and on Facebook!
VIDEO: Investors in Their 30s Should Start Slow, According to CNBC
Source: https://www.conversational.com/6-ways-to-start-investing-in-your-30s/
Publish Date: March 1, 2016 5:00 AM
---
The Small Business Administration (SBA) uses the Table of Small Business Size Standards to assess and track small business size and loan qualification.
Determining whether or not your business fits under the small business umbrella is simple using their guide. Just look for your industry and read the details for determining business size.
In some industries, that size standard might contain numbers of employees. In others, it may contain average annual receipts as a measurement instead.
What is a Small Business Size Standard?
A Small Business Size Standard is the way the SBA measures your business to determine it's qualifications for certain programs. The SBSS is usually found in one of two forms: The number of employees, or average annual receipts. These provide quantitative limits for the largest size that a business can be while still being classified as a small business.
Why is the Small Business Size Standard important?
The Small Business Size Standard is what the SBA will use to determine whether or not your business is qualified for certain programs, contracting opportunties, services, and/or loans. This is why it's important that you know the status of your business before applying to or for any of these programs.
These Size Standards are from the Small Business Administration's website.
SBA Small Business Size Standards by Industry
Industry | Sector
Utilities | Sector 22
Hydroelectric power generation – 500 employees
Fossil & nuclear electric power generation – 750 employees
Renewable electric power generation – 250 employees
Electric bulk power transmission & control – 500 employees
Electric power distribution – 1,000 employees
Natural gas distribution – 1,000 employees
Other utilities – $15 million to $27.5 million in average annual receipts
Construction | Sector 23
General building and heavy construction – $36.5 million in average annual receipts
Special trade contractors – $15.0 million in average annual receipts
Land subdivision – $27.5 million in average annual receipts
Dredging and surface cleanup activities – $27.5 million in average annual receipts
Manufacturing | Sector 31-33
Size standards for manufacturing industries range from 500 employees — 1,500 employees

Approximately 27 percent – 500 employees
Approximately 25 percent – 750 employees
Approximately 25 percent – 1,000 employees
Approximately 16 percent – 1,250 employees
A small number (7%) – 1,500 employees
Wholesale Trade | Sector 42
The size standard for SBA's loan programs and most Federal programs (except procurement programs) range from 100 employees to 250 employees
For Federal procurement programs — has 500 or fewer employees, and
Delivers the product of a small business domestic manufacturer, processor, or producer as set forth in SBA's nonmanufacturer rule
Retail Trade | Sector 44-45
About one-third of the retail trade industries – $7.5 million in average annual receipts
Grocery stores, department stores, used motor vehicle dealers, electrical appliance dealers have higher size standard, ranging from $11 million to $38.5 million in average annual receipts
New car dealers – 200 employees
Fuel dealers – 100 employees.
Agriculture | Sector 11
Most agricultural industries (those in crops/animal production & aquaculture) – $750,000 in average annual receipts
Remaining agricultural industries – $5.5 million to $27.5 million in average annual receipts
Logging has a 500 employee size standard
Mining | Sector 21
Mining industries – 250 employees to 1,500 employees
Support activities for mining – $7.5 million to $38.5 million in average annual receipts
Drilling of Oil & Gas Wells — 1,000 employees
Transportation & Warehousing | Sector 48-49
Scheduled air transportation, nonscheduled chartered air, rail – 1,500 employees
Other nonscheduled air transportation – $15 million in average annual receipts
Water transportation – 500 employees to 1,500 employees
Truck transportation – $27.5 million in average annual receipts
Transit & ground passenger transportation – $15 million in average annual receipts
Pipeline transportation of crude oil & refined petroleum products – 1,500 employees
Pipeline transportation of natural gas – $27.5 million in average annual receipts
All other pipeline transportation – $37.5 million in average annual receipts
Support activities for transportation – $7.5 million to $38.5 million in average annual receipts
Warehousing & storage – $27.5 million in average annual receipts
Information | Sector 51
Publishing industries, including internet publishers – 500 employees to 1,500 employees
Software publishing — $38.5 million in average annual receipts
Motion Picture & Sound Recording Industries – $7.5 million to $38.5 million in average annual receipts
Integrated Record Production/Distribution & Music Publishers – 1,250 employees & 750 employees
Broadcasting – $38.5 million in average annual receipts
Telecommunications (wired, wireless, and reselling, except satellite) – 1,500 employees
Satellite and other telecommunication services – $32.5 million in average annual receipts
Data Processing, Hosting, Related Services, & Other Info Services – $15 million-$32.5 million in average annual receipts
Internet Publishing & Broadcasting & Web Search Portals – 1,000 employees
Finance & Insurance | Sector 52
Depository institutions & credit card issuing companies – $550 million in average assets
Most non-depository institutions – $38.5 million in average annual receipts
Direct property and casualty insurance carriers – 1,500 employees
Other direct insurance carriers – $38.5 million in average annual receipts
Funds, trusts and other financial vehicles – $32.5 million in average annual receipts
Real Estate, Rental, & Leasing | Sector 53
Lessors of real estate – $27.5 million in average annual receipts
Leasing of building space to Federal Government by owners – $38.5 million in average annual receipts
Offices of real estate agents and brokers – $7.5 million in average annual receipts
Activities related to real estate – $7.5 million in average annual receipts
Automotive equipment rental and leasing – $38.5 million in average annual receipts
Commercial/industrial machinery & equipment rental & leasing – $32.5 million in average annual receipts
Professional, Scientific and Technical Services | Sector 54
Legal services – $11 million in average annual receipts
Accounting & related services – $20.5 million in average annual receipts
Architectural services – $7.5 million in average annual receipts
Engineering, surveying & mapping services – $15 million in average annual receipts
Specialized design services – $7.5 million in average annual receipts
Computer system design & related services – $27.5 million in average annual receipts
Management, scientific & technical consulting services – $15 million in average annual receipts
Advertising, public relations & related services – $15 million in average annual receipts
Research & development in biotechnology – 1,000 employees
Research & development in the physical, engineering and life sciences – 1,000 to 1,500 employees
Research & development in social sciences and humanities – $20.5 million in average annual receipts
Management of Companies and Enterprises | Sector 55
Banks and other holding companies – $20.5 million in average annual receipts
Admin Support, Waste Management & Remediation | Sector 56
Employment services – $27.5 million in average annual receipts
Business support services – $15 million in average annual receipts
Travel arrangement & reservation services – $20.5 million in average annual receipts
Investigation & security services – $20.5 million in average annual receipts
Other support services – $20.5 million in average annual receipts
Waste collection, treatment & disposal – $38.5 million in average annual receipts
Remediation services – $20.5 million in average annual receipts
Environmental remediation services – 500 employees
Health Care & Social Assistance | Sector 62
Office of physicians – $11 million in average receipts
Office of dentists – $7.5 million in average annual receipts
Office of other health practitioners – $7.5 million in average annual receipts
Hospitals – $38.5 million in average annual receipts
Source: https://www.conversational.com/small-business-size-standards-by-industry/
Publish Date: February 29, 2016 5:00 AM
---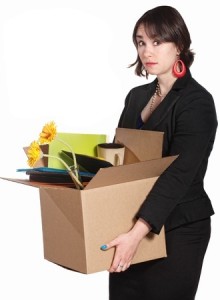 Is it possible that just one of your employee's could turn a customer's experience from fine to ruined? It turns out that yes, just one employee can destroy a customer's experience on their own. Most organizations would find this hard to believe and may think that the customer experience is as simple as the interaction at the cash register or during an appointment, but there are many more factors that go into the experience.
From the way your business is presented in cleanliness and ease of experience to the way your employees greet, assist, and show gratitude to your guests, there are many facets to a customer experience to consider. Are your customers receiving a uniform experience from each employee of yours when it comes to treatment, greetings, and information received?
Knowing the importance behind customer service is the first step, while learning consistency is what comes next. Take a look at why forgetting these things could just one of your team members to destroy a customer's experience with your brand.
The importance of establishing great customer service
From the get-go, you understand that delivering great customer service is a must, but do you understand how far that spreads? It's more than just a smile while purchasing a product from you or a polite voice on the phone when a customer calls in with a request. It's the entire experience from how information is delivered online and through your staff to the customer to how your employees are treating guests on social media or to their face.
Unifying the team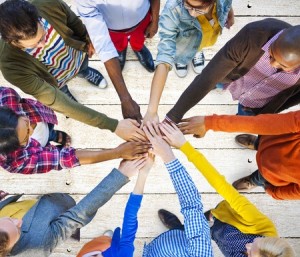 Once you've established that customer service needs to be a priority, you need to find ways to make sure you have consistency with your brand and customer experience. This starts with putting out the same messages and mission out to the world online, in your store, and in all customer interactions.
Then you need to have your employees on the same page about what needs to happen when they interact with your guests and what information needs to match for each scenario. If you feel there is a cohesiveness that isn't there with your team or online presence vs. real world, find the glue that will hold that together and present a consistent experience. If a customer works with eight different employees, the knowledge and answers provided to customers should be consistent among each of them.
How to build consistency
If you are struggling to find the glue that will bring consistency to the team, it may be time to ask yourself where differences are coming up. You want to build your business like you are building a house, in which you are building upon a solid foundation with time and attention put into each level of the house.
Build your customer experience in this way with a solid foundation, consistency, and a plan of action, while allowing the future to be the time that you allow for more flexibility and customized experiences.
Customers most want to be delivered correct and quick information more than anything else. People want a quick response to their inquiry or complaint more than anything else, but after this element, they would love a personalized experience, a chance to build a relationship, and then offers based on preferences.
On the other hand, the worst customer experiences are those that involve a slow response to a customer inquiry, followed by inaccurate or misleading responses about a product. You can take this information and improve your systems, with techniques such as having an easy system to access information quickly, having an organized system, and having regular team meetings to make sure everyone is on the same page in order to make sure your employees can deliver consistent information quickly to customers.
Test the team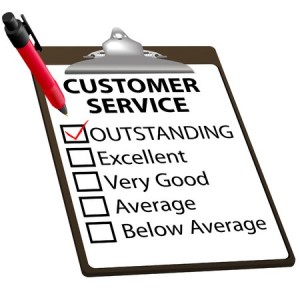 Lastly, you may want to test your team to see if things are running smoothly. Bring a fake customer into the store to ask different team members for help on the same question to see if the answers come out the same. Have your fake customer call in, email, or use social media to see how the experience is similar or varies.
Ask the person you chose to play this role if the customer experience was pretty consistent, had some variations, or was completely different depending on who had helped him or her. You may learn that certain team members will take shortcuts, some don't understand portions of the business, or that everyone is truly on the same page and doesn't struggle to maintain consistency with each customer through al modes of communication.
Don't get frustrated if inconsistencies arise as many times delivering the same customer experience is like playing a game of telephone in which your employees may have their own interpretations of how it's supposed to happen.
Since it only takes one customer to mislead a customer, fail at offering a helpful experience, or to choose to treat the customer different from the expect consistent experience, it's important that you are on top of your employees when it comes to performance, expectations, and what the consistent experience should look like.
Source: https://www.conversational.com/can-one-employee-destroy-the-customer-experience/
Publish Date: February 29, 2016 5:00 AM
---
Google Chrome is the most popular internet browser. Millions of people use it everyday, but many people don't take advantage of the extensions available for Chrome. Extensions are applications that run in your browser and take some type of action while you browse. There are extensions that can do pretty much anything under the sun–from highlighting NoFollow links to helping you save articles to read for later.
In this post, we'll look at the best Google Chrome extensions for business and how you can use them to be more productive, stay organized, and be a better business owner.
Top 5 Chrome Extensions for Business
1. Pocket for Saving Articles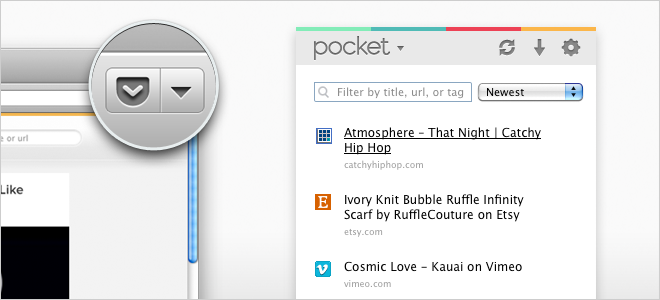 Save articles that interest you for later with Pocket. When you come across (or StumbleUpon) an article you'd like to read but don't have the time to do it now, just click the Pocket extension to save the article to your queue. Later, you'll be able to access it from any of your devices: Smart phone, tablet, or desktop computer. This extension lets you carry your reading material in your pocket.
2. OneTab for Compiling Open Tabs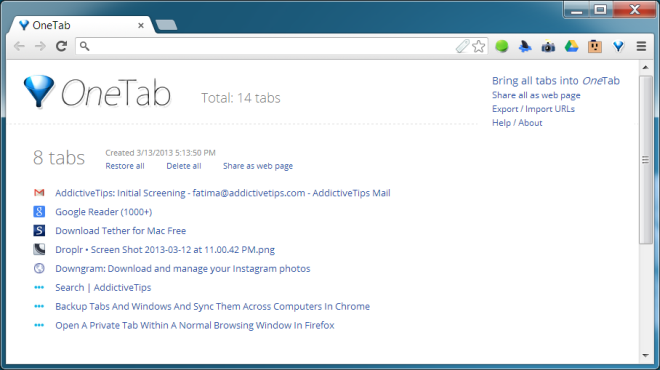 How many tabs do you have open right now? Wait, don't answer that (for me, it's 6). If you're anything like me and keep several tabs open at a time, it's weighing your computer down and endlessly distracting you. That's what OneTab is designed to combat.
Just open the OneTab extension to take all your open tabs and compile them into a list that you can access later on, when you're a little less multitask-y.
3. SimpleBlocker for Blocking Distractions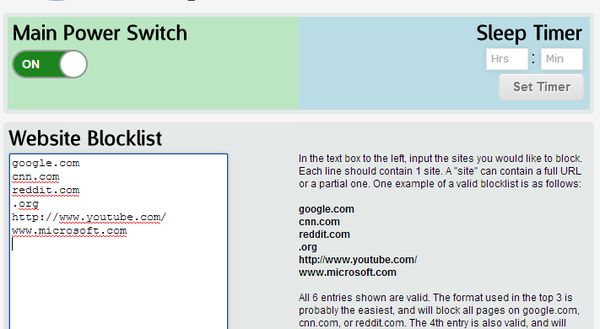 It's tough to get work done when Facebook is beckoning to you and cat videos exist. SimpleBlocker helps you block out distractions that keep you from getting work done so you can focus on your priorities.
SimpleBlocker lets you block access to domains that you specify for a period of time. You could choose to block Facebook and Twitter from 8am-1pm, for example. Think of how your productivity could soar if you blocked all your distractions!
4. Google Page Analytics for Tracking Your Website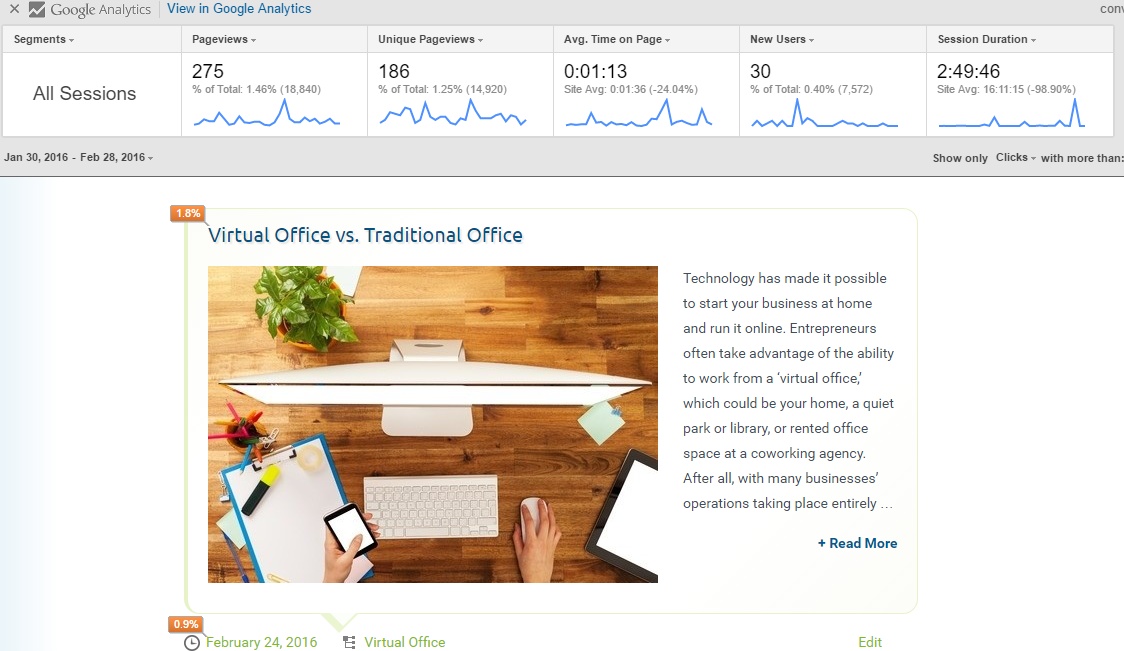 This extension is really handy for the analytic nerds among us. You can view the segments and criteria you specify for every page on your website using this extension–all without visiting Google Analytics. A window appears at the top of your screen with information about the page you're currently viewing.
Keep in mind, this extension only provides GA information about websites you're already tracking with Google Analytics.
5. Chrome Remote Desktop for Accessing Files Remotely
Ever left an important file at work, or needed an image that was stored on a different desktop? Chrome Remote Desktop enables you to access files from any of your registered desktops and makes sharing a breeze. Just download the extension on any desktop you'll need to access files from and you're ready to start.
Now that you can gather the articles you want to read all in one place for later, block out distractions, track and analyze your website's progress easily, and manage all your desktops remotely, you're ready to get back to business. What other Chrome extensions for business should we know about? What extensions are you using right now? We'd love to hear your comments.
Tweet @conrecept with your favorite Chrome extensions for business and we'll give you a shout out!
Source: https://www.conversational.com/top-5-google-chrome-extensions-for-business/
Publish Date: February 29, 2016 5:00 AM
---
What is a virtual receptionist? The industry has been in the media a lot recently, and it has many people wondering what a virtual receptionist does. That happens to be our specialty, so we created an infographic to answer your most burning questions about virtual receptionists (VRs).
Below, check out our infographic (made using Canva!) and share your thoughts. If it sounds like a virtual receptionist would be right for your business, be sure to check our Pricing page to compare our monthly plans. Right now, we're offering a 21 day money back guarantee for new clients and our plans start at just $99/month.
What is a virtual receptionist?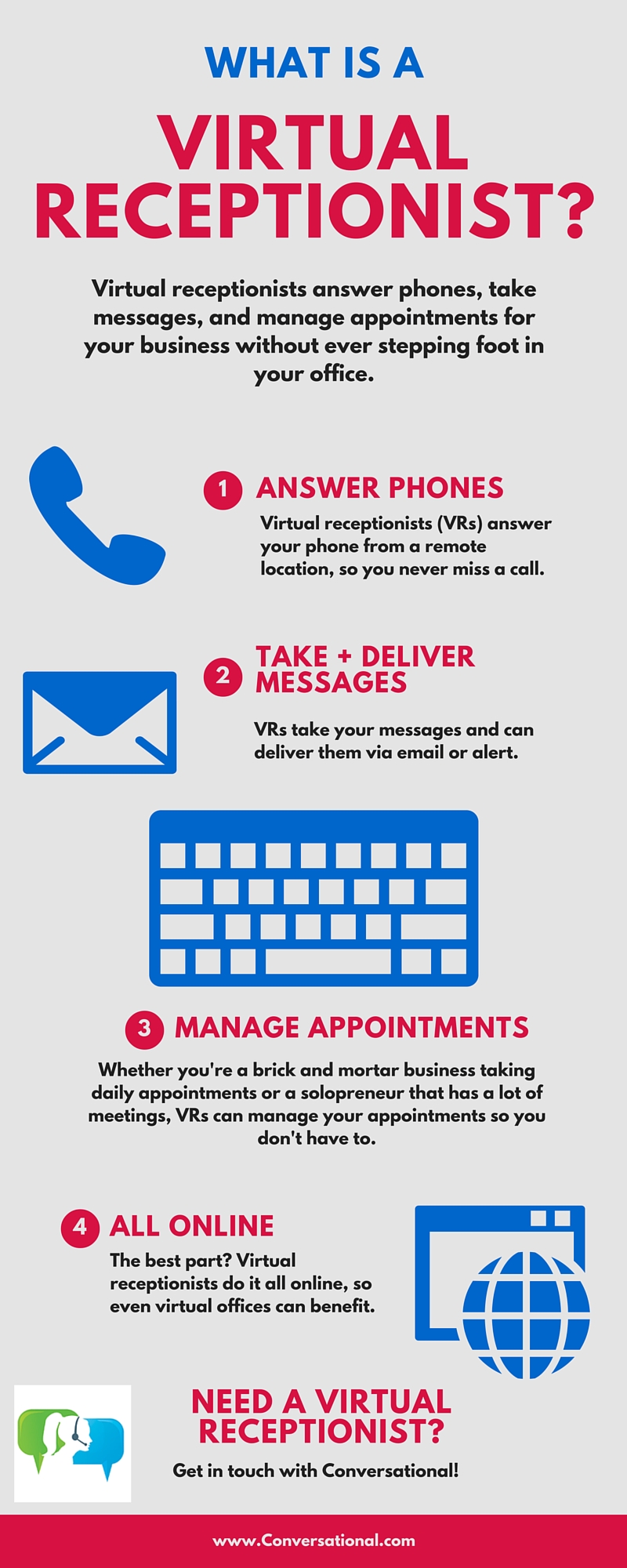 Have any additional questions about virtual receptionists? We thought you might. We've answered the most common questions here in our Frequently Asked Questions, so check them out or feel free to get in touch on Twitter: @Conrecept!
Source: https://www.conversational.com/what-is-a-virtual-receptionist-infographic/
Publish Date: February 26, 2016 5:00 AM
---
You're here for the infographic, which is absolutely chock-full of great information about the perks of working from home. We know! First, we want to talk about the importance of the remote working movement and rise of the virtual office.
It's no secret that we're supporters of the remote working movement, and we think virtual offices for small businesses are a smart choice. Above the convenience, we think it's the new direction the workforce is headed in, and that it has important implications for small business owners and entrepreneurs. Working from home instead of commuting to an office every day holds benefits for our environment, personal well-being, and wallets.
After you check out the infographic below, click over to our recent blog post about the reasons you should work from home. It might help you make the decision to start working from home.
Without further ado, here's the infographic on the perks of working from home!
The Perks of Working From Home
Infographic by CarInsurance.org

The downside of working from home
There are certainly a lot of perks of working from home, but every concept has its' pros and cons. Working from home provides a variety of benefits to entrepreneurs, small business owners, and freelancers. One issue some people complain about after working from home for a while is social isolation.
After working in an office or for another company, it can feel lonely, working from home, building your business. What can you do, other than return to the office or lease commercial property?
There are several steps you can take to minimize that feeling and get more social interaction as a remote business owner or freelancer. We outline those steps in our article Why You Should Consider Working From Home.
More on working from home:
How Can You Be More Productive Working From Home?
FAQ: Live Receptionist for Your Home Office
Source: https://www.conversational.com/the-perks-of-working-from-home-infographic/
Publish Date: February 26, 2016 5:00 AM
---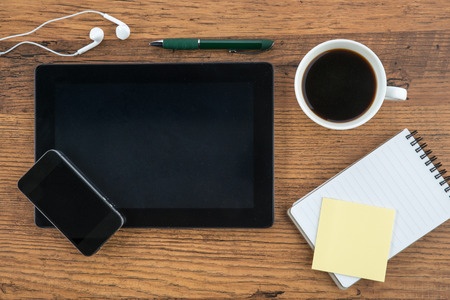 Have you ever put headphones on while working? Many people enjoy listening to music while performing repetitive or boring tasks, or in an especially noisy or quiet workplace, because the custom 'soundtrack' makes things more lively.
This is the same reason we recommend all businesses use hold music when they place callers on hold.
While some may feel that listening to music at work hampers productivity, the research overwhelmingly reports that under the right circumstances, listening to music can make you more productive. We'll talk about those circumstances in more detail in this post.
So, how can music make you more productive at work?
It makes you happy
Studies have confirmed that the sound of music appeals to our brains, encouraging the release of dopamine just like eating a favorite food or smelling something pleasant would. Dopamine plays a major role in reward-motivated behavior, so when it's released, we feel that we've been internally (intrinsically) rewarded.
Listening to music means more dopamine is released, and scientists believe that's part of the reason our productivity rises when we listen to music while performing a task.
It can be an escape
In non-ideal conditions, like a very noisy or distracting workplace, listening to music can make you more productive by effectively removing those distractions and creating a more predictable environment that is conducive to productivity.
Using music at work to 'escape' your surroundings shouldn't be a full-time fix, though. You need to be aware of your immediate surroundings and available to other coworkers and employees, should they need you. It can also be considered rude to use headphones during an entire shift.
It boosts creativity
You might say that productivity is one part creativity and one part tenacity. Listening to music of your own choice–and that part is important if you want to see any increase in productivity–can help boost creativity by providing an ambient, familiar background that stimulates the brain just enough to get the wheels turning, so to speak.
What kind of music works best?
Without lyrics
The presence or absence of lyrics should be key in your music choices at work, at least most of the time. Those working on language-based tasks, like writing or editing, should skip music with lyrics because it provides the same type of distraction that a noisy office does: intelligible chatter, or words you can clearly hear and understand. That takes your brain's focus away from the task at hand, rendering you less productive.
With lyrics
However, if you're performing physical or non-language related tasks, lyrics in music can make you more productive. Research showed that workers listening to music with lyrics while performing repetitive tasks that didn't include language components had a slightly higher increase in productivity than with music without lyrics.
Sound level
Another important factor of the music you listen to while you work: The volume. Music at a moderate volume has the optimum effect on productivity, but if you cross that line and the music is too loud, productivity takes a sharp decline.
Your choice
Finally, it's important that the music be of the listener's choice and not playing over speakers at the office. The rises in productivity did not occur in groups where music was played for everyone. It's important for the listener to actually enjoy the music in order to experience the boost in productivity.
Will you try listening to music at work? Do you have any ideas of artists or music styles that would be beneficial to listen to while working?
Source: https://www.conversational.com/how-music-can-make-you-more-productive-at-work/
Publish Date: February 26, 2016 5:00 AM
---
We don't like to talk about it, but it happens more often than you'd think: Emotions run high, and a customer hurls an ugly, personal insult at you during a customer service interaction.
The insult hurts, it makes you feel angry, and it seems completely unwarranted. Even a usually level-headed person might feel unsure of what to do next or how to react.
When a customer insults you, there is a general plan to follow to ensure the interaction is kept as short as possible and can help ensure the incident doesn't escalate.
In this post, we'll talk about the actions you should take after a customer insults you to keep things under control.
What To Do If a Customer Insults You
Step 1: Try to ignore it
The first tool for dealing with customer insults in your customer service tool belt should be ignoring the insult. When you work with the public, it's important to understand and remember that everyone can experience momentary lapses in control or can be subject to an angry outburst after a hard day.
Try to be understanding and let the insult pass 'unnoticed' by you.
Step 2: Get some perspective
Realize that the customers' insult is not about you at all. You don't know this person, and they don't know you. You simply represent a company that your customer is currently frustrated or unhappy with. You are simply the main point of contact.
Get some perspective before you react to a customer's insult–keep your own emotions out of it, remain as objective as you can, and you'll feel much better.
Step 3: Always work toward diffusion
Even if the customer's words have made you angry and you'd like to argue or exchange insults, don't do it! Your goal during an interaction like this should always be diffusing the incident, not proving that you are right or making your personal opinion on something known.
You will be able to shorten the incident and increase the customer's own satisfaction if you just work toward diffusing the situation. You can do this by sincerely apologizing, using active listening, and letting the customer know you understand.
Step 4: Stay positive
Ignoring insults, diffusing the situation, getting perspective–none of these include being negative or giving off an annoyed vibe to the customer. Even when a customer seems angry, you should stay positive and offer them support through the interaction.
If they personally insult you and it is impossible to remain positive after such an insult, simply refer to step 5.
Step 5: End the exchange
If your positive and diffusive tactics just aren't working, you need to move toward ending the exchange. Be firm, but polite, never rude or dismissive.
You can say something like, "I understand how upset you are. I would like to transfer you to my supervisor to see if she can better assist you."
Good customer service remains the most effective #marketing tool. Agreed? https://t.co/rIpPZ0suSi #customerservice #tools #smallbiz

— Conversational (@Conrecept) February 5, 2016
Source: https://www.conversational.com/5-steps-to-follow-when-a-customer-insults-you/
Publish Date: February 25, 2016 5:00 AM
---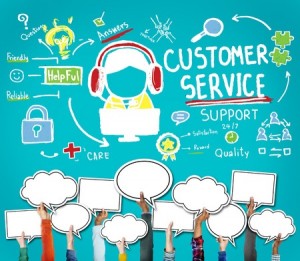 While providing incredible customer service shouldn't be hard for any company anymore, it still seems to be difficult for some. Really, all you need to do is copy the strategies from very successful companies in the customer service arena, such as JetBlue, Amazon or Zappos.
There's a huge difference between simply responding to a customer and providing real customer service. Some companies don't get this and they will be left behind if they don't figure out how to provide a truly amazing customer experience. If you want to provide excellent customer service, you need to avoid specific errors and understand a few essentials to great customer service.
The Customer is Always Right
While this may not be 100% accurate, companies providing great customer service believe it, preach it and live it. Not only is the customer always right, but they always have a valid request that should be heard. Until proven otherwise, you should always assume the customer is right and their satisfaction should always come first.
Customer Service Personnel Need Authority
There is nothing more annoying than calling up a company's customer service line only to find out you need to go through a manager and then another manager to get anything done. When the customer service staff can't do much more than ask for your name and account information, it's useless.
Customers should be able to have their requests heard and dealt with when it's considered a standard request. Needing to escalate the request to a manager level is often a waste of time when the customer service worker could have easily handled the issue. Giving your staff the authority to handle customer issues is one of the best ways to streamline your customer service.
Provide the Fastest Possible Response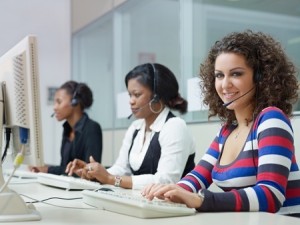 When a customer needs help, the fastest response is necessary. This helps to give the customer reassurance that you are on the ball and will help with their issues. Responding quickly shows you value the customer's time, and this has been shown to be very important to consumers.
Speak the Right Language
Providing great customer service is nearly impossible if your support staff doesn't speak the right language. It's very important to ensure the customer service representative and the customer speak the same language. Using an offshore call center may cause issues, even with email or online chat support.
When an offshore worker provides support from a standard script, it makes the customer feel like just another number. They don't feel cared for or understood at all.
Take Action Quickly
As soon as a customer service rep has enough information to move forward with the issue, they should. Collecting additional information shouldn't be necessary if they can fix the issue with what they already have. Most customers become annoyed when they have to fill out a form or answer automated questions online, and then have to do it again with a live person.
If additional details are needed to complete the service request, they can be gathered once the issue has been resolved. This will help to keep your customers satisfied and happy.
Go the Extra Mile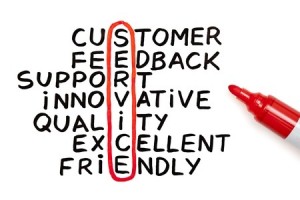 Customer service reps should never do the minimum requested by the customer. They should aim to surprise each customer with excellent service. Whether over the phone, through online chat or through email, every customer should end up feeling like the customer service rep they dealt with went above and beyond. Leaving your customers smiling and satisfied will go a long way to creating loyalty.
These are just a few of the main key differences between real customer service and simply responding. Professional customer service reps should know how to provide an excellent experience for each and every customer they work with. From responding quickly to actually fixing the issue, they should be equipped to go the extra mile for every customer.
If your company struggles to provide great customer service, it's time to get it together. With about 70% of customers deciding to buy based on how they feel they have been treated (according to the moment of truth in customer service from McKinsey), you cannot mess up the customer service experience. If you do, you may send another customer to your competition.
Source: https://www.conversational.com/key-differences-between-responding-and-providing-real-customer-service/
Publish Date: February 25, 2016 5:00 AM
---
Technology has made it possible to start your business at home and run it online. Entrepreneurs often take advantage of the ability to work from a 'virtual office,' which could be your home, a quiet park or library, or rented office space at a coworking agency.
After all, with many businesses' operations taking place entirely or mostly online, it only makes sense to set up shop virtually and begin making money without leasing commercial office space. But is there a stigma around a business that only operates online and has no brick and mortar location? Can you realistically handle your business and technology needs from home or a remote location?
These are all questions we will consider as we compare the two: The virtual office vs. the traditional office.
Virtual offices vs. Traditional offices
Virtual Office: The Pros
More cost efficient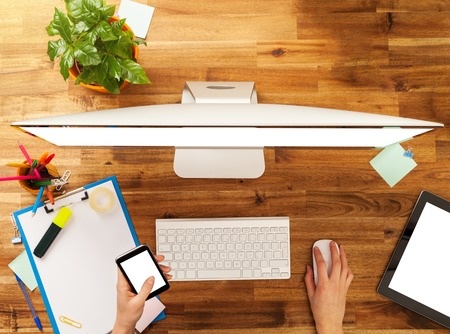 It certainly costs less to work from a virtual office vs. a traditional office space. Without the added cost of leasing commercial property, you can concentrate your finances where you need them most.
And if a virtual office seems right for you now but you suspect you'll want to move into a physical location down the road, it's a great way to save some money while you work on growing your business. Then, when the time comes to move into a physical location, you'll be ready!
More flexible
Things are more flexible when you work from a virtual office. Like the A/C turned all the way down to 59 degrees? That's fine. Want to eat leftover garlic shrimp for lunch–with pesto pasta on the side? No problem. And if you need to go without a certain resource for a week or two, a virtual office enables you to do it without affecting others in the office.
No commute
You can sleep in or start early, whenever you choose. When you work from a virtual office, there is no commute, so you can say goodbye to the wasted hour and half you'd spend just being on your way to or from work. Use it to get more sleep or get an early jump on work each day!
Easier on the environment
Without the hour and a half commute you eliminate the gas and oil required to get you there and back and the wear and tear on your car. Also, no physical location means no additional garbage from other employees, less paper, and more. Working from a virtual office is a lot easier on the environment than working from a traditional office.
Traditional Office: The Pros
Physical location=Customer trust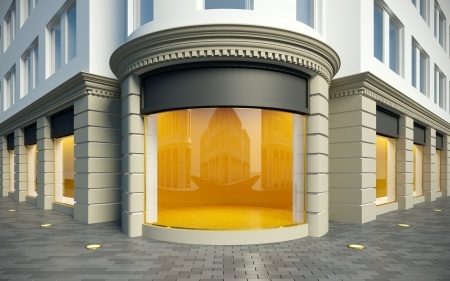 Customers may be more likely to trust businesses that have a physical location, although the condition, location, and style of the location may be the most important factors in deciding whether a traditional location can be trusted.
Seeing a physical address on your website can help customers feel more comfortable with your business, and it's possible to rent a business address from a co-working agency or similar company.
Built-in place to meet with clients
You won't have to worry about scheduling time at a rented meeting space or hold your meeting in a noisy restaurant. Traditional offices include meeting space within them, making your interactions with clients seem more professional and giving them a look at your business from the inside.
Virtual Office: The Cons
No physical location
Not having a physical location is a con for a couple reasons: No address, no place to store your work-related things, no place to meet with clients other than restaurants.
However, you could rent a meeting space from a co-working business near you. You could deliver a professional experience to your client without having to invite them into your home.
Technology issues
Your home might work well for being productive, handling clients, and running your business in general, but if you aren't set up to handle the amount of work you're doing from there, you will quickly run into issues.
Something as simple as having too many things plugged into one outlet could cause problems for both your home and your business.
Lack of social contact
Having a virtual office might mean you don't get to talk to and see others as much as you used to or would with a physical office location. For some, this is a welcome change, but for others, social contact is a necessary and enjoyable part of work.
For this reason, some prefer working from co-working centers among other entrepreneurs, freelancers, and enterprise teams.
Traditional Office: The Cons
The location can turn people off
The best locations aren't cheap, and the best of the best are very expensive. If you can't afford to be in a great location, you risk looking unprofessional or out of your audience's preferred brand type. It's better to be in a virtual office until you can afford a location that will make your business look good.
Might not be necessary
Some industries don't make sense in physical locations, while others don't seem to be right for virtual-only offices. For example, when we see a physical location for an eBay store, it's strange because we're used to seeing things related to eBay only online.
If your business isn't expected to be in a physical location, it might be an unnecessary expense.
Surging costs
The cost to lease commercial property is only increasing, and getting into a location that reflects positively on your business and is in a respected neighborhood will ensure you're paying a high price to have a traditional office.
Office headaches
Running a business from home is much different from running a traditional office. With a traditional space, you're more likely to need to hire in house help, and the little things about running an office can be a headache (don't forget to order more paperclips and K-cups!).
And the winner is…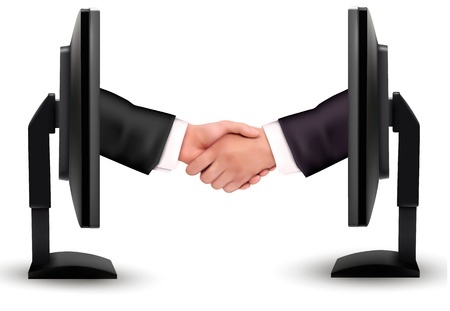 A virtual office is the best option for any business that wants to save money while concentrating on growth and planning for the future.
Traditional offices may be best for some industries that appeal to markets that don't frequently use the internet, but for the most part, virtual offices provide the solutions small businesses need to give their customers and clients a satisfactory and professional experience.
What's your take on the battle between a virtual office and traditional office? Which do you think provides more benefits for the average small business?
We'd love to hear your answers on Twitter! Find us @conrecept.
#Tip 21: Test your #customerservice by calling in with a common problem. https://t.co/JBdd2zvtqS #checklist #customers #UX

— Conversational (@Conrecept) February 19, 2016
Source: https://www.conversational.com/virtual-office-vs-traditional-office/
Publish Date: February 24, 2016 5:00 AM
---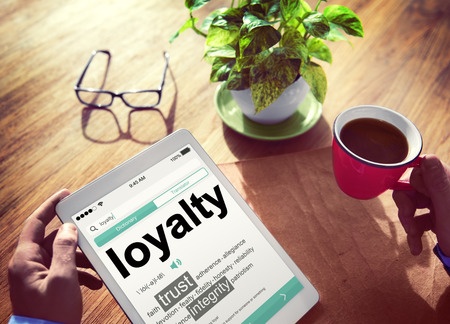 "Satisfaction is a rating. Loyalty is a brand." -Shep Hyken
Customer loyalty can be easily misunderstood as customer satisfaction. If your business is doing a good job, it should be satisfying nearly every customer. But realistically, only some of those customers will become loyal to your business.
Customer loyalty raises a lot of questions for small business owners, so in this post we'll talk about why customer loyalty is important to your business and how you can change your plan of action to better build it.
Why is customer loyalty important to your business?
Did you know that loyal customers spend an average of $6,000-$8,000 more each year than other segments of customers? Additionally, loyal customer segments have been shown to raise annual profit margins.
Here's what you can expect a loyal customer to do for your business:
Spend more money

Buy more types of your products

Buy value add/bonus services

Doesn't need product instruction

Don't require sales support

Find your products on their own

Refer others to your business
As you can see, the case for gathering more loyal customers to grow your business is strong. Loyal customers spend more, market your business for you, cost less for you to get and keep, and become valuable brand ambassadors.
How can you manage customer loyalty?
Your business can manage customer loyalty by observing, analyzing, and testing/experimenting. A plan of action is important when you plan to manage customer loyalty because not every customer is of equal value to your business. That's what a customer loyalty migration plan is for.
To create a customer loyalty migration plan, you will:
Ask for customer input (through surveys, questionnaires, contests, etc.)

Identify the most valuable customers

Set goals for getting more of these customers

Make improvements based on input from your valuable customers
Creating surveys and questionnaires for your business is simple and free in many cases. It's one great and economical way to get opinions and input from your customers. Here's an example of a survey we're doing (and we'd love it if you'd answer the 10 quick questions).
You should be keeping track of how much each customer costs you to acquire. What's your ROI? How much do you spend to get customers in different segments?
And most importantly, what can you do to start moving–migrating–those customers into the most valuable, or loyal, customer segment without upsetting or changing what your current loyal customers like about your business?
You can add more resources that are optional but available to customers who want them, like downloadable guides or eBooks, to appeal to a different segment of customer. Be careful to provide the right amount of resources and not go overboard. Losing money to get more loyal customers won't benefit your business.
Keep in touch
Above all, one of the most important things a business can do to track and manage customer loyalty is keep in touch with customers. Ask for their input on a regular but well-spaced basis, or offer special incentives to answer surveys to select customers.
By listening to the input your customers have, including the good and the bad, you will learn more about your business. And if you're open to taking advice and making changes based on answers you receive from customers, you'll reap the rewards.
Source: https://www.conversational.com/why-is-customer-loyalty-important-to-your-business/
Publish Date: February 24, 2016 5:00 AM
---
Do you think the time you spend working could be used more efficiently? Do you feel guilty about taking breaks when there's so much to be done? It might be the ambitious entrepreneur in you, but studies have shown that the more little breaks you take throughout the work day, the happier and more productive you will be.
That's right–taking regular breaks makes you more productive, not less. Guilt no more, friends–the doctor orders that you take more productivity breaks throughout the day.
Not really sure what to do when you take these so-called productivity breaks? Here are some ideas that have been proven to boost your productivity.
Jump around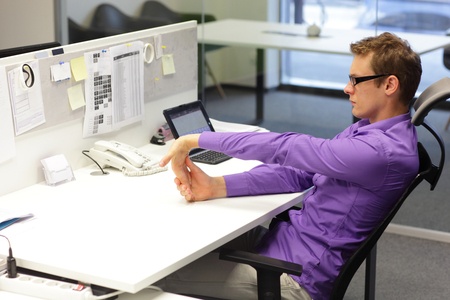 You don't have to actually jump around for this one, just get moving somehow. If you're working at a desk most of the time and don't get enough exercise (hey, we're all guilty), you're considered sedentary. Sitting for long periods impedes your blood flow, mood, and even digestion.
That's why taking a break to 'jump around,' or simply stand up and stretch for a minute or two, can do wonders for your productivity at work.
We loved some of the tips Donna Kuper had on the Salesforce blog for taking more active productivity breaks at work:
Do a series of neck rolls and shoulder shrugs
Instead of calling or emailing a colleague, get up and walk to his or her office
Take the stairs
Walk on your lunch break
Schedule walking meetings to discuss strategies for a new client or project
Make a habit of standing while taking conference calls — or better, invest in a standing desk
Swap your desk chair for a fitness ball a few hours each day to promote strength and balance
Be more social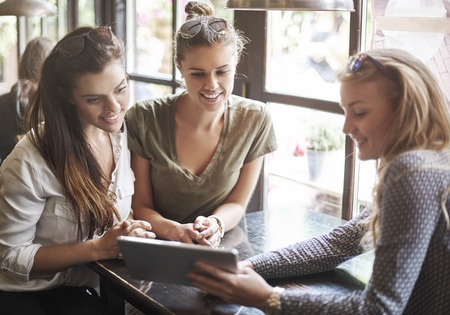 At work, you do a lot of talking for business purposes, which is different than talking for social reasons. There's a big difference between the two: Being social and interacting with friends or colleagues on your breaks boosts productivity, while communicating business tasks and work-related things does not.
If you can't leave the office, that's no problem. Socialize with your coworkers and colleagues during your breaks. Not only will it help you become more productive (studies have shown that the workplaces where people socialize the most are more productive), but it will also help boost your colleagues' productivity as well. That's a win-win!
Calling a friend or family member has a similar effect on productivity. So next time you take a quick break at work, give your best friend a call in the name of productivity!
Time for coffee
Oh, coffee–we start and punctuate our days with you. That sweet, bold elixir that coaxes even the tiredest, most grumpy person into a productive creativity factory (okay, maybe we're exaggerating). But research has shown that drinking moderate amounts of coffee boosts productivity, and that's a good reason to take a quick coffee break at work.
>>Are you a serious coffee drinker? Here's everything you ever wanted to know about coffee.
Keep a Keurig in your office, or better yet, take up donations and get one for the office kitchen so everyone can use it. Ask a friend or colleague to join you at a coffee shop for a cup. Take a quick break from work to walk to a coffee shop and get your favorite brew; or just brew some up in the office and socialize while you drink it for a double boost of productivity.
Start being mindful
Even in your busy office or in a crowded park, it's possible to find peace through a method of meditation and thought called mindfulness. Being mindful is often equated to 'being present,' though there's more to it than that. Taking productivity breaks to be mindful will give you a deep sense of peace and can make you feel happier.
To be mindful, first focus on your breath. The idea is to fade away from outside distractions at first, only experiencing what it 'feels' like to be. Take note of the way you feel physically and your current mental state. Do you feel happy? Worried? Anxious? Excited? Learn to name the feelings you have, then let them go as you exhale.
If you're taking a walk, focus on each step and the way your foot interacts with the ground. If possible, slip your shoes off and feel grass under your feet. It can be helpful to keep a journal and write down your feelings before and after mindfulness meditation. Taking a break to be mindful can make you more productive at work.
Source: https://www.conversational.com/how-to-take-more-productivity-breaks/
Publish Date: February 23, 2016 5:00 AM
Page: 1 | 2 | 3 | 4 | 5 | 6 | 7 | 8 | 9 | 10 | 11 | 12 | 13 | 14 | 15 | 16 | 17 | 18 | 19