Conversational - ContactCenterWorld.com Blog Page 7
Page: 1 | 2 | 3 | 4 | 5 | 6 | 7 | 8 | 9 | 10 | 11 | 12 | 13 | 14 | 15 | 16 | 17 | 18 | 19
As longtime players in the medical answering services game, we've put together a quick guide to medical answering services, what types of medical offices find the most benefits from using these services, and a list of tips and shortcuts for finding the best answering service for your office.
What are medical answering services?
A medical answering service is another name for a remote call answering, or virtual receptionist, service that a medical office uses instead of a traditional receptionist at the front desk.
When you hire a medical answering service like Conversational, you're hiring experienced call answering specialists that are familiar with your industry's terminology and phone etiquette.
Medical answering specialists from Conversational answer your office's phone, manage appointments, meeting schedules, rescheduling requests and cancellations, provide basic customer service to your callers if needed, and perform warm transfers to you when requested.
Medical answering services
Call answering
Manage appointments and scheduling
Basic customer service
Take and deliver messages via email
Perform warm transfers
Screen calls
The shortage of qualified medical answering services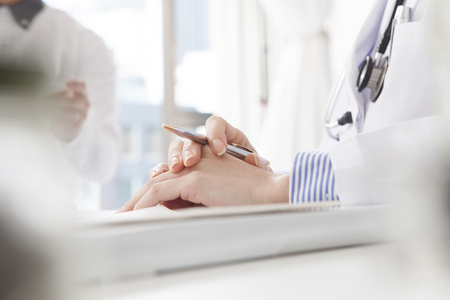 Medical answering services are in use in hundreds of thousands of medical offices across the United States and Canada. Many offices aren't large enough to justify hiring a full-time receptionist, have trouble finding qualified help in their area, or simply don't know where to start their search.
Finding the right medical answering services becomes even more difficult when you consider the sheer amount of information about any topic available online – and the questionable credibility of the information you manage to find.
Many answering services are based in countries abroad or employ call answering specialists that don't speak fluent English. That can be disastrous for a medical office where patients need to ensure they clearly communicate with the office's receptionist.
Conversational employs only native English-speaking, full-time call answering specialists to ensure the highest level of quality and customer service when serving your callers. Our offices are located in North America and we'll never transfer your calls to overseas operators. That's why we're one of the premier medical answering services in the nation.
What types of medical offices can benefit from these services?
From physician's clinics and weight loss clinics to hearing health centers, a variety of office types can benefit from using this service.
Below are some common reasons our clients employ our answering services.
You may need medical answering services if:
Unstable, low, or medium call volume
Don't need a full-time receptionist
Can't afford to hire traditional receptionist
Need additional hours of phone coverage
In-between growth stages and need additional help
Get a free month of medical answering services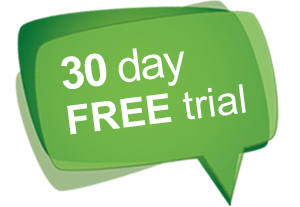 Conversational offers some of the best call answering value in the industry as well as a free 30 day trial for new clients.
If you're a new customer and are interested in finding out if our answering service is for you, go ahead and click Get Started in the upper right corner to select your plan. You'll get your first month absolutely free with no obligation.
Get your free month of medical call answering services now!
Source: https://www.conversational.com/conversational-guide-medical-answering-services/
Publish Date: August 9, 2016 5:00 AM
---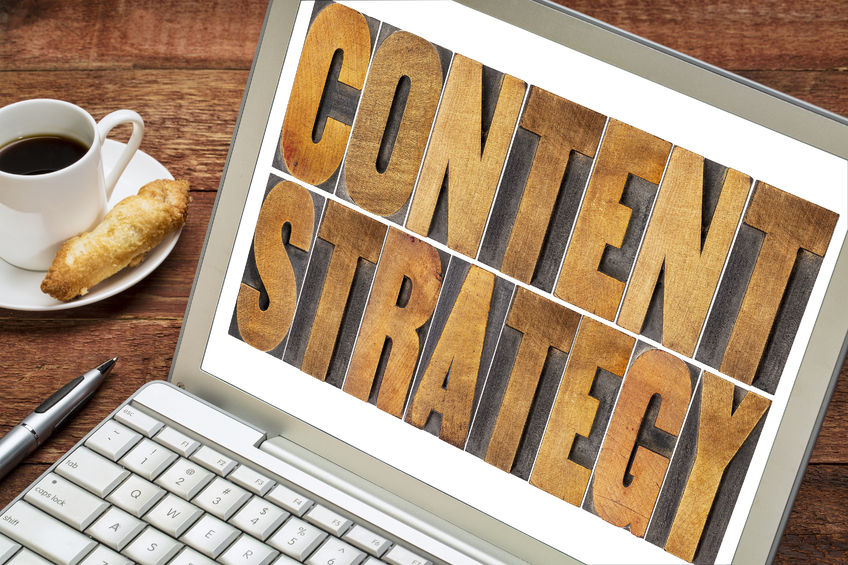 Inbound marketing, a form of marketing that focuses on targeting content and resources to bring your audience to you, is one of the most important tools in the marketing world.
It saves time and money and is extremely effective because it allows you to collect the leads you want without cold calling or bothering your potential customers.
Instead, you provide them with something of value and let them come to you.
As technology improves, inbound marketing only becomes easier. Here are four of the best reasons your brand should begin to focus on inbound marketing strategies if you haven't already.
4 Reasons You Should Focus on Inbound Marketing
---
1. It's inexpensive
Instead of spending money on expensive marketing campaigns that rely on reaching out to your audience, focus on creating valuable resources for your audience through inbound marketing and let your customers come to you.
Inbound marketing is a way to target your ideal audience so you don't have to spend money advertising to people who may not be interested in your product. By concentrating your efforts on your target audience instead of a wider (less likely to purchase) audience, you save money and increase the number of leads you're able to convert.
Related: 15 Ways to Market Your Business for Less Than $25
2. It's effective
As long as you're targeting the right audience, inbound marketing is much more effective than its sister marketing category, outbound marketing.
Relying on inbound marketing strategies to bring your target audience directly to your website is certainly effective – showing your information to people that already clicked over to your website is much easier than blindly advertising your product to visitors of another webpage or airing a commercial.
Related: Your Competitor's Marketing Efforts Are a Potential Treasure Map
3. It creates a higher ROI
It's cheaper to implement inbound marketing strategies than outbound, but it also creates a higher return on investment. Because it's cheaper and more effective, you can draw in more customers for a lower price, increasing your profits and ROI.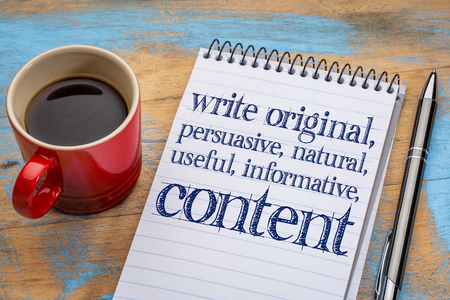 Attracting customers doesn't have to be expensive – your marketing message just has to be addressed to the right people.
Once you know the audience you are targeting and how to best appeal to that audience, it doesn't take long to implement inbound marketing strategies.
If you focus on inbound marketing, you can save time by only concentrating on marketing to your target audience rather than a larger, blanket audience. Bringing your target audience to your website saves you time – you no longer have to go and track them down!
4. It improves brand recognition
Most people are shopping online for products these days. That means that if they're searching and your company name shows up because you've been writing great content for the purposes of inbound marketing, you've just increased your brand recognition.
This can be helpful in many ways. People are more likely to trust your company if they have heard of it before. Unknown companies have a harder time getting new customers to commit to a purchase.
Focus on inbound marketing, or bringing your customers to you through strategies like great content and branded resources, to take your business to new heights.
---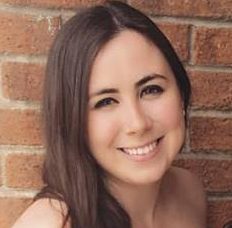 Eliza Granahan-Field is the Social Media and Content Marketing Intern at Blue Phoenix Creative. She is a student at the University of Colorado at Boulder. Eliza writes about marketing and content on the Blue Phoenix blog. Find her on Twitter @elizagf13.
Source: https://www.conversational.com/4-reasons-focus-inbound-marketing/
Publish Date: August 8, 2016 5:00 AM
---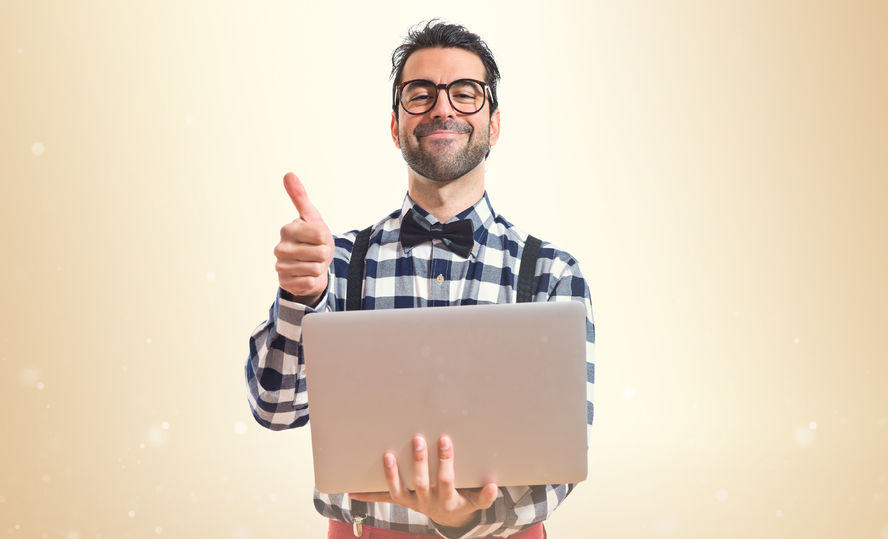 We're the leading providers of virtual receptionist services in North America. Our team of virtual receptionists has a combined 15 years of call center and customer service experience, some with specialized experience in settings like attorney offices and medical offices.
Ready to sign up for virtual receptionist services? We'll show you how, step by step.
How to Sign Up for Virtual Receptionist Services Step by Step
---
1. Getting started
Click 'Get Started' in the upper right corner of our homepage (see image below).

2. Select your plan and 30 day free trial
This will bring you to our pricing page, where you can browse our monthly plans and select the one that suits your needs.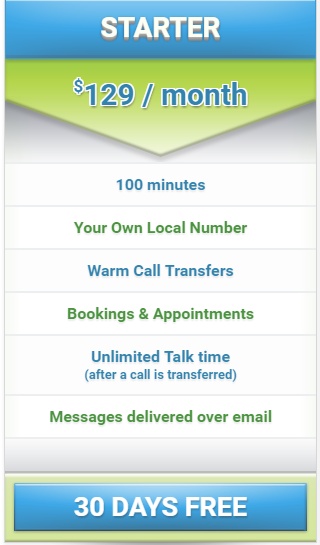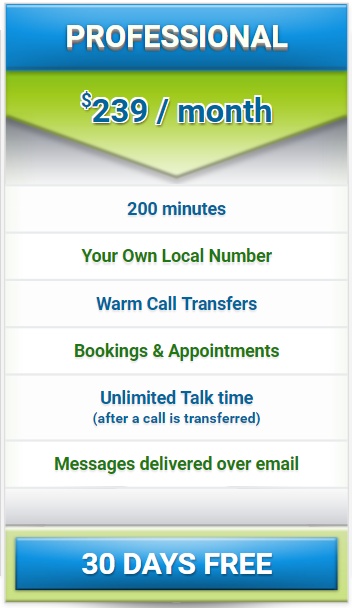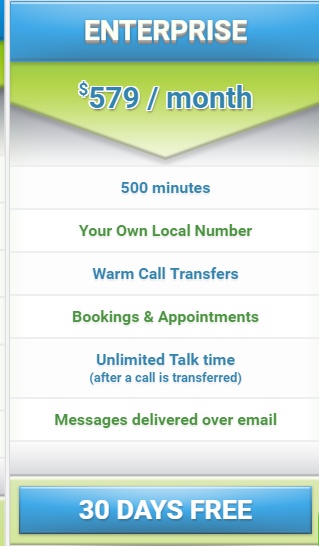 Don't see a plan that includes what you need? No problem! Just send an email to our team at admin@conversational.com with your requests and we'll do our best to accommodate you.
Available plan options include the Starter, Professional, and Enterprise plans ranging in features from 100 virtual receptionist minutes per month to 500 minutes per month.
Remember, if you're a new client, your first 30 days are free!
3. Kick-off form and welcome email
Once you complete signup, we'll send you a welcome email with a link to our kick-off form. This is where you'll answer some basic questions about your call handling preferences and share some details about your company with us. Having clear, accurate information helps us deliver the best possible service to your callers.
Example of what's included on our kick-off form:
Type of service required
4. Follow up and kickoff
After we've received and reviewed your kick-off form, we'll follow up briefly with any questions or additional information we need. You can expect to be fully onboarded and ready to start working with your team of virtual receptionists within 24-48 hours in most cases.
That's all there is to it! Sign up today to take advantage of our limited time free 30 day trial on any plan. No matter your call volume or custom needs, we can take care of you.
Source: https://www.conversational.com/sign-virtual-receptionist-services-step-step/
Publish Date: August 5, 2016 5:00 AM
---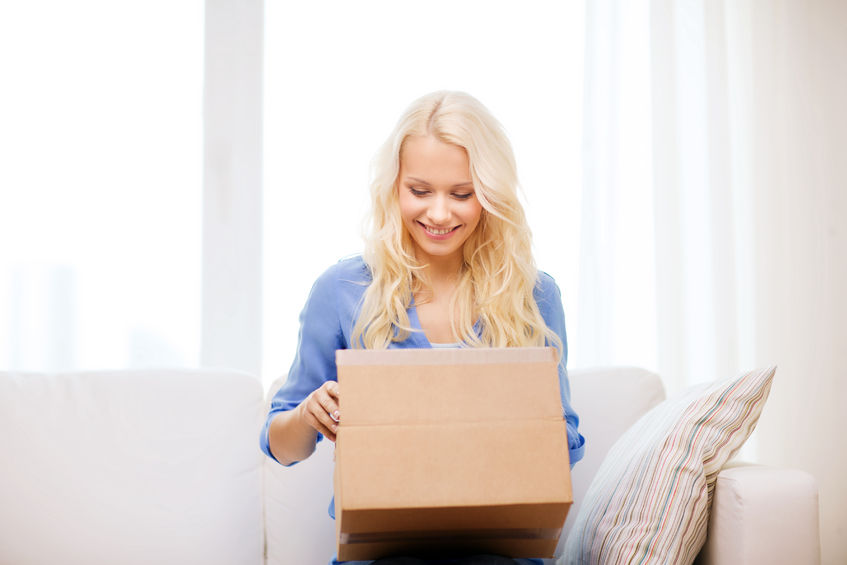 You've done it! Your customer made the purchase and they're quite happy with the product or service they've received as a result. But how do you make sure that sense of satisfaction you've worked so hard to earn doesn't fade?
Through the right post sale techniques, you can earn more loyal customers and offer additional support to those that have already made a purchase.
Here's what to do after the sale to keep your customers happy – but first, let's cover a quick definition of post sale techniques.
Post sale techniques – what are they?
Post sale techniques are the ways companies keep in touch with or serve customers after they've made a purchase (post sale). While any company worth its salt understands the importance of effective sales techniques, some companies take post sale techniques seriously and others don't.
You can tell which is which by seeing if the company has a legion of loyal customers. If they do, they probably place a lot of importance on the 'afterglow' of the sale. If they don't, you can see why many of their customers are one-time purchasers.
The best post sale techniques to use
Understanding that post sale techniques may be the key to building loyal relationships with your customers is the first step. Now, you need to understand the variety of post sale techniques you can implement to see results. These are our 5 favorites.
1. Personally follow up after a purchase.
Below, you'll see a recommendation to send automated emails detailing delivery expectations and the prerequisite "Thanks for ordering" to your customers, but this one's a bit different. You can personally follow up with a customer after they've made a purchase and briefly outline the next steps for them – here's an example.
Hi Tina! I'm Bob, the CEO of CompanyA. Just had the notice come through that you've placed your order for ProductB, so I thought I'd reach out and let you know how much we appreciate you choosing us.

Just a heads up, you'll receive an email with delivery information in the next hour or so, as well as a reminder about confirming your account – I highly recommend doing that, as it will give you access to all your account information, tracking information, etc.

Thanks again for choosing us and let us know if you need anything along the way!"
2. Make it simple for a customer to access account information.
Once a customer has made a purchase, they shouldn't have to contact you to find their account information, shipping and tracking information, rewards or points information, etc. Make it simple for your customers to access their account information by making signing up for an account a seamless part of the original purchase transaction.
Let the customer know in their confirmation email the ease of checking real-time account information directly on your website. This is one step toward earning customer loyalty – they'll appreciate that you made it easy for them to access information regarding their order and account.
3. Use automated emails to communicate delivery expectations.
You're in charge of setting your customers' expectations of delivery times. By setting up automated emails that let your customers know when they can expect to receive their delivery, you reduce the number of incoming inquiry calls about delivery times, misunderstandings about delivery dates, and customer dissatisfaction.
Even if delivery will take longer than a customer originally expected, being upfront about estimated delivery dates will pave the way for creating loyal customer relationships.
4. Understand the most cost-effective way to get your product to the customer.
You should know the different carrier options available to you for shipping products to your customers. By knowing all your options, you can choose the most cost-effective means to deliver your products to customers. This sometimes means using different carriers for certain packages – for example, many businesses use USPS for smaller packages while relying on carriers like FedEx or UPS for larger packages.
5. Give a little bit extra to your customer.
Finally, you can work on building customer loyalty by including something extra in your shipments. We've heard about fashion companies spraying one of their signature perfumes in clothing shipments so recipients receive a fragrant (and brand-strengthening) surprise when they open the box.
Throw in a sample or two if you have them. If you sell spices or food mixes, include relevant recipes on a sheet of paper in the box. Include a coupon or discount code. Get creative to give a little bit extra to your customer and they'll return to you for their needs in the future.
Source: https://www.conversational.com/post-sale-techniques-sale-keep-customers-happy/
Publish Date: August 4, 2016 5:00 AM
---
Working at home isn't as easy or simple as it sounds. Whether you're considering working from home and want to know how to tackle the issues at-home entrepreneurs face or you're dealing with these problems already, you can benefit from checking out the most common work at home problems and their respective solutions.
Here are 5 solutions to common work at home problems.
5 Solutions to Common Work at Home Problems
---
Problem 1. Managing a distributed workforce
It's tough to keep your employees, contractors, or freelancers on the same page when the workforce is distributed instead of concentrated in a brick-and-mortar office. This is one of the most common work at home problems.
Solution: Develop close relationships with your staff.
Whether you're working with an outsourcing provider like us, full-time remote employees, or contracted freelancers, you need to stay in touch with your staff. Learning more about each person's working style will give you clues about how to best manage each person. You'll learn that some of your staff need micromanagement to get things done, while others will be self-motivated workers that accomplish more than expected every time.
Problem 2. Lack of drive or productivity
Many entrepreneurs that work from home complain of a sudden lack of drive or motivation and a resulting drop in productivity. That's hard to curb when your kitchen is so close by, the TV is within viewing distance, and there's no "boss" for you to report to.
Solution: Schedule your day from work to free time.
If you schedule your days in advance, there's a better chance that you'll stick to your schedule instead of veering off into distractions. From work tasks that you need to complete that day to coffee breaks and short walks around your block, schedule everything you can foresee doing that day.
If you don't make time for "time wasters," you won't avoid them – you'll just fail to have time scheduled for them in your day.
Schedule 30 minutes to surf the internet if you regularly get sucked into hours of "research" online. Schedule a walk around your neighborhood if you know you'll find yourself wandering around outside, procrastinating. If it's in your schedule, it's not procrastination. You'll feel ready to return and get back to work if you schedule time for "free time."
Problem 3. Not taking security measures
Working from home and hiring remote workers opens up a security can of worms. How can you ensure every employee and contractor follows security measures that protect your company and information?
Solution: Establish security procedures and stick to them.
Have security procedures and processes ready to send to any person you start working with and discuss the information with that person to ensure clear understanding. You have to make sure every employee and contractor understand the importance of protecting company and client information and data.
Problem 4. Goodbye, social connections
When you're separated by what can be huge distances, feeling "connected" to your team can feel like a pipe dream.
Solution: Add collaboration solutions to your toolbelt
There are tons of tools and software available for the sole purpose of helping remote, distributed teams stay connected and keep in touch. We recommend the following three tools:
TeamLab for free collaboration and project management
CampfireNow for group chat capabilities
Slack for group chat and assignment capabilities
Problem 5. Trying to hide that you work from home
Because working from home has been associated with scams and "get rich quick" schemes in the past, many entrepreneurs are reluctant to let their customers know they work from home. It's one of the most common work at home problems.
Solution: Make your work-from-home status a selling point
You know that you make working from home work for you. Now, it's your job to communicate how you're more successful working from home to your customers.
Tell them about your optimized productivity, cost savings, flexibility – any point that benefits your customers. They'll enjoy the transparency and you won't have to hide that you're not paying thousands of dollars a month to rent office space you don't need.
Source: https://www.conversational.com/5-solutions-common-work-home-problems/
Publish Date: August 3, 2016 5:00 AM
---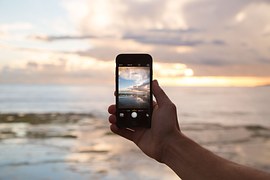 Thinking about registering a virtual local number or toll free number for your small business? Either option could be a wonderful addition to your business, making your company appear larger and more professional. There are a host of benefits to registering a virtual or toll free number for your business, which we'll outline below.
We'll also let you know what types of companies typically use virtual phone numbers and which use toll free numbers. This will help you find out which type you need – or if you need either at all.
Toll free numbers (1-800, -866, -877, -888)
The first thing business owners should consider when deciding whether or not they need a toll free phone number is the location of their customer base. If your business operates exclusively online or in a brick and mortar location and caters to a nationwide or wider regional audience, a toll free number may be the perfect step for you to take.
A toll free number allows even the smallest business to appear large and well-established to customers and callers in general. When you see a business with a 1-800 or other toll free number, you assume it's a trustworthy business that's been around for a while. It's comforting to customers because they've seen toll free numbers their entire lives and associated them with large brands.
Local brick and mortar businesses and companies that operate exclusively online for local customers may not get as many benefits by having a toll free number because a local number will be better recognized by their small and relatively concentrated audience. See the 'Virtual phone number' section below to see how a virtual, local phone number can help your business.
Virtual phone number
A virtual phone number is the perfect option for local small businesses and online businesses that cater to a relatively concentrated local audience.
Benefits of a virtual local number
A virtual phone number offered through a virtual receptionist provider, like Conversational, has the added benefit of allowing you to route your calls to a private voicemail box, another line (like your cell or home phone), or to your team of virtual receptionists.
An additional bonus is that a virtual phone number will mask your cell number when you make outgoing calls as your business. With a toll free or virtual local phone number, you can appear like a larger company and impress your customers with your level of professionalism instead of calling from and giving out your cell phone number to clients and customers.
Professionalism should be your business' top priority on the phone, whether your audience is global, nationwide, or hyper-local. If you decide to go all the way and get a virtual phone number and live receptionist to route your calls for you, you will strengthen your communications considerably while improving your customer service and efficiency.
Click here to get your toll free or virtual phone number now!
Source: https://www.conversational.com/company-need-toll-free-number-find/
Publish Date: July 29, 2016 5:00 AM
---
The dark side of working from home isn't always apparent right away.
It starts off innocently enough. You begin working from home and you start to let little things slide. Your appearance is no longer of the highest importance. Your schedule begins to morph into a fluid thing instead of something rigid. Your pets begin to tire of you. You aren't sure, but you think you may be melting into your couch and losing the ability to converse naturally with other human beings.
You are beginning to experience the hilarious dark side of working from home – and if you are, you'll find The Oatmeal's take on the whole experience both relateable and entertaining. We couldn't republish all of the comics from his working from home series here due to language, but trust us – these will get the point across perfectly.
If you've ditched the office and know about the dark side of working from home, check these comics out and see if you can relate.
The Hilarious Dark Side of Working from Home
First up on the dark side of working from home: The imminent degradation of social skills.
Notice how The Oatmeal has divided this process into three time segments: One month in, six months in, and one year in. That's because each time you think you've found the rock bottom of social skills due to working from home, the floor will suddenly give out beneath you and put you in an entirely new level of social cluelessness. See below.
Source: https://www.conversational.com/hilarious-dark-side-of-working-from-home-the-oatmeal/
Publish Date: July 25, 2016 5:00 AM
---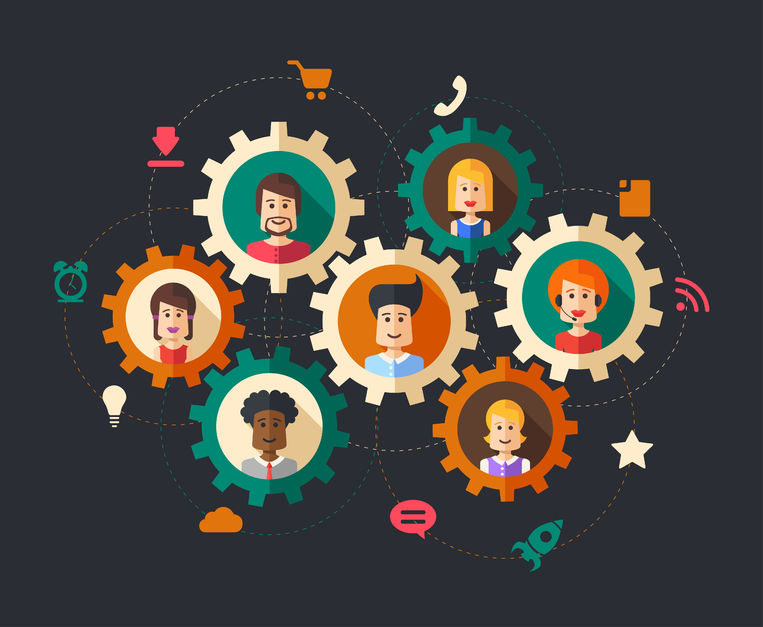 With social media as a primary mode of contact between many consumers and the brands they buy, the lines between marketing and customer service tend to blur. Marketers are interacting with customers online in ways they haven't before, and now, marketers need to know customer service to properly fulfill their role.
Training marketing personnel in customer service is now crucial to a successful social media presence. Marketers need to know customer service for several reasons. The five most important reasons are listed below.
5 Reasons Marketers Need to Know Customer Service
---
1. Answer questions on social media
With the rise of social media in marketing, customers are likely to be asking questions on social media. If the team managing your companies social media is unsure how to interact with customer questions and concerns on social media, then there's no reason for using this customer service channel.
Not having people trained in customer service can lead to unhappy customers feeling unsatisfied with their experience on social media. To avoid turning people off to your company because of your social media presence, instead opt to train your company's marketing team in customer service.
2. Develop a better understanding of buyer personas
Being trained in customer service can help marketers understand buyer personas better. Those in customer service work on a face-to-face or telephone basis with customers and probably have a better understanding of what the customers are looking for.
Being trained to have a deeper understanding of buyer personas helps marketers truly understand the customer's interests, questions, and needs.
3. Reduce customer loss
Training in customer service will also help your marketers reduce their customer loss. Since marketers will have a better understanding of what your customers are truly expecting from your product, you can easily cut out any false expectations projected by your marketing campaign.
You can use this information to give your customer realistic information on what you are selling. This will cause less customers to be misled by your marketing team and therefore give your company a higher retained client base.
4. Understand how customers use your product
With customer service training, marketers can get a better understanding of how customers are really using the product and with this, develop a better marketing campaign. Sometimes marketers are unclear or unsure of how exactly customers are perceiving the product and its uses.
With training in customer service, marketers can use this knowledge to create more focused and accurate marketing campaigns that their audience and potential customers will relate to.
5. Resolve problems quickly
Customer service training can also help problems customers have on social media be resolved quickly. Customers will feel more satisfied with the company if they get a fast response to concerns they are expressing on social media.
Without having trained employees to deal with these customer issues, the process of answering customer's questions or concerns could take a while. Making sure your social media managers are able to answer questions on social media can have a huge impact on the timeliness of answering customer concerns.
Overall, customers are looking for good customer service and are willing to pay more for it. Having an emphasis on customer service in all departments, especially marketing, can make a huge difference in customer satisfaction and the image your company has with its customers. Increasingly, marketers need to know customer service to make their social media presence one customers can respect.
---
About the Author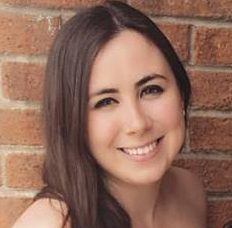 Eliza Granahan-Field is the Social Media and Content Marketing Intern at Blue Phoenix Creative. She is a student at the University of Colorado at Boulder. Eliza writes about marketing and content on the Blue Phoenix blog. Find her on Twitter @elizagf13.
Source: https://www.conversational.com/5-reasons-marketers-need-know-customer-service/
Publish Date: July 19, 2016 5:00 AM
---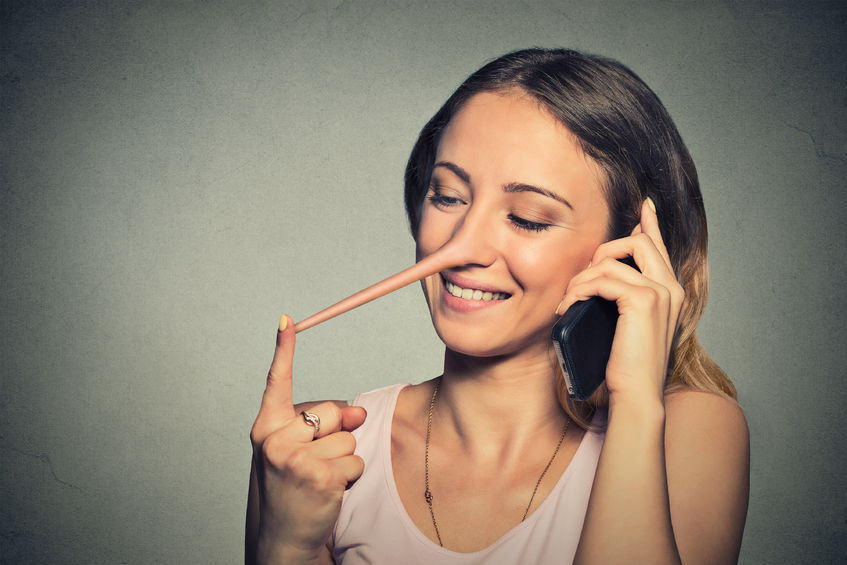 Telling lies is a fundamental part of human nature. You've never met a person who is always truthful, and that includes your customers. We're socialized to be pleasant to each other, so when one of us has something to say that we feel will be negatively perceived, we'll often tell a lie to keep the social interaction pleasant. The lies customers tell are rooted in a customers' desire to keep their interactions with you as pleasant and friendly as possible, not to deceive or fool you.
We're not trying to create customer trust issues here. Instead, we hope to outline the lies customers tell and help you learn to identify these lies when they're told.
5 Lies Customers Tell and How You Can Identify Them
---
1. I'm the sole decision maker here.
Every solopreneur and salesperson has heard this one. Sure, this customer might be the decision maker at their company, but is it true that they're the only one? This decision doesn't have to be approved by anyone else – not even spouses, other vendors, or colleagues? That's iffy.
Additionally, while it's true that this customer may be able to say "No" on their own with no outside input, they're probably not able to say "Yes" without the approval of others in the company. Don't buy into this one.
2. We're definitely going with your company.
Ever met someone you considered a "yes man?" They're the ones that agree with you, no matter what you say. Psychology calls these people high self monitors, meaning they'll change even strongly held beliefs in order to get along better with someone in a social interaction. The ends justify the means for these types. They'll say anything to stay friendly with you.
Verbal commitments often don't come to fruition. If a customer tells you they're definitely going with your company but isn't ready to sign a contract and write a check, it's probably a lie.
3. Your company has an amazing product/service.
Remember the high self monitors described above? They're at it again! This customer tells you they're just in love with your company, product, or service. It's the best they've ever seen! You're so amazing!
It's better to think of this lie as the girl letting the guy down easy. Before she breaks the real news, she starts off by naming all his excellent qualities – qualities that, in the end, just aren't enough to make her choose him but still make him SUCH a great friend.
Normal people don't like to hurt others' feelings. Customers don't want to hurt your feelings, and so they tell you your company is awesome and that you're doing a great job instead of committing to your company. They might mean it, but they probably don't – actions speak louder than words.
4. You're the only one.
You're the only vendor we're considering. You're the only choice, the best option by default, right? Wrong. Even if you're genuinely the only vendor they're considering right now, that may be because they're not fully serious about searching for a vendor.
Companies that aren't considering and comparing a few vendors at one time aren't usually serious about moving forward immediately. And don't forget the other option they have – choosing no vendor and continuing the way they have been.
5. Our need is urgent.
Needs and levels of urgency change. Even if the customer has an urgent need right now, it may not be that way tomorrow or next week.
As Mike Michalowicz says, "Urgency is relative to other urgency. For example, if a person has severe muscle pull in her leg, she may urgently seek rest on the couch. But if her house starts on fire, the urgency will no longer be about lying on the couch; it will now be about getting out of the house."
Customers sometimes feign urgency to get deals moving more quickly or to test the responsiveness of a new vendor. Don't think of it as necessarily true unless the customer does want to move forward with a contract.
These are the most common lies customers tell and how you can identify them. Keep these in mind as you negotiate and sell to your customers – and remember, their intention is to keep things pleasant, not to deceive or fool you. Knowing what they really mean when they say the above 5 statements is helpful in determining who's serious about buying from you and who isn't.
Source: https://www.conversational.com/5-lies-customers-tell-can-identify/
Publish Date: July 14, 2016 5:00 AM
---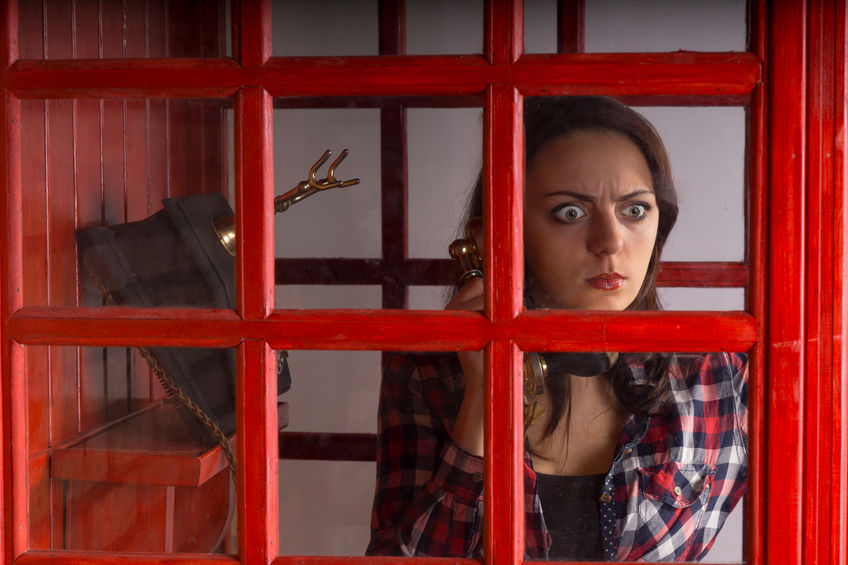 Phone phobia – The reluctance or fear of making or taking phone calls ; a "fear of telephones."
Phone phobia goes by many names – telephonophobia, telephone apprehension, phone anxiety, telephobia – but at the heart of them all is the distinct feeling of dread when the phone rings or when you're expected to make a call.
Many people that suffer from phone phobia don't realize there's a name for this dread. They may feel ridiculous about their fear and reluctance to "hop on a call," not realizing that it's a relatively common occurrence.
Dealing with phone phobia can make an entrepreneur or business executive appear unprofessional or even dismissive to colleagues and clients that consider the phone to be an important part of business communication, rendering the biggest issue those with this phobia have to endure.
Phone phobia is a very real thing. Here's how to tell if you have it.
Note: This site is not designed to and does not provide medical advice, professional diagnosis, opinion, treatment or services to you or to any other individual.
How to tell if you have phone phobia
Read through the statements below. If you answer 'yes' to at least 6 of the following statements, you may be dealing with phone phobia.
Think back to your latest phone call (inbound or outbound). Did you…
Feel severely anxious about the call?

Plan obsessively for the call to 'cover all bases?'

Delay making the call because of anxiety?

Think you were annoying or bothering the other person?

Worry about what you would say on the call?

Worry about embarrassing or making a fool of yourself?

Avoid making the call, period, or have someone else call for you?

Obsess over the conversation afterward?
When on a call, do you…
Tremble or shake?

Have trouble focusing and lose concentration?

Feel nauseous or other GI upset?

Notice your heart is racing, palms sweaty?
If you answered 'Yes' to 6 or more of these statements, you may be dealing with phone phobia. Some psychologists see phone phobia as a small part of a larger problem – social anxiety – which deals with an underlying fear of making a fool of oneself in front of others or in social situations.
We all deal with this fear to some extent, but if it's affecting your life, it may be wise to seek additional help.
What can you do about phone phobia in business?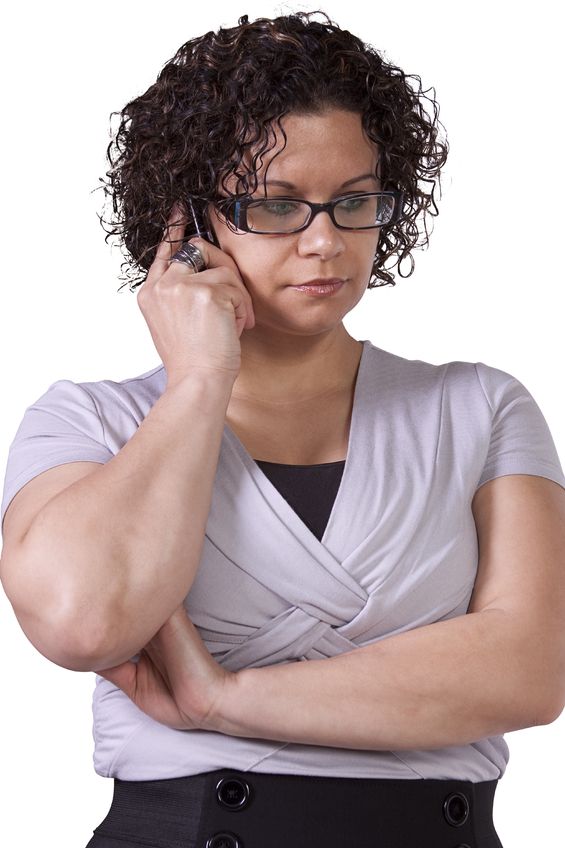 If you think you're dealing with phone phobia and you're a business owner or customer-facing employee, you will need to make some changes to make things easier on yourself. Phobias don't disappear overnight, and even with treatment, talking on the phone may never be 100% comfortable for you.
While we can't recommend specific treatment options for those suffering from phone phobia, we do have a solution that can help quell the anxiety. If answering the phone causes you to feel fear, dread, and stress, why not hire someone else to do it for you?
We offer virtual receptionist services for business owners that either don't have time or simply hate answering the phone. We'll route your existing phone number to our office (or assign you a special toll-free number) so our team of virtual receptionists can take your calls, deliver messages via email, and handle your scheduling and appointments.
You won't ever have to take another business call again with Conversational virtual receptionists there to cover the phones. Learn more about our virtual receptionist services and monthly plans here.
Source: https://www.conversational.com/phone-phobia-real-thing-how-tell-you-have-it/
Publish Date: July 13, 2016 5:00 AM
---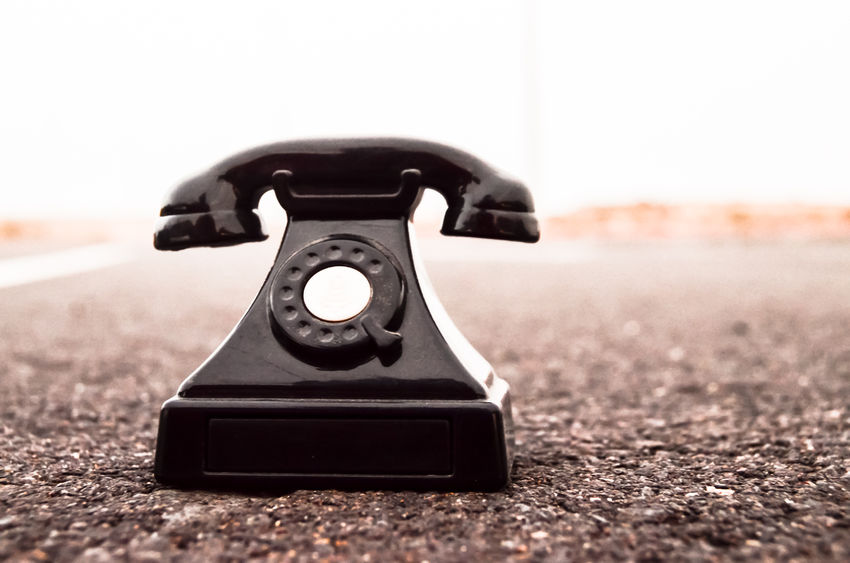 Some of us hate answering the phone, and not just because we're busy. It's not an imaginary thing – over the years, as text-based communication has gained in popularity, we've become less practiced at talking on the fly. If you Google 'telephone apprehension' or 'phone phobia,' you'll see that it's a common occurrence, especially for Millennials.
But the phone isn't so easy to avoid in the business world. Clients and customers rely on the phone for clear and professional communication. It makes it easier to understand and quickly get the information needed. Using the phone in small business also gives your company a more personal voice.
We understand the problems associated with using the phone in small business. That's one of the reasons we got into the virtual receptionist and virtual assistant industry – so we could make business owners' lives easier by doing the things they really don't want to.
Abandoning the phone in small business isn't an option if you want to be seen as professional and customer-oriented. Here are 3 reasons you'll need to keep the trusty telephone in use at your company for years to come.
3 Reasons You Can't Abandon the Phone in Small Business
---
It's #1 in communication clarity
Using the phone in small business is the best way to ensure communication clarity. Body language, tone, and listening ability are so important in communication – they give us clues about what the other person is saying to us. Sometimes, words alone can be taken out of context.
An email that says "Sure, okay…I'll be there." can be read neutrally or negatively. What are those ellipses for?! Does that mean he doesn't really want to come? The same phrase, when spoken over the phone, can sound a lot friendlier when spoken with a smile and injected with vocal enthusiasm.
It also leaves a lot less room for miscommunication.
If you've been in business very long, you already know that intangibles like your tone, vocabulary, accent, and listening ability can be just as important as concrete measures like your service offerings, strategy, and client proposals. Smiling when you're talking on the phone is a surefire way to sound friendlier and more trustworthy over the phone, but to date, there is no way to sound friendlier via email (unless you're sending emojis, which many deem unprofessional).
Gives your business a personal touch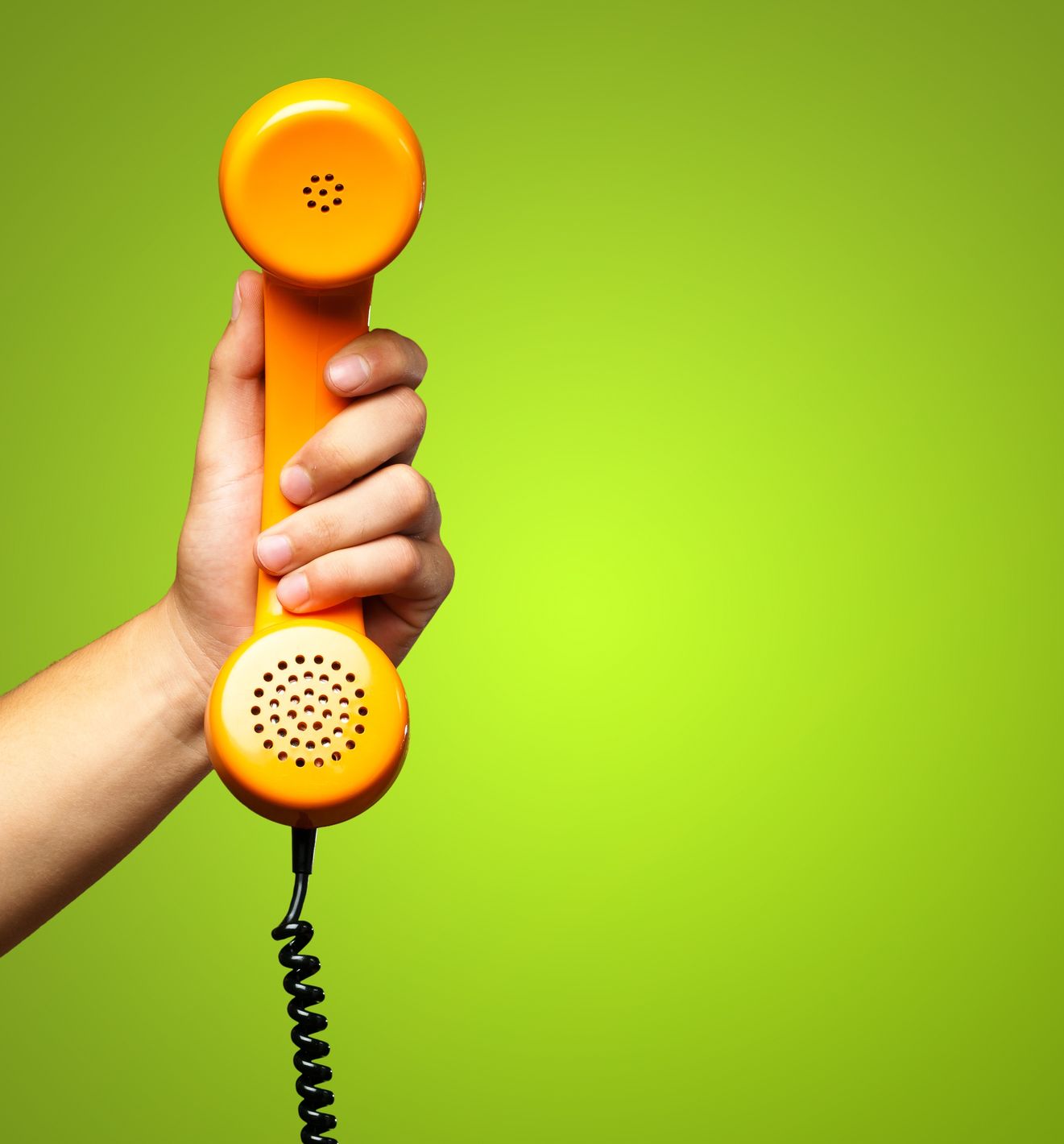 If small business can't provide a personal touch, who can? We've always relied on small businesses to be more personal than their larger counterparts. We expect exemplary customer service from them. We usually don't mind paying a little more to get that personal touch.
But if you're backing away from the phone, you're not giving the personal touch your customers are looking for. Using the internet to interact with clients has a time and place – many times, it will be efficient and effective.
But using only the internet to interact with clients and foregoing the phone is a huge mistake. You'll quickly see your customer satisfaction dwindle, and you may get complaints from customers that are frustrated they can't reach a "real person" at your company. Your communication clarity and quality will suffer as a result.
Appeals to those who hate going online
Yes, most people use the internet. But depending on your demographic, there may be large chunks of your audience that are either not connected to the internet or simply hate going online. The Boomer generation especially reports frustration at dealing with online customer service and prefers doing business over the phone.
Anyone who has a tough time navigating the internet is going to have a really tough time finding your website, locating your FAQ, browsing product pages, and using the customer support section. They will likely get frustrated before completing the purchase and leave your website.
They won't have any trouble picking up the phone to dial your number, though, and that's why you need to have the option available.
Using the phone in small business isn't a throwback to another time. It's still a valid, clear, and effective method of communication in 2016 and will continue to be for many years to come. Text-based communication is great for certain instances, but nothing can replace the personal touch and clarity of the phone.
---
If you hate using the phone, click below to check out our monthly virtual receptionist plans and let us handle the phones for you. Grab a free 30 day trial if you're a new customer!
Virtual Receptionist Pricing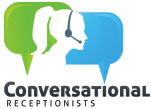 Source: https://www.conversational.com/3-reasons-cant-abandon-phone-small-business/
Publish Date: July 13, 2016 5:00 AM
---
An answering service handles your phone calls and delivers your messages to you. Using an answering service is a common solution many business owners implement when handling customer service and administrative duties on their own become too much of a time sink.
Answering services differ greatly in their delivery of service, type of service, and level of automation. Some answering services simply play a recording for callers and rely entirely on automation, not personal customer service. Others are located overseas and have non-native English speakers answer calls for English speaking customers, a scenario that often ends in confusion and aggravation.
But don't take our word for it. We've collected some key answering service statistics that make the case for having a real human being answer your phone instead of a purely automated answering service.
Related: Conversational's virtual receptionists work from our North American offices and answer every call with a friendly, custom greeting. Click here to try our virtual receptionists free for 30 days!
15 Surprising Answering Service Statistics
62% of customers stopped doing business with a company after receiving 'poor customer service.' (2015)
60% of customers expect more from customer service now than they did 1 year ago. (2015)
76% of customers believe the service they receive shows how much a company values them. (2016)
Answering service barriers
14% of customers think lacking updated technology is a barrier for good customer service. (2016)
45% of customers believe a company's lack of interest in their customers is the biggest obstacle to the ideal customer experience. (2016)
47% of customers say how quickly a business responds when they've made a complaint or inquiry is a 'vital element in the overall customer experience.' (2015)
63% of company executives say one of the biggest problems with improving customer service come from silos inside the company and a lack or improper use of integrated information systems. (2016)
Shifting paradigms
53% of professionals in customer service say analytics will have the biggest influence on customer service over the next 5 years. (2015)
84% of consumers are using web self-service over assisted service – an increase of 17% since 2012. (2015)
90% of customers expect a company to provide some kind of self-service customer support portal. (2015)
75% of businesses say customer service is a way to differentiate their business from the competition – an increase of 18% since 2014. (2016)
Predictions
80% of customer service professionals believe their current system won't meet future customers' needs. (2015)
50% of all customer service agent interactions will be influenced by real-time analytics by 2018. (2015)
25% of customer support operations will include a virtual customer assistant across information channels by the end of 2018. (2015)
Creating relevant content for customers will become a vital attribute for leading organizations by 2018. (2015)
6 billion connected 20.8 billion connected 'things' (think IoT) will be online and requesting support by 2020. (2016)
Source: https://www.conversational.com/15-surprising-answering-service-statistics/
Publish Date: July 11, 2016 5:00 AM
---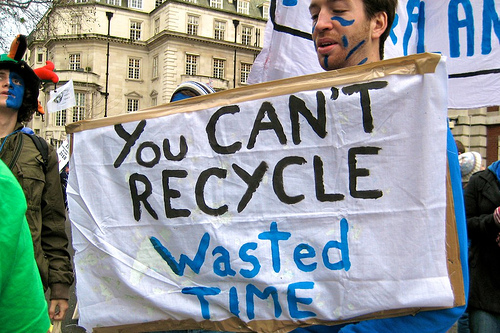 If time management were easy, the word management would be absent. It's not easy to manage your time in a way that allows for ample productivity and self care, but if you're an entrepreneur, that's just what you have to do.
Entrepreneurs naturally struggle with the idea of time management. You might wonder, "Do I really want to create arbitrary rules and schedules for every area of my life?"
The simple answer: Yes. The complicated answer: Read below.
Boosting productivity and self care with 'time buckets'
First – what is a time bucket, and how do you use one?
Time buckets are simply a concept that represents where and on what you're spending your time each day. Michael Cooper, the creator of the time bucket concept, maintains that there are 8 essential time buckets every entrepreneur must pay attention to.
To have a healthy balance of productivity and self care, each of the 8 time buckets must be scrutinized and assigned a 'time spent' minimum. For example, the Sleep and Recuperation bucket's time minimum might be 49 hours (at 7 hours of sleep/night x 7 days of the week), depending on how much sleep you need.
Here are the 8 proposed time buckets Cooper outlines in his concept. Which ones apply to your life?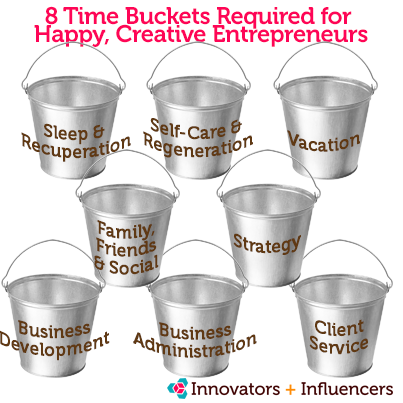 Bucket 1: Sleep and recuperation
You can't underestimate the importance of sleep. Without enough sleep, entrepreneurs fail to be productive and lose their competitive edge. Arianna Huffington is a firm supporter of the "Sleep Your Way to the Top" movement, encouraging executives and busy types to take a rest more often in an effort to be healthier and more productive in the long-run.
Consider your sleep needs, not norms. How much sleep do you need to function well and feel rested? Multiply that number by 7. You've got your first time bucket ready!
8 hours sleep/night x 7 days/week = 56 hours/week, out of 168 total hours in a week
Time remaining to be divided into buckets: 112 hours
Bucket 2: Self care and regeneration
Now that you've found how much time will be spent sleeping, you should focus on self care and regeneration. Self care can take any form – the point is you doing something you enjoy that relaxes and renews your spirit. That can be exercise, meditation, reading, spiritual time, shopping, lawn work – anything! You simply won't be able to keep up with all the productivity if you're not taking measures to care for yourself and regenerate after big events, launches, and hard work. This one is a bit harder to estimate your time needs for, so be general and use educated guesses rather than exact calculations.
1 hour of self care/day x 7 days/week = 7 hours/week
Time remaining to be divided into buckets: 105 hours
Bucket 3: Vacation
Vacation is an important form of self care, but it deserves its own bucket because it matters that much. Vacation time is not a negotiable thing for entrepreneurs, who burn out at a higher rate than people in most other career paths. Entrepreneurial work is fast-paced and intense. Vacations should be frequent and relaxing, not full of sight-seeing and stress (unless that's your thing) to earn you the most productivity and self care benefits. No matter how often or how little you've vacationed in the past, consider your needs and what you can afford to calculate your time needs here.
Think of the time you allocate to the vacation bucket like you're building up vacation days on a paycheck. You won't take a vacation every week, but you can allocate time toward vacationing so you're never left unprepared when it's time to pack up and go.
1 hour of vacation time/day x 7 days/week = 7 hours/week
Time remaining to be divided into buckets: 98 hours
Bucket 4: Family, friends, and social
Depending on your preferences for social activity and spending time with others, this bucket can be very important or almost empty. A socially active person who enjoys spending time with others and staying connected to friends and family might estimate that they'll need 10 hours every week for social time. Your number might be lower.
Remember – these time buckets are about your individual needs, not a norm or average! You might take lunch with a friend twice a week, spend time with your family every night, and make time for social engagements on the weekends. The time adds up, but if it's allocated in your time bucket, you'll always have time for it!
1.5 hours social time/day x 7 days/week = 10.5 hours/week
Time remaining to be divided into buckets: 87.5 hours
Bucket 5: Strategy
Strategy time is important no matter what stage of business you're in. It's not necessary to pore over strategy every day, but it's recommended that you spend at least one, preferably two hours each week assessing and making changes to your strategy. This is necessary for true growth. If you're not sure where to start, start with what isn't currently working for your business and go from there.
> 1 hour/day x 7 days/week = 2 hours/week
Time remaining to be divided into buckets: 85.5 hours
Bucket 6: Business development
Business development encompasses all the little things you do to grow your business – talking to new clients, making connections and networking, advertising and marketing, etc. This is a big priority because it's so closely tied to your revenue. It's recommended that you spend at least 2 hours per week, preferably up to 5, on business development.
> 1 hour/day x 7 days/week = 5 hours/week
Time remaining to be divided into buckets: 80.5 hours
Bucket 7: Business administration
It's a necessary evil, business administration. Billing and accounting, human resources, reception, organization – it all has to be handled or your business will spiral out of control.
One of the best ways to handle business administration without expending too much of your valuable time is by outsourcing your administrative tasks to a trusted third party like Conversational (we provide virtual receptionists and virtual assistants for small business owners that need help answering calls, managing appointments, and more). If you're working alone, 1-2 hours each week should be sufficient, but small businesses need at least 4-6 hours each week to handle these duties without outsourcing.
> 1 hour/day x 7 days/week = 6 hours/week
Time remaining to be divided into buckets: 74.5 hours
Bucket 8: Client service
If you're spending more than 35 hours per week in client service, you need to increase your fees. This might be your largest time expense, other than sleep, but it's also one of the most stressful. Some entrepreneurs spend as much as 80 hours per week dealing with clients, and it's easy to see why that's unhealthy. If you're focused on increasing productivity and self care, you need to limit the amount of time you're spending with clients down to around 35-40 hours per week. That number should go down as your business grows.
5 hours/day x 7 days/week = 35 hours/week
Time remaining to be divided into buckets: 39.5 free hours remaining
Big thanks to Michael Cooper at Innovators + Influencers for the excellent time bucket concept – it's one we will continue to refer to here at Conversational.
Source: https://www.conversational.com/divide-time-8-buckets-productivity-self-care/
Publish Date: July 11, 2016 5:00 AM
---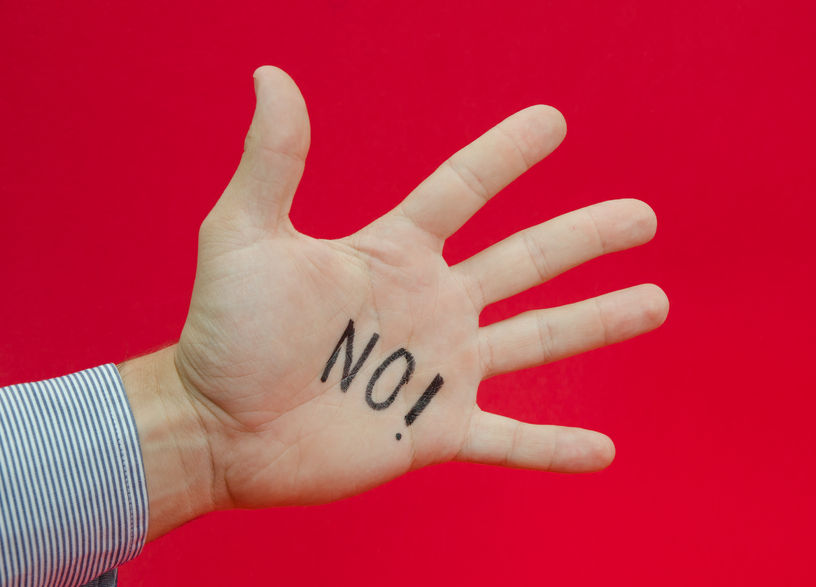 The 'nice guys' reading this know that when they are asked to take on an extra project or task, they have trouble saying no. Or maybe they know how to decline, just not politely. How can you effectively say no without jeopardizing the relationship with that person, without seeming like an unreasonable curmudgeon?
Saying no is terribly easy if you don't care how the other party takes it, but saying no is never easy if you want to be tactful.
And tactful you'll be if you follow this guide to saying no – we're going to share 10 ways to politely decline an offer or request without weighing yourself down with guilt about it.
You have priorities, and it's time to start putting them in order. Your assertiveness will pay off.
The Nice Guy's Guide to Saying No: 10 Ways to Politely Decline
Without further ado, here's the nice guy's guide to saying no according to the request or offer you've been given.
1. Can I borrow X amount of money?
Say: As a rule, I don't lend money to friends – otherwise, I'd say yes in a heartbeat. I hope you understand.
2. Will you chip in on a birthday gift for a colleague you don't know?
Say: I'd love to personally wish him/her a happy birthday instead – what floor are they on?
3. Can I bring a plus one, even though the invite says no?
Say: Unfortunately, the guest list was tough to sort out and we had to leave out more than we wanted. We really can't afford to add to the list, and that's why we had to say no plus ones. But we would love to have you both over after the wedding!
4. Do you want this shiny new promotion?
Say: Wow, that is such a flattering proposition. At this time, the position I'm currently in just feels right to me – could we circle back on this and talk about in another 6 months or so?
5. You don't mind coordinating the school fundraiser again, right?
Say: I'm much busier with work this year, and although I'd love to help, it's just not in the cards for me. I'm sure some of the other parents would be able to pick up the slack since I'm unable this time around – maybe put a note in the newsletter?
6. Are you coming to the annual family picnic?
Say: We are so disappointed that we'll have to miss the family picnic this year – we have plans that weekend, but we'll be thinking of you all and definitely missing Aunt Sharon's ___ (insert your favorite food dish at the picnic).
7. Can you take on this big project suddenly?
Say: Wow, that sounds like an incredible project – just from what you've told me so far, it doesn't sound like I'll have the time to spearhead that along with my other duties. Do you need me to re-prioritize, or is there someone else who could help you with the project?
8. Can I borrow your car for a day or two?
Say: As a general rule, we don't lend out anything that costs more than $1,000 – I'm sorry I can't lend you the car, but if you need a ride to work or to pick the kids up from school, just give me a call.
9. I know you said no kids, but I can bring mine to the party, right?
Say: Your kids are so fun – in any other scenario, we'd love to have them at the party. Unfortunately, some of our other guests with children had to make plans for childcare and we don't want them to feel slighted by seeing other children at the party. We hope you understand.
10. We want you to join our board of directors – how does that sound?
Say: Wow, that's quite an offer – I want to thank you for thinking of me and let you know how flattered I am. When I commit to something, I have to give it 100%, and right now, with X project, work, family, etc., I just don't have the extra time to commit 100% to this. I'll be a supporter from the sidelines, though!
Source: https://www.conversational.com/nice-guys-guide-saying-no-10-no-guilt-ways-politely-decline/
Publish Date: July 8, 2016 5:00 AM
---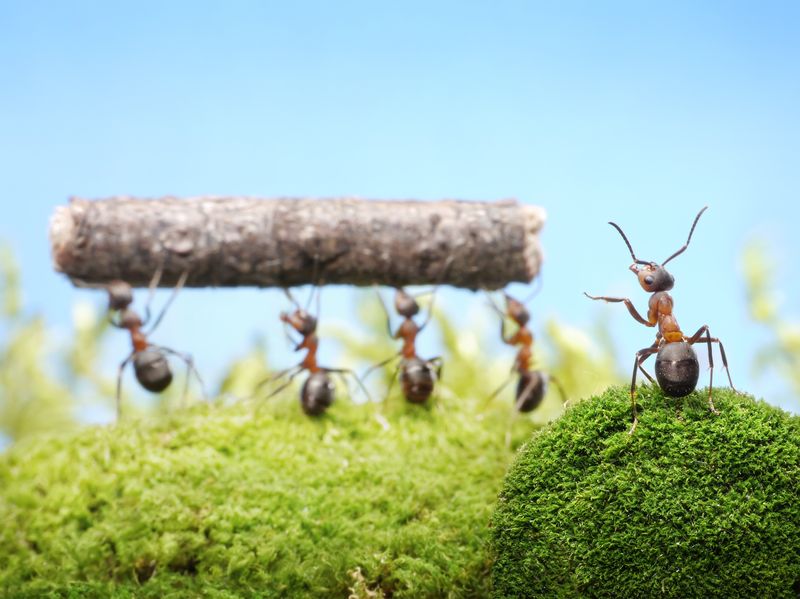 There just aren't enough hours in the day when you're a business owner. Once you've got a handle on the high-priority tasks, it's tough to spend your time doing lower-priority tasks that don't increase ROI. That's why many business owners hire and delegate to virtual assistants.
Virtual assistants work remotely to handle the same duties an administrative assistant would. Cheaper than a full-time assistant, requiring zero office space, and totally dedicated to your business, virtual assistants are an excellent way to increase your staff without breaking your budget.
What can virtual assistants do?
We've been virtual receptionist providers for years, and when our clients started requesting more in-depth service from our receptionists, we created new virtual assistant plans that enable business owners to hire a dedicated assistant that works one on one with the company and owner.
Virtual assistants can handle a wider range of tasks than virtual receptionists because of their time availability and dedicated relationship to your business. They handle tasks that any administrative assistant would – answering phones, taking messages, planning events, managing social accounts, blog calendars, appointment scheduling, and more.
Our virtual assistant plans include anywhere from 10 hours per month to 40 hours per month, giving you plenty of time to delegate the tasks that stress you out or that you simply don't have time for. Keep reading to find the top 10 tasks to delegate to virtual assistants.
Top 10 Tasks to Delegate to Virtual Assistants
These are the tasks business owners report that they delegate to virtual assistants most often. This can help give you a better idea of the work you could have a virtual assistant start taking care of for you.
10. Project planning & management
You've done the "big picture" work, and now you need someone to follow through on the plans and strategies you've created. Delegate it to a virtual assistant! Virtual assistants can manage your project by keeping up with deadlines, contacting collaborators, tracking down deliverables, and sharing progress updates with you.
9. Invoicing and payments
You'd be heartbroken if you never had to deal with another invoice or payment again, wouldn't you? Probably not. Let a virtual assistant handle that for you so you can get back to working on what matters. A virtual assistant can create invoices as well as send, track, and confirm receipt. They can also send payments on your behalf to make sure you're always caught up.
8. Expense reports
Keep your receipts and have your virtual assistant organize and track them in your expense reports. You can upload photos of the receipts or documents securely using Dropbox or a similar app. Your virtual assistant will sort and input the information in your expense reports, then submit those reports to you. This can be lifesaver for business owners who hate paperwork!
7. Collecting contact info
Who doesn't have a stack (or pile) of business cards from various sources cluttering up their desk or home? You haven't thrown them away because you may need their contact information in the future. Have your virtual assistant digitally document the contact information so you can declutter. She can add them your shared address book so the new contacts will show up in your smartphone.
6. Editing and proofreading
Two heads are better than one, and four eyes are better than two! If you're doing any kind of writing, it can't hurt to pass it over to your virtual assistant for light editing and proofreading. From blog posts and webpage copy to eBooks and presentations, letting someone else look over your work will help you catch any lingering typos or usage problems.
5. Calendar and appointments
No matter what appointment or scheduling software you use, Conversational's virtual assistants can link up and start managing your calendar and appointments. Your virtual assistant can schedule appointments and arrange your calendar in the way you specify.
4. Research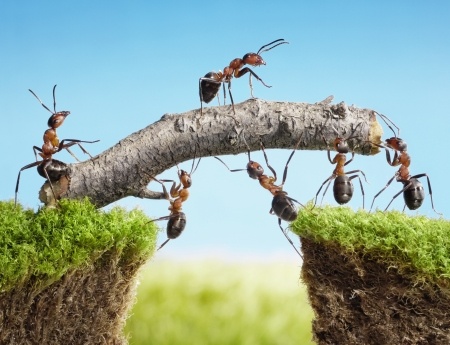 If you need research done for a specific project or task, a virtual assistant is the one to handle it. Simply delegate the topic and search terms to your virtual assistant and ask for an outline with information from the research session. This will make getting started that much easier for you.
3. Event planning
Whether it's a conference, a class you're teaching, or a grand opening celebration, a virtual assistant can help you plan the event. She can call caterers, venues, arrange for decor, party rentals, and more. All you have to do is delegate it! Virtual assistants can also schedule reservations for you at a restaurant or even call in your lunch order for you.
2. Travel planning
A virtual assistant can help you with planning travel. Tell her your budget and destination and she can find you a list of cost-effective options for flights, rental cars, and hotels. She can even help you plan your itinerary with things to do while you're away! There are apps that allow you to sync your trip itinerary to your smartphone so you'll have the plan with you wherever you go.
1. Creative work
While a majority of the work virtual assistants do is administrative in nature, don't be afraid to delegate more creative tasks to them as well. Start small if you're unsure of their creative ability, or just ask honestly if this is an area of expertise for them. It can save you a lot of time on blog post drafts, website copy, guest posts, and more.
The top 10 tasks to delegate to virtual assistants span far beyond the traditional tasks of answering calls, taking messages, and managing a business owner's schedule. If you decide to work with a virtual assistant, it may be one of the best business decisions you make. It's one that will give you back your time and allow you to focus on the tasks that matter most to your business.
Source: https://www.conversational.com/top-10-tasks-delegate-virtual-assistants/
Publish Date: July 8, 2016 5:00 AM
Page: 1 | 2 | 3 | 4 | 5 | 6 | 7 | 8 | 9 | 10 | 11 | 12 | 13 | 14 | 15 | 16 | 17 | 18 | 19