5 Ways to Show Your Staff You're Thankful for Them - CoWorx Staffing - ContactCenterWorld.com Blog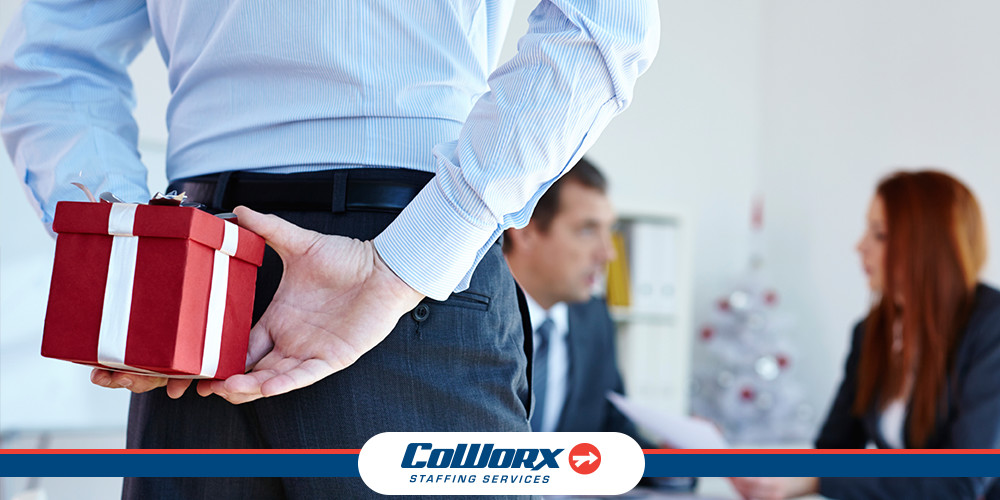 Thanksgiving is a great time to reflect on the gratitude we have for others in our lives.
While it's a great practice to thank people every day, take this time to start the habit. Being thankful for your employees will help them see that their work is valued and they will be more motivated to do a great job. It also encourages them to pass on the gratitude for others in the workplace. This will make you both a better boss and a better person.
So, for Thanksgiving, here are a few ways you can show your staff how thankful you really are.
Simply Say It
The easiest solution is often the one that goes unsaid. Don't forget to simply say "Thank you" to your employees when they do something for you or a particularly great job. You should encourage everyone on your management team to acknowledge your staff throughout the year. And a culture of gratitude like this spreads quickly. As employees hear "thank you" they also say it more often.
Write a Note
Who doesn't love to get unexpected mail at home? Writing a note by hand and addressing it to your employee's at home is a great way to give them an extra boost. Keep a batch of fun blank note cards at your desk and when the inspiration hits, send one out. Always let them know you're happy on their team and that they are a value to you personally as well as the company.
Help Out
You're the manager, but you weren't always the manager. You can demonstrate that you're a real leader, and that you're grateful for the work your employees do, by pitching in whenever necessary. This is not to say you should micromanage or believe that the job won't be done right if you don't do it. But helping out shows that you are thankful and that you aren't above the work your team does every day.
Pay it Forward
The best part about gratitude is that it is contagious. It can spread like the fu through your office but is much more desirable. They say it isn't happy people who are thankful, it is thankful people who are happy. When you encourage a culture of gratitude in your office you will see everyone being more positive toward one another.
Have a Celebration
Of course, the holiday season is a great time to throw a party. While many companies have holiday parties closer to December 25th, starting to get things planned around Thanksgiving is a good start. Show your team your appreciation by giving them a chance to relax and have a good time. Holiday celebrations can be casual and inexpensive if you hold it in your office. If you have a bigger budget, go all out with an extravagant event.
Looking to Grow Your Workforce This Fall?
Let our skilled team of recruiters help. Experts in staffing, we have the skilled team on hand in your local market to help you grow and develop yours. Contact us today.

Source: https://www.coworxstaffing.com/2015/11/18/show-your-staff-thankful-for-them/
Publish Date: November 18, 2015 5:00 AM
---
PREMIUM

HigherGround, Inc.
(VIEW OUR PAGE)

HigherGround develops data collection, information storage, and interaction analytics solutions that easily transform data into actionable intelligence, enabling operational optimization, enhanced per...

(view more)

PREMIUM

Future Gen International Pte Ltd
(VIEW OUR PAGE)

Outsourcing provider of English Call Centre services, Audio Transcriptions, Big Data ETL (Extract, Transform, Load) , Big Data Visualization, Big Data Predictive Model Generation

PREMIUM

CTI Software
(VIEW OUR PAGE)

CTI Software is the creator of custom application called Davos, which complements the telephone client solutions with intelligent features such as automated call attendant, call recording and archivin...

(view more)
---

View more from
CoWorx Staffing
Recent Blog Posts:
| | |
| --- | --- |
| Do you know one of the leading causes of injury both on and off the job? | June 19, 2018 5:00 AM |
| The Dos and Don'ts of Good Listening | August 8, 2016 5:00 AM |
| The Fundamentals of Service Excellence | July 12, 2016 5:00 AM |
| Great Ways to Manage Stress | July 12, 2016 5:00 AM |
| Happy World Day For Safety & Health At Work! | April 28, 2016 5:00 AM |
| Happy International Moment of Laughter Day! | April 14, 2016 5:00 AM |
| OMG, did you just say that in an interview? | March 28, 2016 5:00 AM |
| Soles4Souls and CoWorx 10K for 10K Fun Run | January 22, 2016 5:00 AM |
| CoWorx shares update to ACA from Staffing Industry Analyst | January 6, 2016 5:00 AM |
| How Soon is "Too Soon" to Follow-Up? | December 29, 2015 5:00 AM |