Creative Virtual - ContactCenterWorld.com Blog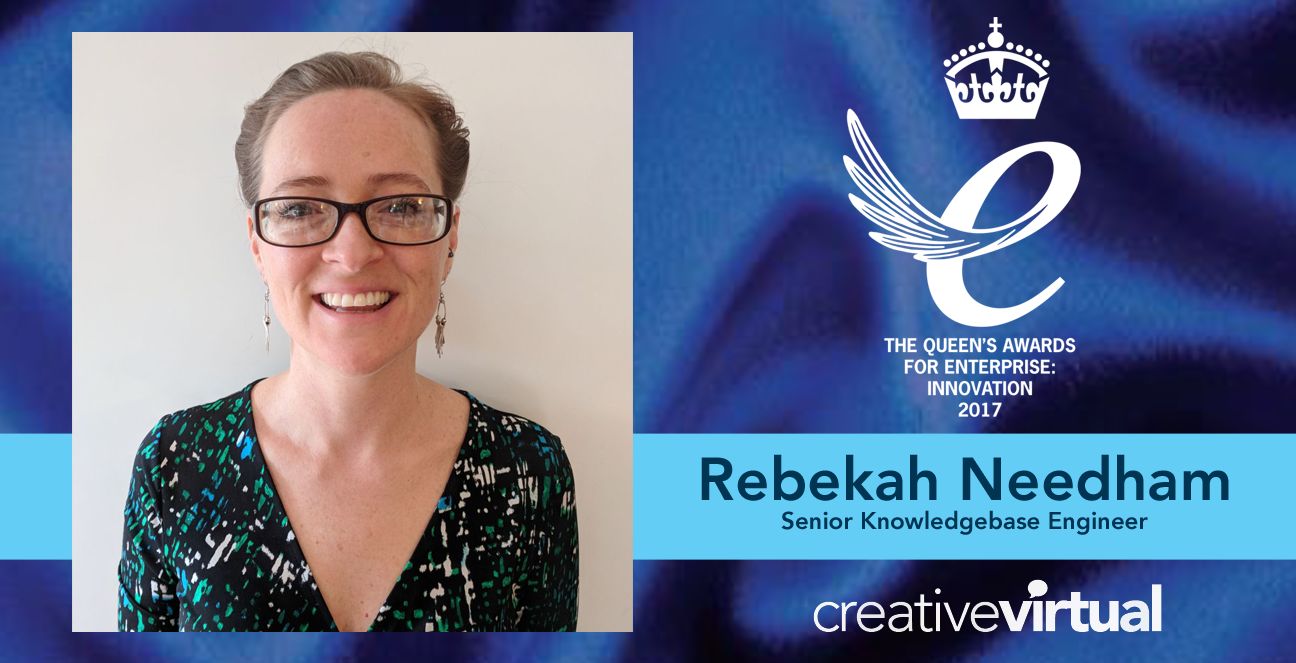 By Mandy Reed, Marketing Manager (Global)
Creative Virtual is one of only four companies in London to be recognised by The Queen's Awards for Enterprise in the category of Innovation in 2017. The company was selected for this honour not only for our innovative technology, but also because of the hard work and dedication of our global team. Creative Virtual's experienced, expert team is what sets the organisation apart from others in the industry. As part of the five-year celebration of our Queen's Awards for Enterprise, we're talking with some members of the Creative Virtual team about the technology, their involvement in the industry and what winning this award means to them.
Today we introduce Rebekah Needham, Senior Knowledgebase Engineer. Rebekah has been a part of the virtual agent industry since the Summer of 2008 when she first worked on a Spanish proof-of-concept for Creative Virtual. She officially joined the London-based team in 2009 and over the years has been involved with virtual agent projects around the world. She's built chatbots in the UK, trained new hires in the US and supported customers and partners in Asia Pacific. She shared with me her insights on how culture is driving virtual agent implementation in different parts of the world and why she wasn't surprised to hear Creative Virtual was being recognised for innovation by the Queen.
What are a few highlights from your time working with Creative Virtual? What do you enjoy most about being a part of the team?
Reading through Jeff's interview [read the interview with Jeff Clifford here] made me chuckle and think back to being trained by Jeff myself. At the time, I was living in the US and he was in the London office. I had a two-hour NLP [natural language processing] training session and was expected to start working on a Spanish proof-of-concept. I remember thinking, "What have I got myself into?!" Later Jeff told me he was impressed that I "got it"; I had to laugh and tell him I was glad he thought I "got it"!
Obviously, I had more thorough training when I officially joined the team and now I'm the one training new people. I've trained some of the guys in the US office and am now training in Asia Pacific, sometimes in languages I don't speak. I find it's a good test of my knowledge as I need to explain things in a way that the person I'm training can take information and apply it in another language. I also need to ensure a trainee understands well enough to train other people on his or her team.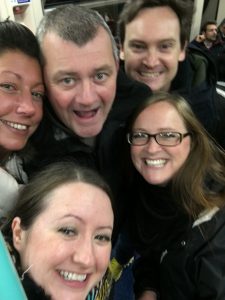 Having opportunities to rise to a challenge is one of the things I enjoy most about being part of the Creative Virtual team. Taking on challenges is something we do regularly as a company; we're always pushing ourselves to do more and be better. Whatever country you're in or projects you're working on, the whole team works together to find solutions and help our customers.
I find myself travelling a lot, but I know I always have access to the teams in the UK, US, India, Europe, and Asia Pacific no matter where I may be. We reach out to each other for support, and people don't hesitate to have calls or help troubleshoot something important at odd hours to accommodate different time zones. Despite the challenges, we can always talk, laugh and have a good time together. I've been friends with several people on the team for a long time, and I appreciate having a company culture that encourages us to build those strong relationships.
What differences do you see in the way virtual agents and chatbots are used in different parts of the world?
It's interesting to look at the ways virtual agent implementations are driven by demands for technology in different countries. In the US, for example, we typically see large enterprises deploying focused solutions that have a very streamlined template. Whereas in Asia Pacific, we are often working with smaller organisations who are looking for a conversational style virtual agent utilising templates that feature an avatar and FAQs. The virtual agents really are a reflection of what's going on in that part of the world, both culturally and technologically.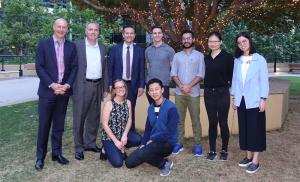 I feel that Creative Virtual's global expansion has really helped drive our innovation forward. Each new region has their own set of demands and requirements for our virtual agents to be successful. As a company, we are perceptive to these challenges and flexible enough to deliver quickly for our customers – a definite advantage we have over larger competitors. Rich [Mason] is a magical being! As our Head of Innovations, he has been key in helping us address regional differences. The entire company then benefits from these developments regardless of the region that first inspired them.
What are some challenges that organisations face when implementing a chatbot in multiple languages?
When it comes to implementing virtual agents in different languages, NLP works relatively the same way but we're conscious of the fact that languages are written in different ways – whether that be Chinese which uses symbols instead of letters or Thai which doesn't use spaces between words, for example. The engine needs to be able to parse each language correctly, and this is a challenge that Creative Virtual has overcome beautifully.
I find that we often act as consultants for organisations looking to deploy virtual agents in multiple languages, guiding them on how to best deliver these solutions. They appreciate how exceptionally flexible we are, both as a company and in the ways our technology can be implemented. At the moment, we have some virtual agents with 5 or 6 different languages in one knowledgebase while others are set up with a separate knowledgebase for each language. As we continue to innovate in this area, there will be an evolution of how multiple languages are managed and how we implement best practices.
What does Creative Virtual winning The Queen's Awards for Enterprise: Innovation 2017 mean to you?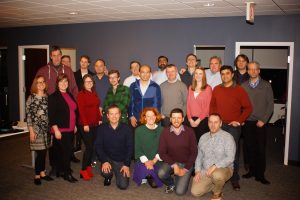 When I heard the news that we won a Queen's Award, my initial reaction was "Wow, that is so cool!" And then I thought, "Of course we won." I take great pride in the work we do at Creative Virtual and know we are doing a great job, so I wasn't surprised that we won such a prestigious award. It really is confirmation that we are at the forefront of the virtual agent field. Both as a group and individually, we are always driving towards excellence, and the award reaffirms for us that we are delivering a high level of expertise and quality to our customers and partners every day.
Source: http://www.creativevirtual.com/meet-the-team-rebekah-needham-deploying-virtual-agents-and-chatbots-around-the-world/
Publish Date: November 22, 2017 5:00 AM
---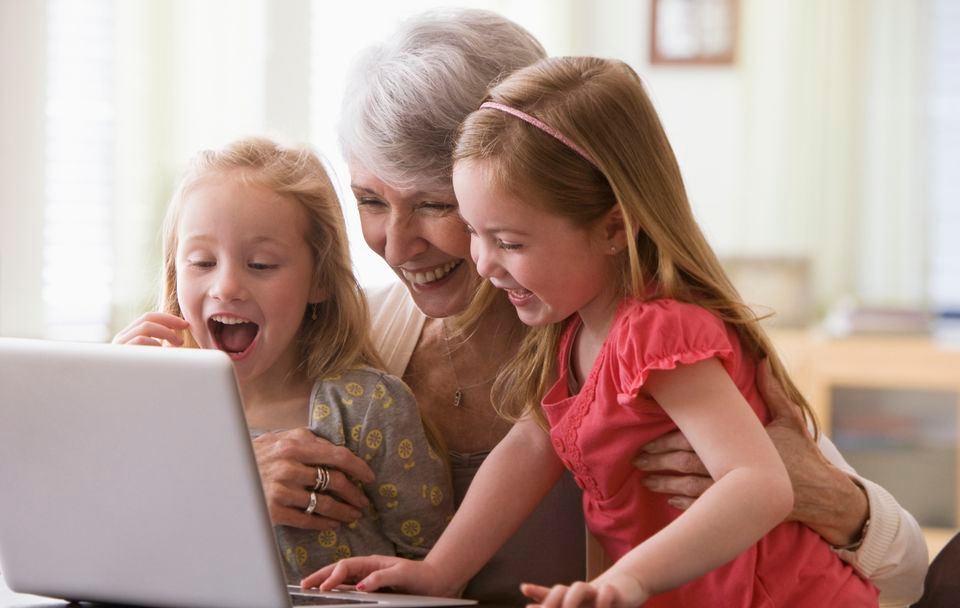 By Rachel F Freeman, Operations Director
Every year across sectors, buzz words crop up, trends start and people look to see what is or isn't the next "best" thing on the market - whether it be an innovative piece of machinery, the next best app, an idea to revolutionise the way we operate in a work space or indeed what we eat in order to be more efficient and focused (does a group huddle or corporate run before indulging on beetroot and chia seed smoothies sound familiar?).
Ideas keep coming, which is wonderful, and in the world of technology it is imperative to keep things fresh and dynamic in order to be responsive to the ways of the marketplace.
What drives the marketplace? The customer. Ironically (the way I see it), the one thing that doesn't change but is at the heart of what most of us in all industries need to consider is customer service.
Customer service is a hallowed objective and yet I can't think of any new-fangled ways to describe it another way or market the concept any differently. Customer service is at the heart of what we in the workplace all do and the only thing that changes through time is how we deliver it based on the tools and the circumstances of our era.
There was a time in living memory when consumer (retail) banking, for example, was conducted entirely via "bricks and mortar" branches and/or the phone. This meant that banking times were dictated by branch opening hours and phones being available and the likelihood of needing to wait or stand on a queue for an average of 15 to 20 minutes was considered acceptable. The customer service was focused on the friendly demeanour of the teller or bank manager and what type of advice or loan the bank could provide to make the customer feel properly guided. A lot of faith needed to be placed in the people in the bank to manage the retail accounts of the customers.
Nowadays it doesn't take much to see how things have changed drastically on so many levels. Banks are selling or renting many of their former beautiful Neo-Classical buildings so they are converted to restaurants/cafes/clothing stores; they are closing various high street branches and instead there is a bigger focus on their digital strategy and "modernised approach" to customer service. The customers who used to be wowed by the grandeur of their bank branch now need to be kept in awe by the digital experience they can get in return.
The modern digital benefits mean that banking can now be done 24/7 - you can access your accounts directly and manage your transfer seamlessly online at any time you want and now - with mobile devices - you can perform the transactions from wherever you need to without worrying about the constraints of a fixed location.
Customer service has gained levels of autonomy the customer never knew before - the customer has been empowered to take control of his/her accounts and with access to online information a customer can quickly assess and compare deals for loans or products and services with a few quick internet searches.
Has this new world of customer service left anything behind? This is for the customer to decide and for vendors to be in close contact with their clients to understand their needs and requirements.
Creative Virtual is providing banks with self-help tools to enable their customers to be empowered and we need to listen to our clients to understand what their customers want so we can adjust the tool we provide to help them give the best user experience. We are quick to respond to client needs and have allowed our clients to access online reporting directly so they can be empowered themselves to see how the tools they apply on their digital spaces are performing. We spend time adding elements of personalisation into our tools so that our clients can ensure that their customers are remembered when they return online and they can access their specific account information without needing to repeat themselves.
Similarly, our seamless live chat capabilities will give a customer an opportunity to speak to a live agent when required and the agent will have all of the customer's information along with the previous conversation leading to the live chat so there is no need for the customer to have to repeat his or her issue.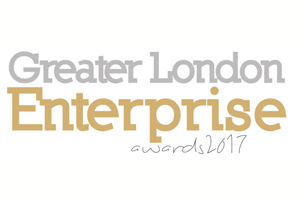 Creative Virtual are proud to have been awarded the latest accolade of Best Customer Service Solutions Provider 2017 in the Greater London Enterprise Awards. This is not too much of a surprise as Creative Virtual aims to listen to our clients, who in turn are working with their customers, so we can be on the frontline for amending our tools to provide the customer experience that works the most efficiently for the current circumstances of our digital world.
The tools will change throughout the years but the objective of keeping the customer happy is a constant through time. For as long as we have our eyes and ears open to the needs of the customer we are ready to respond and relish the challenge. It is what keeps us fresh and motivated.
Our thanks to the Greater London Enterprise Awards for naming Creative Virtual the Best Customer Service Solutions Provider! You can read our official announcement here. And you can see our customer service solutions in action for yourself by requesting a live demo.
Source: http://www.creativevirtual.com/a-tale-as-old-as-time-striving-for-the-best-customer-service/
Publish Date: November 21, 2017 5:00 AM
---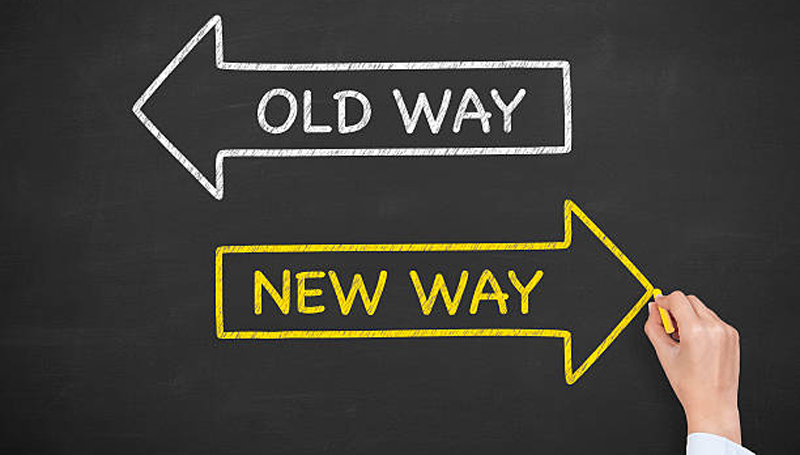 By Mandy Reed, Marketing Manager (Global)
Over the summer, one of my Netflix obsessions was 'Call the Midwife', a TV drama that follows a group of midwives working in London's East End during the 1950s and 60s. There often seemed to be a conflict between the traditional customs or ways of thinking and modern ideas that drove the storyline of the episodes. For example, patients resisting new medical practices such as giving birth in a maternity home instead of at home or the older generation of midwives dismissing the younger nurses' ideas on topics like allowing husbands to be present for the birth. Often the arguments came in the form of "If it was good enough for my mum, it's good enough for me!" or "We've always done it that way!"
Humans – and companies – are creatures of habit and often resistant to change. While the 'but it's always been done that way' reasoning makes for a relatable and compelling TV show, it can spell disaster for organisations when they resist recognising changes in customer behaviours and preferences. Blockbuster has become a posterchild for missed opportunity, passing on the chance to purchase Netflix and then trying to get into the streaming trend too late, which ultimately led to the company's demise.
When it comes to customer experience, organisations can't afford to ignore the impact technology is having on the way we communicate with each other and with brands. Today's highly connected digital customers are looking for 24/7 access to information and support across multiple channels and devices. They want a seamless experience that is personalised, consistent and easy. Companies like Amazon are often applauded for their superior customer experience, and customers are now expecting that same level of service from all the organisations they engage with, regardless of industry.
As consumers increasingly turn to self-service and digital channels, organisations need to analyse the changing preferences of their customer base and look to incorporate new channels and technologies into their customer support strategy. The change to self-service needs to happen in conjunction with an evolution of the contact centre. Current capabilities of AI-powered chatbots and virtual agents put these solutions in the perfect position to be complementary with the contact centre and live agents.
While some sceptics talk about chatbots and virtual agents in the customer service space as a passing fad, the reality is that they are a tried and tested tool for providing digital self-service and are helping to define the future of customer engagement. Since the days of the early chatbots, these tools have improved greatly in their conversational abilities thanks to advances in natural language processing (NLP) and artificial intelligence (AI). The evolution of customer expectations has also driven massive amounts of innovation in the technology to allow for flexible back-end integration, easier maintenance and a reliable hybrid approach to self-learning.
Take the first step toward meeting the expectations of digital customers with chatbots by requesting a demo to see this technology in action. Change can be hard, but smart organisations (and midwives!) know it is the way forward.
Source: http://www.creativevirtual.com/resisting-change-can-spell-cx-disaster/
Publish Date: October 26, 2017 5:00 AM
---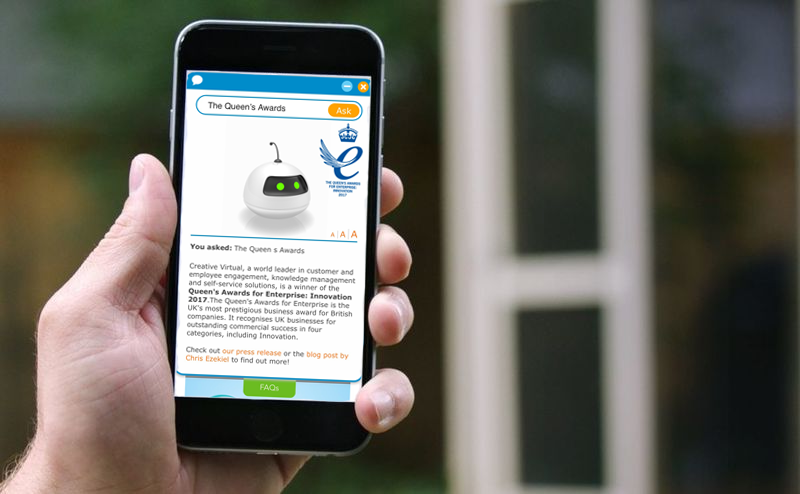 By Mandy Reed, Marketing Manager (Global)
"By 2021, more than 50% of enterprises will spend more per annum on bots and chatbot creation than traditional mobile app development."
As one of Gartner's top strategic predictions for 2018 and beyond, this projection really drives home the fact that chatbots are more than just a passing fad. Gartner explains that chatbots are becoming the face of artificial intelligence (AI) and transforming the way apps are built. Forward-thinking organisations are staying a step ahead of their competitors by examining their digital strategies and finding ways to incorporate chatbot technology into their customer engagement plans.
Some companies have already made their chatbot available in their customer app. One example is Time Warner Cable who offer customers the option to get instant help from their virtual agent, and even escalate to a live agent when needed, in the MY TWC app – check out the video below to see it in action.
Other organisations are taking advantage of the growing popularity of messaging platforms by deploying their chatbot on apps such as Facebook Messenger and WeChat. These platforms have become key communication channels, and chatbots offer a cost-effective way to provide 24/7 support to customers already using these apps to connect with family and friends. For example, Transport for NSW in Australia uses RITA (Real-time Intelligent Transport Assistant), their Transport Bot, to provide bus, train, ferry and light rail service information on Facebook Messenger.
A survey published earlier this year found that 71% of millennials (ages 18-34) surveyed were interested in trying chatbots from consumer brands. According to that same survey, 67% said they were likely to buy items and services from brands via chatbots. Based on those results, it's no wonder that enterprises are starting to seriously invest in chatbots to engage with customers. Some may even look to completely replace their traditional mobile app with a chatbot.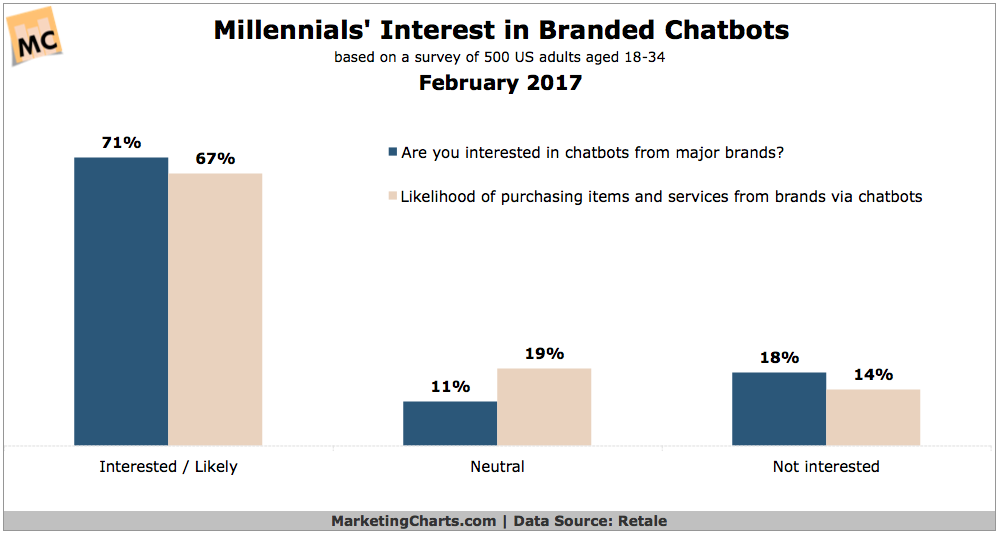 It's not enough for companies to invest in any chatbot, though – they need to invest in the solution that's right for their needs. There are new vendors popping up every day claiming to provide chatbots and virtual agents for customer support, but smart organisations know it's essential to work with an experienced provider offering a proven solution. Smart organisations also know that chatbots need to be implemented as an integrated part of their overall customer engagement strategy, not as a stand-alone tool or app. Here are a few resources to get you started:
Virtual Agents and Chatbots and Avatars – confusing or what!

– In addition to clarifying the confusing terminology in the current marketplace, this whitepaper also includes a list of key features to look for when selecting a chatbot.

Choosing a Virtual Agent Solution for Instant Messaging Platforms and SMS

– This checklist outlines five essential questions to ask before deploying a chatbot on messaging apps such as Facebook Messenger and WeChat.

AI, Chatbots and Virtual Agents: The Threat to Mankind and the Contact Centre

– This whitepaper cuts through the chatbot hype and overpromising for a realistic look at how these conversational systems can be used to provide reliable self-service and help contact centres better support customers.
Source: http://www.creativevirtual.com/chatbots-transforming-way-mobile-apps-built-used/
Publish Date: October 12, 2017 5:00 AM
---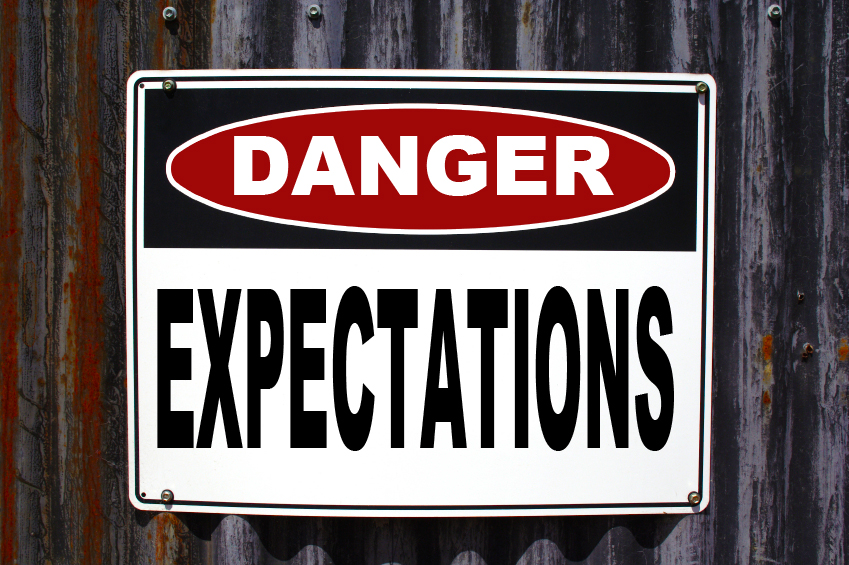 By Scott Tompkins, Enterprise Account Executive, USA

So…. I have this diploma and now have no idea what to do! Anyone else been there after graduation? Being from Delaware, I thought I would try my hand at one of the many financial service companies that call the First State home. My interview seemed to go well and as it was concluding the hiring manager asked me to sit with one of her agents for 30 minutes so that I would have a better understanding of what I would be doing in this role. I sat down and listened to "Steve" take his first call. The caller was a very polite woman who I assume had lived a long, enjoyable life. She was calling to cancel her credit card. I can't recall all of the dialogue but when she hung up the phone not only was the card not cancelled but she now was the proud owner of the "World Traveler Card." How did that happen? At that moment, I realized this was not the job for me! What an incredibly difficult position for an agent. How do you show empathy for your customers while at the same time complying with the push to meet goals the company has outlined?
Fast forward a dozen or so years and now I am a seasoned member of the working class that at times requires support from brands I purchase from. My expectations when speaking with an agent are that they will handle every situation the way I would handle it if I was on the other end. Imagine asking an agent to meet each caller's personal expectations. I really dislike the word "fair", and don't allow my children to use it, but my goodness, that is an unfair expectation.
So, what is the answer? For me, it's automation. When I take inventory of all the reasons I pick up the phone or live chat with a brand, most of those things could be answered in some type of automated fashion or by a chatbot. Whether I need information about my account or steps to troubleshoot a process, I shouldn't need another person to take the time to help me. Chatbots have evolved in 2017 to be intelligent, easy to access and conversational. They should be used in everyday transactions and leave the "high-touch" scenarios for the agents. Companies should strive to create an environment where customers are able to get immediate support for everyday issues, while at the same time having agents available for consultative help. Companies will not only create a superior customer experience but also help bring sanity back to their agents. Allow the agent to spend their day consulting with customers on new products and offering advice where necessary. Let the chatbot handle the password reset, account balance, and "I need to reset my router" questions.
Contact us to learn more about our chatbot experts and solutions.
Source: http://www.creativevirtual.com/dont-worry-the-customer-only-wants-you-to-be-perfect/
Publish Date: October 6, 2017 5:00 AM
---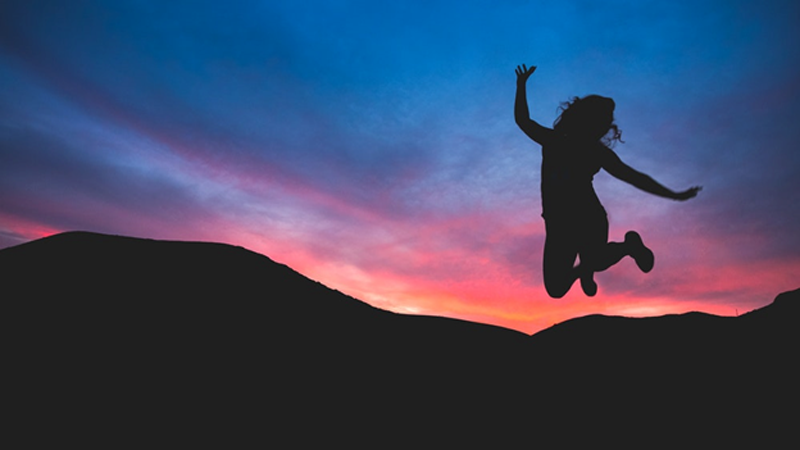 By Susan Ott, Customer Success Manager, USA

Often, customer service can be a challenging world. Solving problems, providing information, making sure things run smoothly…it's not always easy.
When I take a moment and think about companies that emanate unmatched customer service, I see an atmosphere in which employees and management alike are engaged on the front lines with their customers. Pride in the company you work for should always be at the forefront of every interaction. That emotion of pride instills a sense of teamwork and customers can feel it!
Companies who employ individuals who go above and beyond will always win me over. Most often it's those little "extra" moments that customers remember and foster a sense of loyalty to your brand. Delivering a personalized and effortless customer experience is really what it's all about.
As we find ourselves in this age of internet-driven, 24- hour news cycles, we see a world full of ever changing landscapes. Customer touch points are rapidly expanding, and we see companies asking: How can we keep up and stay relevant?
Fortunately, new technologies are out there opening pathways for us to build a dialogue with our customers. We are already seeing that chatbots will have a major impact on the world of customer service over the next several years. Digital interactions will help employees complete tasks both great and small. Features that make our conversations seem natural and super convenient are constantly being improved upon.
The bottom line with regards to the future of customer service? Focus on creating a seamless experience BEFORE, DURING and AFTER a customer interaction. That is what customers want and if a chatbot can help with the process, we shouldn't be opposed!
Contact us to hear more about how we can help with AI experts and solutions.
Source: http://www.creativevirtual.com/excellent-customer-servicewhats-secret-achieving-success-now-future/
Publish Date: October 5, 2017 5:00 AM
---
By Claudia Ramos, Senior Customer Success Manager, USA
When I got news that I'd be relocating with my family to Las Vegas, NV, I was thrilled with the possibility of finally breaking out of the Contact Center world and embarking on my new dream. I envisioned my big entrance in the Hotel Bizz. Dreams aside, I had to provide for my family. The reality of a crashing economy shattered my dream of working in a new exciting field. I knew that I had become great at something I did not like so much anymore. So, I accepted a Contact Center Manager job that paid 50% less than what I was making previously. Looking back, at least I had the view of the Las Vegas Strip and the occasional fun background check to review and decline for hire…
However, what was it that changed my love and passion for working at a Contact Center? It was never the clients, the calls or coaching sessions, and certainly not the amazing Potlucks. First, I was fed up with the fast-pace of hiring demands. Second, was how quickly we had to teach the agents to follow quality guidelines and memorize all the products offered. At one point, I remember being the only manager on the floor with 45 New Hire agents and every other agent was asking the same question. If you do not know the feeling, it is equivalent to hiking Red Rock Canyon without shoes (it's a long story)! I would go on to interview, hire, train, coach and motivate agents for the next few years. Each day, reminding myself that all this experience would come in handy one day. At the very least, I was able to fit into some old Levi's from my early 20's due to all the walking around answering questions!
I have a new spring in my step these days! In 2016, I took the challenge from my mentor to join a team of Artificial Intelligence experts. Without a doubt, my first thoughts were, "Bots are here to take our jobs", "Bots are not conversational", etc. Do you want to know what made things interesting? The VP told me, "These are some of the best conversations you are going to read" (insert LOL emoji). Fine, I would like to read these myself! As I started reading through conversations, they felt more like a face-to-face conversation with a person than talking to a robot. I was noticing that the chatbot was handling more concurrent chats. All the while helping resolve the customers' questions. The chatbot was apparently alleviating issues at all levels, resulting in a reduction in phone escalations. The additional development was that the chatbot could assist agents with listening and providing accurate responses to customers. My initial reaction was jealousy. I wished this technology had been available to me during all those years of on-the-job training for New Hires and walking the sales floor!
The hustle of my Vegas Contact Center days was not in vain. I feel good being able to contribute to a fast-paced world that needs happier, more satisfied agents and customers! Chatbots are created by people who are passionate about helping others. Individuals who understand the importance of clients receiving speedy and accurate resolutions and carefully curating answers that maintain a conversational element.
Big shout out to all the New Hires out there. Y'all are too much sometimes, and that is okay because I love you. Thank you for all you do!
Reach out to learn more about our AI experts and solutions.
Source: http://www.creativevirtual.com/postcard-from-las-vegas-happy-customer-service-week/
Publish Date: October 4, 2017 5:00 AM
---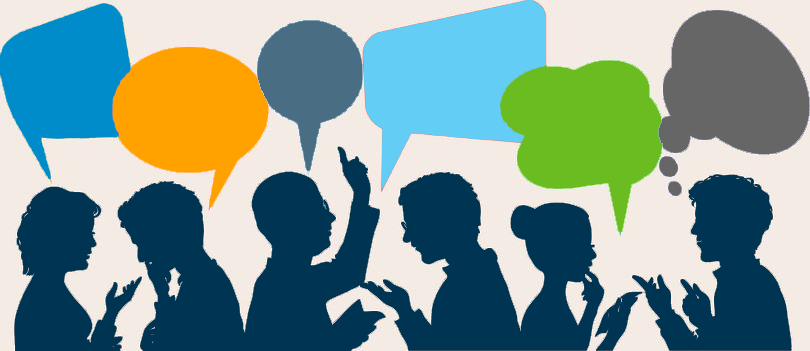 By Mandy Reed, Marketing Manager (Global)
Happy CX Day! Today marks the annual global celebration of the companies and professionals that create great experiences for their customers. The impact customer experience has on building and retaining your customer base can't be ignored, especially in today's world of digitally-savvy, technology-empowered consumers.
Developing and implementing Voice of Customer (VoC) initiatives has helped many organisations improve their customer experience over the years by capturing valuable feedback and actionable insights. More recently though, smart companies are coming to realise that Voice of Employee (VoE) can also have a powerful impact on their customer experience strategy. In fact, Gartner predicts:
"By 2022, 35% of organisations with more than 5,000 employees will augment their annual employee engagement surveys with pulse, indirect and inferred feedback to build a more complete view of the employee experience."
Organisations are struggling to respond to the rapid pace of both external and internal changes and the ways these changes are affecting their employees. This includes tackling constantly evolving customer experience needs. While it seems like a no-brainer to get input from customers to drive CX decisions, organisations can't afford to overlook the importance of employee feedback as well. Employees play a key role in the overall experience consumers have with your company and brand. They can provide valuable insights into their interactions with customers as well as internal tools and processes.
While implementing a robust VoE initiative isn't something that will happen overnight, a great place to start when it comes to customer experience is getting feedback from contact centre agents. Organisations are putting a great deal of focus and energy into digital transformation programmes in order to improve CX, and contact centres should be instrumental in driving that progress. Your agents are the ones providing support to customers – whether that be by phone, email, live chat or social channels – and the ones who deal with internal tools and processes day in and day out. They know what customers are repeatedly identifying as pain points and what their own pain points are when trying to deliver a quality support experience.
One way to empower contact centre agents to share their voice is to set up a feedback loop that allows them to provide real-time suggestions and comments on content. Agents can then easily flag information that is inaccurate or out-of-date and identify content that is incomplete or simply not helpful when they are engaging with customers. They can also submit comments that can help identify or explain issues with other parts of your customer experience. For example, if agents are repeatedly answering the same question over and over they can help pinpoint the issue based on their interactions with customers. Perhaps customers can't find the information they need on the website or a feature in the mobile app isn't working as intended – agents can share this valuable insight quickly so the appropriate steps can be actioned to correct and improve the customer experience. Agent feedback can also be used to enhance the employee experience for your agents, which in turn creates happier, more engaged agents providing better support for your customers.
You can learn more about implementing an industry-defining feedback loop in this recent Innovation Showcase webinar. Listening to the voices of your employees can go a long way in taking your CX from good to great.
Source: http://www.creativevirtual.com/cxday-listening-voice-employee-drive-better-customer-experiences/
Publish Date: October 3, 2017 5:00 AM
---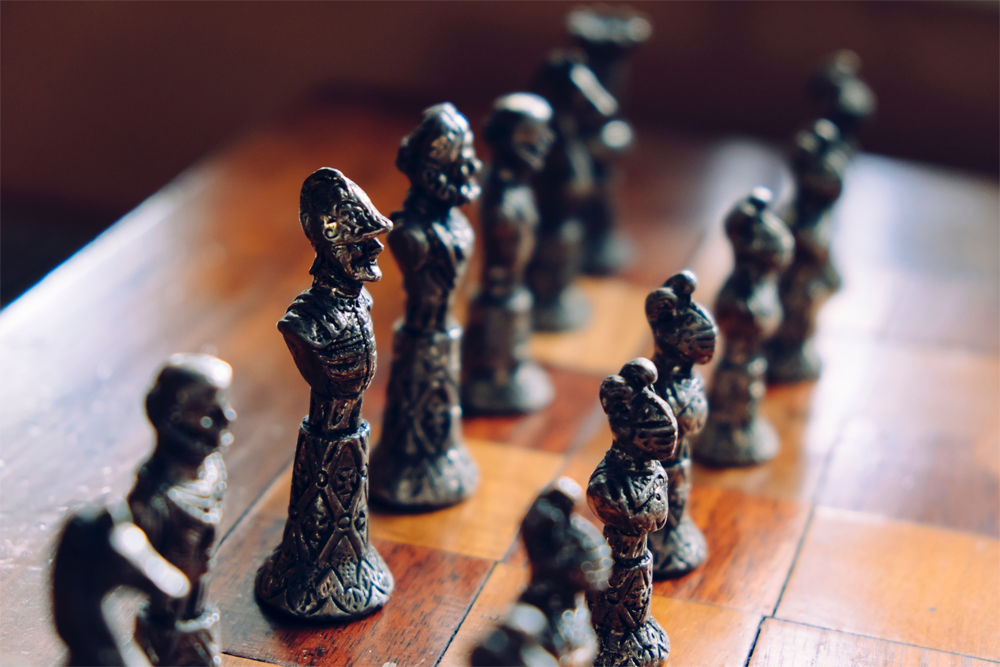 By Mike Murphy, CEO, USA
Taking customer service calls is a lot harder than you imagine it would be. No one is particularly happy to be speaking with you, and they get a little less happy with every passing second. I've said it many times…being a call center agent was the most difficult, challenging, and rewarding job I've ever had. The goal is to warmly greet a stranger, figure out which of the hundred or so possible issues they need help with, convey empathy in an honest way, talk them through a resolution, wrap the call with appropriate branding and thank them for being a customer…and do it all in 12 minutes, before picking up the next call with the same level of energy…rinse and repeat 30 or so times in a shift, unwillingly do the same in your dreams at night, and start again the next day without missing a beat. By the way, you're also logging case notes in real time, clicking through a call-flow tool, and looking up information in several different windows. Heavy drinking the night before is ill-advised.
On the plus side…it's a metrics-driven job. AHT, CSAT, FCR, NPS, Conversion Rate, AOV…everything is captured, reviewed, tracked and ranked. Your aim is to incorporate the fundamentals of good customer service: Make it effortless, Be nice, Be quick…while completing as many conversations in a day as possible. Talented customer service reps aren't cheap, so maximizing their productivity is key and has been my professional focus for the last 15 years. Agent chat was the first technology I witnessed dramatically increase agent productivity. Now a great "contact" center agent could have 80-100 quality conversations per day instead of 30. Learning how to translate the fundamental principles of customer service to work within a digital conversation was also a lot of fun to figure out. Chat provided some interesting learnings…including the fact that creepy people are even creepier in chat. Working alongside other talented individuals, we figured out a playbook for best-in-class chat agent training. And now we have chatbots. We're now applying the same principles from the chat-agent training playbook to chat-bot training. And we're also helping out agents with bots of their own and driving the next leap in productivity. Great chat agents with bot-assistance can now do 150+ chats per day. And the bots themselves are happy to do 100,000+ conversations per day…and haven't showed up to work sporting a hangover just yet. Can't wait to see where we go next.
Reach out to learn more about our AI experts and solutions.
Source: http://www.creativevirtual.com/thank-calling-mike-can-i-help/
Publish Date: October 2, 2017 5:00 AM
---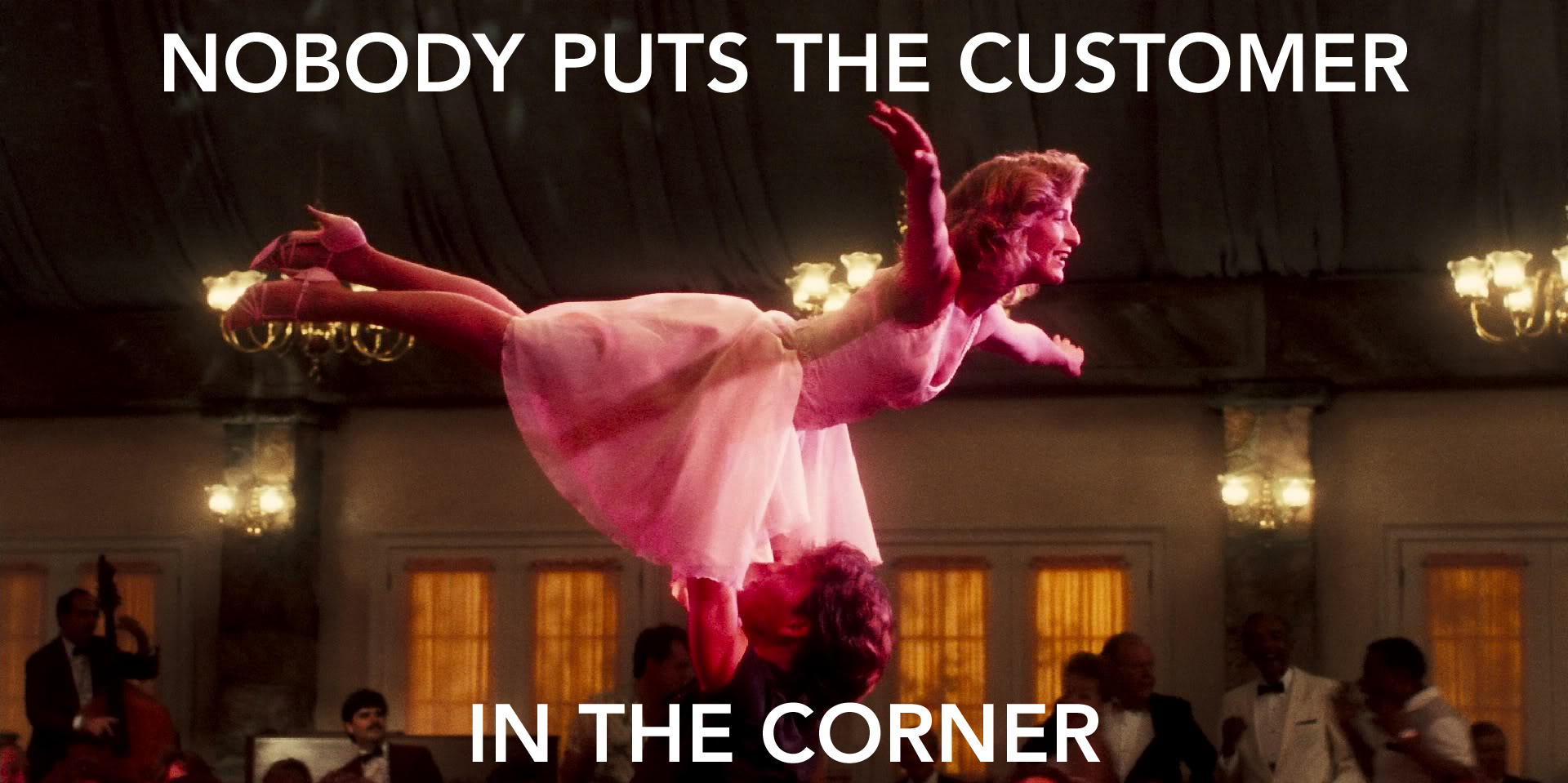 By Mandy Reed, Marketing Manager (Global)
Happy Customer Service Week! Each year the first full week of October brings the week-long international celebration of the importance of customer service and the people who operate by the motto 'Nobody puts the customer in the corner' by providing great customer service every day of the year. From those who provide face-to-face service to those working in contact centres to those responsible for supporting self-service channels, delivering quality customer service is a team effort, and we salute you all.
As we shine the spotlight on customer service professionals this week, let's take a look back at some of the trends, tips and statistics we've shared on customer support and the contact centre over the past year with our annual blog post roundup:
The Future of the Contact Centre – Technology is altering the way customers engage with brands and increasing their demands for instant 24/7 customer service. The traditional model for call centres and contact centres is no longer providing the experience customers have begun to demand. As organisations look to meet the expectations of digitally-savvy customers, changes in the contact centre and the job descriptions of customer service agents are going to be key to digital transitions.

Live Chat vs. Virtual Agents: A Story of Overcoming the Divide to Work Together in Perfect Harmony – In the not too distant past it wasn't uncommon to come across organisations struggling to decide between live chat or a virtual agent on their website for customer support. However, now the either-or debate is changing into a discussion of how to bring these two technologies together to work in perfect harmony. Organisations that continue to view them as stand-alone tools instead of complementary solutions are going to struggle to provide quality digital support experiences for their customers.

CX in 2017: A Tale of Empowered Customers, AI and Self-Service – According to Forrester, companies are under attack from their customers with technology-empowered customers deciding the winners and losers. The analysts at Gartner have also been following these technology-driven changes in customer preferences and predict that by 2020 the use of virtual customer assistants (also called virtual agents or chatbots) for providing better customer service will increase by 1,000%. Knowing you need to offer digital self-service and successfully implementing these tools as part of your overall customer service plan are two very different things, though. The best way to start is by educating yourself about digital engagement solutions and customer expectations.

Conversational Commerce for Demanding APAC Customers – The Asia Pacific region had been seeing the change to self-service happening separately from the contact centre which then created new challenges for companies. Now contact centre professionals are coming to understand that virtual agents and chatbots can work together with contact centre agents and are seeing the benefits of including these conversational systems as part of their overall customer service plans.

Is the Contact Centre Part of Your Digital Transformation Programme? – Every organisation is in the midst of digital transformation programmes and the contact centre needs to be a key part of that, although that's not always the case today. In the future, the contact centre will be the centre of excellence for the knowledge used across customer support channels and organisations need to put the necessary tools in place to facilitate that change.

Infographic: Are Chatbots and Artificial Intelligence Threats to Your Contact Centre? – Some academics and experts are warning about the dangers of AI, predicting everything from a huge loss of jobs to the end of the human race. At the same time, industry analysts are predicting significant increases in chatbots and virtual agents in the customer service space. This infographic gives a realistic overview of the impact of AI, chatbots and virtual agents are having on the contact centre.
Source: http://www.creativevirtual.com/nobody-puts-the-customer-in-the-corner/
Publish Date: October 2, 2017 5:00 AM
---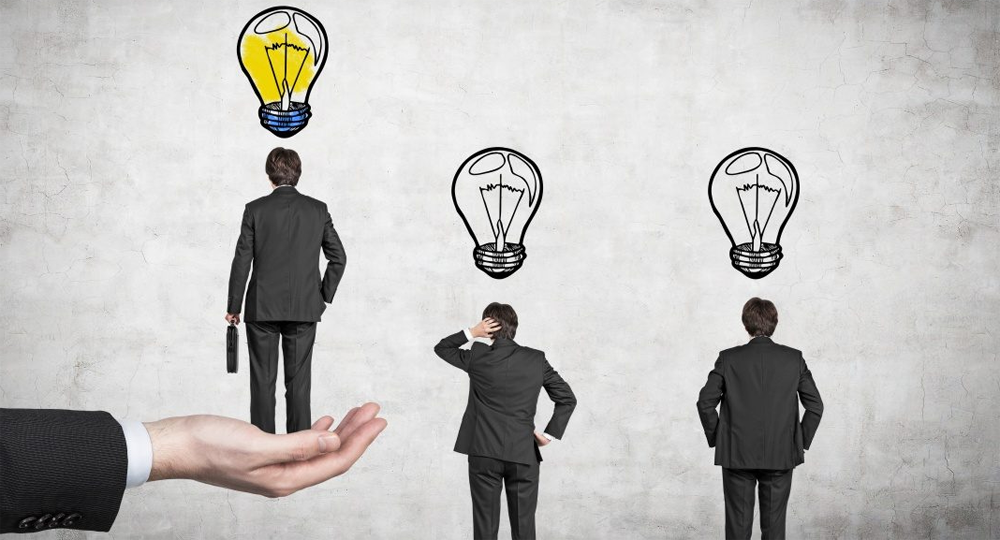 By Liam Ryan, Sales Director
Every day I speak with organisations going through digital transformations, particularly in regards to their customer service initiatives. Selecting the right software and working with a knowledgeable provider can make or break these efforts. Organisations need technology solutions that are cutting-edge but that also complement existing systems and infrastructure.
This is exactly what we do at Creative Virtual, and I am proud to share that it has earned us a spot as a finalist in the category of 'Software Innovation of the Year' in the 2017 Digital Entrepreneur Awards (DEAs)! To be shortlisted, we needed to demonstrate that our software improves engagement and output, and empowers individuals and teams, which fits perfectly with our company vision. We offer organisations the technology to enable seamless, fully-integrated, end-to-end customer engagement backed by the experience of an expert, knowledgeable team. This not only improves the customer experience but also empowers employees.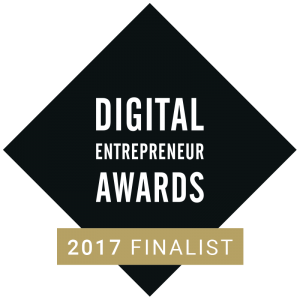 A perfect example of this is the integration of our V-Person™ virtual agents with live chat. Our virtual agents and chatbots give customers an easy and convenient way to self-serve and are playing an important role in helping organisations meet the engagement demands of digital customers. However, we know that sometimes customers will have complex issues that are best served by live agents, or they simply prefer to talk to a real person. Based on a set of customisable rules and triggers, the virtual agent can seamlessly escalate users from virtual to real agent, with a complete history of their conversation being passed to the live chat agent.
Creative Virtual's V-Person Live Chat™ solution is integrated with the same knowledgebase being used to power the self-service virtual agent. As customers ask questions, the platform automatically presents live chat agents with the response found in that knowledgebase. Agents then have options to reply with the answer as it appears, send an edited version of the text or type in their own response. The customisable console also gives options for agents to provide real-time feedback and suggestions on content. Live agents are empowered to become knowledge experts and share the responsibility of keeping self-service channels up-to-date.
Our thanks to the award judges for recognising our digital innovation, and the proven business results are customers are achieving with our solutions, by shortlisting Creative Virtual for Software Innovation of the Year. We look forward to the winners from the South region being announced during an awards dinner on 8th November in London.
Source: http://www.creativevirtual.com/improving-engagement-and-empowering-your-team/
Publish Date: September 28, 2017 5:00 AM
---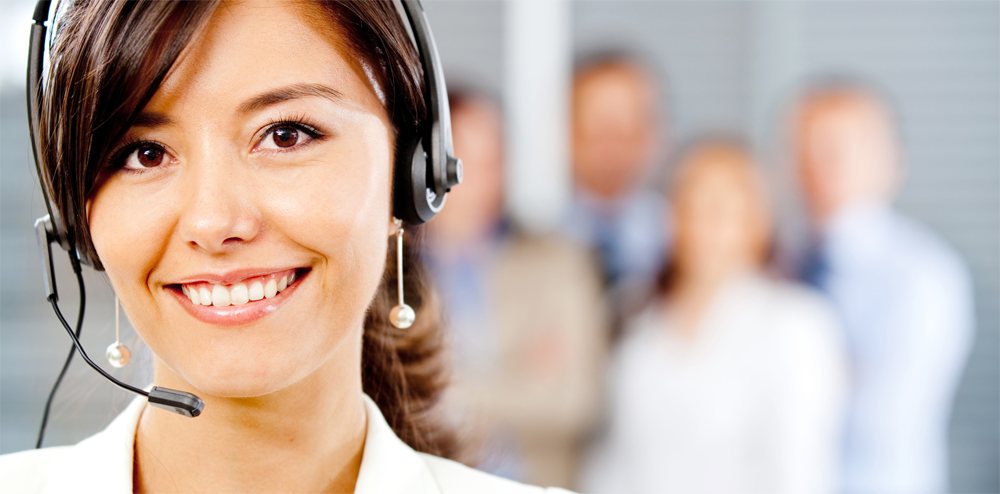 By Chris Ezekiel, Founder & CEO
I say this every year, but the Technology Innovation Showcase webinar Creative Virtual does with CRMXchange is one of my favourite webinars to present. This was the fifth year running that we've participated in the webcast series, and it was our most popular one yet with a record-breaking number of registrations. I love this webinar because it gives me a chance to share more live demonstrations than slides, and I know the best way to understand how our technology works and what it can do for customers and organisations is to see it in action.
For this year's Showcase, I focused on the theme of 'Chatbots, Virtual Agents and Your Contact Centre'. There's so much buzz and hype, as well as unrealistic expectations and disappointments, around artificial intelligence (AI) and chatbots that it can be difficult to know how best to deliver, implement and support these types of solutions. My goal during the webinar was to showcase best practices in deploying chatbots in conjunction with human assistance for customer support and sales. I selected my demonstrations specifically to show how the virtual and real can work in perfect harmony to meet business objectives.
A few key takeaways from my presentation:
Artificial intelligence on its own is not the answer for customer support. Companies like Microsoft and IBM have been responsible for setting false expectations in regards to how AI can be deployed for customer service. Chatbots and virtual agents should blend human curation of content with machine learning. This hybrid approach enables the system to continually improve while also allowing control over the reliability of responses.

Every organisation is in the midst of digital transformation programmes and the contact centre needs to be a key part of that, although that's not always the case today. In the future, the contact centre will be the centre of excellence for the knowledge used across customer support channels and organisations need to put the necessary tools in place to facilitate that change. By including the contact centre as part of this transformation instead of allowing it to become a siloed and outdated entity, it benefits from lower costs, reduced staff turnover and more engaged, skilled and happier agents.

Customers are starting to specifically demand chatbots for digital self-service, with research showing that many would choose to interact with a chatbot before a human to get instant answers. To meet the demands of customers, organisations need more than just chatbots and virtual agents that are available 24/7 though. Over the past several years providing an effortless way to interact with your company has become more and more important. Instead of offering a wide range of support options for customers to choose from, you need to offer one place for customers to ask a question and for that system to be the intent matcher. Then, once you understand the intent, immediately provide the most appropriate method for assistance. You also need to provide a seamless experience that's available on any device, can easily switch between languages and provides personalised responses.
I invite you to watch the recording of the webinar on-demand to understand more about these three points and to see the live demonstrations of chatbots, virtual agents and live chat solutions that are currently being used by some of our customers around the world.
My thanks to Sheri Greenhaus and CRMXchange for organising and hosting another successful Technology Innovation Showcase for us. I'm already looking forward to presenting again next year.
Source: http://www.creativevirtual.com/contact-centre-part-digital-transformation-programme/
Publish Date: September 15, 2017 5:00 AM
---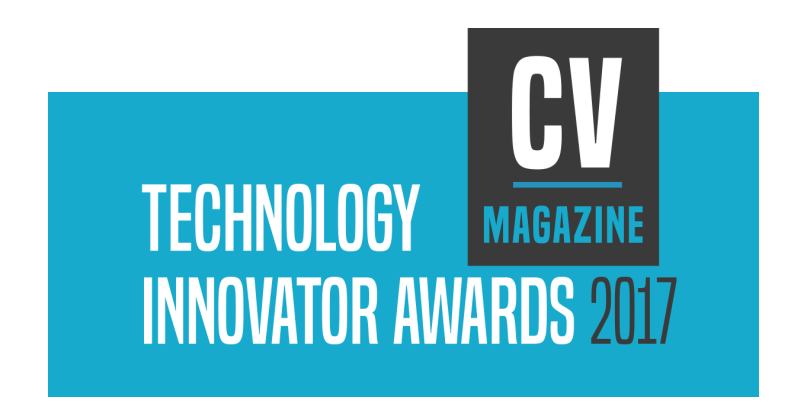 By Chris Ezekiel, Founder & CEO
At Creative Virtual our vision has always been to offer organisations the technology to enable seamless, fully-integrated, end-to-end customer engagement, and to back that technology with the experience of an expert, knowledgeable team. We saw this vision come to fruition last year when we officially added V-Person Live Chat™ to our suite of Smart Help solutions. Since then, our roadmap has continued to be all about providing a world leading enterprise level end-to-end customer engagement platform.
It is an honour to have this vision and hard work recognised for a third straight year by the Technology Innovator Awards. This year I'm proud to share that we've been awarded 'Best Global Customer Engagement Software Provider 2017' and 'Most Innovative Customer Support Tool: V-Person Live Chat'! These awards are a testament to the Creative Virtual team's dedication to providing enterprises with innovative customer support solutions.
Our technology is designed to assist organisations in aligning their contact centre directly with the digital function to meet the growing expectations of customers for 24/7 access to accurate information and support. We are defining industry best practice through the tight integration of a single knowledgebase for both virtual and real agents and a unique feedback loop that allows live agents to help keep content accurate across self-service channels and human-assisted channels just by doing their normal jobs.
At the heart of our suite of products is our V-Person virtual agent technology which is utilised by organisations around the world to improve their customer support experience, reduce costs, increase sales and build brand loyalty. Our multi-lingual chatbots and virtual agents are currently answering over 50 million questions a year – and that number is always growing! We've had a number of exciting additions to our V-Person family over the past several months including Helen, the new chatbot communicating with Octopus users in Hong Kong Cantonese which was implemented with our partner Continuous Technologies. Forward-thinking companies like Octopus recognise that customers are increasingly turning to digital channels and self-service first and are leveraging conversational chatbots to improve their digital engagement.
My thanks to the Technology Innovator Awards for recognising Creative Virtual and our innovative software and solutions for a third year. You can read our official award announcement here.
Check out the video below to learn more about our innovative integration of virtual and real support and request your own personalised demo to see our technology in action.
Source: http://www.creativevirtual.com/the-most-innovative-customer-support-tool/
Publish Date: August 2, 2017 5:00 AM
---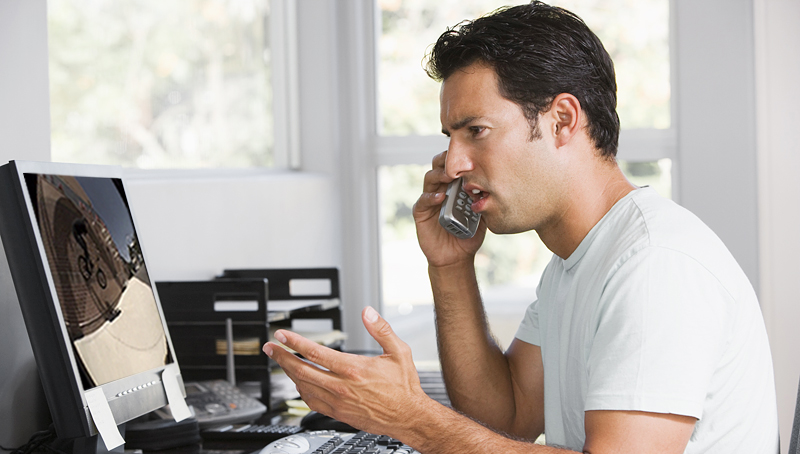 By Björn Gülsdorff, Head of Business Development
Contact Deflection – is there a reason why so many companies have this as an objective? Well, our clients tell us what their goals and pain points are, but I can't help thinking that treating one's contact centre as a cost centre is past its prime. Also, if you want to make money, contact with your customers is a good thing. At least, that was my theory.
I was therefore quite happy to be able to speak in front of the Call Center Verband (Call Centre Association) in Halle, Germany, as well as meet the European customer service directors of the Deutsche Telekom AG at their gathering in Budapest. An opportunity to talk to people from the field and test my thinking. I expected at least some consensus, though: DTAG gave me 90 minutes of airtime for a speech on "Growth Through Customer Service" (funnily enough the title of one of our blogs from 2015), so I could tell I was on the same page with the organisers at least.
As the Budapest event was with the service directors while the one in Halle was with those who actually run the call centres, the two meetings represented two different points of view on the same topic. Still there was a lot of agreement: Customer service has become a differentiator for companies and a driver of revenue. People expect immediate, seamless service and their user journey starts on a (mobile) device. If you make them call, you can forget about first time resolution, channel containment and similar metrics, because it is too late. When people call or email, they have tried to get help through other channels before - and failed. Another thing came up: In this new scheme, agents need new skills. It was never fair to look at them as FAQ answering machines, but the demand for social and selling skills has grown a lot. It is now all the more important to support them in their work, serve them facts, help with procedures and let them focus on the relationship with the customer.
Not everything received such unanimous consent, however. The pace of such changes, the differences between industries and the rise of voice messages as a new channel left more than enough room for debate. Quite enjoyable, because nothing beats the voice of the customer – ours and theirs!
Check out this contact centre guide to learn more about the changes contact centres are facing and the transitioning role of agents.
Source: http://www.creativevirtual.com/whats-the-point-of-contact-deflection/
Publish Date: July 18, 2017 5:00 AM
---

By Mandy Reed, Marketing Manager (Global)
Some academics and experts are warning about the dangers of artificial intelligence (AI) – predicting everything from a huge loss of jobs to the end of the human race. At the same time, industry analysts are predicting significant increases in chatbots and virtual agents in the customer service space. So what does this mean for your contact centre? Should you approach chatbots and virtual agents as threats? Are contact centres about to become completely automated?
Check out the new infographic below for a realistic overview of the impact AI, chatbots and virtual agents are having on the contact centre. And then download the whitepaper AI, Chatbots and Virtual Agents: The Threat to Mankind and the Contact Centre to learn more.

Source: http://www.creativevirtual.com/infographic-are-chatbots-and-artificial-intelligence-threats-to-your-contact-centre/
Publish Date: July 13, 2017 5:00 AM