The Dialogic BUZZ UC Platform Swiss Army Knife - Dialogic - ContactCenterWorld.com Blog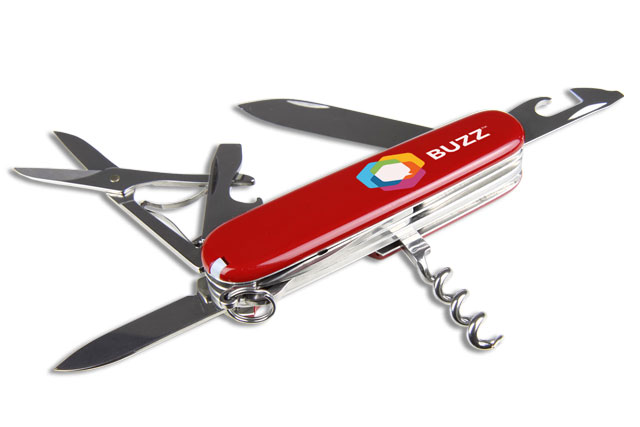 Several weeks ago I wrote a blog that documented my time from a fledgling start-up company based in the UK to joining the Dialogic family. In that musing, I referenced the exciting experience over the last couple of years as the company reinvented itself into one that is lean, agile, and ready and able to succeed in the new world of virtualization and cloud. Remaining on the same theme, this blog delves a little deeper into the world of Dialogic to reveal exactly how we have remodelled the very core of the company from the ground up though our product offerings.
I remember as a young man the landmark day I was permitted to own a Swiss Army knife – a long time ago. As someone who grew up in the countryside, it was the perfect accompaniment to many adventures and its multiple tools were used for tasks ranging from bow and arrow construction to building camp fires. But what relevance does this nostalgic day dreaming have to the topic at hand, you ask?
Dialogic is very much analogous to a software version of a Swiss Army knife. Contained within its multifunctional core are tailored software components that can either be used in isolation or in combination to solve modern day problems – just like my childhood adventures and prized Swiss Army knife. There is no better example than Dialogic's recent addition to the portfolio, the highly impressive and disruptive Dialogic BUZZ Unified Communication (UC) platform. Not only does it provide a wealth of new technology and innovation, but it also leverages complimentary, established Dialogic products to achieve architectural goals – much in the same way the trusted Swiss Army knife was used to complete my childhood adventures. The following illustration provides a very simplistic view: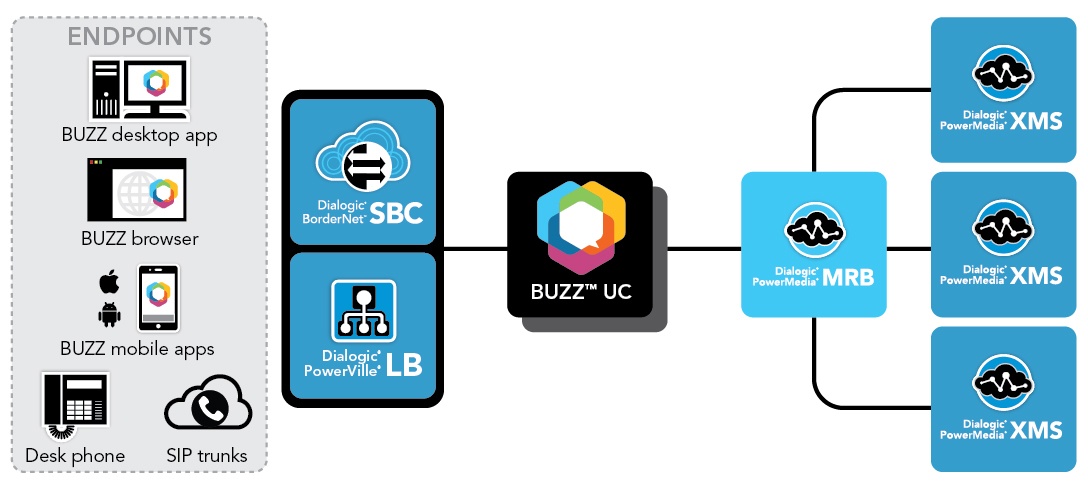 Clearly shown are the new, exciting core components that have the Unified Communications industry talking (or BUZZing), such as Dialogic BUZZ clients and Dialogic BUZZ UC Server solution. Additional key components of the solution are drawn from Dialogic's broad portfolio, namely:
The Dialogic Media Resource Function (MRF), known as Dialogic PowerMedia XMS, which provides best-of-breed mixing and transcoding component for all sophisticated conference activities, such as voice, video and screen sharing,
The Dialogic Media Resource Broker (Dialogic PowerMedia MRB), which seamlessly compliments the solution, providing scaling of conference activities for larger and/or critical conference resources, including high availability
The cloud-native Dialogic BorderNet Session Border Controller (SBC), which is a perfect fit for all security and interworking needs
The Dialogic Load Balancer, which provides the final tool in our Swiss Army Knife armoury by supporting all general protocol scaling requirements and redundancy across a range of protocols such as Session Initiation Protocol (SIP) and Hypertext Transfer Protocol (HTTP)
Dialogic BUZZ UC solution is an exciting new addition to the Dialogic software portfolio and provides reassurance that at its core, are components that the communications industry has come to trust. More Dialogic BUZZ UC detail to follow – stay tuned.
Source: https://blog.dialogic.com/blog/the-dialogic-buzz-uc-platform-swiss-army-knife
Publish Date: October 24, 2018 5:00 AM
---
PREMIUM

Avizent Ltd
(VIEW OUR PAGE)

Advanced AI technology and Natural Language Processing delivered to clients in the Cloud that harnesses both voice and digital conversations. The focus is on building an environment where intelligent ...

(view more)

PREMIUM

HigherGround, Inc.
(VIEW OUR PAGE)

HigherGround develops data collection, information storage, and interaction analytics solutions that easily transform data into actionable intelligence, enabling operational optimization, enhanced per...

(view more)

PREMIUM

ConceptCall
(VIEW OUR PAGE)

Аутсорсинговый контакт-центр ConceptCall| КонцептКолл специализируется на исходящем и входящем телемаркетинге: мы предоставляем услуги по осуществлению холодных звонков и продажи по телефону, проводим...

(view more)
---

View more from
Dialogic
Recent Blog Posts:
| | |
| --- | --- |
| Panning for "Killer Apps" in the Gold Rush of 5G | February 14, 2019 5:00 AM |
| The Dialogic BUZZ UC Platform Swiss Army Knife | October 24, 2018 5:00 AM |
| DialogicONE - IoT Solutions | October 22, 2018 5:00 AM |
| Dialogic PowerMedia MRF – A Solution You Can Depend On | September 25, 2018 5:00 AM |
| Enabling WebRTC with the Dialogic PowerVille Load Balancer | July 16, 2018 5:00 AM |
| Telecom Meets Digital: The Importance of Establishing Controls | May 24, 2018 5:00 AM |
| Introducing DialogicONE! | April 6, 2018 5:00 AM |
| Small Enterprises Dominate But are Unified Communications Solutions Meeting Their Needs? | November 30, 2017 5:00 AM |
| Machine Learning Is Improving IVRs | November 29, 2017 5:00 AM |
| Call and Talk to Watson | November 21, 2017 5:00 AM |