Dialogic - ContactCenterWorld.com Blog Page 2
Page: 1 | 2 | 3 | 4 | 5 | 6 | 7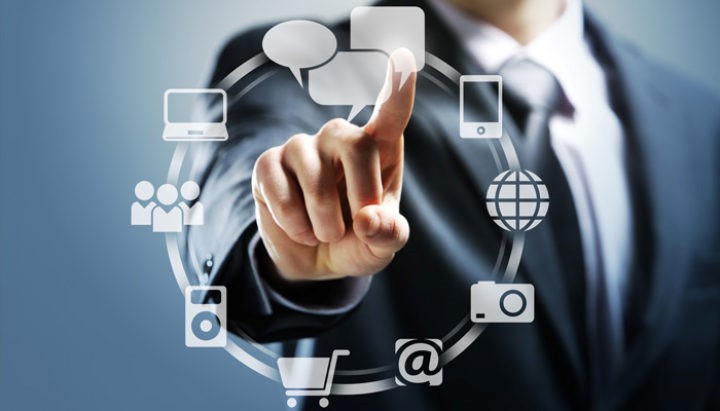 Everyone is talking about UC these days. But what is it? And why hasn't everyone deployed it yet?
First of all, UC is a murky topic. Unified Communications at it's most basic level is voice, email and presence/IM capability in an application. And some companies are very particular about saying they have UC apps because they have the basic ones. But UC can also mean voice conferencing, video conferencing, text messaging, collaboration / document sharing, and fax. And this contributes to different price points and target market fit.
By the way, fax is not normally identified with UC, but in my mind it is critical for UC. Fax continues to be integrated into health care and legal verticals, so fax will be important for UC in those environments.
Enterprises like to utilize UC because it can save employees time. For instance, I hardly ever use voice mail anymore. I can see if someone I want to talk to is online/available, and then if so, make the call. Saves both of us time. And I schedule internal conference calls using our UC system. And during these conference calls, we can share documents on screen. And I can do this when at work, at home, or on trip from a hotel room seamlessly. All in all, compared to 10 years ago, I can safely say that UC has certainly enhanced Dialogic's work environment, and hopefully made us more productive.
However, like most enterprises, this has been a journey for us. We didn't just move to UC overnight. The main driver for us many years ago was our main PBX going end-of-service. It made economic sense for us to move to a new IP-based system. And so we did it in stages.
And this is precisely the reason many enterprises have not yet moved to a UC system. The current environment is there, is paid for, and it works. So like last week's blog on gateways and SIP trunking and existing environments, a migration will continue for a long time. While most of us think the move to IP in the enterprise is over because we live in that world every day, in reality, there is quite a long way to go before this PSTN to IP migration is over. And so there will continue to be opportunities for various forms of Unified Communications in the enterprise.
Next week, I will explore cloud based UC, or Unified Communications as a Service.
Source: http://blog.dialogic.com/blog/unified-communications-murkiness
Publish Date: June 27, 2017 5:00 AM
---

At last week's TechXLR8 in London, I was listening to Paul Wilkinson with Tesco talk about the various initiatives his company is exploring to improve the customer's buying experience through technology and innovation.
His group at Tesco has been experimenting with some novel ways for customers to order and buy the things they need, and then make that experience easier and more automated through the use of Artificial Intelligence (AI). They've looked at devices including ordering buttons and bar code scanners to help consumers order the things they need, or reorder when the things they use regularly run out.
They've also been leveraging the conversational interface capabilities of Alexa and Google Home as a front end to an ordering and fulfillment app to provide intelligence and context to the buyer's journey. By adding AI, the application knows what the customer buys and when they need to buy it again. It can also anticipate based on different events and what it has learned in the past by basically applying "if this, then that" type of rules. For example:
The customer tends to order milk on Thursday, so if it's Thursday, then automatically order milk, or
A customer's birthday is coming up later this week, so on that day, they should treat themselves to champagne.
But if an intelligent bot is now doing the shopping and making the decisions on what to buy, how do you market to that new kind of decision maker? Patrick did admit that there will be impacts to brand marketing in an environment where a bot pushes the consumer again and again towards purchasing the same products.
I spoke with Seri Mesquida Head of Innovation and New Ventures at Hotelbeds Group. He was at the conference talking about "AI as a Game Changer for the Travel Industry." The use of AI and bots in his company's application includes interactive suggestions to consumers on travel packages based on a customer's preferences. I asked him how do you provide consumers variety and choices of products and services in a situation where those very things are being curated by an intelligent bot that is basing its decision on a customer's historical buying patterns.
In his case, what they would do would add some selections that are not necessarily perfect matches to the consumer profile, but may be of interest to the consumer nonetheless. Regardless, the intersection of AI and online shopping seems to work. Tim Rogers, founder of +rehabstudio, was sharing several case studies of his company's work that reinforced that point.
One of the projects he discussed was the Cocktail Coach, a chatbot that helps cocktail enthusiasts create high quality mixed drinks from the comfort of their own home.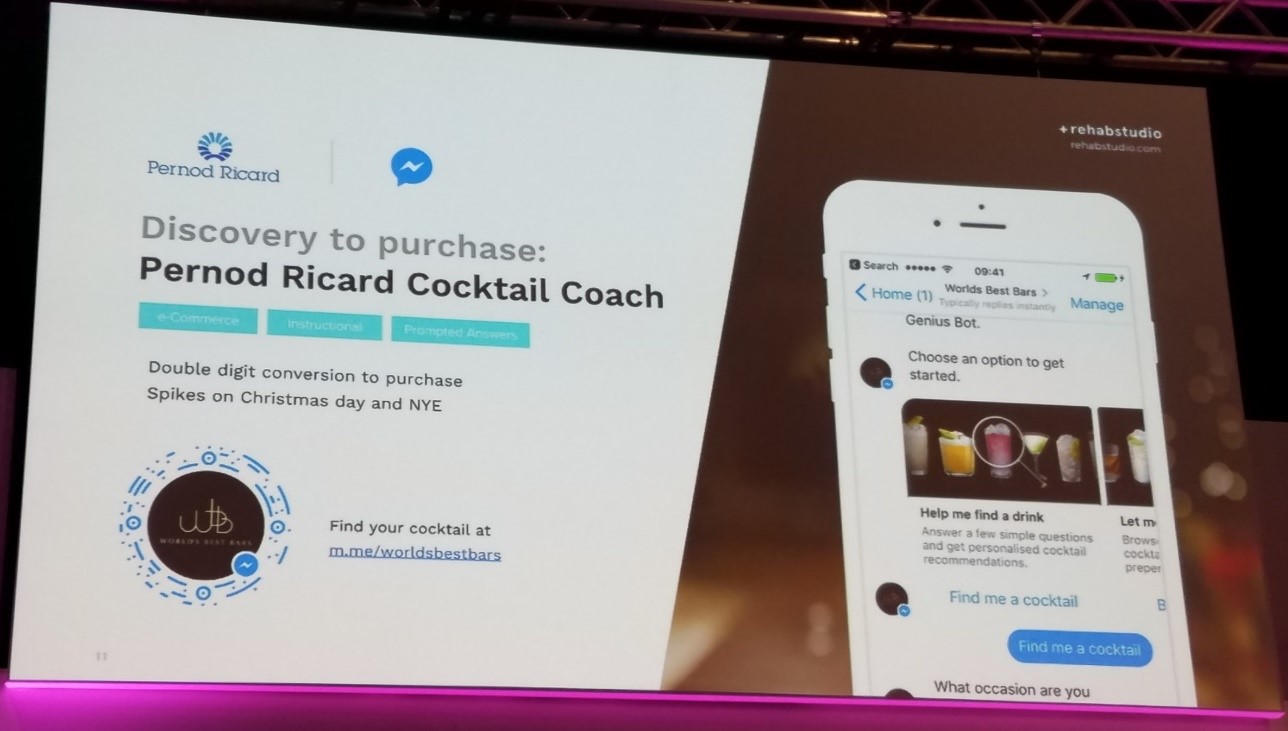 It was rolled out prior to the Christmas holiday season in 2016 and included the ability to purchase the necessary ingredients for making the drinks. Tim indicated that the conversion rate for this app was a whopping 30%. Most online apps globally only see about a 1.3% - 3.3% conversion rate at most, and those numbers are highly device dependent (games see conversion rates up to 10%). When I asked him why he thought that this particular app had such a high success rate, he indicated he did not have quantitative analysis for the reasons but attributed the success to the topic it covered and the value of the information provided to the user. I guess there's a little bit of mixologist in most people, and the help provided on concocting drinks coupled with a high "time in app rate", and an interactive smart interface makes for a good combination for conversion success.
Tim's message on the future of company branding provided some insights to Paul Wilkinson's comment earlier on the impact intelligent shopping bots will have with brands in general. Tim pointed out that a company's brand is the experience its products and services provide and vice versa. When powered by AI, it becomes "Brand as a Service". The new definition of brand that will drive valuation for a company becomes a combination of
Propriety data or intelligence
Branded services built on those capabilities, and a
Subscription versus a traditional sales commercial model
The advent of intelligent bots and analytics will have an impact on branding and marketing, and companies that can incorporate "Brand as a Service" concepts may be able to better position their products and services in this new marketplace. What do you think? Email me at Thomas.Schroer@Dialogic.com or send us a tweet at @Dialogic.
Source: http://blog.dialogic.com/blog/marketing-to-a-chatbot
Publish Date: June 26, 2017 5:00 AM
---
One of the challenges with any customer care is integrating the mobile application experience with a live agent interaction. Today's dis-integrated environment has consumers using their mobile applications to initiate transactions, but if a live agent gets involved, things get messy. In most cases, that live agent experience requires repeating a host of identity verification questions, often stumping the consumer and causing confusion and frustration.
Thomas Smith, Senior Manager of Customer Experience at Verizon, joined me for an interview on the Communications Developer Zone podcast, explaining how he has been working on the problem. Tom explained that he has been focused on providing tools to enterprises that will improve the customer experience through the use of mobile applications, speech recognition, and other technologies.
"We've all been exposed to poorly designed IVR systems," noted Tom during our podcast. "Escalation is almost always a cumbersome experience requiring the consumer to answer a number of challenging questions"
To solve these challenges, Verizon recently launched Visual Interactive Calling – a new product based on Oracle WebRTC Session Controller (WSC) targeted toward enterprise contact center. Visual Interactive Calling is seen by the consumer via a mobile application that integrates with a cloud server into the client's contact center. By merging visual clues along with a voice dialog with a live agent, the bridge between consumer and agent is dramatically shortened, allowing for simplified authentication and two-way information sharing.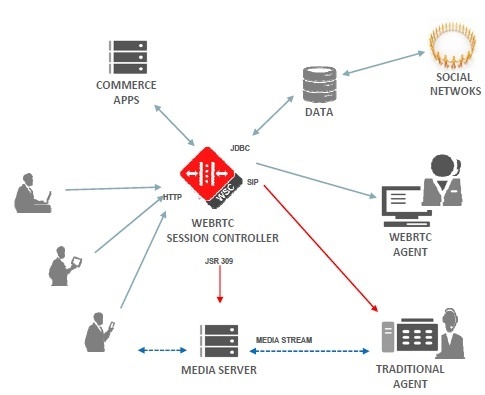 As Tom explains in a scenario where a consumer that has lost a credit card and wants to order a replacement, "using the bank's application, the identity verification is accomplished without the challenge questions, which we know are not very secure." With Visual Interactive Calling, the identity verification and security measures are handled by the application, allowing the consumer to proceed with their issue.
When discussing the architecture, one of the technical hurdles that Tom noted was integrating the new WebRTC-based service into customer existing contact center infrastructure. To accomplish this, Verizon depends on Dialogic PowerMedia XMS to perform codec transcoding, converting from the WebRTC codec to the format required by the customer contact center. The all-software XMS software is integrated with Oracle WSC and provides support for a wide range of codecs and media formats.
Targeted toward large enterprise contact centers, Verizon Visual Interactive Calling was launched in May of 2017 and will find its way into many of the name-brand consumer applications over the next year or two.
You can hear the whole story with much more detail on the Communications Developer Zone Podcast.

Source: http://blog.dialogic.com/blog/improving-customer-care-with-verizons-visual-interactive-calling
Publish Date: June 22, 2017 5:00 AM
---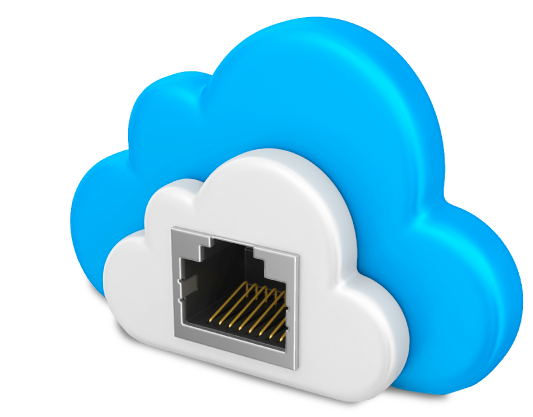 Back in March, I wrote a blog about the PSTN sunset. But in reality legacy technologies are still in use. I know this since we still sell them. Certainly, IP is growing and SIP Trunking is growing, but for most companies this means a gradual transition, not a full scale wipeout of existing technology. Why? Because what they have works. And because what they have is already paid for, minus any maintenance contracts. And because it works, and is primarily paid for, it makes sense to continue to use it, and do an orderly transition off it when it makes business sense for the enterprise.
Many companies are moving to SIP trunks as connectivity into the customer premise. SIP trunks can help enterprises move to cloud-based communications infrastructure over time. It's certainly easier to upgrade and have flexibility with a cloud deployment. We have seen this in Dialogic when we have switched some of our enterprise communications applications to the cloud. And with these SIP trunks comes an enterprise SBC, to help "protect" the enterprise network from what might come down the SIP Trunk. This makes total sense for the IP network.
But as I said above, there will still likely be legacy infrastructure in the enterprise that works, that is paid for, etc. So they'll want to use it. In this case, a gateway will be required to be placed between the legacy equipment and the SIP network. This is why the gradual transition to IP continues and will continue over time. And this is one of the reason gateways continue in the market and why Dialogic continues to sell them.
Source: http://blog.dialogic.com/blog/sip-trunks-and-gateways-but-not-sbcs
Publish Date: June 20, 2017 5:00 AM
---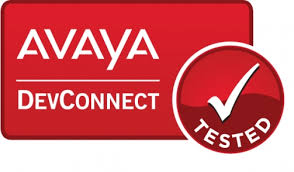 Dialogic is a Technology Partner in the Avaya DevConnect program—an initiative to develop, market, and sell innovative third-party products that interoperate with Avaya technology and extend the value of a company's investment in its network. In recent years, Dialogic has tested numerous products with various Avaya subsystems such as the Avaya Aura platform, which provides a foundation for several of Avaya's customer engagement solutions. Products which have been tested and certified as Avaya Compliant in recent years include the IMG 2020 Integrated Media Gateway, the PowerVille™ Load Balancer and the Controlswitch™ System.
Dialogic has recently updated its web site to make it easier for customers and channel partners to find information about all of these Avaya compliant solutions by creating a Partner Page for Avaya. This page includes details on the most recently tested Dialogic solutions for Avaya and includes links to application notes, related press releases and customer success stories. There is also a link to an Avaya Solution Guide, which describes how Dialogic products can complement the Avaya-based technology within enterprises.
Dialogic has a rich heritage of providing products which can enhance the value of partner solutions by providing connectivity to a wide variety of networks, such as SS7, Sigtran, ISDN and SIP, and providing seamless interworking between components provided by multiple vendors. The partnership with Avaya is a good example of how Dialogic can add value to partner solutions. Customers can take advantage of the extensive testing conducting during the DevConnect process and reference the related application notes to build Avaya-based solutions which take full advantage of Dialogic's gateway, load balancing and switching capabilities.
To find out more, check out the Avaya partner page on the Dialogic web site and review the full range of Avaya Compliant products from Dialogic.
Source: http://blog.dialogic.com/blog/enhancing-avaya-solutions-with-advanced-dialogic-technology
Publish Date: June 14, 2017 5:00 AM
---
Last week, I wrote about how great of a tool the Cisco VNI is for mobile trend analysis and how it might not be best to use as THE ONLY definitive future forward-looking mobile trend predicter. The reason I really started looking at the Feb 2017 report, though, was because I wanted to see what it said about WiFi offload. I just went off on a tangent last week. This week, I return to the topic of WiFi offload.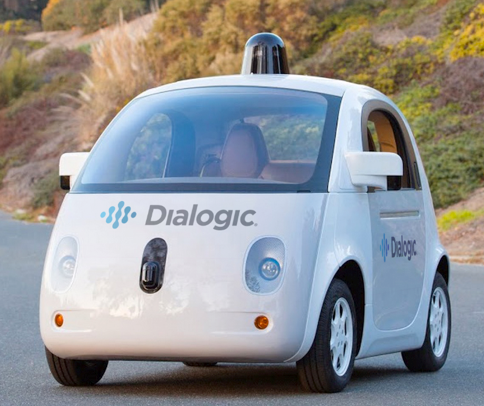 My thesis has been that if WiFi offers lower costs for operators (who willingly support WiFi offload), then why do they not support this even more, as opposed to spending money on 5G? And what is 5G anyway? (Specs are not done yet.) If the service providers spend much more money on RAN infrastructure upgrades to 5G, then will this actually be better for their subscribers than spending likely less money on supporting WiFi offload? Their costs would go down and subscriber costs could also potentially go down.
Or better yet, if their pipe costs went down, they could spend more money on other value-added areas for their subscribers. Right now, just spending money on making better pipes will surely make them into the bit-pipe providers they say they don't want to be.
According to the Cisco VNI, in 2016, 60% of mobile traffic was offloaded to WiFi, with expectations to grow to 63% by 2021. And also, according to the Cisco VNI, WiFi offload is higher on 4G networks (some have theorized it would be lower since 4G offers better speeds so people wouldn't bother to offload) because of the data CAPS imposed by the service providers.
WiFi hotspots are also expected to grow 6x to 541 million by 2021. So it's just a thought to think this through fully.
Is 5G really necessary right now? Is it a money pit? Might there be other options? And what as a service provider do you really want to be?
Source: http://blog.dialogic.com/blog/do-we-really-need-5g-right-now
Publish Date: May 30, 2017 5:00 AM
---
This is the third in a multi-part blog series, explaining some of the many features and functions found in the newly released PowerMedia XMS 3.3 software.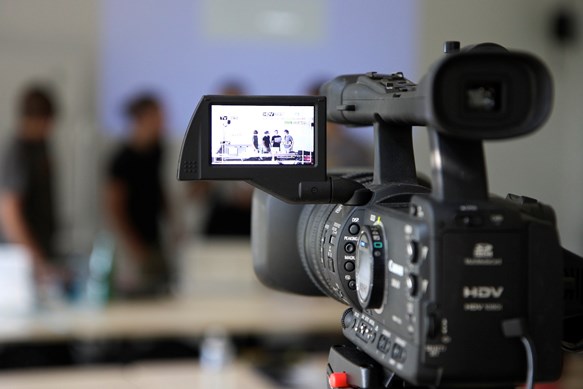 If there is any question to the value of recording video, take note of any one of the viral videos of airline customer service "interactions" posted on YouTube.
The emergence of inexpensive storage completely changed customer service interaction and identity verification. Voice-only contact centers almost universally record all customer interactions – thus the pre-call warning that "this call may be recorded for quality and training purposes." You should expect the same will be true with video customer care interactions. Recording helps resolve potential conflicts of "he said – she said" disputes with financial transactions. Contact centers, banking, legal, and other industries require by policy or regulation that all customer interactions are archived, requiring the capability to record video interactions.
However, recording video is significantly more resource intensive than a voice-only recorder. A VP8 video session at 720P @ 30fps results in a 1.2 Mbps stream. A two-way video stream is double this rate. A voice-only recording of a two-party interaction results in a 8 Kbps stream (1/150th of the video bandwidth required).
To address these needs, XMS 3.3 includes a new suite of performance-specific optimizations that increase the number of supported recording sessions to hundreds per server*. By using native record functionality (no transcoding) and WebM containers, many more video streams can be captured and stored.
A typical use case would be a video financial services agent application with a customer on their mobile or tablet, while the agent is using a browser-based application on a PC, both ends supporting VP8 or VP9 video codec. Because the conversation requires authentication and potentially instructions for a transfer of funds, regulations or policy would dictate that the conversation must be recorded. To facilitate the recording, the application would route the media streams between the agent and the customer through a PowerMedia XMS media server. Once the media streams are established, the XMS server would perform the recording, sending a recording of one or both sides of the conversation to a Network Attached Storage (NAS) cluster. The result would be a collection of WebM-formatted files, available for playback and management by the contact center archival/library function.
Interested in giving it a try? You can download a FREE trial copy of the software at the PowerMedia XMS Product Landing Page.
* Actual performance limitations depend on the processor performance and external factors – consult with your Dialogic account manager for a detailed analysis of your situation.
Source: http://blog.dialogic.com/blog/xms-3.3-high-capacity-video-recording
Publish Date: May 15, 2017 5:00 AM
---
This is the second of a multi-part blog series, explaining some of the many features and functions found in the newly released PowerMedia XMS 3.3 software.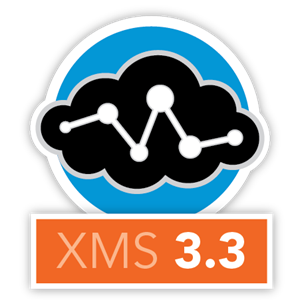 Outbound calling applications – reverse 911, contact center call-backs, medication reminder notifications, and conferencing applications all depend on detecting whether an outbound call was completed, and then, whether it was answered by a person or a machine. Correctly detecting the success (or failure) of an outbound call allows an application to decide whether to retry the call, leave a voice message or connect the call to an agent. Dialogic has been a leader in developing reliable Call Progress Analysis (CPA) algorithms since the early board-level DSP products, carrying this expertise to XMS.
One of the challenges with CPA is the variability of network tones around the globe. If you've ever called into Europe or Asia, you know that ring-back, busy and network error tones vary based on the destination of the call. Automatic detection of these country-specific tones is sufficient for some applications, but having control over the algorithm detection parameters and profile can improve reliability and efficiency.
Previous PowerMedia XMS version have supported Call Progress Analysis (CPA) for some time, and XMS 3.3 enhances CPA with several API extensions to give the application developer more control over the process and detection profile.
"Notification and Reverse 911 applications depend on detecting whether an outbound call is answered and whether the call was answered by a person, answering system or received a network error," said Diane Myers, Senior Research Director, IHS Markit. "The enhanced call progress analysis controls included in XMS 3.3 will be especially useful for developers."
The newly released PowerMedia XMS 3.3 expands the CPA API controls and is ideal for outbound calling applications that will server a global marketplace. Interested in giving it a try? You can download a FREE trial copy of the software at the PowerMedia XMS Product Landing Page.
Source: http://blog.dialogic.com/blog/xms-3.3-outbound-calling-and-notification
Publish Date: May 5, 2017 5:00 AM
---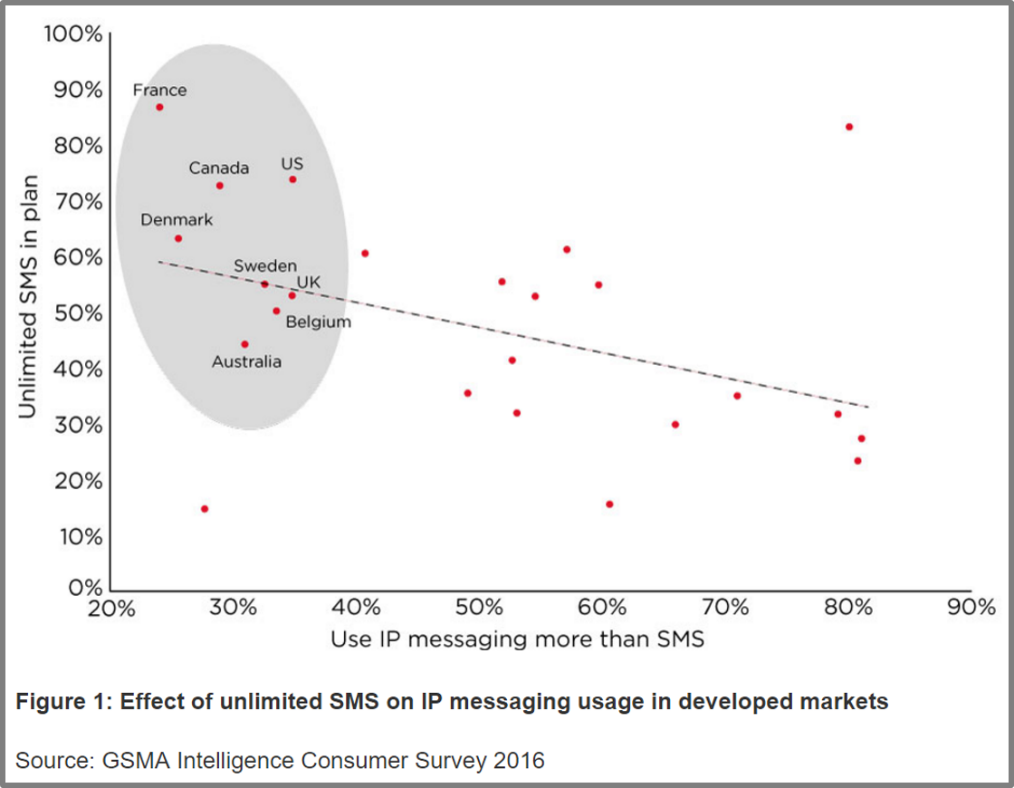 According to some research from the GSMA, all is not lost with the SMS battle against the IP messaging services. With WhatsApp, Facebook Messenger, and WeChat at about 1 billion monthly active users, it would seem that it's just a matter of time before SMS becomes extinct. However, according to this report, "SMS retains its lead in markets that were early adopters of unlimited SMS bundles," which makes sense. Start using it and you get used to it, especially if there are no extra charges.
What does this mean for service providers? I mean, the concept of early adopters in this market is long gone. What's done is done. And the IP messaging services also offers their own value added services such as video calling and making payments. So, I don't think IP messaging services would suddenly go away even if all the service providers offered free SMS. In fact, due to the value add offered, they will continue to grow.
But it also doesn't mean the end of SMS. SMS can be used on non-smartphones (not everyone has a smartphone!), and not everyone is on the same IP messaging service. But everyone can get an SMS. Additionally, we are seeing a resurgence of SMS due to IoT, as SMS can send messages to and from non-smartphone devices. So no, it is not over for SMS anytime soon.
Source: http://blog.dialogic.com/blog/is-it-over-for-sms
Publish Date: May 2, 2017 5:00 AM
---
Ah, the pain of being called "boring,", "not innovative," "commodity," or "dumb pipe," and recently being spanked
by the CRTC (Canadian Radio-television and Telecommunications Commission – the equivalent of the FCC in US) for trying to offer a "free data" ride to certain OTT services to differentiate and attract users. Can we say the service providers are struggling? Yup! It has been tough and not a lot of fun.
I will not dwell on what's apparently obvious or continue to jump on the bandwagon with the rest of the finger pointers. Rather, I want to take you on a fun trip into the future - a future where at least some of service providers will possibly take the spotlight. If massive corporations like IBM and Oracle can continue to "steer the ship" to be relevant and not end up like DEC, Polaroid, and Blockbuster Video, so can global service providers. They will just need to change the way they operate and innovate.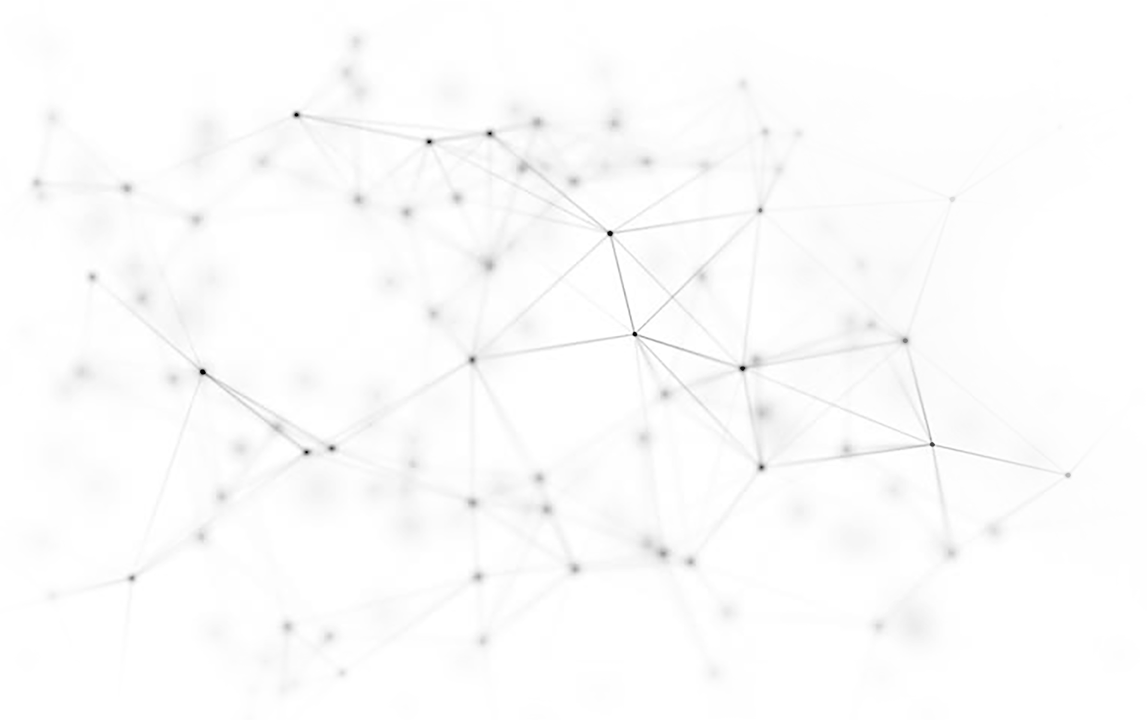 Service providers have an absolutely incredible asset. They have access to millions of customers, but they have lost touch with those users – or perhaps never had it. Have you tried calling Verizon, Bell, Telefonica, or Rogers? If it's because of a problem, why are we having to call in the first place? Perhaps that could already have been figured out by the service provider and solved automatically so customers never need to attempt a call. Here's a question for you. Can we please get rid of the old school IVRs that ask you to select your language and give you a set of random numbers to select while you're hoping to talk to a human? That's just cruel in this day and age. Sorry, I said I would not poke! Back to the future.
Artificial Intelligence (AI) is starting to touch our daily lives; we have robots that clean our floors, cars that self-park, and an intelligent personal assistant app on our phone that not only answers our questions but also can turns on the lights in our home. What is the next touch point when it comes to how we communicate? Can AI be something we can hope and expect from our communication service providers? Can AI be "connected" to the traditional services like voice and messaging? The answer is yes!
As a consumer, I want you to imagine a future where you have all your communication needs (messaging, voice, and video) assisted by intelligent automated bots that utilize artificial intelligence to turn current dumb IVR systems into exceptional experiences. Can you picture the following scenarios?
Can I ask my Amazon Alexa to make phone calls? "Alexa, call grandma." Surely that functionality belongs inside the service provider wheelhouse
Can my messaging understand when I'm super busy (perhaps at a birthday dinner) and have an automated intelligent dialog with the person messaging me?
Can I get a family-friendly voice and video conferencing app so that my kids in different parts of the world interact with their grandma or participate remotely during family events?
Can the TV service send me a push notification when my favorite event is live on the screen or maybe enter the event into my personal calendar?
All the above scenarios are doable today, and the reasons why these actions are not ubiquitous is not a technology problem. It all has to do with three major roadblocks:
Silos: For many years, service providers have been buying random "things" from random vendors. Most of those "things" are their own silos and do not interact much or at all with other "things."
Integration: The "things" both in the service provider network and in the Cloud need to talk to each other and be available for developers to leverage seamlessly.
Speed: Service providers need to put together an environment where new, differentiated, exciting, useful, and valuable applications and services can be designed, developed, tested, trialed, and deployed FAST – not years, but months or even less!
Changing will be somewhat painful. Like as it was for developers moving from waterfall to agile development methodologies, speed and agility will need to be a key component to any new product introduction. Some ideas will fail, some will get adopted, and few will expose new killer apps that will bring amazing new solutions to the users.
The AI market is starting to heat up with the usual suspects including Apple, Amazon, Google, and Microsoft. Few service providers are moving in aggressively (Orange with Djingo) as they are afraid to partner with above "motley crew" but most are still wondering how to approach this fragmented space.
Dialogic is focused on helping service providers break into new applications and solutions quickly with our DialogicOne™ suite of solutions. We work on next generation solutions that bridge the silos and integrate platforms to create innovative applications quickly.
We are experts in telecom with over 30 years of experience as well as architects of next generation applications and services for the service providers globally. We have solutions to address the roadblocks service providers face, and a proven track record working with them to leverage the past and move aggressively into the future.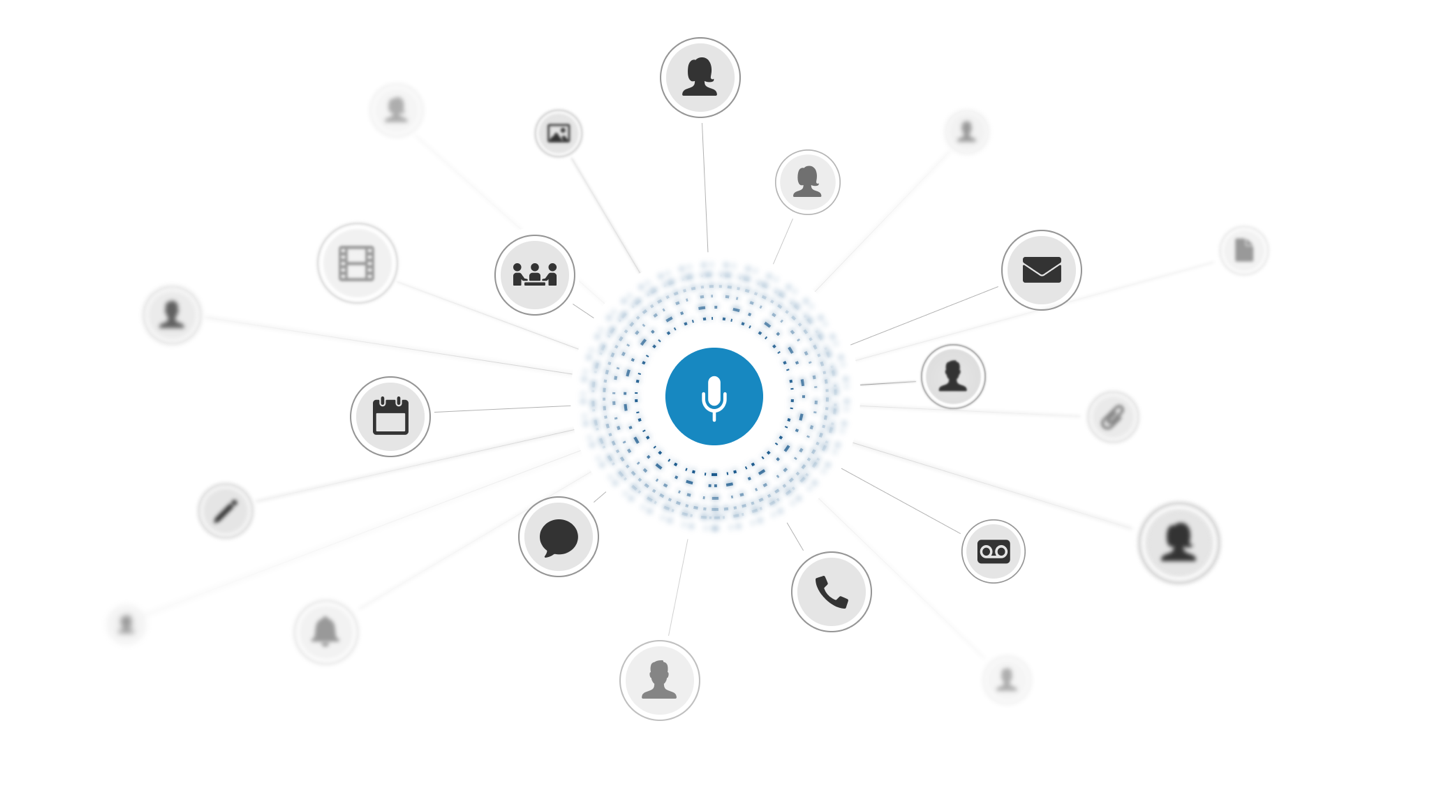 Next time, we will dive into the absolutely "Wild, Wild West" called the Internet of Things and how service providers can leverage that revolution for their return to the spotlight.
Cheers - here's to the future!
Source: http://blog.dialogic.com/blog/the-intersection-of-real-time-voice-and-ai-can-communication-service-providers-turn-dumb-pipes-to-differentiated-services
Publish Date: April 28, 2017 5:00 AM
---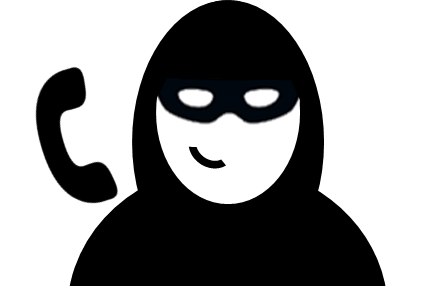 Everywhere in the world, small and big enterprises spend a considerable part of their budget on Antiviruses, Firewalls, and other appliances to protect their network and data. The typical network hacker usually targets the larger enterprises which are potentially a better mark with deeper pockets and lucrative secrets to keep. The PBX hacker though does not care about your enterprise size, because you can be as lucrative as any other company one hundred times bigger than you. When telephony shifted to IP, it brought many advantages, but it also exposed the voice to the same threats as the network. Being able to access your extension and use it outside the office via internet is great for both you and the hacker. It opens a potential door that the older PSTN PBX's had not. Interestingly enough, most of the time, IT administrators are concerned about the Wi-Fi, router, email, and other services authentication processes but end up neglecting the PBX. Maybe the new mindset hasn't settled in yet and the PBX is not being given the same importance as the company's firewall or router as a defense point of the enterprise network.
Not long ago, I witnessed a situation at a small enterprise that got a two hundred thousand US dollar phone bill. The cause was simple: a default password had not been changed on the PBX which was connected to the Internet. This resulted in thousands of calls fraudulently made to exotic locations such as Sierra Leone and Moldavia. With typical network hacking methods, such as Ransomware or others, the victim has the choice to pay the hacker or not. The only consequence of the decision of not paying the hacker will be the data not being recovered. On the other hand, you cannot exactly tell your service provider you are not paying the phone bill because you were hacked…The severity of this issue is not to be ignored and can bring even a decent sized company to its knees. Yes, VoIP brought tremendous advantages but it also introduced several deadly traps. Luckily, protecting the enterprise voice service has evolved and it does not depend exclusively on the IT administrator using complex passwords or firewall rules.
The evolution of Unified Communications (UC) and subsequently Unified Communications as a Service (UCaaS) has hardened the defensive mechanisms of enterprise communications. The fact that the systems can run on a typical COTS server with increased compute power allows running complex defense mechanisms when compared to the ability of old hybrid PBXs. One of these mechanisms involves Machine Learning (ML). The typical voice protection systems are based on rules, which in my view can either be too permissive and still allow some dubious behaviors to occur, or too strict and have the IT administrator waste more time acknowledging false positives and adding certain numbers or routes to the whitelist. When it comes to enterprise voice, one cannot assume that the premise "one size fits all" applies. Each enterprise has different call behaviors. Just because a country is likely to be connected to call fraud, does not mean every single call to that country is fraudulent. This is where ML is extremely effective. It can analyze your typical trends and behaviors and flag only what is unusual. Rules are static and a hacker can get around them simply by testing the waters until he finds the weak spot. ML is dynamic and the alarm threshold changes based on the current call flows when compared with the historical behavior.
When choosing a UC or UCaaS system, do not overlook the type of protection it offers. Chose a system that offers real-time detection and dynamically changes the permissions based on your company's profile. The previously mentioned small enterprise that got hacked could have benefited from this since an ML-enabled system could have flagged and blocked those calls. If not for the unusual destination, it would definitely have spotted the sheer unusual number of calls. The typical excuse for not getting proper protection for the voice system is that the enterprise is too small and doesn't need to spend that amount in "just" protecting the voice system. Well, that voice system can be "just" the cause of the enterprise's demise. So, when it comes to PBX hacking, no victim is too small.
Source: http://blog.dialogic.com/blog/voice-hacking-no-victim-is-too-small
Publish Date: April 25, 2017 5:00 AM
---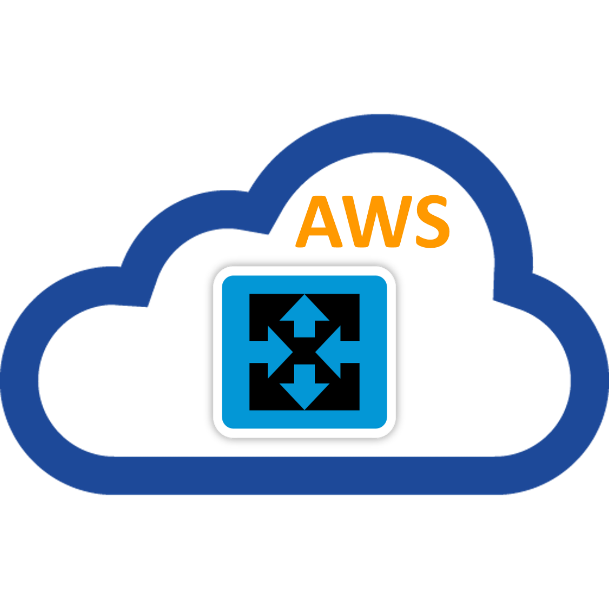 Can a Class 4 softswitch really run in the cloud? This was a question I got at Mobile World Congress from a prospect because he was questioning whether a core telecom infrastructure node can actually run in the Cloud / AWS. The answer is yes, for sure - the networks have improved so much, and AWS has been running many mission critical, latency critical apps outside of telecom that a switch can certainly run in AWS. In fact, we have made the Dialogic NGN Softswitch and IMS MGCF (Dialogic ControlSwitch System) run on AWS and have already sold it and deployed it with customers.
The reason someone would want to do this is obvious –a next generation customer would want to be able to transfer IP phone calls to the PSTN, but would need to do it via AWS because their entire infrastructure is already on AWS. The public cloud infrastructure offers enhancement of service agility (i.e. scaling up and down) and also offers transfer of CAPEX to OPEX, which fits their business model better.
For Dialogic, it wasn't that difficult to move the Dialogic ControlSwitch System to run in the Amazon Cloud. The ControlSwitch already ran on COTS servers, and has a unique modular architecture that decomposes functionality into discrete building blocks / Virtual Machines (VMs). The underlying cloud computing infrastructure is used only when it is needed, for example, when processing a call request. The ControlSwitch System draws the necessary resources on-demand (like compute servers or storage), perform a specific job, then relinquishes the resources after the job is done. The ControlSwitch can then elastically scale resources based on traffic load and service demand and can execute the off net call to the satisfaction of the voice subscribers.
In other words, yes, a Class 4 softswitch can run in a cloud. If you want to read more, please read this whitepaper.
Source: http://blog.dialogic.com/blog/can-a-class-4-softswitch-run-in-the-cloud
Publish Date: April 25, 2017 5:00 AM
---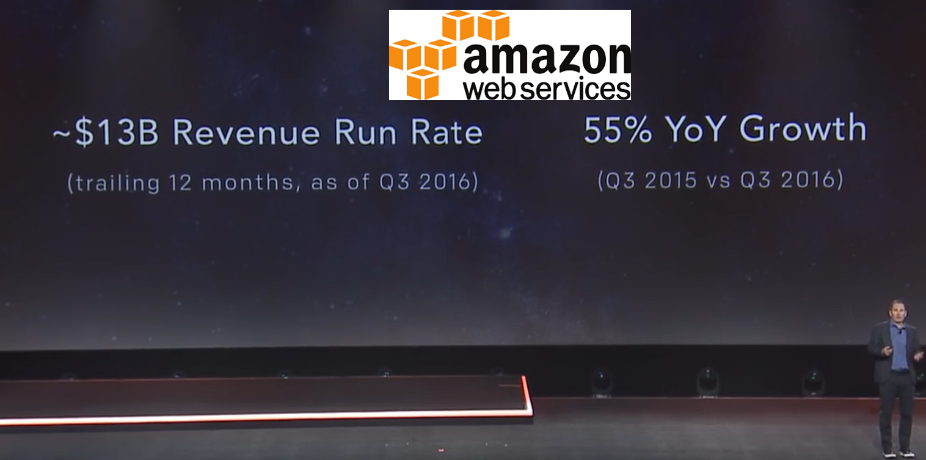 Mobile World Congress, for me, has always been a combination of looking forward towards our future while at the same time reflecting on the massive changes I've seen in this industry. I mean, years ago, who would have thought that Microsoft today would be both a large service provider and an enterprise PBX behemoth via Skype for Business / Lync? (And I remember when Microsoft insisted Lync or whatever they called it back then was NOT a PBX.) More recently we've seen Facebook and Amazon respectively become huge movers and shakers. I saw it all in full force at MWC.
Facebook has always used MWC to drive its agenda. These days, Facebook is driving the Telecom Infra Project (TIP) that, according to the TIP Website, is "an engineering-focus initiative driven by operators, infrastructure providers, system integrators, and other technology companies that aim to reimagine the traditional approach to building and deploying telecom network infrastructure." I bet half of those working on the project see opportunities while the other half are scared. Either way, it's likely that Facebook will succeed in driving some software-based telecom infrastructure that is likely to have a large open source component.
Regarding Amazon, the whole telecom world wants to run their apps and/or infrastructure on Amazon ECs. I recently watched an Andy Jassy (CEO of Amazon Web Services) keynote from the Amazon reInvent conference in November and noticed that it's a $13B revenue run rate business with 55% YoY growth. That kind of growth from that size of a company! Wow! If you didn't think cloud computing was important, or didn't think the move from customer premise equipment to the cloud was a trend, think again! And while Amazon Web Services had no presence at Mobile World Congress, their cloud was floating around everywhere, with many telecom services running on it.
Telecom is alive.
Source: http://blog.dialogic.com/blog/the-new-guard-in-telecom-amazon-and-facebook
Publish Date: March 28, 2017 5:00 AM
---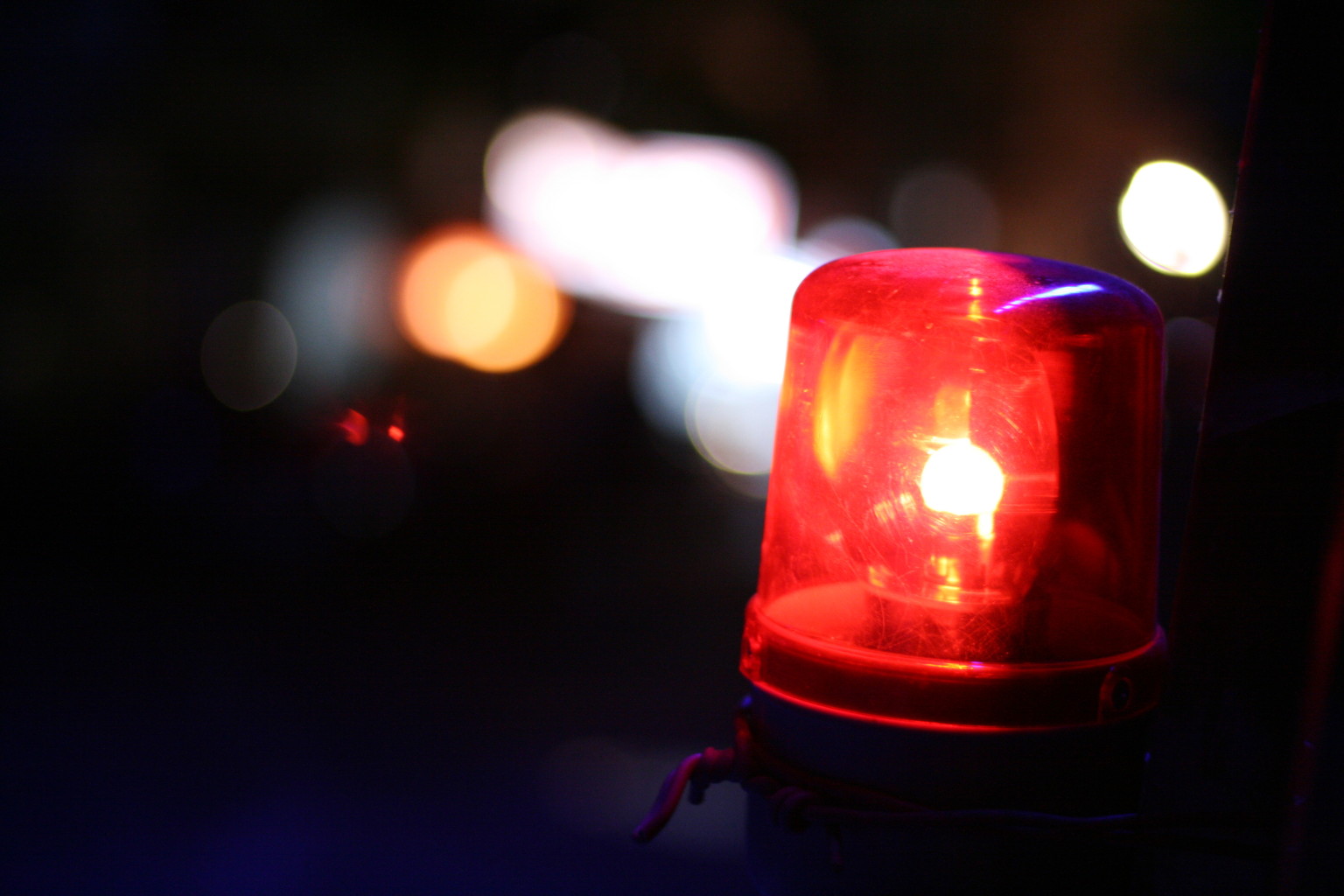 Remember as a kid your TV show or radio broadcast being interrupted by an announcement, "this test of the Emergency Broadcast System," followed by the squeal of a test tone? Reverse 911 has essentially made that old system obsolete – what is Reverse 911 and how does it work?
When I was a kid, I lived down the street from the volunteer firehall. If there was a house fire, car accident, or medical emergency, the fire company would summon the volunteers with loud siren mounted on the roof of the firehall. Once the firefighters arrived, they would hop on the side of the truck and roar off to the emergency. Eventually the ear-splitting siren gave way to the digital pager, giving a precise address to the firefighters in an instant, allowing them to drive their own cars directly to the emergency, saving valuable time.
Communicating to the wider community about fires, floods, rising water, or other natural disasters has always been a vexing problem. Sirens and the Emergency Broadcast System were a byproduct of the nuclear threat of the 1960's and fortunately was rarely (if ever) used in most communities.
With television and radio listening habits changing, the advent of on-demand services and the invention of the mobile phone – community emergency response services needed a better way to communicate quickly and concisely to the citizenry within select geographic bounds. Since most every household has at least one telephone, it seems natural that calling those houses in the affected area with a voice message would be a good idea. The idea for Reverse 911 was born.
To create a Reverse 911 system that can call many households in a community, you need a few things:
1. The ability to make outbound automated telephone calls.
2. The ability to know if a person answered the call, an answering machine answered the call, or if there was no answer.
3. Allow the recipients to use DTMF responses to acknowledge.
4. To detect network error tones, including Busy, All Circuits Busy, and Out of Service tones.
5. The ability to record and playback a voice message.
6. The ability to scale massively, allowing thousands of households to receive the recorded message in a relatively short period.
7. A database of every household, their address, and phone number.
Any combination of media gateways or session border controllers and SIP trunks can provide the connectivity to the PSTN and initiate outbound telephone calls under the direction of an application server. The difficult parts are items 2-5, being able to accurately detect whether the person being called answered or not, and properly detecting responses and network errors. This capability is Call Progress Analysis (CPA), and in a SIP architecture, is accomplished by a media server.
To initiate an outbound call, an application instructs the gateway or SBC to dial the telephone number of the intended recipient and requests that the media (audio) during the calling process to be sent to a media server session. The media server uses the CPA algorithms to "listen" to the ringback tones, busy signal, network error tones, or for a human voice to answer. If a human voice is detected, a decision is made as to whether it was a simple "hello" or a longer greeting that ends with a beep tone, suggesting that an answering system picked up the call. The result of all this analysis is sent to the Reverse 911 application, allowing the application to play the prerecorded announcement or a message on the answering system. By having a high confidence on the result of the CPA, the Reverse 911 application can deliver the important message, waiting for the recipient to answer or the beep of an answering system. Without CPA, the application would likely not wait for the answer, leaving only half a message or must repeat the message multiple times, wasting resources and slowing the delivery of critical messages.
The Dialogic PowerMedia XMS media server software is ideally suited for this application as it includes advanced CPA algorithms. With over 20 years of improvement, the Dialogic CPA algorithms have been tuned and tested over millions of test telephone calls both domestically and around the globe. Accurate and quality CPA algorithms improve the efficiency of Reverse 911 applications, reduce network usage and more accurately inform the community about potentially harmful emergencies.
(And most importantly, we don't have to suffer though the Emergency Broadcasting test tones any longer.)
Source: http://blog.dialogic.com/blog/reverse-911-a-use-case-for-call-progress-analysis
Publish Date: March 16, 2017 5:00 AM
---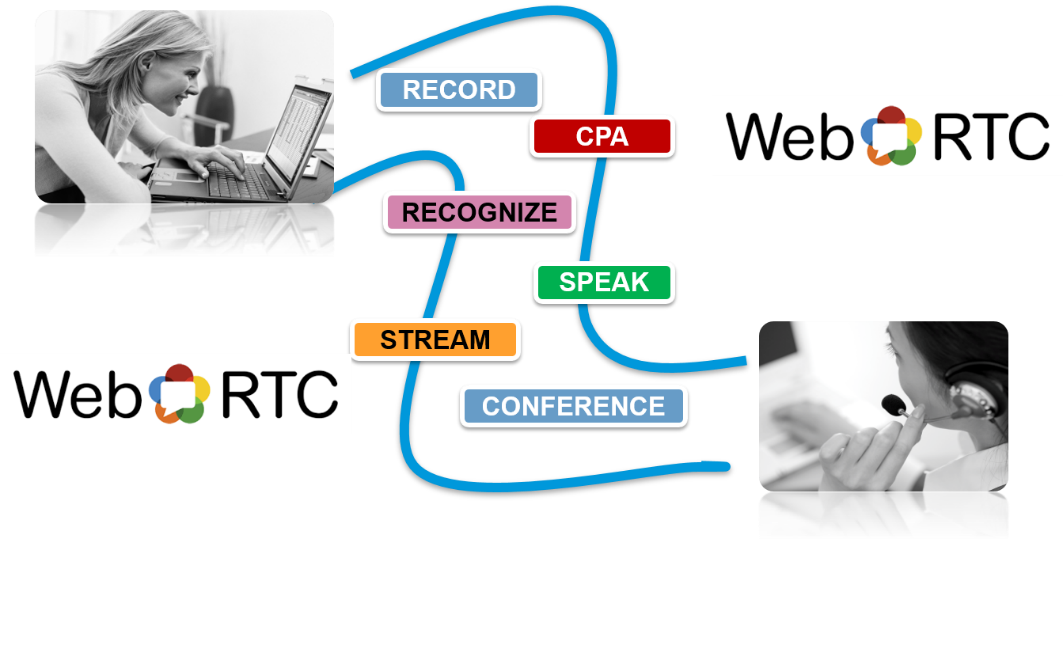 Robo-Calls are rightly getting negative press and regulation. But Call Progress Analysis (CPA) has many legitimate uses beyond enabling Robo-Calls. Dialogic has been getting quite a few questions lately about software based CPA because of the legitimate uses as discussed last week.
CPA was first enabled via sophisticated algorithms that first started being employed via DSPs. But as hardware such as call processing boards have morphed into software modules, the CPA algorithms might not be quite the same.Host processing, say using Intel CPUs, may not be as powerful. And porting algorithms from DSPs to software may not yield the same functional performance. As such, some software CPA clearly may not behave the same as CPA deployed via DSPs.
We know this since we've been through this. Dialogic has been shipping software based media servers since the early 2000's. We were the first to do this as part of Intel. As we ported many DSP functions to our HMP product, we saw small variances in many functional areas. And we worked hard to correct the behavior in all areas (not just CPA) so it worked as much as possible the exact same as a DSP-based board system. And note that just because an API is the same doesn't mean a function will behave the same!
As I said above, Dialogic has been getting questions about CPA lately. Take a look at our PowerMedia product line if you are interested in using the premier software based media server.
Source: http://blog.dialogic.com/blog/the-importance-of-good-call-progress-analysis-with-software-media-servers
Publish Date: March 14, 2017 5:00 AM