Dialogic - ContactCenterWorld.com Blog Page 3
Page: 1 | 2 | 3 | 4 | 5 | 6 | 7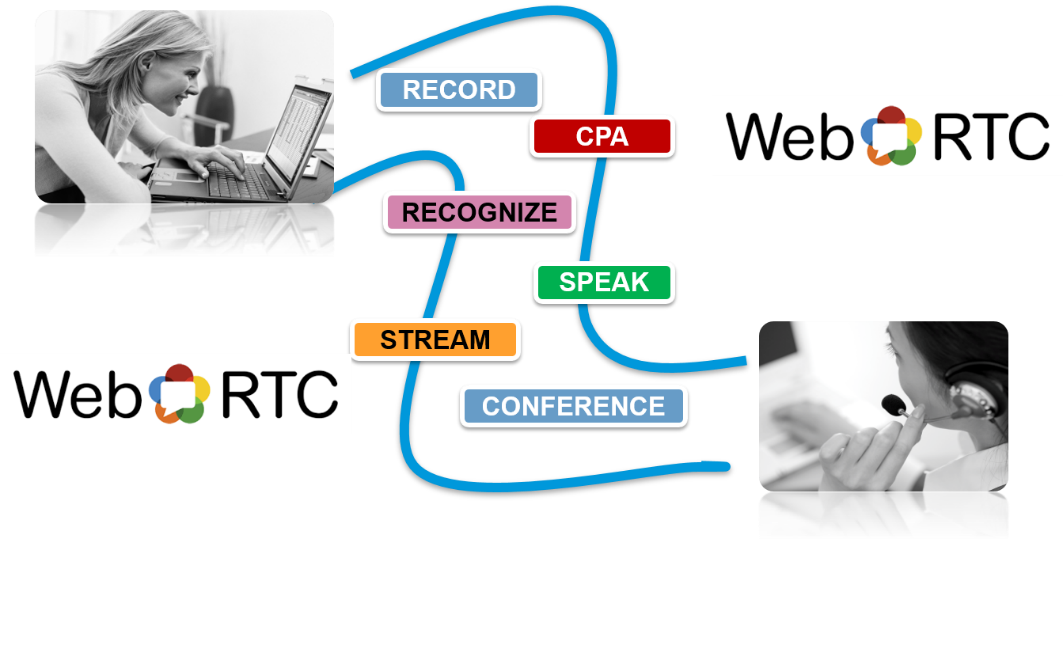 Robo-Calls are rightly getting negative press and regulation. But Call Progress Analysis (CPA) has many legitimate uses beyond enabling Robo-Calls. Dialogic has been getting quite a few questions lately about software based CPA because of the legitimate uses as discussed last week.
CPA was first enabled via sophisticated algorithms that first started being employed via DSPs. But as hardware such as call processing boards have morphed into software modules, the CPA algorithms might not be quite the same.Host processing, say using Intel CPUs, may not be as powerful. And porting algorithms from DSPs to software may not yield the same functional performance. As such, some software CPA clearly may not behave the same as CPA deployed via DSPs.
We know this since we've been through this. Dialogic has been shipping software based media servers since the early 2000's. We were the first to do this as part of Intel. As we ported many DSP functions to our HMP product, we saw small variances in many functional areas. And we worked hard to correct the behavior in all areas (not just CPA) so it worked as much as possible the exact same as a DSP-based board system. And note that just because an API is the same doesn't mean a function will behave the same!
As I said above, Dialogic has been getting questions about CPA lately. Take a look at our PowerMedia product line if you are interested in using the premier software based media server.
Source: http://blog.dialogic.com/blog/the-importance-of-good-call-progress-analysis-with-software-media-servers
Publish Date: March 14, 2017 5:00 AM
---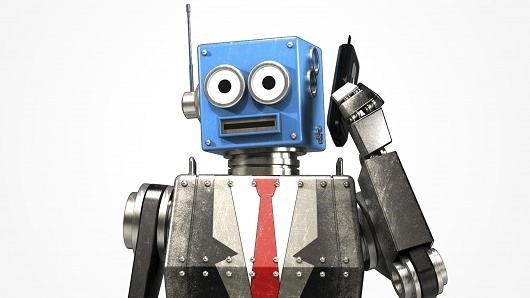 Robo-calls are making the news lately. I even wrote a blog about them last year. We all hate getting those calls. While most contact centers follow the rules, there are companies that don't and they are the ones that cause consumer frustration. But just because Robo-calls are bad, it doesn't mean that the technology that allows those kinds of calls are bad. Call Progress Analysis (CPA) is one of those technologies, and CPA is but one of many technologies that enable the bad apple Robo-Calls to happen.
CPA is what enables the robo-call, as it rips through its many calls, to try and find a live person to talk to. The calling system uses CPA to see if a call is ringing, if the line is busy, or if a call is answered, and then to figure out if it's an answering machine, fax machine, or a live person. In other words, analysis of the progress of the call, hence the term Call Progress Analysis. And the calling system does this by trying to figure out the background noise, overall energy of the answer, etc. The overall outbound calling system then uses this information to figure out when to put a live agent on the phone.
There are very legitimate uses for CPA and the outbound dialing systems that utilize them. For instance, you may have chosen to be contacted by mobile phone call by your airline. If say, the airplane is delayed, then the airline would need to contact everyone. Some may choose email, some may choose text, some may choose a voice call. If say 70 people chose voice call, then the airline can put this into their outbound system and have it call everyone. If someone answered, then they can choose to talk to the person with a live agent (maybe if they are a high status flier), or they may choose to play an announcement about the flight. I'm sure you can think of many other examples like this.
Next week I will discuss the impact of CPA moving to software based call systems.
Source: http://blog.dialogic.com/blog/call-progress-analysis-is-not-the-same-as-a-robo-call
Publish Date: March 7, 2017 5:00 AM
---

Whether it's one bad connection degrading the quality of the entire conference, or problems with the underlying media server or conference call architecture, a poor conferencing experience is avoidable. For large scale video conferences, the Selective Forwarding Unit (SFU) architecture may be a good way to go.
SFU is a topology allowing for clients to send their encoded video stream to the centralized media server where it is then forwarded/routed to the other clients. The SFU topology is an attractive approach to addressing the server performance issue, as it doesn't involve the compute expense of video decoding and encoding. Additionally, without encoding/decoding, the latency of the added SFU media server is minimal. Lastly, the clients with full correspondence with the SFU media server have complete control over the streams it receives, and because the client is receiving the streams it wants, it can have full control over the user interface flexibility.
While the SFU topology has become a popular choice among WebRTC communities, perhaps the most common overlooked shortcoming of SFU topology is the default to using the 'least common codec'. This means every participant in the conference needs to use the same codec. For those multiparty conferences where all participants are using PC/laptops, the issue is negligible but introducing a mobile device that is hardware optimized for H.264 acceleration would be better suited using a different codec. The inability to transcode video streams can limit the type of clients that can be connected together.
Additionally, traditional SIP based platforms cannot handle the multiple streams produced by the SFU. For this reason, without a gateway function in the middle, the SFU topologies are restricted to WebRTC only.
However, since each architecture has its pros and cons, an architecture enabling both topologies could be better, depending on your application. I'll talk more about the pros and cons of a hybrid architecture next week. Stay tuned.
Source: http://blog.dialogic.com/blog/webrtc-sfu-architecture-champion-of-large-scale-video-conferences
Publish Date: January 24, 2017 5:00 AM
---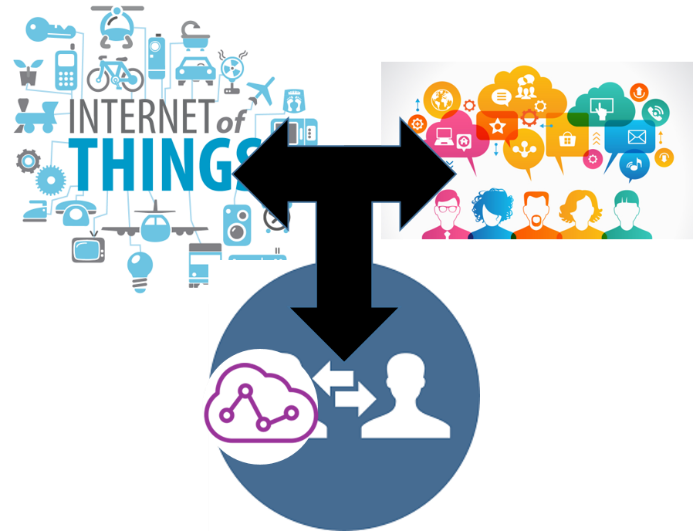 Over the summer, I wrote about how Internet of Things will sometimes need to merge with Real Time Communications. Dialogic even created an infographic on this concept. Let me explain more since I've had a few questions come in since then.
IoT in its simplest form is basically sensors sending data. That in and of itself is not that interesting. What is interesting is that some kind of analysis gets done on the data, and if something is akilter then an alert is triggered. In many cases, this alert will go to another machine (M2M!) and that machine will do something. For instance, if there is a system to measure soil humidity, and the soil humidity gets below a certain set threshold, then a sprinkler system could be turned on.
In other cases, the alert will go to a human. For instance, if water pressure is measured to be low in a pipe in a city system, then a human will be dispatched to look where the pressure is low and where presumably a leak is. And the pipe can be fixed. Or if a beer keg in a bar measures low beer, a text message can go to the beer provider so another keg can be dispatched to the bar in time before disaster strikes! Phew.
As we get further into when an alert will go to a human, in some of these cases, real-time communications will need to occur. As I wrote in my summer blog, there may be a case of a car crash and then the car can go into a mode to talk to the driver. This conversation can be overheard by a human who could then send help if required. I'm sure you as a reader can think of other examples of this. For instance, let's say some emergency is happening (the IoT devices figured that out because of various anomolies in their standard readings), then a conference call to the proper authorities can be kicked off by the IoT system, replete with video of the emergency. Or maybe closer to home, if someone is ringing your doorbell, then a live video feed can go to your smartphone so you can see if you want to actually get up and go to the door. There have also been many healthcare examples written about where voice and/or video would be required.
Dialogic has been doing real-time communications since it's inception almost 35 years ago. We have both the underlying technology to help you create a cloud-based RTC IoT application, or we can even create a customer application for you.
Source: http://blog.dialogic.com/blog/iot-real-time-communications-internet-of-real-time-communications
Publish Date: January 10, 2017 5:00 AM
---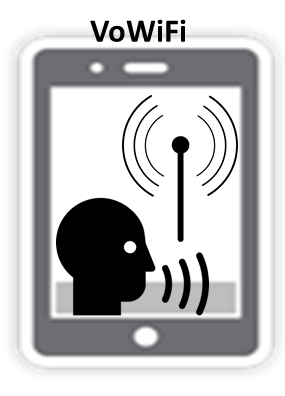 Skype for Business, Google Hangouts, various other so-called Over the Top providers, AT&T, Sprint, T-Mobile, Verizon - they all offer VoWiFi. And it is expected that VoWiFi minutes are going to surpass VoLTE by 2019. So if you are a provider of value-added services to the mobile providers, VoWiFi support needs to become part of your offering.
There are many implications and technical hurdles to overcome to make this happen. And I have written multiple times about this in 2016. One implication I have not written about yet is the impact on Value-Added Services. Let's take a basic Value-Added Service like voicemail as an example. If you are a voicemail provider, you'll need to make sure your voicemail system handles the proper HD voice codecs used in VoWiFi voicemail. And if you want to offer VoWiFi voicemail, you likely need to upgrade your system to handle this.
Conferencing is another example. Yes, codecs will be important there too, but a conference call with a VoWiFi client may cause issues for everyone on the call because of potentially poor performance and bandwidth. So a "smart" way via analytics to handle a poor subscriber may be necessary.
Ultimately though, VoWiFi will likely also offer value-added services above and beyond the traditional ones I've written about above. We all use WiFi, and we all use video when using WiFi (just look around the next time you are hanging out in a Starbucks or similar place). So it's likely video will be involved in future WiFi Value-Added Services. When a video call is involved, video calling via a mix of a MCU and SFU (more on that in a couple weeks!) architecture may be the best approach.
We also all use social media apps. It is likely voice will be part of (not central to) these social media apps – giving users a choice to call.
These apps will also most likely be offered in the cloud, or as part of an overall NFV solution. Utilizing a modern software based media server to provide the underlying codec support, call functions, and scalability will be essential. Dialogic is happy to help.
Source: http://blog.dialogic.com/blog/vowifi-and-value-added-services
Publish Date: January 4, 2017 5:00 AM
---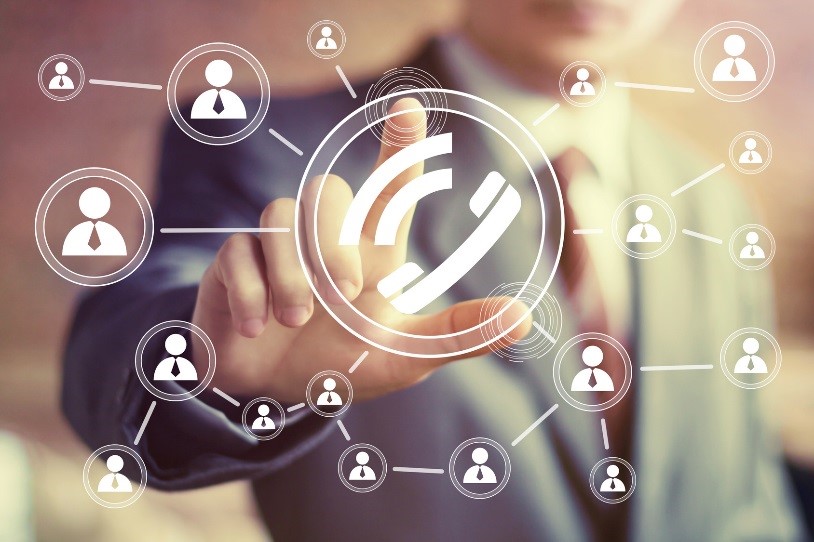 With IVRs, many of us understand that when we make a call, we may not even actually talk to a person. We may be talking to a computer. And we totally accept it. The computer voice will be the onramp to some database and find us the answer. And if we really, really need to talk to an actual living person, we can do so.
But when you're on the web looking for the customer service support number, you may get into a chat, or get offered to get into a chat. When you do, you may be chatting to an IVR-like chat machine who would get to an agent for more complicated matters.
And Visual IVRs enhance the IVR experience, especially for those using smartphones. Unlike traditional IVR, Visual IVR displays a full set of menu options on a device's screen. It allows callers to quickly choose the path that is right for them.
Video has also entered the contact center. Depending on your vertical industry, such as insurance, video can play an important role in a conversation. For example, when making a claim during a car accident, you can allow the insurance company to "see what you see" simply by recording a live video of the accident.
Integration of chat, even WhatsApp, into contact centers, is the next phase. And like I said last week, clearly integration of IoT apps into the contact center is even a "nexter" phase. Probably in the distant future, companies will incorporate virtual reality into their contact centers.
Enterprise contact centers continue to evolve, driven by the need to both reduce expenses and enhance customer service. What we once thought strange, such as not talking to a live person has morphed into a plethora of communication options, which will continue to evolve.

Source: http://blog.dialogic.com/blog/contact-centers-where-are-we-now-and-whats-next
Publish Date: December 27, 2016 5:00 AM
---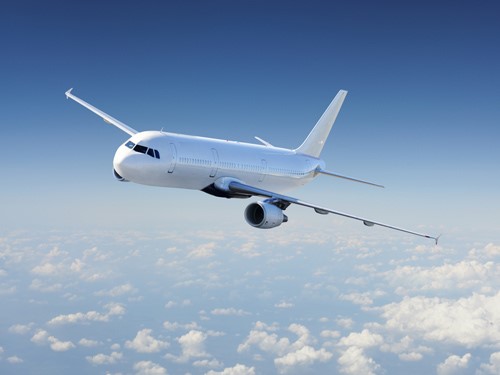 Last week, I talked about the different contact center channels. I mentioned that airline contact centers do a good job of keeping up with customers' demands and expectations of communication.
Many of us travel quite frequently so just looking at how an airline operates is a great example of a modern contact center. Right now as I write this, I am in the middle of an intercontinental trip. I asked for an upgrade via use of a "coupon." I was informed multiple times via email (my preferred communication method as per my signup) where I stood with this. Ultimately, I did not get one, but the communications to me were fairly frequent. My boarding passes appeared on my smartphone and also in my email inbox. And since I had a connecting flight, I opted in to find out how this part of the trip was going, and so I was kept up to date with text messages.
The proactiveness of this whole experience was very good. I'm sure it also kept expenses down for the airline since less agents were needed to handle phone calls (which is how we used to do things – and I'm sure some of you probably remember the banks and banks and more banks of phones at airports). I'm sure we'll see even more proactiveness in the future. IoT may even play a role. Dean Bubley was the first person who brought up that IoT can help you and airlines track your checked luggage. Hopefully, your luggage is not in New York if you are going to Los Angeles, but at least you'd know where it is.

Source: http://blog.dialogic.com/blog/airlines-fly-over-contact-center-expectations
Publish Date: December 20, 2016 5:00 AM
---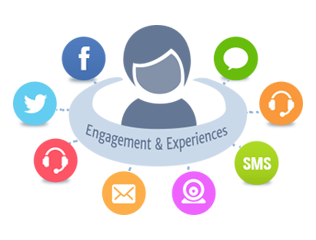 The contact center has always been technically innovative. The quest to both improve customer service while reducing expenses at the same time, while potentially oxymoronic, gets pulled off in this space because of technical innovation. In fact, the contact center used to be called a call center, because, well, the only way to contact one, or to have one contact you, was to place a phone call. Contact centers were one of the first industries to really embrace IP communications because of this very reason. Today, with the advent of push to talk, email, texting, and specific smartphone apps, there are multiple contact points. Let's take a look at the different contact center channels.
Phone Call – Sometimes it's easiest to just call in to a contact center and explain the situation verbally than to type it out in text/email/chat/etc. But before you talk to a live person, you'll likely run into their IVR system to route you to the right department or to try to solve your problem without getting to a live person. This classic way of getting in touch with a contact center is modernizing, however, to keep pace with customer demand and expectations, especially if you're on a smartphone.
Live Chat – The number of customers using live chat support has doubled in the last two years from 14% to 28%, according to this infographic. I can understand why this is a popular option for customers and contact centers. It allows customers almost immediate access to an agent and it allows each agent to handle multiple customers at once, making the contact center more efficient.
Email – Email is less immediate and isn't the fastest platform for a conversation, but there are many benefits to email. It's heavily automated, it's 24x7, it's easy to attach images/videos to demonstrate what's happening to a service or product, and there's clear, lasting paper trail.
Text – Contact centers strive to be efficient and keep costs down without compromising customer satisfaction. So automated, proactive communication and workflow makes sense. Text messages are a great channel for automated, proactive communication and workflow. I'm also seeing it used quite a bit for security from the perspective of texting a code if you are communicating from an unknown device, or have deleted your cookies.
Social Media – Social media isn't a part of a contact center per se, but a lot of people do turn to social media for customer support. Consequently, some companies have made a separate customer support social media account. It's also the most visible of channels so it lets angry customers voice their complaints publicly and it allows the company to let the customer (and the public) know that the issues have been heard. The actual problem solving, however, happens privately in DMs or the customer is directed to a contact center.
Mobile Apps/ Video Chat – Mobile apps have also made it easier for customers to interact with companies. Some apps support video chat, which helps the issue get resolved quicker. Customers can show, not tell, what's going on with the product or service.
All of these channels have to be integrated into one seamless customer experience. One exemplary industry that I think does a good job of incorporating all of the different contact center touch points is the airline industry. Next week, I'll explain how they do that.
Source: http://blog.dialogic.com/blog/comparing-contact-center-channels
Publish Date: December 13, 2016 5:00 AM
---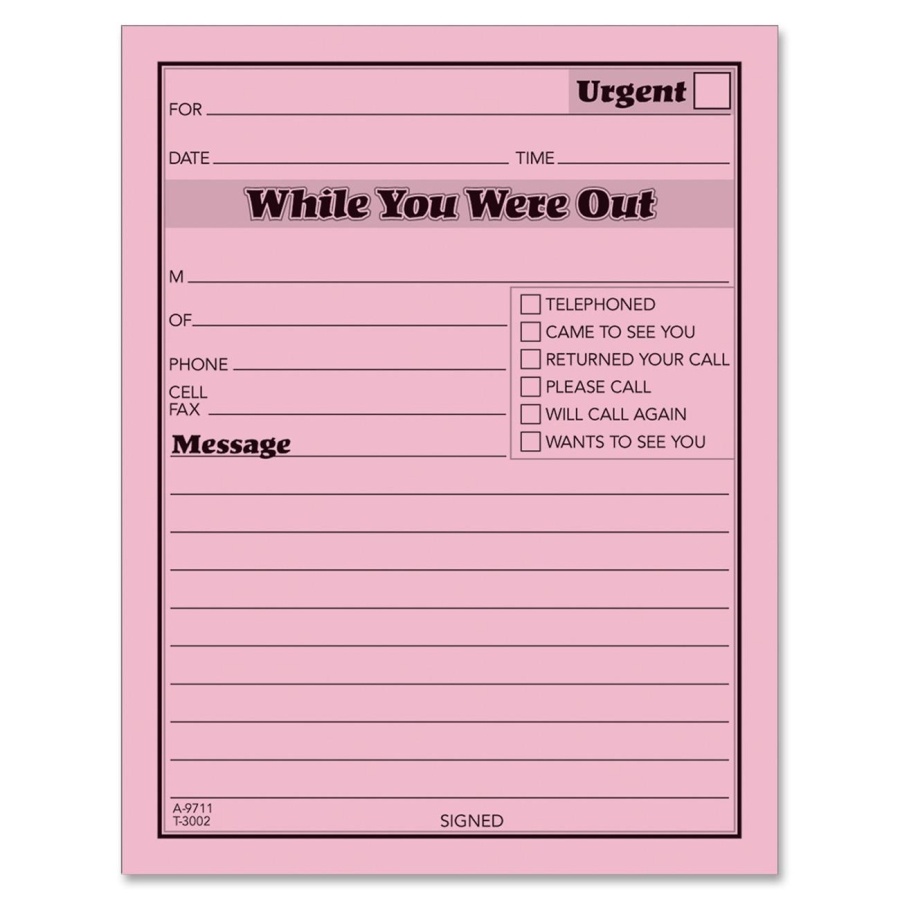 Is voicemail doomed to the dustbin of history or will it evolve?
Voicemail is widely recognized as one of the great telecommunications applications. Starting with its launch back in 1980 by VMX and others, voicemail's use quickly became ubiquitous in business and soon turned into a multibillion-dollar business as an add-on to business PBX systems, home telephone service, and later mobile services. Ideal for brief messages, voicemail automated message services and eliminated the pink "While you were out" slips.
It also spawned "voicemail tag" and the "daily" greeting. Remember recording daily greetings? (I bet some do).
More recently, voicemail is losing its luster as other applications take over short message delivery responsibility. Email, instant messaging, SMS, Whatsapp, Facebook Messenger and other mobile applications are often the go-to solution to delivering short messages.
As noted in a blog by Dave Michels on NoJitter, large corporations, including Coca-Cola are giving their employees the option to go without a corporate voicemail box (which I suspect is being replaced by either a mobile voicemail box or SMS messaging).
But based on a podcast interview I did with Karel Bourgois, Founder and CEO of voxist on the topic, voicemail isn't dead, it's evolving to be part of a new generation of omni-channel business applications. "There are times when voice is the best medium, like when you are driving or on a subway train," noted Karel. Recognizing that the reality is you can't always use the keyboard on a device to safely send a message. Driving and texting continues to be a serious risk factor.
It seems the issue with voicemail is that it's not integrated with the way people consume their messages. We experimented with Unified messaging almost 20 years ago, allowing recorded voice message to appear as a WAV file attachment in your email, but that turned out to be pretty inconvenient and not very private.
As Karel notes, "If you are in a situation where you can't take a call, you are like also not in a situation to listen to a voicemail." In many cases it would be much more convenient to receive a transcription of the message delivered on the messaging application chosen by the recipient, not the sender. "A Facebook Messenger user wants their messages on Messenger, not some other application."
Of the new innovations driving the evolution of voice messaging, a key technology is the cloud-based speech-to-text engines that can accurately convert a voice message to text. Past attempt created almost comical text interpretations of messages requiring the recipient to listen to the original recording to understand the contents of the message. IBM's Watson is an example of a very high quality speech-to-text engine available to developers on the cloud using open APIs.
Other innovations include the Communications Platforms as a Service (CPaaS) offerings and open APIs, allowing developers to build the next generation applications using powerful APIs without the burden of infrastructure costs. Karel's voxist application is an example, using Telestax's Restcomm open-source platform to develop and deliver his next-generation voicemail offering as an over-the-top application for mobile and consumers.
It does appear that there is a future for voicemail and it will evolve to meet new user needs. I also suspect we'll ditch the old name, calling it something else and positioning it as an add-on to the other social or messaging applications.
The daily greeting? That's headed to the dustbin of history. "Today, December 9th I'll be in the office…"

Source: http://blog.dialogic.com/blog/the-evolution-of-voicemail
Publish Date: December 9, 2016 5:00 AM
---
If you go to the Global mobile Suppliers Association website, you can get some very interesting information in the form of white papers and other content. In fact, you can get the picture above if you click here. And that picture really does say a 1000 words.
First of all, and this no news, LTE has been the fastest growing mobile system ever. It remains to be seen if 5G will supplant this when the time comes, but for now, it's been the fastest growing ever. In fact, LTE now connect 1 in 5 mobile subscribers. And the GSA predicts there will be over 560 LTE networks launched by the end of 2016.
What does this all mean? First of all, it means fast data. And it means smartphones on these networks. It also means LTE infrastructure growth will be slowing down because so many networks are deployed. I'm sure by now we've all read about Ericsson profit warnings, etc.
So between now and 5G network installation, where will telecom action / growth come from? First of all, VoLTE should be coming on these networks soon, if for no other reason than it allows older non-LTE networks to be decommissioned. VoLTE is somewhat there, but not to the extent of the LTE network deployment I wrote about above. This should be good news for those supplying voice/video applications for these networks and for those providing mobile value-added services for these networks.

Source: http://blog.dialogic.com/blog/lte-and-over-a-1000-words
Publish Date: November 8, 2016 5:00 AM
---
I had the opportunity to have a quick chat with Joanne Turner from Total Telecom TV at the recent Carriers World and IPX Conference in London. We rehashed some of the topics and key "take-aways" from the two day conference (I covered these in more depth in a couple earlier blogs; one on a roundtable I chaired on virtualization and NFV, and another on a panel I participated on where we discussed collaboration efforts and pushing the IPX envelope with next gen applications and services.)In the video we go on to talk about the various facets of virtualization of infrastructure and services in the wholesale space:
Benefits - increased service velocity
Inhibitors - skills gap, and
Challenges - interoperability
Although I would say solving interoperability issues is well within the wheel house of IPX/wholesale operators' core strengths.
Finally, I touch upon the services pivot by operators beyond a pure minutes play to hosted/managed voice, VoLTE/LTE hubbing, and contextual white label voice and video services. So take a look and let me know what you think by tweeting us @Dialogic. If you want to know more about layering on capabilities to offer differentiated services on top of existing IPX/wholesale infrastructure, reach out to me at Thomas.Schroer@dialogic.com.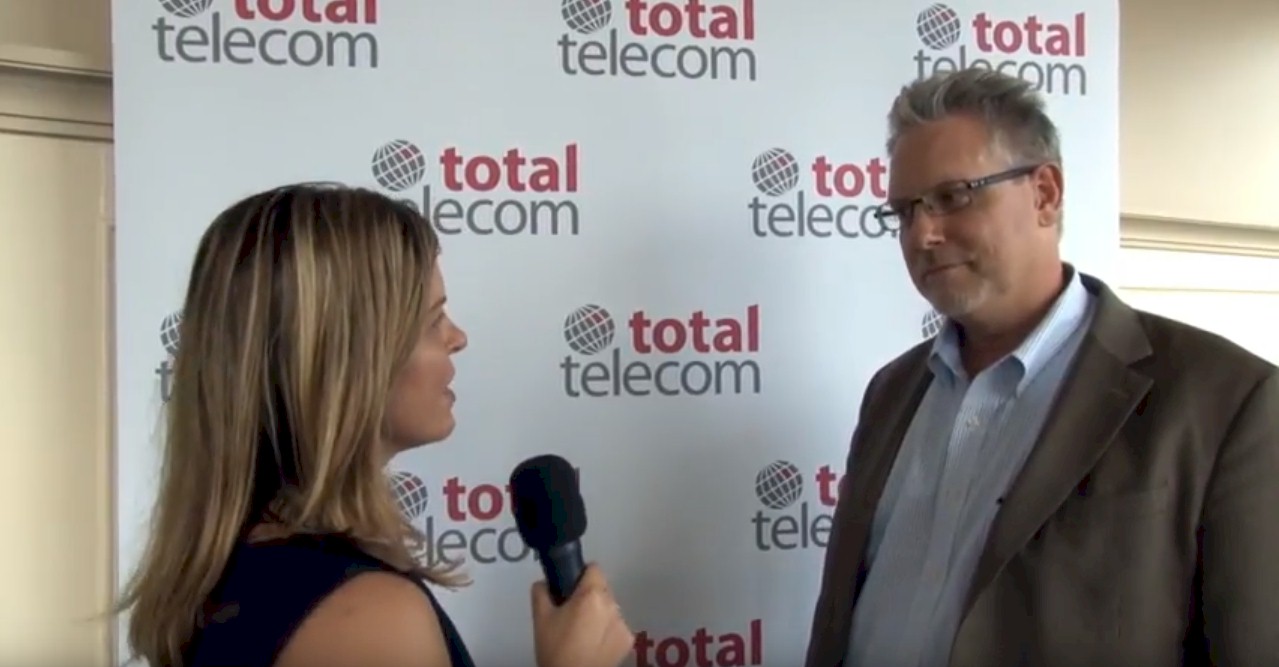 Source: http://blog.dialogic.com/blog/key-points-of-dialogic-nfv-vision-0
Publish Date: November 4, 2016 5:00 AM
---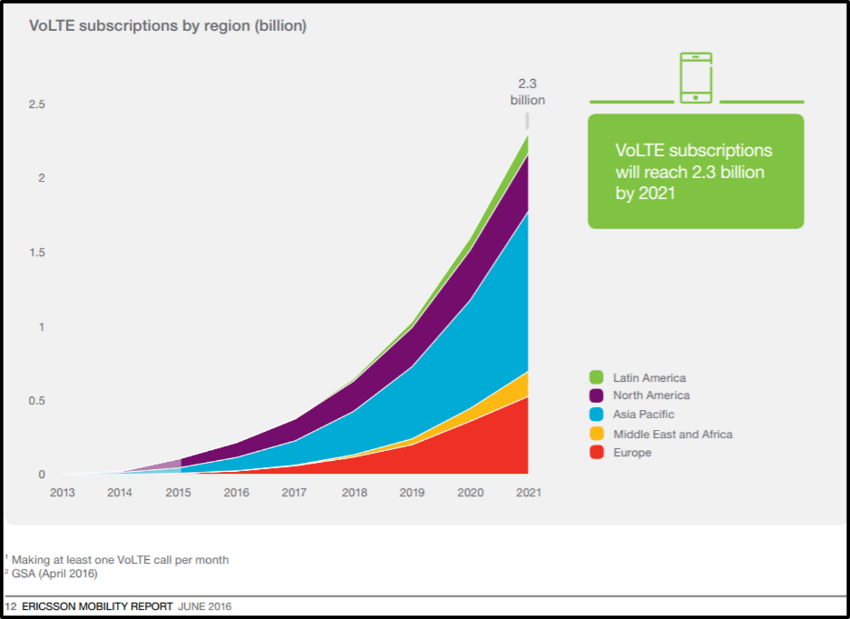 Every year, Ericsson puts out a nice overall Mobility Report in June. I'm finally getting around to reading it now. There is some really nice information in there about IoT growth and 5G.
However, this one graphic really struck me. Readers of my blog know I've been writing about VoLTE and Value-Added Service (VAS) applications recently, with my point being we are just at the cusp of seeing VAS growth with VoLTE.
Some of the VAS will be the same types of value-added services as we see today (i.e. conferencing), but we're also going to see new types of value-added services where voice is just a part of the service, not the main part of the service.
This graph shows the huge potential with being attached to VoLTE. I would suspect a large proportion of these applications will be run in a cloud of some sort. Dialogic will be there to help either at the application layer or the media server layer.

Source: http://blog.dialogic.com/blog/lte-and-voice-volte
Publish Date: October 25, 2016 5:00 AM
---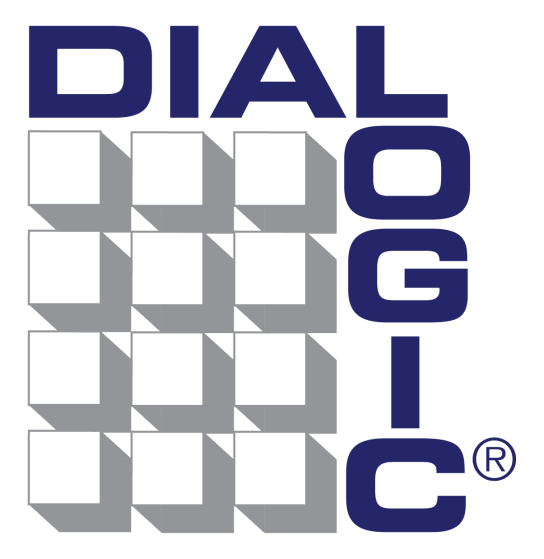 I stopped wearing Dialogic shirts in airports many many years ago, simply because I often got stopped by people who used our boards and wanted to talk about them. I still remember the event that tipped me - someone asked me if a PEB bus could go to 5 feet in length. (Note: I knew the answer back then, but I don't remember what it was – probably no, though).
Anyway, I recently wore my Dialogic shirt in an airport for the first time in 15 years and voila, I got stopped by someone. I guess I'm just such a friendly looking guy. But anyway, the person wanted to know "what happened to Dialogic boards?" We had a good conversion.
So what happened to them? Well, first of all, we still sell those boards – JCT, D/41's, Diva, etc. Not nearly as many as we used to, but yes, we still sell them. This was shocking for this person to hear since, to him, the PSTN is "dead." But the PSTN is still there, people still use it, solutions need to connect to it, and the Dialogic boards are excellent for that. Some companies also keep their solutions because they WORK with the Dialogic boards and put a VoIP gateway behind or in front of it to interface with the IP world.
However, and this may be more shocking to readers, we still even get design wins for these boards. Design wins on these boards in today's day and age? Why is that? Well, there are some segments that still rely on the old infrastructure, and use modem technology to send data. Aggregation of the modem data via a high density modem card is typical.
One such segment is Point of Sale (POS) for instance and Dialogic has been active in this area for years. Additionally, IoT has enabled, or maybe I should say reinvigorated, remote metering. Again, gas and electric meters send info via modem and an aggregation of the data needs to happen. Dialogic has seen design win activity here as well.
So that's what's happened.

Source: http://blog.dialogic.com/blog/whatever-happened-to-dialogic-boards
Publish Date: October 18, 2016 5:00 AM
---

In life, saving money usually comes from giving up something, or reducing what you have. The same applies in business, but here's an exception…SIP trunking – the convergence of voice and data delivered over a single broadband connection that lowers costs and offers better service. "Lowers costs and better service" sounds like an oxymoron, but in this case it is not, which is why SIP trunking is seeing explosive growth…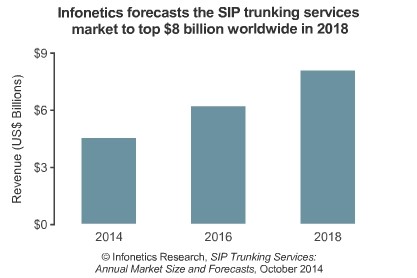 Compared to TDM and depending on the specifics of the business, SIP trunking can save a business anywhere from 25% to 60% on their telecom expenses. SIP trunking can support voice, data, and video all over IP, meaning a single SIP trunk can replace multiple TDM trunks, drastically consolidating and simplifying the voice architecture – companies pay for one service rather than separate voice and data plans. Additionally, a major reason for the cost savings comes from SIP trunking typically providing much more cost-effective long-distance calling than traditional solutions, as all long-distance calls basically become local calls.
SIP trunking also makes capacity planning/scaling and maintenance a lot less challenging because SIP trunks are virtual rather than physical. For example, during times of high call traffic when a business requires more voice capacity, SIP trunks can be easily adjusted in increments of one or more with a change to the software configuration within a matter of days. On the other hand, traditional T1 or PRI service typically requires purchasing an additional physical trunk with 23 or 24 voice channels even though all the business may need is 10 more voice channels, not to mention it can take months to install a physical trunk. This kind of flexibility and scalability which SIP trunking offers allows businesses to react swiftly to changing conditions.
Increased productivity is also another benefit SIP trunking brings through the combination of voice and data delivery. Regardless of whether on-site or remote, every employee can enjoy voice calls, instant messaging, video conferencing, address books synced between devices, and more. Employees who are on the road or working remotely never have to miss a call again, as their calls can be automatically routed to their mobile phone. The same is true if a line is busy or if the office is closed. [NOTE: click here for a good article on the difference between SIP Trunking and Hosted PBX, as although "these services are similar in function and feature, they also represent different means to the same end."]
There really is very little doubt that SIP trunking is the way to go for a lot of businesses, but are there any businesses where SIP trunking may not be worth the investment? Typically, if a business has only one central location, or if offices are located in a very concentrated geographic area, then SIP trunking will probably not be worth the time. SIP trunking provides the most efficiency for businesses that have multiple locations spread out over a wide area, hence the cost savings noted above where long-distance calls basically become local calls.
According to a recent study by Frost & Sullivan titled Unshackling the Power of SIP Trunking, "SIP trunking effectively creates a new set of paradigms in business communications services. The defining distinctions that SIP trunking services have over legacy telephony services are in the unprecedented levels of flexibility, scalability, and control that enterprises can have over their communications infrastructure."
As I bring my three-part series on Telecommunications in the Cloud to an end with this blog, here are a few summarizing thoughts…
Network operators are in an ideal position to offer cloud-based telecommunications services based on their existing infrastructure.
CaaS offers network operators the ticket to becoming relevant again to the lucrative enterprise customer.
Today's residential customer has higher expectations when it comes to their telecommunication's requirements, largely due to the influence of the smartphone.
Increased productivity, flexibility, and lower costs are all tangible features offered to the enterprise by Hosted IP PBX and SIP Trunking.
There is very little doubt that the future of telecommunications will be heavily in the cloud with application development companies like Dialogic taking the lead and offering network operators and enterprises applications like their PowerVille Cloud Centrex.

Source: http://blog.dialogic.com/blog/telecommunications-in-the-cloud-sip-trunking
Publish Date: October 7, 2016 5:00 AM
---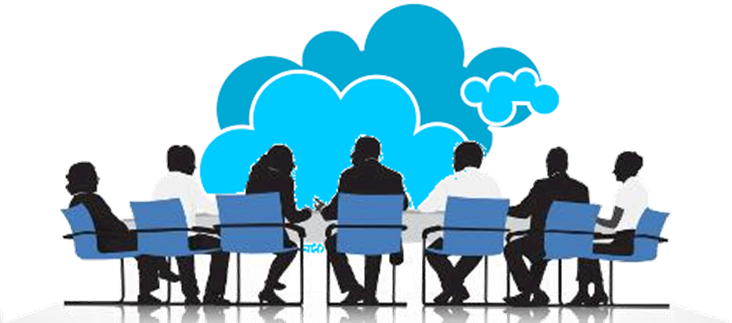 I recently led a lively roundtable discussion on virtualization, NFV, and SDN at the recent IPX Summit in London. We had a healthy cross section of industry participants including representatives from carriers, mobile operators, equipment vendors, software centric solution vendors (like Dialogic), analysts, systems integration, and test and measurement. The question posed to the group was whether virtualization made sense for carriers and IPX operators beyond the confines of the traditional data center, and this definitely made for an interactive discussion.
The Central Office Reimagined: CORD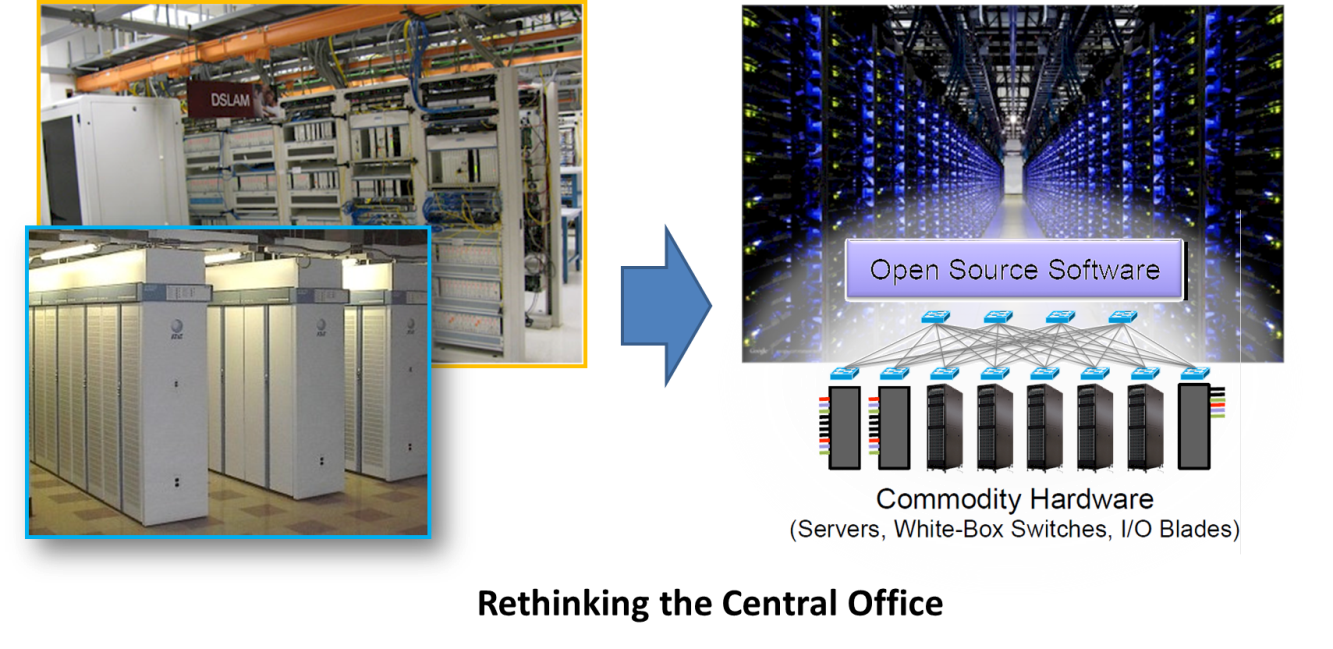 The title of the roundtable was misleading, I thought, because today, the central office has become or is becoming more of what we recognize now as a data center. Take the CORD initiative for example. The name alone, which is an acronym for Central Office Rearchitected as a Datacenter provides insight into the direction telecommunications is moving. The CORD project is all about virtualizing legacy hardware devices that are currently deployed in Central Offices. The reference implementation of CORD supports several elastically scalable multitenant services including access as a service.
What's clear is that data center virtualization and automation techniques are being adopted by service providers and carriers in ways that will have a profound effect on how services are implemented and delivered.
Virtualization in the Access
There are quite a few examples of commercial offerings carriers have introduced that already incorporate SDN and NFV concepts. Some of the examples discussed at the roundtable included services and announcements such as:
DTAG's VPN service that includes firewall capabilities, web security, site to site connectivity, and customer self-serve features like subscription, activation, and modification.
SD WAN or vWAN services involving SDN and NFV technology to deliver high performance, encrypted, traffic optimized bandwidth on demand across standard IP pipes
PCCW Global's VPN and Cloud offerings which feature on demand, self-service connectivity
Telstra's PEN SDN-based service that allows customers to connect their network services globally and with those of other PEN customers without having to wait for the delivery and installation of hardware appliances.
While the on-demand and self service capabilities of these services are appealing, there is an underlying physical resource aspect that can't be overlooked. One of the operators indicated that these services were being primarily used to provide connectivity to Amazon and Azure. And while they definitely provide more traction to carriers and enable subscribers to adjust bandwidth as needed or burst when required, there is still a limitation in the access of the physical pipe used to service the customers. But the consensus was that virtualization in the access allows for:
Rapid service turn-up
A migration away from spreadsheet provisioning
A high degree of automation and programmability
Regulations and Virtualization
One surprising insight from the roundtable was the impact that regulations played when it came to virtualization. This could become a particularly sticky issue in Europe where there are "some of the strictest data privacy regulations in the world." According to those at the roundtable, regulation is an issue that could make certain uses of public cloud and virtualization not feasible or limit the services supported to the confines of the country served. This could impact operators providing hosted services via cloud infrastructure.
Skills Gap Still an Issue
Another roadblock on the road to virtualization observed by a systems integrator is the skillset gap within the operators when it comes to virtualization and cloud technology. Virtualization, NFV, and SDN introduce an entirely new set of terms, tools, and administrative practices that in many ways are orthogonal to traditional network and telecom deployments. Experience in hypervisors and cloud management systems like OpenStack require an expanded set of skills and scripting expertise with languages like YAML and YANG, and also requires an understanding of how the various OpenStack modules like Nova, Neutron, Glance and Ceilometer come into play. I touched on this topic and how one operator was addressing it in an earlier blog. Regardless, it is a problem or opportunity depending on how you look at it
Open Source Virtualization
One vendor brought up the issue of hypervisor uptake, particularly KVM as a source for slow rolling virtualization, however, the industry will have to account for operators deploying a mix of VMware, KVM and Xen as well as using public clouds like AWS for part of the service. Advances in virtualization technology have made NFV especially for real-time multimedia Virtualized Network Functions more of a reality, so support for different hypervisor environments will continue to be important.
Start the Journey Now
Are these challenges enough to slow roll virtualization? In fact it's the opposite. A representative from one of the companies moving towards SDN-based offerings indicated it was important to deploy virtualized infrastructure and get comfortable with NFV/SDN now. Another operator was already underway with proof of concepts leading to commercial deployments for EPC components such as the authentication gateway. Small MNOs were seen to be more aggressive in moving forward with virtualization of infrastructure and services since they don't have the massive inertia and baggage from legacy services and infrastructure from which they would need to migrate. The cost for moving off legacy TDM for larger operators can be substantial, but as one participant pointed out, it may cost more not to take action when taking into account the extra maintenance, inefficiencies and operational costs to support end-of-life infrastructure compared to virtualized environments.
The Market Reacts
Regardless, one Systems Integrator that has been helping operators formulate RFPs for moving to the cloud observed several trends that they are seeing with operators that they deal with:
A hybrid approach using public and private clouds
Seeking independent advice when it comes to cloud orchestration and management
Use of open source approaches, ISVs, and major NEMs for orchestration
Development of in-house orchestration and management
What is the business case? Is it a no brainer? One participant noted that when it comes to a green field approach to virtualizing infrastructure, there is definitely a business case. When doing the analysis, they advised the group to definitely take into account the cost of legacy infrastructure support since that cost will continue to rise as more functions go end of life. (Click here to get access to a white paper that quantifies the benefits of NFV and virtualization by PA Consulting.)
Interoperability is Paramount
Regardless of the quantitative benefits of virtualization and NFV, one of the bigger barriers seen by the group was multivendor interoperability. Interoperability is not only an issue between virtualized applications, but also between applications and the virtualized environment (MANO, VIM, hypervisor environments) in which they're deployed. Even in the presence of standards and specifications emerging from ETSI, OpenStack, OASIS, Open Networking Foundation, Open Source MANO, and OPNFV, interoperability will still be an issue. While issues with interoperability could possibly slow roll the spread of virtualization in and outside data centers, this may be an opportunity for next generation telecommunications providers. Helping operators overcome interoperability issues between networks has long been the value-add of wholesalers and IPX operators. Who knows, in the future, wholesalers/IPX providers may be an enabler of hosted service options and interoperability between operator "clouds!"
Let us know what you think about virtualization in the wholesale/IPX space, and what new service features as well as new services are becoming possible as operators adopt this technology in their networks. You can tweet us at @Dialogic.

Source: http://blog.dialogic.com/blog/does-virtualization-make-sense-for-ipx
Publish Date: October 6, 2016 5:00 AM