Dialogic - ContactCenterWorld.com Blog Page 5
Page: 1 | 2 | 3 | 4 | 5 | 6 | 7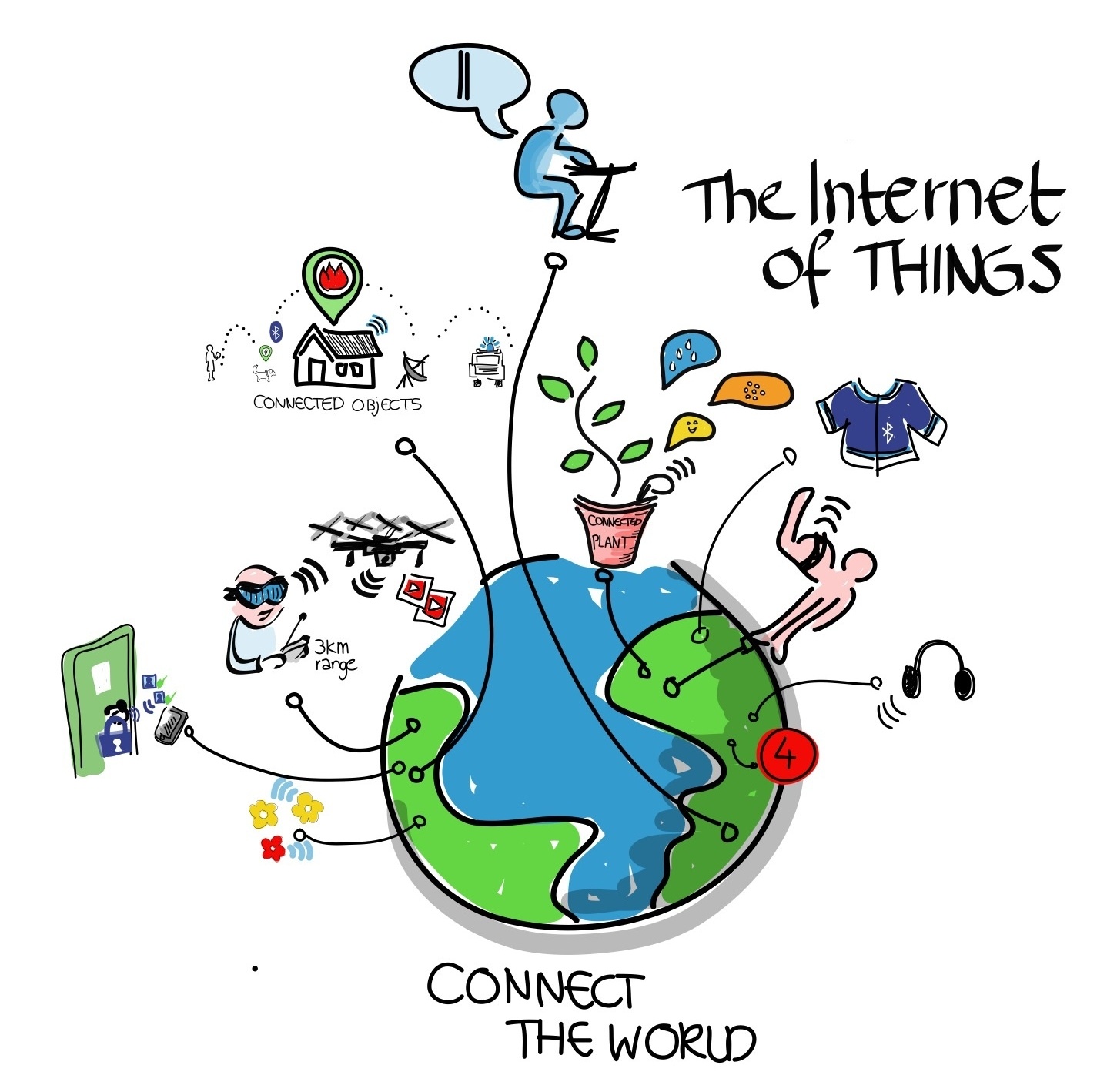 In an IoT world, you'll have a connected car. Your connected car has all kinds of sensors to detect when to brake, how your car is performing, etc., and a connected speaker that will communicate with you. If your car stops suddenly and no brakes were applied, it might mean you got into a crash. If you have the right app, you might find your car talking to you to see if you are OK. Your talking car will most likely be your vehicle assistance company or an emergency services drone hovering above connected to your car speaker. All the wearables you have on you will also be measuring and probing your health. Something might indicate to the right application that you have some kind of problem. And if you did, you might also hear someone talking to you asking if you need assistance. Video would be involved as well because cameras will be everywhere. This is an example of a more complicated instance. But IoT will be used in very simple functions as well.
If a sensor picked up some anomaly, such as low water pressure, or high isolated temperature, someone could look at a camera first to see if there is an actual issue. This would all save time and expenses. These are some examples I can think of for the marriage of IoT and voice communications, but I'm sure there are literally thousands, if not hundreds of thousands more use cases involving voice and video.
These examples show that the communications industry can and will play in the IoT market with the marriage of real time communications and IoT. It will just be different than what built all of our companies today. The main app will not be person-to-person communication like we are used to. The value of IoT to our companies is tremendous, and because of IoT, the voice/video/messaging part we know well will be a part of a larger application story.

Source: http://blog.dialogic.com/blog/what-your-life-might-look-like-in-an-iot-world
Publish Date: July 19, 2016 5:00 AM
---

Before we can look at the components of OPNFV, let's start back with a definition from my last blog. "OPNFV is basically an Openstack deployment framework, with emphasis on the networking side." This means that we have at least 3 pieces here – Openstack itself, a way to deploy it, and some networking "extras." That might lead you to ask – "Well, why don't I just use Openstack, if that's at the core of things?"
You could, but remember my warning about re-inventing the wheel. Wouldn't it be way better to get everything you need to deploy an Openstack cloud in a single package, with good instructions, and a community willing to answer the inevitable questions? Oh, yes it would…
Let's look at what we will be working with. For those who are not used to dealing with the innards of a cloud, it will help to think in terms of "layers." Some of these layers are real, and some are virtual. Some allow you to install, deploy, and administer Openstack, and some do the actual work that everything else is there to support – running your application in a virtualized networking environment.
It's probably best to start by reviewing the layers, at a high level, in the order in which you will be dealing with them. Here they are:
The Openstack deployment controller or master node - It is from here that all good things will spring. Once installed, the master will control how your Openstack environment will both be initially configured, and, how it will be enhanced as time goes on. As more users are added, they will need more image storage and more compute nodes on which to do their work. A deployment controller will allow these additions to be easily done.
The Openstack nodes themselves - There are many different types of nodes that can come into play in Openstack, but not all are needed in every deployment. With OPNFV, there are a set of core nodes that are needed, and a few others that may be deployed if desired. Narrowing down the possibilities helps to alleviate the information overload that comes with figuring out how you want to use something new and complex.
The guest virtual machines running in the Openstack environment. These would be the reason for doing all this in the first place – a set of virtual machines that may be assigned to different users, brought up and down at will, and put into a multitude of virtual network configurations.
Now we can get into specifics. In doing so, I will be telling you what worked for me, and why I made the choices I did. They may not be exactly what you want or need. But, hey, it's my blog…
FUEL – My Deployment Environment of Choice
There are no less than 4 different installers available with OPNFV. After some experimenting, I chose Fuel. Here are my reasons:
It has its own semi-automated setup and install program. And, yes, an installer for an installer is not a bad idea.
Fuel itself uses a well thought-out web GIU to lead you through Openstack configuration.
The Fuel installer and web GUI both allow you to test/verify your setup choices in many different points throughout the entire process. This is essential. A mistyped IP address or other mistakes can lead to cascading errors a step or two down the road. And you will have no idea what you did or when you did it - unless you are particularly adept at trolling through dozens of strange log files for oddly named things whose function is a complete mystery.
Fuel supports virtual LANs (VLANs). An Openstack deployment uses many networks, which may be either physical or virtual. You may have an unlimited budget for network cards for your conventional systems or fabric switches for your blade center. In which case, don't bother with VLANs. But otherwise, you need to be able to divide up a physical network into discreet, virtual networks so they can carry out their Openstack jobs without bumping into one another.
I previously mentioned that I have set up and plan to maintain two separate OPNFV deployments – one for experimental and development purposes, and a second for internal QA, testing, and demos. One is a set of rack mount servers, the other an HPE Bladecenter. As these are two unlike environments, I chose to use two separate installations of Fuel to deploy the two separate OPNFVs. But I was able to save the price of a system by doing the two Fuel master nodes as virtual machines. Overall, Fuel does a lot of sitting around. It's only hard at work when called on to deploy Openstack. So, the two virtual Fuel nodes on a single modest CentOS 7 host had more than enough resources when each needed them.
Openstack Nodes and Roles
Let's now take a look at the Openstack nodes and roles that are part of the OPNFV deployment. The "nodes" here are the physical machines themselves, while the "roles" are the necessary Openstack services or functions that must be present to get to a working deployment. And to make matters more interesting, there are many possibilities for assigning roles to nodes.
Openstack Roles – there is a fairly long list of roles shown by Fuel, but only some are relevant for OPNFV. These most important of these are:
Controller – the brains of the Openstack cloud. It provides a user interface (graphical or command line) for the many functions involved in cloud operation. The front ends for all of the other components are also found here. They talk via sockets to their counterparts on other nodes, where the actual work is performed.
Compute – the brawn of the Openstack cloud. The guest virtual machines are created, run, and destroyed here.
Networking – your main networking needs in Openstack today are fulfilled by the Neutron project. It provides its own API to tie together network-related functions across other Openstack components. With OPNFV, there are Software Defined Networking (SDN) network plugin options below Neutron that may be selected. For the current release they would be OpenDaylight and ONOS. Operating at the Neutron level, you would, in most cases, be unaware of what happens via the plugin.
Storage – "Ceph" is an object storage platform. It may span several nodes, and is used for several kinds of offline storage such as virtual machine images, files and block storage volumes. It may replicate its objects to avoid a single point of failure.
Telemetry – "Ceilometer" uses MongoDB to keep track of cloud usage, performance statistics and can be used to store data specific to application virtual machines as well.
Now, how does OPNFV suggest deploying the system? It's not always clear – how many boxes do you really need, how are functions best divided up among them? Often, you will want to know the minimum needed, as few people seem to have closets full of up-to-date servers with good virtualization support. Things that need to be taken into account to arrive at the "right" (for you, anyway) answers include:
Number of potential guest VMs expected to be in use.
What are the guest nodes going to be doing? Are they compute, storage, or network intensive? This will influence the choice of CPUs/cores, available memory and disk storage on the compute nodes. Remember - the compute nodes are where you want to spend your money!
High availability, fault tolerance and disaster recovery. Is this important? For experimental or development systems, not so much. For production systems, very much so. A minimum of 3 duplicate systems are need for true HA. But I think here we are all at the "get your feet wet" stage here, so this will not be so important. HA configuration is also something I have yet to tackle. It may be sufficient to simply do a nightly backup of development materials – scripts, configuration files, images and snapshots - so they don't inadvertently disappear.
I realize I've given you no hard recommendations here yet. Things that worked well for me will be revealed when I get into more of the details in subsequent blogs. The next blog entry will be relatively short – how to get prepared before actually installing OPNFV. Then we'll get down to the meat of things.
This post is a part of the "OPNFV Demystified" blog series. The next part of the blog series will be posted on Thursday morning each week. Check out the intro post, if you missed it.
The Components of OPNFV
Getting started with OPNFV – How Should I Prepare?
Implementing OPNVF in the Real World, Part One
Implementing OPNVF in the Real World, Part Two
The challenges of Networking in OpenStack
Why Automation Is Key to Your OPNFV Deployment

Source: http://blog.dialogic.com/blog/the-components-of-opnfv-opnfv-demystified-part-2
Publish Date: July 14, 2016 5:00 AM
---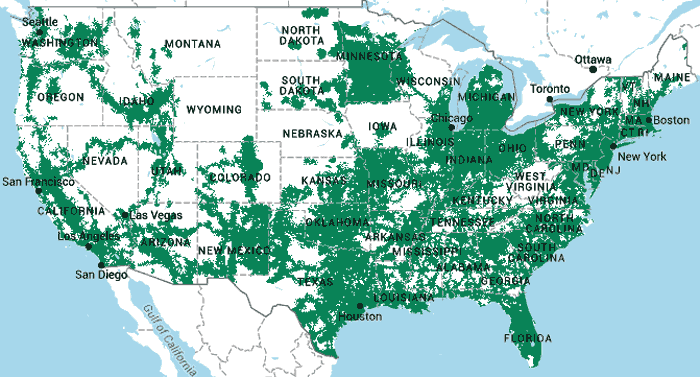 In March, Chetan Sharma released a 2015 US Mobile Market update report. There are many interesting points in this report, but one thing I want to talk about today is that voice revenues declined by 24% and messaging revenues declined by 18%. Wow, that's a lot. And since the overall mobile market increased in the US, that means data service revenue is increasing quite a bit. Is that a concern or not?
Years ago, clearly this was a concern. No one wanted to just be a bit pipe. It's pretty well understood and accepted now that in order for that not to be the case, then value added services on top of the data pipe will need to be utilized. So the concept of the connected car, smart city, smart home, etc. is where the future growth is. All of these concepts require data and are value added services on top of it, but do not utilize messaging or voice.
But there are huge opportunities for messaging or voice innovation here on top of these new services. The application or service doesn't have to revolve around voice or text as in the past, but voice, video or text can be an integral / optional part of one of the new IoT type of services. That means WebRTC and media servers can play a huge role in some of these new innovative services going forward.
Next week I'll start a 3 part blog series about IoT and real-time communications to explore this concept a bit more.

Source: http://blog.dialogic.com/blog/voice-revenue-decline-scary-or-under-control
Publish Date: June 28, 2016 5:00 AM
---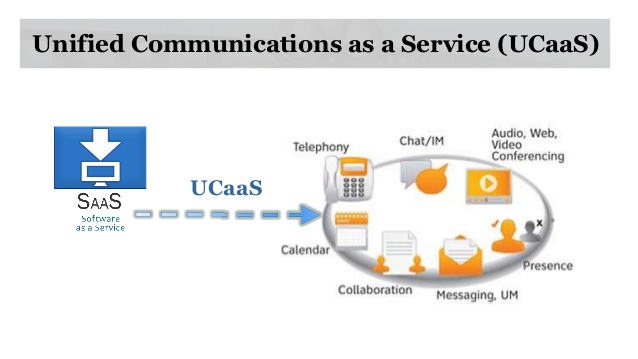 SaaS, IaaS, PaaS, NaaS, MaaS, UCaaS are all examples of XaaS. According to TechTarget, XaaS is a collective term said to stand for "anything as a service." The acronym refers to an increasing number of services that are delivered over the Internet, on-demand, and on a subscription basis. XaaS is the essence of cloud computing. For the readers of this blog, especially network operators, UcaaS – Unified Communications as a Service – should be the acronym of interest, especially since it is forecasted to be a $37.85 billion dollar market by 2022 according to Transparency Market Research.
No need to dwell on the well-known fact that network operators are losing ground to services like OTT. Let's focus on the positive and point out that network operators are in an ideal position to offer UcaaS because of their infrastructure – Hosted PBX and SIP Trucking to their business customers, and basic/advanced Class 5 services to their residential customers. Not to mention more revenue-generating services such as hosted contact centers, network auto attendant, corporate ACD, outbound SMS, and calling, WebRTC video conferencing, and call interception, just to name a few.
An old article I recently re-read covered a lot of the benefits of UcaaS succinctly. According to the article, UcaaSoffers flexibility and expandability that small and medium-sized business could not otherwise afford, allowing for the addition of devices, modes or coverage on demand. The network capacity and feature set can be changed from day to day if necessary so that functionality keeps pace with demand and resources are not wasted. There is no risk of the system becoming obsolete and requiring periodic major upgrades or replacement.
Let's not forget a single bill that consolidates telecoms services.
Off-loading communications needs from on-premise to the cloud is a big step for any enterprise, so once onboard, network operators have a captive audience which must continuously be offered new services. This in turn directly affects ARPU positively.
What makes UcaaS such a great business proposition for Network Operators is that the infrastructure is already in place. Mostly what is needed now are the applications. Once again… network operators are ideally positioned to advantage of this rapidly growing UcaaS trend with their existing infrastructure which most OTT players are unable to do.
As the US President Theodore Roosevelt said, "Do what you can, with what you have, where you are."

Source: http://blog.dialogic.com/blog/unified-communications-as-a-service-ucaas-a-sweet-spot-for-network-operators
Publish Date: June 24, 2016 5:00 AM
---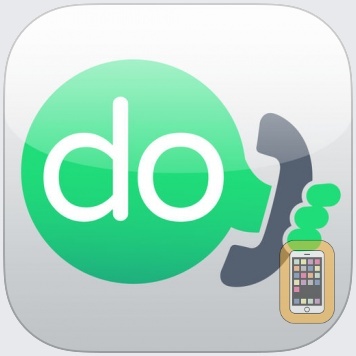 A few weeks ago I attended and spoke at ByNet Expo in Israel. I spoke in the telecom track about the "Agile Network." Part of what I was talking about was the value of WebRTC and NFV going forward in terms of the profound impact and changes these technologies will have on telecom.
During this event, I had an opportunity to meet with a number of our customers. One of the interesting customers I met with was Fone.do.
As I have stated last summer, WebRTC has moved away from the hype phase and into implementation phase. And Fone.do is definitely one of those companies that are in the implementation phase of WebRTC. In fact, they've built a cloud-based PBX, targeted at small businesses, entirely from WebRTC. They bring a "web" mindset to the party. For instance, when putting your address into their system, they'll bring up a google map to show you. Not too hard to do, but it's definitely different.
They also challenge you to set up the phone system in under 3 minutes. I was a bit dubious about this prospect, so right there in the meeting, I became a small business owner and I set out to set up a phone system for my fictitious 5 person company. We each got phone numbers, made some calls, left some voice mails, etc. It was pretty easy to do. So if you are a small business owner in the market for a cloud-based PBX, check them out. They should change their slogan to "Even a VP can set up a phone system in under 3 minutes." Fone.do certainly makes setting up a phone system a can.do job.
I'll have more to say about the state of WebRTC in a few weeks.

Source: http://blog.dialogic.com/blog/webrtc-and-cloud-based-pbx-can.do
Publish Date: June 21, 2016 5:00 AM
---
Scaling SIP services can be tough, but it shouldn't be. Follow this 'how-to' guide or video (at the bottom of the post) to get your load balancer working in 10 minutes or less.
---
Oh how I wish this statement were always true:
if (one call works) then (multiple calls will work too)
Unfortunately, it's not always that easy when dealing with real-time communication applications as they have unique characteristics, which can directly affect scalability. What do I mean by that? – Take for instance SIP, which inherently is a chatty protocol requiring a high level of transactions-per-second. The chattiness can range from a basic three-way handshake for INVITE to periodic INFO update messages – point being, each SIP message needs to be handled properly by the application. To properly handle will require some level of processing with finite processing per server that will impose scalability restrictions on your application. That is why we purpose built the PowerVille™ LB load balancer from the bottom-up to not only handle a high rate of real-time transactions but also to do it intelligently with service aware routing and seamless high-availability failover. Couple that with an intuitive streamlined webUI and the PowerVille™ LB will be one of the easiest experiences you'll ever have.
This is part 1 of a multi-part 'how-to' series that will cover the basic installation of the PowerVille LB binaries along with configuring and testing your first SIP service. Spoiler alert: This 'how-to' will be the longest of the series given the need to install the binaries. All subsequent guides implementing other services will be wicked easy and short.
Be sure to reach out to me if you have any questions about the 'how-to' or the product.
//Vince
@vfpuglia
Vincent.Puglia@dialogic.com
---
Prerequisities:
CentOS 6.4 or CentOS 7 minimal installed - Link to download


Stop and disable firewall service

Disable SELinux

A SIP phone for generating calls - Link to download
At least (1) PowerMedia XMS server installed or SIP endpoint for receiving the SIP call

'

How-to' install PowerMedia XMS
Overview and IP address assignments:
The below diagram is a high-level visual of the components being used for this 'how-to' including the LinPhone soft SIP client for generating calls, the PowerVille LB and (2) PowerMedia XMS servers. I've left the IP address assignments from my setup unchanged but obviously your setup can use any IP scheme you'd like.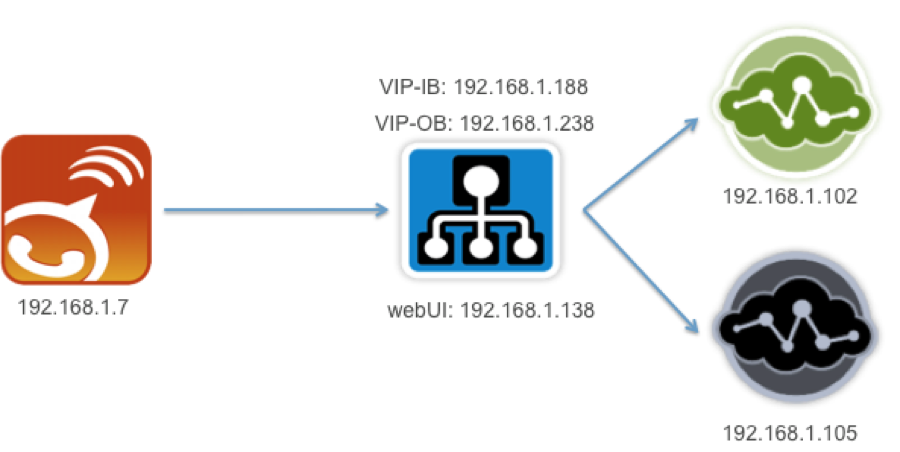 PowerVille LB Install Instructions:
KEY:

Yellow highlight indicates input required

Green highlights useful information
1.) First you'll need to download the PowerVille LB binaries by first requesting a trial copy HERE.
Note - for this 'how-to' the GA version of the PowerVille LB was v1.3.15
2.) Once you've received the link and downloaded, copy the load balancer .jar file to your CentOS server (root or tmp directory is fine)
3.) Log into your load balancer instance via SSH and change directory to where to you uploaded the load balancer .jar file.
4.) Run the installer script and follow the prompts for installation:
[root@loadbalancer-vfp ~]# java -jar dialogic-lb-installer-1.3.15.jar
Please enter the location of your Java JRE install that will be used to run the Load Balancer [/usr/bin/java]
[enter for default]
The list of available IP Addresses are as follows:
192.168.1.138
Please enter your IP Address that the Load Balancer will use for management traffic. [192.168.1.138]
[enter for default]
The Load Balancer needs to send and receive VIP request/ responses via a specific interface. Available interfaces are listed below:
eth0
Please enter the name of the interface you would like the Load Balancer to send and receive VIP request/ responses from the list [eth0] :
[enter for default]
Please enter a Multicast Base Address [default:228.8.8.0] :
[enter for default]
press 1 to accept, 2 to reject, 3 to redisplay
1
Select target path [/opt/nst-loadbalancer]
[enter for default]
The directory already exists and is not empty! Are you sure you want to install here and delete all existing files?
Press 1 to continue, 2 to quit, 3 to redisplay
1
* Press 1 if you would like to create a new installation of the Jetty web server
* Press 2 if you would like to install the Load Balancer Admin UI within an existing Jetty instance
1
Please enter a path where you would like to install the jetty web server [default: /opt/nst-loadbalancer ] :
[enter for default]
Select the packs you want to install:
[] LB (The Load Balancer base Installation files)
...pack selection done.
press 1 to continue, 2 to quit, 3 to redisplay
1
[ Starting to unpack ]
[ Processing package: LB (1/1) ]
[ Unpacking finished ]
Install of the Load Balancer successfully complete.
The Load Balancer has been installed at the following location - /opt/nst-loadbalancer
You can now view the web admin ui at the following URL:
http://192.168.1.138:8888/lb
Login details are as follows
Username : root
Password : admin
[ Console installation done ]
PowerVille LB Configuration Instructions:
1.) Open the load balancer web UI – http://192.168.1.138:8888/lb
Login using default username and password: root/admin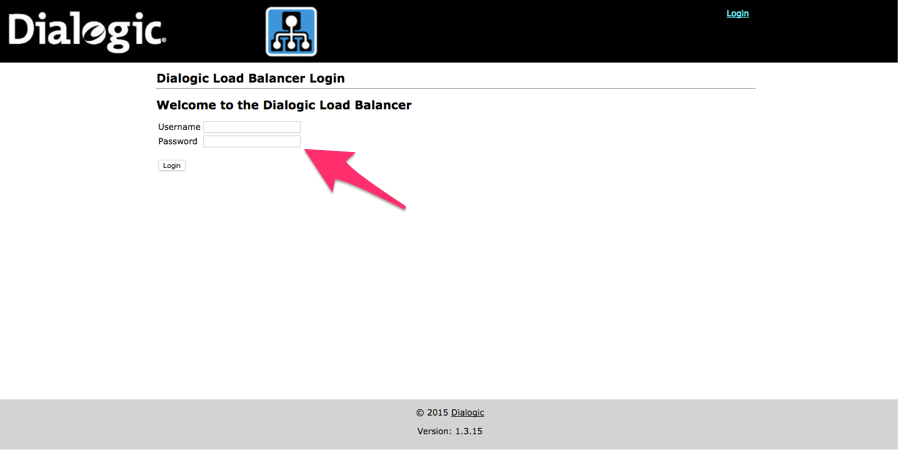 2.) If the install was successful, the load balancer status should turn green. Click the 'unlock config' button at the top right to proceed with the configuration.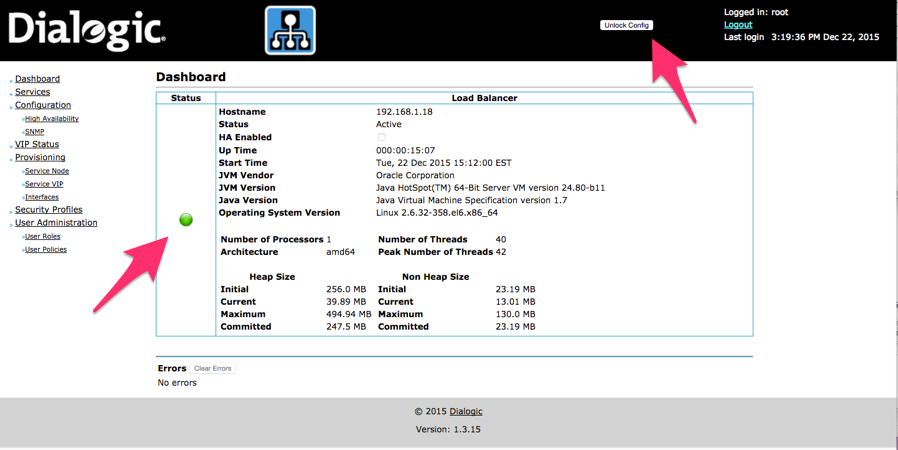 3.) First add an 'interface' by clicking 'provisioning -- > interface' on the left hand side. Then click 'add'. Leave the default 'eth0' interface. Finish by clicking 'add'
Note: My ethernet interface was 'eth0' but yours may be different based on the CentOS install.

4.) Next add a 'Service Node' by first clicking 'provisioning à Service Node' on the left hand side. Then click 'add'. For the 'address' input the IP addresses of the PowerMedia XMS server (or the SIP endpoint you are sending traffic to). Finish by clicking 'add'. Repeat the process for the second PowerMedia XMS server or SIP endpoint.
Note: My PowerMedia XMS IP address were assigned: 192.168.1.102 & 192.168.1.105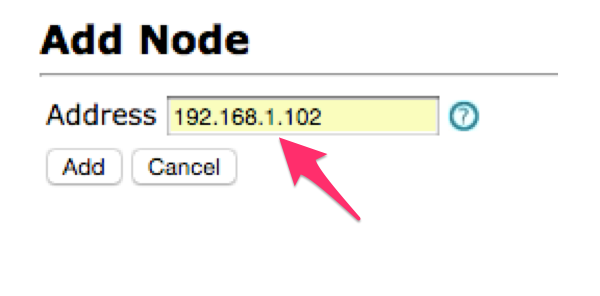 5.) Add a 'Service VIP' by first clicking 'provisioning à Service VIP' on the left hand side. Then click 'add'. For the 'address' input the IP addresses for the inbound virtual IP address (IB-VIP) which will handle in incoming SIP traffic assigned. Finish by clicking 'add'. Repeat the process for the second outbound virtual IP address (OB-VIP), which will be sending the SIP traffic to the endpoints.
Note: My IB-VIP address was assigned: 192.168.1.188 and my OB-VIP address was assigned 192.168.1.238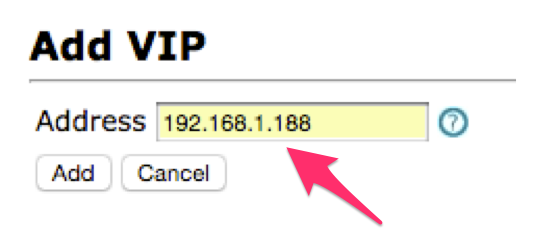 6.) Now that you've defined your ethernet interface, the service nodes and service virtual IP addresses, it's time to build the SIP load balancer service. First click 'services' on the left hand side. Once on the 'services' page, click 'add services' at the bottom.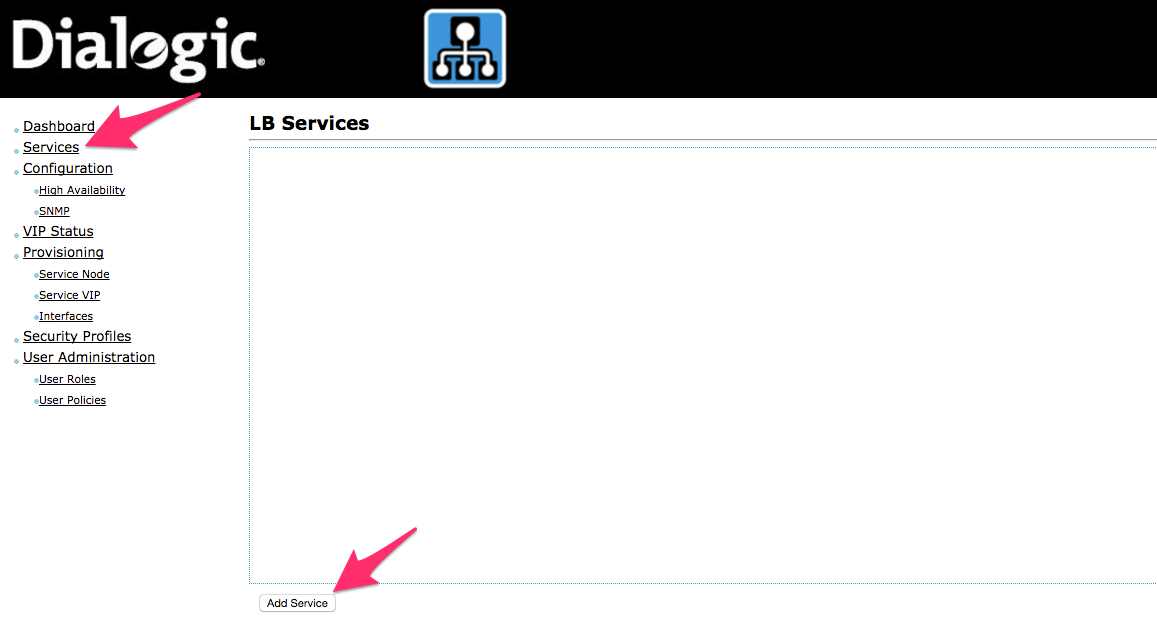 7.) Give your SIP load balancer service a name and leave the default type to be 'SIP (Stateless)'. Click 'next' to continue.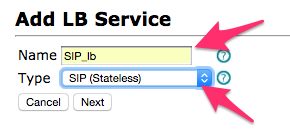 8.) Next is the LB Service Configuration for the SIP service. On this page, you can configure ports, routing options logging, etc. For this 'how-to' we'll only be changing the 'Inbound VIP Bind Address' and 'Outbound VIP Bind Address' created in step 5. Click 'next' to continue.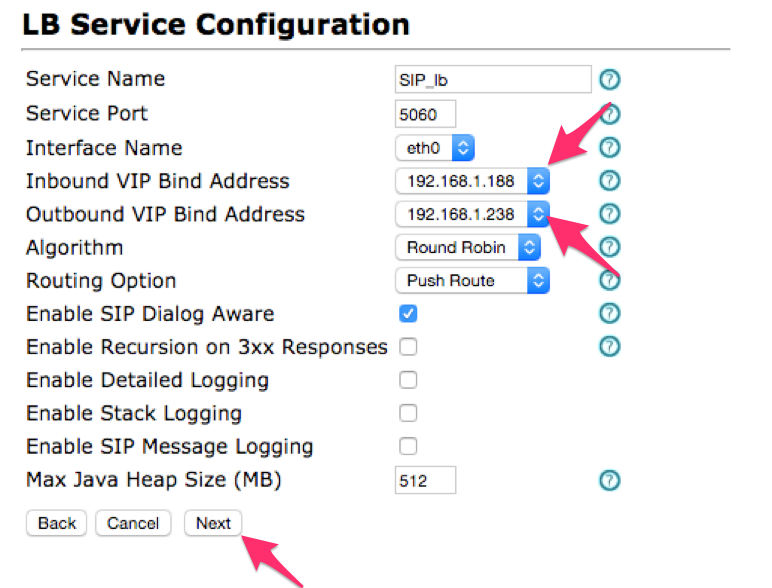 9.) Next we need to link the defined nodes (SIP endpoints) to the SIP service by first by clicking 'configure' on the right hand side.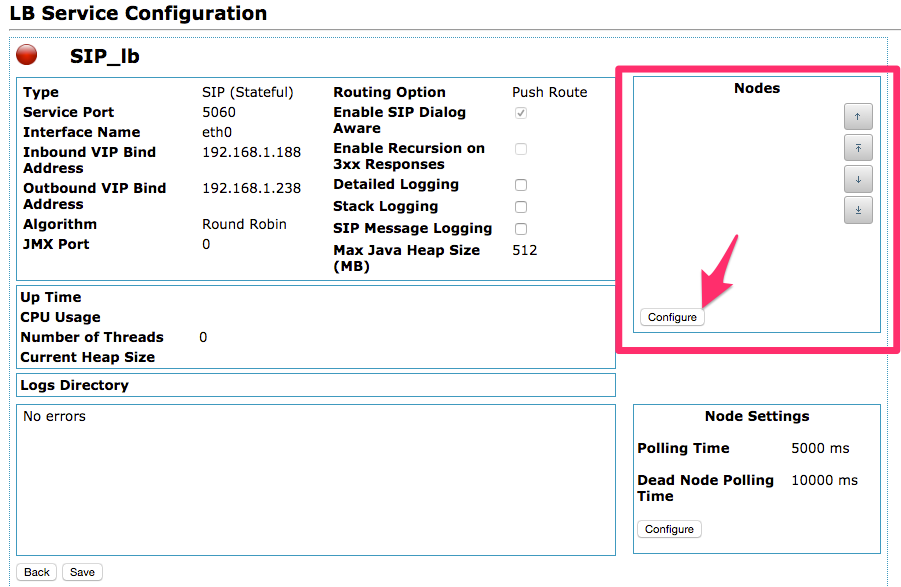 10.) At the 'configure nodes' page, click 'add'. Select the 'address' to be the IP address of the first PowerMedia XMS (or other SIP endpoint). Repeat the process for the IP address of the second PowerMedia XMS. Click 'add' then 'save' to continue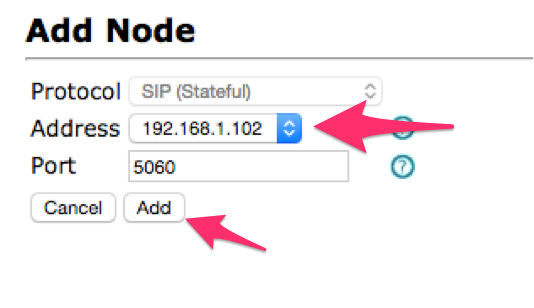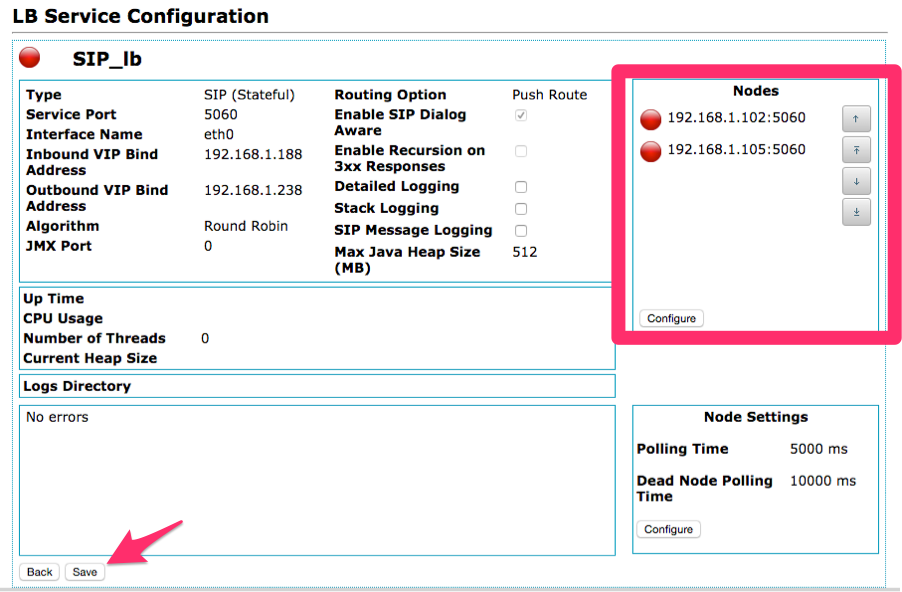 11.) If added and configured correctly, the 'sip_lb' service should change to green indicating your SIP service is ready and the SIP endpoints are available.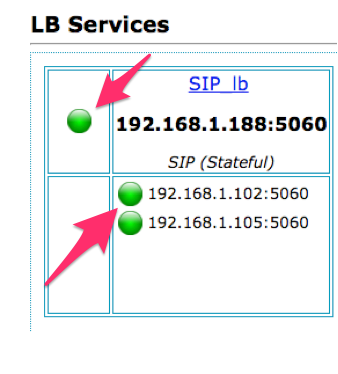 Testing your loadbalancer SIP service:
1.) Test the new SIP load balancer service by first opening your SIP phone and make a call to:
sip:annc@192.168.1.188;play=file://verification/greeting.wav;
Note - replace the @ IP address with the Inbound VIP assigned to your setup
Make sure audio has been established.
End the call and make the call again – the second SIP endpoint / PowerMedia XMS should now be receiving the call.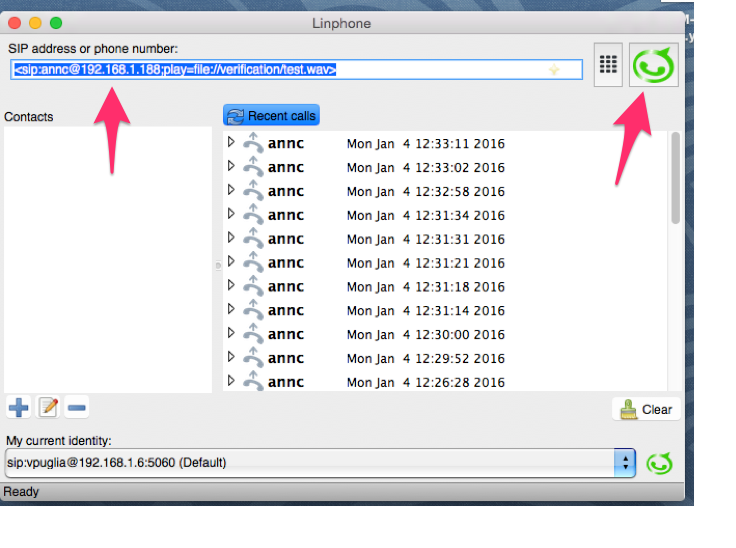 CONGRATS - YOU'RE DONE!!
---
Follow along the tutorial with Vince Puglia in this video:
Source: http://blog.dialogic.com/blog/how-to-scale-your-sip-applications-step-by-step-guide
Publish Date: June 16, 2016 5:00 AM
---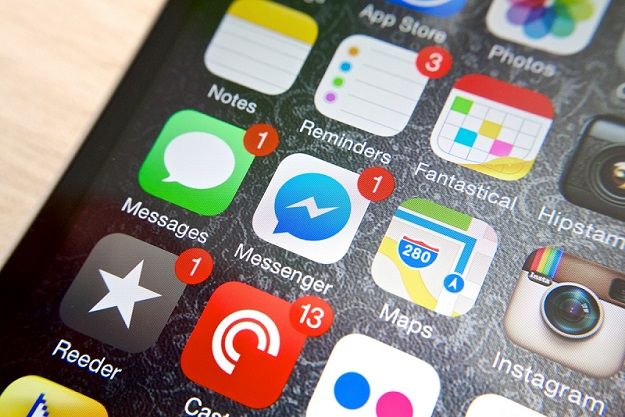 There's been quite a buzz coming out of Apple's recent announcement about iOS 10. What caught my eye was the part about messaging. Here at Dialogic we often highlight real time communications (RTC) solutions and how we can make those solutions great by working with partners. So when I see an article in TechCrunch with the headline "Apple's iOS10 Finally, Truly Begins the Mobile Messaging War," it's something to take note of.
Real-time communications takes its form as messaging, voice, and video applications. I think the author is right in that the new battle lines for messaging solutions are being drawn around the web and applications; and how additional differentiators will be around connections and payments.
In recent times, growing number of web developers have been buying development platforms from Dialogic to incorporate real-time communications into their web-based solutions. The industry is just beginning to see this take place. There are new tools, API level programming, and development kits to make it easier for web developers to embed RTC in their application. We've seen quite a range of applications being developed from web-based customer service solutions to payment type applications.
Messaging has proven to be an effective and efficient as a standalone solution. It's going to be exciting to see messaging as an integral part in a whole new range of new web-based applications.
Source: http://blog.dialogic.com/blog/real-time-communications-moving-to-the-forefront-of-web-based-solutions
Publish Date: June 15, 2016 5:00 AM
---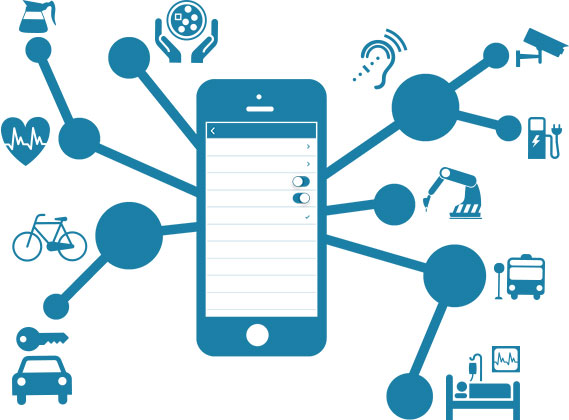 The Internet of Things is all about connectivity of everything. While some IoT connectivity will be from wired devices and sensors, much of it will be from mobile connections. But how does one measure mobile IoT adoption? According to the February 2016 Cisco VNI report, measuring the growth of smarter end-user devices and M2M connections is a clear indicator of the growth of IoT. And the VNI report predicts some whopping growth – from 604 million M2M connections in 2015 to 3.1 billion by 2020. Machina Research expected 24 billion connected devices by 2024. Clearly, smart cities, maintenance, automotive, healthcare, etc. are seeing the benefits of connected information.
And businesses and consumers are rushing in to either provide or obtain better customer service. Much of M2M connectivity will be from some kind of short range technology like WiFi that gets handed off to a wired network.
But on the cellular network front, will M2M really have any impact? I mean, these are short data interactions for the most part. Machina Research estimates that M2M in 2015 accounted for 2% of cellular traffic, growing to 4% by 2024.
These are pretty impressive stats. While it is not much, I was surprised by the 2% of traffic in 2015 because M2M connections just got started. Growth to 4% of the 2024 traffic is much larger than it sounds, considering the monstrous overall data growth on the cellular networks to come. So carving out a percentage growth is no mean feat. There are likely to be issues for sure, and the GSMA is wading in to try to help avoid any chaos at least on the LTE network. It is expected that the connected car segment will be using the LTE network and if we have self-driving cars by 2024, we better not have any latency. At any rate, I'm not sure if they'll help anyone avoid anything, or muck it up, or actually help, but they are in a position to try and do something.
In couple of weeks, I'll write a few blogs about the marriage of IoT and Real-Time Communications, so look for that.

Source: http://blog.dialogic.com/blog/cisco-vni-repot-on-iot-/-m2m-connectivity
Publish Date: June 14, 2016 5:00 AM
---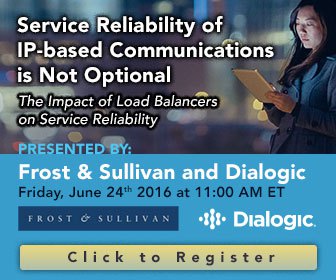 As we become increasingly dependent on IP networks and applications for everyday business and commerce, what used to be a "convenience" has now turned into a "necessity".
In a briefing this week with Michael Suby, VP of Research at Frost and Sullivan, he and I spend some time talking about the increasing dependence on IP networks and the impact of broadband penetration. His research shows a steady increase in network bandwidth utilization, end-user devices, and application proliferation. The questions is, with the increasing dependence on IP networks, what risks are we taking? What are the best practices to improve reliability?
Stepping back, we talked about the evolution of IP applications, looking back to when businesses offered new services and applications to consumers as a "convenience" or to off-load work from their office staff or contact center. Self-service applications were thought of as an alternative to calling or visiting a storefront. In those early days, if the self-service application failed, a customer could always pick up the phone or run over to the local store to perform their transaction.
As adoption grew and the consumers got more comfortable with mobile "apps", on-line transactions and virtual storefronts, what once was a "convenience" turned into to a "necessity", essentially becoming the primary point of interaction between consumers and the business. On-line stores, banks, insurance and other industries were becoming completely dependent on their IP applications, web sites and mobile applications to generate revenue and communicate with their customers. Amazon.com, esurance, PayPal, and many other examples demonstrate the shift to applications as the primary point of interaction with customers.
With the shift, the question is: "How have network designers made those applications more reliable?"
Michael will be kicking off a discussion on this topic and take a closer look at the role of load balancers in service reliability during a webinar I'll be hosting titled: "Service Reliability of IP-based Communications is Not Optional" a one-hour live event on Friday, June 24th at 11 AM ET. Also joining us will also be James Rafferty, Product Line Manager for Dialogic, explaining some of the techniques available to improve service reliability of IP networks.
We'd like to invite you to register for the event and join us for the live event, giving you an opportunity to pose questions and interact.
Source: http://blog.dialogic.com/blog/service-reliability-not-what-it-used-to-be
Publish Date: June 13, 2016 5:00 AM
---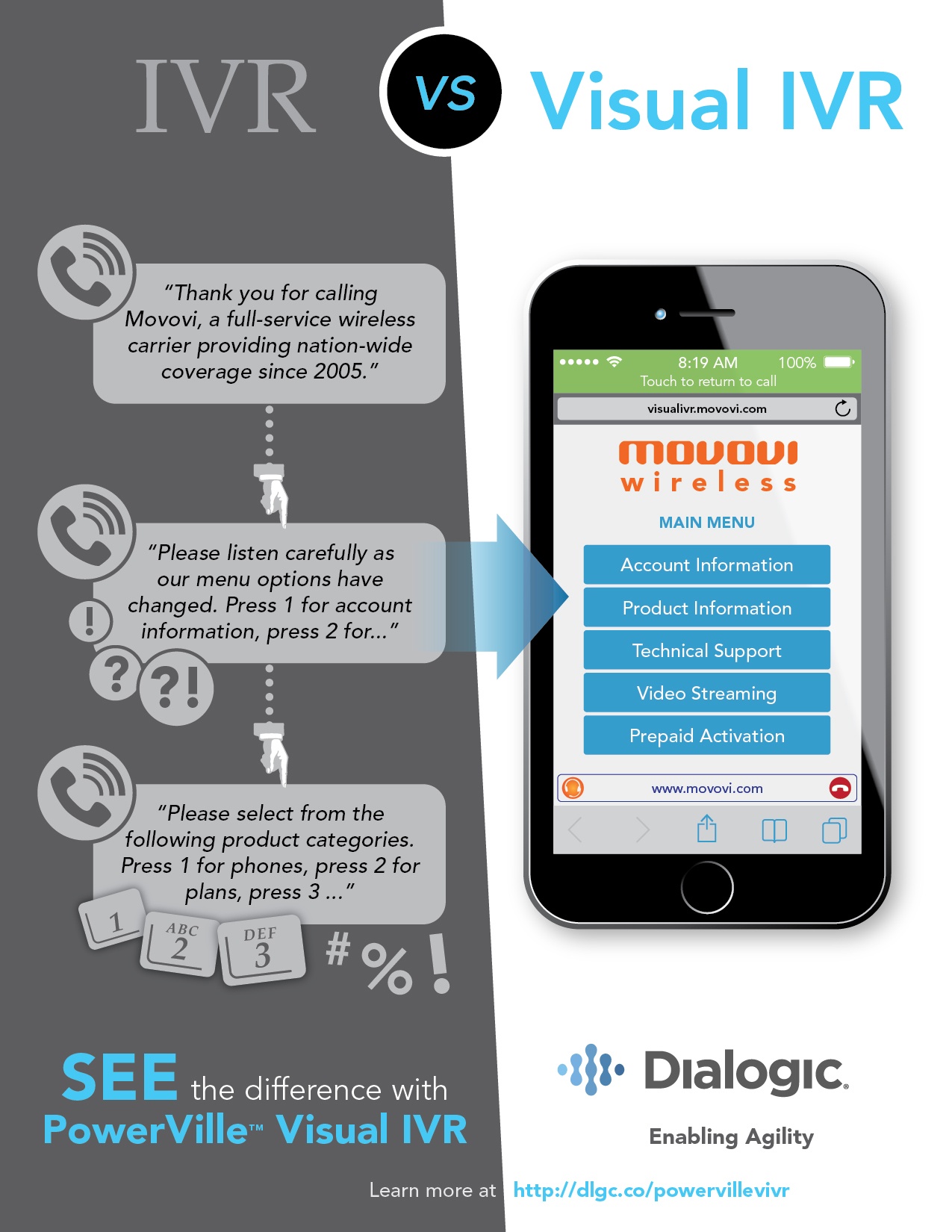 In my previous blog, I shared my thoughts on how Visual IVR, or Visual Interactive Voice Response, is an ideal service for Mobile Network Operators (MNOs) to run on their new LTE networks. What makes Visual IVR ideal for LTE is the need for speed, since the visual content is web-based (unlike Video IVR where the content is streaming together with the audio). In many cases, LTE also provides the added ability to simultaneously manage a voice call and data to a network. In short, Visual IVR enables the caller to make choices both visually and audibly by syncing the audio and visual portions of the call and LTE's rollout helps make this happen.
Currently, Visual IVR is being used primarily in mobile customer self-service. By providing a simultaneous visual alternative to navigating voice-only IVR menus, Visual IVR enhances the self-service process in a number of ways. For example, unlike voice solutions that can only speak one option at a time, Visual IVR displays a full set of menu options on a device's screen at one time, allowing users to quickly choose the path that is right for them. This then leads to higher selection accuracy, lower average handling times, and of course an improved user experience.
Here is a recent installation of Visual IVR in a mobile customer care environment… A leading liquefied petroleum gas (LPG) distributor in Latin America, recently installed PowerVille™ Visual IVR from Dialogic to offer its customers a visually-enhanced self-service portal, as the number of customers accessing self-service on mobile devices continues to grow exponentially. They selected Visual IVR for a number of reasons, including simplifying the interface to its mobile customer self-service portal for services such as payments, contacting customer service, ordering product and services, and locating their nearest store (integrated with Location Based Services).
The benefits of Visual IVR are many, especially in the self-service environment, with some studies showing that a caller can navigate a visual IVR menu between four and five times quicker than a DTMF (dual-tone multi-frequency) IVR menu. For the provider, Visual IVR relieves contact center volume by diverting more calls to successful self-service interactions. This is accomplished through:
Visual Navigation — faster than listening to audio-only prompts
Increased Accuracy —caller can read and reread options before making a selection
Information-Rich Input — complex alphanumeric data can easily be collected
By being able to share visual content, including documents and visual media, during a standard voice call, Visual IVR offers a mobile experience that engages the caller both visually and audibly.
Check out the demo video fo PowerVille Visual IVR below.
Source: http://blog.dialogic.com/blog/visual-ivr-answering-the-call-for-mobile-customer-self-service
Publish Date: June 10, 2016 5:00 AM
---

Facebook is at it again. Back in 2011, Facebook formally kicked off the Open Compute Project (OCP) along with companies like Rackspace, Intel, and Goldman Sachs. The intent was to share ideas and figure out ways to build the most efficient computing infrastructure at the lowest possible cost. The various projects were set up in an open source model to help hardware with more efficient, more scalable and more flexible platforms for computing, storage, and networking. There are now more than 150 member companies such as Apple, Google, and Microsoft, and recently this year service providers AT&T, Deutsche Telekom AG., EE, and Verizon all joined the project as well.
At the recent BCE event in Austin, Facebook was pushing something relatively new: the Telecom Infra Project, or TIP.The stated goal of this project was to "reimagine the traditional approach to building and deploying telecom network infrastructure." TIP is building on the open, community-led OCP as a model to drive innovation into the traditional telecommunications infrastructure, and has established inaugural projects in three basic areas:
Access – The focus here is on system integration and site optimization, access unbundling and media friendly solutions to more cost effectively serve difficult-to-access rural and urban areas and identify methods to improve throughput and the user experience by moving compute and storage resources closer to the network edge
Backhaul – Open Optical Packet Transport and high frequency autonomic access activities are the focus of this project that aims to define a Dense Wavelength Division Multiplexing (DWDM) open packet transport architecture that avoids implementation lock-ins and a lightweight and extensible software stack for routing, addressing, and security in packet switched IP networks
Core and Management – Core network optimization and greenfield network solutions are addressed here by deconstructing and disaggregating traditional core network bundled components and evolving telecom networks from the ground-up to be more efficient and IT-oriented.
I spoke with Hans-Juergen Schmidtke, Director of Engineering Infrastructure Foundation at Facebook, who gave a keynote at BCE in which he emphasized that Facebook did not want to be viewed as a telco. He added that that TIP was started in order to reimagine telco infrastructure, and one of the goals of the project would be to build infrastructure - hardware and software - for the telecom industry and change the concept of innovation in a telco environment.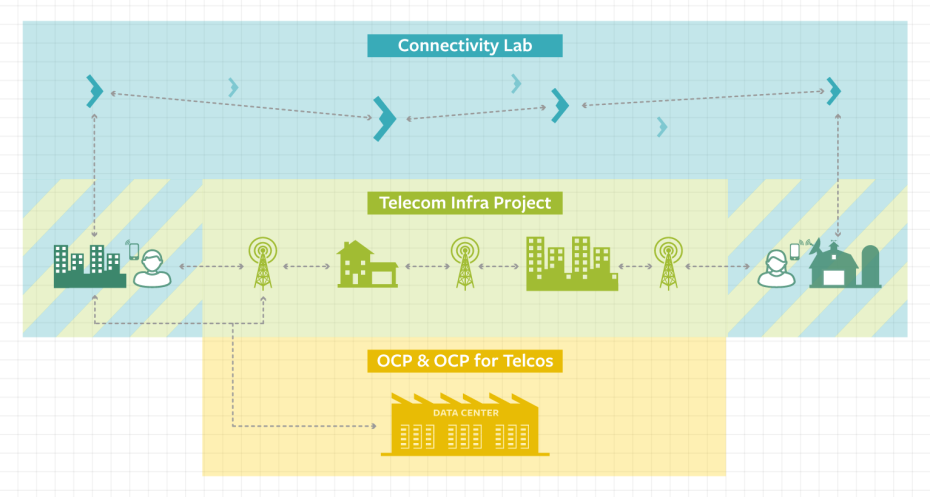 The Facebook initiated Telecom Infra Project is modeled on the successful OCP to drive innovation and openness into telecom hardware and software infrastructure
Service Providers and equipment vendors have started to jump on board. EE, SK Telecom, Deutsch Telekom, Globe Telecom, Intel, and Nokia are all initial members. So it seems that the same disruptive approach to the computing and data center architecture is being applied to telecom infrastructure. How will this align with what is going on in the ETSI NFV, OpenStack, 3GPP and other SDOs and open source activities that impact infrastructure functionality and end-to-end service orchestration? Does it even affect them? What innovation is lacking at the communications infrastructure and application layer that this project thinks it needs to address for hyperscale data center environments? The fact that operators are jumping on board along with major players from the vendor community tends to lend credence to this movement. What do you think? Tweet us at @Dialogic and let us know.
Source: http://blog.dialogic.com/blog/facebook-looks-at-telco-infrastructure-from-the-ground-up
Publish Date: June 9, 2016 5:00 AM
---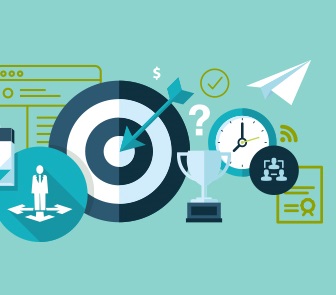 On April 19, Dialogic's Alan Percy hosted a webinar on "Application Development Best Practices." To listen to the webinar, please click here. While I was listening to that webinar, I had my Product Management hat on. In my blogs, I typically write about what's going on in the market, but today will be different. I'm going to get into my product management persona for a bit.
Everything they talked about in the webinar, such as using an Open Architecture, looking towards the future, and having mobile in mind is excellent advice. However, no matter how you cut it, one big item is understanding the requirements before you start. Even in an agile development method, one needs to understand the requirements. Agile doesn't mean you just go for it but the team discusses the requirements and prepares for what they need to do. That is going to save you time and money in the long run.
At any rate, go forth and develop. Just remember to think a little bit about the requirements before you start.

Source: http://blog.dialogic.com/blog/most-forgotten-app-development-best-practice
Publish Date: June 7, 2016 5:00 AM
---
With the Global Mobile Suppliers Association reporting a total of 494 LTE-based mobile data networks commercially deployed across 162 countries, it is reasonable to expect that rollout of closely associated voice-over-LTE (VoLTE) services will accelerate within the next few years. And as these VoLTE deployments accelerate, increasing numbers of end users will experience first-hand a remarkable improvement in the clarity of voice conversations along with an improvement in the ability to understand highly accented speech. These advantages are a direct result of VoLTE's use of High Definition Voice (HD Voice) digital media formats.
In the near future, HD Voice will likely become a significant differentiator for mobile service providers, especially as market competition intensifies. In fact, voice quality plays such a critical role in mobile networks that the 3rd Generation Partnership Project (3GPP) organization has standardized a newer Enhanced Voice Services (EVS) media format that offers full compatibility with existing HD Voice formats while providing an even greater sense of conversation "naturalness." Accordingly, with time-to-market and innovation as two keys to business success, it is not unreasonable to forecast that cutting-edge LTE service providers will likely deploy this new "being there" EVS voice technology in the not too distant future.
In the immediate term, the global rollout of VoLTE services will force mobile operators to reevaluate their end-to-end connectivity strategies, and to scrutinize the capabilities of their interconnect partners, both nationally and internationally. When HD Voice calls are placed wholly within a single IMS VoLTE network (between two HD Voice capable handsets), both parties on the call experience a "High Definition Voice" conversation. However, if an HD Voice call originates in one VoLTE network and terminates in a different VoLTE network, then whether or not this conversation takes place in HD Voice depends on the capabilities of any associated interconnect network operators, and more specifically, on their ability to support end-to-end HD Voice sessions. For this reason, the coming deployments of HD Voice service by mobile operators will create new interconnect opportunities. By differentiating with end-to-end HD Voice connectivity and transcoding services, interconnect carriers will be able to meet the needs of VoLTE users for both HD Voice connectivity and seamless interworking with disparate user devices such as webRTC soft clients.
Quoting from a May 2016 i3forum report, "60% of interconnect carriers still have over half of their international interconnect using TDM." Over the next few years, as more mobile operators require end-to-end connectivity for their VoLTE HD Voice services, interconnect carriers should anticipate decreased demand for lower cost TDM links and increased demand for all-IP end-to-end HD Voice interconnect solutions. The conclusion here is that a compelling growth opportunity exists for agile network operators that support carrier grade IP interconnect solutions and enable HD Voice conversations.
As a key network element providing secure real-time communication sessions and IP-to-IP transcoding at interconnect borders, Session Border Controllers will remain critically important to every network operator's success, both today and in the coming future. To learn how Dialogic Session Border Controllers bridge the gap between COTS and cloud with both appliance-based and fully virtualized solutions, simply click below and download a Dialogic BorderNet Session Border Controller Solution Brief.

Source: http://blog.dialogic.com/blog/the-rise-of-hd-voice
Publish Date: June 6, 2016 5:00 AM
---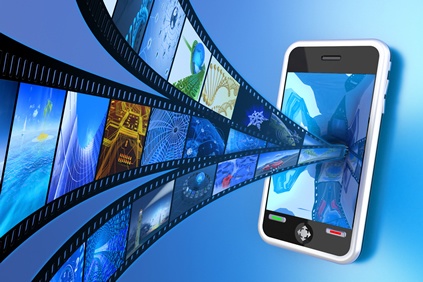 The past few weeks, I have mentioned the February 2016 Cisco VNI report to make some points about WiFi. However, the Cisco VNI report also has some other very interesting information that I wanted to point out in the next few blogs.
Today, I want to make some points about mobile video. As readers of this blog know, I have been very bullish about the potential of mobile video. 3G was the technology that enabled mobile video, but there were clearly limitations (the spinning circle became pretty ubiquitous to those of us that tried mobile video on 3G) and people used it only if they were committed to it. But with WiFi and 4G, bandwidth availability and improved speeds have enabled video to be similar to a wired home experience. And with larger screens, the viewing experience is also better. As such, it's no surprise that the Cisco VNI reports that mobile video traffic accounted for 55 percent of total mobile data traffic in 2015, and that by 2020 video will account for 75 percent of total mobile data traffic.
What video are people watching? By all accounts, streaming in one form or another, ranging from YouTube and Netflix, accounts for most of the video. And we're seeing more and more video advertisements as well, which isn't surprising considering we see advertisements all the time if we go online from our wired home computer. That model is tried and true. And while streaming will ultimately continue to dominate the mobile video space, video value-added services are becoming more and more prevalent. Services like video chatting, video messaging, making video conference calls / having video collaboration calls, and video IVRs are finding their way.

Source: http://blog.dialogic.com/blog/cisco-vni-report-on-mobile-video
Publish Date: May 31, 2016 5:00 AM
---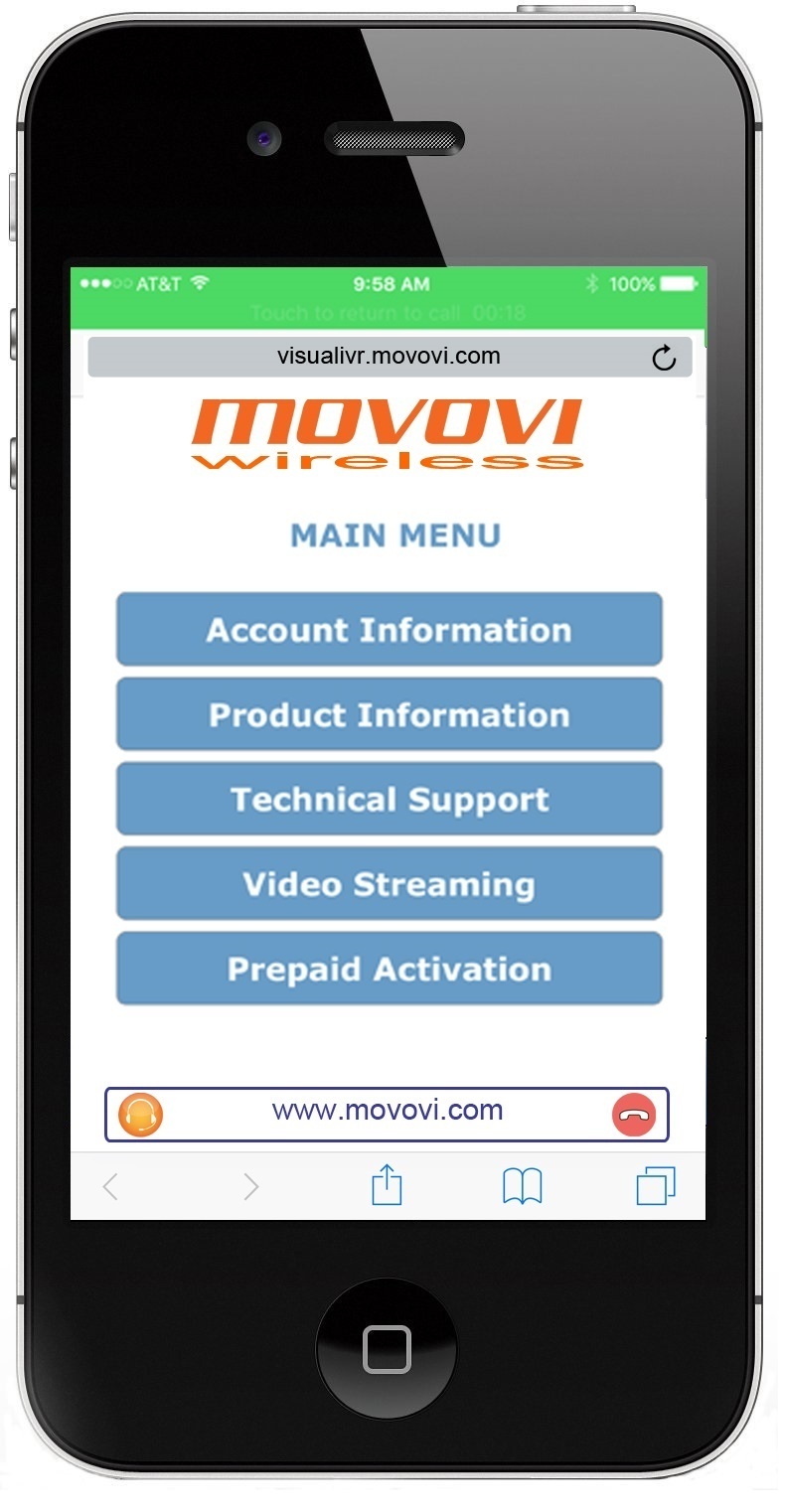 Services, Services, Services… you can practically hear the cry of Mobile Network Operators (MNOs) all over the world pleading for new (or even old) services that can run on their shiny new LTE networks. Of course, this is nothing new, as this repeated cry for services is generated with the roll-out of every new generation of network (e.g. 2G, 3G), because MNOs are well aware that the serious payoff comes primarily from running new services, which in turn can justify their investment.
FYI, in this blog I won't address what over-the-top (OTT) services are doing to the bottom line of MNOs, which goes without saying is why new services offered by the MNOs are so critical.
One service that is ideal for LTE is Visual IVR, or Visual Interactive Voice Response (different than Video IVR). At this point I know what a lot of you are thinking…IVR is dead, so why resuscitate it for a new network? My short answer is that Visual IVR is not your parent's IVR.
FYI, in this blog I also won't address the fact that IVR is not dead, but rather it is one of those unique applications that is continuously morphing itself into new services. For example, Visual IVR extends the capabilities of the IVR by transforming it into a collaborative web-based voice and visual mobile application for smartphones, tablets, and computers.
As the name clearly implies, Visual IVR adds a visual interface to the audio-only IVR by visually representing an IVR menu on the caller's smartphone or computer. What makes Visual IVR ideal for LTE is the need for speed since the visual content is web-based (unlike Video IVR where the content is streaming together with the audio). In many cases, LTE also provides the added ability to simultaneously manage a voice call and data to a network. In short, Visual IVR enables the caller to make choices both visually and audibly by syncing the audio and visual portions of the call, and LTE's rollout helps make this happen. In fact, Visual IVR not only visually represents the menu, but also allows for more content to be pushed out to the caller. Content such as documents and visual media.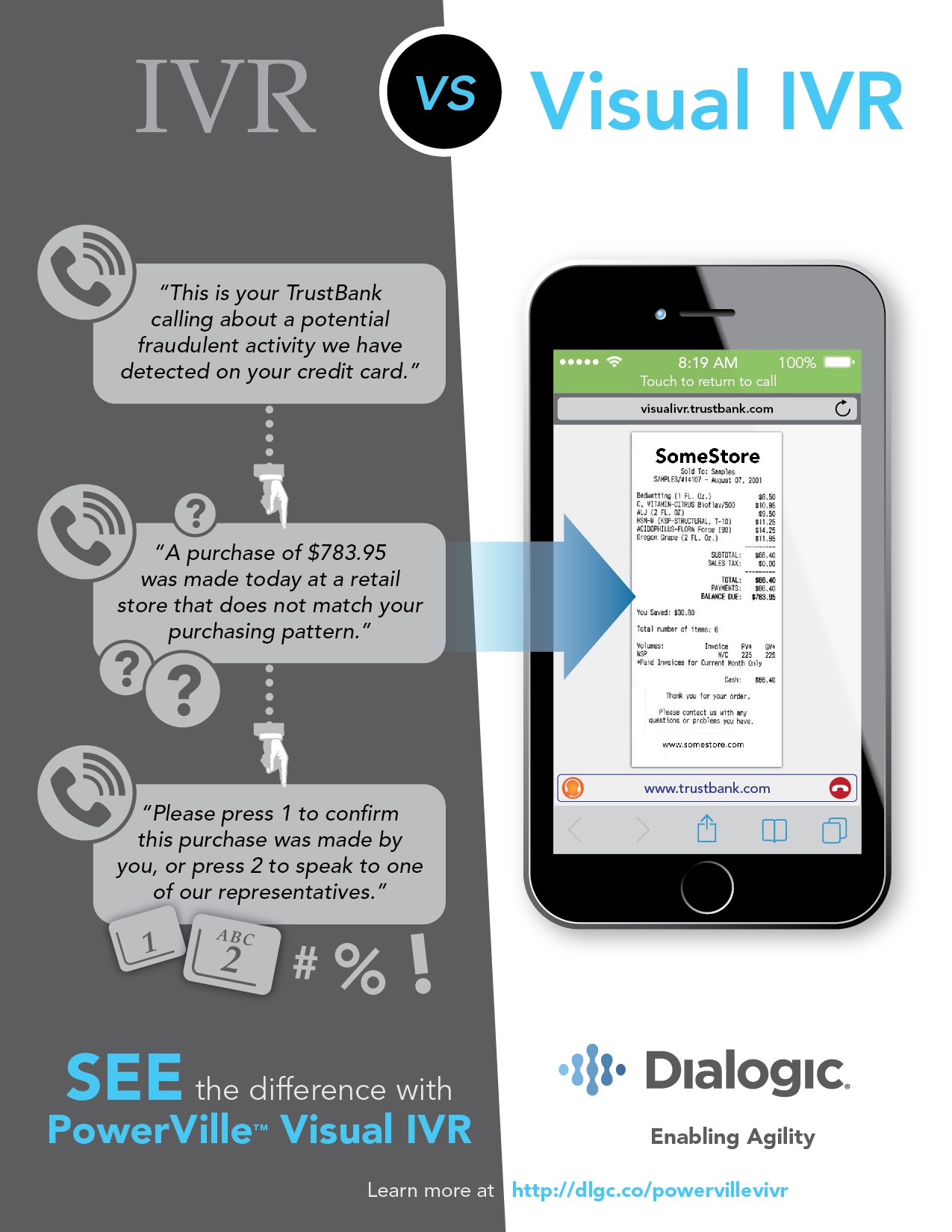 Visual IVR brings with it a lot of benefits…
Increased selection accuracy lowers average handling times/call duration (visual navigation is faster than listening to audio prompts).
Intuitive visual navigation improves first call self-service resolution rates better than speech recognition.
Information rich input allows for the easy collection of complex alpha-numeric data better than speech recognition.
Simultaneous interactive two-way voice and data interaction reduces the need for agent involvement.
Omni-channel experience enables the caller to start a chat or text session, send an e-mail, request a callback, or transfer to an agent.
Secure communication channel for data exchange to and from the IVR eliminates data theft.
Sharing visual content during conversations can boost comprehension and recall up to 600% (John Medina, Brain Rules).
As you can see, Visual IVR is an ideal service for MNOs to run on their new LTE networks. It is simple to use yet offers callers great benefits, especially when it comes to Contact Center services such as self-service customer care. That said, as is always the case, the success of any service, including Visual IVR, comes through the MNO's knowledge of their subscribers and how they best want their information delivered on this new and shiny network.

Source: http://blog.dialogic.com/blog/the-mobile-network-operators-cry-for-lte-services-is-answered-by-visual-ivr
Publish Date: May 27, 2016 5:00 AM