Dialogic - ContactCenterWorld.com Blog Page 7
Page: 1 | 2 | 3 | 4 | 5 | 6 | 7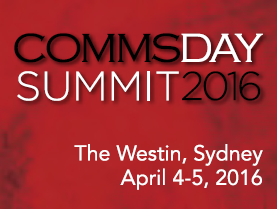 The CommsDay Summit 2016 in Sydney was many things. It was a family reunion of sorts for the Australian telecommunications market complete with appearances by the outspoken uncle and unappreciated sibling (I won't name who). It was a "no holds barred" wrestling match where incumbent wireline and mobile operators stood shoulder-to-shoulder with new entrants along with analysts and regulators to go over the state of the Australian telecommunications market. It was a group therapy session in which Telstra got up in front of the crowd to explain two recent outages for which they tried to make good by their customers by letting them feast on unlimited data for not one, but for two whole days in the past two months. During the most recent free data day, subscribers downloaded a record 2,686 Terabytes of data. That's equivalent to over 1.1 million HD downloads of the latest Star Wars movie!
There was "high drama and intrigue" on the galactic scale as politicians and carriers alike discussed and questioned the tactics around the national broadband strategy. There were also heroes: the conference participants raised more than $10,000 (AUS) for the Telco Together Foundation, an organization that helps disadvantaged communities in Australia and headed up by the CommsDay event master of ceremonies, Renee Bowker.
There was also coverage of emerging technologies and trends impacting the telecommunications market. For example, Luke Clifton from Macquarie Telecom talked about Software Defined Networking (SDN); Jeremy Deutsch from Equinix discussed hybrid clouds; and Guavus VP Chris Menier talked about Big Data. I had the opportunity to talk about Network Functions Virtualization (NFV) and how it was a game changer to the telecommunications industry. When I started the presentation, I asked for a show of hands on how many people were familiar with NFV, and not surprisingly only a few folks indicated they've heard of it!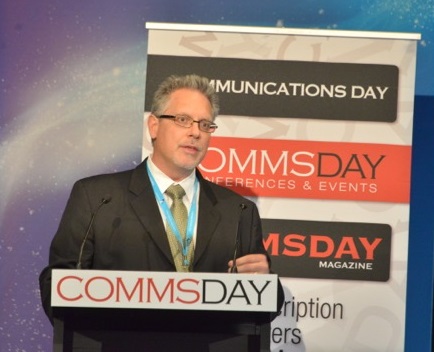 Thomas Schroer speaking about moving multimedia applications to the cloud at CommsDay 2016
Outside of telecom and the immediate vendor and analyst community, NFV is probably not well known, although it is shaping up to have a huge impact on how communications and data services are delivered as well as how Telcos are organized. You can download the presentation from SlideShare as well as other CommsDay Summit presentations.
Yes, CommsDay was all-encompassing and provided a cross section of perspectives, but I think it was missing one component – the voice of the enterprise!
Enterprise IT shops for years have known about virtualization, clouds and data center automation, and those concepts are making their way into the telecommunications infrastructure. What's not readily apparent is the benefit to enterprise organizations that NFV and Software Defined Networks will have. I did a blog recently on Network Slicing that talks about enterprise-centric use cases enabled by NFV and virtualization that's worth checking out if you haven't already. As virtualization, decomposition of network functionality, customization of network slices, and reduced costs in implementing networks plays out, enterprises will have more control in how they communicate not only with their employees, but also their customers.
So as the telecommunications industry evolves to a software-centric model that is more flexible and agile, enterprises heavily reliant on Big Data from IoT will have a bigger role in defining their communications infrastructure. I think for the CommsDay Summit to be totally comprehensive in the future and put them on the bleeding edge, the voice of the enterprise will be important to round out what's really going on with the state of the telecommunications market. Let me know what you think by tweeting us at @Dialogic.

Source: http://blog.dialogic.com/blog/commsday-summit-in-sydney-was-a-huge-success.-but-what-was-missing
Publish Date: April 18, 2016 5:00 AM
---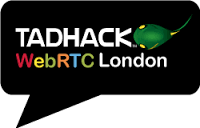 Imagine 5p.m. on a Friday, your boss asks you to write an application that can record WebRTC conversations and analyze the speech to identify specific keywords. Oh, and you don't really have experience using real-time communications and your boss wants to see a demo by Monday… Besides wondering what 'big-brother' could do with such an app, where do you even start???
Two ultra-talented developers, Roderick Hodgson and Alex Francois, created the incredible application mentioned above this past weekend at TADHack mini London.
Perhaps the most astonishing thing about TADHack mini London was the variety of skill level each hacker came to the event with. There were participants that had hardly any developer experience. Take for example Stephen Sales from Analysis Mason – he created his very first hack in a matter of hours, which was an automated pre-interview information-gathering application. Stephen came to the event with no intent to participate but with a little bit of guidance (and a little bit of needling), he rolled up his sleeves and delivered a fantastic first hack. Additionally, a new record was set at TADHack-mini London by having the event's youngest hacker at 15 years old. I don't exactly recall where or what I was doing at 15, but it certainly wasn't pitching a room full of strangers my app that I had just built.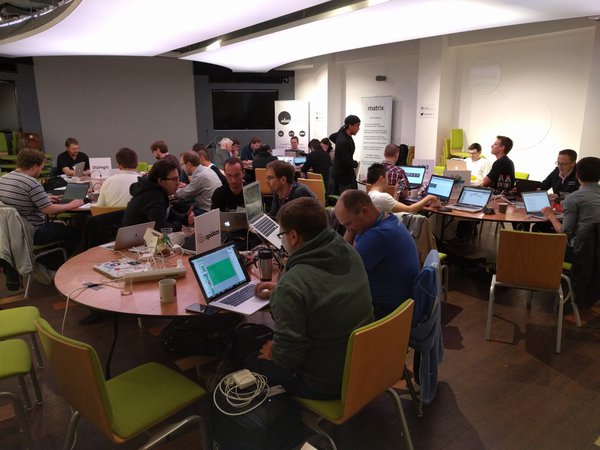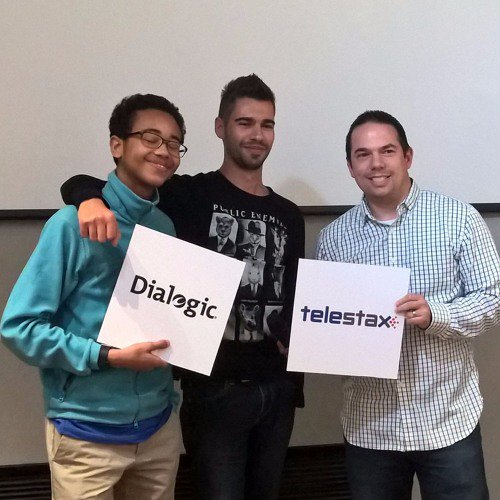 For me this is what it's all about – breaking down the seemingly impossible and making it possible. That moment when the call gets answered and you hear the voice of the person sitting next you - the wide-eyes and smiles of accomplishment only to be spoiled by the increasingly louder feedback echo that happens because you forgot to mute. Brilliant! - as they say in the UK. I admittedly have more selfish reasons for attending these hackathons. I seek to challenge our API story and how easily developers can go from zero to hello world. This year, we teamed up with Telestax, the maker of RestComm to help deliver an easy yet powerful API that any developer ANYONE can use. The conclusion was clear: the hackers were able to achieve more, way more.
Below is a brief summary of the hacks built using RestComm and PowerMedia XMS. I encourage you to check out the all hack pitches on the TADHack Youtube channel and get involved. It's fun, educational, and as we've seen, ANYONE can do it, not just hardcore developers.
//Vince
*** Grand Prize Winner *** Sebastian Schumann - "Contact Sentry" – an inbound call filter that would automatically allow contacts from address book through but would grey-list those not. Integrated with Slack that would prompt the called party to approve the grey-listed caller or block and blacklist them.
Roderick Hodgson and Alex Francois - "Distillate" – gave users the ability to record a WebRTC based conversation that would then be streamed to Watson for Text-to-Speech and Alchemy keyword analysis. The keyword summary would be sent to the users after the call via SMS.
Stephen Sale – "My First Hack" - an automated pre-interview information-gathering application that would then be summarized and sent to the interviewee via SMS before then connecting the interviewer to the interviewee
SPAN Services - "Mayday" – replica of the popular Amazon Mayday that would allow businesses/e-commerce websites to have a click-to-call type button that would connect customers to agents. Featured video calls, file sharing and co-browsing.
Dalton – "Jerry" – an inbound calling service that gives users the ability to reach their favorite applications without using data for example directions, news updates or even funny sound clips.

Source: http://blog.dialogic.com/blog/from-zero-to-hello-world-the-tadhack-london-story
Publish Date: April 15, 2016 5:00 AM
---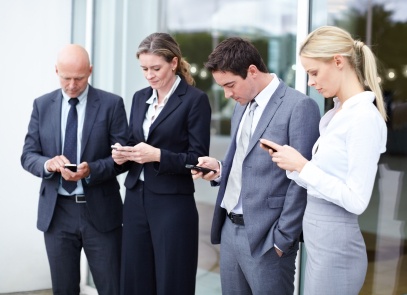 But will the hype this time be justified? RCS has been slowly building momentum mostly because VoLTE has been slowly building momentum. VoLTE is IP-based voice/video on an LTE / IMS network, and RCS adds IP-based messaging services that are also an evolution to legacy SMS and MMS messaging. So it makes sense that RCS started to be deployed once VoLTE started to be deployed. Is there really RCS business? If you believe in analyst reports, Markets and Markets has a report on RCS services stating that it will be a $5.7 billion dollar business by 2019. I wouldn't bet a business plan on an analyst report though.
So let's get back to MWC 2016. If you walked about the MWC show floor, you would have seen a decent amount of RCS signage (No Joyn signage. The last few service providers who announced RCS support decide to brand it something else). And those companies couldn't have known that Google was going to announce support of RCS. I talked to a few of them and they said they have business on RCS, and that's simply why they had RCS signage.
And really that's what it is all about – business. Will RCS ever truly replace the glory days of SMS? No. Will RCS end the OTT guys reign? No. But will RCS actually be deployed, giving value to hundreds and hundreds of millions of subscribers, and enable more than a few companies to carve out a RCS niche? Seems likely.
---
This is a 3-part blog series on RCS - Read part 1 and part 2:
Part 1 - RCS Reinvigoration???
Get some background info on what RCS is, how RCS did in the market in the past, and why RCS could potentially be a threat to iMessage and Over-The-Top apps like WhatsApp and Line.
Part 2 - Is the RCS Re-Invigoration just more HYPE???
Read why Joyn, GSMA's branding of RCS, didn't work out back in 2012, what's different about RCS this time around, and speculation about whether RCS will stick.

Source: http://blog.dialogic.com/blog/rcs-re-invigoration-reality
Publish Date: April 12, 2016 5:00 AM
---
Video in real-time communications has been coming for a long time. Unfortunately, its hype came way before it should have. Service Providers knew it had potential, but were never sure how to "sell" it (price, market, etc.). Also, let's not forget the discussions around the bandwidth requirements of video. So what has changed now that video is moving to the forefront once again? One big reason… WebRTC.
WebRTC single-handedly solves the incompatibilities for real-time communications by leveraging the web browser as the "application," facilitating browser-to-browser communication. Since the browsers themselves include all the capabilities needed to support real-time multi-media communications, no software downloads or registrations are needed, thereby standardizing communications between browsers, enabling audio and video communications, as well as data bridges to support text chat or file-sharing.
I know this blog is about video and WebRTC, but WebRTC has so many use cases that I feel the need to divert for one moment in that direction. In Tsahi Levent-Levi's bloggeek.me blog on February 11, 2016, he lists "a few" use cases off the top of his head that he has come across in the past year or so, where WebRTC was used or seriously planned to be used. Take a look, as there is little doubt in most people's mind that WebRTC is here to stay as a key to any realtime communications.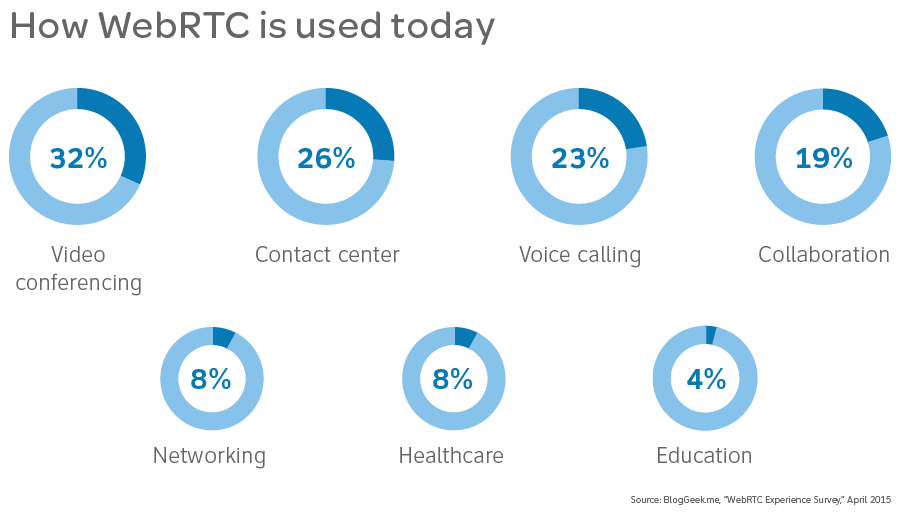 The benefits which video (and voice) derives from WebRTC are many. Here are three…
1. Security – WebRTC has an "always-on" voice and video encryption. The Secure RTP protocol (SRTP) is used for encryption and authentication, preventing recording and eavesdropping.
2. Quality – WebRTC uses the VP8 codec for video. This selection ensures interoperability and avoids the need for codec downloads that may contain malicious code.
3. Interoperability – The biggest value of WebRTC is its promise of interoperability with existing voice and video systems. If the existing devices use standard protocols, they will probably work with WebRTC-based devices.
Let's look at Video ACD and see how WebRTC helps make it a reality. You are on your smartphone shopping on a website and have a question on a Blu-ray player you want to purchase. You click the click-to-call button and WebRTC facilitates the browser-to-browser communication. At this point, a live video session with an agent begins, or if an agent is not available, a generic video-on-hold is played.
You can take this one step further by enabling the live video session and video-on-hold to be "contextually aware." By this, I mean pushing data through WebRTC so your call can be routed to a Blu-ray specialist who knows the exact model of the player you are interested in. Of course, the same applies to the video-on-hold, where it would play a video about the Blu-ray player you want to purchase, highlighting all of its functions and features.
Talk about enhancing the user experience! With WebRTC, video is here and now.

Source: http://blog.dialogic.com/blog/hello-video.-where-are-you-i-am-here-with-webrtc
Publish Date: April 8, 2016 5:00 AM
---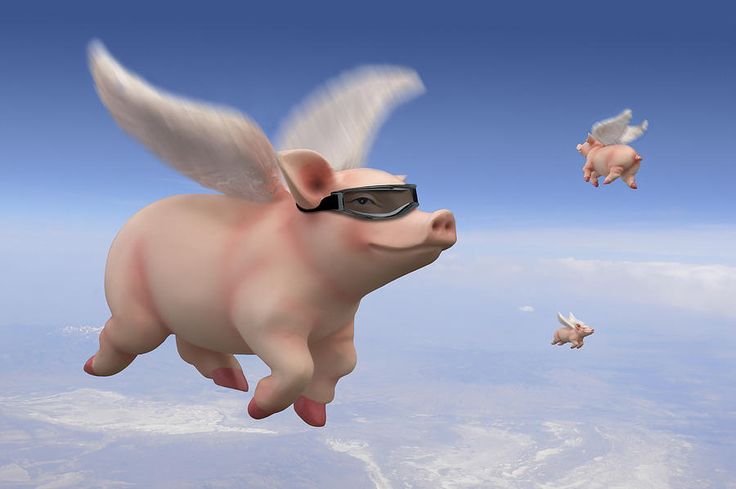 Last week, I explored the RCS re-invigoration due to the Google announcement of RCS support. And given that the GSMA historically has supported RCS heavily, and anything involving Google would get huge interest and press, it comes as no surprise that we saw quite of bit of hype about RCS coming out of the GSMA during MWC.
However, also remember we saw much hype in 2012 when Joyn, the GSMA branding of RCS, was announced. Remember, this was the time when the likes of WhatsApp and Facebook and other instant messaging smartphone apps were starting to very seriously erode texting revenues. So the GSMA and service provider response was to announce something (that already existed!) evoking joining and interacting with a community that went across service provider boundaries. It didn't say what it did; it just said "join." But the real world isn't a movie and the "build it and they will come" aspect of Joyn didn't work out. Those other non-Joyn services already did messaging very well, so the Joyn / RCS value was scant. The hype quickly died down.
Since that time, WebRTC technology has also entered the fray since the days the RCS/Joyn specs were completed. There are many service providers looking at WebRTC as well, which would enable many of the same kinds of values as RCS provides. It is still too early to tell how WebRTC will impact RCS, but it seems destined to.
---
This is a 3-part blog series on RCS - Read part 1 and part 3:
Part 1 - RCS Reinvigoration???
Get some background info on what RCS is, how RCS was in the marketplace in the past, and why this time RCS could potentially be a threat to iMessage and OTT.
Part 3 - RCS Re-Invigoration Reality
Jim Machi has speculated about a RCS reinvigoration in part 1 and 2. Here's the reality of where RCS is now, and a realistic view of where it's going.

Source: http://blog.dialogic.com/blog/is-the-rcs-re-invigoration-just-more-hype
Publish Date: April 5, 2016 5:00 AM
---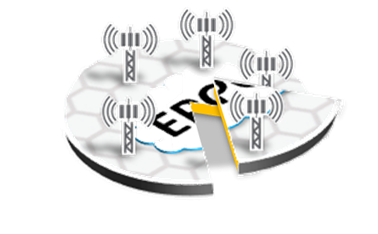 NFV and 5G are bringing some interesting capabilities to the mobile network near you. With the NFV framework, operators are pivoting towards deploying virtualized infrastructure that traditionally was deployed on purpose built hardware platforms.
A number of Proof of Concepts by ETSI NFV ISG participants have involved orchestration and virtualization of Evolved Packet Core (EPC) components that provide the data and control plane functionality needed to deliver a mobile service. Many vendors are already providing cloud-centric solutions that move the processing of mobile traffic and signaling to virtualized environments running on COTS data center servers without the need for specialized hardware platforms. Even though special care should be taken when virtualizing applications that process data plane-centric real time media traffic, with virtualization, you no longer have to deploy media processing, MME, SBC, SGW or PGW or other EPC and IMS/VoLTE functions on purpose built hardware platforms.
You're also no longer limited to where you can physically locate the functionality. The old model of deploying purpose built platforms leads to over provisioning, stranded capacity and large upfront CAPEX investments solely to support single tasks within an end-to-end service. With virtualization and a data center cloud infrastructure, functionality can be placed at various points around the globe where it makes sense to best support subscribers and meet performance SLAs.
By using a virtualization model and an NFV approach you can distribute and manage that functionality using cloud concepts that have been around for a while in the data center space. This approach enables you to start to automate the lifecycle management of network functions and the services they support to optimally respond to changes in subscriber demand.
Mobile networks were originally optimized for voice services. As the demand for mobile internet access exploded, new generations of mobile technology were introduced in both the Radio Access and mobile core to support even newer devices that generated more and more data traffic. IoT and M2M applications like connected cars, wearable devices and remote sensors are set to expand the number of connected devices significantly. However, many of these end points have a different set of mobility needs - some can be statically deployed; others are more control plane intensive relative to their data plane requirements. The extensive functionality of a "one size fits all" network to support the lowest common denominator of devices is not in tune with the current trends in device technology and IoT use cases. By taking virtualization down its natural progression path, it's now possible to create a mobile core network that is used specifically for one group subscribers or class of service or even for a particular type of connected device.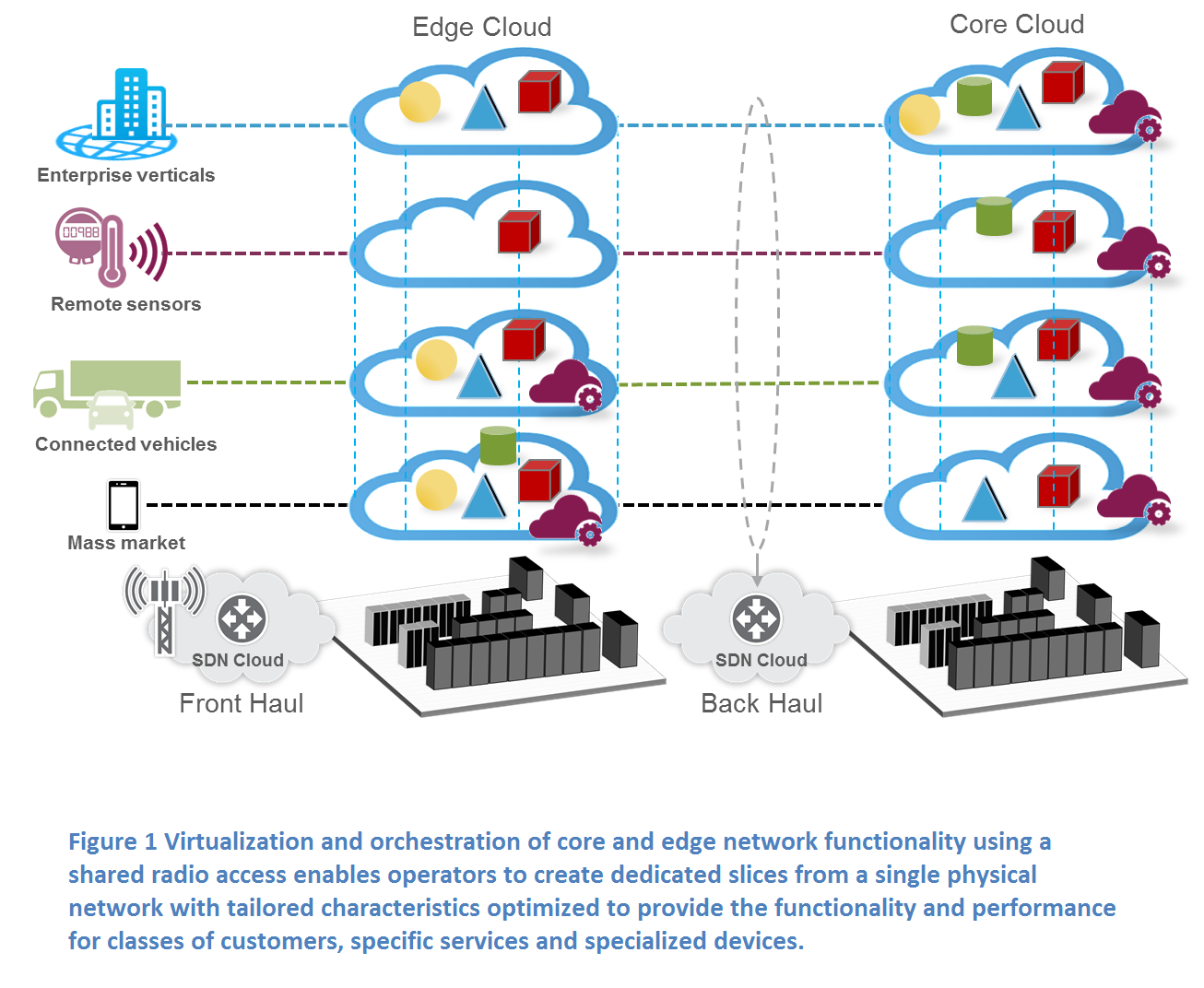 Virtualization of network functionality on COTS data center servers combined with cloud-centric management and orchestration practices provides the framework to allow operators to spin up a collection of functions in the mobile core geared for a specific group or class of users in a dedicated and isolated "Network Slice" – you can read more about this concept in a white paper published by the Next Generation Mobile Networks (NGMN) Alliance. If mobility is not needed, for example in the case of static remote sensors, then that functionality could be eliminated from the slice. If a large amount of cached data is required or faster response time is necessary such as in the case of vehicle-to-vehicle communications for connected car applications, then data and control plane signaling functionality can be moved closer to the mobile edge for lower latency.
Network slicing approaches to delivering connected services also extends to enterprise verticals in a way that - without virtualization and NFV - was previously not practical. Take for example a large enterprise consisting of field and office employees that wants to provide secure access to its internal data over a collection of smart phones and tablets. A virtualized EPC slice can be created specifically for that enterprise that conforms to the information security and internal logging requirements. In addition, specialized voice applications can be layered on top of that network slice tailored to the needs of that particular vertical opening up opportunities for innovative application development. It's almost like choosing what toppings you want on your personalized slice of pizza!
What other applications can you think of when it comes to deploying customized network slices for enterprises or connected devices and IoT? Let us know by tweeting us at @Dialogic.

Source: http://blog.dialogic.com/blog/give-me-just-a-slice-of-that-network-pie
Publish Date: April 1, 2016 5:00 AM
---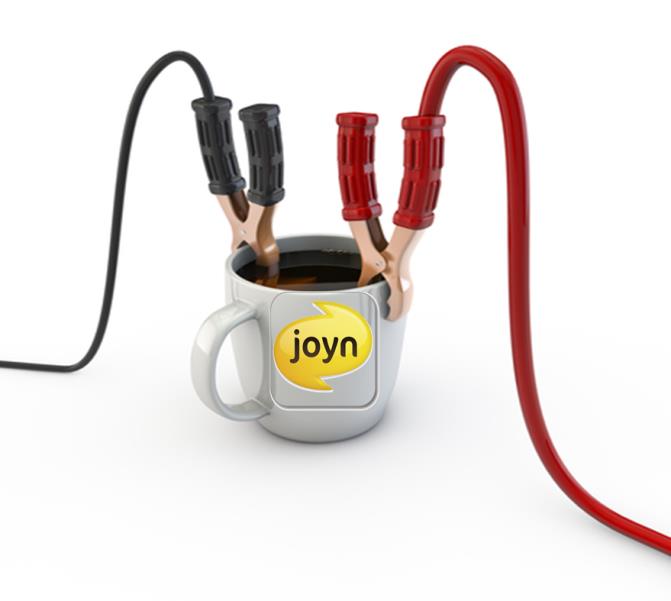 RCS (Rich Communication Services) got a large boost at Mobile World Congress with the announcement from Google that they will support RCS. RCS is essentially SMS/MMS that can work over IP networks and can enable presence and location, and sharing of media. Kind of sounds familiar, except this is an app that is from your service provider, which adds much value to them. It's available on some newer Androids, but not iPhones. If you have a newer Android, this feature could have value to you. It's linked to your phone number instead of your identity via some app. This means both parties don't have to have the same app to talk to each other. It's like iMessage on the iPhone, but on Android and with more features.
This may not matter if you're talking to your friends and you both have an app that you like and stay on all the time, but in business settings where that is unlikely and hard to coordinate, RCS will be very useful. It's all about the different use cases.
This battle for the phone number versus your identity on an app is really about, and will shape, the entire future of telecommunications. But that's a whole other subject worthy of many words and future blogs.
It's important to remember that RCS is not some new invention that has come about to battle the big bad OTT guys, but has been around for some time. That's because with the new IP networks, the industry recognized there needed to be ways to message on them. There has only been limited success to date, however. If you go to the Wikipedia link I hyperlinked to at the beginning of this blog, you'll see that there is only a modicum of service providers supporting RCS today. Remember though, part of that reason is because the phones need to support RCS and there have been few to date. That will change when the new Androids hit the market. Another part of the reason, obviously, is because there are messaging apps that run on the data networks, the so-called OTT apps. So the general thinking is no one really needs another one.
With this as a background, enter the Google announcement. Obviously, Google has an interest here because they have an interest in Androids and they also know that the future of telecommunications involves the battle for the phone number versus app identity. So they are out to stop Apple and WhatsApp and that crowd. And what better way to do that than force an alliance with the phone numbers, and offer the Android RCS client (called Jibe) for free?
---
This is a 3-part blog series on RCS - Read parts 2 and 3:
Part 2 - Is the RCS Re-Invigoration just more HYPE???
Read why Joyn, GSMA's branding of RCS, didn't work out back in 2012, what's different about RCS this time around, and speculation about whether RCS will stick.
Part 3 - RCS Re-Invigoration Reality
Jim Machi has speculated about a RCS reinvigoration in part 1 and 2. Here's the reality of where RCS is now, and a realistic view of where it's going.

Source: http://blog.dialogic.com/blog/rcs-reinvigoration
Publish Date: March 29, 2016 5:00 AM
---


One of my first jobs as a software developer in telecommunications was writing an automated hotel wake-up application based on TDM voice boards using an ancient API. Who knew that nearly 30 years later, applications and APIs would still be a huge catalyst of innovation? If the last few months can be used as a gauge, building communications applications with APIs is seeing a resurgence, fueled by new APIs, cloud-based services, and easy-to-use developer tools.
A few examples that really stood out from my travels this last few months: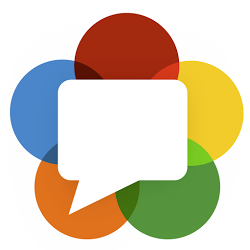 During the AT&T Developer Summit Hack, upwards of 22 teams put together some great ideas, building on the open WebRTC platform that AT&T offers the market. My favorite hack combined both WebRTC and IoT to create a medical monitoring application that allowed a patient to remain in their home, but their medical condition was constantly monitored by medical staff who (if there was an anomaly) could immediately initiate a video call to the patient. Another fascinating idea allowed students to take their smartphone devices to school, but using Geo-fence technology, limited the people they could interact during school hours with to a whitelist created by their parents.
Earlier this month, Enterprise Connect dedicated an entire track to Communications APIs, showing off some early applications during an "APIs In Action" session. A couple great real-world examples were presented by Nicholas Kwiatkowski from Michigan State University starting with an application to replace expensive monitoring services for their 600+ elevators on the various campuses. A group of students created an application that would handle any elevator emergency call box activations, sending a text message to an available maintenance staff member and routing the call to a campus security desk. By eliminating the separate analog PSTN lines and specialized answering service accounts for every elevator, the college saved the cost of the call answering service, improved response times and simplified maintenance record keeping. Interestingly, this application was initially developed by students during a Hack-a-thon, later hardening the application and deploying it campus-wide. Another application created at Michigan State University integrated the campus parking meter system, sending reminders of pending expiration of paid-parking and offering an opportunity to extend the meter with a text response.
But that's only a few examples from this last couple months. There is plenty of opportunities to see APIs in action in the upcoming months:

The weekend of April 9th and 10th, TADHack-mini in London will play host to a number of developer teams vying for their share of a $5,000 prize pot. Dialogic and Telestax are joining forces at the event, offering developers a very powerful and developer-friendly environment to implement their ideas. Got an idea and want to complete? Registration is FREE and can be done at: http://tadhack.com/2016/mini-london/ Watch for tweets from the event as we watch the developers pitch and craft their hacks.
Later this summer, the folks at TMC have organize an event titled "All About The API", held July 18th – 21st in Las Vegas. Much broader than just communications applications, this event explores the broader marketplace for software building blocks and their APIs that can be used to create integrated services. Dialogic will be participating in a number of speaking sessions and sharing our cloud-enabled APIs with potential developers. More on the event at: http://www.allabouttheapi.com/
If this summer wasn't packed enough, the Kimmel Center at New York University is home to the Real Time Web Solutions Event, an event focused on bringing web communications to applications, creating new business opportunities and strategic advantages. More on the event at: http://www.webrtcexpo.com/east/Default.aspx
And always available, you can follow the conversations and news for developers available on the Communications Developer Zone at: http://www.communicationsdeveloper.com/
Some final thoughts:
While the move to the cloud, new software development tools and methodologies have dramatically changed the way applications are created today (leaving my developer skills in the dust), a good idea will always find success. I'm waiting to see a bright-eyed student craft an intelligent wake-up application at one of the upcoming Hack events. Some things have not changed..

Source: http://blog.dialogic.com/blog/innovation-is-hot-again-with-communications-apis
Publish Date: March 28, 2016 5:00 AM
---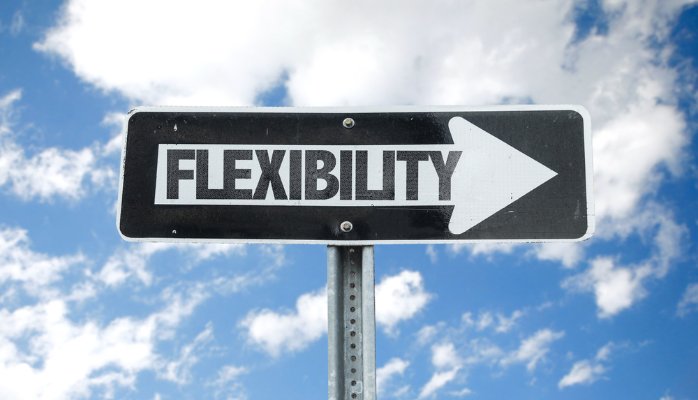 Privacy vs. Security is all over the news and it is not going to go away any time soon, so you might as well sit back, enjoy this epic battle, and grab yourself a soda and some popcorn (I would like mine with butter please).
As Tim Cook, CEO of Apple, said, "The case is about much more than a single phone or a single investigation," and there is no doubt that it will affect all of us and how we do what we do. Of the dozens of articles I have read, the most relevant to me was not the whole privacy vs. security issue, but a few words recently written by Jason Bloomberg in his Forbes article The Apple vs. FBI iPhone Encryption Battle: What It Means For Enterprises.
Jason wrote "The definition of digital is the fact that customer desires and preferences are driving enterprise technology decisions." For us in the world of applications, this screams FLEXIBILITY, and by flexibility I mean being able to constantly adapt our applications to meet the ever-changing desires and preferences of our subscribers, or lose them to the competition. Applications generally fall into two categories – revenue-generating (e.g. value-added services) or cost-savings (e.g. self-service customer care) – and both cases affect the bottom line. If we want to positively impact our bottom line, our decision must be based on the needs of our subscribers.
An example will help illustrate my point of subscribers driving our (application) technology decisions. Omni-Channel access is a perfect example of flexibility which came from the subscriber's preference. We, as the providers of the applications, realized that subscribers would use our applications more often and at various times, if we gave them the option to access the applications via voice, video, SMS, USSD, and/or social media, especially the younger generations. So we are doing it and it is proving right. By making our applications more flexible with Omni-Channel, we are now positively impacting our bottom line.
Let's face it, our customers' needs driving our enterprise decisions is one of the most fundamental tenets of a successful business (Business 101), which is why Jason's definition of digital was so on point. We often need a simple reminder to stay on track, so thanks, Jason.

Source: http://blog.dialogic.com/blog/definition-of-digital-customer-drives-decisions
Publish Date: March 25, 2016 5:00 AM