A Marketer's Guide to Getting Started with IVR - DialogTech - ContactCenterWorld.com Blog
Interactive Voice Response (IVR) technology allows you to automate voice interactions between callers and your business. Marketers today use IVR to automate a wide variety of activities, including qualifying and routing inbound callers, conducting phone surveys, confirming appointments and deliveries, and much more.
If you're in marketing, getting started using an IVR isn't as daunting as it may seem! You don't need any IT assistance or technical expertise. Based on your marketing goals and objectives, you can create a new IVR quickly and easily using an IVR solution built for marketers. But before you do, you should first answer some basic questions to help create the best IVR:
What do you want the basic setup of your IVR to be?
Think about your brand and the tone that you want to convey. Within an IVR you can upload or record your own voice for the audio or type in text that the computer will read using a simulated voice, known as text-to-speech (TTS). If you will be using TTS, you can select it to be a male or female voice as well as the speed that the computer reads the text that you have entered.
TIP: Recording your own voice may be more time consuming, however it will likely provide a more personal caller experience, especially if you have more in-depth questions. If you are short on time and have a more simplistic set of questions TTS may be the best route.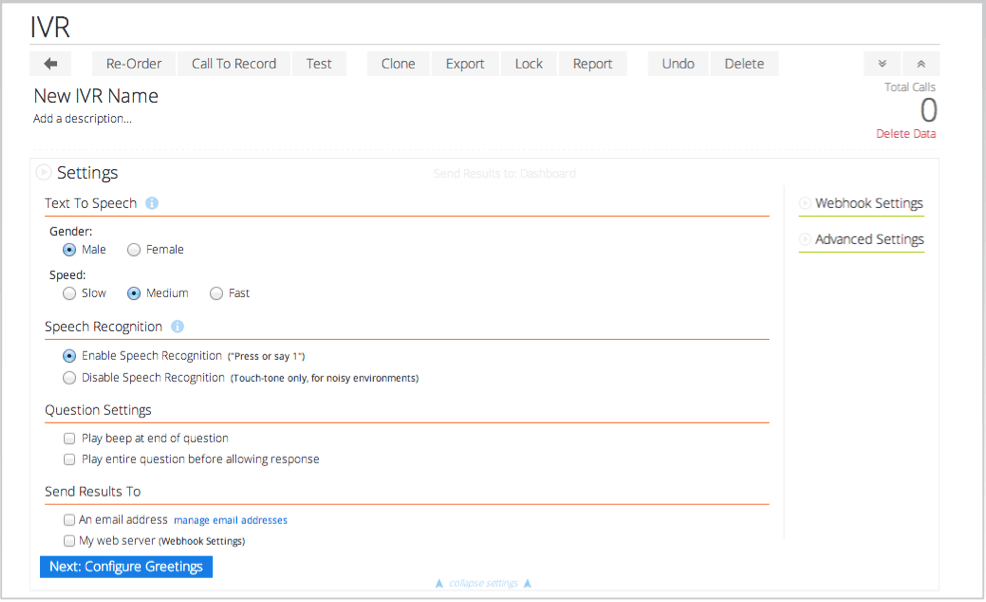 Would you like there to be an inbound or outbound greeting? Or no greeting at all?
Use an inbound greeting if respondents will be placing a phone call into the IVR. Use an outbound greeting if you will use this IVR along with a voice broadcast to have the system place calls to your respondents. By using voicemail detection you can ensure the system leaves the entire message on an answering machine and, if you desire, allows you to deliver one message to a live person and a different message to be left on answering machines.
TIP: Remember that in some instances you may not need a greeting. If respondents are entering the IVR from another IVR or if they are being transferred in from a live agent they will not need a greeting. [/proTip]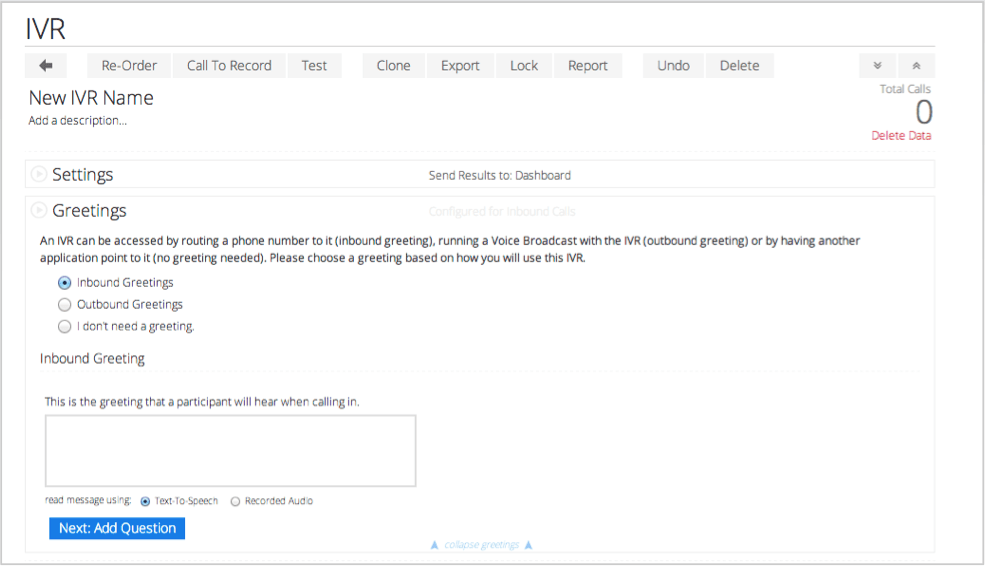 How and when do you want respondents to answer?
Do you want respondents to be able to answer verbally or via their keypad? Enabling speech recognition allows your respondents to respond to the IVR with their voice or by pressing a key on their phone's keypad. If speech recognition is disabled, respondents must use their keypad only to respond to the IVR questions. In addition, think about if you want to play a beep at the end of the question or play the entire question before allowing response.
TIP: You may want to choose the latter option if you want respondents to hear the entire question before they have the opportunity to respond. This is especially important for multiple-choice questions or if important information is provided at the end of the question.
What types of questions will you be asking? Structured, unstructured, or both?
Based on the data you would like to collect, you can ask yes/no questions, multiple choice, record answers, ask for the date, time, numerical digits, phone numbers, currency and more. Be sure to think about the ideal format of the results. What questions and response type are going to be the most efficient and accurate for you to receive?
TIP: Don't forget to set up the next action you want the IVR to take after each questions. You can have the system move to the next questions, select an action based on a response, transfer the call, end call, go to another question and more.
Test, test, and test again!
Take the time to go through the entire process using different responses several times. Ask other members of your team to do so as well. One confusing prompt or incorrect question flow could provide a poor caller experience and loss of callers and revenue.
How would you like to receive the results?
Determine how you want to retrieve your IVR results. Do you want to look them up in your IVR portal, have them emailed to you or your team, or have them passed to a web server?
For example, mattress retailer Sleep Train uses an IVR phone survey to ask customers post-delivery questions which they then access in web-based reports. "It has saved us a ton of time while still enabling Sleep Train to ensure our customers were treated right", said Dwayne Bradley, Telecommunications Manager at Sleep Train.
TIP: Think about the number of responses you are likely to receive and the time of day that most will be coming in. Also, will there be responses that need immediate follow up? Would it be a helpful reminder to have them emailed? Or would it be more convenient to check within your IVR portal as needed? You can always adjust the option as needed.
Marketers can use IVRs in dozens of ways to improve their marketing and save time and money. A common use case is using IVRs to automate how inbound calls are qualified and routed. For example, online health case listing service Vitals uses IVRs to ask the caller to press 1 if they are calling to make an appointment or press 2 for all other inquiries.
If you are new to IVR, or are looking at solutions to grow your business, DialogTech can help. We have an easy-to-use IVR solution built specifically for marketing, sales, and support people to use themselves — no IT help required. To get a walkthrough of our IVR solution, request a demo now.
Learn more about DialogTech's IVR solution, which makes it easy for marketing, sales, and support to build their own IVRs.
Learn More →
Source: https://www.dialogtech.com/blog/sales-customer-service/marketers-guide-ivr
Publish Date: October 5, 2017 5:00 AM
---
PREMIUM

Genesys
http://genesys.com

Genesys® powers 25 billion of the world's best customer experiences each year. Our success comes from connecting employee and customer conversations on any channel, every day. Over 10,000 companies in...

(view more)

PREMIUM

IntelePeer, Inc.
(VIEW OUR PAGE)

IntelePeer delivers a complete business communications solution including: complete Cloud Contact Center, full-service cloud calling directly integrated with Cisco Spark unified communications, Enterp...

(view more)

PREMIUM

CTI Software
(VIEW OUR PAGE)

CTI Software is the creator of custom application called Davos, which complements the telephone client solutions with intelligent features such as automated call attendant, call recording and archivin...

(view more)
---
View more from
DialogTech
Recent Blog Posts:
| | |
| --- | --- |
| DialogTech and Amazon Web Services Enable Marketers and Contact Centers to Grow Revenue | November 16, 2017 5:00 AM |
| A Marketer's Guide to Getting Started with IVR | October 5, 2017 5:00 AM |
| 7 IVR Use Cases for Marketing, Sales, and Support Teams | September 22, 2017 5:00 AM |
| First Impressions, Ad Blocking, and Phone Calls: It's All About Customer Experience | July 25, 2017 5:00 AM |
| 4 Tips To Build Customer Trust With Phone Calls | July 18, 2017 5:00 AM |
| From A to Z: Your Call Attribution Glossary | March 10, 2017 5:00 AM |
| How to Improve the Caller Experience With These 3 Key Tips | February 22, 2017 5:00 AM |
| 4 Strategies Auto Marketers Use to Drive More Sales from Inbound Calls | February 1, 2017 5:00 AM |
| DialogTech Brings Actionable Insights on Phone Calls to Microsoft Dynamics 365 for Sales | December 6, 2016 5:00 AM |
| 4 Innovative Ways Marketers Analyze and Validate Phone Lead Quality | September 26, 2016 5:00 AM |