First Impressions, Ad Blocking, and Phone Calls: It's All About Customer Experience - DialogTech - ContactCenterWorld.com Blog
It's highly likely that at some point in your life you've been told that first impressions count. It's such a popular maxim that most of us accept it as truth and apply it to our professional and personal lives regularly.
But what about brands? Shouldn't a brand be concerned about the first impression it makes on a consumer?
Google recently announced that the Chrome browser will soon include built-in ad blocking. This feature will block annoying ad types such as pop-ups, autoplaying video ads with sound, large sticky ads, and flashing animated ads. For the full list, visit The Coalition for Better Ads.
It's not surprising that Google has developed an ad blocker since 32% of US internet users will use an ad blocker this year. A cynical view of Google's move into ad blocking is that Google is preemptively striking against the so-called "ad-block profiteers" who demand cash from Google's DoubleClick advertisers to unblock their ads for consumers.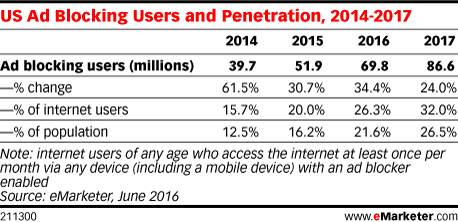 But let's give Google the benefit of the doubt for a moment and accept that their primary motivation is to improve the consumer experience by blocking annoying ads. We think that this move is not only good for consumers, but it's good for brands, too.
Shunning annoying ad types is simply smart business for brands these days, regardless of ad blocker usage. An ad impression is often the first impression a brand makes on a consumer, and irritating ads can cause consumers to question the reputability of a brand.
Of course, ad impressions are just one of the many ways in which consumers form an impression of your brand. The experience consumers have when they call your business is another.
If your company relies on phone calls from consumers, marketers must ensure that your consumers have a positive experience. That includes routing callers optimally to the best person to assist them right away. It also means arming those sales agents with data on the caller (who they are, where they are calling from, what marketing ad and webpage they called from) at the time of the call so they can have a seamless, consistent, winning call experience. Each phone call presents an opportunity for the consumer to form a positive or negative impression of your brand, much like an ad impression does, and marketers must make each call count.
Phone calls to businesses are typically considered a few steps down the funnel from a display ad, but a basic principle applies across both types of interaction — annoying consumers is bad. For display advertising, this translates into making your ads unobtrusive in style, relevant by targeting, and compelling through content. For phone calls, this translates into making sure that consumers are quickly routed to a knowledgeable and helpful person.
In each case, there is an opportunity for your brand to make a positive, lasting impression, so you should make the most of it. DialogTech offers the tools and expertise to help ensure that the conversations you have with potential customers are smooth, professional, and valuable. Give us a call and we'll do our best to make a lasting, positive impression on you.
Source: https://www.dialogtech.com/blog/sales-customer-service/ad-blocking-customer-experience
Publish Date: July 25, 2017 5:00 AM
---
PREMIUM

CTI Software
(VIEW OUR PAGE)

CTI Software is the creator of custom application called Davos, which complements the telephone client solutions with intelligent features such as automated call attendant, call recording and archivin...

(view more)

PREMIUM

HigherGround, Inc.
(VIEW OUR PAGE)

HigherGround develops data collection, information storage, and interaction analytics solutions that easily transform data into actionable intelligence, enabling operational optimization, enhanced per...

(view more)

PREMIUM

ConceptCall
(VIEW OUR PAGE)

Аутсорсинговый контакт-центр ConceptCall| КонцептКолл специализируется на исходящем и входящем телемаркетинге: мы предоставляем услуги по осуществлению холодных звонков и продажи по телефону, проводим...

(view more)
---
View more from
DialogTech
Recent Blog Posts:
| | |
| --- | --- |
| DialogTech and Amazon Web Services Enable Marketers and Contact Centers to Grow Revenue | November 16, 2017 5:00 AM |
| A Marketer's Guide to Getting Started with IVR | October 5, 2017 5:00 AM |
| 7 IVR Use Cases for Marketing, Sales, and Support Teams | September 22, 2017 5:00 AM |
| First Impressions, Ad Blocking, and Phone Calls: It's All About Customer Experience | July 25, 2017 5:00 AM |
| 4 Tips To Build Customer Trust With Phone Calls | July 18, 2017 5:00 AM |
| From A to Z: Your Call Attribution Glossary | March 10, 2017 5:00 AM |
| How to Improve the Caller Experience With These 3 Key Tips | February 22, 2017 5:00 AM |
| 4 Strategies Auto Marketers Use to Drive More Sales from Inbound Calls | February 1, 2017 5:00 AM |
| DialogTech Brings Actionable Insights on Phone Calls to Microsoft Dynamics 365 for Sales | December 6, 2016 5:00 AM |
| 4 Innovative Ways Marketers Analyze and Validate Phone Lead Quality | September 26, 2016 5:00 AM |