DialogTech and Amazon Web Services Enable Marketers and Contact Centers to Grow Revenue - DialogTech - ContactCenterWorld.com Blog
By Brandt Jadin
DialogTech is excited to be the only call analytics provider chosen by Amazon Web Services (AWS) to integrate with Amazon Connect and Amazon Lex. Contact centers running Amazon Connect can use the marketing insights on each caller captured by DialogTech — including the caller's phone number and geographic location and the marketing channel, ad, keyword search, and webpage that drove the call — to personalize the caller experience and convert more leads to loyal customers.
Want to learn more about the integration? Let's break it down.
About Amazon Connect and Amazon Lex
Amazon Connect is a self-service, cloud-based contact center service that makes it easy for any business to deliver better customer experiences at a lower cost. Amazon Connect is based on the same contact center technology used by Amazon's customer service associates around the world, powering millions of customer conversations.
When a consumers calls a business running Amazon Connect, Amazon Lex is the AI technology the caller can interact with initially before being routed to an agent. It's the same technology that powers Amazon Alexa. Amazon Lex enables businesses to automate voice conversations with callers via sophisticated bots that use automatic speech recognition (ASR) and natural language understanding (NLU) to recognize the intent of the caller, converse with them, and determine next best actions.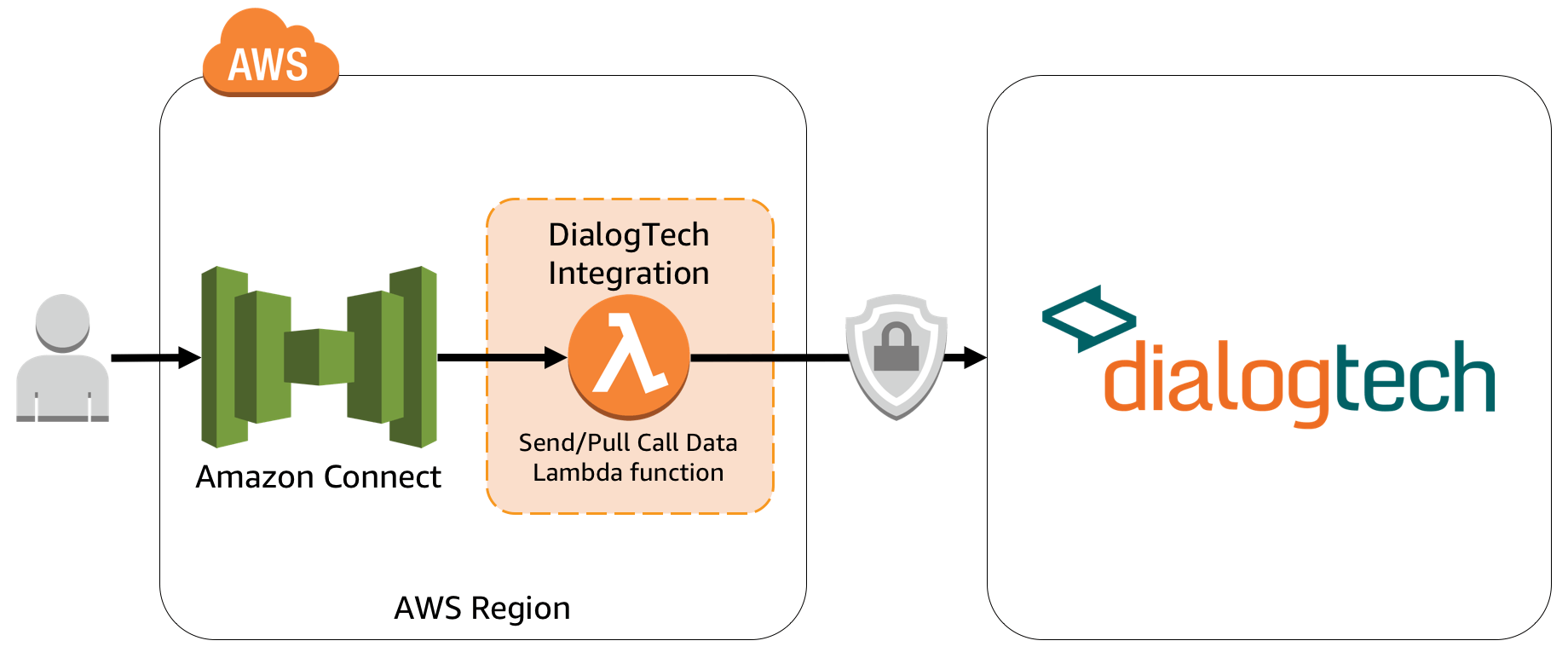 About DialogTech
DialogTech provides actionable marketing analytics on inbound phone calls. When someone calls your business, the DialogTech platform tells you what marketing interaction drove that call, who the caller is, where they are calling from, and much more. The integration with Amazon Web Services enables DialogTech to pass that data to Amazon Connect and Amazon Lex in real time, so businesses can use it to provide callers with personalized, winning call experiences and convert more callers to loyal customers.
Why Does the Call Experience Matter?
Consumers today expect brands to know who they are, anticipate their needs, and deliver on what they want. This applies to the entire customer experience, both online and over the phone.
When consumers pick up the phone and call, those engagements can be the most valuable — a recent Forrester study found that customers who call convert to revenue faster, spend more, and have higher loyalty than those who don't — but these phone calls are often the engagements where the customer experience breaks down.
As a consumer yourself, you can probably guess the top complaints that callers have when contacting businesses — unanswered calls, long wait times, and unhelpful agents. We have all experienced these annoyances, and they have a real impact on revenue and customer loyalty. Studies show that 84% of us will cease doing business with a company after one of these poor caller experiences.
The integration between DialogTech and Amazon Connect and Amazon Lex helps businesses remedy those issues and provide personalized call experiences that lead to loyal customers.
5 Benefits of the DialogTech Integration with Amazon Connect and Amazon Lex
To understand how the integration can benefit your business, let's look at it from the perspective of an inbound call made to an insurance provider's contact center running Amazon Connect. In this example the caller is a shopper in Illinois looking to purchase car insurance. They researched online by visiting Google on their smartphone and searching for "cheap car insurance in Illinois." They saw the insurance provider's AdWords ad, clicked through to their website, and decided to call the business to talk to an agent.
So with that initial setup, let's look at how DialogTech and Amazon Connect can work together to help that insurance provider grow revenue.
1. Provide Amazon Lex with Data to Personalize Engagement
When the call comes into the contact center, DialogTech feeds data on the caller's online journey and purchasing intent into Amazon Lex to influence voice interactions. Now Amazon Lex knows who the caller is and what marketing interaction led to the call. It can then look up that caller's information in the insurance provider's CRM, and if they had any previous interaction, Amazon Lex can use that history to make better recommendations in real time.
2. Route Callers to the Best Agent to Convert Them
Using the insights on the caller captured by DialogTech, Amazon Lex can help connect them with the agent with the right skillset to convert them to a customer. DialogTech captures intelligence on each call – in this case, it knows who the caller is, that they are from Illinois, and that they are interested in "cheap car insurance" – so Amazon Lex is able to send them to the first available agent best able to assist that caller.
3. Arm Agents with Rich Insights on the Caller
Getting shoppers to call is the first step — knowing what to say is the second. DialogTech passes insight on each caller to Amazon Connect so contact center agents know before they answer the call who the caller is, where they are calling from, and the specific marketing interaction that drove the call. So in our example, the agent knows the caller is from Illinois and interested in affordable car insurance. This helps the agent anticipate the caller's needs, take the right conversation tactic right out of the gate, and deliver a more seamless, personalized experience to win the sale.
4. Prioritize Your Most Valuable Callers
Using data from DialogTech, contact centers can place callers from the marketing channels, ads, search keywords, or webpages with the highest purchasing intent into priority queues to get answered immediately. So if the insurance provider in our example thinks that Illinois callers from Google searches on cheap car insurance are better qualified leads than other callers, it can make sure that caller is answered right away, maximizing the chances they convert to a customer.
5. Optimize Marketing ROI by Generating More Calls that Convert to Customers
By connecting marketing with sales and operations, DialogTech and Amazon Connect enable marketers to know which marketing sources generate the best converting calls. For example, if our caller shopping for car insurance becomes a customer, the insurance provider's marketing team will know that "cheap car insurance" was an effective keyword search to target in AdWords and the ad and landing page they used for it are effective. They can then make smarter optimizations to allocate spend to get more the most valuable leads calling, which in turn enables the contact center to generate more customers and revenue. It's a win win.

So there you have it. For more information on the DialogTech platform and our integration with Amazon Connect and Amazon Lex, give us a call at 877.295.5100 or visit request a demo.
Source: https://www.dialogtech.com/blog/news-and-trends/dialogtech-amazon-web-services
Publish Date: November 16, 2017 5:00 AM
---
PREMIUM

Genesys
http://genesys.com

Genesys® powers 25 billion of the world's best customer experiences each year. Our success comes from connecting employee and customer conversations on any channel, every day. Over 10,000 companies in...

(view more)

PREMIUM

HigherGround, Inc.
(VIEW OUR PAGE)

HigherGround develops data collection, information storage, and interaction analytics solutions that easily transform data into actionable intelligence, enabling operational optimization, enhanced per...

(view more)

PREMIUM

IntelePeer, Inc.
(VIEW OUR PAGE)

IntelePeer delivers a complete business communications solution including: complete Cloud Contact Center, full-service cloud calling directly integrated with Cisco Spark unified communications, Enterp...

(view more)
---
View more from
DialogTech
Recent Blog Posts:
| | |
| --- | --- |
| DialogTech and Amazon Web Services Enable Marketers and Contact Centers to Grow Revenue | November 16, 2017 5:00 AM |
| A Marketer's Guide to Getting Started with IVR | October 5, 2017 5:00 AM |
| 7 IVR Use Cases for Marketing, Sales, and Support Teams | September 22, 2017 5:00 AM |
| First Impressions, Ad Blocking, and Phone Calls: It's All About Customer Experience | July 25, 2017 5:00 AM |
| 4 Tips To Build Customer Trust With Phone Calls | July 18, 2017 5:00 AM |
| From A to Z: Your Call Attribution Glossary | March 10, 2017 5:00 AM |
| How to Improve the Caller Experience With These 3 Key Tips | February 22, 2017 5:00 AM |
| 4 Strategies Auto Marketers Use to Drive More Sales from Inbound Calls | February 1, 2017 5:00 AM |
| DialogTech Brings Actionable Insights on Phone Calls to Microsoft Dynamics 365 for Sales | December 6, 2016 5:00 AM |
| 4 Innovative Ways Marketers Analyze and Validate Phone Lead Quality | September 26, 2016 5:00 AM |