Douglas Jackson Limited - ContactCenterWorld.com Blog
Page: 1 | 2
This week we were back to the magnificent backdrop of Wembley Stadium for the UK Customer Experience Awards 2018.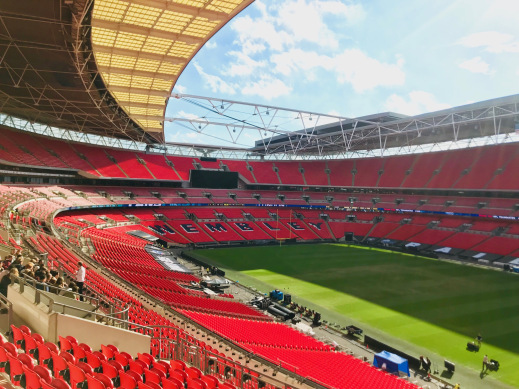 Now in it's 9th year, the event was, once again, a jam packed day full day of judging, with over 30 categories and 130 or so judges.
The variety of businesses and brands at this event is what always makes for such an enjoyable day, companies from Healthcare, Pharmaceuticals, Logistics, Insurance, Banking, Telco, Utilities, FMCG Outsourcing, Services and Technology going head to head, with business presentations from teams in start-up, early development to global plc size.
TeamDJ's Michelle Ansell was chairing the judging for Best Employee Engagement - The Voice of the Employees. Michelle was both surprised and honoured to be presented with an Outstanding Achievement for Judging Award from CEO of Awards International Neil Skehel.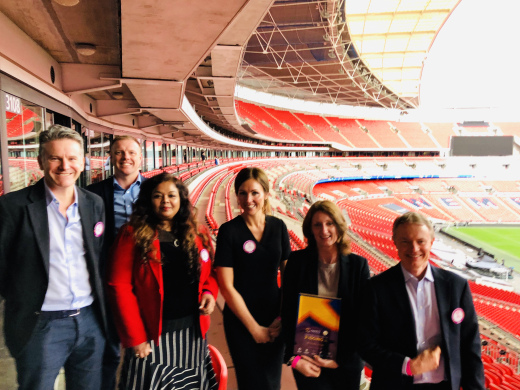 Bristan eventually took the Gold Award for this category, with EE taking silver and BT bronze.
Michelle said 'In all the years I have been involved with the Customer Experience awards, this was as close a category as I have had the pleasure to judge. They were all worthy winning programmes, although I have to say, Giles and his team at Bristan blew not only myself, but many of my fellow judges away with their passion, energy and stripped bare presentation, very well done!'
The event was followed by an evening black tie awards dinner, with charity partner Barnardos, with special guests and a raffle prize to meet S Club 7!.
The OVERALL winner of the event was - Aspen Healthcare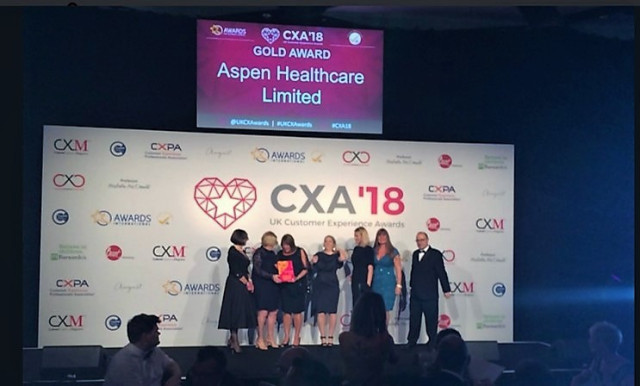 The GOLD Award winners are listed below:
Best Business Change and Transformation - Customer Focus - Solus Arc
Best Contact Centre - Small - Customer Satisfaction - Searchflow
Best Contact Centre Small - Project - Cross Country Trains
Best Customer Centric Culture - Customer Focus - BT
Best Customers Centric Culture Customer Satisfaction - Solar Plants
Best Customer Centric Culture - Strategy/Project - 02
Best Customer Experience Training - Programme/Project - Edam Group
Best Customer Experience Training - Transformation for Success - BT
Best Utilities - Business Stream
Best Customer at the Heart of Everything - Best Programme Aspen Healthcare
Best International Business - Thomson Reuters
Best Transport and Logistics - Cross Country UK
Best Customers at the Heart of Everything - Customer Satisfaction - XLN Business
Best Customer at the Heart of Everything - Project/Solution - Skipton Building Society
Best Customer at the Heart of everything - Strategy - Value Retail
Best Customer at the Heart of Everything - Transformation -Homes in Sedgemoor
Best Financial Services - Insurance - Vitality UK
Best Contact Centre Large - EE
Best Financial Services - Banking And Investments - Skipton Building Society
Best Health and Wellbeing - Aspen Healthcare
Best Employee Programme - Programme or Transformation - Firstsource
CX Professional of the Year - Alison Lowrie from Akzo Nobel
CX Team of the Year - Strategy/Transformation - O2
Best Employee Engagement - The Voice of the Employees - Bristan Group
Best Engaging of the Customer Online - Perkbox
The Best New Improved Product or Service - Skipton Building Society
The Best Technology and Telecoms - EE
The Best Use of Insight and Feedback - Best Solution or Programme - BT
The Best Use of Insight and Feedback - The Voice of the Customer - Affinity Water
CX Team of the Year - Customer Centricity - BT
CX Professional Woman of the year is Emma Donnelly
Transforming the Customer Experience - PaymentSense
Many congratulations to all the award winners!
Source: https://douglasjacksonrecruitment.wordpress.com/2018/10/12/uk-customer-experience-awards-2018/
Publish Date: October 12, 2018 5:00 AM
---
This week we joined The CXFO for their inaugural London Launch meeting, 'What We Can Do Tomorrow', held at The Pirate Castle; a community boating charity and multi-use venue for water-based activities on the canal, as well as offering spaces for meetings and events.
The event was an informal, casual event and hosted by chairman Don Hales and Chief Executive Isobel Rogers.
After introductions from Don and Isobel, Morris Pentel took to the stage with idea's surrounding customer emotions, staff, customer happiness and do we lose all common sense when we slip into our business attire?
It's not rocket science but it is science….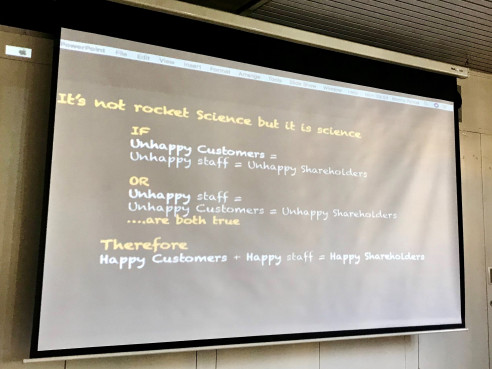 'Hands up who likes NPS (Net Promoter Score)?' - Not many in the room today it seemed….. Morris suggested there was a better way to gauge customer satisfaction than a metric based upon recommendation, just how difficult it is for us to give a recommendation based out of 10 and went on to introduce the concept of 'OK centred'.
If we think of everything in terms of OK, better than ok, not ok, there is a very simple formula to measure customer happiness and the customer experience for today's customers.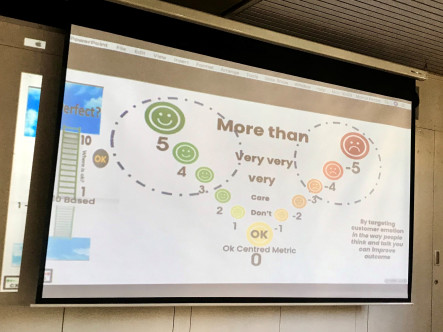 To bring home the concept, we the audience were asked to consider a good, or a bad experience we had had, then to score that in terms of 'would you recommend' using 1-10, or, the OK centred model and I have to agree it made a lot of sense.
We had a video conference with Dr Richard Claydon, from Organisational Misbehaviourists, dialling in from Hong Kong. Richard talked about strategy vs culture and how hiring for a cultural fit, is not the best recruitment strategy and that winning strategies emerge from experimental ideas, allow experiments, eliminate waste, test ideas and if it works, add resources.
No company has a single consistent culture, so build communication, understanding and critical thinking.
Carole Layzell, Digital Eagle & Proactive Engagement CX Director for Barclays, was up next. Carole introduced the Digital Eagle, a voluntary movement from Barclays employees, which helps, teach and share a true omni-channel experience with their employees, customers and community.
According to Deloitte, 71% of us check our phones within 30 minutes of waking up, with young adults spending at least 5 hours each day on their phones and apparently there are now more mobile phone owners than toothbrushes.
The digital eagles run eagle labs and initiatives such as 'tea and teach' sessions across the UK, where customers are invited for a cup of tea in a place they can gain help and confidence with computers and the internet and 'coding playgrounds' which work with schools and communities to help children learn how to code – as well as how to stay safe online.
These digital initiatives, championed and supported by CEO, Ashok Vaswani, offer opportunities internally, as well as externally. One local branch which closed as it received less than 1500 visitors in a 12 month period saw 15,000 visitors to its converted 'eagle lab' in 9 months.
Carole also shared a touching video 'A Life Changing Challenge for Barclays Eagle Lab, where one of their Digital Eagles, Jon, took it upon himself to design and 3D print a replacement arm for Rilee, after her Dad, Adrian bought Rilee into the eagle lab for one of their half term projects. This life changing initiative took about 24 hours and cost £7. Strong, powerful and suprising stuff.
For lunch we were given the opportunity to head out and about into Camden and their street food area, (we also got to see the original Banksy artwork, just outside the Pirates Castle for those who might be interested), as well as lock side bars and restaurants, with a view to when we returned, finding out how we rated our experience, bearing in mind, how we might 'would you recommend' 1-10, or, the 'OK centred model'.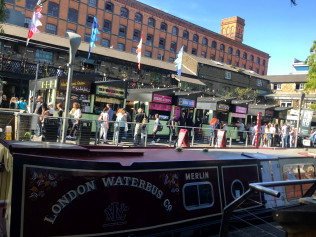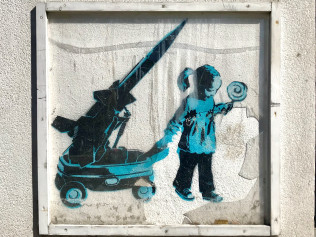 For this scenario, as with so many others, the recommendation model proved quite difficult. When asking to rate our experience, there were many factors; the food, the company, the weather (it was a glorious sunny and hot day), the price and the service…Would we recommend…..and what is the opposite to recommend? Using the OK Centred model did seem easier and less effort. Isn't that what we are all looking for?
Next up was a line of CX expert/consultants for a Q&A;
Tim Routledge CX Lab.
Gerry Brown The Customer Lifeguard.
Manuela Pifani CXellence Consulting
Adrian Swinscoe How to Wow
Christopher Brooks Lexden
Martin Dukes, Mpathy Plus
Anis Qizilbash Mindful Sales Training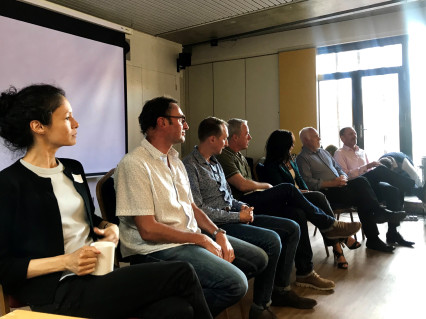 Each expert gave their two pieces of advice on the practical steps for tomorrow. Some of which were:
Use science in work and customer service to influence positively. Modern AI offers fantastic opportunities. Analyse data quickly. Science is the basis of everything (Tim)
Let employees be themselves and use their emotions, everyone wants to be positive and a good Samaritan. Set guidelines but let them be themselves. (Gerry)
Understand what customers value the most and what drives behaviours, most organisations focus on designing CX but this is functional, not experiential. (Manuela)
The difference between the top and bottom companies, is the quality of your management. Invest in your management and being good with people is overlooked in many companies. (Adrian)
Most organisations pay lip service to Customer Experience, it is listed in their values but the behaviours are not focussed on the customer. Digitalising an existing poor service, is just digital poor service. (Martin).
The day finished with an electric guitar and hard rock message from 'Customer Experience Rockstar' James Dodkins.
Choose to be unique, choose to be unforgettable, choose to be a CX Rockstar!
This was an interesting event, packed full of content and with some thought provoking messages, we have only covered a fraction of it here. If you missed this one, definitely keep an eye out for the next and we hope to see you there.
Many thanks to the CXFO , Don, Isobel, Morris and everyone else.
Source: https://douglasjacksonrecruitment.wordpress.com/2018/09/20/cxfo-what-we-can-do-tomorrow/
Publish Date: September 20, 2018 5:00 AM
---
In a world where customers and employees have an ever-growing number of platforms to discuss and rate your company, customer and employee experience must be at the forefront of every successful businesses strategy;
'Businesses that have an employee, customer-centric approach are three times more profitable than their competitors on average'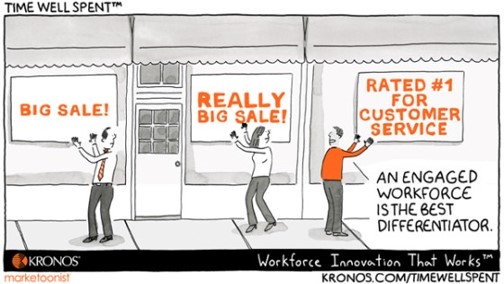 A huge factor that affects customer experience, that every company can improve on and will really see the benefits from is employee engagement.
But what does that mean? Engagement comes from employees feeling good in their role, feeling passionate about the company, doing meaningful work and feeling a real sense of identity with the job. From a scientific perspective, this comes down to neurotransmitters and hormones.
Managers in a company can intentionally stimulate the brains of employees to generate dopamine, serotonin and oxytocin, helping create positive feelings towards the organisation; dopamine brings the anticipation of reward, serotonin gives workers a feeling of well-being and oxytocin helps them to bond and feel connected to others.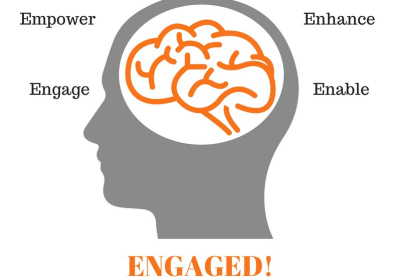 So, how do you engage employees and in turn become a better CX leader in your industry? The key is to ensure all areas and levels of the business buy in to investment in this cultural strategy. It is imperative that not just Customer Service adopts this but that it spreads across all areas of the business; Finance, Sales, HR and Marketing.
Human Resources usually own the employee strategy, but it is really important that, in order to improve, they understand the starting point - which is how, and how often, do you monitor employee engagement within your business? There are many external companies that offer services which measure employee engagement. There are also a lot of great ideas that have been tried and tested with Customer Experience leaders that can be easily implemented in house. (Keep an eye out for my next article.)
When the starting point is measured you can break down aspects and see which areas need focus. A few examples are: internal employee communications, employee training, on boarding process, performance motivation, awards, celebrations, incentives, listening to employees, manager engagement efforts and, finally, your recruiting and hiring processes.
It is a great idea to measure throughout and beyond the cultural transformation to see how you are faring in each area of employee engagement. It is imperative that businesses continuously strive for improvement.
The process of successfully engaging an employee begins right at the start of their journey with you - their application not their start date. Candidate experience through the hiring process is vital to getting employee engagement right.
Imagine a recruitment process that is fragmented, disorganised, unreliable, poorly communicated, not communicated, interviews moved, cancelled, forgotten. You would be surprised at how this is normal for so many companies. Why would that talented, skilled professional choose to join you if this were their experience? Yet, I am sure the same company is spending £000's on fresh fruit baskets, wellbeing discounts, pension and other benefits?
Every company I have dealt with wants to ensure that anyone new joining their business will be committed to their strategies and has the same moral values, yet for many this does not include their recruitment process.
Working in partnership with a recruiter such as Douglas Jackson enables your business to ensure employee engagement is right from the off. Working with a professional, quality led service provider, as well as our Douglas Jackson Search, digital platform, much improves your candidate experience, is more personable and a far more engaging process than a faceless ATS or automated process.
We can offer job, behavioural profiling and detailed information on a potential new employer that goes much deeper than a standard job description or company bio. Information and detail that engages potential employees from the start.
If your organisation has identified the link between Customer Experience, Employee and your Candidate Engagement and wants to act upon it to improve, Douglas Jackson Search will be a great option for you.
Please contact me for a no-obligation consultation.
Alternatively, I am really keen to hear success stories on employee and candidate engagement strategies and the ways in which businesses measure this so please do get in touch.
Anna Denning is a Recruitment Consultant at Douglas Jackson. Passionate about Employee Engagement, Anna has been a preferred supplier and account manager for some of the UK's most recognised brands when it comes to driving better employee engagement, as well as some of the Sunday Times Top 100 companies to work for. Anna works for Douglas Jackson partnering with customer, employee and experience focused organisations, to identify, attract and hire talented, experienced professionals, who will help differentiate your business and brand, lead, develop and engage your people, driving your business transformation and change agenda.
Source: https://douglasjacksonrecruitment.wordpress.com/2018/05/24/the-missing-link-to-employee-engagement/
Publish Date: May 24, 2018 5:00 AM
---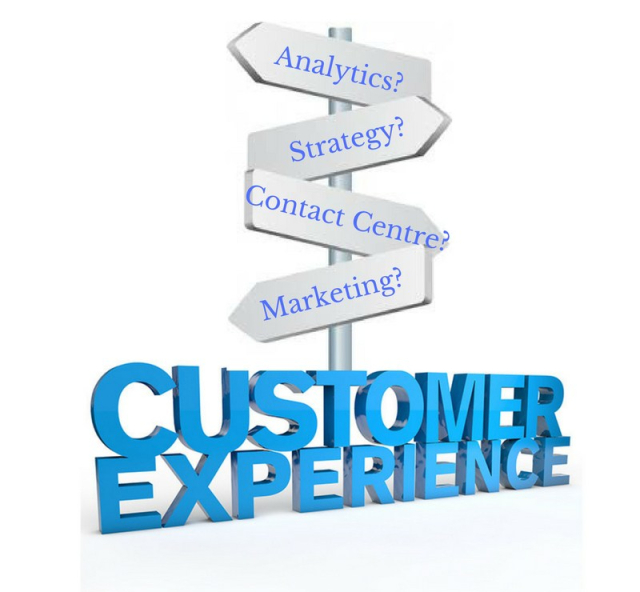 What does Customer Experience mean to you?
It seems there is still a lot of confusion around Customer Experience. In an article from Beth Richardson of IJ Golding Customer Experience Consultancy investigates customer experience job vacancies. Beth highlighted something we have experienced since the term 'customer experience' arrived. The fact that no two roles are the same and a job title does not a job make.
In an earlier post the Growth and Development of Customer Experience, 78% of companies were already using 'customer experience' as a brand differentiator and this was back in 2015. With the C- Suite focussed on all things customer and with such strong evidence to support the benefit of delivering a great customer experience, it is no wonder so many organisations have adopted this term.
Beth finished with the statement 'come on recruiters and hiring managers, don't let customer experience become a phrase that you throw around casually'. I am not sure I agree with this thinking. The problem does not lie with recruiters, or, hiring managers using the wrong term to make something sound sexy, or more alluring. The reality is, many organisations have taken the term 'customer experience', to realise the benefits a great customer experience will deliver; reduced cost to serve, engaged employees, customer loyalty, acquisition and retention, however, in most cases they miss the embodiment of the concept and the realisation that true customer experience transformation takes time and a company wide cultural commitment to change.
McKinsey wrote about The road to failed customer-experience programs being paved with good intentions, in their article linking the customer experience to value. After many customer experience initiatives failed to generate the perceived value back to the business.
The truth is, there are still, very few organisations who are truly committed to a company wide commitment to delivering an outstanding customer experience, that said, it does not make each role doomed to failure, or wrong, when using the term Customer Experience in their job titles.
One of the issues we see time and time again, is a recruiter, or hiring manager who do not truly understand the differences in the CX role, or requirement and this is where bad hires start. Both hiring manager and applicant secure what they believe is a great candidate, and opportunity, which in reality will fall short of expectations and delivery. The successful hire and initiative, soon fails and everyone loses.
The question we all need to ask is What Customer Experience means to you? then set your strategy and any hiring plan accordingly.
If you would like to hire an individual who will lead, develop or manage your customer experience and need a specialist consultancy who truly understands the difference of each role, then contact the team at Douglas Jackson and see what we can do for you.
Source: https://douglasjacksonrecruitment.wordpress.com/2018/02/15/customer-experience-what-does-it-mean-to-you/
Publish Date: February 15, 2018 5:00 AM
---
Wow, what a scene, it truly was a spectacular sight as we entered the grand hall at the Battersea Evolution for the ECCCSA's, European Contact Centre and Customer Service Awards.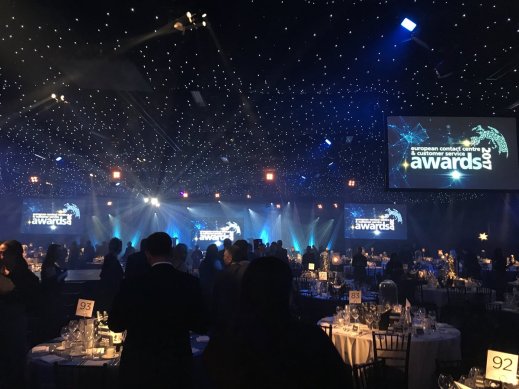 Now in their 17th year, Ann-Marie Stagg and her team at the CCMA, Call Centre Management Association have excelled themselves with the development of these prestigious awards.
With over 1100 attendees this event is the largest across the customer service and contact centre industry. Ann-Marie and her team of judges carried out over 1800 hours of face to face judging and have considered entries from 17 countries.
The evening started with a champagne reception set in an alpine wonderland, with ski chalets, gondolas and free runner, trampolining entertainers and dancers.
Moving in to the main hall, we were greeted by the 'voice of the balls', Alan Dedicoat as Ann-Marie Stagg opened proceedings.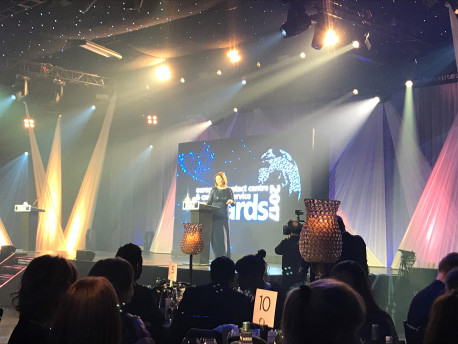 Spectacular, moving performances of acrobatics, ballet and rollerblading were interlaced between our tasty three course menu before moving on to the main awards.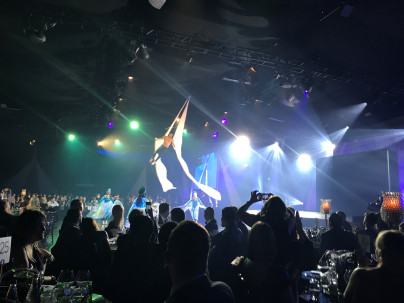 The event was hosted by television presenter and journalist Fiona Bruce, who was joined by special guest and five time Olympic gold medallist Sir Steve Redgrave.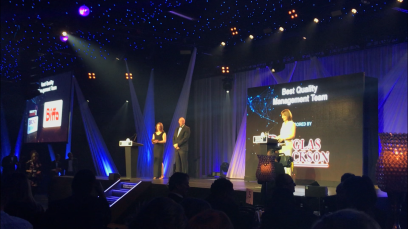 Douglas Jackson are extremely proud and honoured to sponsor this event, attending some of the judging site visits and our Managing Partner, Michelle Ansell was delighted to present the award for Best Quality Management Team.
The charity partner for the event was JDRF, who are funding research to cure, treat and prevent type 1 diabetes.
So on to the awards and the GOLD winners were, full details of all winners can be found here:
Best Application of Technology World Remit
Best Innovation in Technology Tele2
Best Innovation in Business Transformation Genesys and DWP
Best Innovation in Customer Service Vestel
Most Effective Improvement Strategy YapiKredi
Most Effective Self-Service Initiative GoCardless
Best Risk/Fraud Management Initiative Lloyds Bank/Pindrop
Most Effective Learning and Development Programme AEGON
Best Customer Service Team of the Year (Small) East Sussex Highways
Best Customer Service Team of the Year (Large) Three(3)
Best Complaints Management Team Santander
Best Quality Management Team Barclays Premier and Offshore Quality Team
Best Operational Support Team OVO Energy
Best Multi/Omni-Channel Customer Experience Barclays Bank
Most Effective Customer Experience in Social Media Barclaycard
Best Voice of the Customer Initiative Co-op Customer and Membership Services
Best Collaboration of Marketing and Customer Service Merseyrail
Best Corporate Social Responsibility Sykes
Outsourcing Partnership of the Year John Lewis Partnership and Sitel
Employer of the Year – Great Place to Work (Small) Ops Talent
Employer of the Year – Great Park to Work (Large) Booking.com, Amsterdam
Best Multi-Lingual Contact Centre Teleperformance Greece
Outsourced Contact Centre of the Year Ventrica
Small Contact Centre of the Year Legal and General
Medium Contact Centre of the Year Firstsource, Middlesborough
Large Contact Centre of the Year BGL Group
Judges Special Award went to Presented to Pusula Call Center for their work with Syrian refugees in Turkey.
Many congratulations to all the winners!
Source: https://douglasjacksonrecruitment.wordpress.com/2017/11/30/european-contact-centre-customer-service-awards-ecccsas-2017/
Publish Date: November 30, 2017 5:00 AM
---
8th November 2017 and the UK National Contact Centre Conference from the CCMA, held at the British Library knowledge centre.
The event, free to members was sold out with a capacity crowd of over 250 in attendance.
One particular highlight of the day, was right before the start of the conference. After taking my seat in the auditorium I introduced myself to my neighbours, on my right, two representatives from Lovehoney, Britain's biggest online sex toy retailer, recently awarded the Queen's Award for Enterprise in International Trade. On my left, a representative from LV=. Another hugely successful business brand, multiple award winner and one of the largest insurers in the UK with a DEFAQTO 5* rating and recently awarded Which? Insurance provider of the year 2017. As I introduced both parties to one another, Paul from LV= said to Matt from Lovehoney, "yes, we are more green hearts as opposed to love eggs".
In addition to Paul's whitty observation in the differences of brands, this interaction did showcase the diversity of organisations in attendance. It goes to show how far-reaching this event is. Whether you are a Utility, Insurer, Retailer, Telco, Housing Association, or Public Sector body, great value and learnings can be taken from the content rich agenda from industry leading speakers, case studies and networking.
Ann-Marie Stagg, Chief Executive of the CCMA opened the conference, sponsored by Genesys, introducing the subject of 'The Connected Customer Revolution: How to stay engaged with (and meet) the needs of the connected customer.'
First up was Ben Page, Chief Executive of Market Researcher Ipsos Mori with 'The state of Britain in 2017 – consumers, citizens and crazy people'; As we all know with recent surprises across our political landscape; Donald Trump, Brexit etc, predicting trends can be tricky, however there were some mega trends to consider for the future;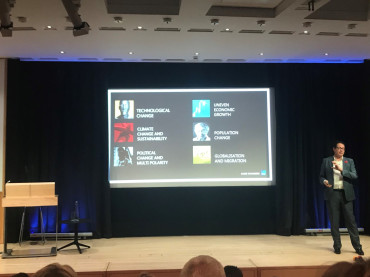 Technological Change - Uneven Economic Growth – Climate Change and Sustainability – Population Change - Political Change and Multi Polarity – Globalisation and Migration.
Some key takeout's for me:
People with a positive mental attitude about ageing, live on average 7 years longer irrespective of wealth or social backgrounds. Men with friends outside of work, also live longer!
Japan has already stopped giving out silver sake cups to those reaching 100, as the number of centenarians rise year on year.
Optimism varies greatly across markets, individuals in Indonesia and Peru are much more positive about their future than those in London, or New York.
We now manage to spend on average 24 hours per week on our devices.
Our ability to think is being ruined by our use of devices as they battle for our attention.
The rise of tradition; as we become more unsure of our future, we look to our past traditions and values. For 81% tradition matters; we love the Queen, the Army and the NHS (2 out of 3 of us would pay more tax for a better NHS).
Millennials are more worried about technological progress destroying our lives than other demographics (53%).
40% would rather be living in the 1970's
66% want a simpler life as we strive to get back control as life becomes more complex.
Although we are becoming increasingly intolerant of poor service, 40 million problems are not acted on, as consumers stay silent and don't complain.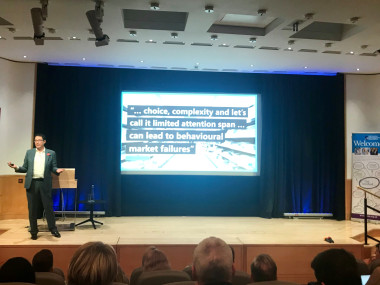 For brands and employers in general, there is lots of change and uncertainty. Overall people want to feel good about Britain and good about themselves. If we can build on these desires, we can be successful in both our employee and customer offerings.
Ben's presentation was jam-packed full of statistics and interesting facts, I couldn't get enough of it and took pages of notes, so apologies for any inaccuracies in my commentary, they will be mine alone! There is a report online for those interested om learning more on the subject of Millennial Myths and Realities which can be found here.
Next up Rachel Clacher, Owner and Founder of Moneypenny, a leading answering service provider, who are regularly listed in the Top 5 of the Best Companies to Work For. "Putting people first – the importance of being human".
I almost felt a bit sorry for Rachel, pitched straight after Ben the next speaker could have struggled, I needn't have worried. Rachel told story of the inception, development and growth of her and brother Ed's business. With an initial £10k investment, born out of a necessity in Ed's business, lack of a viable market offering and using their own experience of being a customer and employee, they set about founding and growing a business with a strong set of vision and values.
Without any contact centre experience, or, knowledge Rachel and team have built a business which serves over 10,000 business customers and employs over 500 FTE in a purpose built contact centre based in Wrexham.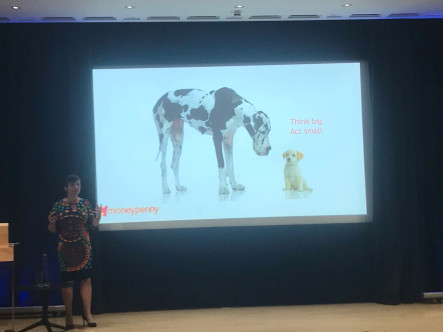 They believe in having fabulous relationships with all clients and employees, in fact, Moneypenny are happy to 'resign' a client if they don't feel they are working in partnership with the business
Moneypenny develops its people from within, recruiting for attitude not just aptitude.
Wear other peoples' shoes to get a clear perspective of what they want to achieve
They think big but act small – They asked each of their employees two simple questions: Give me one thing that will make life better for you and one thing that will make life better for their customers.
Challenges Convention – given they were such a people focussed business, why did they need a HR department? They no longer have one.
Investing in and celebrating wellness with free breakfasts, fruit baskets and incentives for a lack of sick days, the business achieved 1000 more days worked.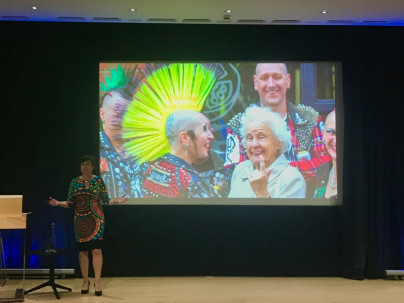 On the subject of robotics; "Let all the robots deal with the boring ****!". People tend not the be very good robots, after all, we need to be continuously told what, or not what to do.
Moneypenny don't have many rules; They employ grown ups and allow them to be grown up's, they decide what to wear and when to take their breaks etc. Moneypenny management take performance and potential and remove interference.
Achieving 20% growth year on year with a fabulous team around them, Moneypenny you had me at hello! A great presentation from a people focussed business.
Professor Moira Clark from the Henley Business School followed: "Is Easy the new difficult?"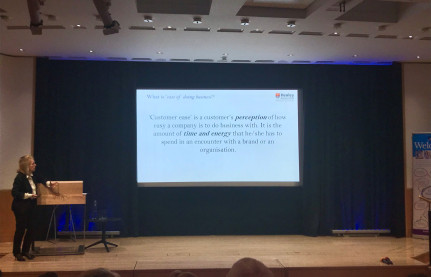 Moira also opened with the current uncertain times but what if you could have gone back 10 years, what would we have done differently? "invest in bitcoin" was one response from the crowd.
The subject of happiness came up, with research showing that by the age of 35 we now start to become less content with our lot. Are we are becoming a nation of grumpy old men and women?
Aging again came up as a major consideration, 30% of the population in Japan are now over 60 and 50% of the UK population will be over 50 by 2031. Thought provoking stuff.
The changes in behaviour for the Connected Customer: Spending a significant amount on their devices, 2hrs 40 mins a day, slightly less than the earlier 24 hours per week but where do we find this extra time? Because of this, the connected customer wants immediacy, (typically a response within half an hour). We also expect a rich interaction and full transparency; to know how business spend their profits, treat their employees etc.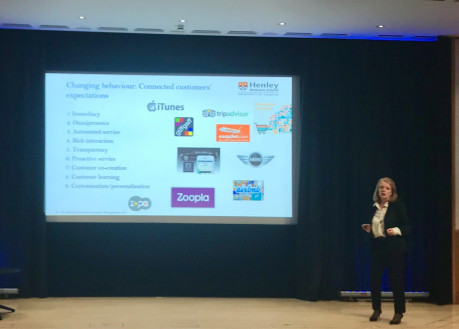 We want a proactive service, where the customer helps create the experience/product service with customisation and personalisation.
Is it easy to be a customer?
Moira went on to talk about 'Thinking Fast and Slow' from Daniel Kahneman;
'Thinking is to humans as swimming is to cats. We can do it if we have too, but we'll do anything to avoid it'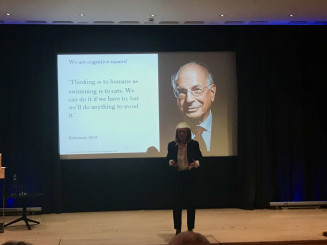 Apparently when we think more, we need 40% more calories. On autopilot we can be processing 11 million pieces of information a second, however this autopilot status also sees us jump to conclusions, which can be unhelpful and with more emotional responses. Thinking requires more effort but allows reflection and consideration.
However, be warned, asking your customers to think too much can lead to decision fatigue!:
When a retailer presented 42 types of Jam, 60% of customers stopped to look with only 3% purchasing at a value of £18.
When they presented 3 types or Jam 40% stopped to look, with 30% purchasing at a value of £120.
Making things easy is pretty difficult, we need to develop good customer insight. Companies are great at collecting data, terrible at producing insight and even worse at actioning it.
Should Marketing and Insight teams be part of the contact centre, or at least work within it?
NPS as a measurement tool is ok, but it needs explaining and it doesn't tell us if we are easy to do business with, or to work for. Do not measure effort, measure ease, it is either easy or it is not. If not why? Then analyse this feedback and close the loop by responding to the customer.
The golden rules for closing the loop on customer easy and feedback; Make the interaction authentic, relevant, in the moment and low effort. To do this you have to map the customer journey but the key is collaboration.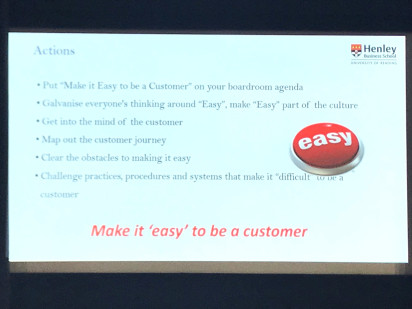 Moira ended with an example from Disney's Magic Band, a $1bn dollar project to drive out friction points across the Disney experience, working in coordination with MyMagic+ you can see more in this video here. Moira left us with the thought:
"If you don't make life easier for your customers, your customers will make their lives easier" and you will no longer be part of the conversation.
Event sponsors Genesys invited Atom Bank to take their slot and give us a view into 'Delivering Digital Brilliance' hearing how the UK's first digital bank is building its customer experience.
Michael Sherwood, Head of Customer Experience and Helen Wilson, Head of Customer Service, took us through the journey of this Durham based, low cost, no branch challenger brand and fintech, recently named by LinkedIn as one of UK's top 25 start-ups.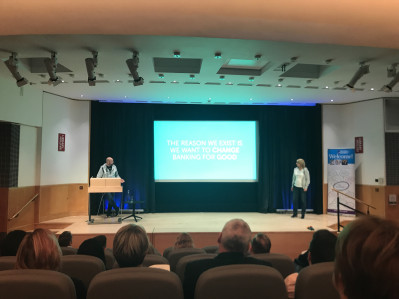 As an Atom customer, you can register in less than 10 minutes using their digital app and or platform. Atom took the decision to avoid an IVR, accepting that customers who were calling them already had a problem, so it was all about accessibility. However, Helen is also focussed on keeping the size of the Customer Service team as small as possible, removing failure demand wherever possible across the business.
Mike was bought in to develop the Voice of the Customer, how they could capture the right insight and then how this was fed back; Userzoom, Appbot, Conduent and Genesys were just some of the tools used to achieve this.
The focus is to measure what matters, getting real-time feedback, with emotion mapping and actual comments allowing root cause identification, followed by action.
A customer panel records and tests customer interactions whilst in their own homes and has led to over 100 app changes and developments in 12 months!
After Lunch Ed Creasey of NICE introduced a panel debate on The Rise of the Robots -and how it is driving the customer revolution.
Ed asked, with 89% of companies competing on customer experience, why do our employees spend 80% of their time on dull and unfulfilling tasks?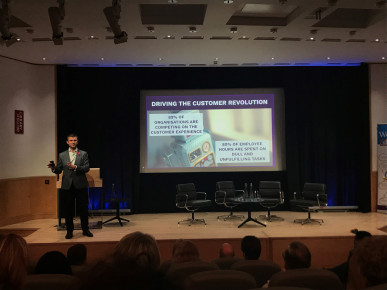 Forgetting AI for the moment, Robotics removes mundane and repetitive tasks using automated processes. this can be done with assisted front office interactions, or non assisted back office.
5% of interactions can be fully automated and 30% partially automated (McKinseys).
Ed was then joined on stage with representatives from HMRC, Cap Gemini and NICE Robotics to discuss some key questions: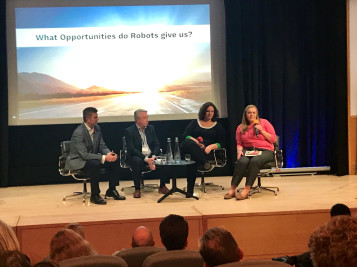 What opportunities do robots give us?
What challenges do robotics bring?
Where to start with robots?
One of the key pieces of advice from all on the panel; do not start with the most complicated difficult problem.
Look for ease, simple, high level transactions. Start small but do it well.
Don't think about robotics removing headcount, consider the productivity and performance uplifts by having 10% more staff.
Robots are not free labour, they require planning and significant work to start automating well.
Engage your employees, share positive robotics news and information to drive out the fear they can bring.
Next up, John Callachan, Managing Director at DDC outsourcing with David Rowlands, Contact Centre Sales Director UK & EMEA at 8×8 Global Solutions. supported by 8×8 John took us through the development of their multi channel, multi site operations in an industry case study 'Sharing the secrets of modern customer engagement'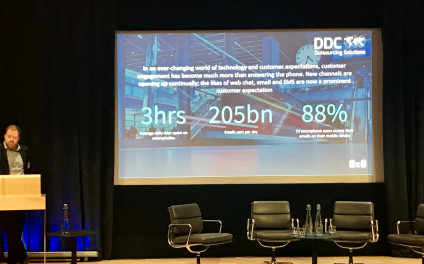 Jason Pillay, Guest Experience Manager at Premier Inn offered a bright, positive and humorous overview of 'Premier Service Guaranteed' using digital customer service to wow guests. Jason shared his 5 building blocks for a successful digital team.
S
peed of answer is still a major digital requirement. 15 minutes is now acceptable as opposed to 30-45 minutes in the past.
"Don't be afraid to stand your ground and be brave on digital", Jason said. You don't have to give them the world, if you are already offering a good service.
Use Digital interactions and insight to wow your customers.
With Twitter opening up to 240 characters, potential Whatsapp interactions for B2C in the future, interactive focus groups and bots/automation digital, how customers use the various channels is continuing to change and business needs to do the same.
If you like to be kept awake at night by a good horror story then the next session is definitely for you; Sandra Peaston, Assistant Director for Insight at CIFAS and Nikolay Gaubitch from Pindrop on 'Protecting the connected customer' - Contact Centre fraud techniques unmasked.
With 325,000 cases of fraud recorded by CIFAS last year, Identity fraud is rising. Fraudsters are utilising different methods and channels for fraud all the time and the age of victims is falling as we share more of our information socially and online.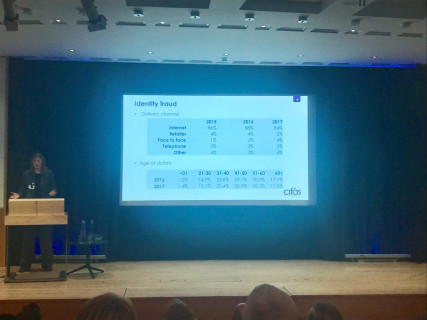 Fraudsters are also targeting information we would not necessarily protect so fiercely, as they look to socially engineer information which then allows them to commit further fraud, such as opening false bank accounts to launder money. The fraudster is also using call centres to gather more of this information about the customers they are targeting.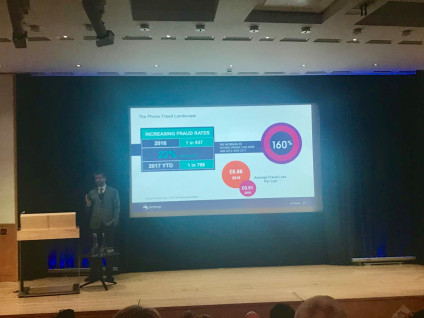 Nikolay from Pindrop led with 'No contact centre does not have fraud' and a shocking statistic that 86p is the average fraud loss for every call handled in a call centre!
Fraudsters are using multiple calls, sometimes 3-5 interactions, targeting a certain account to obtain the information they need to carry out a fraudulent act.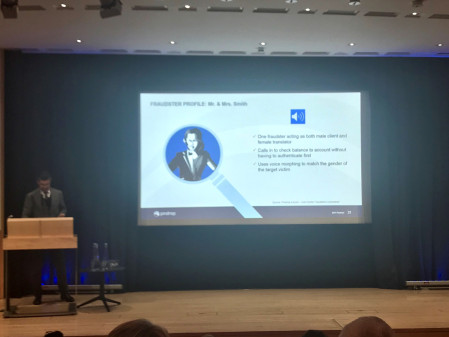 Prolific fraudsters identified by Pindrop's audio intelligence biometric engine such as Mr & Mrs Smith and Teen Vader are using voice altering software, or pretending to be both male and female callers and are making significant amounts of calls, 160 calls a week to target 13 customer accounts. Fascinating but scary stuff!
Last up, it was over to Suzi Caesar, Head of Customer Service at The Daily Mail Group. Suzi presented the case study 'Turning your customers into your employees' - a new model for the Digital age.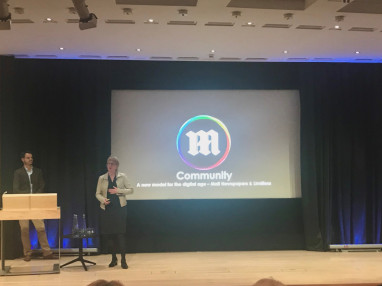 Suzi and team have launched a service where their most loyal digital customers were invited to provide help and information to other, or new subscribers, earning money and rewards as they go. An interesting concept, which takes onlin forums and communities to a new level, no doubt one to watch.
Phew….that is it! This event was certainly jam-packed full of content and one of the longest posts I have had the pleasure to write (and I left out a good few pages of notes). For those of you who are members of the CCMA but were not able to make it, copies of all the presentations are available if you get in touch with the CCMA directly.
Thank you to Ann-Marie, her team and of course, all the speakers and attendees I met on the day, it was a great day. We look forward to seeing you next year!
Michelle Ansell is a Managing Partner at Douglas Jackson, partnering with customer and experience focused organisations, many of which are global brands, FTSE 100, or award-winning organisations, to identify, attract and hire talented, experienced professionals, who will help differentiate your business and brand, lead, develop and engage your people.
Source: https://douglasjacksonrecruitment.wordpress.com/2017/11/13/the-connected-customer-revolution-uk-national-contact-centre-conference-2017/
Publish Date: November 13, 2017 5:00 AM
---
The UK Customer Experience Awards arrived at Wembley Stadium for this years judging and presentations.

Although the venue and use of the executive boxes meant for the judges and finalists we were spread around this impressive stadium and ground and for someone who is not a hard-core sports fan, having this as the view and backdrop for the finalist presentations made for an even more, dramatic, fitting setting for what turned out to be some really hard fought categories.
We have been involved with judging these awards for five years now and it is still utterly amazing to see the passion and heart that go in to the programmes which are happening all the time. One thing is for certain - Change is constant!.
For the first time, this year saw a full day of judging, with each panel of judges taking on two categories and 9-10 presentations throughout the day, with a break for lunch provided in the Atrium and the awards being presented in to the night with a black tie event.
Although there are a number of industry specific categories, you can see from the choice of categories(32 in total), the complexity and number of elements that go into making a successful Customer Experience delivery and transformation. Some organisations presented this company wide, with an array of joined up initiatives, but for others, it was a platform to showcase small, specific teams, or support areas, which had delivered real results which had delivered customer, employee and company success, despite significant challenges around them.
After the judging, a brief rest before the black tie event and on to the awards evening, with a disco to follow. The evening was hosted by writer and broadcaster Jeremy Nicholas

On to the awards and the winners were:
OVERALL WINNER Capital One!
Best financial services - banking & investment - Virgin Money plc
Best financial services - insurance services - Direct Line Group
Contact centre - large - Sky in partnership with FirstSource
Contact centre - small - Optivo
Hospitality, leisure and travel - Red Funnel in partnership with Brand Biology
International business - CPM Barcelona
Technology & telecoms - Finastra
Transport & logistics - Bidfood
Utilities - Octopus Energy
Best customer experience training company - Brand Biology
Best customer experience training initiative - Direct Line Group in partnership with Blue Sky
Business change - Business Stream in partnership with Cap Gemini
Business transformation - BT
Customer at the heart of everything (financial services) - Skipton Building Society - Bury Branch
Customer at the heart of everything (employee training and development) - The Holly Private Hospital
Customer at the heart of everything (listening to the customer) - Barclays CI
Customer at the heart of everything (use of technology) - The Share Centre
Customer centric culture (employee driven transformation) - Capital One
Customer centric culture (insight and feedback) - Business Stream
Digital CX innovation - London Midland in partnership with VCCP, Whoosh and icomera
Employee engagement (learning, development and engagement) - The Holly Private Hospital
Employee engagement (return on investment) - StaySure
Engaging customer online - FoundIt! on behalf of Amara
Insight and feedback - Business Stream
Insight and feedback (financial services) - Direct Line Group
New/improved product - Direct Line Group
Return on CX - BT
Use of social media - Scottish Water
CX professional of the year - Firstsource Solutions UK Ltd
CX professional woman of the year - Sparks Grove UK
CX team of the year (customer engagement) - Scottish Water
CX team of the year - (financial services) - Capital One
Many congratulations to all the winners!
Source: https://douglasjacksonrecruitment.wordpress.com/2017/10/02/uk-customer-experience-awards-2017/
Publish Date: October 2, 2017 5:00 AM
---
Did anyone watch The Voice debut on ITV this weekend? Don't worry if talent shows and reality TV is not for you, as this is not an article about those, Will.i.am, or Tom Jones, but about Domino's Pizza and the rise of their customer experience, coupled with their business success.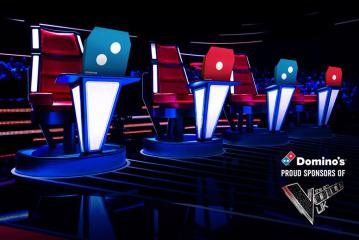 For those of you who did watch, you would have been hard pressed to miss the Domino's Pizza advertising and sponsorship surrounding the programming. I am not particularly a fast food fan myself, but such was the advertising, it even made me want to order a pizza on an already full stomach.
The success of the branding made me think about the development of Domino's and a recent keynote and case study I had seen from David Wild, the Domino Pizza Group, UK CEO, at the Customer Engagement Summit. The case study was titled 'Staying Ahead in a Changing Marketplace with Disruptive Entrants'.
Disruptive, challenger brands are everywhere, across every sector, leading technological and digital innovations to steal your market share and your customers so what can we do?
Domino's has had to become much more than just a food business; they have embraced the digital world and achieved 80% of pizza's being delivered within 30 minutes. In this article from Michael Hinshaw, of McorpCX and My Customer; 4 Customer Experience Lessons from Domino's Pizza, Domino's is now as much a tech firm as a pizza maker.
Domino's took poor customer feedback and challenged their leaders and employees to change. Their CEO Patrick Doyle, embraced customer experience as a core strategy, and enabled the delivery of that experience by becoming a disruptive technology company.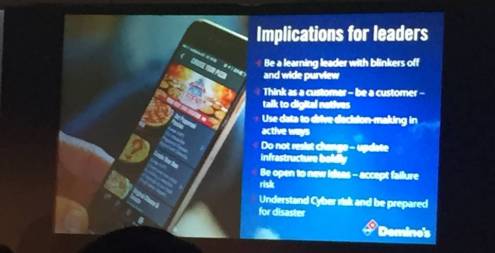 Back at The Customer Engagement Summit, David spoke about the need for the business 'to be bold'. To win, 'you need to stick your neck out'. To think about 'where we are heading, as opposed to where we are'. To 'Think like a customer -be a customer – talk to digital natives'. Be a 'learning leader with the blinkers off'.
Wise words and a fitting start for the New Year.
If you haven't yet turned your chair towards Customer Experience, perhaps now is the time.
If you are developing your Customer Strategy and need any support with acquiring skilled and talented professionals from across the customer landscape, on a permanent, of fixed term contract basis, or, are considering your next career move, then please contact me on 01543 308663, or email michelle@douglas-jackson.com.
Michelle Ansell is a Managing Partner at Douglas Jackson, with over 20 years recruitment experience, I can help and support you to; Define your Customer Strategy. Design your Customer Experience. Direct your Customer Contact.Develop your Customer Insight. Deliver your Customer Service. Differentiate your business and brand.
Revolutionise your Recruitment and Retention of New Hires. Douglas Jackson Search takes the guesswork out of your hiring.
Source: https://douglasjacksonrecruitment.wordpress.com/2017/01/09/have-you-turned-for-customer-experience/
Publish Date: January 9, 2017 5:00 AM
---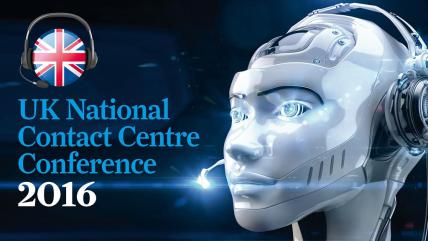 The UK National Contact Centre Conference 2016 proved to be yet again, one of the most worthy annual events on our industry calendar. The event was hosted by Ann-Marie Stagg, Chief Executive of the CCMA, who also gave us a good overview of where our industry is right now on various subjects which were spoken about in more detail by nine industry experts.
David Summers, Chief Operating Officer at Simply Business, The UK's biggest business insurance broker and Sunday Time's No 1 Best Company to Work For, was first to take the stand on a very comical session titled Happiness, Purpose and Plumbing in a World of Technology and Data.
David cleverly ensured that we were all fully engaged from the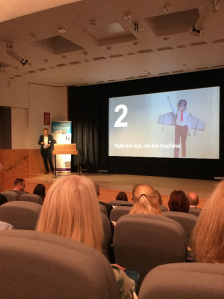 start. David talked through their business strategy of ditching traditional management techniques, choosing people over process, and building a culture of trust and empowerment. So much so that David hopes to have his operation in self-management within 5-10 years' time. David had lots of other interesting points to raise, including showing us how advertising has changed over the decades to become much more personalised, with businesses now targeting specific groups of individuals with their CRM and marketing campaigns, to the fact that voice remains as popular as digital, as a method of communication by our customers.
Next was Ipsos MORI's Managing Director of Ipsos Loyalty, Helen Wilson, speaking about 'Getting a Grip on British Consumers and Your Customers'. Wow, I have never been so riveted by such a large content of information! A superbly well delivered session that took us, the audience, on a roller coaster ride of emotions.
We were worried, as we were told that the impact of Brexit was starting to hit. Then we learned that Theresa May has incredibly toned arms! Not something that I'd ever noticed, but certainly interesting stuff. It was pointed out that as human beings, we are very contradictory by nature, with the NHS being our biggest worry as a nation, yet also the thing that we are most proud of as Brits! In a world where unemployment is the most worrying worldwide issue, our opinions nation by nation are very different. With China believing that we are on the right track, and the French believing that we are on the wrong track. Consumers are 3 times more likely to share a negative experience on social media, than a positive one. Fortunately the plague of locusts that Helen ordered in order to make sure that her session was memorable, did not arrive. You didn't need them Helen! A great job was done without.
James Walker, Managing Director at Resolver, an exceptionally popular consumer rights website, taught us to 'Love Thy Complaints', pointing out that it is easier to ask for forgiveness than permission. £1 spent on a complaint can provide up to £30 of future value. There is between £8 and £1200 potential liability per complaint, but these opportunities can have an invisible future value of between £200 to £2200! Angry customers give up quicker, whilst frustrated customers follow through – use this information in any way you see fit! And overall it is the severity or satisfaction of the outcome that is more important than the numbers, when it comes to complaints. James and his team have helped many organisations to significantly improve their complaints process.
Leon Stafford, Regional Manager at Interactive Intelligence was next. 'Virtual Reality: Coming to a Contact Centre Near You?' Companies who invest more in Customer Experience have had the highest growth rates over the last 3 years, when compared to companies in the FTSE 100.Do you have a pair of stealth glasses?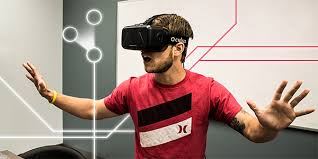 Me neither, however after this session I am putting some on my Christmas list! The possibilities for businesses here are huge. The example that we were shown was an online estate agency with the capability not only for real time video agents to call customers, but then for these video agents to show customers around properties virtually, even showing the views out of windows. What an amazing customer experience! Plus a huge saving in time and money both from a customer and business perspective. AO.com have reduced their cost to call and increased customer experience through the intelligent use of technology. I personally can vouch for their service, as they are second to none in the sale and delivery of white goods I have found. A, O, let's go!
Richard Kenny, Head of Global Customer Experience Marketing at Plantronics, discussed The Next Generation Employee, and creating a smarter workforce. As well as advising us that there is a return to single channel expertise, Richard also said, 'if you can script it, you may as well do it through self service'. For the rest of the day we had a virtual swear box for the use of the word 'agent', and we were shown how the job titles of our front line support has changed both recently, and over the years. Flexibility is important to todays' workforce, with home working becoming a method of choice for many employees. Richard was quick to point out the benefits of an office environment too though, so he would not recommend home working in isolation. Businesses are creating 'Customer Experience Hubs' as a place to encourage a more engaged working culture for smarter employees.
Richard mentioned the effective use of video in recruitment processes, and we agree! See below for details if you are interested in learning more about this.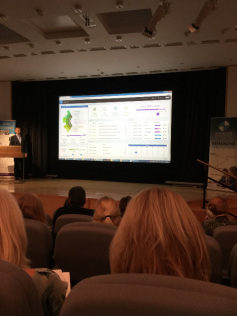 Next up was Ed Creasey, Director of Consulting EMEA, for NICE Systems, talking us through Optimising the Millennial Workforce. I had never thought about this before Ed's session, but millennials have had a pretty rough deal. They have had to come of age through a global crisis after all. Perhaps millennials are entitled to demand certain standards and practises from their employers. Life has been tough for them! I'll let you form your own judgement on this one! Workforce optimisation has evolved in to Workforce engagement management. Metrics, Attributes, and 'agent' (oops, sorry Richard!) Preferences are important factors when considering workforce optimisation. Shift selection is really important when trying to empower agents, and choice is an intrinsic motivation factor.
One of Ed's takeaways was the use of behavioural profiling in a recruitment process. Which again, is something we think is an excellent idea and have factored this into our new digital search tool mentioned below.
Chris Rickards, Customer Service Manager at BUPA, talked us through agent empowerment from an operational perspective. Chris's session was titled Flexible Resourcing for the Millennial Workforce. It seems that BUPA have solved the problem of 50% of declined holidays resulting in unauthorised absences. BUPA have given their contact centres flexible breaks and 'Freedom' holidays. These changes have given 3000 extra minutes back to the business each day, the equivalent to 7 FTE! By giving their front line their breaks when they want to take them, and by promising to give holidays whenever their employees want to take them, they have increased overall productivity and engagement across their operational teams. Chris can now boast of a culture of 'Freedom', and very much a happy workforce.
Gosh, where to begin with the presentation from Justin Haines, Customer Services Director at OVO Energy! I would say that Justin is an expert in Creating, Developing and Sustaining a Positive Contact Centre Culture! 'It's not just what you do, but how you do it!', says Justin. As well as recruiting agents (oops it's that word again, sorry Richard!) based on values, Justin meets for 40 minutes with every new starter joining their contact centre. The business also phone their agents before their planned start date to make sure that they are happy and have all of the information that they need to make sure that their first day runs smoothly. Fridays are 'Employee Days' for Justin, and he has coffee meetings personally with groups of Operations Managers, Team Managers, bu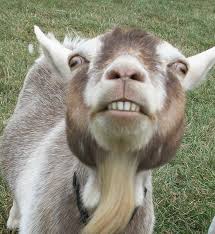 t usually agents, and the phone lines are closed down for half an hour per month, giving the senior management team the opportunity to cascade vital information and news regarding the company, the industry or energy market. There was all sorts of inspiring content in this session!
Ranging from 'The Daily Goat', which has become a favourite feature at OVO Energy amongst the teams, to the events that OVO outlay for their staff and their families! Truly amazing and empowering stuff.
The last session of the day was delivered by Mel Donoghue, Director Sunderland Contact Centre Sky Branch, and Tammy Martin, Omni Channel Director, at Barclays Bank. Barclays have undeniably moved mountains for their customers over the past few years, and Mel and Tammy were here to explain how they had done this. Barclays have simplified their operations in the UK, and now have large centres in just two sites – Liverpool and Sunderland. All complex queries are taken by UK based agents. They also have 2 sites in India and The Philippines. Barclays have invested hugely in developing an omni channel proposition for their customers, from multi channel, though telephony is still a big part for the bank. There really is so much going on at Barclays, from the overhaul and redevelopment of their induction programme, whereby talent of all ages, from all backgrounds, is nurtured, to video banking for their customers, and the specific training of their video 'agents'. Transformation is certainly much more difficult to manage in a large corporate organisation such as Barclays, however, Mel and Tammy gave us a great insight as to some of the exciting things that are happening within the business.
Aside from the fantastic day of speakers, the networking opportunity was great too! A really good opportunity to catch up with both new and old faces, and to learn about people's challenges and achievements.
Thank you to Ann-Marie and the team at the CCMA for a great event!
How did you find the event? What did you go there to gain? Or even share? It would be great to hear from you.
If you are interested to know more about utilising video assessment, or behavioural profiling as part your recruitment selection, as mentioned by Richard and Ed, then contact me on 07951 438538 or, hannah@douglas-jackson.com for free no obligation demonstration, information and or, advice. Watch the video here.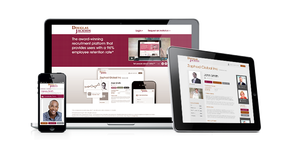 Hannah-Louise Cox is a Senior Recruitment Consultant at Douglas Jackson, specialising in recruiting executive level and senior management appointments across Customer Strategy, Customer Contact, Digital and Customer Experience.
Source: https://douglasjacksonrecruitment.wordpress.com/2016/11/11/uk-national-contact-centre-conference-2016/
Publish Date: November 11, 2016 5:00 AM
---
Last week we headed to the CCMA Quarterly Seminar and UK National Contact Centre Awards at The Brewery in London in London.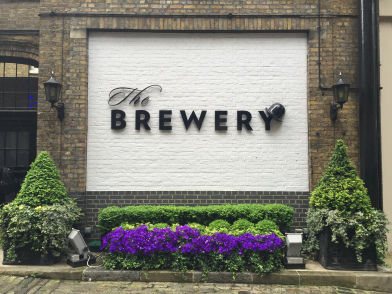 The Seminar featured a number of speakers from across the industry; first up was Richard Kenny, Head of Global Contact Centre Marketing, Plantronics.
Richard talked about the disparity between the global marketing spend, approx £500bn vs the £9bn spend to the Customer Service industry. Yet Marketing is no longer working.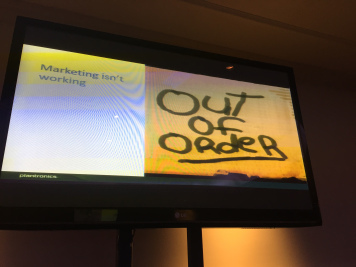 With the rise of the Chief Customer Officer role, more organisations are bringing marketing and customer services together.
Richard also talked about how calls are now already escalations, as self-serve and digital have probably failed, making phone calls more important, longer and more complicated.
Customer Experience is key and there are 3 key pillars to enabling effective Customer Experience: People, Workspace and Technology, with employees more likely to have more confidence in their employee brand and delivering the right customer message based on the workspace they are asked to work in.
Next up it was Peter Wilson, Strategic Consultant, Customer Analytics at Verint. Peter was talking about the future of customer analytics and how we are busy analysing piles of data without actually knowing what we are looking for, or knowing what to do with it!.'The Devil is in the detail but the information is in the Data.'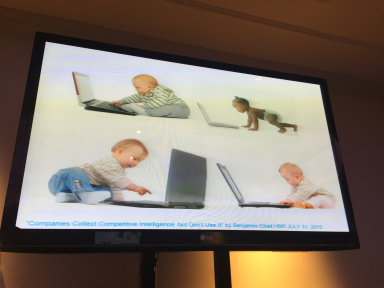 The 'IGens' are almost born with Ipads and Iphones in their hands and 79% of Millenials when surveyed said they would be willing to move banks for a better mobile banking app.
Peter went on to say that there are 'Only two sources of competitive advantage –
Learn more about our customers faster than the competition.
Turn that learning into action faster than the competition.
After a short networking break, we heard from Alison Hanson, Director of Contact Centre Strategy at Homeserve about their journey deploying speech analytics and how it is helping them put the customer first and improve coaching across the contact centre.
Clive Martison, Director and Senior Head of Contact Centres at WebhelpUK shared how through the effective use of analytics and insight in their recruitment and attraction strategy has helped improve operational effectiveness and develop better 'leaders and not managers'.
Finally, it was Pete Sanderson from Endsleigh Insureance, who talked about their early journey and first steps in deploying robotics and automation. By bringing legacy systems together, this project has already realised significant efficiencies across their operations and released their Advisors from time consuming data entry and administration tasks to allow them more time to focus on the customer.
Overall it was an interesting seminar with some great speakers and sessions.
So on to the UK National Contact Centre Awards 2016; Over 700 people joined the Call Centre Management Association to celebrate 21 years of the UK National Contact Centre Awards. A fabulous event highlighted the achievements of this years winners.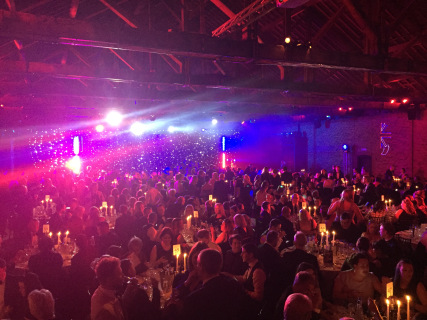 and the winners are:
Lifetime Achievement – Becky Simpson, VP Contact Centre Operations, Carnival UK
Contact Centre Support Manager – Shanice Goldspink, Direct Line Group
Recruitment Manager – Bryan Horrocks, Rentalcars.com
Learning and Development Champion – Martyn Bullard, Sage
Customer Relations Manager – Phil Hansborough, British Gas Metering
Resource Planning Manager – Sobaan Afzal, Sky UK
Quality Manager – Lindsey Cordes, Minster Law
Business Improvements Manager – Sadie Norman, Screwfix
Social Media Champion – Kit Webster, RBS
Customer Experience Champion – Sally Weir, BUPA
Team of the Year – OVO Energy
Team Manager, Webchat – Phil Redman, Tesco Bank
Team Manager, Rising Star – Abs Ahadi, Close Brothers
Team Manager, Outbound – Nikki Harper, BUPA
Team Manager, Retention – Claire Henderson, Sage
Team Manager, Sales – Louise MacLean, RSA
Team Manager, Service – Jess O'Halloran, AdminRe
Contact Centre Manager (Outsourced) – Catherine Rosso, Sykes Global
Contact Centre Manager (Small contact centres) – Alexandra Marsden, Royal London
Contact Centre Manager (Medium contact centres), Darren Gibbins, Barclaycard
Contact Centre Manager, (Large contact centres) Paul Dalby, Direct Line Group
CONGRATULATIONS TO EVERYONE!
Sharing best practice and developing the skills and abilities of their members are just some of the benefits of the CCMA. Over the coming months the CCMA will be organising member best practice visits to the award winners contact centres. (Visit www.ccma.org.uk for details)
If you are interested in entering your team in next years Awards and playing a part in what has become the highlight of the year and the "Oscars" of the Contact Centre industry, then you can visit the Awards website: http://www.ukcontactcentreawards.co.uk
Source: https://douglasjacksonrecruitment.wordpress.com/2016/05/24/ccma-seminar/
Publish Date: May 24, 2016 5:00 AM
---
The Digital evolution is here! You have managed to convince the exec team that the investment is required and you have successfully established your web-chat channel, or strategy. Great! , so…..what next?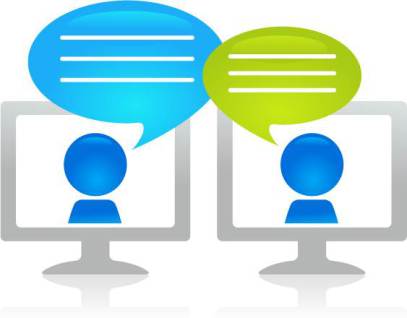 We have been talking about digital customer contact for many years now, but the reality is that there are still only a handful of organisations who have moved more than 10% of their customer contact over to Live Chat and other Digital Contact Channels/Platforms and away from traditional voice, or email.
The general consensus is that a leap of faith is required to effectively deliver the sort of transformative service and efficiencies that Live Chat and other Digital channels can produce so what can we do….
We asked some experienced Live Chat and Digital subject matter experts for their thoughts on the future development of webchat as a truly effective customer contact channel.
Richard Lacey, Director, LiveChat Consulting
Our customers have already made that leap of faith into digital and expectations are high! They expect to find their answers and buy products on line and, if they need help, to get that online too through chat, social etc and not by having to navigate an IVR or, be placed on hold. The reward you will get, if you deliver chat in the right way, is a channel with the highest CSAT, greater loyalty and higher efficiencies than any of your traditional methods of telephony or email. And if a company wants to attract customers who have grown up with the internet being as common place as the phone box was to Generation Y, they are going to have to embrace livechat!
The good news is there are those out there who have done it right or, are on the path to building their strategy – we have helped a lot of them and know how to deliver the transformational service that will make you stand out amongst your peers, excite your customers and keep the Exec team happy.
The first thing to remember is livechat is not a derivative of the phone – yes, there are some metrics that have the same name such as AHT, CSAT, NPS but how you drive them to be the best you can is very different. Your business case needs to include the efficiencies which an effective chat operation delivers – concurrency, minimal transfer, very low repeat rates, high resolution and you need to have the right practices in place to deliver the KPIs you commit to. This means that the experience your customer gets from the moment they land on your website needs to be right – what software to use, where chat appears, how it looks and acts, how quickly they engage with an agent and so on. To continue to excel, you need to have recruited agents who meet the best profile for chat, who have had training that includes not just the knowledge on how to use the software but the human touch on building rapport within a digital channel and the tools you need to track your performance – the MI and dashboards and quality & compliance controls are different, but the right creation of these can give you so much more strategic data to help you to continue to grow than phone or e-mail ever could!
So go for it – because if you don't someone else will. We have seen several companies shoehorn live chat into their existing contact centre structure, benchmarking people, processes, escalations and other ways of working alongside contact centre. This approach in our experience does not work and does not deliver something which is futureproof, it is also costly in the long run, so, bring in help if you need it to make your livechat channel work brilliantly first time – customers know what good looks like and expect to receive it. And then say 'You're welcome' to your Exec team when you have the best performing channel and over 90% of your customers telling you they are more than satisfied with the help they get from you and your livechat team – this really can be your reality if you join in and make that leap of faith too!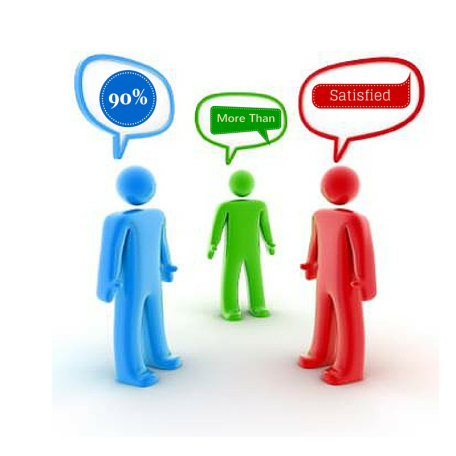 Mark Howe, Head of Assurance – Head of Customer Service Experience
Historically web chat was deployed as a cost saving exercise through a combination of rate and/or concurrency by shifting the customer contact from voice to chat.
Today's customer demands far more and chat has to evolve in three areas:
Customer experience by being a channel of choice offering where and when support, including out of traditional hours and mobile.
Support for and promotion of self serve, making the most of the large capital outlay, whilst allowing the customer to stay in the digitised world.
Integration into the Omni-channel service spectrum, ensuring the conversation thread can be picked up in which ever channel the customer choses next…. Including social, community as well as the more traditional
Ultimately these will lead to the original goal of cost efficiency but will also ensure customer adoption and experience.
Zaheer Gilani,Founder and CEO of Omnixco – C Level CX, Business and Digital Transformation Strategy Professional.
In my experience, organizations with successful digital adaption demonstrate the following characteristics:
Clarity of Purpose and Strategy

pursuit of digital adaption plays an important role in delivering customer promises
there is clear customer, contact and channel strategy to drive desired results

Excellent Understanding of

the customers and their needs, wants, preferences, emotions and behaviors
the potential of technological capabilities to deliver the desired experience across channels and touch-points

Cross Functionality

leadership – a board level agreement, endorsement and budgeting of digital adaption
management – an upstream level integration of insights, allocation of resources, setup of incentives
collaboration – journey and associated service inception, design, development, testing and launch across target channels and touch-points

Relentless Execution

people – definition of desired values and policies, identification of required skills and competencies, acquisition, training and mobilisation of talent
process – review and development of existing and required data and customer journey processes from an enterprise value chain perspective
technology – identification, acquisition, development and leveraging of existing and new technological capabilities
continuous optimization – digital adaption is an evolution and journey of an organisation – it requires continuous optimisation of people, process and technological facets across an organisation
Leading organisations recognise and leverage live chat as an important element of digital conversation where a successful live chat proposition consists of:
not just a textual dialogue but a conversation that may switch to other modes of communication e.g. voice, video, etc. and involve interaction practices and capabilities e.g. identification and verification, knowledge, co-browsing, screen-sharing, call back, appointment booking, etc on a reactive or proactive basis to achieve customer goal
forward planning around customer's life-cycle, anticipation of their intent and engagement rules, forecasting of resources including skills and their availability, active or deferred engagement strategies including but not limited to real-time presence of 'best' rather than any agent.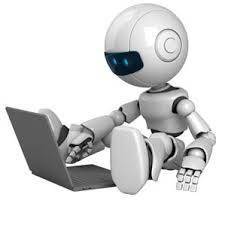 However, what is interesting and worth ideation, strategy and planning is the role of Bots and how they will compliment or enhance human to human, human to machine or machine to machine engagement. To learn more about Bots Strategy – you can read more here.
If you are developing your Digital Transformation and Live Chat, or, other Digital platforms and require experienced Interim, or Permanent talent and experience to develop, or support this, or are considering your next role in the Digital contact space, please contact the team at Douglas Jackson on 0345 620 9720, or email: mail@douglas-jackson.com.
Source: https://douglasjacksonrecruitment.wordpress.com/2016/05/09/whats-next-for-the-development-of-your-live-chat-channel/
Publish Date: May 9, 2016 5:00 AM
---
This year, Customer Strategy and Planning headed to Stratford-upon-Avon on the weekend of the 400th anniversary of William Shakespeare's death, so the conference was full of inspiration and quotes from one of our greatest ever writers.
This year's conference 'Breakthrough Performance' focussed on the fact we can go; 'Further, Faster, Together'.
What makes you stand out as a professional – 'An eagerness to learn and continually develop' said Paul Smedley. This was certainly true of everyone at the conference, who were keen to share and learn from best practice and see some exceptional results from the Innovation Award Finalists.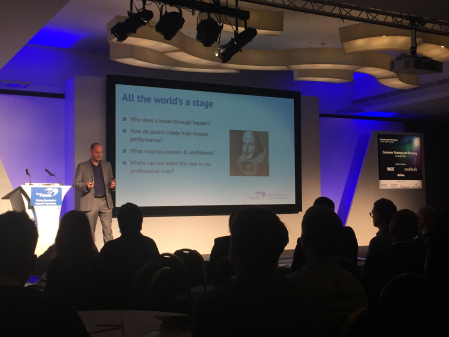 With Shakespeare still firmly in our mind and taking inspiration from 'All The World's a Stage' the guest session and speaker on Monday, was Mark Doyle of 'The Method'– Mark helps business and leaders, develop their communication, presentation skills and behaviours, using a process similar to 'method acting', to help measurably improve performance and results.
In the opening session Mark had everyone up on their feet, improving their personal interactions with a 1,2,3 exercise, (who ever thought it was so hard to count to 3!).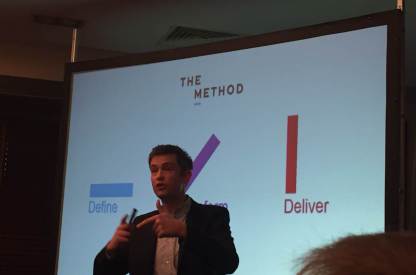 For those of us who attended the sessions later in the day, as well as embodying the physicality and mannerisms of a stroppy teenager, we all saw a remarkable improvement in our own ability to interact and portray behaviours, which allowed us to be perceived as more; enthusiastic, confident, authoritative and personable, regardless of how nervous and self-conscious we were actually feeling during the exercises. A thoroughly enjoyable, if somewhat uncomfortable (at times), session.
How to tell a story with numbers was a another good and enlightening session, with something for everyone, Analyst or not.
Using the Journey of a Hero illustrated through Luke Skywalker in Star Wars, from Joseph Campbell, we were shown the power of story-telling and how to use this when preparing and presenting reports.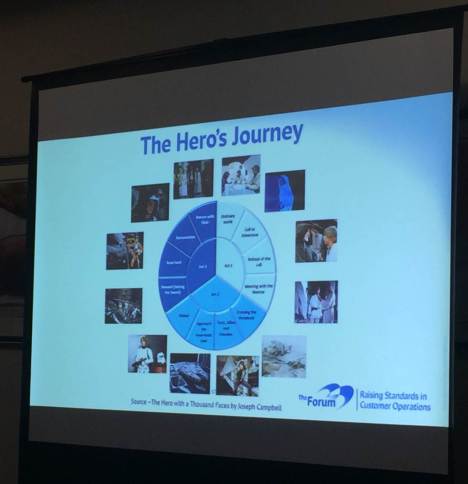 'The role of an Analyst is to be clever, not look clever.'
Simplicity ran throughout this session, with Marie Montoya from RSA making us question whether we will ever produce a pie chart again, as the human brain cannot decipher the angles within a pie chart.
'If you can't explain it simply enough, you don't know your subject well enough'!
The rise of the robots, or 'V Bots' featured in one of the innovation sessions from Creative Virtual, expanding on previous winners Motability and 'Ask Mo' success. Knowledge management and intelligent virtual assistants, help break down information and bring content all together in one place; customer, employee and technology working seamlessly to provide a great customer experience.
Another highlight session which received a fair amount of Twitter coverage was Emma Botfield, Head of Customer Service Europe at RS Components. The session started with a jar of Marmite and saw a 'first' for the Customer Strategy and Planning Conference, with a room of dancing planners and analysts. You can see the short video taken from Select Planner here, but here is a screen shot to give you an idea.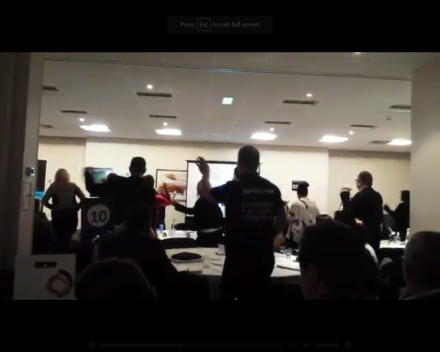 Emma and her team put the customer at the heart of its business to improve business performance with the Voice of the Customer programme, which gave an up-to-the-minute reflection of how customers feel.
Dimension Data Customer Experience 2020: 'Looking ahead and planning a route', suggested that by 2017 digital interactions are set to overtake voice interactions if the level of increase in digital continues at it's current rate. Interestingly, they do not predict a reduction in voice but more customer interactions overall.
Monday night we enjoyed networking, a casino night and a highly contested putting competition with a large and competitive crowd, the winner being Simon Butler from the Forum (FIX!)
On to the Gala Dinner and Innovation Award Winners:
The overall Innovation of the year Award was EE for transforming customer experience. They were also presented with the Innovation Award for Transformation.
The Innovation Award for Global Customer Focus was awarded to RS Components, for their Voice of the Customer programme.
The Innovation Award for Planning Strategy was won by Co-operative Banking Group, who extended the reach of planning.
The Innovation Award for Extraordinary Delivery & Care was gained by North East Ambulance Service, who were literally saving lives through their innovation.
The Innovation Award for Insight & Improvement went to RSA, where an end-to-end improvement of process & policy saved millions of pounds.
Red Funnel swept away the Innovation Award for Living the Brand. Their focus on customer, colleagues and community saw significant business growth.
There were also 5 new Planning Hero Awards which went too:
Richard Aldous, Planning General Manager, Severn Trent Water
Emma Botfield, Head of CS Northern Hub, RS Components
Sven Hill, Head of Planning & Insight, Belron Autoglass
Jenny Ryatt, Head of Command Centre, Geoban UK Ltd
Rob Tuck, Director of Optimisation, InterCall
CONGRATULATIONS TO EVERYONE!
Be Great in Act as You Are in Thought!
Source: https://douglasjacksonrecruitment.wordpress.com/2016/04/27/customer-strategy-planning-2016-all-the-worlds-a-stage/
Publish Date: April 27, 2016 5:00 AM
---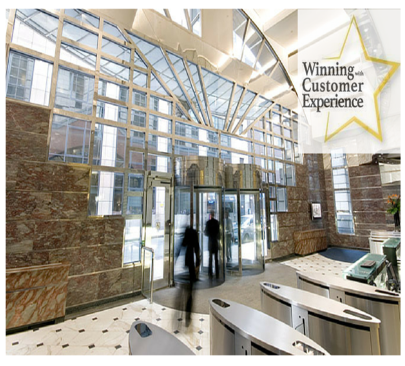 A few weeks ago I headed to London to attend the Winning with Customer Experience conference. On arriving at the American Square Conference Centre the venue was impressive and I was greeted with a smile and guided to the conference, just in time for a coffee and networking, I was raring to go.

First up, was an introduction and welcome from Dr. Emma K McDonald from Cranleigh University, with opening remarks from Eileen Brown, Head of Customer Experience at Northern Gas Networks, (who managed to scoop no less than 6 awards at the 2014 Customer Experience Awards!) Eileen kicked off the day with an insight into their winning success and how they were able to revolutionise their customer experience and employee engagement to put the customer at the centre of what they do.
The day was broken up into various sessions from organisations and industry experts from Nationwide, Waitrose, LV=, Standard Life, Direct Line, Bristol and Wessex Water, who each were there to share particular projects and achievements within Customer Experience.
I headed to the Ludgate Suite, where Heather Mustafa from Nationwide, talked about their journey of customer transformation. Heather spoke about how they have implemented 'The Nationwide way', a blended learning and content management solution for staff to learn about Nationwide's vision and strategy. It also provides coaching and support for all employees at the click of a button.
Next up we heard from Susie Golics, Cherise Wesson-Jubband and Martyn Hillson from Waitrose. They explained how they are creating 'a modern Waitrose and making a personal difference to their customers. They have a customer satisfaction survey with 30-35,000 customers offering feedback each month. With regards to their employees they are sharing stories/experiences and best practice, to help inspire their colleagues to go that extra mile. But Waitrose don't just stop there – they also have a scheme called 'Licence to Thrill' which is open to all employees who have the opportunity to take a City and Guilds level 2, once they have finished their training, to continue personal development and growth.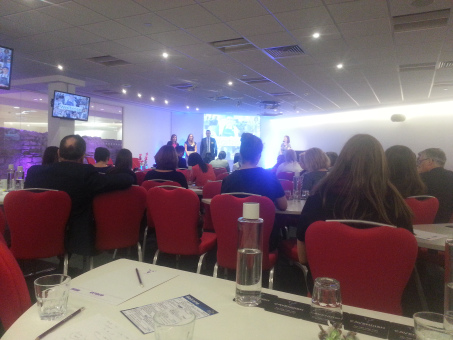 After a fantastic spread for lunch and some networking, it was time for Question Panel Time Hugh Wilson from Cranfield University lead the talks, we then heard from Simon Hunt, Customer Experience Director at Firstsource, Jason Higgs Customer Experience Director at Standard Life and Steven Walden Director – Customer Experience at Ericsson, these were then followed by an interesting Q&A session. We discussed leadership behaviours and how exposing the 'C suite' to the good, the bad and the ugly of customer feedback, was a good way to making it clear about what customers true needs are and a suggestion to always look over your shoulder for your competitors!
Co-creating with the customers was our next topic and the importance of constantly learning from your customers, listening to your agents and collaborating with both to improve on the overall customer experience.
Next up, we heard some great insights on ways to include employees in the growth and culture of the company from LV's Wes Maidment and Kin Ewin-Hill. They explained how their newly developed software Innovate, enabled LV staff to suggest ideas within the company to improve the overall delivery of the customer experience. They mentioned they have 106 ideas being implemented and 221 in progress. This has huge potential for unlocking ideas and is a great way for each employee to stay connected and give ideas that are valued and they can see go on to make a difference across the organisation. They have also seen a 4% increase in extremely satisfied customers since Innovate was launched.
Other speakers at the event were Anouski Roberts, Mark Shultz and Manuela Pifani from Direct Line Group and Debbie Wood from BWBSL, all of the sessions were packed full of information, content and were very interesting.
To finish the day off we heard from professor Mauriel Pierpel from Cranleigh University, accompanied by some music Mauriel discussed the importance of moving with the times and change within your business, move fast and invest in the youth of today, were key messages, as they are our innovators and leaders of tomorrow.
Doing what I do and working as a Recruitment Consultant for Douglas Jackson, serving the Customer Experience and Customer Contact industry, the conference provided an amazing insight to how some of the Industry leaders are pushing the boundaries, with innovative ways to improve the overall customer experience. One message resounded through all the best practice sessions; these innovations only seem to get the best results when coupled with providing learning, training and personal development to each employee. Through educating their employees with the knowledge and cultural importance of what they are trying to achieve, each of these companies has been able to realise significant improvements and results.
The atmosphere was buzzing and the conference was very informative and interesting, fun and jam packed full of new and exciting ways to improve the customer experience and employee engagement. It was great to meet such influential people in this industry, I walked away having learnt a great deal and I am already looking forward to attending next year.
Eleanor McDermott is a Recruitment Consultant at Douglas Jackson and works across the Retail, FMCG and Consumer Goods industry. You can contact Eleanor at email: eleanor@douglas-jackson.com, or call: 0345 620 9720.
Source: https://douglasjacksonrecruitment.wordpress.com/2016/03/09/winning-with-customer-experience-2016/
Publish Date: March 9, 2016 5:00 AM
---
Mobile Phones, Broadband, TV and WIFI, we just can't live without them. So why, oh why do we dislike our telecommunications, or network providers so little?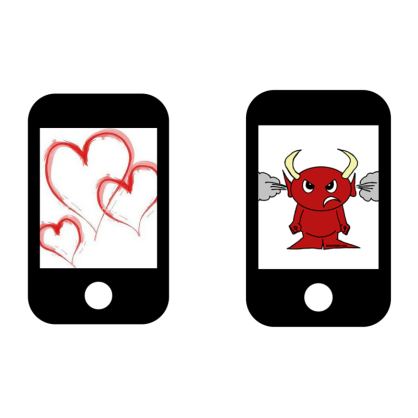 Just a few weeks ago BT were yet again awarded the wooden spoon award from the Daily Mail as The Brand you Voted as Having the Worst Customer Service in Britain.
In the recently published Institute of Customer Service, UK Customer Satisfaction Index (UKCSI) only two mobile operators, Giff Gaff, who raised their ranking significantly to 27 and Tesco Mobile, who made it in at No 47, featured in the top 50. Both are brands who use the O2 network and are serviced in-house by the same, yet O2, now part of Telefonica, was a brand that had always done well when it comes to customer satisfaction but was nowhere to be seen.
The banking, insurance and utility sector were all able to deliver some new entrants, in addition to the strong customer focussed brands; First Direct, LV= and Nationwide.
The banks and utility providers, despite their ups and downs, have managed to deliver, in part, through new challenger brands like OVO Energy and the re-emergence of TSB etc. The Insurers have been able to make significant inroads into our hearts, after all, who really wants to take out insurance, or feels good about making a claim?
The mobile phone, broadband and network providers do seem to be struggling when it comes to Customer Satisfaction. Who doesn't want to call, email, or text? Even the TV providers are missing. Who isn't waiting to watch the next season of Game of Thrones, or, The Walking Dead, yet where are Sky and Virgin Media? Lovefilm feature at No 37. In fact, if you look at almost every other service provider, will they not in some way deliver their service, through your mobile, or broadband, or network provider; Phone, Self-serve, email, app……?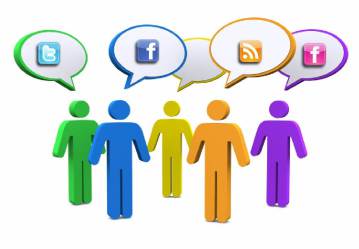 Are there really that many outages in network provision for us to forget everything else our network providers give us access to? Apple and Google are considered some of the globes most trusted brands, yet we know they take and use our data and without a solid network, or broadband provision would not be able to deliver what they do for us.
So what is next for the mobile and network operators……New entrants seem scarce, or unlikely, especially after Sainsburys and Vodafone decided to withdraw from the mobile market, after only two years and further consolidation is still to come with O2 and 3 expected to follow the BT and EE successful merger.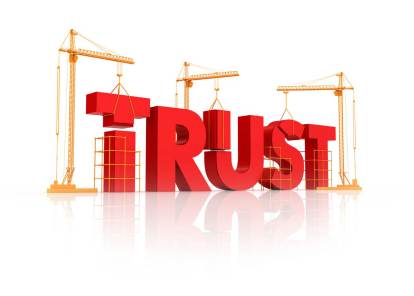 With the completion of a 'super-fast' fibre network, our reliance on further services and apps to deliver everyday activities and interactions will no doubt grow. So is the future still bright….will our providers be able to delight us, rebuild our trust and will we once again be able to love our network operators…..
We would love to hear your thoughts – what do you think?
Source: https://douglasjacksonrecruitment.wordpress.com/2016/02/04/we-cant-live-without-them-so-why-do-we-hate-them-so/
Publish Date: February 4, 2016 5:00 AM
---
It is a big space theme this week; with the release of Star Wars, the Force Awakens and the first 'official' British Astronaut, Major Tim Peake to blast off to the International Space Station. Over 40 years ago, I doubt Tim Peake's parents, or, George Lucas could dare dream what might become possible.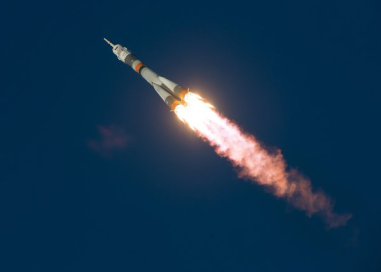 Photo NASA/Kowsky
Reach for the Stars: An inspirational saying encouraging us to aim high and take every opportunity.
Major Tim Peake has certainly done this. In an interview with Tim's parents, his father said 'it isn't about getting the highest grades, or being top of the class', as it seems Tim was weaker in these areas. Nigel Peake, put it down to his son's 'strength of character' that helped him secure a place on the European Space Agency programme.
His Mother went on to say that 'even when things did not come naturally, or, he was last, he'd keep plugging away'. Read the Independent interview here
Giving it a go, showing up and doing your best, these are things we are encouraged to do all the time, yet how many of us do? As recruitment consultants we regularly see possible opportunities wasted. The amount of potential applicants/interviewees who fail to show up, or, effectively prepare for their pre-arranged meetings still amazes us.
A lack of opportunity is one of the biggest reasons cited in work, as well as other areas of life, as to why we are unable to achieve our goals, or reach our potential. You have to wonder how much opportunity presents itself that we actually miss, decide against, or just ignore?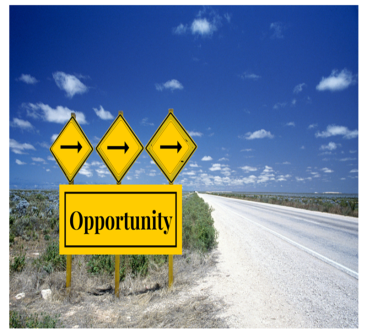 Has anyone seen the film Bruce Almighty? Bruce, played by Jim Carrey, is travelling in his car pleading to God; 'Give me a sign, send me a sign', becoming more and more frustrated, when he receives nothing in response, yet he is totally oblivious to sign after sign advising him of the obstacles and alternative route ahead.
How much opportunity did Tim Peake, or George Lucas pass by do you think?
We would like to wish Tim Peake all the very best for his amazing journey and stay in space, it is utterly inspirational. For everyone else; Reach For The Stars and take every opportunity that presents itself, who knows where we might end up……..
May the force be with you!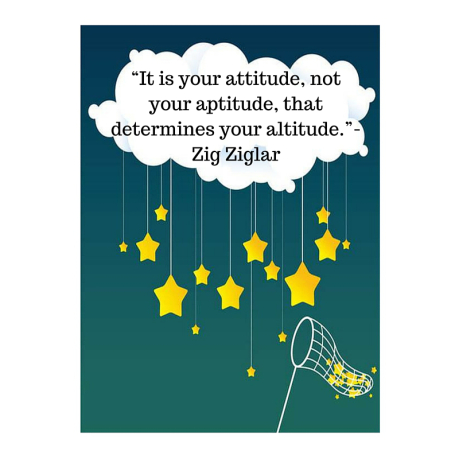 Source: https://douglasjacksonrecruitment.wordpress.com/2015/12/16/reach-for-the-stars/
Publish Date: December 16, 2015 5:00 AM
Page: 1 | 2