Evolve IP - ContactCenterWorld.com Blog
It's common sense that if you keep customers happy and they stay, make them unhappy and they walk away. But what you might not know is just how fickle your customers probably are. According to a survey conducted by American Express, eight out of ten customers walked away from a company due to poor customer service [1].
In the past, customer service queries, concerns and requests could be handled via only one channel: telephony. Today however, customers choose from multiple channels to communicate. This makes it critical for organizations to not only quickly attend to their customers via phone, but to be available via all their preferred communication channels including calls, text/SMS, email, web chat, web callback, and social media.
If the customer is forced to wait for an increased amount of time on call, or is not helped quickly via email, chat etc., he is likely to express his dissatisfaction with 140 characters on social media, negatively impacting the organization's public image and reputation.
What is an omni-channel contact center and how does it help?
An omni-channel contact center solution integrates calls, text, chat, email and social media making it easy for customers to switch between multiple channels and experience a unified and seamless brand experience.
Forrester noted that 95% of customers use more than one channel to communicate with companies [2] . Businesses that actively engage in customer communication via multiple channels and provide customers the flexibility to contact them as per their convenience, are likely to attract & retain more customers, improve customer satisfaction and increase their bottom line faster.
Also, it provides agents with better visibility into contact history from multiple channels available on a single platform. According to Zendesk, 75% of customers return to companies with excellent service and 33% spend more with brands that provide a holistic customer experience [3].
How is a true omni-channel solution different than a multi-channel solution?
By definition, 'multi' means 'many' which is not so different from 'omni', which means 'all'. This has led contact center solution providers to use these words interchangeably. However, functionality wise, multi-channel and omni-channel communication are very different.
In a multi-channel contact center solution, businesses have the flexibility to choose from several channels of communications such as calls, text/SMS, web chat, web call back, fax, social media etc. However, these channels operate in silos.
In an omni-channel contact center solution, businesses are offered the flexibility to pick their preferred channel of communication such as a multi-channel solution, but it offers an additional benefit of these channels being integrated i.e. all channels are available to the customer and are connected at the same time.
The diagram below might help explain it better: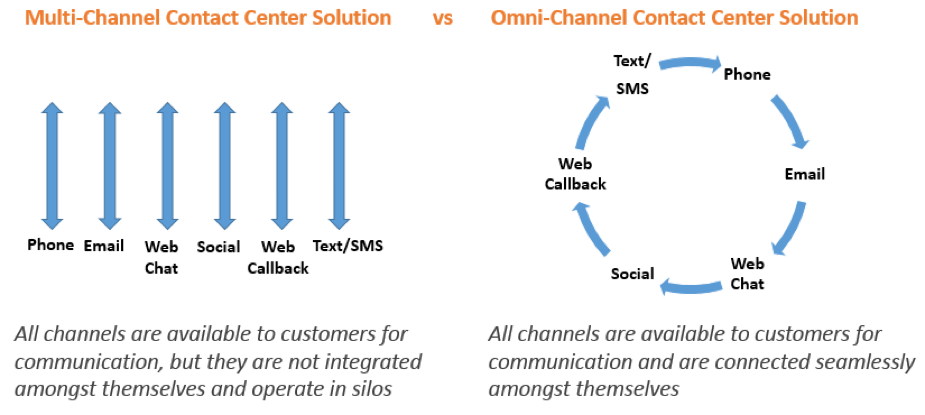 Is your organization ready to deliver an omni-channel contact center? Follow the link to learn more about Evolve IP's omni-channel contact center and differentiate your customer service.
If you're hesitant about adopting an omni-channel contact center solution due to integration or transition concerns don't worry, we've got you covered. Evolve IP is a cloud strategy company that provides customized plans and solutions based on each organization's need and requirements.
References:
[1] American Express Global Customer Serice Barometer (2012, May). "Social Media Raises the Stakes for Customer Service". Internet: http://about.americanexpress.com/news/pr/2012/gcsb.aspx
[2] Burke Collin (2015, Apr). "100 Customer Service Statistics You Need to Know". Ramp: The InsightSquared Blog. Internet: http://www.insightsquared.com/2015/04/100-customer-service-statistics-you-need-to-know/
[3] Zendesk (n.d). "The Sales Doesn't Stop at Checkout: 3 Ways Customer Service Increases Your Sales". Internet: https://www.zendesk.com/resources/tags/customer-support-technology/
Source: http://www.evolveip.net/importance-omni-channel-communication
Publish Date: September 8, 2017 5:00 AM
---
Key Steps to Improving your Call Center Reporting
Understand the available data: You need to understand the underlying data that is available to you and how the various metrics are calculated. For our new customers, this is absolutely critical to understand and we make sure they truly know their data and can properly interpret it.
Track the right metrics: You need to focus on the metrics that matter most, because there are so many and some are the WRONG metrics. This is where we will focus much of today's blog post
Regularly monitor them: You need to monitor the results every day. Not everything needs to be looked at each day and we'll discuss which things you should be looking at and how often.
Implement change management: You need to consider the impact that metrics have on your organization, your compensation, your agent's motivation. How will these KPIs impact morale? Will the metrics determine who gets more desirable shifts? Who advances in their career? Who gets extra perks? You need to put extra energy into Change Management and communicating repeatedly with your teams about any changes, especially when it impacts their career.
Take corrective action: And the final step is to recognize when the insights are telling you that corrective actions are required and taking the RIGHT steps to achieve your desired outcomes.
Key Call Center Metrics for Evaluating Customer Engagement
Service Level (SL)– My favorite metric. Its very simply calculated as the percentage of inbound interactions answered within your organizations goals. The most common goal in our industry for voice interactions is still 80/20 or 80% of calls answered within 20 seconds. This SL goal offers the optimal balance of customer satisfaction and contact center efficiency. Many organizations like ASA as a substitute for SL. I intentionally avoid it. Because ASA is an average, its very misleading - many callers are answered right away without waiting and many callers wait in queue much longer than the average. I also don't like this metric because it ignores abandon callers. This metric is typically applied to non-deferrable interactions like calls, chat, & web callback.
Response Time is often used for deferrable transactions like email where the customer isn't expecting a live agent to be waiting to assist them. A response time goal is how quickly the customer will receive an agent response. For example, if your goal is to answer emails within 1 business day, the expectation is that 100% of those emails will be answered in that time period. You still need to measure how consistently you are able to achieve that goal.
Answer rate is simply the % of interactions that were answered. At the end of the day, this is critical. Our goal is to address every interaction and perhaps we don't get to them as quickly as we would like but do we get to them all? I typically focus my secondary call routing approaches to ensure that my customers get as many interactions handled as possible to minimize those abandons. In reality, all organizations have a few percent of interactions abandon and that's normal. It's impractical to operate without any abandons unless you have unlimited funds or lives are LITERALLY on the line.
Additional Call Center Metrics to Consider
Track Service Level by Interval - If you want to achieve an even higher standard, you can track SL by interval not as an average across all intervals in a day. In other words, what % of intervals did you hit your SL goal? In many organizations there are periods where the call center is skeleton staffed and the results are not very good but when combined with other intervals where the call center is fully staffed, the overall SL for the day hits the mark. If some organization measured SL by % of Intervals, the overall percentage would drop. It's a good way for you to see how consistently you are delivering your desired results throughout the entire day.
Occupancy – After all, you pay the call center agent to be on the phone so any time not on the phone may be considered unproductive; that may not be entirely accurate. Occupancy is a by-product of leadership's ability to properly staff the call center and set the right SL goals. The higher the SL goal, the lower the Occupancy. Some people think occupancy = productivity? I'd offer an alternative opinion – Occupancy is a measure of leadership's ability to find the right balance of volume to staffing to service level goals. There is an interrelationship here between these dynamics that needs to be understood. Once understood, you are in a much better position to effect change by championing the need based upon this knowledge. And more importantly, it is a barometer to know how close your agents are to burnout and morale issues. Once Occupancy gets into the upper 80% or higher, most agents will be negatively impacted.
Idle Time – This is another leadership measure to gauge overall resource capacity planning. If agents are sitting idle too much, are your SL goals too high? Are you overstaffed? Do you have non-phone tasks they could be handling?
Turnover – This is another measure of organization's ability to provide strong leadership, the right tools, the right compensation, etc. Turnover is another bellwether metric that is indicative of the overall employment and hiring practices of the organization.
Workforce Management (WFM) – for customers that have deployed a WFM solution, key metrics include forecast vs. actual volume and scheduled staff vs. actual staff. We have customers using various WFM tools and many have standardized on Monet for forecasting and real-time adherence that are fed data by the ACD. Our customers typically can achieve 95% forecast accuracy. Having accurate forecasts, leads to optimal schedules, aligning staff with the inbound interactions which leads to higher SLs and customer satisfaction. Accurate forecasting is a combination of science AND art and the more precision achieved will result in a contact center that has a strong plan for each day.
The above metrics are the most critical in nature. However, there are additional metrics that you may need to measure to monitor your agent performance.
Follow the link to watch our 24 minute webinar on Best Ways to Measure Your Call Center Reporting & Analytics and learn about the other important metrics.
Source: http://www.evolveip.net/key-steps-call-center-reporting-analytics
Publish Date: August 22, 2017 5:00 AM
---
We are thrilled to announce that Evolve IP has once again made the Inc. 5000 list as one of the fastest growing private companies. The 2017 Inc. 5000, unveiled online at Inc.com and in the September issue of Inc., is recognized as having one of the most competitive crops in the list's history. By being named in this list for the 5th time, Evolve IP earned a spot on the 2017 Honor Roll – a distinction which fewer than a tenth of Inc. 5000 honorees achieve. A few of the other companies that made the 2017 Honor Roll include Microsoft, Dell and LinkedIn.
In addition to being named to this year's Inc. 5000, Evolve IP has received numerous nationally recognized honors, was named as a Visionary in the Gartner 2017 Magic Quadrant for Disaster Recovery as a Service (DRaaS) and we released Evolve Contact Suite, a comprehensive multi-channel solution for our award-winning contact center.
What sets Evolve IP apart from our competitors? Our unique culture and strategy.
Our expansion has been fueled by our ability to deliver customized, integrated cloud strategies in both cloud communications and cloud computing. By providing highly customized and integrated services that focus on customers' current and future needs, Evolve IP is able to achieve a 98% retention rate and 95% customer satisfaction rate. And, with an incredible 94% associate retention rate, our long-tenured staff provides relationship continuity. Using funds from a 2016 investment from Boston private equity firm Great Hill Partners to accelerate organic growth and mergers and acquisitions across the globe and implementing an aggressive strategy to further accelerate intellectual property research and development, Evolve IP is truly on a roll!
To explore career opportunities, please click here and to learn more about our cloud services, click here.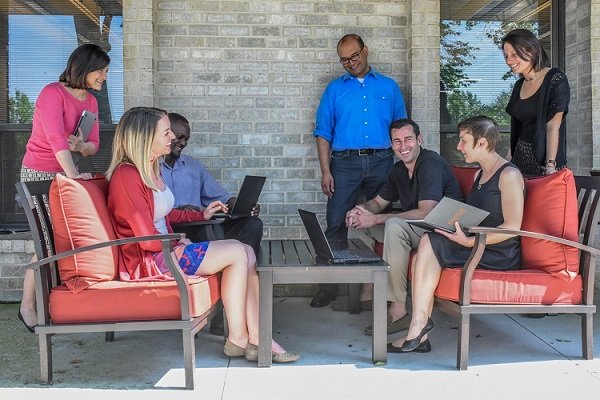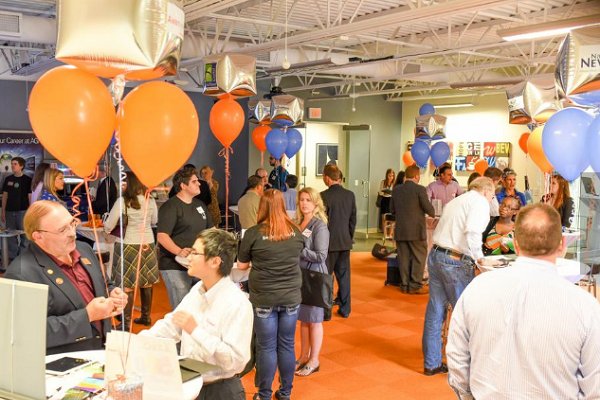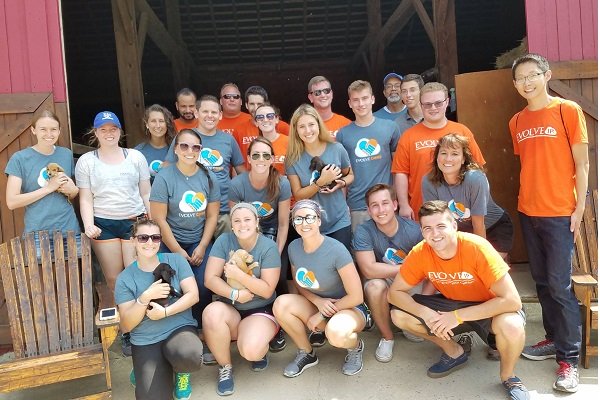 Categories: Company News
Source: http://www.evolveip.net/evolve-ip-on-a-roll
Publish Date: August 18, 2017 5:00 AM
---
For many people, Karate carries a sense of mystery and there are misconceptions that it is pseudo-religious or has spiritual overtones. Not quite. There are several branches to the family tree of traditional Japanese karate and each has a very similar set of principles. The founder of Shotokan karate, Gichin Funakoshi, was a poet and philosopher so there is some philosophical background. Here are Funakoshi's five karate principles, known as the Dojo Kun (pronounced: do-jo koon), that every business leader can use every day.
Seek Perfection of Character
Character is one of those things that everyone understands but can be hard to put into words. It is a person's moral compass but it's about more than just morality. It is the foundation of a leader. Remove a brick from that foundation and it may take a long time for the structure to settle, if it doesn't completely crumble around you. In short, continue trying to be the best version of you that you can be. We're all human and make mistakes but meddle with character and you're asking for trouble.
Be Faithful
This is not necessarily religious. In this context being faithful means finding something important to your organization, and being steadfast to it. This is your vision, your mission. Stay true to it. If you don't believe it then neither will the rest of the organization. But if you truly believe your mission and preach it every day then your people will share your vision too. They'll be faithful and out of this faith comes passion.
Endeavor To Excel
This one seems obvious but there's nuance here. Endeavor is an action word. It is something you strive for. Not once, not twice. It is something you do every day. Much like karate, there is no finish line. No matter how much training a karateka (karate practitioner) has, or how much endeavoring a business leader has done, there is no end because there is no mastery, only excellence which is not finite. Funakoshi said, "Karate is like boiling water, if you do not heat it constantly, it will cool." Excellence is the same, it is something you work continually toward or else it will cool.
Respect Others
Another no-brainer, right? Too many bad leaders think respect comes with the corner office. It doesn't. You can't force respect, you can't demand it. Respect is earned and it is a two-way street. In order for people to respect you they need to know you're one of them. They understand you have broader responsibilities but they need to feel that you'd roll up your sleeves and do the grunt work with them if and when you have to. And, you have to show respect to the people with whom you work. If there is a lack of respect in either direction you have to stop and ask yourself why because it's time to make changes.
Refrain From Violent Behavior
This may seem counter-intuitive to a non-practitioner of karate because karateka spend so much time training to punch, block, strike, and kick. To traditional martial artists, however, the notion of non-violence is deeply embedded. Reason and negotiation comes first, physical force is a last resort. In business, refraining from violent behavior is so obvious, it's barely worth saying. Under no circumstances is violence acceptable in the workplace unless you're a professional fighter. So, let's look at the tenet less literally and replace the word "violent" with "aggressive", "abusive", "offensive", or a myriad of other less-than-savory expressions.
Refraining from offensive behavior goes hand-in-hand with all of the other principles above. If you are offensive to your employees then you will lose their respect, your character foundation will crack, the employees will lose their faith, and ultimately their motivation to excel.
One of the nation's fastest growing cloud companies, Evolve IP provides cloud services in virtually every industry including: healthcare, legal, insurance, banking, technology, travel, veterinary medicine, and retail and to some of the world's most recognizable brands. The company's Evolve IP OneCloudTM solution allows organizations to migrate multiple cloud computing and cloud communications services onto a single, unified platform including: virtual data centers / servers, disaster recovery, virtual desktops, IP phone systems / unified communications, contact centers, and more.
Source: http://www.evolveip.net/five-karate-principles-for-business-leaders
Publish Date: May 11, 2016 5:00 AM
---
Late last year, I posted an article advising you to pick your horse BEFORE the race even begins. You know you've struck a chord when your fellow competitors tell you that your article really hit home. That's because we suppliers are the first to recognize that we've lost opportunities because of the confusion created by sales partners that have insisted on bringing multiple quotes to the table. Now, it seems that we're hearing the same thing from our Master Agents, whose message to their sales partners is, "3 quotes don't work in the cloud business." So, now that we've seen validation from both the Suppliers and the Master Agents, how can the sales partners maintain their neutrality if they only bring one supplier to the table? Better yet, how can a sales partner demonstrate their value if all they're doing is facilitating multiple meetings with multiple suppliers?
Simply stated, you've got to get better at qualifying the opportunity. By this point, we've shown you how to identify an "on-time" opportunity by asking the right questions to identify that impending event. Now, it's all about having some faith in utilizing the resources of the Master Agent or your favorite supplier to engage with the prospect in order to move the deal forward. Think of it this way – you are actually doing your prospect a real disservice by bringing multiple suppliers to the table. You've got to be confident when you tell the prospect why you've chosen a particular supplier. We've seen this best demonstrated in VAR business when they explain that they've vetted the requirements in order to recommend the RIGHT partner and the RIGHT solution.
Now, let's get back to the title, High Risk, High Reward:
The Risk – You might pick the wrong supplier! Two comments – You'll only make that mistake once and if you are not taking advantage of the training programs offered by both the Suppliers and Masters, you risk being left behind.
The reward – Cloud deals, especially cloud computing deals, are worth an average of 3X the revenue as compared to telephony sales. Said another way, 100 seats of UC is $3500-$4000. 100 seats of VDI gets you over $10K!
As a sales partner, you've already demonstrated your willingness to take risks. Otherwise, you would still be working for somebody else. The Cloud gives you the ability to demonstrate your willingness to change the rules and I'm confident that you have the foresight to accept that challenge.
More about Evolve IP
One of the nation's fastest growing cloud companies, Evolve IP provides cloud services in virtually every industry including: healthcare, legal, insurance, banking, technology, travel, veterinary medicine, and retail and to some of the world's most recognizable brands. The company's Evolve IP OneCloudTM solution allows organizations to migrate multiple cloud computing and cloud communications services onto a single, unified platform including: virtual data centers / servers, disaster recovery, virtual desktops, IP phone systems / unified communications, contact centers, and more.
Source: http://www.evolveip.net/cloud-services-high-risk-high-reward
Publish Date: April 18, 2016 5:00 AM
---
With 4.7 seconds on the clock Wildcats Forward Kris Jenkins inbounded the ball to Tournament MVP Ryan Arcidiacono. The senior captain dribbled 6 times – two with his left hand, four with his right – and found himself at the top of the key; just 1.7 seconds remained.
The next play took everyone in the building, including the Tar Heels by surprise. Villanova's heart and soul, a light's out shooter, dished the ball to the trailing Jenkins who, with half a second on the clock, let fly a life-altering three for the ages.
Jenkins stood statuesque watching the ball arch down, kiss the back left of the rim and fall through the netting as time expired. Jenkins drove his arms up as streamers and confetti fell from heavens. His teammates swarmed him and the #novanation exploded knowing Villanova had completed a most remarkable tourney run exactly where they were just months earlier … #1 in the nation. Champions. Winners.
Of course there was no luck in that play. The blueprint for success had been carefully architected and tested. And, ultimately, it was executed perfectly by the full team. It was designed by Jay Wright, the 2016 Naismith Coach of the Year, and a man driven by teamwork, effort and preparedness.
Back in 2015, just a few weeks before Villanova first claimed stake to being number 1, Evolve IP announced that Coach Jay Wright had become our company's spokesperson. The qualities that drive Coach Wright, and the high-performing team he has recruited and mentored, have great parallels with the associates and leadership at Evolve IP. For example:
A Great Team – Just like the Wildcats, Evolve IP recruits the best talent. And while we have loads of stars – you have to fit in with the culture, work as a team and put forth great effort – prima donnas need not apply. Ultimately, this pays off in numerous ways. With great people come amazing products and a great customer experience – how many businesses do you know have a 98% annual customer retention rate and customer raves like this?
Roll-up the sleeves attitude – One of the most amazing parts of the Championship game occurred just before the final play when Daniel Ochefu, Villanova's 6'11"forward, picked up the rag broom to clean off the sweat from the floor. Knowing full well that he would be key to the next play he made himself accountable to his team (and 'Nova fans everywhere) to ensure its success. That kind of reliability and personal accountability is the same attitude that we bring to the table at Evolve IP and another reason why our customers love us.
Winning – We're obviously thrilled that Villanova has some new hardware and we're proud of our own accomplishments as well. In 2015 alone we won numerous 'best of' product awards, were named one of the "Top Private Companies in the Nation" by Entrepreneur Magazine as well as winning numerous accolades for growth, best places to work and professional development.
Preparedness – Jay Wright had the right strategy to win the game and the team was able to execute the plan perfectly. It was a play they had practiced every day during the "Wildcat Minute" – a late-game scenario drill. It's also a lesson every business can learn from. Evolve IP's cloud services allow businesses to survive the "late game scares" that occur with alarming frequency to almost every organization: server failures, network issues, environmental disasters and more. Using Evolve IP's award-winning cloud communications and cloud computing services enables business continuity and provides the ultimate in preparedness and security. Click for our complimentary business continuity checklist – it will either help you get started with a plan, or help ensure you have all of the elements you need in your current strategy.
Congratulations to Jay Wright and the Villanova Wildcats!
Source: http://www.evolveip.net/shooting-for-the-clouds-congratulations-to-jay-wright-the-villanova-wildcats-and-novanation
Publish Date: April 5, 2016 5:00 AM
---
The Metro subway mess was much more than a commuting nightmare – it also cost organizations productivity and revenue.
There have been two major incidents in the past two years on the DC Metro. The first was the tragic Yellow Gas Incident in January of 2015 where an electrical malfunction caused a train to fill with smoke sickening 80 people and tragically killing one.
In recent news, Metro board Chairman Jack Evans stated, "the Metro is in such need of repair that the transit system could shut down an entire rail line for as long as six months to do needed maintenance," and the region's travelers agree. In fact, a Washington Post User Poll asked, "Should Metro shut down an entire rail line for an extended period of time to make repairs?" as of 3/31 at 9:00 AM the results were leaning towards YES with 64%.
The impact of such a shutdown is not insignificant. There are 6,032,744 residents in the DC Metro area making 798,456 trips per weekday. Commuters from the surrounding Maryland and Virginia suburbs raise the city's population to more than one million during the workweek. So, what happens if roughly 10% of the metro population loses their main method of transportation for half a year? Evans stated, "People will go crazy.".
Considering the already brutal traffic getting in the DC area businesses can expect decreased productivity due to increased commuting time, higher levels of employee stress and increased demands for Work From Home (WFH) programs.
During the March Metro meltdown, we helped thousands of Washington DC area users stay productive at home (or their local Starbucks). How did we do this? With a variety of services that enable real business continuity. Here are a few examples:
Using our IP Phone System, associates easily transferred office phones to mobile phones – with mobile phones appearing as office phones to their customers
Leveraging virtual desktops, employees accessed your application files – exactly where you left them – on Office 365, Adobe, their CRM, and more
With unified communications features, users were able to:

Listen to voicemail in email (and answer emails of course)
Dial into Web / conference calls
Share desktops to edit PowerPoints with co-workers
To put it bluntly, other than wearing sweats and not having to listen to the annoying guy a couple of cubes away, using our cloud services made working remotely no different than being in the office.
These are losses that don't ever have to happen to your organization whether the cause is a fire at the L'Enfant station, a snow storm or an IT hardware failure. Learn more about our cloud-based business continuity services.
Source: http://www.evolveip.net/business-continuity-and-how-to-avoid-lost-productivity
Publish Date: April 4, 2016 5:00 AM
---
If you looked at information technology as a sports team you'd have a pretty typical cast of characters. You'd rely heavily on Microsoft Mike, the dependable veteran. You'd see David "Desktop" Dell every day in the locker room, after all he's your annual free-agent signing, and then there would be your franchise player, known only as "The Cloud." He's the kid who came up through the ranks practically out of nowhere. The front office loved him from the start, other players were jealous and talked him down but ultimately – he's delivered and he's now winning fans across the board.
In Evolve IP's 2016 survey on cloud adoption we've learned that "The Cloud" has gone from promising rookie to the face of the franchise. In fact, based on the results, he has believers in every part of the organization, he is well-liked (even loved), he integrates with virtually everyone, and he is trusted like never before. As you would expect, with this kind of universal appeal, The Cloud is in high demand.
Monday morning quarterbacks concur. According to Gartner, spending on Infrastructure as a Service (IaaS) will have a 29.1% CAGR from 2014 – 2019 with sales of $16.5 billion in 2015. Cisco echoes the cheers for The Cloud noting that cloud apps will account for 90% of total mobile data traffic by 2019.
Evolve IP's exclusive research, which also trends statistics going back to 2013, looked at the impact of The Cloud with the following areas of concentration:
IT and executive beliefs – Key finding: Executives and IT managers / directors are finally in alignment about the value of the cloud
Cloud services adoption trends – Key finding: 91% of all respondents have a service in the cloud
Cloud implementations – Key finding: 50% of those that deployed a cloud service 'in-house' would outsource the next time
Expectations and concerns – Key finding: 62% of respondents feel their data is safest from malicious attacks in the cloud (versus data on premises)/
Departmental implementations – Key finding: about 50% of all departmental deployments did not include IT
Budgets – Key finding: Over ½ of respondents expect to spend more on the cloud in 2016 than they did in 2015
The survey was exclusively focused on IT professionals and executives involved in approving and/or implementing cloud strategies. 1,080 companies participated in this seminal web-based survey, making it one of the most thorough examinations completed on this topic.
Source: http://www.evolveip.net/what-did-half-of-departmental-cloud-deployments-not-include
Publish Date: March 12, 2016 5:00 AM
---
In our highly interconnected world, the requirements of technology and infrastructure are continually evolving and the roles and responsibilities related to designing and implementing Disaster Recovery (DR) and Business Continuity (BC) are changing. As you pursue opportunities to reduce risk exposure, while increasing the strategic value of your department, you've likely discovered Disaster Recovery-as-a-Service (DRaaS). As a cloud-based service, DRaaS provides data loss prevention and business continuity options that reduce complexities of disaster recovery, mitigating the effects of a disruptive event. It's becoming less a question of whether organizations benefit from DRaaS and more a question of how painful (or damaging) it will be to continue to manage premise-based data centers.
"…companies have to be very schizophrenic. On one hand, they have to maintain continuity of strategy. But they also have to be good at continuously improving." ~Michael Porter
Cloud-based services can boost the speed and agility of IT infrastructure paving a path to performance and a new way of operating. But if cloud-based services are new to your organization, your adoption may be met with resistance. Perceived ambiguity and risk around your initiatives are sure ways to derail your efforts. Addressing relative advantage, observability, trialability, compatibility, and complexity – the five pillars of the widely accepted Technology Acceptance Model (TAM) – will significantly improve your ability to drive change and gain support for implementing DRaaS …and other cloud-based initiatives!
Speaking Points to Influence the Acceptance of a DRaaS Solution
Relative Advantage – the degree to which DRaaS is perceived as being better than the solution/strategy it is replacing.
People, processes and technologies are all prone to flaws. Cloud-based services such as DRaaS mitigate risk exposure through automated, off-site backup. In addition to peace of mind and convenience, the cloud-based model introduces flexibility and scale.
A few additional advantages to highlight:
Recovery Point Objective (RPO) and Recovery Time Objective (RTO) service level agreements with RPOs measured in seconds, not hours;
Multiple options to establish private connectivity as if the servers were still sitting at your own on-premise data center;
Increases reliability with automatic failover;
Enhances security posture adding defense, depth, and encryption; and
Shift CapEx to OpEx by replacing the unpredictable costs of maintaining or replacing hardware with a predictable, monthly recurring services fee.
If your organization frequently needs a secondary environment for application development, patch testing, etc., emphasize that the DRaaS platform can easily be used for this purpose.
Observability – the degree to which the results of DRaaS are visible to others.
The ability to perform isolated Disaster Recovery testing during the workday without impacting production provides current DRaaS subscribers clear evidence that data is synchronized in near real time and easily accessed.
Social Proof and numbers provide visibility to the organizations that have not yet adopted DRaaS.
Since DRaaS frees your organizations from the endless cycle of purchasing, supporting, upgrading, and ultimately replacing expensive on-premise infrastructure, mapping your current spend to that of a DRaaS offering will significantly influence support. Another compelling indicator of results can be communicated through the sharing of case studies and peer references.
Trialability – the degree to which DRaaS may be experimented with on a limited basis.
The easier it is to test an innovation, the higher the likelihood of adoption. Because no infrastructure is required, you can quickly and easily pilot a DRaaS solution for proof-of-concept validation. Not all DRaaS providers offer a trial yet it is a valuable and important opportunity. The trial offers an opportunity to experience the people, process, and technology before fully embracing the solution and provider.
Compatibility – the degree to which DRaaS aligns with the existing values and experiences of the organization.
As a cloud-based service, it is important to communicate that technical compatibility is not factor. You can, however, draw attention to compatibility between DRaaS and the organization itself. Look for opportunities to correlate DRaaS with strategic business objectives, your organization's mission statement and/or values. If your organization is subject to compliance and regulatory requirements, DRaaS will effectively address reporting and auditing.
Complexity – the degree to which DRaaS is perceived to be difficult to implement, manage, and support.
Reducing complexity is the hallmark of DRaaS and is one of the reasons it successfully mitigates the effects of a disruptive event.
The results of Evolve IP's "2015 Disaster Recovery and Business Continuity Survey" revealed that of the types and durations of losses during incidents, the highest percentage of permanent loss was of backups that were not recoverable, followed by loss of critical data. Additionally, the highest percentages of losses for one or several days were loss of network connectivity, loss of a host machine, and loss of a critical application.
Simplifying the people, process, and technology components of your DR and BC plan through DRaaS will reduce your exposure to disruption and increase your ability to retain data.
Your Journey to the Cloud
As you evaluate DRaaS and other opportunities for migrating to cloud-based services in favor of on-premises infrastructure, you're likely to have many questions. Don't let intimidation or lack of expertise keep you from learning more about cloud-based solutions. As the nation's only single-source cloud services provider, we are uniquely positioned to help you navigate options and guide your journey.
Source: http://www.evolveip.net/a-simple-way-to-make-the-case-for-draas
Publish Date: February 23, 2016 5:00 AM
---
Businesses often look to new software and updated processes to improve their business. So, why is it that when it comes to their phone systems, they are resistant to change and instead want to stick with the status quo?
Organizations that seek to leverage technology to improve their businesses should be looking at the ways they could do this with their phone system, because they are often using the same old processes that they have been using for twenty-some years. Imagine if you were still using the same computer you used 20 years ago!
An example I see regularly at Evolve IP: our expert technology advisors will coach a new customer about the benefits of auto attendant or call center technology when they identify a situation where it would improve their business, but the customer declines because they want the "personal touch" of a receptionist, even when the user experience is worse for it (i.e. "Thank you for calling ABC Company, please hold…")
In other cases, they are just resistant to change (i.e. "This is how we've always done it.") Many organizations are still relying on outdated, inefficient "call park" technology, where a caller is parked and a message is broadcast, usually overhead, for so-and-so to pick up the call. This is disruptive to the entire organization. There are, of course, exceptions such as a car dealership, where the majority of employees don't spend their day sitting at a designated workspace – a feature that service providers can also help with.
Why should people change their phone system?
There are certainly many reasons that organizations should consider a new phone system, but in regards to leveraging the technology to improve their business, it comes down to a couple of things: improved customer experience and staff efficiency.
It's true that some people don't like "talking" to an auto-attendant or waiting for a call center agent, but the reality is that it streamlines the process and improves the customer experience. Today's phone system technology offers a variety of options to improve the customer experience over "what we've always done".
Have you ever been on a call and told your whole story to the first person then they transfer you to another person and you have to repeat your story again? That is a much worse experience than tapping a few phone buttons to select the right option to route your call to the person who can actually help you. And, of course, we all know that if the caller really prefers to speak to an operator, they only need to press zero.
In regards to efficiency, why should the call be answered by a receptionist if the only reason they answer the phone is to transfer calls and they are not actually the person who can help the caller? Does this kind of human touch really improve the customer experience? Why not get the call to the right person the first time? Instead, set up your call flow to direct the caller to exactly whom she needs to talk to the first time, thus shortening the overall wait time for the caller and improving their experience with your company, while reducing the burden on your staff.
You certainly do not want a menu tree that runs 100 options deep (try to keep it to two levels, three at most); you want to keep it focused on just a few of the best options. A good, consultative service provider should have professionals on staff who will help you design an efficient call flow and set things up in the most helpful and efficient manner for your business.
The next time you are looking for ways to improve your business via technology improvements, don't forget to take a good look at your phone system. If you are looking for more information about deciding whether or not to move to a new phone system, click here to download a copy of Evolve IP's 9 Signs it's Time to Upgrade Your Phone System.
Source: http://www.evolveip.net/are-you-leveraging-your-phone-system-to-improve-your-business
Publish Date: February 14, 2016 5:00 AM