Firstsource Solutions - ContactCenterWorld.com Blog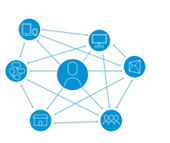 There's a lot in common between the Internet of Things (IoT) – a buzzword in online business today — and the 2009 sci-fi blockbuster Avatar. Much like the movie, where life in all its forms is interconnected through the Tree of Souls and the Eywa, IoT will form the nerve centre of how we live in the future. From smart homes to smart offices to smart cities, IoT will be everywhere.
The concept of IoT is based on devices and systems being interconnected through sensors and actuators to gain meaningful data and actionable insights to improve the overall quality of life. For instance your car is connected to your home through IoT and each time the car moves out of the vicinity of the home, the heating (or air conditioning) automatically shuts down and restarts when it senses the car in the vicinity. From reducing costs, complexity and inconvenience to being more energy efficient, effective and productive – IoT hinges on the huge possibilities the future holds.
How well businesses are able to leverage IoT will determine how effectively they can reach and influence the next generation of consumers – the digital natives. This next generation consumer can truly appreciate the value that areas like social media and IoT have to offer.
In 2013, IDC projected that the commercial and consumer impact of the Internet of Things will grow at a CAGR of 7.9% to reach $8.9 trillion by 2020 – a figure you simple cannot ignore. From smartphones to tablets, electronic devices, wearables, and even your cars, IoT will permeate every sphere of life. It is already inching into the workplace thanks to smart wearable devices.
Getting Ready for the Big Wave
Businesses can use IoT effectively to drive down costs, enhance asset utilisation and productivity, and enhance process efficiency. The business benefits of IoT are enormous – from unlocking the economic value of assets for enhanced optimisation, to generating new business streams like big data management for better decision-making.
IoT will also drive the need for capacity management, and data centers will require intelligent and automated capacity planning tools that can help them to keep pace with the swell in demand and the ask on their infrastructure. It is imperative to have a robust data management capability in place. Apart from data management, IoT can open up potential opportunities in the areas of security, storage management, datacenter network, and data analytics.
Once businesses run on the IoT ecosystem, real-time visibility of the logistics chain can provide information on tracking congestion, help analyse traffic patterns, reroute shipments, and optimise the logistics network to create an enhanced customer experience. Many small and medium enterprises are likely to upgrade their current infrastructure to 'smart' machines that allow them to be connected to the Internet.
Concerns around Security
Skeptics argue that once everything is connected to and through the Internet, it will pave the way for massive and unprecedented security challenges with regard to data privacy, safety, governance and regulation. As the number of connected devices increases (50 billion connected devices by 2020, by some estimates), the potential doorways – offered by every device – to sneak into your IT infrastructure will multiply. But the concept of IoT is still in its formative stage, and given its far-reaching impact on almost every sphere of life, formal legislation and regulation is bound to evolve.
While the thought of everything connected through the Internet may be too futuristic, business models based on the traditional static information and architecture face challenges as new ways of creating value arise. According to McKinsey, though the widespread adoption of IoT may take time, the window is getting narrower given the advances in underlying technologies. This is a crucial phase for business executives to evaluate the possibilities and formulate their strategies around the potential implications of IoT.
Source: http://www.firstsource.com/blog/internet-things-transforming-life-business/
Publish Date: October 26, 2015 5:00 AM
---
Banks are changing the way they conduct business as their relationship with customers rapidly evolves with more and more interactions taking place online. According to a Forrester report, mobile banking is the biggest industry innovation in a century. "The longer we spend researching mobile banking, the more convinced I become that mobile banking is the most important innovation, or cluster of innovations, in retail banking in years, arguably in a century," says Ben Ensor, author of the report.
These are not just hollow words. Ensor's research backs it up with substantial findings: In developing economies that have poor brick-and-mortar infrastructure, mobile banking has the potential to replace branch networks, "bringing millions of people into the banking system for the first time." On the other hand, in advanced economies, banks that fail to develop mobile banking technology risk losing their retail payment systems due to 'digital disruption' by more savvy competitors.
Setting the pace
This growth is not just limited to mobile banking, but to all forms of virtual banking. The proliferation of smartphones and tablets, and the rising consumer expectations have made it imperative that banks provide more than just basic functionality like product information, account balances and ATMs locators online. Here are some statistics that set the stage for the transformational role of virtual banking:
- In 2013 smartphone sales surpassed feature phone sales globally for the first time: 1.8bn phones were sold, of which 968 million were smartphones. (Source: Gartner, February 2014)
- More than 50% of the 5,800 commercial banks in the US offer some form of mobile banking
- 51% of American adults bank online while 32% use some form of mobile banking
Yet another research by Gartner corroborates the explosive growth of e- and m-banking. The study found that the evolution of the Internet has raised questions about the continued viability of brick-and-mortar establishments in retailing and financial services. For many financial institutions, the future is proving to be extremely difficult and challenging as traditional models no longer apply to many of their customers or markets.
Digital banking is trending now
So what exactly is clinching the deal for digital banking? It is not just convenient and available 24×7, it is also extremely low on cost-to-serve when compared with an actual visit to the branch. Experience in the Scandinavian region, considered to be the most advanced e-banking area in the world, confirms that the future is in a combination of 'clicks and mortar' banking. Customers want full service banking via a number of delivery channels including online.
Digital banking teams need to drive e-banking adoption by listening to their customers' needs, focusing on helping them achieve their goals, integrating mobile banking into a broader multichannel strategy, choosing technologies carefully, and using education and security guarantees.
Striking the right balance
Given that the customer is today calling the shots of any business relationship, financial institutions must adapt their engagements and respond to customer needs more effectively while remaining connected with them. Ensuring regulatory compliance and maintaining profitability is just as critical. The widespread adoption of digital banking by the 'always on' customer means that customer engagement has gone beyond the traditional modes of personal and phone interaction.
Digitisation also makes real the threat of losing personal connect with the customer – the very basis on which financial institutions are built. And while technology is constantly evolving, banks need to strike a balance between traditional customer service and the digital connect to remain relevant to today's consumer.
Source: http://www.firstsource.com/blog/brick-mortar-vs-digital-banking-striking-balance/
Publish Date: October 14, 2015 5:00 AM
---
The only thing that truly differentiates an organisation in this age of consumerism and high-tech products is the quality of customer experience it offers. This, by extension, is also applicable to the healthcare industry where the patient is the consumer. A premium patient experience is as important as clinical care as an indicator of customer satisfaction. According to the Patient Experience Journal, patient experience reflects the occurrences that happen independently or collectively across the continuum of care. It is focused on personalised care and customised services to meet patients' needs and engage them as partners in healthcare.
Research has found that more than 65% of a patient's interaction with a healthcare provider happens before and after the actual treatment. Given this, while the in-hospital experience like waiting time, registration assistance, nursing facilities and diagnosis are crucial to the patient experience, the choice of insurance coverage, access to the facility, ease of appointment, follow-up visit scheduling and call-back option for assistance are also core to the overall patient experience.
Many healthcare organisations have initiated the digital transformation process including real-time patient health monitoring, mobile apps for doctor appointments, billing and even providing a personalised diet chart based on the patient's health condition. In the US, focus on patient experience is especially important as the Hospital Consumer Assessment of Healthcare Providers and Systems (HCAHPS) survey scores are directly tied to 30% of Medicare's incentive payments to hospitals and health systems since October 2012.
And yet, a McKinsey report has found that while patient satisfaction is becoming an increasingly important source of competitive advantage in hospitals and health systems, many healthcare providers fail at measuring patient experience comprehensively. To counter this effectively, organisations must use the vast amounts of patient data available with them to make better decisions and enhance services. With the right analytics tools, hospitals and healthcare companies can collate and analyse data effectively and provide meaningful actionable insights. Analytics is being used extensively to track patient preferences and offer customised services.
A 2012 benchmarking study in Patient Experience Management (PEM) by Gelb Consulting found that leaders of several healthcare facilities agreed that improving patient experience supports growth in market share and patient volume. Exceptional experience can turn satisfied patients into advocates, which is a major benefit for an industry that thrives on referrals and recommendations. The study also found that a large majority of organisations were employing technology as a means to manage patient experience. Over 84% of the respondents said they relied on patients' electronic records and 68% reported using real-time patient feedback tools. Technology was also being used extensively to track patient preferences.
But, the predominant and overarching principle for a successful PEM program is for it to be an enterprise priority, with support from each and every department of the healthcare organisation. Building and developing uniform and seamless service standards based on a culture of empathy is core to enhanced patient care and experience. Managing the patient experience will be a priority for progressive organisations and their PEM strategies will have to include technology and process excellence initiatives.
Source: http://www.firstsource.com/blog/patient-experience-management-new-success-mantra/
Publish Date: October 7, 2015 5:00 AM
---
Social media has had a rather dramatic evolutionary journey. What began as a mode of connecting with friends and sharing messages, opinions and pictures has graduated to become a mode of chatting, surfing, shopping, gaming, banking, and a lot more – anytime, anywhere. The multitude of smartphones and smartphone apps has pervaded almost every sphere of life to become indispensable. This has fuelled the growth of new banking trends – with the latest being digital wallets on social media. Also called e-wallets or social wallets, they allow virtual financial transactions on social media platforms safely and securely.
Social wallets allow users to transfer money to their 'friend list' or 'contacts', share and split expenses, and even recharge prepaid mobiles over Facebook, Twitter, WhatsApp and other social platforms. Research expects this social media-ecommerce integration to deepen through 2015. Juniper Research has projected that the number of mobile money transfers globally will rise by nearly 150% to touch 13 billion, with several social media firms already noticing a dramatic rise in usage. According to Forrester, we are in the early stages of unprecedented innovation and transformation of the consumer payments industry, and the growth of a digital wallet marketplace is next.
The definition of a digital wallet continues to evolve as innovations come to market. Social wallets, by their very existence, underscore a significant fact: banks and ecommerce sites are engaging customers with social media. This is in addition to a slew of mobile banking apps available to customers. According to a study by Allied Market Research, the global mobile wallet is expected to reach $5,250 billion by 2020 given the rising smartphone penetration and increasing security technologies.
As far as money transactions on social media are concerned, what needs to be highlighted is that social media offers a medium of immediate gratification to the users. Industry reports suggest that sites like Facebook, Twitter, and Pinterest influence the buying behaviors of about 80% of users. Savvy social media sites are leaving no stone unturned to ensure that consumers never need to leave their network to fulfill their needs. 'Buy' buttons are increasingly being integrated into social media platforms to ensure that the customers don't leave the social networks to make a purchase. Enabling financial transactions over social media doesn't just offer another channel to improve the consumer experience; but it also helps banks to expand their customer base and transaction volumes.
Ease of banking being the order of the day, customers are now choosing banks based on their digital capabilities, with greater loyalty being shown by customers who actively use mobile banking services. Today there are nearly 1.25 billion Facebook users and about 300 million users on LinkedIn and Twitter. These are the statistics for only three social media platforms and the numbers are rapidly growing. Such figures are hard to ignore and banks are doing everything they can to tap into social media to deliver an enhanced experience and greater flexibility to their customers.
You May Also Be Interested In:
- Banking and Financial Services Outsourcing
Source: http://www.firstsource.com/blog/social-wallet-rising-digital-banking-phenomenon/
Publish Date: September 30, 2015 5:00 AM
---
With the continuing surge in healthcare costs and patients gaining greater control over medical budgets has led to a paradigm shift in healthcare — from a provider-driven industry to a consumer-driven one. In the past healthcare in the US ran on a business-to-business model where patients were incidental to healthcare and the hospital's primary customer was the insurance company. But with patients having an increasing say over their healthcare dollars and legislation like the Affordable Care Act, health insurers have begun to sell directly to consumers through the marketplaces or insurance exchanges.
Under the Affordable Care Act (also known as Obamacare), patients can compare and shop for insurance plans on marketplaces based on their individual needs and competitive value. This has brought tremendous transparency into the system as consumers now have the power to compare plan metrics like premiums, co-pays, and direct payments. This in turn has made patients active participants invested in their healthcare, ensured an enhanced customer experience for them, and increased technology usage for interacting with the healthcare system.
Consumer driven healthcare (CDH) is aimed at restructuring healthcare around the patient or the consumer. It is based on the premise that if the consumer is made more aware and involved in her healthcare budget, she will not only actively participate but also lead a healthier lifestyle. This will ultimately bring down skyrocketing healthcare spend, particularly those that are unnecessary. CDH products like Health Savings Account (HSA) are being actively accepted by both consumers and employers. For instance, the number of people with HSA coverage rose to over 13.5 million in 2013, from 11.4 million in 2011.
The increased demand for CDH calls for integrating health IT systems and customer service with quality data, clinical decision support and comprehensive patient engagement strategies for an enhanced customer experience. It also requires clinics, hospitals and doctors to up their game and focus on customer satisfaction, improve safety and quality, and support patients in managing their own health.
However, consumer-driven healthcare is not without barriers. Critics argue that while it may reduce unnecessary hospital visits, it may also decrease necessary care especially for people from weaker economic backgrounds. When a patient is suffering from a life-threatening disease, he is not looking for a bargain and many will have to take a financial hit to pay up for expensive drugs and treatments given the blunt cost sharing provisions. Also, the lack of information may prevent patients from making decisions that are appropriate for them.
But it is hard to ignore that consumers now have multiple gateways to becoming smart buyers of healthcare services based on their choice and need. The way forward for Consumer Driven Healthcare lies in "managed consumerism" with the right balance of managed competition between providers, as well as patient focus.
You May Also Be Interested In:
- Healthcare Business Process Outsourcing Services
Source: http://www.firstsource.com/blog/consumer-driven-healthcare-game-changer/
Publish Date: September 23, 2015 5:00 AM