Internet of Things: Transforming Life and Business - Firstsource Solutions - ContactCenterWorld.com Blog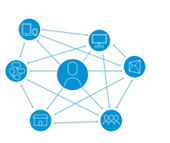 There's a lot in common between the Internet of Things (IoT) – a buzzword in online business today — and the 2009 sci-fi blockbuster Avatar. Much like the movie, where life in all its forms is interconnected through the Tree of Souls and the Eywa, IoT will form the nerve centre of how we live in the future. From smart homes to smart offices to smart cities, IoT will be everywhere.
The concept of IoT is based on devices and systems being interconnected through sensors and actuators to gain meaningful data and actionable insights to improve the overall quality of life. For instance your car is connected to your home through IoT and each time the car moves out of the vicinity of the home, the heating (or air conditioning) automatically shuts down and restarts when it senses the car in the vicinity. From reducing costs, complexity and inconvenience to being more energy efficient, effective and productive – IoT hinges on the huge possibilities the future holds.
How well businesses are able to leverage IoT will determine how effectively they can reach and influence the next generation of consumers – the digital natives. This next generation consumer can truly appreciate the value that areas like social media and IoT have to offer.
In 2013, IDC projected that the commercial and consumer impact of the Internet of Things will grow at a CAGR of 7.9% to reach $8.9 trillion by 2020 – a figure you simple cannot ignore. From smartphones to tablets, electronic devices, wearables, and even your cars, IoT will permeate every sphere of life. It is already inching into the workplace thanks to smart wearable devices.
Getting Ready for the Big Wave
Businesses can use IoT effectively to drive down costs, enhance asset utilisation and productivity, and enhance process efficiency. The business benefits of IoT are enormous – from unlocking the economic value of assets for enhanced optimisation, to generating new business streams like big data management for better decision-making.
IoT will also drive the need for capacity management, and data centers will require intelligent and automated capacity planning tools that can help them to keep pace with the swell in demand and the ask on their infrastructure. It is imperative to have a robust data management capability in place. Apart from data management, IoT can open up potential opportunities in the areas of security, storage management, datacenter network, and data analytics.
Once businesses run on the IoT ecosystem, real-time visibility of the logistics chain can provide information on tracking congestion, help analyse traffic patterns, reroute shipments, and optimise the logistics network to create an enhanced customer experience. Many small and medium enterprises are likely to upgrade their current infrastructure to 'smart' machines that allow them to be connected to the Internet.
Concerns around Security
Skeptics argue that once everything is connected to and through the Internet, it will pave the way for massive and unprecedented security challenges with regard to data privacy, safety, governance and regulation. As the number of connected devices increases (50 billion connected devices by 2020, by some estimates), the potential doorways – offered by every device – to sneak into your IT infrastructure will multiply. But the concept of IoT is still in its formative stage, and given its far-reaching impact on almost every sphere of life, formal legislation and regulation is bound to evolve.
While the thought of everything connected through the Internet may be too futuristic, business models based on the traditional static information and architecture face challenges as new ways of creating value arise. According to McKinsey, though the widespread adoption of IoT may take time, the window is getting narrower given the advances in underlying technologies. This is a crucial phase for business executives to evaluate the possibilities and formulate their strategies around the potential implications of IoT.
Source: http://www.firstsource.com/blog/internet-things-transforming-life-business/
Publish Date: October 26, 2015 5:00 AM
---
PREMIUM

HigherGround, Inc.
(VIEW OUR PAGE)

HigherGround develops data collection, information storage, and interaction analytics solutions that easily transform data into actionable intelligence, enabling operational optimization, enhanced per...

(view more)

PREMIUM

ConceptCall
(VIEW OUR PAGE)

Аутсорсинговый контакт-центр ConceptCall| КонцептКолл специализируется на исходящем и входящем телемаркетинге: мы предоставляем услуги по осуществлению холодных звонков и продажи по телефону, проводим...

(view more)

PREMIUM

CTI Software
(VIEW OUR PAGE)

CTI Software is the creator of custom application called Davos, which complements the telephone client solutions with intelligent features such as automated call attendant, call recording and archivin...

(view more)
---

View more from
Firstsource Solutions
Recent Blog Posts:
Industry Champion Award Leaderboard