Open Source vanilla approach welds the deal in the case of White Bros - Foehn - ContactCenterWorld.com Blog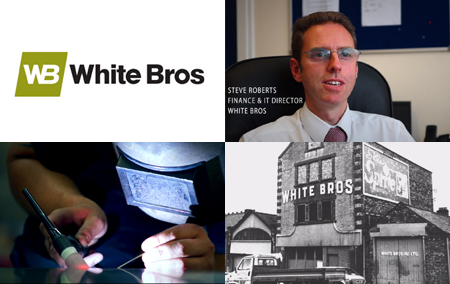 As word spreads and companies wake up to benefits of open source, many businesses are understandably keen to avoid becoming straight jacketed by proprietary suppliers with their own vested financial interests. But even with an open source framework such as Asterisk, some companies are still wary of becoming locked into vendors. This is why Foehn's approach continues to be one of openness and flexibility; dare we say, Foehn's flexible shades of grey!
A good example is White Bros, a company based in Newcastle upon Tyne, which for many years has supplied bespoke stainless steel plant for a very wide range of applications, from stainless steel conveyors and platforms to ice cream vats and isolators for the pharmaceutical sector.
White Bros had an old PBX in place and it was beginning to cause to many technical issues. If the power ever went down, for instance, the phone system would take some time to crank back into action, which was not good. And generally it was time for a telecoms shake-up as the company realized there were far more features and benefits to be had from a modern system.
Steve Roberts, Finance Director for White Bros, decided that things should change. As is the case with many financial directors these days, Steve had an interest – and responsibility within White Bros – for IT and telephony. Knowing a bit about open source, he was familiar with Asterisk and what it might offer. His Internet research confirmed in his own mind that Asterisk was the right route and decided to look for potential suppliers.
What he liked about Foehn is that we presented a "vanilla Asterisk approach", whereas some of the other suppliers offered pre-packaged Asterisk offerings that they had modified. Steve told us that he didn't want the White Bros tied into something and reliant on one provider.
For a company called White Bros, perhaps the bias towards the 'vanilla' approach offered by Foehn is understandable, but Steve's point is valid. Open source doesn't always mean that companies won't try and lock their customers in if they can. We think it's important to listen to what customers want and then deliver the solution around their needs.
Foehn's approach is, and always has been, to go in with a blank sheet, find out what their customers need, then devise the best solution for them, not for us.
Source: https://www.foehn.co.uk/resource-hub/blog-article/open-source-vanilla-approach-welds-deal-case-white/
Publish Date: March 26, 2014 5:00 AM
---
PREMIUM

ConceptCall
(VIEW OUR PAGE)

Аутсорсинговый контакт-центр ConceptCall| КонцептКолл специализируется на исходящем и входящем телемаркетинге: мы предоставляем услуги по осуществлению холодных звонков и продажи по телефону, проводим...

(view more)

PREMIUM

CTI Software
(VIEW OUR PAGE)

CTI Software is the creator of custom application called Davos, which complements the telephone client solutions with intelligent features such as automated call attendant, call recording and archivin...

(view more)

PREMIUM

Future Gen International Pte Ltd
(VIEW OUR PAGE)

Outsourcing provider of English Call Centre services, Audio Transcriptions, Big Data ETL (Extract, Transform, Load) , Big Data Visualization, Big Data Predictive Model Generation
---
View more from
Foehn
Recent Blog Posts:
| | |
| --- | --- |
| Open Source vanilla approach welds the deal in the case of White Bros | March 26, 2014 5:00 AM |
| The longest running Asterisk event – it's ten and AstricConomical! | March 26, 2014 5:00 AM |
| New Open source Asterisk solution for The People's Postcode Lottery | March 26, 2014 5:00 AM |
| Why have two numbers when you can have one? | March 26, 2014 5:00 AM |
| Foehn are finalists - up for two ITSPA Awards | March 26, 2014 5:00 AM |
| Mid-term contract hikers may pay the price for poor practice | March 26, 2014 5:00 AM |
| When purse strings are tight, people think more openly | March 26, 2014 5:00 AM |
| Out with the old - in with the new | March 26, 2014 5:00 AM |
| For the Rekord - the end of confusion between call centre agents an... | March 26, 2014 5:00 AM |