The longest running Asterisk event – it's ten and AstricConomical! - Foehn - ContactCenterWorld.com Blog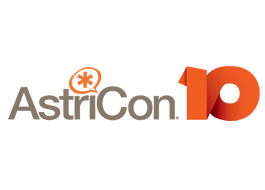 For the past few days I've been in Atlanta at AstricCon, the event for Asterisk developers, integrators, resellers and business users. It's in its tenth year and its aim is to raise awareness and knowledge of Asterisk.
AstriCon is a great gathering with an eclectic mix of individuals with all types of experiences and interests and from all sorts of backgrounds. People here are learning about trends in Asterisk use, the growing Asterisk ecosystem, the newest applications and a wide range of technical topics from Asterisk developers, users and others.
There is a lot of drive and energy surrounding both Asterisk and Switchvox and I'm pleased to report that the future looks very bright. I've met up with the premier US partners who extol the great community spirit that surrounds the whole Digium movement and it's great to feel so welcome and be part of this global family.
The overall sentiment is that the technologies we're working with are driving the future of real time communications and together we're building a rich framework of infrastructure components that will enable the services of the future.
A hot topic was the commercial solutions from Digium, their SMB PBX Switchvox, and their new phones that we're super excited about. Expect to see some fantastic developments in that space. Another particular hot topic has been Web RTC, making it easier for developers to embed communication solutions into the browser. I still have a feeling that there is yet to be a novel use case that will propel this into the mainstream, and in the meantime it's appeal is limited to the developer community.
Astricon concluded with a great keynote speech from Phil Edholm from PKE consulting. We dived down into some technical aspects, and heard from other prominent peers from around the world.
Source: https://www.foehn.co.uk/resource-hub/blog-article/longest-running-asterisk-event-its-ten-and-astricc/
Publish Date: March 26, 2014 5:00 AM
---
PREMIUM

CTI Software
(VIEW OUR PAGE)

CTI Software is the creator of custom application called Davos, which complements the telephone client solutions with intelligent features such as automated call attendant, call recording and archivin...

(view more)

PREMIUM

Future Gen International Pte Ltd
(VIEW OUR PAGE)

Outsourcing provider of English Call Centre services, Audio Transcriptions, Big Data ETL (Extract, Transform, Load) , Big Data Visualization, Big Data Predictive Model Generation

PREMIUM

Avizent Ltd
(VIEW OUR PAGE)

Advanced AI technology and Natural Language Processing delivered to clients in the Cloud that harnesses both voice and digital conversations. The focus is on building an environment where intelligent ...

(view more)
---
View more from
Foehn
Recent Blog Posts:
| | |
| --- | --- |
| Open Source vanilla approach welds the deal in the case of White Bros | March 26, 2014 5:00 AM |
| The longest running Asterisk event – it's ten and AstricConomical! | March 26, 2014 5:00 AM |
| New Open source Asterisk solution for The People's Postcode Lottery | March 26, 2014 5:00 AM |
| Why have two numbers when you can have one? | March 26, 2014 5:00 AM |
| Foehn are finalists - up for two ITSPA Awards | March 26, 2014 5:00 AM |
| Mid-term contract hikers may pay the price for poor practice | March 26, 2014 5:00 AM |
| When purse strings are tight, people think more openly | March 26, 2014 5:00 AM |
| Out with the old - in with the new | March 26, 2014 5:00 AM |
| For the Rekord - the end of confusion between call centre agents an... | March 26, 2014 5:00 AM |