Out with the old - in with the new - Foehn - ContactCenterWorld.com Blog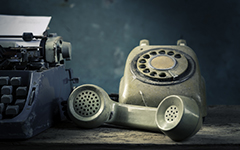 For many people the turn of the year represents an opportunity for change. I have several friends who have meticulously planned out their New Year resolutions, steadfastly prepared to give up (temporarily for many) some of life's little pleasures, particularly following the over indulgences of Christmas. For others it's a time just to take stock, review their lot and look forward.
Most individuals naturally think this way, but of course businesses do as well, albeit to improve performance rather than worrying about the waistline. Year End, take stock, review performance, plan ahead. Some companies do this as a matter of course on the calendar and others will make changes when they feel it's right to do so, regardless of the time of the year.
But as I've said before, usually there is a tipping point.
Foehn customer, Chapter Eight, is a software development house specialising in providing ecommerce platforms, strategic consultancy, web application design and infrastructure services.
When Chapter Eight was coming to the end of a £3k telephony maintenance contract on its outdated Mitel phone system, the company decided to look at other options and was interested in what open source and Asterisk could do for the business.
Its Mitel system had limited functionality and was causing unwanted issues. For example, call recording was problematic. Chapter Eight had to have BT lines and the call recording was on a PC that had to run on Windows XP.
Also, the company had moved to brand new offices in Leeds City Centre with excellent Internet connectivity and Managing Director, Mario Thomas, decided that all key office IT infrastructure would be hosted off-site to increase resilience and offer alternative disaster recovery options.
"Because we work in software ourselves, our view on these things is that nothing is impossible," Mario explains. "Traditional telephony suppliers would simply suck in air through their teeth like bogus plumbers – we wanted a telecoms solution that would be of significant benefit to our business and customers."
Mario did some research and it was obvious there was a viable alternative, one that would provide many more features at a lower cost. Being a 'techy' himself, Mario decided to "dabble with it" on his home telecoms network and liked what he saw. It provided the confidence to look for a hosted telephony supplier for Chapter Eight.
Mario says that Chapter Eight selected Foehn because we knew the space very well and we could be relied upon to provide a telephony system that would really benefit their business.
The Asterisk system provided by Foehn includes 28 extensions, 12 hard phones and several softphones, with plans to add more hard phones shortly. Mario tells us too that they have "some more exotic programming coming" our way in 2014 to support our new off-site out of hours' team.
For Chapter Eight, Foehn's system does everything the Mitel system did and a whole lot more. Call routing is no longer a problem and Chapter Eight can configure changes promptly themselves. They can also record calls easily, which is important for their PCI compliance. And to top if off, their telecoms costs have reduced by as much as 50%."
Now that's what you call out with the old and in with the new.
For further information about Chapter Eight, visit: www.chaptereight.com
Source: https://www.foehn.co.uk/resource-hub/blog-article/out-old-new/
Publish Date: March 26, 2014 5:00 AM
---
PREMIUM

ConceptCall
(VIEW OUR PAGE)

Аутсорсинговый контакт-центр ConceptCall| КонцептКолл специализируется на исходящем и входящем телемаркетинге: мы предоставляем услуги по осуществлению холодных звонков и продажи по телефону, проводим...

(view more)

PREMIUM

CTI Software
(VIEW OUR PAGE)

CTI Software is the creator of custom application called Davos, which complements the telephone client solutions with intelligent features such as automated call attendant, call recording and archivin...

(view more)

PREMIUM

Future Gen International Pte Ltd
(VIEW OUR PAGE)

Outsourcing provider of English Call Centre services, Audio Transcriptions, Big Data ETL (Extract, Transform, Load) , Big Data Visualization, Big Data Predictive Model Generation
---
View more from
Foehn
Recent Blog Posts:
| | |
| --- | --- |
| Open Source vanilla approach welds the deal in the case of White Bros | March 26, 2014 5:00 AM |
| The longest running Asterisk event – it's ten and AstricConomical! | March 26, 2014 5:00 AM |
| New Open source Asterisk solution for The People's Postcode Lottery | March 26, 2014 5:00 AM |
| Why have two numbers when you can have one? | March 26, 2014 5:00 AM |
| Foehn are finalists - up for two ITSPA Awards | March 26, 2014 5:00 AM |
| Mid-term contract hikers may pay the price for poor practice | March 26, 2014 5:00 AM |
| When purse strings are tight, people think more openly | March 26, 2014 5:00 AM |
| Out with the old - in with the new | March 26, 2014 5:00 AM |
| For the Rekord - the end of confusion between call centre agents an... | March 26, 2014 5:00 AM |