Mid-term contract hikers may pay the price for poor practice - Foehn - ContactCenterWorld.com Blog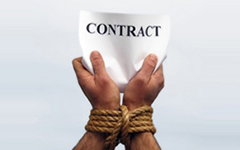 The UK communications regulator Ofcom announced recently that small businesses – as well as consumers – will be able to terminate their new landline, broadband or mobile contracts if their supplier decides to raise prices mid-contract.
Ofcom said that customers of telcos will be allowed to exit their contract without a penalty and should be given at least one month's notice if their provider is going to change its monthly fees. The legislation also states that any changes to contract terms, pricing or otherwise, must also be communicated clearly and transparently.
Since its deregulation in 1996, the UK telecoms market has become highly competitive and it is understandable that customers will and should look for the deal that's right for them. If they feel that they can get the same or maybe an even better service from an alternative supplier, then that's their prerogative, especially under these new rules.
However, I doubt that this Ofcom announcement will have businesses hopping continuously from one provider to the next on a frequent basis. The telecoms market is price sensitive and this move by the regulator will have some businesses considering a move away from their present supplier if prices are unreasonably hiked, but other factors come into play, such as features and customer service.
If a telecoms provider is providing a terrific service, then that may be an even more important consideration for customers than price alone. If a small business values its telecoms supplier and understands why prices are being raised, then in all likelihood there should be no reason to switch continuously just to get a cheaper deal.
Conversely, an unreasonable price hike may just be the trigger for a company to reconsider its supplier. Is there a better alternative – a provider offering more features, better service for the same or even less cost?
The grey area has always been price increases where there is no transparency. Some telecoms companies have raised their prices mid-term and customers have had no clear visibility of that change. Throw in a degree of inertia and it is understandable why some companies have remained with their incumbent supplier, despite the under-the-carpet price alteration.
Hopefully what this move by Ofcom will do is help to weed out the providers that are less than transparent with their customers and honest suppliers providing good value and great service will benefit.
Source: https://www.foehn.co.uk/resource-hub/blog-article/mid-term-contract-hikers/
Publish Date: March 26, 2014 5:00 AM
---
PREMIUM

CTI Software
(VIEW OUR PAGE)

CTI Software is the creator of custom application called Davos, which complements the telephone client solutions with intelligent features such as automated call attendant, call recording and archivin...

(view more)

PREMIUM

HigherGround, Inc.
(VIEW OUR PAGE)

HigherGround develops data collection, information storage, and interaction analytics solutions that easily transform data into actionable intelligence, enabling operational optimization, enhanced per...

(view more)

PREMIUM

ConceptCall
(VIEW OUR PAGE)

Аутсорсинговый контакт-центр ConceptCall| КонцептКолл специализируется на исходящем и входящем телемаркетинге: мы предоставляем услуги по осуществлению холодных звонков и продажи по телефону, проводим...

(view more)
---
View more from
Foehn
Recent Blog Posts:
| | |
| --- | --- |
| Open Source vanilla approach welds the deal in the case of White Bros | March 26, 2014 5:00 AM |
| The longest running Asterisk event – it's ten and AstricConomical! | March 26, 2014 5:00 AM |
| New Open source Asterisk solution for The People's Postcode Lottery | March 26, 2014 5:00 AM |
| Why have two numbers when you can have one? | March 26, 2014 5:00 AM |
| Foehn are finalists - up for two ITSPA Awards | March 26, 2014 5:00 AM |
| Mid-term contract hikers may pay the price for poor practice | March 26, 2014 5:00 AM |
| When purse strings are tight, people think more openly | March 26, 2014 5:00 AM |
| Out with the old - in with the new | March 26, 2014 5:00 AM |
| For the Rekord - the end of confusion between call centre agents an... | March 26, 2014 5:00 AM |