The Right Speech Analytics Software Can Increase Sales Performance - Gryphon - ContactCenterWorld.com Blog
According to a recent report by Qlik, sales performance is a clear priority for organizations, but they need the actual data to support and supplement it. Amongst the organizations polled, 79% said managing sales performance was somewhat more important than other key objectives within their organization, while 27% stated that insufficient or poor quality data was one of the top barriers to better sales performance.

In other words, organizations are experiencing low sales performance due to useless data. Sales leaders need to be able to get the appropriate insights to manage their sales teams based on quantifiable data, as opposed to merely hunches. A great place to start is to record and analyze the voice conversations of your sales agents. By having targeted, on-demand insight into recorded calls, managers can improve cross-team transparency and easily stay on top of their often-times distributed sales teams. Calls made from any phone or device can be recorded for quality assurance or regulatory compliance to improve sales and marketing effectiveness, troubleshoot issues, and reduce risk.

Recording and analyzing voice conversations can take the guess work out of why certain team members are consistently successful while others continue to struggle in spite of allegedly generating call activity. Hybrid call recording and speech analytics software serves up highly accurate analytics that uncover patterns and techniques of agents, shines a light on the behavior of top performers, and makes it easy for managers to motivate and set benchmarks for their teams. To learn more about how your organization can benefit from adopting speech analytics software, read 'Speech Analytics: Providing Best-In-Class Sellers with the Right Sales Intelligence.'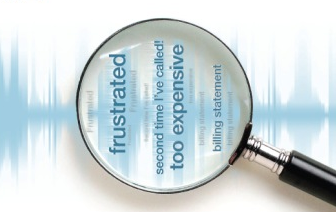 Source: http://www.gryphonnetworks.com/blog/sales-intelligence/the-right-speech-analytics-software-can-increase-sales-performance-
Publish Date: December 1, 2015 5:00 AM
---
PREMIUM

Avizent Ltd
(VIEW OUR PAGE)

Advanced AI technology and Natural Language Processing delivered to clients in the Cloud that harnesses both voice and digital conversations. The focus is on building an environment where intelligent ...

(view more)

PREMIUM

HigherGround, Inc.
(VIEW OUR PAGE)

HigherGround develops data collection, information storage, and interaction analytics solutions that easily transform data into actionable intelligence, enabling operational optimization, enhanced per...

(view more)

PREMIUM

CTI Software
(VIEW OUR PAGE)

CTI Software is the creator of custom application called Davos, which complements the telephone client solutions with intelligent features such as automated call attendant, call recording and archivin...

(view more)
---

View more from
Gryphon
Recent Blog Posts: