Employee Onboarding: Four Key Ingredients of Optimized CX - Hinduja Global Solutions Ltd. - ContactCenterWorld.com Blog
Posted by Geoff Oakie
In today's global, digital economy, exceptional and effortless customer experience is a key differentiator.
With the commoditization of virtually all products and services, organizations truly need to set themselves apart, to attain and retain customers. Smart organizations realize that the foundation of such a customer experience begins with their employees. These companies focus equal or greater amounts of time, energy, and resources on employee experience as the customer journey. They understand that happy, intelligent and well-qualified employees are the foundation to happy customers.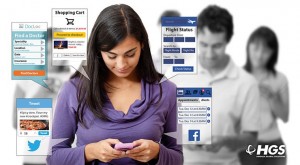 At HGS, we start with a pre-designed strategic Employee Experience Blueprint designed to attract the right representatives and empower them to deliver the right customer experience. The HGS CX Blueprint delivers increased retention rates, higher customer satisfaction, decreased employee turnover, and higher overall return on our clients' BPO investments.
Great CX Begins with the HGS Employee Onboarding Experience
What's at the foundation of our Employee Experience Blueprint? It's our Onboarding program, which is designed to recognize and intentionally build the employee relationship at key "moments of truth." Starting from the moment team members walk in the door for their first interview, and moving along through the hiring and training process, HGS has identified anxiety and job satisfaction triggers, creating and nurturing a positive emotional connection and empowering experience.
The onboarding program starts on day one. HGS job candidates are welcomed to their interview warmly, by name, as a potential new member of the HGS family. As successful candidates, our newest HGS team members, are brought through the four-stage onboarding process, they are supported, encouraged, and respected along the way. They also are prepared for the complexities and challenges of customer care. Following our onboarding processes, our staff and management create what we've observed to be both a loyal and able employee, proud to represent our client's brands.
CX Optimization Starts with the Right Team
The HGS onboarding framework comprises four key Ingredients that contribute to making customer experiences high-impact, helpful, and empathetic: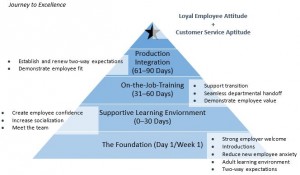 HGS built this framework to ensure our newest employee's perceptions and opinions are positive and bolster our referrals and recruitment success. What we found when we implemented this was that the impacts of our onboarding program went so much deeper. Through our efforts, HGS has been able to affect our client's business in many other positive ways:
Employee Retention (initial/90 days and ongoing): As expected, the onboarding blueprint increased initial 90-day retention, encouraging and empowering employees to stay in the often difficult initial months, however, the culture we developed was appreciated. Employees chose to stay with us and our clients' longer than ever before.
Customer Retention and Customer Satisfaction: As a function of our empowered employee with longer tenure, we are able to positively impact both customer retention and customer satisfaction.
Exceptional and effortless customer experience is a key differentiator that HGS provides, optimizing the customer experience… helping our clients to become more competitive.
Source: http://www.teamhgs.com/blog/employee-onboarding-four-key-ingredients-of-optimized-cx/
Publish Date: February 24, 2016 5:00 AM
---
PREMIUM

ConceptCall
(VIEW OUR PAGE)

Аутсорсинговый контакт-центр ConceptCall| КонцептКолл специализируется на исходящем и входящем телемаркетинге: мы предоставляем услуги по осуществлению холодных звонков и продажи по телефону, проводим...

(view more)

PREMIUM

CTI Software
(VIEW OUR PAGE)

CTI Software is the creator of custom application called Davos, which complements the telephone client solutions with intelligent features such as automated call attendant, call recording and archivin...

(view more)

PREMIUM

Future Gen International Pte Ltd
(VIEW OUR PAGE)

Outsourcing provider of English Call Centre services, Audio Transcriptions, Big Data ETL (Extract, Transform, Load) , Big Data Visualization, Big Data Predictive Model Generation
---
View more from
Hinduja Global Solutions Ltd.
Recent Blog Posts:
| | |
| --- | --- |
| I See You: Staging Better CX, Using Video | June 20, 2018 5:00 AM |
| 3 Ways Social Media Can Make (or Break) Your CX | June 12, 2018 5:00 AM |
| How to Automate Enterprises for Cost Takeout and Enhanced CX | June 6, 2018 5:00 AM |
| 3 Ways the Cloud Opens Horizons for CX | August 3, 2016 5:00 AM |
| Turn to BPO Experts for Better Workers' Comp Outcomes | July 27, 2016 5:00 AM |
| 5 Traits of Customer-Obsessed Companies | July 13, 2016 5:00 AM |
| Combine AI and the Human Touch for Exceptional Customer Service | June 29, 2016 5:00 AM |
| CX Trends Forecast Disrupter No. 1: 5 Ways to Reduce Effort | June 15, 2016 5:00 AM |
| Payers Seek Cost, Integration Efficiencies in a Value-Based World | May 18, 2016 5:00 AM |
| Your Customers Are Chatting: Insights from the Front Lines | May 11, 2016 5:00 AM |