Intelemedia - ContactCenterWorld.com Blog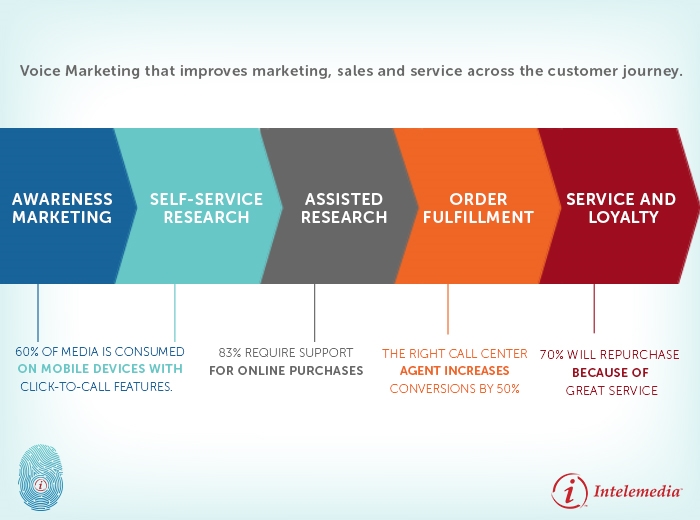 You've lost control. Customers now define your brand through experiences they have with you and your brand ambassadors. In fact, it's reported that by 2020, customer experience will even replace price and product as the key brand differentiator. So if you aren't focusing on providing human touchpoints in the awareness and research phase of the customer journey, offering immediate assistance during the sales process, or learning from customer interactions with agents to improve campaigns and digital content, you risk driving nearly 90% of your customers to your competition.
Voice marketing plays the greatest role in improving all of these areas. Why? Because customers still prefer to talk to a real person when researching products, completing orders, getting delivery updates and requesting service. In fact, 83% of customers require support during their research and purchase phase, and expect assistance within minutes. With over 60% of your media being consumed on mobile devices, a simple click-to-call feature routed to the best available agent in the country can not only increase conversion rates by up to 50%, but result in higher order values and customer satisfaction that produces a 70% repurchase rate. Marketing without a voice presence today just no longer makes sense.
Spotlight on Results
Teeter Hang Ups, the market leader in inversion tables, is always seeking ways to improve their sales and profitability. Since they are very experienced in direct response marketing, they saw the potential in a well-executed voice marketing program, and gave Intelemedia the opportunity to manage their teleservices. Key results include:
Increased sales conversion rate by 2% in Month 1
Increased sales conversions another 1% in both Month 2 and Month 3
Abandonment started at 20% due to long wait times to 12%
Abandonment continuing to drop to 10% (a 50% improvement overall)
You can Read the whole case study here.
Actions for Marketers and Agencies
You can't afford to ignore the impact customers have on defining how they want to engage with brands. Growth and market share will very quickly belong to those enlightened companies who:
Analyze customer journeys to identify where to introduce click-to-call and inbound self-service options to shorten sales cycles
Use call intelligence to determine the best performing channels and campaigns that result in sales, upsells and resales
Re-engineer customer service to connect customers to the best assistance available, greatly improving customer satisfaction, brand loyalty and advocacy
Ready to Apply Human Touchpoints to Your Marketing?
Join "The Value of Human Touchpoints" Webinar presented by Time Life and Intelemedia on October 1, 2015, where we will discuss real-world examples of how one-on-one conversations with your customers can be easily implemented into your existing marketing programs, providing much greater value than you're getting today.
Source: http://www.intelemedia.com/the-value-of-human-touchpoints-for-marketers/
Publish Date: September 16, 2015 5:00 AM
---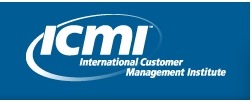 Our editorial theme for August is "Metrics that Matter." With that theme in mind we sat down with David Schreck, CEO of Intelemedia Communications. Read on to learn more about the unique metrics approach he recommends and why it works so well for organizations with multiple call centers.
Q: What is the innovative approach Intelemedia takes to metrics that matter?
A: Since most of our clients use multiple call centers, we apply three key foundational approaches to our metrics. First, we establish a standard data dictionary and definition for all data across all call centers. Secondly, we integrate the data across all the call centers into one uniform platform. Third, we establish and apply "second degree" metrics. These are metrics that allow managers to understand what is driving their executive metrics.
Q: What's the main benefit of this approach?
A: Ultimately, it is financial performance and enhanced customer experience. Achieving these benefits is directly attributed to spending less time deciphering data and more time establishing action items to enhance performance. The data dictionary ensures that all data is based on the same measurements; the integration of the data improves the efficiency in managing the call centers, which provides more time for strategic thinking. Most importantly, the "second degree" metrics pinpoint the specific enablers and inhibitors that are driving the critical performance measurements. With this immediate knowledge, clients can act quickly and confidently with actions to enhance performance.
Q: Don't the standard reports provide what you need to manage a program?
A: Standard reports typically tell you what is working well or not working well, but rarely provide the full picture one needs to pinpoint the root issues and what correct actions to take. There are many factors to consider; therefore, it is important to have the next level of data readily available to quickly rule out what is not a factor and determine what is. Once you see the various factors, you can create the corresponding actions to increase the performance.
Q: If this is so important, why isn't everyone doing that?
A: A couple of reasons. First – often a program manager (a client) isn't aware that there's more data available. Either they don't know it's there – or perhaps they don't have access to it. Secondly – even if they know it's possible, it's not easy. Every call center has a different ACD, and each call center puts out reporting in a different format, perhaps even measuring different things. Furthermore, your second degree metrics need to be industry specific, which means different metrics and reporting for each industry. Most clients don't have the time or the expertise to combine all the reports into one standard report. It's not the skill set of the people managing the channel. In our case, we serve multiple industries with multiple teams experienced in their industry. We have the critical mass and ability to create such tools for the required and specialized analytics.
Q: Why is this important for environments with multiple call center users?
A: This approach is most important to the multi call center environments. With these environments, you need to make sure you have consistent data across all your partners, plus a simplistic and efficient way to evaluate performance. Too often today, manager are spending hours consolidating reports versus reviewing data and creating action plans to enhance performance. The idea behind utilizing multiple call centers is that it allows you an opportunity to let multiple call centers compete for your business by turning in the best results. If you can measure them using the same ruler, you can give more business to the ones providing the best ROI. If you are comparing apples and oranges, it's hard to know who's doing the best job.
Q: Can you tell me more about how you improve performance?
A: To improve performance, you need to understand the root issue, and only diagnostic reporting can provide you the granular data in a presentation that easily presents the root cause and required improvements. In essence, you need data to tell you what's wrong – what isn't working. The metrics will help you determine which variables need to be changed. For example, if cancellations are running too high, there are many variables that should be examined to see what is driving the increased cancellations. You might consider change in call arrival patterns, change in call volume, length of calls, call abandonment, quality of the reps and source of the calls. Second degree metrics provide the deep dive metrics under the top line metrics that will quickly inform you which of those elements have changed and are creating the increased cancellations.
David Schreck, CEO of Intelemedia Communications
David is President and CEO of Intelemedia. Intelemedia offers a new breed of call center services by combining industry-leading technology with a platform uniting top performing agents from multiple call center companies. Since 1993, Intelemedia has developed elegant telephony and database solutions for the call center industry that transform how organizations more effectively manage call handling and caller experience within their customer service and sales acquisition environments. His wealth of experience integrating technology, sound business processes and strategic sourcing is the driving force to the success of Intelemedia's call center applications. David's approach to "client-centric" teams focused on understanding and meeting customer needs has created a track record of developing high demand products. Prior to joining Intelemedia in 2001, David spent 16 years with Moore Corporation where he established Moore's industry-leading national strategic print management outsourcing unit. In addition, he led the company's initial thrust into e-business, successfully introducing electronic forms as a high growth and viable business within the printed form industry.
By Erica Strother, ICMI
Source: http://www.intelemedia.com/metrics-that-matter-from-icmi/
Publish Date: August 14, 2014 5:00 AM
---
Teeter Hang Ups chooses Intelemedia for integration of multi-call center environment
Plano, Texas, October 29, 2013 — Intelemedia was selected as the teleservices call management services vendor for Teeter Hang Ups, the market leader in inversion tables. As the longest continuous manufacturer of inversion products in the world, Teeter Hang Ups is experienced in direct response marketing and continues to look for ways to improve sales and profitability. The company wanted to take advantage of multiple call centers to improve sales conversions and reduce abandoned calls. Intelemedia provides specialized multi-call center routing, reporting and management services along with Intelemedia's hosted scripting environment that puts all the call centers on one uniform script. Intelemedia's Leader's Choice program was the perfect solution for the challenges Teeter Hang Ups was facing.
Jory Rosen, with the J. Rosen Group, explained, "We use a different call center for each media buy, determined by long form commercials or short form commercials, but in a complex environment of many different call centers with different strengths and processes, we needed a vendor to manage the call routing efficiently. When we signed up with Intelemedia, we immediately added two more call centers." He continued, "We'd heard from others in the industry about Intelemedia's success integrating all call centers into one platform. We were intrigued – they offered not just routing, but also reporting and analytics all on one platform. That made everything easier to manage, and we received real information that was actionable."
In the first month of the program with teleservices managed by Intelemedia, Teeter Hang Ups' sales conversion rate increased by 2%. The second month increased another percentage point; the third month, yet another. Abandonment decreased as well – starting at 20% of calls abandoned due to long wait times, now running at 12% and headed to 10%.
How does Intelemedia deliver these results? First Intelemedia's data analysis highlights friendly competition between the various call centers. An automated scorecard is created daily and weekly. The call centers see their ranking compared to their peers. An automated scorecard is reviewed with the client and the call centers. Since each sees how they rank compared to others on the campaign, all call centers push harder for improved performance. In addition, Intelemedia provides real time data to help every call center take advantage of their strengths.
Second, the sophisticated routing system determines how to leverage the best agents available. When media buys generate call spikes, calls are automatically routed to the best performing agent at that particular point in time. Media buys are scheduled throughout the day and routing assesses availability in real time, delivering each call to an available agent whenever possible. Moving more calls to higher performing agents across multiple call centers is a winning formula.
Another part of the program includes a weekly calibration meeting. The team reviews what is working well and identifies new opportunities for improvement. The client gets the information he needs to manage the call centers at his fingertips using live, real time data. In addition to overseeing the complex routing, the client can actively manage their program and improve their performance using tools like the staffing report and ranking reports. Intelemedia offers more than a collection of data; they highlight the key data points, indicate areas of opportunity and specify where to take action.
"We were looking for a sophisticated routing system to manage our environment with multiple call centers handling various media buys; what we discovered was more than a routing system. What distinguishes Intelemedia from other teleservices vendors is getting sophisticated routing, combined with online analytics: all the tools together in one platform delivering improved performance. These tools highlight what to look for and how to execute," concluded Jory Rosen.
Intelemedia CEO David Schreck added, "As for all our clients, our goal for Teeter Hang Ups was to provide the routing, scripting and analytics tools, allowing their team to increase performance. We are pleased in the value our system is delivering for Teeter Hang Ups, a proven marketer with years of experience."
Intelemedia's Leader's Choice program is a new breed of call center services that combines an industry-leading technology platform uniting top performing agents from multiple call center companies to improve sales conversion rates, enhanced customer experience and profitability. Leader's Choice provides outsourced call center services to meet critical customer needs of increased sales results and enhanced customer experience. Along with the best multi-call center routing in the industry, Leader's Choice offers a suite of profit-centric tools to boost revenue generated by the call center. Prospect Rescue, HomeQ, SalesPortal, IntelAlerts and uniform scripting are just a few. Intelemedia's enhanced call routing sends calls to available agents, reducing wait times and call abandonment. In addition, Intelemedia's deep dive reporting and analytics identify multiple variables that provide actionable steps clients can take to enhance their teleservices and, ultimately, their sales results. Multiple call centers are combined under one contract and one platform allowing clients to use the best of the best agents in each center.
Multiple call centers are part of Intelemedia's multi-call center Leader's Choice program. Since the inception of the program earlier this year, clients are achieving significant improvements in conversion rates and profitability.
About Intelemedia
Intelemedia improves sales results and enhances customer experience for clients by offering a new breed of call center services that combines an industry-leading technology platform uniting top performing agents from multiple call center companies. One contract, one platform, one invoice makes it easy for companies who want actionable reporting and analytics, and only the best-of-breed agents on their programs. Since 1993, Intelemedia has developed elegant telephony and database solutions for the call center industry that transform how organizations more effectively manage call handling and caller experience within their customer service and sales acquisition environments. Intelemedia is privately held and located in Plano, Texas. For more information, please visit www.intelemedia.com.
About Teeter
With over 2 million users, Teeter Hang Ups leads the inversion market as the definitive inversion products brand. Founded in 1981 by Roger Teeter, Teeter is the longest continuous manufacturer of inversion products in the world. Teeter Hang Ups are rated by Dynamark Engineering as the best inversion table for endurance, strength, function and ease of assembly, and only Teeter tables are quality-assurance tested to ULs inversion table safety standard. Visit http://teeter-inversion.com.
Source: http://www.intelemedia.com/intelemedia-improves-conversion-rates-for-teeter-hang-ups/
Publish Date: October 29, 2013 5:00 AM