Achieve 4th Quarter Sales Goals – Be Efficient and Effective - Intelliverse - ContactCenterWorld.com Blog
As year-end approaches, sales teams often face impending 4th Quarter sales goals. Certain industries may have traditionally strong sales in the last annual quarter, while in others sales may be more difficult and fall off. Buyers may have budgeted funds that need to be spent before year-end, or on the other hand that are already completely gone. The push to meet 4th Quarter sales targets can create anxiety. The mandate is to accelerate sales to close before year-end. When there is no time to procrastinate, the key is to be efficient and effective.
Prioritize Resources
Probably the most critical action is to prioritize resources. Invariably, resources are limited. If in no other way, the most valuable resource of time is limited, especially by the year-end deadline. Resources need to be used wisely in taking actions that will achieve results – actual sales.
A crucial component needed in order to prioritize action is information. The better the quality and detail of the information, the more current and up to date, the more one is able to make precise decisions to maximize outcomes – information leads to decisions, which then determines what actions to take. The more real-time the information, the faster the response; and with any new information, actions can then be adjusted. The ability to respond immediately is particularly important when there are time deadlines.
This is where a salesperson can turn to sales acceleration tools to get the insights to answer who, what and how to most efficiently invest their time and effectively achieve the sales to meet the goals.
Identify Prospects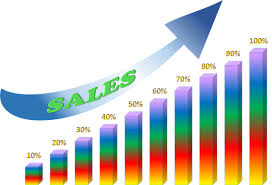 Many have observed that the buying cycle has lengthened with buyers independently doing much of their research and comparisons. Prospects are often at completely different stages of the purchase decision and at different levels of the sales funnel metaphor. Some may be very early on, just beginning their research. Clearly, a salesperson must prioritize prospects and identify those closer to the purchase decision.
Indicators on which to make this analysis can based upon the actual behavior of the prospect, such as:
• How many visits to the website
• What pages have been viewed, how many times and for how long
• What content has been downloaded
• What requests have been made for information
• What were the responses to email campaigns
This type of information allows a salesperson to understand the focus and interests of a prospect – what products or services have been viewed and researched and in what depth, what has been inquired about and what needs have been expressed. These can be strong indicators to determine which prospects are closer to a purchase decision, as well those who may be higher value purchasers.
Targeted Action
Once prospects are identified who are furthest along toward the purchase decision, the question then becomes how to help them reach that decision and close the sale.
The salesperson can again turn to the data on an individual prospect's actual behavior to determine the most effective actions to take. It is crucial to personalize the responses to the specific individual, tailoring them to the prospect's needs at that moment.
Sales acceleration tools not only allow the salesperson to see the actions of the prospect in real time but also to respond or follow-up immediately. The objective is:
• To provide the right, most relevant follow up, whether to answer a question, offer a meaningful case study or product demonstration, or provide an incentive or discount; and
• To determine the right point of contact, whether to set a meeting or presentation.
When a salesperson wants to meet sales goals and year-end is close on the horizon with deadlines looming, resources and actions must be targeted to maximize results. Sales acceleration tools can provide immediate, readily accessible detailed information on prospects, which can indicate which prospects are closest to the purchase decision and what products and services they have been viewing and researching. With this information, the salesperson is able to tailor the most appropriate response targeted to the prospect's current position and provide the most relevant information – what is needed and most helpful in reaching the purchase decision. Real-time information allows the ability to immediately adjust responses to new current behavior of the prospect. With these tools, a salesperson can be the most efficient and effective in pursuit of reaching 4th quarter sales goals and targets.
Source: http://www.intelliverse.com/blog/2015/10/20/achieve-4th-quarter-sales-goals-be-efficient-and-effective/
Publish Date: January 11, 2016 5:00 AM
---
PREMIUM

CTI Software
(VIEW OUR PAGE)

CTI Software is the creator of custom application called Davos, which complements the telephone client solutions with intelligent features such as automated call attendant, call recording and archivin...

(view more)

PREMIUM

ConceptCall
(VIEW OUR PAGE)

Аутсорсинговый контакт-центр ConceptCall| КонцептКолл специализируется на исходящем и входящем телемаркетинге: мы предоставляем услуги по осуществлению холодных звонков и продажи по телефону, проводим...

(view more)

PREMIUM

Future Gen International Pte Ltd
(VIEW OUR PAGE)

Outsourcing provider of English Call Centre services, Audio Transcriptions, Big Data ETL (Extract, Transform, Load) , Big Data Visualization, Big Data Predictive Model Generation
---

View more from
Intelliverse
Recent Blog Posts:
| | |
| --- | --- |
| What's your Sales Style? | September 20, 2016 5:00 AM |
| How to Motivate your Under-Performing Sales People | September 2, 2016 5:00 AM |
| How to Become an Expert in Your Industry (and close more sales) | August 24, 2016 5:00 AM |
| How to Simplify Your Sales Message | August 9, 2016 5:00 AM |
| How to Recognize Your Millennial Sales Team | August 3, 2016 5:00 AM |
| 5 Steps for Identifying Sales KPIs That Matter | July 28, 2016 5:00 AM |
| Follow Up Emails After Initial Contact [2 Templates] | July 26, 2016 5:00 AM |
| How to Gain Trust of a Prospect During Your First Contact | July 19, 2016 5:00 AM |
| You Should Reach Out to How Many People During The Sales Process? | July 7, 2016 5:00 AM |
| 5 KPIs Every Sales Team Should be Keeping Track Of | June 28, 2016 5:00 AM |