Interglobe Technologies - ContactCenterWorld.com Blog
The Connected Chinese Journey
With a prediction of 200 million+ outbound trips per year by 2020, China's outbound millions are one of the most lucrative audiences for travel providers in a long time. The Phocuswright-IGT study 'China Unbounded: The Rise of China's Oubound Millions' provides in-depth data, informed insights about Chinese travel preferences and destination choices, and its potential impacts in the global travel ecosystem.
In this blog, we cover key points from IGT/Phocuswright China Report, and provide recommendations on how to upsell tourism destinations in the Chinese market, highlight the latest trends and their implications to a Travel business's bottom line.
As the Chinese economy grows stronger and more connected, they are defined by their digital and m-commerce leadership, device penetration and spending habits. The Chinese traveller is mobile and an "on-demand Traveller" with high expectations of dynamic connectivity, personalization and "seamless" digital services across their journey. Travel providers need to strategize end-to-end connectivity and hyper-localize personalization (payment, language customizations etc) and intent across the ecosystem of devices, services, and partners.
Firstly, understanding their travel cycle from intent, motivation to behavior and in-destination behavior is crucial in engaging them. Since Chinese tourists mostly stick to pre-determined itineraries, you have to get them before they leave. Brands should engage travellers through local channels such as Weibo, WeChat in the average four to six-week research period prior to travel and then retargeting travelers once they arrive at their international destinations.
Key Chinese Travel Cycle trends according to the buying pattern:
Inspiration: The journey starts online
• Mobile is key to research, social sharing and even bookings via apps like WeChat, Ctrip etc
• Shopping, Social community, Videos and local celebrities are key motivators
Research: It's all Local and digital
• Local OTAs lead bookings and research – Ctrip is the leading website among outbound travelers who book online
• Planning and research happens though websites, apps and smartphones
• China's younger travelers, increasingly use the popular WeChat platform to conduct pre-trip research.
• The average age of a chinese traveller is between 22-44
Buy on-the-Go:
• 53% of package purchases go through apps and mobile websites
• China's online payment methods enjoy traction not seen in any other major travel market
• Apps account for 38% of mobile package bookings, 37% of mobile lodging
In-destination experience
• Mobile is key to research, social sharing and even bookings via apps like WeChat, Ctrip etc
• Shopping, Social community, Videos and local celebrities are key motivators
Sharing the experience
• Social media provides an immediate outlet to share reviews
Chinese Travellers use hand-held devices and multiple methods of engaging with your organization as they plan, book, and execute their travel plans. To maintain consistent engagement, Travel providers should embed a unified and strategic approach, using services-based business models, connecting the entire length of the journey. This is found to be fundamentally challenging, as the Chinese traveller's preferred use of platforms, mobile and apps is starkly different compared to its western counterparts.
So how does one adapt to these "foreign" digital challenges?
Adapt Connectivity: Travel providers can reduce time-to-market and operation costs with partnerships with local Chinese players driving effective reach and opportunities. Managed travellers expect to be connected via mobile device at every point during the journey with multilingual options for booking, payments, researching and customer support. Local OTAs provide superior branded app experiences, whereas websites and customer support with language customization break localization barriers. Offering this for seamless connectivity is smart.
a. Personalized – multilingual customer support, wi-fi, and language customization are the norm
b. Localize Across Devices: Multilingual websites, apps, social messaging, chats
c. Local discovery – Features like curated guides, translations plus offline maps.
For eg: Marriott Rewards has partnered with DaoDao, TripAdvisor's official Chinese website, to provide Chinese travellers' access to location-based recommendations and reviews.

Mobilize & Localize: While Mobile makes the Chinese outbound journey connected, multiple touch-points can fragment that experience. To build reach, keeping the customer connected to a single platform and partner is the key. For example, Travel providers trying to reach guests for connected experience, messaging app, WeChat helps navigate language, cultural and payment barriers in one platform with an amalgamation of social media, instant messaging, m-commerce features. In fact, Four Seasons introduced an updated multifunctional, content-rich global app with in-language customizations and support. Let's look at numbers:
53% of Chinese tourists travelling abroad used mobile apps to book (hotels, flight ticket, attractions ticket)
Driving reach with local partners (Ex: Uber has a partnership in place with Alipay that has allowed Chinese users to use their Alipay app to hail Uber rides in other countries and use the Chinese platform to pay.)
Language customizations play a key part in building loyalty and experience.
Going the extra mile: Consider personalizing their in-destination activity. The need for personalization around intent has markedly different expectations for in-destination experiences. For example Hotels can provide apps that come with language customizations, maps, recommended restaurants and leisure activities tailored to their profiles. Additionally, they can help travellers find the nearest designer store or receive a promotion tailored to their profile preferences based on the weather in that city. For this data and real-time analytics plays a crucial role, by leveraging Location-based data with traveller profile and insights, for a personalized offer or service.
By going the extra mile, hotels can build loyalty as many outbound travellers prefer to come back to their preferred place of stay. Similarly on-ground experience can also be personalized. Having staff that speak Chinese or including items such as teapot in their rooms can help personalize their experience. The Hilton Huanying program extends an authentic welcome to Chinese travelers. Ex: guest rooms are outfitted with amenities such as tea kettles and slippers, and breakfast includes traditional Chinese items such as dim sum, congee etc.
Connected Experiences: To summarize – Mobilization, Localization and Personalization are the corner stones for creating unique and unified experiences for the Chinese outbound traveller. In the past, Travel providers took a more traditional, centralized approach of 'meeting at the point of sales,' but now it's imperative to have digital services that build a continuous interaction with the Chinese traveller – pre, during and post travel.
How IGT creates Connected Experiences:
By tapping into mobility, language customizations and personalized service IGT creates differentiated experiences that can help enrich services, gain customer insights, increase efficiency, and create differentiation opportunities.
Recently, in a first-of-its-kind hospitality solution, IGT and Cachet Hotel Group, Asia's leading hospitality chain, came together to develop Cachet World, CHG's proprietary technology platform. It aimed at bringing greater mobility and seamless control across segments including hotels, residential, restaurants and entertainment, enabling significant value to guest and owners.
Today, more traveller interactions today begin on one channel and then migrate onto others. IGT Digital Contact Center services in 20+ languages, with analytics that improve staff efficiencies and personalization opportunities. Building s bring control and clarity to the entire traveller lifecycle.
Outbound market's potential requires investment priorities to meet the needs of today's Chinese passengers and it needs to begin now.
Source: https://www.igt.in/blog/engaging-the-outbound-chinese-travel-market/
Publish Date: September 15, 2016 5:00 AM
---
As digital plays a growing role in travel services, organizations are struggling to contain the multiple channels and personalization delivery expectations that come with it. While some are consolidating efforts to integrate in-air and on-ground, others are going the extra mile, connecting all their services and people with a digital backbone -such as contact centers. Ultimately, as 'customer experience' becomes the heart of all service offerings, contact centers will have to upgrade to digital contact centers.
Leading this transition are the integrated IT-BPO players, as they seamlessly manage process, people and information, giving rise to what we call 'Digital Contact Centers'. Digital and the upsurge of self-service, contrary to belief, is not the death knell of the contact centers but rather gives them new role and scope. It's important to understand that traveller interactions today can begin on one channel and then migrate onto others. For Ex: a traveller may consult the app for timely notifications on his flight, but if that flight gets cancelled, he'll want to be connected with a human and resolve his issues. Therefore building a seamless, omni-channel expertise is crucial in the "connected travel" age.
By going digital, travel providers can deliver consistently strong experiences across channels seamlessly. To achieve this one needs to unify voice, non-voice, agent-assisted and technology-assisted channels under one system.
Digital contact centers new role will be that of an engagement center with its main function as an omni-channel provider enabled by an analytics-driven architecture for smarter decisions. Defining the new generation of Digital Contact Centers:
From Contact Center to Customer Engagement Center
Omni-channel expertise
Domain-specific skills and process solutions
Unified analytics
1)From Contact Center to Customer Engagement Center: Full channel integration (i.e. omnichannel capability) is set to triple within the next two years.*. Therefore, contact centers can no longer be just a one-trick pony. Travel Service Providers that understand the growing need to engage the connected travellers across a multitude of channels, are thereby bringing contact center to the forefront of customer experiences. Not surprisingly, it has also emerged as the number one trend affecting contact centers in 2016 (Deloitte 2016). Let's look at the opportunities that the new age contact centers are aiming to deliver on:
Seamless experience
Connected information – social, mobile, digital channels
Personalization enabled by analytics
Optimized cross-sell and up-sell
Customer Experience will be a key differentiator:
82.5% of companies recognize Customer Experience as a competitive differentiator
77.5% recognise Customer experience as the most important strategic performance measure
77.0% can evidence cost savings via improved Customer experience
Connected customer journeys, customer experience, and contact resolution top focus as most contact centers head to 9-channel option
50.2% rank analytics as #1 factor to reshape the industry in the next 5 years
2. Omni-channel Expertise: As mentioned earlier, the traveller journey on-ground and in-air works through multiple devices or channels – like self-service baggage drop or online check ins, mobile notifications, social tagging and ancillary push messages. When personalizing this journey, often there are gaps in managing the omni-channels seamlessly. Under a digital contact center service, all the channels are unified so that the information and insights are combined and routed to the right channel in real-time. Additionally providers can plan omni-channel personalization to provide differentiation.
Owning the experience across the multiple channels requires tools and technologies that leverage the right solution or service to the right person at the right time seamlessly. In particular implementing technology for resource and process efficiencies is key to attaining omni-channel experience. Owning the experience across the multiple channels requires tools and technologies that leverage the right solution or service to the right person at the right time seamlessly. In particular implementing technology for resource and process efficiencies is key to attaining omni-channel experience.
3. Analytics: Over the recent years, the gap between service delivery and traveller expectations has widened such that the need to analyze, predict behavior and plan real-time service offerings has made predictive analytics and automation an investment must. In the Travel BPO landscape, predictive analytics are the No.1 trend to intimately understand and scope out traveller expectations. By defining parameters, putting in place contact center analytics, one can develop a full picture of the customer journey mapping across devices, network and locations.
79.4% have no big picture view of interactions across service channels currently
50.2% rank analytics as #1 factor to reshape the industry in the next 5 years
Surprisingly, just 17.4% can locate problem hot spots that impact customer experience.
Having the big picture, a digital contact center can enable quick resolution of issues lowering operational costs and leverage seamless engagement opportunities with travellers to cross-sell /upsell and ultimately enhance customer experience creating loyalty and sustained profitability. Analysing omni-channel data across voice, online, SMS and smartphone app data to measure and improve the customers' journey across all channels and services.
One needs integrated IT-BPO solutions that include a full spectrum of technologies like Mobility, Analytics and Automation with domain specific talent.
4.Domain driven skills and Process Solutions: Enabling technology across ranks, geography and teams will need process solutions that seamlessly integrate and can help pinpoint weaknesses or real value drivers, for smarter, quality decisions.
Leveraging Process Technology: As connected travel matures, travel organizations need quality migration paths towards digital, mobile and social. This is needed in 3 core functions – people, process and performance. Using cloud-based solution is recommended for multi-site environments. By building a process around service and analytics, it can route actions across multiple centers, based on resource skill and traveller need, in real-time, across predefined queues.
• People: Skill-based allocation to optimize resource utility and in-turn increase productivity.
• Process: Automating key processes for back-office productivity and comprehensive management.
• Performance: Benchmarking performance
InterGlobe Technologies provides Integrated Contact Center solutions that effectively integrate within existing processes to seamlessly connect and personalize each touch-point of travel, operations and processes. When skill and technology come together, the efficiencies of both are incomparable.
Integration capability is set to triple from 22.4% to 74.6% in next two years.
IGT's IT proficiency with Digital Contact Center solutions:
1) iQD, IGT's back-office automation tool is an advanced and comprehensive queue management solution, that allows to dynamically manage high transaction volume periods and enables skill-based work allocation to agents, thereby increasing efficiency and productivity.
2) IGT analytical offerings like travel big data analytics, social media analytics, website and mobile analytics are specially geared towards to the Travel industry. By focusing on business intelligence across all contact center transactions, IGT optimizes an analysis portfolio that covers transactional insights for agent improvement areas, business intelligence for customer insights and business monitoring insights for process management in a unified format.
3) Integration: IGT leverages travel domain expertise and customer engagement experience to provide end-to-end social media capabilities, to set-up & manage, scale up and provide round-the-c lock social monitoring, in turn enabling the development of a comprehensive social media strategy.
In conclusion, Customer support is not simply just a BPO. It is a rather a big cog in the travel wheel and important to the company as a whole. The next generation of digital contact centers, will integrate to develop richer value and revenues streams. As a leading IT-BPO pioneer, IGT has extensive experience with Social Media Contact Center services, back end outsourcing and personalization solutions tailor-made for the Travel industry in transitioning to a digital ecosystem.
The full rooster of our capabilities: http://services-interglobetechnologies.com/nextgencontactcenter2016
Source: https://www.igt.in/blog/digital_contact_centers_integrated_IT_BPO
Publish Date: August 12, 2016 5:00 AM
---
Passengers expect their bags to take off and land with them, driving one the biggest pain points for Aviation industry whenever baggage handling goes south. Let's put this into numbers – the operational cost of baggagehandling is approx. ten dollars for an airline. However, when it's mishandled, the same cost goes upto$100. And this is not taking into account the loss of a customer satisfaction or the impact of negative social media reviews.With 2016 marking the digitization of baggage handling systems, industry initiatives and IATA benchmarks; aviation is actively looking to improve their baggage handling efficiency, increase capacity and process transparency.
Baggage At –a-glance:
• 3.5 billion passengers enplaned in 2015
• 50.7% cut in total mishandled bags since 2007
• US$22.4 mishandled bags per thousand passengers in 2015
• US$2.3 billion mishandled bags cost in 2015
• 20% used self bag drop in the last flight
• 31% intend to use self bag drop in the next trip
• Passengers: wait times at baggage carousel – 10-30mins average
Over the last few years, the accelerated growth of passengers(an extra 218 million passengers in 2015)has seen a corresponding increasein the number of baggageto be managed. Remarkably, this rise sharply contrasts with a decrease in lost or mishandled bags. This can be attributed to 2 key things – technology and process efficiency.

TECHNOLOGY: Technologies like self-service baggage drop, real-time baggage updates, online baggage claims form, beacons for efficient tracking, devices for on-ground crew among others have helped to quickly and accuratelytrack the baggage and get it to the customer. By combining data points and device mobility, it provides real-time end-to-end baggage journey notifications to the passenger.

In guaranteed push to this, Aviation bodies like IATA are taking an interest in baggage infrastructure efficiencies whether it is through a common airport Ground Operations Manual or Resolution 753(requires IATA members to "maintain an accurate inventory of baggage by monitoring the acquisition and delivery of baggage.") that will drive full visibility and seamless data transparency across stakeholders. One of busiest countries, USA's AIRR (Aviation Innovation, Reform, and Reauthorization) Bill states that if airlines fail to give the custody of the mishandled bag to a traveller in 24 hours, they are liable to return the baggage handling fees.

Such stringent benchmarks and requisites are making all stakeholders rethink baggage strategy.The priority for aviation is to provide more baggage self-service options for the passenger, making the processes and the journey less stressful. In terms of back-end, the aim is to bridge the data gap and transparency efficiencies with devices and seamless processes for all stakeholders – airlines, baggage handlers and ground assistance. Many 3rd party providers are reducing baggage mishandling by tracking custody across different phases of the baggage chain and improving customer service of the service chain via IoT, Mobility apps and Indoor tracking systems.

It's important to remember that bag-drop and other self-service initiatives are not just about the device; it's imperative to match up operational processes and IT systems for an overall successful service. For example when it comes to disruptions or rebookings – having baggage tagging is helpful only if your queue management and customer support processes are also helping the passenger.

Take for example in the event of irregular operations or missed flights, providers will be able to re-route bags as per their requests in real-time – meaning redirecting it their existing location or sending it on an alternative flight.

Automated Systems and Processes:IGT's Baggage Claims handling solution helps automate the most stressful part of bag owner's journey – when its mishandled. In this case, often a passenger is running from pillar to post, in a foreign location, making innumerable calls and waiting for any information to reach him. The cumbersome process of manually filling 'Lost Baggage' forms followed by sending the physical documentary proofs delays the process of locating the bag and resolving claims.

• 62% of passengers would use a self-process missing bag report system via their smartphone, if this were available
• 54% of passengers would use a self-process missing bag report system via a kiosk at the airport, if this were available
• 65% airlines to provide self-service option by 2017
IGT's solution optimizes and automates the baggage claim handling process. Passengers can log-in on their mobile devices or on the crew's device to IGT's Baggage Claim Solution and submit their claim. Receipt copies too can be scanned/clicked and uploaded reducing the inconvenience of an already 'unhappy experience' for the passenger,while keeping information automated and detailed for airlines to process.
• 1-step to claim' process for a customer to submit claim online :
• No need to download & print form
• Fill information online through multiple channels
• Scan/click and upload receipt copies
• Instant availability of the claim form for agents
• Automated process to open, sort & scan claim forms and save manual work by the agents
• Allows customer to check claim status online
The ultimate aim is to give passengers direct access to the same baggage handling information and track its movement while complying with IATA's baggage tracking resolution. Additionally, this reduces ground operations cost and enhancing customer experience. "Around two-thirds of passengers have said that they would definitely use such a service, so that they can act immediately and self-process missing bag reports at the airport, either using their smartphones or other online devices, kiosks and others"*. (Sita Report)

IGT's Baggage Claims Solution is available as API. This allows for easy and quick integrations for airlines their existing systems quickly and easily, including readiness to cater to future requirements which they might offer to passengers. IGT provides services for end to end baggage management including Baggage Helpdesk Services, tracking and airline mobile apps.

PROCESS: It's important to align, process, people and technology to actuate the efficiencies that one hopes to build with innovative solution investments. When combining front end services with back office functions it helps achieve economies of scale. This means having unified support teams across the globe, processing the right query to the right resource, managing queue efficiency and ultimately getting the right bag to the passenger.In 2017, 79% airlines will provide real-time baggage information to their staff. Eithad Airlines is building Baggage CoE and aiming for a 100per cent baggage reconciliation system.
Passengers are keen for more transparency and control when it comes to processing their luggage and more information about what is happening to their bags on the journey. Baggage is on the radar of the aviation industry in a big way and the supporting technology innovations will only build the readiness factor of an industry which is gearing up for more passengers, more luggage and more cost savings.
Sources:
• http://www.aviationpros.com/article/12203572/airport-improvement-to-your-baggage-handling
• SITA The Baggage report 2016
• https://www.linkedin.com/pulse/baggage-trends
• http://www.futuretravelexperience.com/2015/01/airlines-airports-prepare-for-baggage-tracking-resolution/
• https://skift.com/2016/04/26/the-state-of-the-worlds-lost-luggage-sitas-annual-report/
About the Author:
Renee Kishore is digital marketing specialist, and a published author. A researcher and writer of change tactics and technologies in travel and other verticals, she frequently posts across the digital ecosystem. With 8-yrs of experience in communications and marketing, Renee has a passion for discussions and can be reached at: renee.kishore@igt.in
Source: https://www.igt.in/blog/is-automation-the-end-of-mishandled-airline-baggage/
Publish Date: July 4, 2016 5:00 AM
---
The blurring of lines between the physical and virtual worlds, especially with the IoT, (Internet of Things) has created a seamless connection between organizations and their audiences. The remarkable speed at which it's infiltrated each and every aspect of Travel industry from beacons to keyless entry, social to security and communications to collective intelligence has brought new-age challenges and opportunities. Today, one billion people in the world are using four billion connected things (IoT 2016). What's the potential of an IoT solution in the Internet-of-Everything in Travel?
While all types of industries are benefiting from IoT in varying degrees, Travel is recognizing a crucial impact on both the enterprise operations side and the front end as well. IoT's rapid digitization of physical things or machines as connected smart devices is rapidly impacting Travel's business models, service offerings and traveller expectations. On the enterprise side, C-suite is marking up investments for Mobility and IoT systems directly impacting cost efficiencies and streamlining operations. For eg: Hotels utilize IoT to collate real-time guest data and drive personalized messaging via beacons. Airlines and Cargo deploy sensors to track real-time information from aircraft parts and systems to analyze data, get temperature alerts, and anticipate issues lowering inefficiencies arising from misinformation and delays.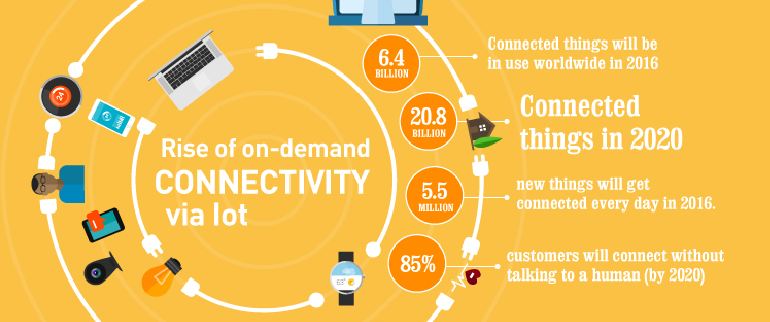 Mobility, IoT and cognitive computing – these are the technology must-haves in Travel for smooth handling of processes, optimal efficiency and flexibility to accommodate market changes. According to McKinsey the impact of the Internet of Things (IoT) industry could equal about 11 percent of the world's economy in 2020. Let's look at some recent numbers:
The global spending on the Internet of Things (IoT) security will reach USD $348 million in 2016 a 23.7 percent increase from last year (Gartner report).
Spending on the IoT security is expected to reach USD $547 million in 2018
Dubbed the key driver of 'The fourth revolution- The internet technology revolution' – IoT is here to stay. USA Today columnist Bob O'Donnell said "It's no longer simply about what a device can do; it's also about how that device can make your other devices work together better." To meet IoT's challenges and seize the opportunities in Travel require distinct strategies, concentrated investments and focused governance. IoT solutions are simply connecting intelligence gathering assets (cars, smartphones, machines, etc.) your business services, all managed from a single source infrastructure seamlessly.
Therefore planned IoT applications can be extremely potent in Travel. Data needs to be transferred from a mix of interconnected tools, across systems, in a timely and synchronized manner, to get products and services to where the people are. A fitting example is the IGT's Active Cargo Temperature and Humidity Monitoring solution for a leading global Cargo provider. IGT designed the IoT device to have provisions that attach external sensors for monitoring various environmental parameters. Easily configured to interact with backend systems, it relied on external power source and wireless internet connection for its operations. Cargo stakeholders would be able to remotely check the current temperature and humidity using a mobile application. By tapping into mobility, information sharing and tracking, it helped prevent damage to perishable goods, get real-time updates and minimize time taken to resolve issues.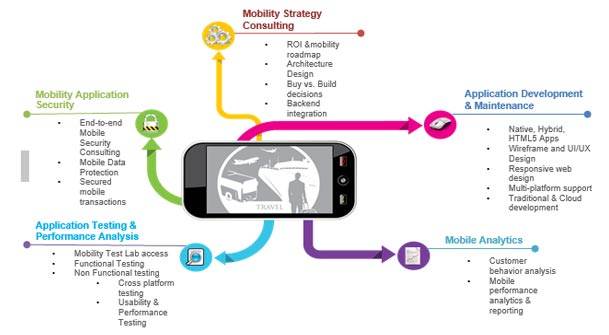 Similarly, airports too have been gearing up on airport technology solutions. Here's a look at IoT in Airports in 2015 (Indoor Navigation)
In 2015's 2nd quarter, 54 beacons were placed at JFK terminals but in the 3rd quarter, 104 beacon and wi-fi services were implemented in the airport reaching approx. 19.5 million travellers annually
In August 2015, New York's JFK Airport planned to operate a proximity program "so air travelers could access signals via the airport's Bluetooth and wi-fi network while in "discovery mode"
Beacons were further employed to notify travelers of wait lines at TSA checkpoints and taxi queues.
Travellers were sent "push notifications" on offers from across airport shops in JFK to drive ancillary sales
Key airline mobile apps services to manage traveller journey stages:
1) Check-in & IoT :
42% of airlines say it is the top priority
58% are planning to invest resources into IoT, with the emphasis on pilot projects, although 16% are preparing for major programmes
2) Baggage handling:
Two-fifths of airlines plan to use beacons at bag drop, baggage claim and check-in by 2018
40% of airlines have earmarked bag drop in their top three priorities and 30% say bag reclaim
The IoT offers a wealth of opportunities from communications to data management and intelligence. IoT applications could improve managing overall fuel cost based on optimal flight paths, cheaper fuelling zones and energy costs. But most importantly it helps leverage a new age of customer service that is bound to propel Travel as an industry further and forward competitively and strategically.
Improve communications with indoor navigation technology
Increase operational and cost efficiency
Improved irops management and increase airline efficiency
Facilitate intuitive and experiential vacations for tourists
Build ancillary sales with personalized push notifications
Internet of Travelling Hurdles: To capture IoT's potential; Travel providers need to put together an IoT infrastructure that seamlessly connects the customers, and their services from a single unified backend. For starters in IoT, initiatives should be small-scale and tightly focused on deliverables. More importantly, the security will be critical spanning IT operations, applications, and infrastructure. Companies need to be ready and technically armed as new vulnerabilities and zero-day attacks get attempted every day. Network defenses must constantly adapt and negate the attacks.
IoT builds on the intelligent automation of services, technology and people by shrinking data footprints, optimizing your existing technology, and aligning experiences with people. With consumers a step ahead, unleashing the full impact before the peak travel season is imperative.
Sources:
SITA: Airline IT Trends Survey 2015
http://www.geomarketing.com/iott-internet-of-travel-things-is-taking-consumer-data-farther-than-ever
SITA 'The Future is connected'
Gartner Special Report "The Internet of Things," 2016
About the Author:
Renee Kishore is digital marketing specialist, and a published author. A researcher and writer of change tactics and technologies in travel and other verticals, she frequently posts across the digital ecosystem. With 8-yrs of experience in communications and marketing, Renee has a passion for discussions and can be reached at: renee.kishore@igt.in
Source: https://www.igt.in/blog/potential-of-an-iot-in-the-future-of-travel/
Publish Date: May 24, 2016 5:00 AM
---
InterGlobe Technologies, highlighted the Top 12 trends for 2016 to impact the Travel Technology industry. The trends report titled IGT 'The journey becomes the destination' marked out the rapid integration of smart machines, connectivity and human behavior in driving millions of experiences across one seamless journey.
Let's look at how connected travel is impacting guest experiences for the hospitality industry. Data and digital are peas in a pod as revenue-driving analytics redefines experiences. From local experiences to keyless entry, hotels are pressed to deliver better, faster and further. Trends like Mobilization, personalization and socialization are re-establishing the 'wonder and magic' associated with travel. As a global provider of travel technology solutions, IGT is at the forefront of many changes meeting these advances headfirst for the travel and hospitality industry.
For hotels, to achieve a seamless and connected experience means to power and unify data-on-demand, entertainment-on-demand and experiences-on-demand for the guest. While hotels concentrate on engaging with the guest, they often miss engaging with their data. Data from PMS, reservation systems, POS systems and many more need to be analysed for actionable insights. But as data grows, so does cost of maintaining and analysing it…leave alone the planning of personalized experiences which is a whole new ball game. To use data smartly, one first needs to analyse the key issues that guests and hotel staff face.
What key challenges that hotel guest face most?
1. Long wait lines for check-in and check-out or delayed Information
2. Slow Responses to Inquiries
3. Navigation difficulties in Huge Airports
4. Lack of available information on Recommendations
5. Language Barriers
6. No Personalized hotel rooms
What hotels need is a single unified solution that will:
1. Create unique customer experiences,
2. increase revenues,
3. Drive operational efficiency & reduce costs
Many partner with 3rd party providers to mine the data and implement decisions, while others bring digital to replace the traditional hotel experiences. In hospitality, there is a one-to-many relationship where the guest reaches to several for multiple needs such as – Reception for check-in-check-out, room service for services, information desk for local experiences and so forth. But a single platform can allow guest to simply log-in to the network and have an experience without delays, without holds and without the ringtone. And help improve the operational efficiencies and impact services. As the innovative experience partner, IGT is working with leading hospitality chain in Asia on the design, functionality and evolution of a personalized and intuitive management platform. It'll be a real-time booking engine for hotels, residential listings, nightlife and entertainment. Some key features include:
 Immersive maps that share neighborhood content and local insights
 Dynamic packaging capabilities empowering guests to design their stay with upgradeable
options such as bedding, toiletries, etc.
 Mobile integration: seamless check in and check out, room service, in-room control for TV,
entertainment, temperature and much more
 Personalized recommendations from concierges
 Stored preferences for instant service adjustments with subsequent bookings
Evolution of Indoor Navigation Technologies
While global positioning systems (GPS) remain the most important tool for outdoor navigation, it requires the receiver to have an unobstructed line of sight to satellites. With beacons, hoteliers can auto-detect the user's presence inside the hotel using geo-fencing technology and will know exactly on which floor the user is located. Knowing where a guest is before sending information enables more effective communication-via push notifications across multiple mobile platforms. From fancy rooms to free wifi, hospitality has gone across the length of opportunities to differentiate and stand out, but few actually do stand out in the melee of small, big, budget and airbnb hotels. There is only s one open way left to create differentiated experiences and operations – The 'Smart' way.
About the Author:
Renee Kishore is digital marketing specialist, and a published author. A researcher and writer of change tactics and technologies in travel and other verticals, she frequently posts across the digital ecosystem. With 8-yrs of experience in communications and marketing, Renee has a passion for discussions and can be reached at: renee.kishore@igt.in
Source: https://www.igt.in/blog/the-rise-of-predictive-analytics-in-hospitality/
Publish Date: May 12, 2016 5:00 AM
---
Airline industry is the lifeline of a well-connected global economy. In this digital era, Airline industry is leading the transformation taking place, covering the front-end processes for personalized customer services to the back-end ensuring smooth operations. To differentiate services and stay competitive, airlines look to make personalized offerings to their customers – from acquiring, serving and retaining their customer base. Airlines are the front-runners of digital transformation in embracing a whole new way to engage with customers.
While copious amounts of information are being generated by multiple transaction systems of airlines, this information remains fragmented and poorly leveraged. Even today, many airlines still lack a single holistic view of their customers, working mostly in silos around people, processes and systems. This is where digital can help overcome these challenges. Because when leveraged correctly, digital brings clarity and control to establish the realistic business value and deliver strategic value to an organization.
It's no secret that an integrated platform, shared skills & knowledge and mature optimization are the keys to success of the business. Digital is the chain between inventories, sales, marketing, pricing, supply chain, finance, human resources, social media and CRM with the underlying technologies of Social, Mobility, Analytics and Cloud (SMAC).
RISING TO THE CHALLENGE:
According to studies:
100% of airlines investing in mobile services
27% of senior executives rate digital transformation as now being "a matter of survival."
76% of marketers think marketing has changed more in the past two years than the past 50.
51% of senior executives believe it's critical to implement digital transformation in the next 12 months
97% of passengers bring a mobile device when travelling
Digital Transformation – A New Way of Working
Technological advancements in daily life have created massive opportunities for airlines to deliver differentiated services to customers. It's an inter-connected and airlines need to have a foot-forward with thoughtful analysis from the enormous available data to define context, insight, intent and offering for the business success. Here's deeper look at the SMAC opportunity.
Mobility: From apps for booking tickets to crew management, mobile apps services have surged forward. The 'MyTravel, MyWay' is the latest mobility trend to impact travel. Its 'adaptive', and leverages data from "search, social, apps, content and context" to target individuals based on the right moment. With three core elements to adaptive mobility – "location, sensors and context" it's imperative to include a strategy that utilizes personalization, socialization and mobilization in end-to-end travel.
When seamlessly leveraged with intelligent automation of services, technology and people, the impact of mobility in travel is undeniable. Similarly, many airline apps will offer trip searches and booking, on-the-go ancillary purchases, or manage irops more efficiently with digital. The data thus aggregated can be further leveraged. And the actions of all these activities, behaviors and profiles turns into a rich data repository, giving rise to Analytics.
Profiling behavior with Analytics: Technology is enabling airlines to understand and leverage collective intelligence or behavior aggregated from search results, internal data, mobile applications and social media and user-generated data, intelligent virtual/digital assistants, and location-based applications. This data is further analyzed to fine-tune offerings around individual customers. For eg: United Airlines (via Alex) and Alaska Airlines (via Jenn) use enhanced conversational avatars online, to interact with customers, answer questions, and assist with the booking process.
When a traveller interacts with these digital assistants, the Artificial Intelligence (AI) programming uses sophisticated algorithms to learn from data input and become better at predicting the end user's needs. These new data-driven communication solutions aim to create sustainable relationships with travellers. The times are changing fast, and upcoming digital assistants will be built with more advanced cognitive computing technologies which will allow a digital assistant to understand and carry out multi-step requests and perform more complex tasks helping the customers to make complex reservations and to provide more personalized services. With cognitive computing having entered the fray, the days of digital/virtual assistant equipped with artificial intelligence (AI), machine learning and voice recognition technology is actually thriving.
Powering up on Social: Social channels have seen phenomenally adoption by the airlines and are a significant part of communication strategy including airline call center services. Be it brand building, managing irregular operations, or managing customer service calls; social media is playing a key role in generating significant amount of business for airlines. There's an 87% increase in non-voice customer service engagements which includes social and digital. Providing instant communications and service via social has become critical lever in a world that is always 'connected'.
Some leading airlines in engaging the passengers through social media with high primacy:
• KLM @klm – 2.01 million Twitter followers
• Jet Blue @JetBlue – 1.98 million Twitter followers
• Southwest Airlines @SouthwestAir – 1.94 million Twitter followers
• Air Asia@AirAsia- 1.92 million Twitter followers
• American Airlines @AmericanAir – 1.24 million Twitter followers
The rise of Cloud: To manage the rapid business growth, cloud plays the underlying platform for most of the organizations. The changing trend from traditional PC and server-based applications to hosted Web applications is made possible by cloud computing whose benefits include business agility, connectivity, scalability, dynamic provisioning and per-use pricing.
From acquiring information on consumer behavior, this technology also help airlines to implement their digitized business strategies. For internal planning, airlines are working towards the integrated and holistic service offerings with its alliance partners. And to achieve the improvised internal planning, it becomes imperative to monitor the critical KPIs.
To stay ahead of competition and gain a good market position, it is critical for the airlines to successfully implement new technologies and think 'unique' to transform their business 'smartly'.
About the Author: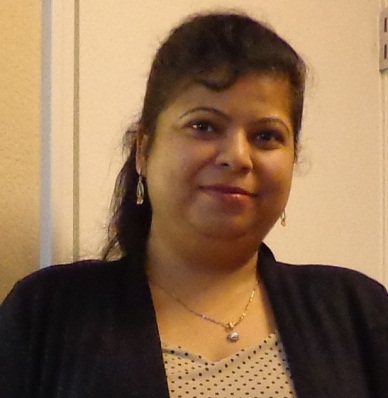 Aarti Saxena is a Manager Consulting with Interglobe Technologies helping airlines, travel and hotel customers worldwide to optimize IT and business processes. She has been associated with IGT for more than 8 years now and her area of expertise also includes implementing BI/DW and digital initiatives for airlines/travel customers. She is an integral part of Centre of Excellence (CoE) for Business Consulting at InterGlobe Technologies.
Source: https://www.igt.in/blog/connected-travel-digitally-transformed-airlines
Publish Date: April 6, 2016 5:00 AM
---
When it comes to any successful organization –it runs on 2 things – the quality of its people and the quality of its processes. For travel, both play an equally dependent role – one cannot be a good travel service provider, if their technology vision team is weak and a traveller will not bet on a poor performing provider.
And as competitive as Travel is; hiring, training and retaining talent is critical to your organization in ensuring that the IT processes and applications are performing optimally. With IT's undeniable importance in Travel – eg: applications that support and transform services, quality mobile application development and maintenance, IT infrastructure management; obtaining skilled professionals who deliver is a challenge. Travel too is looking at a "capabilities-driven strategy", and possibly to fast-track resource management.
Anyone that's ever worked on a big IT project, a tight scheduled deadline or a technology challenge knows the value of having the right resource on hand to get things done. While, some seek 3rd party help to host their IT environment or manage their applications, many others opt for staff augmentation where external IT talent is augmented in-house. Such IT talent is then trained and fostered under live environment. Often called 'acquired talent', staff augmentation gives the flexibility to obtain resources for projects that run critical applications or leverage new technologies.
Why Staff Augmentation? Staff Augmentation helps on a number of business fronts including faster time-to-market, right skill at the right job, lowering cost of training and development and flexibility of managing niche projects without the effort of 'raising an army'.
Companies stand to gain huge benefits by moving from transactional hiring to strategic IT staff augmentation model. The benefits can be marked as the following:
Cost Effective – With IT staff augmentation, there is no sitting army that you're maintaining. One pays for the work you need, when you need it and only for the right skills at the right times.
Control: With Staff augmentation, one has complete clarity and control over resource allocation, delegation of tasks and a transparency in the step-wise execution of the project. You're always at the wheel.
Accelerate time-to-market: It doesn't matter how pretty the car is, without a good pair of wheels, it's not going anywhere. The right talent, at the right time, on the right project. Staffing helps cherry pick the right skills for the project in the least amount of time.
Counteracting Attrition: Recent studies show that as the economy improves, up to 40% of employed IT professionals are looking to move. Attrition is a double edged sword as talent is a 2nd most precious commodity in our business. Staff Augmentation can solidify your staffing needs as when you need them – so hiring, retaining and training is the least of the worries.
Flexibility: Travel evolves so quickly that benchmarking a single type of skillset is not really plausible. For Eg: Airline Mobile App services or mobile application services for Hotels that are now the norm. To stay ahead of the curve, one has to be prepared for new technologies and skillsets that are not really in market right now. Staff augmentation can help get the niche specialized skillset on a project-to-project basis who are ready to hit the ground running.
Addressing the talent deficiency in Travel
Supply chain deficit: The deficit is not so much in terms of talent, as it in terms of domain specific IT talent. The need of the hour for travel is to channel the correct resources with critical domain expertise in verticals such as Airline, GDS, Rail, Hospitality, TMC etc. You don't need an IT engineer who doesn't know the 'A' of Aviation. This deficit in domain knowledge increases time to market and cost of training.
Domain specific IT resources: Travel's niche areas and services make it difficult to find trained IT experts with domain matter expertise. Few like IGT's staff augmentation services match skill to domain expertise to balance performance against future growth.
IGT's professional services provide on-demand skilled resources to work directly on client sites. IGT's trademark travel expertise means our skilled staffing are domain experts in Reservation, DCS, Ticketing, Cargo, Fares & Pricing, Route Profitability and more.
IGT's staffing includes operational efficiency too, as it helps with:
Change Management
Technology Management
Process Management Initiatives
IGT's staff augmentation facilitates improved operations at reduced costs via:
Skill efficiency with domain expertise,
Intelligent prioritization of resources and training;
Resource utilization
Project tracking
According to Deloitte's Global Human Capital Trends 2015, workforce capability and organization 'readiness' has been significantly challenged due to technology and talent skill gaps. To meet these challenges IGT resources are certified in key technologies and work with you from IGT's multiple global delivery centers worldwide to provide end-to-end support for applications, infrastructure and business processes.
Staff Augmentation with domain specific expertise is the road to sustainable advantages in the long run. Simply put IGT enables that the right people with the right skill set deliver on the right expectations.

About the Author: Renee Kishore is digital marketing specialist, and a published author. A researcher and writer of change tactics and technologies in travel and other verticals, she frequently posts across the digital ecosystem. With 8-yrs of experience in communications and marketing, Renee has a passion for discussions and can be reached at: renee.kishore@igt.in

Sources: Deloitte Global Human Capital Trends 2015, PwC's 19th Annual Global CEO Survey, PwC's 18th Annual Global CEO Survey, IGT staff augmenation CoE , Insights from PwC's 2015 Global Operations Survey
Source: https://www.igt.in/blog/staff_augmentation_travel_workforce
Publish Date: March 9, 2016 5:00 AM
---
"By 2018, half of all consumers will interact with services based on cognitive computing."-IDC.
Everybody has heard of 'big data', 'cloud computing', and IoT 'internet of things'. Some have managed to utilize them exponentially in their businesses, while others are trying. My focus in today's blog post is around the next big buzzword in the market – 'Cognitive Computing'.
In the hustles of conferences across the globe, discussions centered on cognitive computing – the new system that will take all verticals by a storm – and, in particular its undeniable need and impact for Travel. But let's take a step back and start with the basics – 'what actually is cognitive computing?' Broadly speaking, it is a 'self-learning' system that uses data mining, pattern recognition and natural language processing (NLP) to mimic the way our brain works.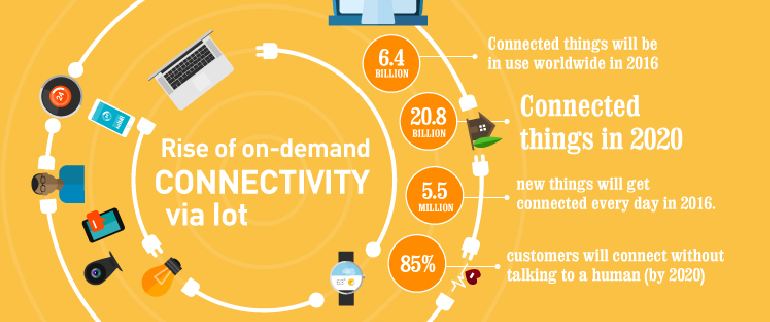 Just imagine an extremely smart and intuitive SIRI. Sounds interesting, right? While the stage has been still being set for cognitive computing, companies like IBM, PwC, have been working on the research of cognitive systems from almost a decade now. Here, a few disruptive first have already started initiating cognitive in their workings.
In February 2011, the world was introduced to Watson, IBM's cognitive computing system that defeated 2 people at Jeopardy! It was an interesting game between 2 humans and a machine and a first of its kind where the machine was able to answer 'tricky questions' posed by the game show host. IBM 'Watson' has been helping clients in healthcare, banking and retail to devise solutions around their need.
From game show contestants to travel agents, intelligent phone assistant to cancer fighter; cognitive computing transcends the boundaries that have limited big data and its impact. And can certainly do wonders in the world of 'Travel'. From researching, booking, managing disruptions to personalizing travels – every touch point or service can be covered by cognitive computing.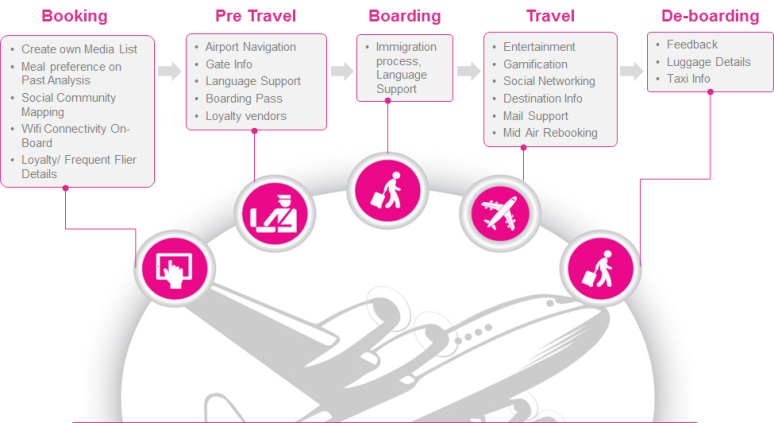 1) Improving "findability" of Travel: Today, a person looking for an international holiday, spends days researching an average of 10-15 travel websites trying to find the best place to visit, reading reviews, and then to find the best deal after finalizing on a place. According to an Omnibus survey, 89 percent of Americans are stressed-out by the amount of time and effort required for planning a successful vacation for their family. Travelweekly, UK stated that:
9 out of 10 people research their holiday online before booking, while 8 out of 10 book their holiday online.
For nearly 6 out of 10, their holiday is the most expensive purchase they have made online.
Cognitive apps help reduce the laborious process online booking airline solution- of searching 20+ websites, travel aggregators and customer review sites when trying to research and plan your next trip, by simply bookmarking profile information and responding to expectations. And can make this entire process a whole lot simpler..! Imagine just talking to an app (like SIRI) or interacting with a platform in simple human language (instead of typing dates and locations) which can give you recommendations based on simple questions like "I want to go on a luxury beach vacation without a party atmosphere" or "looking for hotels near cafes with facility to go on a boat ride" or "looking for an amazing place of fun for kids" rather than specifying what you actually need.
2) Manage Irregular Flight Operations: A cognitive computing system would evaluate irops (irregular flight operations) management options, "intelligently" predict the impact of each – with regard to passenger, crew and to the airline, compare these with previous instances, and recommend the best possible plan of action. It can also combine functions like identify a flight delay with possible hotel partners to book a nearby hotel and cancel other secondary bookings while notifying the family, on-ground crew and business partners of the delay.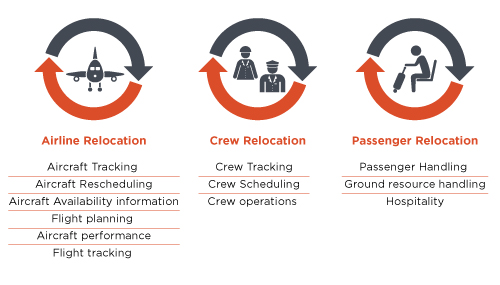 3) Cost efficiencies and real-time weather updates: Currently aviation uses computer-generated flight paths based on weather forecasts with one-hour time prior forecasts. If a storm hits midway en-route, it causes a scramble for re-routing the flight. With cognitive it would use DWR (Dynamic Weather routing) – further match it with the available fuel, schedule delay cost, crew data to devise the best possible re-routing option with the least negative impact on the airlines and passengers.
But such complex or compound queries and actions are challenging. Currently, we have only process simple functions using speech recognition. Technology is able manage simple queries like, "What is the weather today?" or "What gate is my flight?", but we're still have a long way from creating intuitive coordinated and combined functions like identify a flight delay+ book a nearby hotel+ cancel other bookings and notify the family and business partners of the delay.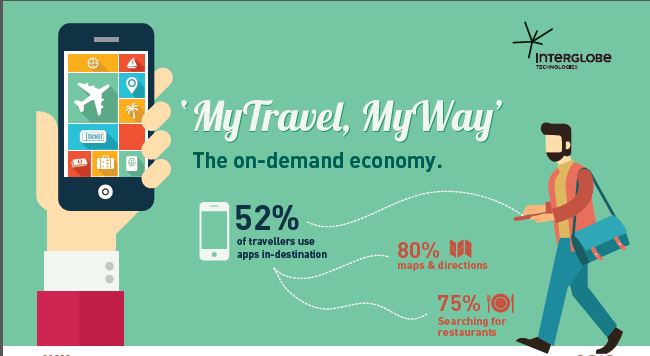 However, in the 'Cognitive Computing' era and for verticals like Travel, solutions like these is just a start in the right direction. Whether it's reaching the right consumer at the right time or building an experience to remember, the opportunities are limitless, and the need to make this process intuitive, interesting and simpler for a traveler is definitely on the cards.
About the Author: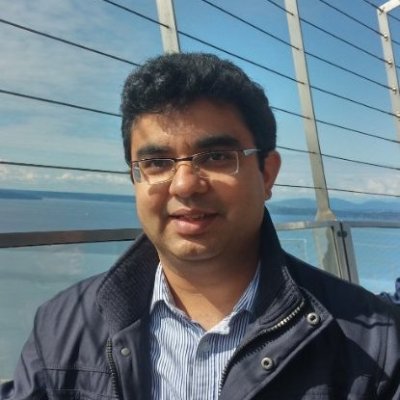 Sachin Gambhir is an Account Director for India & Subcontinent at InterGlobe Technologies. He has over 14 years of experience in IT Services industry representing a unique combination of disciplines in Account Management, Project Management, Software development, and Consulting. He's passionate about technology and implementing ideas where technology finds a unique way of solving business/human needs. Love cars, travelling to new places, meeting people from different cultures and working on innovative concepts with like-minded people. He can be reached at can be reached out at sachin.gambhir@igt.in
Source: https://www.igt.in/blog/Can_Cognitive_Computing_reinvent_Travel_business_model
Publish Date: February 23, 2016 5:00 AM
---
Today, Travel is an experience that starts when a person clicks and lands on your site or engages with your app. And there starts the journey to customize every need, whim and want of that traveller and his experience. From bleisure travellers to baby boomers, travel is increasingly personalizing its offerings by digitalizing it all. Well, almost every traveller. Until recently, about 1.1 billion people globally were unable or found it hard to access, book or manage their journey online. Who are these 1.1 billion? These are people with disabilities such as blindness, dyslexia, color blindness etc. And if they can't access your content, they can't use your site ≠ book a travel with you.
A report by AbilityNet stated that these 1.1 billion differently-abled people globally control over $4 trillion annually. To put that into perspective that's a market the size of China. And over 80% of travel is not optimizing this opportunity. This once-considered niche market is now very much mainstream and growing fast. Recently, with the new rules, there are legal repercussions in USA, UK and other countries for sites/ applications that are not "user friendly". For ex: All airlines and OTA that function in the US or fly in and out of US are required to be user friendly for differently abled people.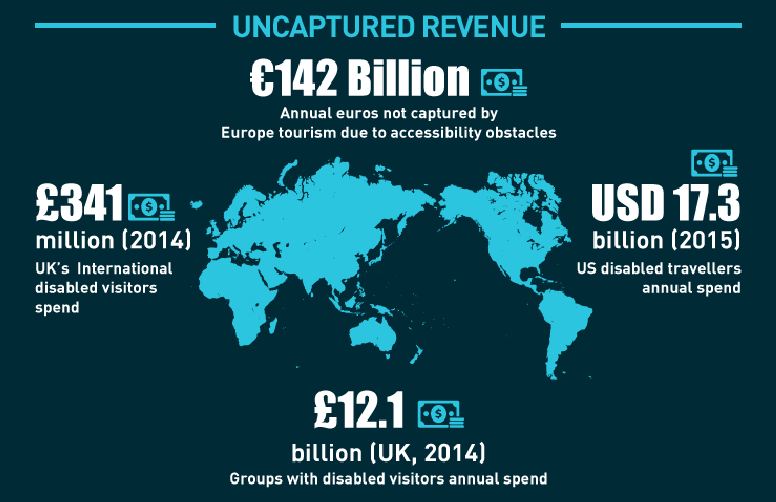 So, as well as the legal risks travel providers face in many global markets, the travel industry is also turning a blind eye to significant commercial revenue.
Accessibility's Impact on Travel: Europe's tourism market failed to capture €142 Billion due to accessibility obstacles in 2014. Let's take a deeper look into what travel market stands to lose altogether:
USD 4 trillion potential revenue
CSAT/reputation
Face Legal repercussions – govt. travel bodies (currently for airlines)
Poor User experience
Starting with Aviation: By November 2015, all key functions of an airline's website like reservations, ticketing, check in, managing booking and FF details needed to adapt to WCAG 2.0, levels A and AA. And, by November 2016, all web pages of airlines need to kowtow to this same standard. Soon kiosks in airport too will require being accessible. So in the travel industry, meeting these guidelines for airlines or to intercept them for future in Hospitality or transport is crucial and can be fulfilled via partners such as IGT.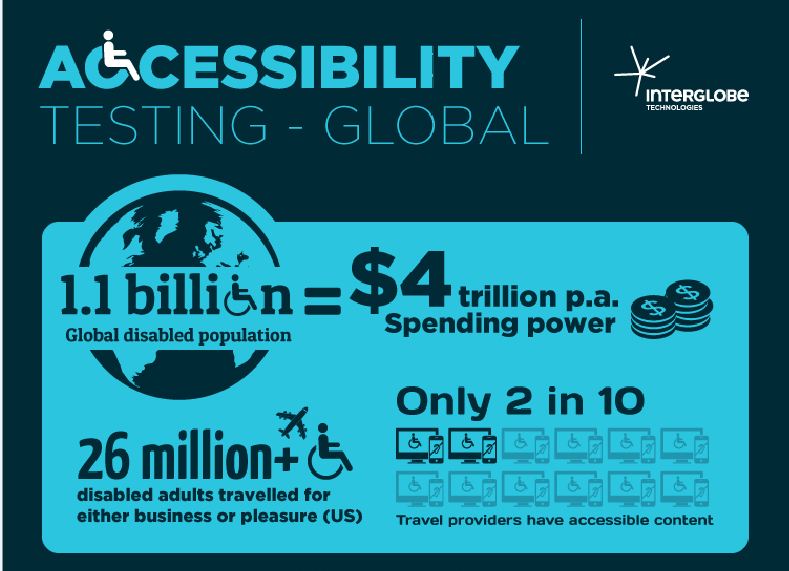 IGT's accessibility testing services: IGT's accessibility testing service is intuitive, affordable and driven by its CoE team helping companies audit accessible content and applications, validate user experience and enable better user experience across all their digital properties.
Technical compliance (against industry recognized guidelines)
Human user testing or 'real-life' compliance
Accessibility testing – how much supporting information is provided for disabled users

• Each and every web page tested individually for compliance.
• Manual "real-time" testing of the content and script
• IGT CoE experts lead validation, recommend and develop implementation plan
• Uses automated testing solution that can perform test scripts
By stringently following the industry changes, IGT develops services & solutions, to make the customer systems compliant. IGT Testing CoE (Center of Excellence) brings in its expertise through Applications Accessibility Assessment (AAA) platform to ensure applications are compliant with Industry wide Accessibility Best Practices & Guidelines like of WCAG 2.0 & Section 508 guidelines. Accessibility has been known to make 'finding information' easier and quicker to use by a highly significant factor of 35% even for usual customers.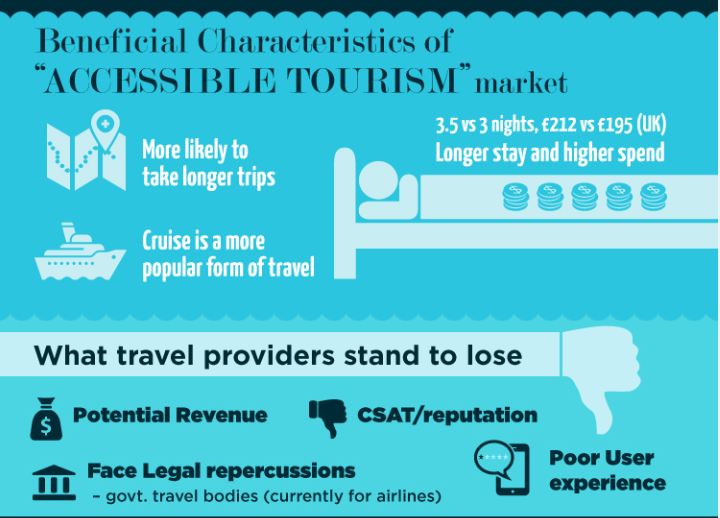 The untapped accessibility opportunity for travel providers: Increasingly online and mobile are the first –and often only preference for searching and booking travel, making it a critical that all travel and hospitality providers embarking towards being fully inclusive.
A report in 2014 showed that only 2 out of 10 travel sites were accessible and most were "technologically locking out" a key revenue source. Today e-businesses are losing out on some £50 – £60 billion per year of buying power. It doesn't matter if you're not an airline, whatever your role in the travel vertical, there's a big chunk of potential revenue that can't be overlooked.
Are your digital properties and applications accessible? You can register now for a FREE accessibility test with IGT.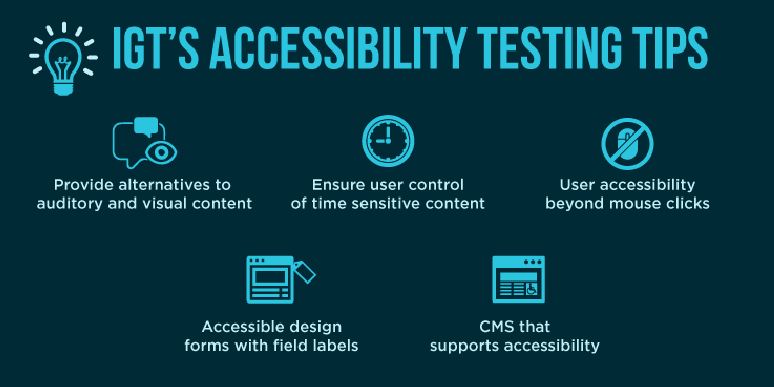 About the Author: Renee Kishore is digital marketing specialist, and a published author. A researcher and writer of change tactics and technologies in travel and other verticals, she frequently posts across the digital ecosystem. With 8-yrs of experience in communications and marketing, Renee has a passion for discussions and can be reached at: renee.kishore@igt.in
Sources:
1) AbilityNet 'Digital Accessibility'
2) Skift State of Travel Report 2014
4) VistitEngland -Understanding the Accessible Tourism Market 2014
5) Open Doors Organization (ODO) – American disability travel market (2015)
Source: https://www.igt.in/blog/no-traveller-left-behind-the-untapped-potential-of-accessibility-testing/
Publish Date: February 12, 2016 5:00 AM
---
The increasing level of smartphone adoption and internet penetration has changed the way companies connect and engage with their customers. It has led to the evolution of 'always on' customer who wants to connect to the company anytime and anywhere he wants. This has not only increased the customer touch points and ZMOTs but has also snowballed into a demand for personalized experience.
Initially, the only data with the travel companies was the travel itineraries of the passengers travelling. However with the evolution of the nexus forces (social, cloud, mobile) over the past few years, the information and data available has gone from scarce to super-abundant. With the global travel market growing exponentially with a 4% CAGR, the amount of data that one can analyse for the travel industry is humongous.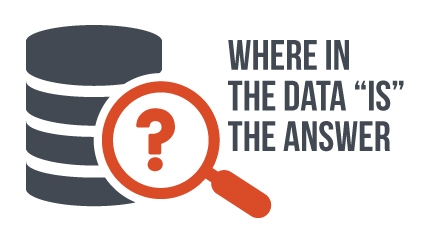 Right from research and planning a trip, to making the journey and post journey experience, there are multiple touch points between the customer and the brand. And this data would continue to grow at exponential rate. According to a report by IDC, the world will generate 50x more data in the next decade. Quick facts:
Digital data is expected to more than double every two years globally
About 90% of the data currently generated is unstructured
In a few years about 80% of the information that companies manage could come from external sources.
Data Management is HARD.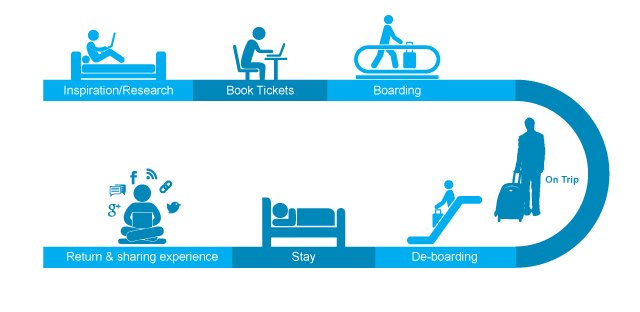 The travel companies have been the first users to embrace the data and utilize data analysis to offer loyalty programs, price optimizations and avail better business insights.
However, the volume, velocity and the variety of data is increasing at exponential rate. And so is the thirst for data driven decisions across the organizations. This requires the organizations to build strong processes to design and manage their data structures.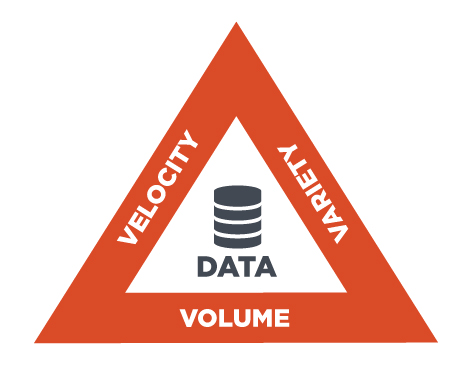 Many organizations consider making the data accessible as the foundation of data driven decisions. It is true that if the users are not able to find the data they need, they won't be able to run the analytics the business needs. But just providing the team with data gold mines and expect them to dig out gold, without the correct instrument, will be a waste of time for all. The challenge thus lies in finding out where in the data "is" the answer? According to IBM survey of CIOs, about 59% of BI analysts miss information that might be of value because they are not able to discover it.
Design. Organize. Manage.
The same problems will re-appear even if you re-invent your entire operations unless you are able to create data sets from data and utilize the same. The structures of metadata have become crucial to organize information and make it discoverable. For example, the capture, search and analysis of airport navigation data could be associated with social demographics to discover another data set that may help the airline with in-flight sales and build smarter airport technology solutions. A lot of this data can help create airline mobile app services that are tailored according to traveller profiles.
The quality of the data inputted in the system cannot be overstated. A high quality data input is an important factor that drives the outcome of the analysis. Ensuring that the data that is fed into the system is accurate, valid, reliable, relevant and complete enables easy management of the analysis engine.
The management of the data across the travel landscape has helped the companies to understand their customers, provide personalized experiences and determine next steps to reach their aspiration. It is only with the management or mismanagement of data that the companies will be able to either grow quickly or die a slow death.
External Source: IDC Worldwide Big Data and Analytics Predictions for 2015
About the Author: Reema Nagpal has over 8 years of professional experience in Marketing, Strategy, Consulting & Sales Support at leading multi-national companies. A research-driven professional, she has been creating winning propositions for sales through in-depth market intelligence and analysis. She is passionate about taking new ideas to the market and can be reached out at reema.nagpal@igt.in
Source: https://www.igt.in/blog/explosion_travel_data
Publish Date: February 1, 2016 5:00 AM
---
'Change' within aviation is a daily mechanism on three core aspects – Markets, consumer behaviour and market conditions. With the inclusion of ancillary services, negotiated fares and interlining , aviation's progressively complex ecosystem can see up to 20 million fare changes in a single week. For airlines to be competitive and strategically ahead, means they need to have their pulse on the core 3 – and – especially when it comes to airfare filing and distribution. (Register and get FREE POC from IGT)
It's the difference between managing fare filling and strategic fare filling. In terms of numbers that difference adds anywhere from 3-10% of your overall annual revenue. But when an airline is manually filling 500,000 fares at a given time, strategy can become a kneejerk reaction. While the industry has automation solutions available, finding one with 100% accuracy and fully informed expertise in YQ can be difficult.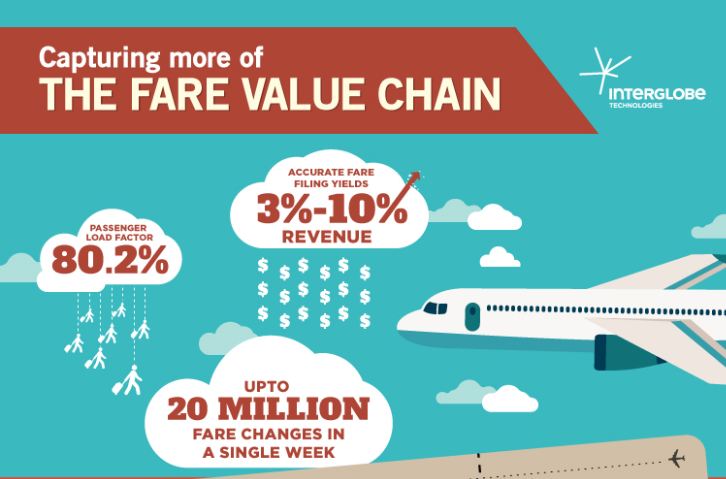 In a move to combat the growing errors in fare filling, IGT's fare filing service hits the right digits with 99.9% accuracy (IGT Fare filing Success Story). The service is a strategic tool to build competitiveness and profitability. It automates and streamlines fares, while intuitively monitoring and responding to the market conditions, with lowest ADM (Agent Debit Memos). Such that identifying the right fares, filing and distribution to both direct and indirect channels, globally, is hassle and error free. (Register and get FREE POC)
IGT's fare filling 3-objectives: Sense,simplify, sell.
quickly and accurately consolidate data
filter large amounts of fares data
monitor market and fare changes
manage pricing changes, YQ
calculate fares based on geo, YQ, taxes, CAT, rules and commissions
propose the best possible price
mark out private and public fares
automated refunds and reissue ( CAT 31, 33)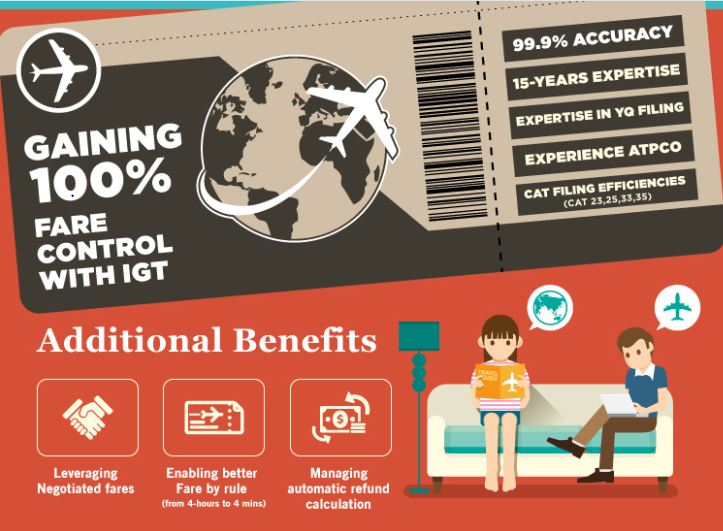 The pace in airline ticket distribution and data sharing has accelerated aggressively, driven primarily by technology. As airlines worldwide evolve their own commercial strategies dividing up commercial and corporate fares, a certain depth and evolution is progressively adding on.
The opportunities this presents in increasing yields, building partnerships, non-seat revenues and customer loyalty within the marketplace.
IGT fare filing key Benefits:
the most competitive prices
surety that the right prices have been delivered to an agency/corporate consumer
better time-to-market
improve efficiencies, time saving
It's a little known fact that airlines were one of the first implementers of ecommerce and digital. Today, as the number of fares and travellers is sharply rising, correct fare filing remains critical in sustaining and enabling profitable routes. IGT helps you get the right fare to the right consumer at that right time.
To quote IATA's Tony Tyler, "Passengers like to have nice cabin environments, but they don't seem willing to reward airlines for offering them. It would appear, most often, that passengers choose airlines based on affordable fares and convenient routes."
IGT's fare filing service enables 99.9% accuracy in pricing wars. Register now for a FREE POC with us.
View: IGT Capturing more of the fare value chain (Infographic)
Source: https://www.igt.in/blog/IGT_fare_filing_services
Publish Date: January 19, 2016 5:00 AM
---
It's a well-known fact that the aviation industry is a highly regulated industry with multiple stakeholders. And by that count, airfare too, is a highly controlled operation. So getting the correct airfare is a critical aspect of any airline's business operations. But it faces challenges where poorly designed or enforced fare management infrastructure has cost more compared to the value created.
An airline can stand to lose up to 3% of their annual revenue and affect their CSAT if they get their fares wrong. And the impact is felt keenly by – Airlines, Passengers and Agents.
Approximately 3.3 billion passengers flew in 2014. This number is to rise to more than 7.4 billion in twenty years. As the number of routes, volume of passengers and number of aircrafts rise, marking the right airfare, at the right time to the right person will become a costly affair. Throw in the growing trends of code sharing, ancillary services, competitive pricing, interlining and negotiated fares, only serves to further complicate the fare filing and distribution process.
And that process needs to quick and reactive, because this marketplace is pretty dynamic. Today, as passengers are finding the lowest fares at the click of a button, an airline cannot afford to be complacent in its pricing. One needs to manage fares distribution for both direct and indirect sales channels, across multiple locations and time zones and taxes. Additionally, this system should be able to monitor the vast ecosystem of market and competitive fare changes and react in real-time. (REGISTER NOW to receive IGT's FREE POCs )
Take into account that at any given time an airline has 500,000 fares on offer and the marketplace has hundreds of thousands of them which could change in a single day. A little lag can on key routes – and lost revenue can quickly add up. But get fares right and it can add anywhere from 3%-10% to overall annual revenue.
What is the solution? Clarity and Certainty. It is necessary to adopt a complete fare filing and distribution process, which is a combination of real-time analysis and smart automation with defined key features such as:
100% fare filing accuracy for direct and indirect sales channels.
Re-issue and refund management capable of optimizing the "Revenue Leakage", due to schedule changes, delays or cancellations
An intuitive and automated filing platform that can identify and update as per the allowed booking rules, taxes and YQ.
Advanced knowledge and management of CAT 31, 33, 25, 35
Negotiated fares management option
Price is paramount: IGT's fare filing service automates all levels of fares, which include taxes and applicable surcharges such as YQ. The service also takes into consideration the actual selling prices in the market and responds in real-time with 99.9% accurate fares. By cutting down on time-to-market on fares decisions and accuracy, allows airlines to strengthen their strategic and tactical pricing initiatives.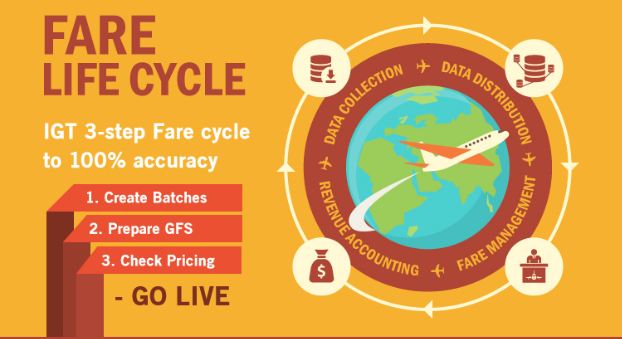 REGISTER NOW to receive IGT's FREE POCs Fare filing may be just a backend revenue driver but is essential to both sales and revenue teams. By quickly and accurately managing fares, one can stay ahead of the competition especially in global profitable routes. Better service, quicker time to market and stronger revenues – the cost of success cannot be mismanaged.
View IGT's infographic on Airline fare filing

About the Author: Renee Kishore is digital marketing specialist, and a published author. A researcher and writer of change tactics and technologies in travel and other verticals, she frequently posts across the digital ecosystem. With 8-yrs of experience in communications and marketing, Renee has a passion for discussions and can be reached at: renee.kishore@igt.in
Source: https://www.igt.in/blog/fare_filing_accuracy
Publish Date: January 13, 2016 5:00 AM
---
If there's one thing that is growing faster than the speed of travel, it's the assimilation of 'real-time' data via IoT collected during every journey and every touch point. Like with other verticals, 'seamless connectivity via digital' has become a critical part and influencer of Travel, creating access to information, introducing automated systems and enabling new ways of communications and customer service. The impact of this development has been felt keenly by BPM providers.
While a majority of BPM relationships continue to thrive on the base concept of 'price' advantage with a third party v/s performing transactions in house, in reality, the business itself has been adapting rapidly to digital, increasing the need for voice and data convergence. There are three key drivers of this evolution – changing markets, technology and customer needs.
Take for example, Retail companies operating in the logistics space, who with the advent of digital, are moving online, eliminating traditional providers! But even as the world is embracing digital many BPM players still have an umbilical connection to the ANALOG- move the businesses 'AS IS' – and take advantage of labor costs.
Currently, Gartner estimates state that 75% of the total market in 2014 was made up of voice-based services, while the other 25% was made up of non-voice services. But this is fast transforming.
The level of change means BPM providers have to provide integrated IT-BPM services which include a combination of digital, voice, automation and analytics:
Create a unified, seamless view of the customer & integrated multi-channel delivery
Profile an and personalize customer journeys
Analyze and align customer touch points with services
As digital platforms and connectivity rises, so will BPM's offerings. Imagine this. The entire volume of data produced since the start of history up until 2002 is now produced every 10 minutes. In 5 years, that same volume will take a fraction of a second. This lends greatly to the rise of automation that is slowly becoming BPM's biggest game changer.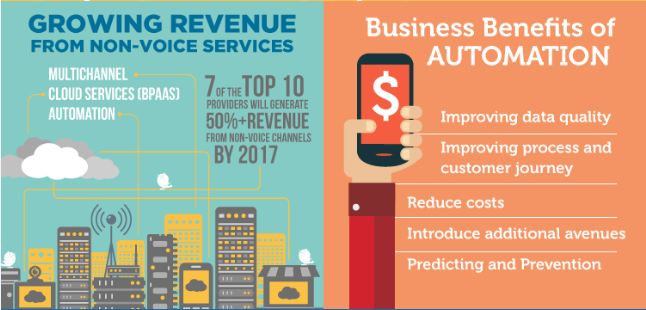 Rise of Automation in BPM
According to Gartner Inc., 6.4 billion connected things will be in use worldwide in 2016, up 30 percent from 2015, and will reach 20.8 billion by 2020. In 2016, 5.5 million new things will get connected every day. In such times, there will be far too many interactions to be handled solely by humans.
Innovation and digital transformations are possible in an environment where the engagement model looks beyond the Service Level Agreements (SLAs), contractual terms and basic operations. Focus on Automation and Analytics can provide enhanced value for client operations and can generate enough benefits to move business performance to the next level. Incorporating automation can cut through complexity to deliver simple, transparent, and timely decisions.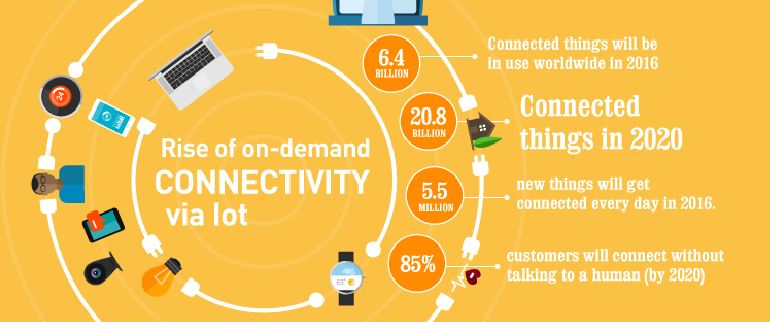 In travel space- Digital Automation tools can help reduce human errors in data entry processes like fare filing and queues processing. Machines will not replace the human workforce, but simply be used to systematically process large volumes of information to derive informed decisions in real time. This results in further standardization of efforts, enhanced analytics and embracing mobility for growth. The operations team now has more time to focus on value-enhancing aspects of the business. This in turn can fast forward the industry towards 'Outcome Based' commercial and business models.
More and more clarity is now emerging on concepts like BPaas v/s Platform Based BPM services. BPaas can be leveraged to work with multiple clients with similar business needs. FTE based pricing models can now be converted into per transaction based variable cost models that provide value to multiple clients and scale to service provider. BPM will create integrated voice and non-voice solutions that include digital, analytics, business rule management and collaboration.
Businesses are looking to BPM as they seek new ways to engage with their customers, but without digital or automation in the picture, service providers will find themselves in a corner. Service providers that delve at a foundational level with their clients on these buzz areas with an OUTCOME based approach will eventually turn out winners! Customer service is entering a new era and by that count BPM is evolving not only its offerings but the environments where it is applied.
Automation, data, collaboration & process will drive innovation and traveller centricity.
About the Author: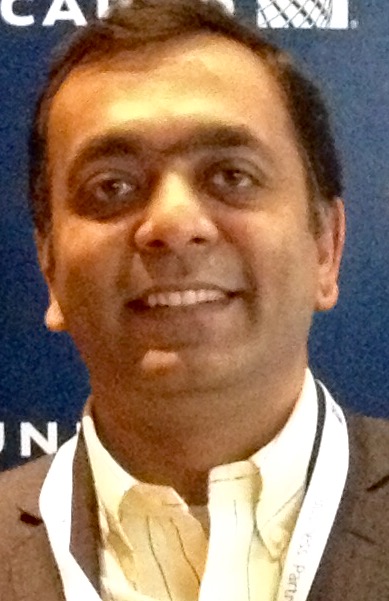 Raja Jain is a business leader, entrepreneur, mentor, friend, parent, husband, traveller, reader & researcher (..not necessarily in this order). As Vice President for US and Canada markets, Raja leads Sales & Account Management initiatives for IGT.Raja brings a rich experience of over 20 years with Travel and Outsourcing industry with companies like Carlson Wagonlit, American Express, Makemytrip.com, Ebookers and EXL Service.
Source: https://www.igt.in/blog/Digital_transformation_in_BPM
Publish Date: January 12, 2016 5:00 AM
---
Digitization has provided untapped opportunities for travel providers to strengthen relationships with their customers in home markets, across the region, and around the globe. In that, certain regions are seeing a growing "smart" evolution with regard to lifestyle and particularly in travel. And in the center of it all is Asia. With over a billion travellers, the fastest adopters are airlines, OTAs, hospitality & hotels in APAC.
Managing irops, customer loyalty, ancillary revenue and staying in constant touch, requires customized and integrated IT-BPM which is where IGT sees a lot of traction in this sector. One of the keenest observations is how Asia is leading the pack as the axis of "Smart Travel." Asia was an outsourcing hub due its cost-effective manpower and it language efficiencies. And now, there is the digital influence to IT-BPM.
More and more BPM delivery centers are scaling up to offer personalized and multi-lingual support and digitizing the support. IGT recently launched its 3rd delivery center in Manila, Philippines in a marked recognition for impacting travel's global operations and growth for both domestic and global clients, improving scalability.
Maximize the potential of the Big 3 – big data, m-commerce, and predictive analytics:
In the past five years, SEA, fastest to adopt tech and digital changes, has been able to maximize the potential of the Big 3 – big data, m-commerce, and predictive analytics.
Let's account the key factors affecting it –
• Evolution of mobile, smart machines & smart cities
• Explosion of data across multiple travel stakeholders – airports, logistics, OTAs
• Rise of connected traveller
87% of people in Hong Kong and Singapore own smart phones (higher than the global avg.)
38% of Asian travelers book hotels via mobile devices, most engaged social and digital audiences
Asia's young and digitally savvy audience and the current socioeconomic conditions have created a perfect space for m-commerce activities in SEA. Asia, today, accounts for 50% of the world's total 2.8 billion internet users and the region is already the most engaged international e-commerce market. Whether it be bookings, ancillary sales, geo location, hotel concierge service, disruptions management, or even personalizing the entire journey; the travel industry is decisively optimizing big data and predictive analytics in this region.
Seemingly, smart audience + smart services have directly influenced a new digitalization of infrastructure called 'Smart Cities'. Keep in mind that the infrastructure growth across Asia in not symmetrical.
Currently 28 mega-cities – 16 in Asia, 4 in Latin America, 3 each in Africa and Europe, and 2 in Northern America.
By 2030, the world is projected to have 41 mega-cities
Singapore is poised to grow a global logistics and mobility hub, India has 100 smart cities planned and Japan is has robots in their front office. Smart infrastructure and services will integrate to deliver customized voice and non-voice support which will become imperative for travel. Intelligent automation of services, technology and people is only the tip of this ice-berg.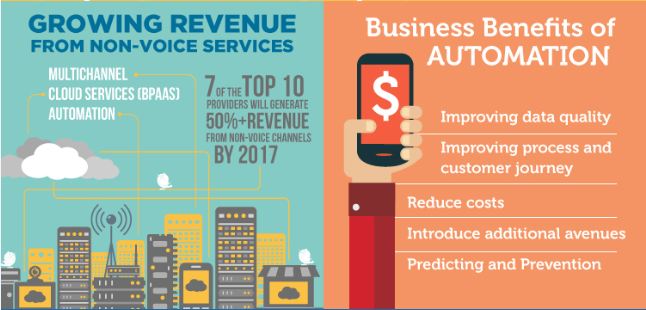 Another key area of substance is when disruptions happen in travel (irops – irregular operations) caused by weather, technology or human factors. In SEA and across the globe, IGT provides services to utilize mobile, social media and analytics to improve communications, rebookings and even crew management. Integrated IT-BPM allows for big data as indispensable information that makes a customer representative more anticipative of a customer's needs to create maximum a first call resolution.
Whether you are talking to a hotel chain, an airline, a baggage handler, OTA they all have one thing in common – CSAT.
The IT-BPM industry is a microcosm of the impact of the digitalization in Asia. One can expect more non-voice based services portfolio as robotics and process automation are loom large in the horizon. For IGT, Asia's BPM industry will lead the value of automated intelligence by slicing through complexity to deliver personalized, transparent, and timely decisions. It's truly exciting times for BPM and Travel. And IGT is at the forefront of it all.
Sources:
Nielsen 'Decoding the Asian Consumer 2014′
About the Author:
Renee Kishore is digital marketing specialist, and a published author. A researcher and writer of change tactics and technologies in travel and other verticals, she frequently posts across the digital ecosystem. With 8-yrs of experience in communications and marketing, Renee has a passion for discussions and can be reached at: renee.kishore@igt.in
Source: https://www.igt.in/blog/asia_bpm_smart_travel_hub
Publish Date: January 7, 2016 5:00 AM
---
Customer service is entering a new era and by that count BPM is evolving not only its offerings but the environments where it is applied. In IGT's 2015 'Travel Trends' predictions echoed Gartner's report that in 5 years the BPM will see certain manual jobs automated by robots (RPA), for digitally powered businesses. And BPM Big #3 are responsible for the wave of change that is affecting travel.
An explosion of targeted BPM in this evolution of BPM is of critical importance to Travel. And providers are fast-evolving to the changing markets, technology and customer needs.
The big 3′ for BPM - Big Data, Smart Machines, and Predictive Analytics – are opening the door to automation. And automated digital business environments will lead transformation –ex: where manual labor was used to input data or fill forms can now be automated by machines or robots. Hence BPM's role across industries has become one of 'management' rather than 'operations', hence the change from BPO to BPM. BPM will create integrated voice and non-voice solutions that include digital, analytics, business rule management and collaboration. And both voice and non-voice will see a greater of degree of personalization in communications.
As customer service evolves, the need for higher competencies, new roles both for employees and the BPM providers, in knowing and working with automated systems and data rises. Big data from multiple stakeholders, travellers and providers help create targeted and personalized messaging that is crucial in today's times. Managing and interpreting this data has become automated with smart machines.
Smart Machines for Big Data discovery uses a machine first approach, utilizing cognitive computing to lift users past the hurdles that data modeling and data accessibility presents. [1] How this affects BPM holistically will be nearly impossible to put a number with the rapidly blurring lines between human and machine interaction. But each follows a system for managing that future. For example, IGT follows an integrated IT-BPM model of delivery.
Confirming the same are Gartner estimates that state that 75% of the total market in 2014 was made up of voice-based services, while the other 25% was made up of non-voice services. IGT's 11 global delivery centers are currently more voice-driven; but keenly integrating IT and digital mechanisms. The impact will be in how the teams learn new integrations and technologies to support business processes and more efficient dialogue.
Industry can expect to see newer roles and higher competencies define BPM jobs as mobile and digital take center stage in communications.
Managing Client Expectations, and Balancing services growth in Travel
In terms of services, airlines outsource BPM services like Baggage Help Desk, Cargo operations, Reservations and Customer Service while OTAs' drive Customer Service, Back Office Operations and Sales/Reservations services to BPM. Recently Queues management, Helpdesk and Fare loading have also seen a push towards BPM.
IGT's global centers for clients provides calculation of complex fares to migration and management of mainframe solutions, managing dynamic multi–contact channels to building ecommerce and m-commerce platforms among others. Clients leverage IGT's multi-channel, multi-lingual BPM services that are available across IGT's 11 global delivery centers spanned across multiple continents.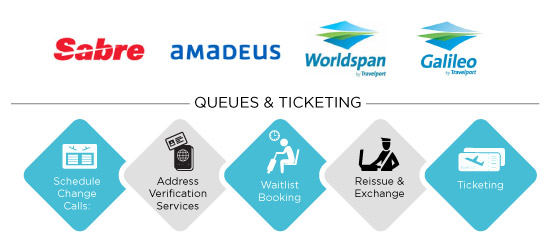 Strengthening service delivery will bring travel expertise closer to customers to enable quicker services and stronger support for scalable travel operations. Data continues to grow as customer service becomes the penultimate goal in Travel.
[1] http://datarpm.com/blog/the-rise-of-smart-machines#sthash.gregqNY3.dpuf
About the Author:
Renee Kishore is digital marketing specialist, and a published author. A researcher and writer of change tactics and technologies in travel and other verticals, she frequently posts across the digital ecosystem. With 8-yrs of experience in communications and marketing, Renee has a passion for discussions and can be reached at: renee.kishore@igt.in
Source: https://www.igt.in/blog/the-big-3-bpm-agents-of-change-big-data-smart-machines-predictive-analytics/
Publish Date: December 4, 2015 5:00 AM