Jacada - ContactCenterWorld.com Blog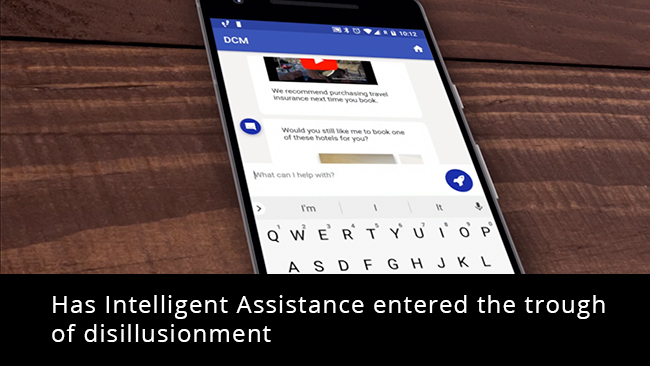 A few weeks ago, Gartner revealed a pretty stunning prediction: by 2020, 40% of bots and virtual assistants launched in 2018 will have been abandoned. This development was actually pretty predictable. Core technologies to build intelligent assistants have matured rapidly and are widely available. It triggered a vendor "gold rush" building chatbots. In addition, many scripted bots declared themselves intelligent, adding confusion in the marketplace. Companies implementing chatbots are finding it much harder than they expected, thus the current adjustment.
Chatbots and virtual agents are here to stay! Gartner also predicted rapid penetration of these solutions, from less than 2% last year to over 25% in 2020. There are several fundamental trends driving this adoption. The volume of customer interactions continues to rise while expectations of rapid service grow. Enterprises must harness self-service and automation to scale their customer service. Conservational dialogs make the assistance experience enjoyable and companies more accessible.
The "conversation" needs to shift to what it takes to make an intelligent assistant project successful. On April 25 we will hold an interactive webinar to address YOUR questions. Join here!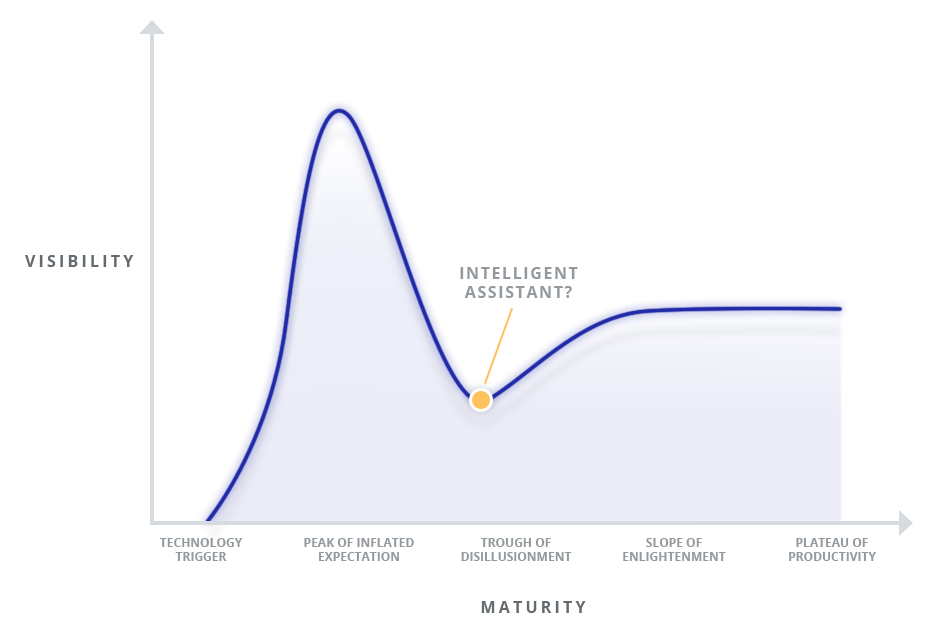 [About the author]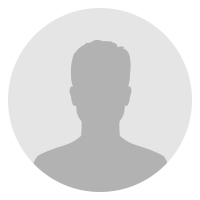 Nicolas De Kouchkovsky is a recognized industry expert in customer engagement and customer service. He is a fractional CMO helping small and midsize software companies. Nicolas was previously CMO at Genesys, driving the company's expansion into the broader multi-channel contact center market. He is also the author together with Opus Research of the Intelligent Assistance and Bot Market landscape.
Titles: Author with Opus Research of Intelligent Assistance and Bot Market Landscape
Founder & Principal of CaCube Consulting
Source: http://www.jacada.com/blog/has-intelligent-assistance-entered-the-trough-of-disillusionment
Publish Date: April 11, 2018 5:00 AM
---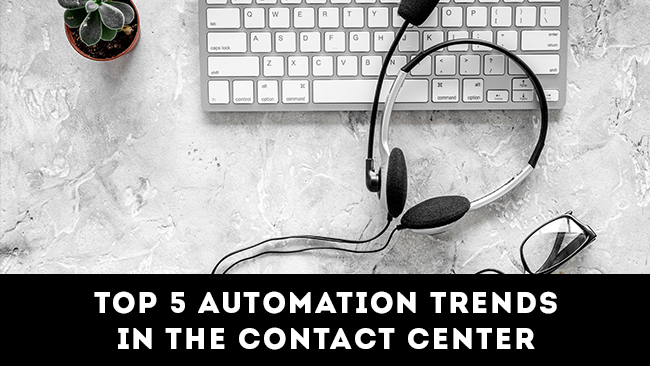 It seems automation is everywhere these days, allowing people to accomplish a variety of tasks faster, and the customer service industry is no exception, where technological advancements continue to transform the customer experience, and businesses continue to discover the benefits of real-time automation. Here are the top 5 customer service automation trends in 2018:
#1: Desktop automation
Today, it's critical that your customer experience design and customer service capabilities are prepared to meet the expectations of today's customers, however, too often agents struggle to cope with the behavior and complexity of so many applications, which are simply not designed with the goal to deliver the optimal customer experience. In 2018, look for more and more companies to be adopting desktop automation, which harmoniously blends the array of existing applications into new customer friendly workflows and tasks that empower agents to focus on the customer instead of wasting time dealing with time consuming system navigation and data entry. In addition, as a byproduct of fully optimizing the way customer service agents interact with their desktop, regardless of channel, they will have more positive energy to personally engage customers, resulting in happy, loyal customers and agents!
#2 RPA
At the same time, 2018 should see the continued emergence of robotic process automation (RPA) technology, which is already stirring the winds of change in contact centers by automating the various small, repetitive, everyday tasks which have traditionally played such a significant role in its day to day operations, including opening cases, checking order status, record updates and many more. RPA is thus delivering effective, cost saving solutions to customer service operational and technology challenges. In fact, a KPMG report claims that labor automation through RPA can reduce an organization's operational costs by 75 percent! At the same time, RPA brings consistency to the customer experience, has a near zero percent error rate, and greatly reduces handle times by enabling the customer service agent to integrate data into fields across all associated systems with only one entry, enhancing the overall customer satisfaction.
#3 Visual IVR
With already over 1 billion smart phones users worldwide and growing, the trend towards Visual IVR will continue to gain momentum as well, offering a communication channel that enable users to leverage their devices for customer service on the go by transferring the existing IVR technology onto their phone screens. By simply logging into the company's website or mobile app customers can access an intuitive, user-friendly visual IVR menu interface. Users can to touch their way through visual menus, speak to a specific call center agent or even view holding time and choose a call back option – all from the comforts of their smart phones. The truth is Visual IVR actually is fulfilling many of the promises Voice IVR was meant to. Now you can deliver an automated and personalized and digital self-service experience to your voice callers, all at the same time!
#4 Chatbots
Another automation technology in customer service more and more companies are beginning to leverage is the chatbot, virtual assistants who can provide fast, cost-effective and human-like customer service. The vast amount of customer data that is collected by companies is used essentially as a data warehousing for an AI system. Together with Natural Language Understanding (NLU) technology, this data can be translated into deep machine learning that creates progressively higher and higher levels of intelligence, and providing them with the ability to 'learn' the correct answer to any question over time. As customers today expect to receive instant service across all channels at all times, intelligent virtual personal assistants can be easily deployed on almost any interface, including voice response, mobile apps, SMS, the web, and instant messaging.
#5 Big Data Analytics
Today, the trend toward big data analytics is also helping to automate how businesses communicate with customers. Utilizing complex data sets from various sources, companies are gaining important insights into customer behavior and preferences, and by leveraging these analytics, brands can identify customer pain and passion points more effectively, while even anticipating what customers will ask for in advance, to quickly resolve each customer interaction, which drives sales and lasting customer loyalty. In fact, according to Salesforce, 57% of consumers today are willing to share personal data with companies that send personalized offers and discounts. With such access becoming ever easier, look for more and more brands to finally make the push to leverage customer data from their CRMs to create more tailored and automated customer experiences in 2018.
Indeed, as contact center automation enhances effectiveness and quality, delivering clear, wide ranging benefits at various touch points, the world of customer service is changing rapidly and for the better.
Source: http://www.jacada.com/blog/top-5-automation-trends-in-the-contact-center
Publish Date: March 21, 2018 5:00 AM
---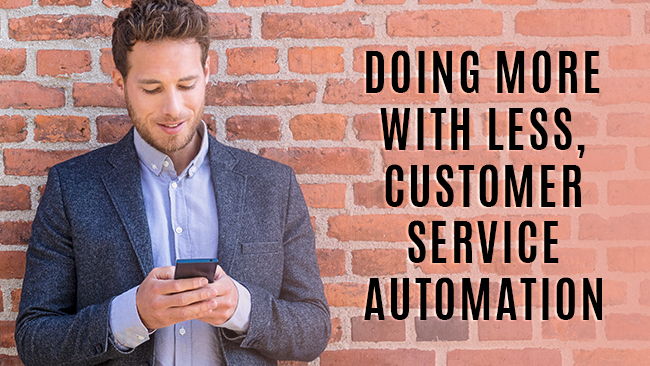 The verdict came by email. Martha Mitchell learned that her request for 10 customer service agents was denied. All managers were expected to "Do more with less". As director of customer experience, Martha was responsible for the contact center of 300 agents and a product support team of 20. She understood that there were only two ways to do "more with less."
The first was to reduce the level of inbound traffic that required human assistance. The second was to shorten handling time for the calls that did. Focusing on the first option, she examined data from the IVR, website, and speech analytics and found that about 30% of inbound contacts were contained within the self-service option. The data showed that improvements in the menus and navigation patterns for billing and payment queries could increase containment to 40%. This equated to three agents.
Another interesting finding from her research was that over half of queries originated from smart phones. Martha learned about technology that presented menu choices and navigation patterns on smart phones. This allowed users to complete their interaction from their phones just as easily as from a PC. This was worth exploring and she asked one of her supervisors to contact the vendor.
Martha then looked at first call resolution rates. As with most contact centers, about 25% of inbound calls were follow-ups. Speech analytics revealed two reasons. First, agents could not grant even modest concessions, and this meant delays as approvals were sought. She fixed this by specifying concessions agents can grant at their discretion. The other major cause was lack of information. For this, she asked one of her supervisors to research knowledge management software. She understood that these systems could produce the information agents needed as easily and quickly as a Google search.
Now she was half way to her goal of achieving productivity gains equivalent to 10 new agents. She needed to reduce handling time by 20%. She was intrigued with virtual agents, also referred to as "chat bots." These use a combination of natural language speech recognition and artificial intelligence to handle complex conversations in a free flow form like human agents. As a bonus, bots can also automate back office processes. Now she had the productivity uplift of 10 new agents.
Automation in the contact center began in the 1970s with the invention of the automatic call distributor and has accelerated ever since. Today the contact center is one of the most productive organizations in the enterprise. The good news is that intelligently deployed automation not only cuts costs but also improves quality and reduces compliance exposure. While fewer agents may be required, those that remain on staff enjoy higher morale because they can focus on the more challenging interactions rather than mundane repetitive work.
Dick Bucci
Founder and Chief Analyst
Pelorus Associates
[About the author]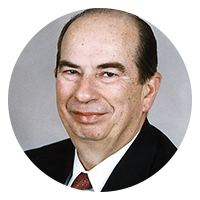 Dick Bucci is a 35-year veteran of the telecommunications industry. Past experience includes executive level positions in sales and marketing with leading telecommunications product vendors and value added resellers. His market research and consulting career began in 2001 with Frost and Sullivan. In 2009 he formed Pelorus Associates, a consultancy that provides market research reports, custom consulting, white papers, and public relations services to 35 companies based in five countries.
Source: http://www.jacada.com/blog/doing-more-with-less-customer-service-automation
Publish Date: November 14, 2017 5:00 AM
---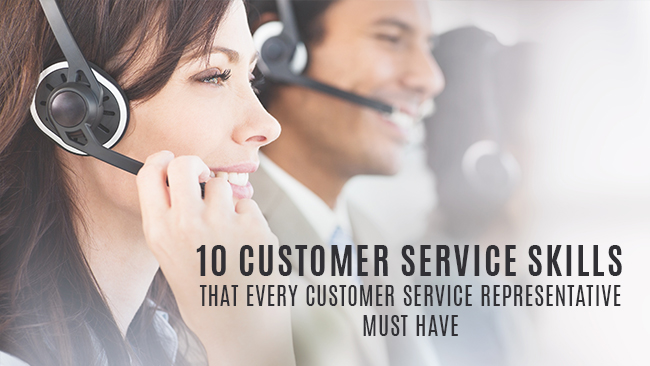 When it comes to providing the best customer service, there are certain skills that everyone staffing your contact center should possess. The following may seem basic for many but it is surprising to me how many times these basic skills are overlooked. More often than not, it is the people themselves who make the difference when it comes to an organizations ability to provide great customer service. Here's a list of 10 customer service skills that every person involved in customer service needs to own to be able to provide the best customer experience possible. Let's take a look:
#1 Effective Listening
The foundation for providing great service is, first of all, the ability to simply listen to what a customer is saying. Customers are already often frustrated about something when they call, and nothing compounds that frustration more than to feel misunderstood and misinterpreted. Listening isn't just about hearing what is being said, but also what is not being explicitly said in order to offer the best solution.
#2 Empathy
Empathy is essentially the ability to see and feel the world through the eyes of another by experiencing their emotions. In customer service, empathy means the ability to identify with and, hence, validate the customer's problem and the consideration and respect for the customer goes a long way in giving the customer a sense of trust in the process. So, put aside your own viewpoint, and try and see things from the customer's point of view.
#3 Self-control
Maintaining a sense of empathy will also help in maintaining one's self-control, and that's important because customer service reps are sometimes going to be the primary target of customer frustration. However, at the same time, it requires the skill to listen to emotion without emotion, to always be aware that that the customer anger is not directed at you personally, even if their language is, so stay calm and under control at all times to diffuse these situations.
#4 Clear Communication
If you are not a great communicator, you will probably not make it in customer service for very long. The ability to communicate clearly and effectively verbally (and written) is essential. This means getting to the problem at hand quickly and keeping the small talk to a minimum. In other words, finding the balance between being friendly and conversational and giving the right answers in a removed, professional style. Clarity isn't just important for making your customer feel good and secure; it can also have a big effect on your bottom line.
#5 Positive Language
Language is a powerful tool and the way in which you use it will determine whether your words are received positively or negatively. Especially in the realm of customer service, small shifts in the way reps communicate by using only positive language can reap tremendous benefits. Being optimistic can help a customer stay positive, too. By simply using positive language that reflects confidence in finding a solution, this will reassure a customer and improve the entire customer experience.
#6 Persuasive Speaking
While speaking clearly and positively are both essential aspects of effective communication, it doesn't end there. Keeping your customers at the center through active persuasive speaking skills can dramatically help your customer interactions. The key to persuasive speaking is always putting the focus on the target of persuasion, i.e. the customer. For example, always calling a customer by name, using the active tense in words or phrases, as well as avoiding your personal thoughts or opinions that take the focus off the customer.
#7 Time Management
Proper time management in customer service means supplying customers what they want in a timely, efficient manner. While there is obviously a need at times to spend more time on particular customer issues, customer service reps need to be aware when they cannot help a customer. If you don't know the solution to a problem, the best kind of customer service means transferring a customer over to a rep that does. Sometimes, trying too hard to help a customer will cause more harm than good.
#8 Learning Ability
One of the most essential customer service skills is indeed the ability to learn about and internalize everything there is to know about each product or service, as well as the various solutions for various circumstances, and to have them on the tips of one's fingers. This also includes company offers, sales, as well as the knowledge of all call center technology to deliver customer service with full confidence.
#9 Adaptability
Adaptability means being able to take that knowledge and use it to adjust to any situation at any given time, making it one of the most essential customer service skills. One service interaction may completely differ from another, so customer service reps need to be constantly prepared to handle the pressure of coming up with the right solution for every problem that gets thrown at them at the moment.
#10 Desire to Improve
In customer service, there's always room to improve. Customer service reps who aren't looking to improve themselves and find solutions to their own problems are going to be hard-pressed to consistently find the solutions to other people's problems.
Source: http://www.jacada.com/blog/10-customer-service-skills-that-every-customer-service-representative-must-have
Publish Date: November 3, 2017 5:00 AM
---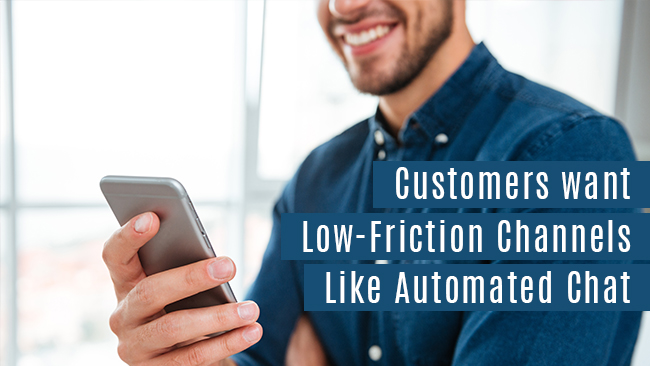 More and more customers are choosing to use low friction channels as their point of contact for customer service. Chat, which includes automated chatbots and interfaces to chat with live agents, is perhaps the most suitable of all such channels.
What is the one thing your customers want more than anything else when it comes to customer service?
They want to obtain a relevant, accurate and complete answer to whatever the question is that they have. They want to do it the first time they contact you. And, they want to get on with their lives.
Abandonment rates from customers who have a question that they are unable to have answered are high. It is also a fact that the vast majority of customers say that the most important aspect of good customer service is a company that values their time in the same manner that they do.
Understanding this, it's no wonder that a growing number of customers are seeking to leverage self-service and agent-assisted digital communication channels for their customer service needs. These are the channels that offer the least amount of friction.
Perhaps the most notable of the low friction channels is that of chat which is rising in popularity all the time. In fact, according to the Dimension Data Global Contact Center Benchmarking Report 2016¹, Web chat experienced a year-over-year rise of 33.8%.
This is not all that surprising, since the same report points out that average wait time for a response to an e-mail contact is 299 minutes, while for social media it is 78 minutes. Web chat, in contrast, averages four minutes in comparison.
Why do customers like it?
The beauty of chat, as far as the customer is concerned, is that they are able to quickly get to their answer, without first having to navigate an arduous interactive voice response (IVR) menu.
Another key benefit is that it enables them to resolve their challenge in near-real time, which harks back to their desire to not waste their valuable time. Most people today are adept at communicating via text and short messages, which means that live chatting with a company is not all that different to texting with a friend.
People like to multi-task when they can, and chat provides them with just such an opportunity. Instead of feeling as if they are wasting time trying to resolve an issue, they can do other things while in the midst of such a chat.
Don't forget your agents
Remember that while chat offers customers many advantages, all of these will be worth nothing if the agent handling the contact is unable to resolve their problem effectively and rapidly.
This means that your agents need to be well trained, and properly equipped to perform at their absolute best so that they can provide the client with the necessary clarity, ease, and simplicity that today's consumers expect.
Also, ensure agents have a complete view of the customer. When they make contact with the client, they need to already have a complete, contextual understanding of the customer's previous transactions, calls and issues, so that they are well-informed and ideally positioned to reliably solve the customer's queries.
Focus on getting it right
For most contact centers, delivering the highest level of customer service requires that you properly manage your different channels. If you are going to add chat, whether it be automated or not, you will need to ensure that your agents are skilled in handling or assisting this particular channel. Of course, automated chatbots often require far fewer agent skills.
The trade-off
Ultimately, most contact centers will be unable to effectively offer every contact channel that customers' demand, as this will dilute resources too much.
The best approach is to concentrate on just a few channels so that you can serve your customers at a high level. In the end, offering a channel like chat as your low friction channel, rather than as just one of several such options, will likely not have a major impact on your customers. They will naturally choose the available channel that they feel will be both easy and effective.
There is no doubt that chat is truly a win-win scenario. From the client side, it gives your customers exactly what they are demanding, namely lower-friction access to fast, personal service.
At the same time, it can be a goldmine for your organization, as it affords the opportunity to gather a host of digital insights that will allow you to craft a smoother customer service experience for both your agents and your clients. Done right, chat will deliver the kind of fast, easy-to-use and simple service that your customers will love.
1 https://www.dimensiondata.com/Global/Downloadable%20Documents/2016%20Global%20Contact%20Centre%20Benchmarking%20Report%20Summary.pdf
Source: http://www.jacada.com/blog/customers-want-low-friction-channels-like-automated-chat
Publish Date: November 2, 2017 5:00 AM
---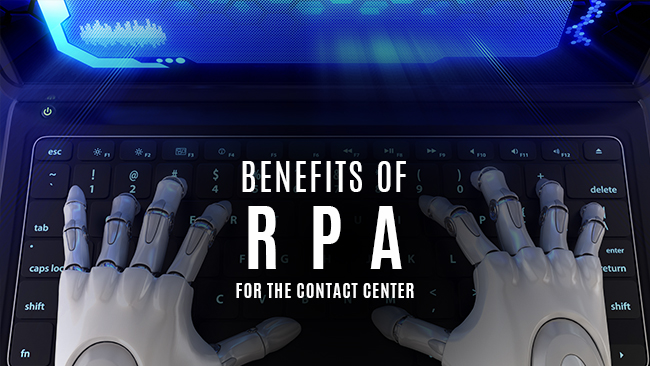 Today, the emergence of robotic process automation (RPA) technology is stirring the winds of change in the business world, offering benefits which have a lot of appeal to various organizations and departments. However, one particular unit where robotic software provides a specific value for businesses is in their call centers where manual processes play such a significant role in the day to day operations. By automating these repetitive processes, RPA is delivering efficient, cost-saving solutions to customer service operational and technology challenges, and hence, helping call centers achieve more while completely changing the customer experience for the better. Let's take a look:
Optimizing Operational Costs
On a tactical level, the cost savings of RPA are far-reaching, both regarding operational and infrastructure costs. As businesses begin to scale, the hiring of new employees is both costly and time-consuming. Throw in the typically high turnover rate in BPO markets, and the whole process becomes a severe drain on a company's ability to reach its optimal operation cost. With RPA, instead of hiring new employees, or even outsourcing labor, businesses can instead deploy cheaper robotic resources to perform many of the same roles. In fact, a KPMG report claims that labor automation through RPA can reduce an organization's operational costs by 75 percent! At the same time, RPA 's ready-made automation technology is fully adaptable, so it can be fully implemented without changing anything in the current system's architecture. In fact, most RPA software doesn't require coding to program; the only real criterion is to know call center workflows and processes. The result is that RPA empowers business call centers to manage their operation, and thus lessening their dependency on the IT department. It was for this reason that Frank Casale of the Institute for Robotic Process Automation (IRPA) suggested that "most IT infrastructure support jobs will be eliminated over the next three years," and even further downsizing operational costs.
Boosting the Customer Experience
On a strategic level, the real value of an automation tool that handles all the small, repetitive, everyday tasks that fuel daily operations within the call center, such as opening cases, checking order status, record updates and much more, is in empowering call centers to deliver a superior customer experience. How so? First of all, all call center staff can react to customer interactions in various ways, for better or for the worse. Therefore, depending on which agent the customer speaks with on a given day, that customer can have a drastically different experience. RPA brings consistency to the customer experience, while at the same time, RPA has a near zero percent error rate, so the experience is seamless for the customer. This also includes the post-call, customer follow-up needed to finalize the issue at hand, validate customer satisfaction or offer new business opportunities to those same satisfied customers. Furthermore, when a customer does reach a call center agent, instead of questioning the customer for data and jumping from one system to another just to access the relevant order information in the systems, which can be timely and frustrating for the customer as well as the agent, RPA enables the customer service agent to integrate data into fields across all associated systems with only one entry, which speeds up the handle time considerably, and enhances the overall customer satisfaction.
Indeed, RPA is officially ushering in the era of automation in the call center, and the benefits of improved greater employee efficiency, optimal customer satisfaction operational profitability is becoming harder to ignore, for agents and customers alike!
Source: http://www.jacada.com/blog/benefits-of-rpa-for-the-contact-center
Publish Date: October 25, 2017 5:00 AM
---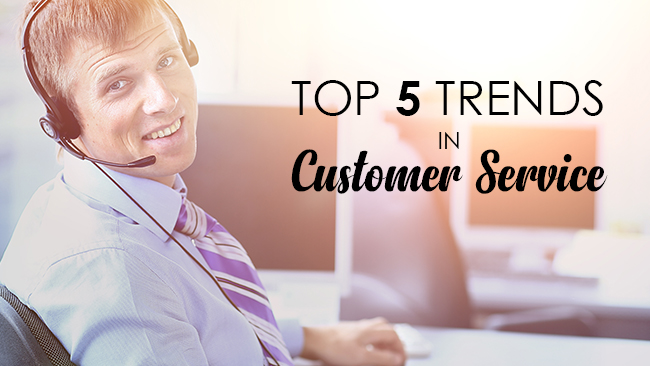 As customers have more brands to choose from than ever, the businesses that win the battle of the customer service wins the game. In today's world, more and more brands are chosen based on whether customer experience matches their rising customer centric expectations, and customer service plays the most critical role in creating that experience. It's no surprise then that the top trends in customer service heading into 2018 all have one thing in common, the customer themselves. Let's take a look:
#1: Personalizing the Customer Experience
Last year the Microsoft State of Global Customer Service Report reported that 72% of customers expected call center reps to already know their contact information, product details, and service history as soon as they make contact. Unfortunately, only 17% of these brands have so far actually integrated their customer data across their digital assets, and it would suffice to say that these expectations have only risen since then. Today, however, big data analytics has now made it easier than ever to track customer preferences, trends, and insights with fantastic accuracy. With such data more accessible than ever, look more and more brands to finally make the push to leverage customer data from their CRM to create more tailored experiences in 2018 and beyond.
#2 Customer Service on the Go
Did you know that of the 60% of customers today who opt for self-service, only 20% actually succeed, while the remaining 80% end up in the call center? Not succeeding on the self-service journey takes a toll on customer satisfaction, along with the costs savings IVR was meant to provide. It's no surprise then that with already over 1 BN smartphone users worldwide and growing, IVT is being replaced in favor of Visual IVR. Visual IVR transfers the existing IVR voice technology onto phone screens where customers can see and touch their way through visible menus, speak to a specific call center agent or even see how long they will need to wait in line, and then choose a callback option, all from the comforts of their smartphones. Visual IVR is thus finally fulfilling many of the unfulfilled promises Voice IVR, including self-service empowerment, agent efficiency and cost savings for the call center.
#3 Artificial Intelligence is Here
As customers voice their complaints across all channels, via phone, online chat, e-mail, social media, etc., many companies are still failing to respond fast enough to satisfy their customers across the board. Slow response times are the primary culprit why lousy customer experience creates an estimated $62 billion lost by U.S. businesses each year. Thankfully, the antidote has arrived to keep up with the explosion of omnichannel customer service, chatbots. These intelligent virtual assistants can provide fast, cost-effective, human-like customer service and can be easily deployed on almost any interface, for instant customer service at all times. In short, by cutting response times down to the minimum, while providing a round the clock presence, chatbots not only increase the efficiency of the call center operations in various ways, they also drastically improve the overall customer experience.
#4 Don't Be Anti- Social
Why do customers find social media and messaging support so attractive? It's because they already spend much time on their phone, now they can get customer support from the comfort of the apps they are already on, and resolve their issues quicker than ever. In fact, according to Social Media Today, the average person will spend 116 minutes on social media every day! And 60% of that social media time spent is on a mobile device, and these numbers are only going to continue growing as platforms develop even further at the expense of traditional media avenues. This transformation in customer behavior is forcing companies to respond and to follow the customers where they are. The bottom line is if your brand wants to offer a customer experience that will keep customers coming back, don't be anti-social.
#5 Automating Business Processes
As RPA software robots can automate repetitive rules-based tasks by imitating the way live agents engage with applications, RPA is already dramatically changing the way companies approach many of their vital business processes. While the customer is not even aware of its presence, since the customers don't actually interact with RPA bots, however, the increased speed of the internal processing they most certainly are aware of. Throw in easy integration with a relatively low cost, and it's no surprise that RPA currently has such a high rate of adoption compared to other automation tools. In fact, according to Gartner, demand for RPA tools is growing at about 20% to 30 % each quarter. Expect to continue to see this trend continue to skyrocket in the coming years.
Today, providing easy and fast customer service, no matter what channel your customer chooses is the name of the game and is essential to keeping customers loyal and driving real business value. Are you ready to play?
Source: http://www.jacada.com/blog/top-5-trends-in-customer-service
Publish Date: October 25, 2017 5:00 AM
---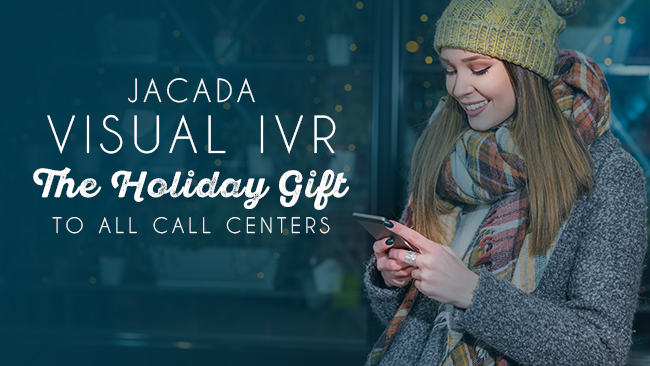 It's no secret that the holiday season is often the busiest time of the year for many businesses. In fact, 20-40% of annual sales for retailers are generated over the last two months of the year, so the pressure on holiday retailers is high. For many customers, the way in which a company delivers its customer service determines whether they choose to give that company their business. The bottom line is poor customer service costs money, and customers are willing to abandon your brand even after a single negative experience. Let's take a look at some of the factors that create such a challenge for call centers this time of the year and the solution that is primed to deal with them once and for all.
While the holiday shopping season equals more sales opportunities, it also means that call centers experience a giant spike in call volume as customers flood the lines with all sorts of inquiries, questions, and complaints regarding their purchases. If these spikes are not efficiently managed, this can result in a corresponding spike in dropped calls and long holding times that leave customers unsatisfied. More than any other time of year, customers just want to get answers to their questions as quickly as possible so they can check off their holiday shopping list. You need to take into account that people will hang up when they can't reach a live agent, and 45% will drop an online purchase if their questions are not speedily answered. You begin to understand that, while the holiday season may be a fun time for shoppers, it's make or break time for businesses depending on how well they are set up to manage these spikes.
Call time isn't the only thing consumers are concerned with. They also pay attention to whether customer service reps answer questions effectively to resolve problems. In fact, expectations customers have for contact centers tend to be even higher over the holidays than they are the rest of the year. However, when the hold times begin to grow, and the customers' patience starts to run out before they even start the conversation, it only makes the agent's job increasingly harder, and more unlikely to meet those expectations. Put it all together, and it's no wonder a comprehensive solution is crucial to take advantage of high volume surges like the holiday shopping season so that retailers can celebrate as well.
The Ultimate Solution: Jacada Visual IVR
Today, with over 1 billion smartphone users worldwide and growing, web self-service is now the most commonly used communication touch point—the first and only channel ever to exceed the phone. However, Voice IVR's has severe limitations that drive customers crazy, including the endless menus, confusing options, poor voice recognition, limited ability to collect information and more. Therefore, despite the widespread investment many brands have made in Voice IVR, many customers are calling anyways, especially during the holiday season. In fact, studies show only around 20% resolve their issue on their own without calling a contact center. Therefore, for many companies, the trend towards Visual IVR is more critical than ever for efficient call center management, and today the provider used by more organizations globally than any other is Jacada.
Transformation: A Personal Digital Experience for Your Voice IVR
Today, 84% of customers report frustration when agents lack access to the necessary personal information which is required to address their question. On the other hand, Jacada Visual IVR delivers a personalized customer-specific digital experience to voice callers, allowing customers to transition from the digital channel to the agent with full context, significantly reducing call handle times and improving self-service success rates by more than 10% based on their deployment at Fortune 500 companies around the world.
Centralization: All your Digital Assets in a Single Location
Jacada Visual IVR enables agents to pivot an inbound call to a digital interaction and thus surface all of a brand's digital assets, in a single location, to voice callers. This significantly increases the chances that customers will also pivot and utilize a company's various digital assets to efficiently solve all their self-service their needs.
Mobilization: A Cross-Channel Customer Service Experience
Jacada Visual IVR enables a cross-channel customer service presence, offering customers a seamless transition from self-service to assisted service, whether on the web, mobile or voice engagement, while consistently maintaining the context of the customer's original intent.
Virtualization: An Interactive Virtual Agent
Jacada Visual IVR deploys the Jacada Intelligent Assistant, an interactive virtual agent to guide the digital customer journey. Available 24/7 across all channels, the Intelligent Assistant utilizes natural language processing which allows it to understand the intent of the customer and intuitively help customers with all their sales and customer service support related needs.
Despite the challenges of the holiday season, call centers that adopt the most beneficial solutions, such as Jacada Visual IVR, to best assist their customers, employees, and companies as a whole, can fully take advantage of the holiday season, and turn into one to be truly celebrated.
Source: http://www.jacada.com/blog/jacada-visual-ivr-the-holiday-gift-to-all-call-centers
Publish Date: October 6, 2017 5:00 AM
---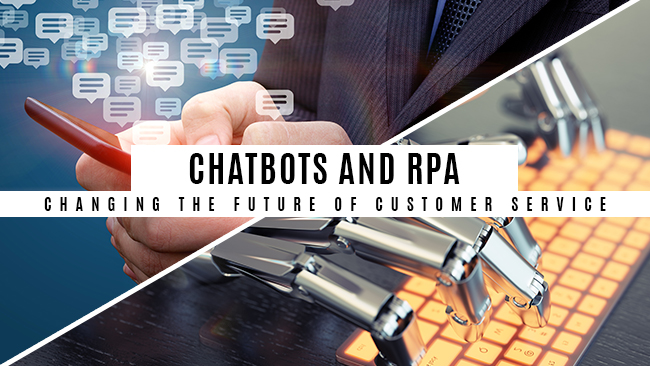 Today, leading brands and service providers are turning to the amazing cognitive technology offered by "chatbots" to better manage and automate the customer service experience. At the same time, another technology gaining traction in the industry, Robotic Process Automation, is also being referred to as a "bot," and it has started to create some confusion. The truth is, while the RPA and chatbots both utilize artificial intelligence to impact the customer service experience positively, they are entirely different in their roles. Let's take a look:
Chatbots
As we move further into the digital age, with the growing need for an Omni-channel customer service presence, brands are beginning to utilize chatbots as their agents of choice on the front end of their customer service response system. The cognitive technology of chatbots enables them to interpret customers' voice and text responses and follow up with accurate, automated answers designed to resolve routine customer service issues quickly. If the chatbot is unable to take control of the interaction and settle the matter, only then is the customer directed to a live agent. Another benefit is that human agents can now focus their efforts on more complex cases and value based tasks. In short, by cutting response times down to the minimum, while providing a round the clock presence, these virtual assistants not only increase the efficiency of the call center operations in various ways, they also drastically improve the overall customer experience. Furthermore, the data gathered by the chatbots can offer valuable insights into a specific consumer's needs, which can also be a powerful tool to deliver increasingly personalized customer experiences. Indeed, chatbots have the potential to be a real game changer for businesses, enabling a maximally efficient call center operation with higher customer satisfaction and employee satisfaction.
RPA
At the same time, companies have also begun to discover a different type of bot, known as Software Robots - Robotic Process Automation (RPA). While confusion may potentially stem from the fact that both RPA and chatbots both automate repeatable, high-volume tasks that have long been handled manually, where RPA is different is that its target customers are not the end consumers. Its target audience is the internal employee that utilizes RPA to automate back office business processes. Today, this technology has already made inroads in a variety of fields. For example, banks have started using RPA for employment and credit checks to automate mortgage processing. Security companies are deploying RPA to automate processes associated with ID and access management, while the insurance industry is using RPA to process claims. However, unlike with chatbots, the customer is not even aware of the presence of RPA, as the customers don't interact with an RPA bot. However, the increased speed of the internal processing has a direct positive effect on the customer experience, which they most certainly are aware of.
The Super Chatbot
The truth is the time is almost here when chatbots themselves will incorporate Robotic Process Automation technology, combining the powers of both and forming what is known as a "Super Chatbot." The Super Chatbot will use its cognitive intelligence to recognize the customer's emotional state and respond accordingly, while at the same time, the integrated RPA technology can automatically initiate the backend processes required to help resolve the issue the customer presented.
There is no doubt that the artificial intelligence of both chatbots and RPA has raised the standards of customer service and with all the various types of work that it can accomplish, its adoption should only continue to spread for years to come!
Source: http://www.jacada.com/blog/chatbots-and-rpa-changing-the-future-of-customer-service
Publish Date: October 5, 2017 5:00 AM
---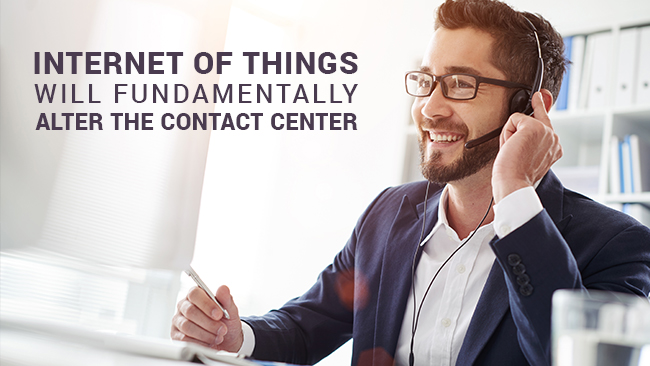 There is no doubt that the Internet of Things is going to significantly change how customer service is delivered. While adapting to the IoT has its challenges, benefits far outweigh.
The Internet of Things (IoT) is poised to fundamentally alter the way in which the world works, and contact centers will be no exception. IoT concept, whereby virtually any 'thing' – from refrigerators and microwave ovens to motor vehicles - can be connected to the Internet, is fast becoming a reality. In fact, Gartner predicts that some 20.4 billion 'things' will be connected by 2020, ¹ while Cisco IBSG goes even further, suggesting that it will be more like 50 billion. ²
In an era where exceptional customer service is probably the single biggest differentiator an organization can have, those businesses that successfully integrate IoT into their customer service offering will have the opportunity to take their brand to a whole new level.
Of course, anything that offers great benefits inevitably comes with its own unique challenges. Let's have a look at some of the ways in which the IoT is going to impact on the contact center, along with the challenges and benefits that come along with each.
Personalization
With so many things connected, the sheer volume of data generated is going to provide contact centers with information beyond their wildest dreams. Not only will organizations be able to more quickly learn what technical issues regularly arise in particular products, speeding up their improvement, but more vitally, products which reveal consumer behavior – and among these would be health devices and motor vehicles – will enable companies to learn more about their customers. Using this information, they will be able to provide services which are tailored to individual consumers.
Challenge: Large quantities of data will require advanced analytics
Benefit: More personalized service will increase customer loyalty
IoT adds a new channel
The IoT is going to require contact centers to understand how to integrate smart object contact into the overall customer service experience. This will mean an additional channel added to the omni-channel center, one where the clients' IoT-enabled products are capable of making contact with the centers on their behalf. We will soon reach a point where the customer is able to simply push the 'contact' button on their connected devices, in order to seek assistance. The omni-channel center already presents its fair share of challenges, which will no doubt become even more complex when the customer is contacting you from their car or their refrigerator.
Challenge: Adding yet another channel to your omni-channel support structure
Benefit: Makes it easier for customers to make contact, if required
Agents will need to be more specialized
When agents are required to handle a call, it will likely be of a complicated nature. Therefore, it will be crucial to ensure agents have specialized product knowledge and additional capabilities to digitally connect with the customer. Highly skilled agents will need to be completely familiar with not only the product and brand, but the entire ecosystem of connected devices.
Challenge: Increased cost and time required to deliver additional training
Benefit: Agents will be able to deliver a higher level of more specific service
Proactive service
Since the IoT will allow smart objects to communicate potential problems even before these occur, customer service can become far more proactive. Instead of reacting to problems after they happen, companies will be able to prevent these from occurring at all. This will significantly reduce the customers' need to reach out to the contact center, and will help the organization to differentiate itself by delivering a genuinely proactive service to its clients.
Challenge: Effective data management will be critical
Benefit: Reaching out to customers proactively reduces customer churn and increases loyalty
Better privacy and security is a must
IoT-enabled devices that require assistance from the contact center will mean that agents will need to use screen-sharing or gain remote access to successfully identify and solve these complex problems. They will also probably require greater access to customer information. This means an increased need for privacy and security training, and an assurance to customers that proper security procedures are in place.
Challenge: Need to improve company policies related to privacy and security
Benefit: Ability to deliver hands-on service to improve the customer experience
Looking at the above, there is no doubt that the IoT is going to have huge implications for the contact center. Although not without its share of challenges, the IoT offers enterprises the opportunity to deliver proactive service, as well as to be better prepared at the moment of engagement.
The IoT is clearly going to transform contact centers, as it will enable them to gain more control of customer service by providing new streams of information that are integrated into the existing infrastructure, and most vitally, will provide an opportunity to add additional value to current service offerings.
Ultimately, the IoT should lead to an enhanced level of customer service, more knowledgeable and productive agents and – if applied correctly – offer the business a differentiator that allows it to reduce customer churn while considerably improving cost savings.
http://www.gartner.com/newsroom/id/3598917
Source: http://www.jacada.com/blog/internet-of-things-will-fundamentally-alter-the-contact-center
Publish Date: September 22, 2017 5:00 AM
---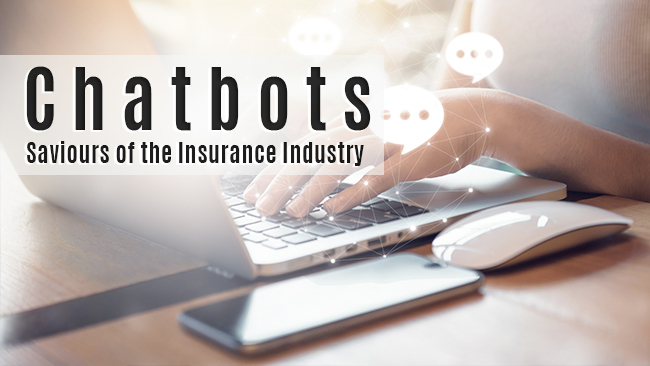 While the insurance industry has been slow to transition to a digital world, chatbots offer a quick and easy way to begin delivering the services 21st century customers demand.
It is a recognized fact that in general, the insurance industry has been slow to adopt digital tools and business models, at least in comparison to most other industries. Insurance has long been a pretty inflexible game, which is why this sector has been shaken by the manner in which customer expectations have shifted dramatically in recent times. Today's consumers expect their service providers to maintain a presence that is not just multi-channel but omni-channel, and they expect a customer experience that is not just satisfactory but actually enjoyable.
It is thus important for insurers to recognize the importance of delivering a flexible, convenient and digitally mature experience, particularly given the diverse needs of policyholders. This means that it is imperative they implement more advanced services to support human agents.
Chatbots to the rescue
One potential answer to this lies in artificial intelligence (AI) and the chatbots that run on this. It certainly appears as though chatbots are the future, with research firm Gartner predicting that AI will power 85% of all customer service interactions by the year 2020.¹
The unique ability of chatbots lies in how they are able to personalize and automate processes, which offers the insurance industry a wonderful opportunity to significantly enhance the relationship that exists between companies and their policyholders.
One of the key benefits offered by such virtual assistants is the ability to simplify mundane, everyday tasks. Since the comprehension and informational algorithms that power chatbots are improving all the time, these virtual assistants have the potential to enhance efficiencies in numerous ways.
Not only do they offer the ability to handle frequently asked questions, increasingly they are able to handle more complex queries in the natural language format of chat, while at the same time being able to reference more information than a human could ever possibly hope to.
If you think about it, insurance companies have an abundance of the one thing AI requires to be successful - data. Effective machine learning, in turn, delivers the ability to make all this information actionable. Whether it is ranking information and listing it; classifying other forms of information, such as images; associating information with a numerical value; or even parsing data in order to detect anomalies, AI can change the way insurers operate.
The happy customer
Since chatbots are capable of identifying speech patterns and interpreting non-verbal hints, they are able to interact with customers in a way that gives them the feeling that they are interacting with a real human, one who is smart enough to handle whatever insurance-related query they throw at them.
In addition, customers today have shifted from predominantly verbal communications to written forms of interaction, thanks to the proliferation of text-based mobile apps. Therefore, customers will not only be happy conversing with chatbots that offer a user-friendly and conversational interaction, but will be happier still knowing they can do so at their own leisure, 24x7.
Ultimately, chatbots should enhance the customer experience, as they are able to provide users with an easy way to obtain the information they need. Sophisticated virtual assistants can even provide a personalized approach that can include images, content, links, call-to-action buttons or direct payment options, based on user input at a specific point.
Another reason customers will enjoy interacting with a chatbot is because virtual assistants enable the user to interact with services without the need for downloading or installing an app and having to struggle to learn a new user interface.
What of the insurer?
The key benefit, of course, is the already mentioned ability to automate claims processes. From assisting customers to register the first notice of loss or scheduling an appointment for the evaluator, chatbots can eliminate the need to have a human involved in these mundane processes.
The right virtual assistant can genuinely help an insurance organization to achieve effective customer engagement, allowing fast and contextual access to information, explaining complex products and ultimately improving sales and distribution. By automating a wide range of simpler functions, they play a crucial role in boosting employee productivity, by freeing up humans to focus on the more complex, time-consuming and critical activities that are vital to helping an organization differentiate itself in the marketplace.
Tata Consultancy Services anticipates that insurance companies will spend on average $90 million on artificial-intelligence technologies by 2020. ²
What it boils down to is that the automation provided by chatbots can go a long way towards eliminating the day-to-day administrative tasks faced by brokers. Virtual assistants offer the chance for insurance companies to leverage the efficiencies these bring to attract new customers. By adopting digital technologies, these players will have begun future-proofing their businesses.
After all, chatbots are a lot more than merely a utility play. Advanced virtual assistants can be designed to have distinct personalities, ones that align with the brand powering them. When this is achieved, the chatbot moves from being simply transactional to being a solution that can transform the customer experience.
http://www.gartner.com/newsroom/id/3763265 https://www.bloomberg.com/news/articles/2017-04-19/insurance-customers-will-have-to-get-used-to-talking-to-machines
Source: http://www.jacada.com/blog/chatbots-saviours-of-the-insurance-industry
Publish Date: September 18, 2017 5:00 AM
---
The theory behind mobile customer service apps may be sound, but in practice, the challenges to adoption are significant.
Modern contact centers are expected to support a wide range of multimedia communication, due to the growing demand for digital channels. Given the present ubiquity of smartphones, it is no surprise then that many enterprises are seeking to develop a mobile customer service application as part of this drive towards multiple channels.
However, there are a multitude of complexities associated with the provision and uptake of a mobile app within the confines of the contact center experience. For one thing, voice clearly remains the most popular channel for customers, and weaning people off of the familiar is never an easy task, despite the obvious benefits this may offer to both the organization and the customer.
For the enterprise, voice remains the most costly channel, while users who fail to utilize an option like a mobile app are making their own lives more difficult, as a channel like this should have been designed to improve the simplicity of making contact with the business.
After all, digital channels like mobile apps are supposed to increase the customer's satisfaction – not only does it offer them a self-service capability, but it means they will no longer have to sit on hold on the phone, waiting for help – and increased satisfaction means they remain happy with your business.
However, despite the clear benefits a channel such as this offers, many companies find that even though they have invested heavily in developing a mobile app, with a view to enabling customers to perform routine transactions in a simplified manner, precious few of their clientele have bothered to download it. Worse still, only a few of those who download it actually bother to use it.
The reasons for this are myriad and complex, and are often as much due to internal issues as they are to customers' unwillingness to try something new. For example, a lack of internal collaboration may occur between the various players involved in the app's implementation, meaning that the integration of features within these mobile apps is often quite rudimentary.
In addition, some businesses make the mistake of looking at their mobile app development as a once-off project. The assumption is that once the app is complete, all is good with the world, when the truth is that it is only once the app goes live that the real development begins. Bugs need to fixed, new features need to be built at the users' request and the developers need to keep the app current with any and all platform changes.
Errors or bugs in the finished product are one of the biggest challenges companies face when driving and maintaining uptake of the service. Customers are quick to leave negative reviews should there be any issues with the app and many will immediately abandon it. In fact, according to a 2016 survey from Sitecore and Vanson Bourne¹, around one third of those polled claimed that they would give up on a brand completely after just one poor mobile experience.
Therefore, solving any errors or bugs should receive the highest priority, but this is seldom what happens in the real world. Another problem with such apps is that the developers fail to ask the critical question: 'what needs does this app meet?' If it fails to meet the demands of the customer, it doesn't matter how well it works or how effectively it was designed, uptake is likely to be minimal. Furthermore, the in-app experience needs to connect with and match up to the web experience that a customer may already be used to. Failure to do so will almost certainly turn the customer off.
Some enterprises have sought to deliver an improved customer experience by building in easy-to-use live help access, including the ability for an agent to co-browse with the relevant customer. While this enables an agent to actually assist the customer with learning how to use the app properly, it also defeats the main purpose of providing a self-help channel – which is to save costs by eliminating the need for an agent to be involved in the transaction.
Another issue that can affect the mobile customer service app is a failure to build it in such a way that it operates correctly across the multitude of mobile devices, which have different manufacturers, screen sizes and operating systems. Unless this is properly taken into account, it may have a negative impact on how the app functions. Failure to provide a consistent user experience across phones, tablets and other devices is likely to end up with an increasing number of customers avoiding using the app.
In addition, security is a growing concern amongst users of electronic devices, with many consumers refusing to download a mobile app they don't trust. An altogether larger number will also have concerns about leaving themselves vulnerable to outside threats, leading to another reason for lack of uptake.
Then there is the simple matter that a large number of customers will fall into one of the age groups that are less than comfortable using the latest technology solutions. These are people that have spent many years accepting the fact that the phone is the go-to device for contacting a company, and because they are less tech-savvy, will have a built-in suspicion towards new technology offerings.
Moreover, those that are more comfortable with new solutions will expect their mobile phone experience to match their expectations, which are likely to be quite high. If these expectations are not met, they will consider it to be a poor substitute, and will go straight to the phone instead. And they will probably not bother to use the app a second time.
Ease of use is another critical factor – people naturally shy away from apps that are unintuitive and hard to comprehend initially. So unless the app is simply designed – though not too simply, otherwise it will not be able to provide the service required –offers convenience and ease of access, they may also be put off the technology.
Educating customers around the use of the mobile app is one way to drive increased uptake, but once again, this costs money and needs to be targeted properly, and at the right customer segments, so it is often a low priority from the enterprise's perspective.
Finally, there is the irritation caused by the need to download the app in the first place. This is an extra barrier for an irritated customer. After all, if they are experiencing a customer service problem, they are unlikely to go to the trouble of downloading it in order to make contact. Neither are they likely to download it at any other time, since it simply not something they are going to think about until it is needed – by which time it is too late and they are probably going to find making a phone call to be the simpler route.
So, while the theory behind a mobile app for customer service is a good one, the practice often leaves a lot to be desired, and based on the above, it is not difficult to understand why the majority of customers still avoid this contact channel. Mobile apps may yet become a meaningful channel for the contact center, but until the many challenges outlined above can be solved by the enterprise, the signs suggest that it will remain a niche and peripheral channel at best.
1 - http://www.sitecore.net/resources/index/white-papers/mobile-research-whitepaper.aspx
Source: http://www.jacada.com/blog/the-trouble-with-mobile-customer-service-apps
Publish Date: September 11, 2017 5:00 AM
---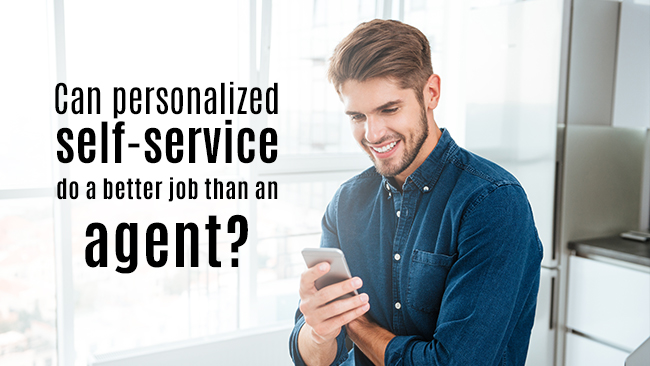 Doing a better job than an agent
While a robot would never be able to take the place of agent 007, there is a school of thought that suggests that a personalized self-service solution offers many advantages over a human contact center agent.
There is no doubt that in the modern contact center, self-service customer support plays a critical part in the company-customer relationship. Today's customers do like to do things for themselves, but at the same time, they tend to expect personalized experiences when they reach out to an organization. While there are more than a few challenges companies face when attempting to deliver personalized self-service to their customers, there are also many reasons why a personalized self-service can actually do a better job than a human agent.
An advanced and well-engineered automated self-service solution should, ultimately, be able to provide all but a few of the attributes that a live agent can, and often the attributes it does offer are done better.
Customers want answers
For one thing, customers are more concerned with getting the answer they seek – they don't care whether it comes from an IVR or a human being - and a well-planned, multi-channel self-service solution will immediately enable the consumer to interact via the medium of their choice. This should deliver a far speedier response than if they had to call into the contact center and hold for an agent.
Another area where these systems can be better is in answering in the customers' language of choice. It is worth noting that a fair percentage of US citizens today speak more than one language, and quite often English is only their second language. Since it is unlikely that you have too many agents who are multilingual, such a scenario could easily lead to a situation where a customer whose first language is not English ends up incurring a longer hold time. On the other hand, an intelligent automated system should be able to interact fluently in several languages. With the right intelligence built in, it may even be able to 'learn' the preferred language of frequent callers, enabling it to initiate the interaction in the customer's chosen language. Not only does this eliminate the need for the caller to select a language preference, but it offers them a level of personalization they are unlikely to get from a human agent.
While a human agent obviously offers customers an attentive and courteous listener who is prepared to work with the customer to solve their problem, such a scenario is only really of value if the customer's challenge is a complex and difficult one. For more common queries, the self-service solution can be programmed in such a manner that it can easily and quickly address and resolve these challenges, and do so consistently. In addition, automated speech is designed to be clear and precise, eliminating accents, colloquialisms, grammatical errors, abusive language or the simple problem of an agent speaking to softly or too rapidly.
Another challenge that can occur with human agents is that calls can occasionally become highly charged with emotions or end up going off on a tangent. In situations like these, it can be difficult for the agent to exhibit the correct levels of empathy and courtesy. An automated solution, on the other hand, will quite easily be able to keep interactions with the client linear, and a machine will never experience the type of emotions that might interfere with delivering the kind of customer service your company should pride itself on.
While humans are able to spot – and hopefully follow through – with opportunities to cross- or up-sell to clients, most contact centers still limit the decision-making authority of their agents, which in turn reduces their opportunities to creatively solve problems. A good automated solution, however, can be programmed with logic designed to parallel specific business rules, meaning that it can take the necessary decisions, while staying within the ground rules established by the programmer.
One of the most important issues related to personalizing customer service is to have access to as much information as possible about the individual customer, from the outset. While contact center agents generally have access to the company's customer relationship management (CRM) system, which is usually integrated with the telephony system, there are many other databases within the organization that may also contain pertinent information about the consumer. Electronic self-service solutions can be programmed to cut through the traditional siloes within a business and access information from multiple databases, meaning they will be better positioned than a human agent to deliver a personalized service.
In addition, such a solution should have access to the complete contact history of the customer. The last thing you want is for a client who is presumably already-frustrated to have to repeat the details of their problem multiple times. Furthermore, it is often the case that customers with long contact histories are making contact with a view to querying a recent transaction or performing the same task, such as checking an account balance. Good self-service technology will be able to incorporate all of the customer's history, across all channels of contact, meaning that its IVR menu can dynamically adapt to these recent interactions.
Self-service solutions also offer customers a higher level of security in certain situations. There are very few people who are comfortable giving out vital information like credit card details to a stranger on the other end of the phone. However, if they are passing such information over to an automated system, they are less likely to fear doing so. In addition, a self-service solution can be programmed to utilize security options like voice biometrics, to further enhance the clients' sense of security.
We live in an era where compliance is critical and it is vital to adhere to applicable laws and regulations. Automated self-service solutions not only ensure that every transaction is handled with honesty and integrity – in a financial services center, for example, it would ensure that the mandatory disclosures were accurately recited – but being electronic, it also keeps a clear record and audit trail, should any compliance issues be raised.
Finally, an intelligent self-service solution should be able to leverage advanced Web and speech technologies to complete not only basic, but even some complex transactions, along the lines of providing airline reservations for a client. And because it is intelligent, it is also able to remember other recent transactions undertaken by the customer and can thus anticipate the reason for their call and present them with a decision tree built around this particular knowledge. And which customer doesn't want to have their needs anticipated? This is personalization at its very best.
It is a good time to be involved in the contact center space, as technology limitations have mostly been overcome and businesses today have a strong base of best practices on which to build their self-service solutions. While challenges certainly remain, there is no doubt that it is possible to deliver a personalized self-service that is, in many ways, equal to or better than human assistance. We know that customers are demanding quick and accurate answers, via their channel of choice. A personalized self-service offering can not only deliver these in a way that makes the customer feel special, but at the same time can save the organization a small fortune by reducing the high costs associated with human agents.
Source: http://www.jacada.com/blog/can-personalized-self-service-do-a-better-job-than-an-agent
Publish Date: September 8, 2017 5:00 AM
---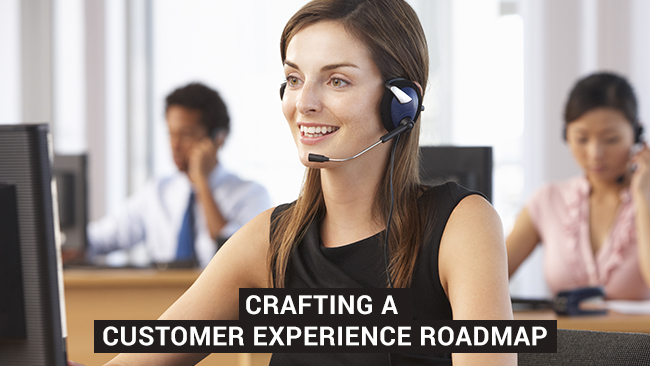 Delivering exceptional customer experience is the holy grail of modern business, but like King Arthur's knights, you are unlikely to find what you seek without an effective map.
The modern contact center is undoubtedly a company's most critical link to its customers, and the way technology has developed over the past two decades has significantly altered the way in which this link occurs. The need to connect with customers via multiple media channels – whether it be through chat functions, social media, websites, email or the traditional telephone - has seriously complicated this business unit.
Of course, such complexity also opens up a whole new range of opportunities for the delivery of a truly exceptional customer experience. To achieve this, however, requires a plan – a well-crafted and thought out customer experience roadmap.
The road to desired business results ultimately runs directly through customer experiences and behaviors, and it is vital to recognize this fact. While all companies deliver a customer experience, it isn't always what the company intends. Thus, if you want to ensure that your company delivers an uplifting customer experience, it is critical that you develop a roadmap outlining what you expect the customer experience to be, and, most importantly, how you expect to achieve this.
In the end, the aim should be to ensure that customers receive the experience your organization would like them to have, one that builds loyalty, supports repurchase, increases loyalty and reduces customer churn and attrition.
When it comes to the contact center, the key elements of a successful customer experience include the ease of access, or the manner in which a customer is able to obtain information, purchase products, make inquiries, complain or seek assistance in fixing a problem. Alongside the ease of access is the speed of access. Customers today expect high service levels, without requiring them to first jump through multiple hoops, such as repeatedly having to enter their account number or contact the center more than once to achieve resolution. The third aspect here lies in the quality of the interaction, which encompasses things like how easy, efficient and logical the process is.
Once you understand this, you can get to work laying out and designing your desired customer experience roadmap. The first step, of course, is to know the ultimate goal you want to achieve with this roadmap.
Whether this goal is to improve the customer experience at specific channels, to engage your employees or to refine and consolidate your brand, you need to ensure that you have measurable and achievable aims, and that these are set out at the start.
Following this, it is important to know what channels, methods and touch-points the customers use when interacting with the business. Knowing what these are and how they are used by the customer will enable you to more easily ensure that your customer relationship management (CRM) system is able to track each time that consumers touch the company. This is critical information you can use to help populate your roadmap, in order to ensure that the customers' journey is always a pleasant one.
It is also vital to consider the customer experience holistically. While the contact center is at the coalface of customer interaction, it is not the only department that touches the customer. In other words, you need to understand how other business units interact with and impact on the customer too.
Marketing, Sales and your brick and mortar stores all interact with customers, and the standard silos that exist between business units creates a distance between the various business areas that means that more often than not, these entities have little understanding of what takes place in the contact center. By focusing on viewing the customer experience holistically, you can ensure that messaging remains consistent, regardless of the department delivering it.
Furthermore, you should not only focus on the different business units within the enterprise, you should also include stakeholders from across the company and from all levels within the organization. It is important to understand how different stakeholders impact on the customer experience and to obtain input from them on how to create the ideal roadmap. A good example is how a back office area like accounting or dispatch will have information about processes that directly impact on the customer, so obtaining input from them can only help to improve the overall customer experience.
Your roadmap must also take into account the fact that clients inevitably view your brand as a single entity. It is of no interest to them the fact that, for example, the company website is administered by different people to those who handle the contact center, or that some of your services may be outsourced.
Therefore, the roadmap must take into account the combination of touch-points that each customer goes through, so you that you can understand how you deliver your brand experience at each of them, in order to improve the overall experience.
Another step is to make sure that your people reinforce the brand with every interaction they have with customers. This becomes easier once you have a holistic view of the organization and its various business units, but it must be drummed into staff that they must seek to understand what each consumer is trying to achieve at each touch-point, why they are there, how they feel and what external factors might be influencing them.
Remember that a single bad experience often has more influence on a customer than a lifetime of good service and traditional brand messaging. This is why it is crucial to reinforce the brand at every single customer touch-point.
Although it seems counterintuitive to say it, the roadmap must also take into account those things that are beyond your control, but may still impact how customers feel about you. For example, a road closure outside one of your stores or a failure in Internet connectivity may still leave the client feeling less than happy with your company. While these issues may be beyond your control, you can make a note of the things that have or can affect your key touch-points and – where possible – develop strategies to mitigate against them.
Also be sure to get every member of staff fully engaged in the customer service effort, by treating customer experience as a competence, as opposed to simply another function. This means getting everyone in the business on message, all the time and making sure that they are empowered to make the decisions that need to be made in order to satisfy the customer.
Finally, understand that your roadmap is not set in stone. In other words, even though you may have finalized it, ensure that you review and renew it periodically. Revisit it on a regular basis, even though the likelihood is that it will not need amending most of the time. However, every time a new branch opens up, a new sales or contact channel is added, or even if a new outsourced provider is brought on board, you will need to build this into your roadmap.
Ultimately, you need to understand that it is called a roadmap because it is very similar in most respects to its namesake – and if you are using an out-of-date atlas to find your way around, you will run into trouble sooner, rather than later.
Source: http://www.jacada.com/blog/crafting-a-customer-experience-roadmap
Publish Date: September 7, 2017 5:00 AM
---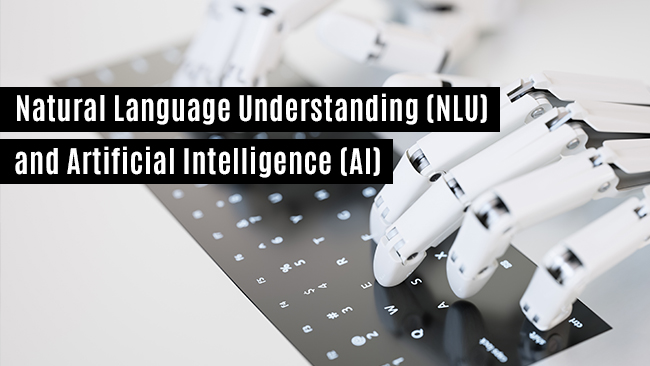 Language versus Intelligence
Natural Language Understanding and artificial intelligence are often terms that are used interchangeably when describing virtual assistants, but they are actually two different things.
Natural Language Understanding (NLU) forms the basis of contact center self-service solutions, and when used successfully, it delivers flexibility, efficiency and clear customer satisfaction. In its own way, it is comparable to the way in which artificial intelligence (AI) is impacting on the contact center. In fact, NLU and AI are often used interchangeably when describing virtual assistants in this space, but the fact is that these two solutions are not the same.
NLU is, at its core, all about the ability of a machine to understand and interpret human language the way it is written or spoken. The ultimate goal here is to make the machine as intelligent as a human when it comes to understanding language. NLU is therefore focused on enabling the machine to understand normal human communication – referred to as natural language – as opposed to being able to communicate via computer-speak, or machine language.
NLU is the core technology that sits behind modern interactive voice response (IVR) and virtual assistant solutions, and is designed to enable the rapid and correct routing of callers and generally to enhance the customer experience throughout their self-service engagement. Because NLU enables the virtual assistant to understand people as they talk in their own words, it means it is no longer constrained by a fixed set of responses. In this way, it is able to effectively mimic a live agent interaction.
NLU is effectively a subset of AI technology, designed to enable software to be able to understand natural language as it is spoken. Artificial intelligence is crucial here because the virtual assistant needs to be able to comprehend the intent of a question, as opposed to merely the words being said. Furthermore, it has to be able to understand the context of the conversation too, if it is to conduct an interaction that flows, rather than one that consists of individual, standalone questions and answers.
Because AI enables a natural language search, it is easy for the virtual assistant to find answers and learn on the fly, meaning it can better understand a human's words and recognize a wider variety of responses, even if it has never heard them before. This means that users can speak with the assistant in the same way they would a human agent and they will receive the same type of answers that a human would have provided. NLU therefore enables enterprises to deploy virtual assistants to take care of the initial customer touch points, while freeing up agents to take on more complex and challenging issues.
As the first line of assistance, virtual assistants are able to capture and captivate customers, by providing them with the answers they need or guiding them to the right places where they can find such answers. And they are also intelligent enough to understand when they don't have the answer, meaning they can then escalate the call to an agent assisted channel, such as email or click-to-call.
NLU therefore holds the potential to have a massive impact on first call resolution (FCR), as it is able to direct customers to the right place, first time around. With NLU, your callers can say anything they like and the virtual assistant should be clever enough to understand it. This means FCR is increased, along with your customers' levels of satisfaction in the contact process – something that should lead to greater long term customer loyalty.
While NLU is a subset of AI, it is certainly not something that should be used interchangeably with the latter term, as AI in a broader sense is able to do much more than merely understand and contextualize natural language.
AI is actually a powerful tool that can aid and augment the entire customer service process within the contact center. AI technology is not only useful in assisting call center managers to route calls more effectively, it is also able to provide agents with the data and tools they need to create positive interactions with customers. It can even be used to monitor customer satisfaction levels across a variety of channels – including voice, SMS, social media and chat - based on voice analytics and the type of language used by the caller. In the end, this should result in a more productive and efficient contact center and a greater level of overall customer satisfaction.
AI is ideally suited to interpreting big data, which means it can be useful in identifying customer browsing patterns, purchase history, recent access to customer devices, and most visited webpages. Once it has collated all of this detailed information, the company can even use AI to offer its customers personalized recommendations and proactive service, based on the data patterns it has pulled together.
Without AI, businesses wanting to provide such a service to clients would require one or more dedicated analysts. Even so, you would expect the analysts to take days or even weeks to identify relevant patterns in consumer behavior. AI, on the other hand, can identify such patterns rapidly enough to enable you to deliver the service in near-real time. Moreover, AI is able to utilize a range of analytics that the company may have, such as self-learning algorithms, as an example, to consistently improve its own performance.
Whereas NLU is clearly only focused on language, AI in fact powers a range of contact center technologies that help to drive seamless customer experiences. From IVR solutions that connect customers quickly and seamlessly with the most qualified agent, to prioritizing callbacks and ensuring the customer is called back when their position arrives at the front of a queue and on to predictive dialers that help to fuel sales through smart and effective lead management, AI offers a much broader scope of advantages to the contact center.
Finally, when one considers the impact that big data and the Internet of Things are likely to have on the future of the contact center, AI is clearly only going to play an even more crucial role in shaping the way brands and customers engage with one another in the future. Both NLU and AI are going to be vital to this future, but if they are to have the impact on the modern contact center that organizations hope for, it is important that people understand the differences, as well as the similarities, between the two.
Source: http://www.jacada.com/blog/natural-language-understanding-nlu-and-artificial-intelligence-ai
Publish Date: September 6, 2017 5:00 AM