Those First 90 Days - LiveOps - ContactCenterWorld.com Blog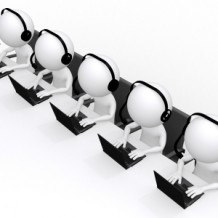 The first 90 days of any relationship are a test. A new job, a new baby, a new friendship, even a new business relationship. Whether it's a new hire, a partnership or a new vendor, the first 90 days are very important, as they set the parameters and the tone for the relationship.
Say you're a growing company. You're quickly outgrowing in-house customer service operations and looking at business process outsourcing (BPO) with a contact center. You're protective of your brand and want to use U.S.-based agents. Where to start?
The process for entering into a BPO arrangement can vary, of course, depending on a brand's specific requirements, requests and situation. There are some similarities, though, and being familiar with the broad strokes can be useful. The first thing to be aware of: the first 90 days are about working out the details and establishing the positive working relationship that will result in a successful on-going relationship.
Using a contact center example, here's a rough outline of ten things you can expect in the first 90 days of a BPO agreement—with some tips to help you make it a success.
A cross-functional team is assembled to support the launch implementation. This is the team that will set the plan, check in on the plan and ensure the plan is successful in the short- and long-term.
The launch team works with you (the client) to gather all requirements and create a custom project plan. This is the nitty-gritty numbers-sharing stage, where you need to lay out all your cards. The contractor is responsible for gathering the information, confirming understanding and synthesizing a plan to make your expectations a reality (and setting expectations if they are not reality).
An assigned Launch Manager is your main point of contact during the launch process and will communicate dependencies, timelines, risks and overall project status. This is your person, your guide, your advisor through the process. Ask questions and be sure you understand and are satisfied with progress.
The Agent Acquisition team will find the right agents for your program either within its existing independent agent community or using its sourcing website. These agents will be the face of your brand and potentially the only person a customer interacts with…so set your standards high.
Using your historical and projected call volume statistics, the Workforce Management team will analyze the data and determine the number of agents needed to ensure service levels are met and that there is a ramp plan in place to help you scale your business. One of the biggest benefits of working with a contractor is the ability to quickly and easily adjust your staffing when there is a surge in business or (fingers crossed this doesn't happen) a dip.
The Certification team will work closely with your Training resource or Subject Matter Expert, review your current training materials and recommend an approach that engages agents, particularly home-based independent agents, through Virtual Classroom Sessions and interactive eLearning courses that include assessments and knowledge checks. Virtual learning is an effective training tool and makes for streamlined assessment—leading to faster recognition and implementation of additional training requirements.
The Professional Services and Account Management groups will partner with you to define technical requirements for your program and will work with the Telephony, Engineering and other technical teams to implement the call routing strategy, IVR, scripting, system integration/web services and reporting set up. Listen, ask questions, provide input and feedback and help shape your successful program.
The Program Management and Onboarding teams will shepherd agents through the training process and assist with agent readiness for live calls. Another big benefit contractors offer is role-playing with live feedback, giving agents "real-world" experience with the types of calls and information they will handle.
Starting on day 1 of live calls, your contractor team will begin gathering agent data that is the foundation for performance based routing, and immediately begin work on agent and program optimization. At the end of the first 90 days, the program is only just beginning! Your involvement will lessen but still be important as refinements are made to ensure SLAs and KPIs are met, and ultimately, that customers are satisfied with the service they are receiving.
Your contact center is up and running. Congratulations! A smooth and successful contact center set-up is no small feat. Now that it is established, expect regular check-ins and updates.
Visit my article for ICMI for some additional details and information on BPO contracts. And good luck starting yours!
Image courtesy of David Castillo Dominici at FreeDigitalPhotos.net.
Source: http://www.liveops.com/blog/2015/08/those-first-90-days/
Publish Date: August 18, 2015 5:00 AM
---
PREMIUM

Future Gen International Pte Ltd
(VIEW OUR PAGE)

Outsourcing provider of English Call Centre services, Audio Transcriptions, Big Data ETL (Extract, Transform, Load) , Big Data Visualization, Big Data Predictive Model Generation

PREMIUM

HigherGround, Inc.
(VIEW OUR PAGE)

HigherGround develops data collection, information storage, and interaction analytics solutions that easily transform data into actionable intelligence, enabling operational optimization, enhanced per...

(view more)

PREMIUM

ConceptCall
(VIEW OUR PAGE)

Аутсорсинговый контакт-центр ConceptCall| КонцептКолл специализируется на исходящем и входящем телемаркетинге: мы предоставляем услуги по осуществлению холодных звонков и продажи по телефону, проводим...

(view more)
---
View more from
LiveOps
Recent Blog Posts:
| | |
| --- | --- |
| What's So Great About Leveraging an On-Demand Workforce? | January 19, 2016 5:00 AM |
| Looking Ahead to the New LiveOps Cloud Platform | December 4, 2015 5:00 AM |
| LiveOps Announces 5,000 New Work-From-Home Opportunities! | September 23, 2015 5:00 AM |
| Those First 90 Days | August 18, 2015 5:00 AM |
| The 21st Century Economy has Forever Changed Work—and Customer Service | August 5, 2015 5:00 AM |
| Service Should be the Differentiator—Not the Mascot | July 13, 2015 5:00 AM |
| How Can You Tell if Your Customer Service Agent is Working from Home? | June 17, 2015 5:00 AM |
| Your Kids Are Out of School For Summer. Now What? | June 8, 2015 5:00 AM |
| Red Nose Day a Rollicking Success | June 2, 2015 5:00 AM |
| Guide Your Agents to the Finish Line—and Beyond | May 26, 2015 5:00 AM |
Industry Champion Award Leaderboard