Your Kids Are Out of School For Summer. Now What? - LiveOps - ContactCenterWorld.com Blog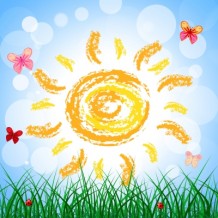 Ah, summertime. It's filled with happy memories of care free days, swimming, eating popsicles and having fun. Those are childhood memories, of course. When you're an adult, your summers don't always follow that pattern. If you have children, your summers more likely involve making sure the kids have enough activities to keep them from being bored, trying to fit in work around their schedules, and occasionally enjoying a well-deserved break.
So how do you do it? How do you make work, well, work when the kids are out of school? When you work from home and have flexibility in your schedule, you may have the benefit of being able to take your kids to activities, camps and outings when you need to…but if they aren't out of the house, they may be interrupting you or otherwise interfering with you getting work done.
LiveOps recently hosted a Tweet chat with LiveOps agents and work-from-home pros to discuss how work-at-home parents balance taking care of kids and working from home over summer and school breaks. I wanted to offer a short recap for those who missed it.
The top tip we gleaned from the tweet chat was to plan ahead, as much as you possibly can. Whether that means arranging childcare (and a backup), sending kids to day camps or overnight camp or making sure you have a variety of activities on hand at home to keep them occupied—planning will reduce your stress.
One tweet chat participant suggested setting up a babysitting co-op with other work-from-home parents, which is a great idea to keep your kids busy and having fun while not impacting your work schedule or family budget.
Another suggestion was to plan your work schedule around your kids' schedule, as best you can. If they are sleeping in and there is no "morning rush" to get out the door, perhaps you can try to get in a few hours of work before they are up and moving. If they are out of the house, get as much done as you can then. And, even though it might be tough, try to get in a few hours of work in the evening or after bedtime. If you can flex your schedule to allow for time with your kids during the day and fit your work in around it—that's a successful day!
And there was a good reminder that for work-from-home success, you must set boundaries between work and home. If you are intentional with your time (as we all try to be!) and are organized with schedules and help, it's much easier to focus on work when you are working and shift gears to focus on family when it's "home time." You will be more relaxed and productive if you can focus on your immediate task until it's complete.
From my own experience, I've found that planning ahead for summer camps and activities is a huge stress relief. Knowing my kids will be learning, having fun and be out of the house for a period of time every day makes it much easier to balance work with them being home more. I love spending time with my kids and I'm so happy to have a flexible work schedule that allows me to be successful in both my job and my family life.
You can also check out our Facebook page and many resources online for other tips, solutions, ideas and plans. Check work-from-home blogs, Pinterest, ask friends and co-workers…hopefully you'll be able to find just the right mix to help you successfully work from home while your kids are out of school this summer. And if you think of or find an amazing tip, please share!
(Image courtesy of Stuart Miles at FreeDigitalPhotos.net.)
Source: http://www.liveops.com/blog/2015/06/your-kids-are-out-of-school-for-summer-now-what/
Publish Date: June 8, 2015 5:00 AM
---
PREMIUM

Avizent Ltd
(VIEW OUR PAGE)

Advanced AI technology and Natural Language Processing delivered to clients in the Cloud that harnesses both voice and digital conversations. The focus is on building an environment where intelligent ...

(view more)

PREMIUM

ConceptCall
(VIEW OUR PAGE)

Аутсорсинговый контакт-центр ConceptCall| КонцептКолл специализируется на исходящем и входящем телемаркетинге: мы предоставляем услуги по осуществлению холодных звонков и продажи по телефону, проводим...

(view more)

PREMIUM

Future Gen International Pte Ltd
(VIEW OUR PAGE)

Outsourcing provider of English Call Centre services, Audio Transcriptions, Big Data ETL (Extract, Transform, Load) , Big Data Visualization, Big Data Predictive Model Generation
---

View more from
LiveOps
Recent Blog Posts:
| | |
| --- | --- |
| What's So Great About Leveraging an On-Demand Workforce? | January 19, 2016 5:00 AM |
| Looking Ahead to the New LiveOps Cloud Platform | December 4, 2015 5:00 AM |
| LiveOps Announces 5,000 New Work-From-Home Opportunities! | September 23, 2015 5:00 AM |
| Those First 90 Days | August 18, 2015 5:00 AM |
| The 21st Century Economy has Forever Changed Work—and Customer Service | August 5, 2015 5:00 AM |
| Service Should be the Differentiator—Not the Mascot | July 13, 2015 5:00 AM |
| How Can You Tell if Your Customer Service Agent is Working from Home? | June 17, 2015 5:00 AM |
| Your Kids Are Out of School For Summer. Now What? | June 8, 2015 5:00 AM |
| Red Nose Day a Rollicking Success | June 2, 2015 5:00 AM |
| Guide Your Agents to the Finish Line—and Beyond | May 26, 2015 5:00 AM |
Industry Champion Award Leaderboard