How Can You Tell if Your Customer Service Agent is Working from Home? - LiveOps - ContactCenterWorld.com Blog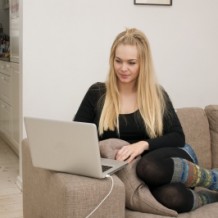 You're having an issue with a pair of shoes you bought, and the store will no longer take them back—it's after the return window. You spent a lot of money on them and they've been squeaky since you bought them, but you thought it would work itself out once you got them worn in. It didn't. So now you're on the phone with the brand, trying to get a replacement pair. You're talking to a very helpful and attentive service agent and you're impressed with both the person and the service. You end the call satisfied with the result and go about your day.
It was like many other customer service calls you've experienced over the years. It seemed a little quieter in the background than usual, but you didn't think much of it. Did it occur to you to wonder where the person was located—in a contact center or working from home? Probably not. Think about it: how would you know if a customer service agent you are speaking, live chatting or emailing with was in an office or at home? The short answer is—you probably can't tell! And that's kind of amazing, when you think about it.
Technology has made so many formerly impossible things possible. I'm not talking big things like traveling to the moon—I'm referring to things like being able to video chat from your phone, and work from any location at any time with access to the information and everything you need to be successful and productive. Remote work has revolutionized the work place and greatly improved work-life balance for millions of workers.
The rise of cloud computing, widely-available broadband Internet access and ever-less expensive technology means it's possible to fulfill more job roles remotely. Organizations of all sizes, in all industries, in all states, have introduced work from home jobs as an option for employees. And employees are taking advantage of that option in droves. Forrester Research estimates that 63 million Americans will work from home in 2016—that's next year!
Research has shown that home-based workers are more productive, more satisfied with their job and less stressed than office-based workers. There are benefits for both the worker and the employer, including lower costs (no commute, less office space needed); increased flexibility; and improved work-life balance. Home-based workers are managing their time, their work and their lives to maximize each area, which makes them happier. More satisfied worker=better service=satisfied customers=happy employer/brand.
And to the earlier point that you can't really tell if a customer service representative is working from home—does it really matter, either? Brands using cloud computing platforms have multiple layers of security built in and representatives who handle sensitive information usually undergo background checks…so does it matter if they are at home or in a contact center? Most people would say no. In fact, those satisfied customers would probably say that interacting with a work-at-home agent was a smooth process, since there was no background noise, the agent was well-trained and they couldn't even tell the agent was working from home.
More brands are utilizing remote contact center workers via specialized contact center outsourcing companies like LiveOps Agent Services, or by internally hiring, training and employing at-home workers. If you have a computer, phone and broadband you can answer customer service calls from home. And with WebRTC connectivity, agents can now take calls directly through their browser – no telephony hardware needed!
It all comes down to creating a customer experience that will encourage the customer to do business with a brand again. There are multiple routes on that journey. Expect to interact with more work-from-home customer service representatives in the future—and expect the experience to be better since the at home worker is happier and more satisfied!
(Image courtesy of Brian Holm at FreeDigitalPhotos.net)
Source: http://www.liveops.com/blog/2015/06/how-can-you-tell-if-your-customer-service-agent-is-working-from-home/
Publish Date: June 17, 2015 5:00 AM
---
PREMIUM

Future Gen International Pte Ltd
(VIEW OUR PAGE)

Outsourcing provider of English Call Centre services, Audio Transcriptions, Big Data ETL (Extract, Transform, Load) , Big Data Visualization, Big Data Predictive Model Generation

PREMIUM

Avizent Ltd
(VIEW OUR PAGE)

Advanced AI technology and Natural Language Processing delivered to clients in the Cloud that harnesses both voice and digital conversations. The focus is on building an environment where intelligent ...

(view more)

PREMIUM

HigherGround, Inc.
(VIEW OUR PAGE)

HigherGround develops data collection, information storage, and interaction analytics solutions that easily transform data into actionable intelligence, enabling operational optimization, enhanced per...

(view more)
---

View more from
LiveOps
Recent Blog Posts:
| | |
| --- | --- |
| What's So Great About Leveraging an On-Demand Workforce? | January 19, 2016 5:00 AM |
| Looking Ahead to the New LiveOps Cloud Platform | December 4, 2015 5:00 AM |
| LiveOps Announces 5,000 New Work-From-Home Opportunities! | September 23, 2015 5:00 AM |
| Those First 90 Days | August 18, 2015 5:00 AM |
| The 21st Century Economy has Forever Changed Work—and Customer Service | August 5, 2015 5:00 AM |
| Service Should be the Differentiator—Not the Mascot | July 13, 2015 5:00 AM |
| How Can You Tell if Your Customer Service Agent is Working from Home? | June 17, 2015 5:00 AM |
| Your Kids Are Out of School For Summer. Now What? | June 8, 2015 5:00 AM |
| Red Nose Day a Rollicking Success | June 2, 2015 5:00 AM |
| Guide Your Agents to the Finish Line—and Beyond | May 26, 2015 5:00 AM |