What the F*ck: How Polite Are U.S. Consumers to Customer Care Professionals? - LivePerson - ContactCenterWorld.com Blog
Customer service professionals undoubtedly deal with difficult people and situations daily. As they work to help customers solve issues, they might be met with a sincere "thank you" or what could constitute as verbal harassment.
To get to the bottom of how consumers act toward customer care professionals, LivePerson analyzed millions of conversations across more than 500 brands, studying both "hard" and "soft" curse words and phrases and breaking out data points across demographics. Unsurprisingly, customers were better behaved when their names were attached to the exchange and ruder when protected by a mask of anonymity — 76% polite vs. 72% polite, respectively.
Key findings include:
"Stupid" is the top soft curse while "sh*t" is the top hard curse used in customer care chats.

Men curse 16.5% more frequently than women in their customer care conversations.

Consumers in Virginia curse the most during their conversations with customer care agents while Hawaiians curse the least.

Consumers in Iowa are most prone to use hard curses while Virginia is top in soft curses.

Idaho is ranked as the most polite state, but Alaska is at the bottom of the list as least polite.
What we call "soft curses" are the non-curse expressions — like "shoot," "shucks," and "heck" — that often act as polite stand-ins for more inflammatory remarks. "Hard curses" are those that would get your mouth washed out with soap.
See the good, the bad, and the ugly below.
U.S. Consumers' Favorite Curses
Overall, soft curse words were used more frequently across the country: "Stupid," "shoot," and "goodness" nabbed the top three spots. Things quickly devolved, with "sh*t" and "f*ck" landing at #4 and #5, respectively, for the top hard and soft curses used.
Top 5 soft curses:
Stupid
Shoot
Goodness
Suck
Crap
Top 5 hard curses:
Sh*t
F*ck
Hell
Damn
Ass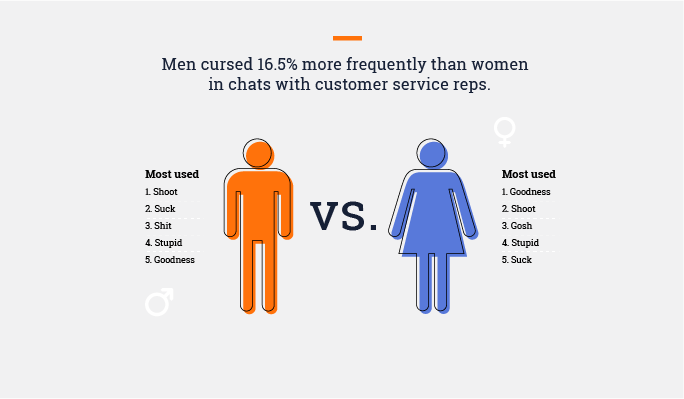 "Ps and Qs" across state lines
States that cursed the most were Virginia, New Mexico, Alaska, Iowa, and Utah — with Iowa and Washington leading the states in hard curses. Idaho, Ohio, and Nevada followed as the states more likely to use hard curse words. Leading the states in soft curses were Virginia, New Mexico, Alaska, Utah, and North Dakota.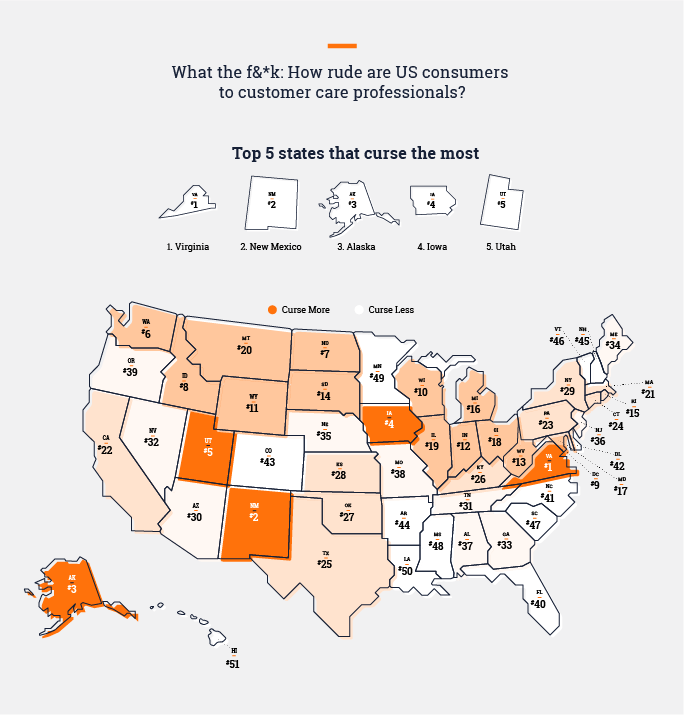 Conversely, the most used polite terms, in order of frequency, were "thank you," "please," "no problem," "appreciate," and "kindly." The least polite states were Alaska, Wyoming, South Dakota, Colorado, and Iowa.
Idaho was found to be a very expressive state, as it was ranked #3 among the states that would use hard curses the most and #1 as the most polite state. Maine, North Dakota, Vermont, and Wisconsin followed as the politest states in the nation.
New Mexico, Iowa, Oregon, Colorado, and Louisiana had a high ration of saying both "please" and "thank you" in their conversations with customer care professionals while South Carolina, Mississippi, West Virginia, and Alabama ran low in this area.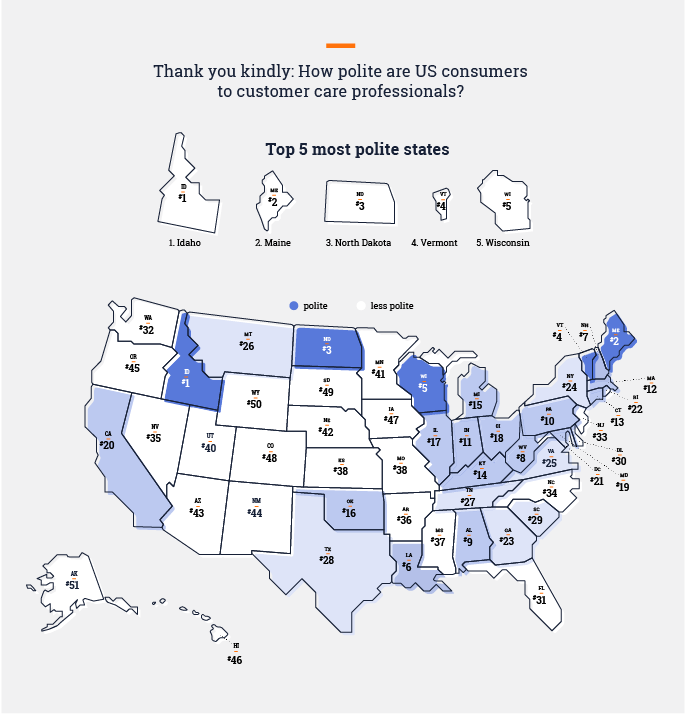 Customers interacting with the pharmaceutical, consulting, banking, energy, and financial services landed on the list of most polite. Surprisingly, the least polite customers were interacting with charities, foundations, and nonprofits as well as the telco, transportation, consumer products, and hospitality industries.
Source: http://www.liveperson.com/connected-customer/posts/what-fck-how-polite-are-us-consumers-customer-care-professionals
Publish Date: July 20, 2017
---
PREMIUM

ConceptCall
(VIEW OUR PAGE)

Аутсорсинговый контакт-центр ConceptCall| КонцептКолл специализируется на исходящем и входящем телемаркетинге: мы предоставляем услуги по осуществлению холодных звонков и продажи по телефону, проводим...

(view more)

PREMIUM

HigherGround, Inc.
(VIEW OUR PAGE)

HigherGround develops data collection, information storage, and interaction analytics solutions that easily transform data into actionable intelligence, enabling operational optimization, enhanced per...

(view more)

PREMIUM

CTI Software
(VIEW OUR PAGE)

CTI Software is the creator of custom application called Davos, which complements the telephone client solutions with intelligent features such as automated call attendant, call recording and archivin...

(view more)
---

View more from
LivePerson
Recent Blog Posts:
| | |
| --- | --- |
| Thousands of sexist AI bots could be coming. Here's how we can stop them. | May 11, 2018 |
| LivePerson in the news: the death of websites, women in tech, and bots for banks | March 23, 2018 |
| What the F*ck: How Polite Are U.S. Consumers to Customer Care Professionals? | July 20, 2017 |
| The Key To Leveraging Hybrid Chatbots | June 27, 2017 |
| How Messaging Is Transforming the Customer Experience | May 9, 2017 |
| How to Choose the Best Customer Care Technology | March 8, 2017 |
| Evaluate the Effectiveness of Your Customer Care Team: 5 Crucial Steps | December 9, 2016 |
| 13 Brands Disrupting the Customer Experience | September 8, 2016 |
| Sage One: Driven by Metrics, Focused on the Consumer [Webinar] | August 23, 2016 |
| 8 Ways to Make Your Customers Smile | July 27, 2016 |