Nuance - ContactCenterWorld.com Blog Page 3
Page: 1 | 2 | 3 | 4 | 5 | 6 | 7 | 8
The NBA Finals are in full swing! It's Golden State vs. Cleveland for the third time in a row. That's remarkable and a testament to both teams' talent and hard work. But there's more to it. The two team leaders Steph Curry (Golden State) and LeBron James (Cleveland) take their games and their teams to higher levels by utilizing three principles critical for NBA success. These principles also apply to customer service leaders looking to take their game – particularly their IVR game - to the top.
Know your opponent
Think LeBron James doesn't know which way Steph prefers to dribble off a pick? No chance. Both players know the strengths and weaknesses of the other in detail and use that insight to put them in the best position to score or defend. Good customer service leaders must do the same. They must know as many customer details as possible to set themselves up for success. Does a particular customer prefer to call each week on Monday? Does your IVR know they are calling from a mobile phone? It all starts with data, analysis, and reporting. Strong IVR reporting capabilities create opportunities to understand who's calling, why, and where the IVR is underperforming. Deep knowledge puts companies in the best position possible to offer the most personalized customer experience.
Create a plan
How can Steph and the Warriors stop LeBron? Even knowing which side of the floor he prefers and his 3-point shooting range, he's still an excellent player. He won't do things exactly the same each time. The coaches must devise a game plan to be ready for whatever he brings.
Can your company's IVR handle whatever comes its way? What's the plan to handle complicated questions? Can it understand someone speaking in a foreign language? Or what if they just keep pressing '0' every time to get to the agent? If the plan is to make someone "Press 1 for Sales, 2 for Service," then callers will increasingly skip it and you won't be winning any awards. Plan a thoughtful approach to why people call and consider implementing a natural language based conversational IVR that helps meet customer needs – no matter what they bring. A conversational IVR with natural language understanding allows your callers to say whatever they want and the system is intelligent enough to understand and take the right next step.
Execute efficiently
At tip-off everything changes. Now it's time to execute. When the ball is stolen from the Cavaliers, plans are great, but Kevin Durant needs to run the floor fast and make a precision pass to Steph Curry for the shot. This is the payoff to the preparation and planning.
Today, right now, is your IVR executing efficiently? Are your customers getting the service they expect? Are you hitting your containment and automation rates? If not, what will it take to raise the bar? There are so many IVR innovations available today. If you've already moved to a natural language based IVR then it starts simply with tuning the existing experience to deliver the right performance. Or consider enhancing your customer's call with biometric based greeting that authenticates callers based purely on their voice. It's a solution that promises to delight callers while greatly improving security and reducing fraud. Or take it to the ultimate level and create a transition as smooth as a Durant to Curry bounce pass by handing off IVR calls to your digital channels. Sometimes shifting callers to the web or virtual assistant is better for them and less expensive for the organization.
Whatever situation your IVR is in, adopting the principles that make Steph Curry and LeBron James great will also elevate your service game. And be a slam dunk with your customers.
Source: http://whatsnext.nuance.com/customer-experience/nba-finals-up-your-ivr-game/
Publish Date: June 8, 2017 5:00 AM
---
Wonder Woman is, well, wonder-ful. I like her because she has bullet-proof bracelets and a magical lasso that, wrapped around a person, forces them to tell the truth - both very useful tools in everyday life. Unfortunately, Hollywood super heroes aren't real. Which is too bad, as today's consumers could use someone to help them battle the fight for a fast answer to their question.
With the shift of communication channels to mobile phones and messaging applications, brands struggle to keep up with consumers' expectations for immediate answers. Since 2011, with the rise of Facebook Messenger, consumers want to consolidate their communication channels with friends and family. And thanks to the introduction of chatbots within messaging platforms, brands can also communicate with customers in these channels.
Get rid of the villains in your customer engagement
Messaging allows users to answer at any given time, and the history of the conversation is never lost, which makes it easier to follow up on topics hours, and even days, later. The problem is that there are many villains (poorly designed platforms) out there that don't answer questions in a timely manner, deliver wrong or unhelpful results, and force customers to run in circles and constantly repeat themselves. All in all, it can be a very frustrating experience that sucks the life out of the user.
Engaging with businesses could be so much simpler, if there would be fewer villains and more real-life super heroes. These "heroes" would have amazing capabilities such as:
Answering questions at the speed of light
Solving issues as easily as leaping over tall buildings in a single bound
Reading the customer's mind by having access to 3rd party data
Being able to handle any number of incoming messages, thanks to robust strength
Jumping back in time to receive context from prior conversations
Thankfully, there are not-so-secret societies out there that help businesses deliver incredible customer service on messaging platforms. Nuance's Wonder Woman is not called Diana Prince, but Nina, and she doesn't wear a cape. Instead she can answer customers' questions immediately, and, even if your customers answer a day later, she can continue seamlessly by referencing the history of the conversation.
Request help from other super heroes
Similar to the Justice League, your customer service can have several super heroes. A virtual assistant is just one of the members with incredible superpowers. Human agents can help save the day as well. In those cases where the virtual assistant can't assist your customer – for example, if the request is rather complex – the engagement can be moved to a live chat agent. Equipped with the context of the prior conversation, the chat agent can then leverage their own super power to continue assisting your customers for maximum customer satisfaction.
To learn even more about automated and human engagements in Messaging channels and best practices for efficient and stellar customer engagement, join me and my guest Julie Ask, Vice President, Forrester Research for a webinar on June 8th, 8am PT/ 11am ET.
Source: http://whatsnext.nuance.com/customer-experience/wonder-woman-and-virtual-assistants-in-customer-service/
Publish Date: June 2, 2017 5:00 AM
---
In the era of instant information, customers expect service to be personalized, simple and fast. As such, businesses must provide quality, customized experiences to drive loyalty. When looking to evolve the customer experience, businesses can look at personalization across a spectrum, from standard services to more proactive communications. Here's a closer look:
Standardized: Standardized personalization is a great introduction to proactive individualized service. With standardized personalization, companies are making compelling interactions by using data to personalize, with information such as names, delivery numbers or flight itineraries.
Customized: Customized personalization is very similar – it is a first recognition from a company of customer preferences. Companies can modify their outreach and communications based on a customer's explicitly provided preference – such as channel preference (for example, they want text messages) or frequency (for example, only as reminders for upcoming appointments). A customized personalization experience can be seen across many industries. Many organizations offer consumers a "preferences center" where they can indicate the type of messages they want to receive and their channels of choice.
Segmented: With this level of customization, companies are segmenting large groups of people that fit into certain categories based on data gathered about the customers such as demographics, geographic regions, and types of behavior. In organizing people into groups, companies can shift messaging based on customer needs.
Individualized: An individualized personalization experience allows the same type of interaction and context to grow. Businesses can leverage explicit preferences, previous behavior, past communication, and upcoming events to create a unique experience for specific individuals. The most innovative example of individualized personalization is when we leverage contextual knowledge using tools like conversational IVR and virtual assistants to customize the inbound experience. This creates a more connected, conversational dialogue over multiple channels that is specific to an individual's unique set circumstances.
Anticipatory: Anticipatory personalization refers to when companies use predictive analytics to anticipate customer needs and enable more proactive, relevant experiences. This requires designing personalization for the entire customer journey – taking interactions from a transactional level to an ongoing relationship – and continuing to integrate inbound and outbound capabilities. Leveraging integration between technologies like conversational IVR and virtual assistants with more intuitive voice biometrics and natural language understanding has the ability to continue improving the customer experience and anticipate consumer needs.
The benefits of personalized experiences
Providing a personalized and positive experience has direct business implications. It often takes twelve positive experiences to make up for one unresolved, negative experience. There is increased intolerance for these negative experiences and two-thirds of customers cancel services or end relationships with companies after a single bad experience.
From our own research, we also know that the majority of consumers respond positively if they receive good customer service. Eighty percent of consumers have taken positive action after a good experience. For instance, fifty-five percent of customers have recommended the company to friends and family or conducted more business with that company, because they have had positive interactions. And for us, those are numbers worth remembering.
Source: http://whatsnext.nuance.com/customer-experience/personalization-spectrum-in-customer-service/
Publish Date: May 18, 2017 5:00 AM
---
Whether you're trying to get a right answer to win one million dollars or spin a wheel to guess a phrase, game shows can be exciting. Many game show participants rely on a strong foundation of knowledge; however, all players must also lean on luck and have a knack for making guesses. And although taking calculated guesses is fun on a game show, guessing shouldn't be a business strategy when improving the customer experience.
Today, the brand is synonymous with the customer experience. Every experience either enhances or damages brand reputation in the mind of the customer. And when done right, businesses across any industry can see a dramatic revenue impact by focusing on the customer experience.
So how can companies stop guessing what customers want and deliver more relevant, hyper-personalized experiences? By consistently leveraging customer data across channels. To do so, businesses can capitalize on this data by following five main steps:
Integrate data across channels and touch points. Integrating channels and data across touch points is a key first step in effectively interpreting and using customer information. It's common for customer data to live across multiple channels and touch points in the customer journey. Look for omnichannel solutions that can handle most interaction points, but can also integrate data from interactions that are happening outside of one specific platform.
Run predictive analytics to better understand consumer needs. Use big data technology to run models on massive data sets across channels, and look for patterns that influence or predict success and failure. Start by identifying the desired outcome and then run big data modeling to find what factors predict the outcome. The value of the modeling will depend on how much of the customer data has been integrated. You can predict outcomes much more accurately if you feed a comprehensive view of customer interactions into the model. Trying to predict outcomes using a sliver of interaction data is inconclusive because of all the other factors that are not considered. In utilizing predictive analytics across data sets, companies can provide a more contextual understanding of each customer journey.
Implement contextual awareness. If you can make your IVR technology contextually aware of recent customer communications across the different channels, the customer's interaction can be streamlined, thus saving the customer and the company excessive time and resources, while improving customer satisfaction scores. For example, based on survey data from one of our customers in the financial space, a streamlined interaction such as "Welcome back John. I see we texted you earlier about a payment due today. Are you calling about that?" can increase satisfaction scores by 7 percentage points, while reducing the call duration by an average of 30 seconds. It is hard for companies to achieve these types of gains if they don't have access to data regarding all of the company's recent interactions with the customers. Armed with the data, however, a social team can engage in an intelligent way that shows an understanding of the situation. The company that is perceived to be smarter and more responsive to the customer will gain a competitive advantage.
Experiment. Experimentation generates valuable data. If businesses always gather data in the same way, it is difficult to know why a customer experience is or is not working, or if something might work better. Companies that try multiple approaches to see if another strategy works better can find the factors that really matter in creating a positive customer experience, versus those that do not.
Document the Results and Socialize. Why reinvent the wheel? Effective documentation and communication of the results guarantee that these gains can be reproduced with minimal effort. Moreover, incremental enhancements can be built on top of proven methods to achieve even better results.
A guess-free future.
The better job your organization does at providing an effortless, personal experience, the more customers will buy from you – and be less likely to buy from your competitors. At the same time, these customers are very likely to become evangelists for your products and services. And the more people who can advocate for your company, the better – no guessing required.
Source: http://whatsnext.nuance.com/customer-experience/improve-customer-experience-with-data/
Publish Date: April 21, 2017 5:00 AM
---
Last week I had the pleasure of attending the Consumer Bankers Association's annual CBA Live conference. More than 1300 senior-level bankers gathered in Gaylord, Texas to network with colleagues and find ways to address a multitude of challenges facing their companies. At the general session, attendees were asked what they thought would be the top issues facing the banking industry over the next three years. In a major change from previous years, "regulation" slipped from 1st to 5th in terms of priority. Instead, issues that pertain to better customer and employee engagement rose to the top of the priority list.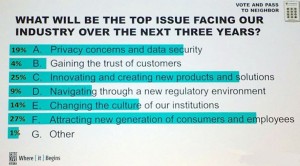 I say it's about time.
In the nearly 10 years since the Great Recession, banks have been dealing with an increasing array of new and in many cases, complex regulations. While acknowledging that some of these rules were a necessary response to the excesses that led to the financial crisis in 2008, the consensus at the conference was that the regulatory pendulum had swung too far. Banks have been spending too much on compliance, in some cases stifling innovation at a time when consumers and employees are increasingly demanding a more engaging and frictionless experience when it comes to financial services.
Now, as Washington is pledging to reduce regulatory burden on American businesses across the industry spectrum, bankers appear poised to address this innovation challenge. Many ideas were shared about how to do this at the conference, and they all had one thing in common – the future of banking will be digital.
Based on what I saw at CBA Live, here's what the not-too-distant future will look like in the banking industry:
Checkbooks and lengthy branch visits are giving way to mobile apps and virtual assistants powered by natural language understanding. Customers increasingly use these tools to handle almost all their transactions through self-service. The bank employee of the future will be skilled at mapping these customer journeys through a variety of digital channels, looking for ways to remove friction and improve the experience.
New products are emerging from the combination of big data and artificial intelligence (AI). One speaker at the conference called AI "the electricity of our era", as revolutionary in its impact in this century as the light bulb was in the last. AI will fuel everything from personalized recommendations to proactive transactional alerts. One-size-fits-all products will morph into unique solutions for every need.
Concerns about privacy and data security will be eased as passwords and PINs are replaced by biometric authentication. Soon, something you are supposed to know but have probably forgotten will be replaced by something you are and can never forget. Already voice biometrics are being used by banks around the world to simplify customer access to their accounts and to weed out fraudsters. Facial recognition and behavioral biometrics are adding to the flexibility of these solutions.
The conference ended with an inspiring talk by Richard Davis, retiring Chairman and CEO of U.S. Bank. Mr. Davis reminded the audience that only bankers can turn one dollar of deposits into seven dollars-worth of realized customer dreams. With two standing ovations, the crowd at CBA Live showed they enthusiastically agreed and then set off to make it happen. I am glad to be with them on the journey.
Source: http://whatsnext.nuance.com/customer-experience/banking-on-greater-digital-customer-service/
Publish Date: April 14, 2017 5:00 AM
---
There's a book on the New York Times best seller list that's all the rage in the U.S.: "The Life-Changing Magic of Tidying Up" by Marie Kondo. Why are Americans so hungry for a how-to guide to organize their home? A UCLA study found that middle-class Americans face a clutter crisis due to a continuous deluge of hyper-discount goods. The madness of accumulating stuff has driven people to a breaking point, and they're ready to self-assess and reprogram.
Kondo's method of decluttering centers around the question "What sparks joy?" She instructs readers to take inventory of their belongings by holding each item and asking themselves if it makes them happy. If it doesn't, then chuck it. Once they've purged the non-joy-inducing items, they can then easily recognize the true holes in their wardrobe, kitchen, library, etc. The overarching benefit of this process? The simplified surroundings enable people to be more productive and fulfilled.
What does Tidying Up have to do with customer service?
The same clutter crisis can happen with a large company that invests in multiple customer engagement solutions. Businesses find themselves trying an assortment of solutions for each individual area or channel. But often, those disparate systems don't work well together, resulting in inefficiency and unnecessary complexity. When this happens, it's time for companies to step away from the chaos and experience the game-changing magic of tidying up.
Brands should take inventory of joy-inducing programs
First, you as a brand, should "take inventory" of your customer service processes and solutions. Does the performance of each one bring joy to the customer or joy to your bottom line? If the answer is no, it's time for a change. Once you've weeded through the non-joy-inducing programs, look and see where the holes are. What are you lacking? Is it efficiency? Is it proficiency? Is it unity among the various channels? What about the ability to measure cross-channel performance?
If it doesn't add value, it's time to simplify
Kondo's decluttering method may seem over-simplified, and certainly the application of this method upon a brand's customer service is extraordinarily simplistic! But what resonates for both individual people and large enterprises is the mindset that if it's not working for you (and it's not adding true value), it doesn't belong in your life or business.
Marie Kondo is a professional cleaning consultant who untangles messes for clients (who wait for her services for three months). Sometimes, spring cleaning is much more successful when someone on the outside looks in on your muddled life to transform it into one that works more efficiently and effectively for you.
When seeking an objective outside perspective, large enterprises will find it pertinent to partner with a vendor who is in high demand for transforming customer experience with exceptional professional services and best-in-class technology. Organizations and vendors can collaborate to declutter the multiple channels of technology and contact center operations that don't work together. From there, in order to provide the type of customer service that brings joy and satisfaction to consumers, businesses can work with vendors to organize their omni-channel customer service program into five critical components: 1) a digital-first strategy, 2) connected conversations, 3) targeted interactions, 4) anticipatory involvement, and 5) use of artificial intelligence. With the ability to view these components within one unified platform, you'll then begin to see the rewards of your catharsis and restructuring.
Are you ready for spring cleaning?
Source: http://whatsnext.nuance.com/customer-experience/spring-cleaning-your-customer-service/
Publish Date: April 11, 2017 5:00 AM
---
Over the past few weeks, you've heard our take on some of the key trends that were presented in Forrester's "2017 Customer Service Trends: Operations Become Smarter and More Strategic" report. From self-service via IVR to smarter field service, we've witnessed in our blog series that customer service is working smarter. To continue the series, let's take a look at Kate Leggett's prediction that companies will sustain automated customer conversations. At Nuance, we completely agree about the importance – and necessity – of embracing automated conversations. But, in order for those engagements to work smarter, they require embedded artificial intelligence (AI) and Natural Language Understanding (NLU).
2017 is the year in which the future will be pulled into the now, and as soon as more businesses get on board to what is happening, these futuristic possibilities will become reality. Take, for example, the financial services industry. A recent Accenture report found that artificial intelligence will become the primary way banks interact with their customers within the next three years.
The following scenario illustrates the magic that's happening in the background of our everyday interactions with intelligent agents of all varieties.
Picture, if you will, in the not-so-distant future, Rick, who is waking up from a good night's sleep. Rick's intelligent virtual assistant tells him from his home speaker all about his upcoming day; he then asks it to move his 12 p.m. appointment with the bank to 12:30 p.m. Shortly afterwards, he receives a notification via SMS, telling him that the appointment has been rescheduled.
On his way to work, Rick tells his phone's voice assistant, "Call my bank." When he reaches the bank's conversational IVR, it asks him if he is calling about the appointment later that day, which he confirms. Because the IVR understands natural language, Rick can ask it, "What papers do I need to bring with me?" However, if the IVR doesn't have the answer, it can immediately move him to a call agent who tells him what documentation he would need at the appointment.
Rick's appointment goes well, and shortly after the visit, he receives a quick summary via SMS with a link to the bank's mobile app. While looking at the update in the app, he asks the virtual assistant to check for outgoing wire transfers. The virtual assistant suggests adding some buffer to the checking account since it looks like the current balance will not cover all the transfers. While Rick is talking, the virtual assistant verifies his voice and schedules a money transfer from savings to checking for the next day.
On his way home, Rick receives a Facebook message from a friend sharing news about increased fraudulent charges on credit cards, similar to what Rick has. He advised his phone's voice assistant to start a new text message using Facebook Messenger to his bank. The phone translates his voice to text and sends the message. After a few Facebook Messenger exchanges with the bank, he gets connected to a chat agent who informs him about the current news and assures him of the procedures the bank has already put into place to protect Rick.
Rick's day was reliant on the AI interfaces that allowed him to interact with the bank when and where he needed to. Sounds like a great way for customers to connect with enterprises, right? The problem is that enterprises know what their customers want, but have difficulties deploying such a solution. The key lies in communicating with the customer using natural language. Natural Language Understanding allows customers to use their own words to describe why they are engaging, resulting in a faster, more direct path to resolution. NLU enhances the customer's self-service experience, while delivering efficiency and automation improvements.
These fully AI-integrated, language-intelligent engagements are becoming universal at this very moment, almost second nature. If financial institutions can envision a scenario like the one you've just read, and anticipate that AI will change the face of banking in the near future, then that's a good sign that the customer service trend of automated conversations is more than just a trend. It's an everyday function – like clicking a mouse.
Source: http://whatsnext.nuance.com/customer-experience/forrester-report-on-customer-service-2017-automated-conversations/
Publish Date: April 5, 2017 5:00 AM
---
As the Chief Medical Officer for Landmark Hospitals, I'm responsible for seven long-term acute care (LTAC) environments, where we primarily treat high acuity medical patients. I am also the CMIO for Chartpad, a cloud-based EMR with Technomad based out of Bonita Springs, FL. In this type of setting our patients are very sick; they are often transferred from other hospitals and may come to us with 12 diagnoses and 20 medications. It's our responsibility to make sure we are giving them the very best care possible.
One of the things I've seen in my 15 years of practice is the increasing number of requirements being placed on physicians. We're seeing more patients every day, and with an aging population those patients are sicker. With Medicare cuts, we need to see more patients in order to break even financially. One of the ways we can combat these pressures is to look at the time-consuming processes in our day, and see how we can improve them.
Ideally, I'd like to get rid of my keyboard and mouse altogether. I want to be able to sit down at my Electronic Medical Record (EMR) and create all of my notes and place all of my orders quickly and easily, and then get back to my patients' bedsides or to family meetings. To me, it's all about interacting with people and spending less time at the computer.
Meet Florence
That's why I was excited to meet Florence. To set the record straight, Florence lives inside my computer. Named after Florence Nightingale, the pioneer of public health, Florence is a virtual assistant created by Nuance that uses artificial intelligence (AI) to help lighten the load of clinicians. Florence not only helps me to update the EMR more quickly, but it actually takes things a step further and thinks ahead to do things like create orders for me.
When I had the opportunity to try Florence, I jumped at the chance. Florence is now omnipresent and built into our EMR. I don't have to type in the order, I can just speak it. No matter where I am in the record I can turn to Florence and have a conversation without touching the keyboard or mouse.
I've always found that one of the biggest problems of everyone moving so quickly is that doctors will put a recommendation in the plan of a patient's medical record, but they might not place all the orders to activate that plan either because they get interrupted or are so busy that it doesn't get done. Computer Physician Order Entry (CPOE) is very time consuming especially in a LTAC setting like ours which is why I felt that Florence was a perfect complement for our workflow.
The real benefit to me is as I think of something, I can order it immediately. If I'm creating progress notes and creating my plan, Florence can extract all those orders from my plan, create orders on its own and confirm them with me. This is a tremendous help in eliminating that error rate of stating something in your notes, but not actually completing all the steps to get it done.
The hard evidence
I participated in a 6-month pilot with Nuance where Florence was integrated with our system, Over that period of time, we completed about 3,000 orders. I was truly impressed with the results. Florence reduced my time entering orders using CPOE by 35% and reduced my keystrokes to 0. Now that I'm even more familiar with Florence, I would estimate that I reduce my average input time by up to 50% on complex orders. You can see my side-by-side video comparison here.
How does a Virtual Assistant help?
I've found that Florence really guides you through the process. It's a "conversational agent" using speech recognition and language understanding, but the beauty is that you don't even notice it. As I enter notes or orders, Florence makes suggestions or asks questions when appropriate. That's the built-in intelligence to assist the clinician for that error-free rate we are all striving for when we provide care.
Teenagers are not the only ones who use technology. I believe that most doctors want and need this kind of innovation. For example, if I rattle off an order I might not notice I missed something, but Florence will see what I forgot, and will ask me for it. Busy doctors need that help.
Artificial intelligence technology has come a long way in the last couple of years. I believe that AI-enabled solutions with this type of real time intelligence will help us shift our time back to our patients, while Florence can help handle all the important, yet time consuming clinical documentation and medical orders.
Thanks Florence!
Source: http://whatsnext.nuance.com/healthcare/doctors-save-time-with-virtual-assistant-florence/
Publish Date: March 29, 2017 5:00 AM
---
The cable repair person coming out to make sure you're back up and running for the big game. Your Christmas cards being delivered in time for you to get them out before the holidays. A claims adjuster being able to meet with you quickly and expedite the repair of your car. As customers, field interactions with a company are often the most critical and longest remembered. And those interactions can go a long way toward determining whether customers will continue to do business with that organization.
In her recent report, "2017 Customer Service Trends: Operations Become Smarter And More Strategic," Forrester analyst Kate Leggett highlighted field service as a critical channel for engagement that "can make or break a relationship." From my perspective, she's absolutely right. As customers progress through their journey with a company – shopping, selecting, onboarding – a company's engagement with that customer at a critical time may determine whether that relationship continues.
The most customer-focused companies are realizing this, and leveraging advanced self-service technologies to support their field operations. Smart businesses keep customers constantly apprised of what's going on, empowering them to control when and where field interactions are happening – whether it's a delivery, repair or review of damage. Additionally, companies with superior field service operations enable customers to change when, where and how the event will happen, on the fly. When it comes to field service, companies must fit into the customer's life, not the other way around. Otherwise, customers will take their business elsewhere.
Businesses across industries are implementing new technologies and practices to make better field service a reality. For example, parcel delivery services allow customers to change the destination of a package, mid-route, from the convenience of their mobile phone. More progressive cable companies are no longer giving customers the infamous "four-hour window," but are texting them to confirm smaller windows, notifying them of expected arrival times, and enabling those customers to reschedule the appointment through a variety of channels. I've been impressed with my cable company's ability to provide consistent information and the opportunity to make changes that are reflected across virtual assistants, live chat and my mobile phone. Additionally, insurers are arming both their claims adjusters in the field and their customers with the ability to notify each other via text that their appointment may need to be moved. In all of these scenarios, companies are making interactions easier, faster, and more seamless for customers.
Ms. Leggett "expect(s) to see continued focus on using field service technologies outside of traditional
industries. These technologies will increasingly leverage analytics to manage scheduling and dispatching," and we at Nuance completely agree. If cable companies and insurers are starting to "wow" us in the field with their ability to engage with customers at critical times, you should be too.
Catch up on earlier posts from our Forrester trend series, and stay tuned for part four!
Source: http://whatsnext.nuance.com/customer-experience/forrester-report-on-customer-service-2017-field-service/
Publish Date: March 28, 2017 5:00 AM
---
As a society, the way we consume information is different than it was even just a few years ago. With 77% of Americans now owning a smartphone, it's hard to overstate the pervasiveness of mobile devices. Nearly everyone has one. We, of course, use these devices in our personal lives - to read news, order pizzas, communicate with friends, and everything in between. But increasingly, people are using same smartphones for business interactions. Customers want – and expect – to be able to use these devices that they constantly have at their sides to communicate with companies and accomplish key tasks. So, if nearly everyone has a smartphone, are businesses adequately tapping into its capabilities?
The short answer is: There's probably a lot more businesses could be doing to leverage smartphone technology and meet customers' rising expectations. For example, one thing companies can do is implement visual IVR (VIVR). VIVR integrates the visual display of mobile devices with speech-enabled IVRs. Interleaving two interaction modalities richens the customer experience, making service processes more efficient and effective. Though this is a great option for many enterprises, most still don't know how VIVR works. So, let's take a deeper look at what this technology is and why it matters.
What is Visual IVR?
Perhaps one way to think of VIVR is as a cross-channel experience which takes the task of searching a page or filling out a form out of an agent's hands and puts it (literally) into the caller's. One of VIVR's primary features is that it allows for long or complicated tasks, such as browsing recent transactions and then opening a dispute for one, to be collapsed down onto the more user-friendly dimensions of the caller's screen. Another key feature of VIVR is that it allows for the collection or display of long character sequences, such as tracking numbers or email addresses. By allowing these longer and more complex items to be seen on a customer's mobile screen, it allows for a more efficient and effective self-service experience.
How does it work?
At its simplest, a customer calls in and goes through the normal experience of authenticating in the IVR. But instead of automatically ending up in speech or DTMF driven self-service, the customer is offered the opportunity to use their web-enabled smartphone instead. After a quick text message and a click later, the customer is dropped into a mobile webpage - already logged in and with some of their task potentially completed. The customer is then able to take control and guide herself the rest of the way to fulfill her call reason. Of course, the IVR doesn't just abandon the caller, but instead it waits patiently by for either the caller to hang up having gotten what they called for, or re-engage should an issue arise.
What are the benefits of VIVR?
Most notably, customers may be able to self-serve effectively for tasks which are not well-suited to the IVR. Additionally, tasks a caller might otherwise perform acceptably in the IVR may be made more efficient and even enjoyable as compared to their speech-only IVR counterparts. Finally, once on the mobile site, customers may be more easily opted into potentially installing the company's mobile app or selecting additional services or features to add to their account. The net result of this may not only be less reliance on reaching an agent for support, but customers may be more willing to play along in the IVR with future contact or even seek out support through other channels before even picking up the phone.
Smartphones have become an integral part of our daily lives. Why not tap into its capabilities?
Source: http://whatsnext.nuance.com/customer-experience/visual-ivr-enhances-self-service/
Publish Date: March 9, 2017 5:00 AM
---
One of the perks of partnering with leading enterprises is that when they win, we win. (When we win, they win, too!) Last Friday at The 2017 Stevie® Awards for Sales and Customer Service held in Las Vegas, Nuance was recognized alongside several of our customers for innovation and excellence, and we're still basking in the glow of such an honor!
These are the eight awards we received with our customers:
Nuance Nina - Gold Stevie Award Winner for Customer Service Solutions Technology Partner of the Year. Nina is an intelligent multichannel virtual assistant that delivers personalized, effortless customer service through a conversational interface.
Nuance Conversational IVR & the City of Dallas - Silver Stevie Award for Innovation in Customer Service, Other Service Industries. The City of Dallas, in partnership with Nuance, launched a conversational interactive voice response system with natural language understanding to enable customers to get information more quickly and easily – all through a natural dialogue.
Nuance Live Chat & Esurance - Silver Stevie Award for Customer Service Success, Financial Service Industries. To modernize its online customer engagement, Esurance partnered with Nuance (TouchCommerce at the time) to create a professional, friendly and efficient chat experience.
Nuance Voice Biometrics & TalkTalk - Silver Stevie Award for Innovation in Customer Service, Telecommunications Industries. TalkTalk is now the first telecom company in the UK to tap into voice biometrics to provide a more seamless and secure path for customers to gain service and support.
Nuance Nina & USAA - Silver Stevie Award for Innovation in Customer Service, Financial Service Industries. Implementing an artificially intelligent virtual assistant allowed USAA to provide immediate online support and answers to members' most critical needs.
Nuance Transcription Engine - Silver Stevie Award for New Contact Center Solution. Nuance Transcription Engine automatically transcribes multi-speaker audio data with the highest accuracy in the industry and turns pre-recorded or live audio streams into actionable data that can be used for a host of new applications.
Nuance Nina & Swedbank - Bronze Stevie Award for Best Use of Technology in Customer Service. The multichannel, conversational interface offered by Nuance Nina helped Swedbank improve the customer experience for consumers and agents alike, including a 78% first-contact resolution within the first three months.
Nuance Transcription Engine & Oi - Bronze Stevie Award for Innovation in Customer Service, Telecommunications Industries. Oi worked with Nuance to use speech recognition and transcription services that leverage artificial intelligence to better understand customer needs and preferences.
The American Business Award is known as the "Stevie", which was taken from the name Stephen, derived from the Greek for "crowned". Thus, Nina has been crowned Customer Service Solutions Technology Partner of the Year!
We're extremely proud of our other recognitions and the customers who made Nuance shine as a leader out of more than 2,300 companies nominated for the awards. It just goes to show that hard work, inspiration and reaching above and beyond is the formula to success. We don't need a "crown" to prove that, but it sure does feel good wearing it!
To read more about the Stevies we received, find our press release here.
Source: http://whatsnext.nuance.com/customer-experience/nuance-wins-2017-stevie-awards/
Publish Date: March 1, 2017 5:00 AM
---
There is no substitute for experience when it comes to learning best practices, especially in an area of innovation like intelligent virtual assistants. For new technologies, trial and error is often the only way to figure out what works and what doesn't.
A partner with experience deploying enterprise virtual assistants can help shortcut the process by applying lessons learned across various industries. Recently named the top-rated enterprise intelligent assistant vendor by Opus Research, Nuance has had the privilege of guiding many Fortune 500 clients to success. Here are five things we've learned along the way:
Know the customer
An intelligent virtual assistant is most effective when it customizes the interaction based on prior touch points in the customer journey. The key is bringing customer touch point and profile data together across channels – retail, website, app, messaging, social, and phone. With the underlying data, business rules and predictive models can determine when to proactively engage, which agent should be offered (either virtual assistant or live chat agent), and personalize the conversation to each customer. To be successful, businesses must be able to identify the customer as they move from channel to channel, which will depend on a combination of web tags, interaction logs, integration to back-end systems and biometrics-based authentication.
Deploy across channels
A highly functional virtual assistant requires investment in natural language understanding, dialog design, and integration to transactional systems. But once the design legwork is complete, this intelligence can (and should) be leveraged across channels. Designing and optimizing virtual assistants built in different frameworks – one per channel –- is not an option. It simply costs too much and it's nearly impossible to provide a consistent experience given the varying capabilities of each channel-specific bot. Deploying a virtual assistant across channels increases efficiency, consistency, and customer satisfaction.
Integrate the experience
Some client interactions warrant a human touch, so virtual assistants must seamlessly transfer to live agents when needed. Seamless integration means that the same chat window is used across virtual assistant and live chat agent conversations, and that the full context of the conversation is passed to the live agent, which lowers average handle times. Integration to live chat is a great option because it keeps the customer in the digital channel, where costs are lower and features like co-browse are available to improve the experience. Additionally, relaying context is equally important if the customer transitions from digital to voice. Knowledge of interactions in the digital channel can be used to anticipate intent and streamline the experience of dialing into the call center. Future investments in WebRTC will further integrate the experience by keeping the caller in the digital channel as they interact with a live agent over voice.
Measure KPIs and ROI
It may seem like a no-brainer, but measuring the right KPIs is key to the long-term success of a virtual assistant. Whether it's driving conversion, average order size, transaction completion, or deflection from higher cost channels, virtual agent interactions must be measured in terms of how they affect these desired outcomes. To determine success, businesses should track what happened after the interaction with the virtual assistant, and conduct A|B testing to measure "what if" scenarios. With this kind of measurement rigor in place, it becomes possible to demonstrate the positive return on investment that can sustain a virtual assistant over time.
Optimize and expand
In the end, the most important thing to do is learn from actual interactions with your customers. What works and what doesn't is often different from business to business, so optimizing performance after launch is critical. Conversation data should drive machine learning loops that enhance the virtual assistant's natural language understanding. Meanwhile, cross-channel analytics are useful for identifying opportunities to improve effectiveness. Finding the right solution, in turn, often requires A|B testing capabilities to play out various hypotheses. At other times, the solution may be to expand the areas in which the virtual assistant is trained. Either way, it's an iterative process, and continued investment in optimizing the intelligent assistant is what separates success from failure.
With these best practices in mind, your businesses will be operating a successful virtual assistant in no time.
Source: http://whatsnext.nuance.com/customer-experience/best-practices-for-virtual-assistants/
Publish Date: February 28, 2017 5:00 AM
---
When customer expectations change, so do their preferences in how they interact with businesses.
The call center has traditionally been the main hub for customers to interact with businesses and it remains a critical channel today. But alongside the ever-popular call center, mobile apps are increasingly becoming a platform in which customers can communicate with companies. And with the mobile app market projected to grow 270% by 2020, a more intuitive and efficient mobile application is more important than ever.
So, what's a business to do when tasked with streamlining the customer experience across multiple (often times disjointed) channels without compromising security? A leading government organization shows us the path forward– by deploying voice biometrics.
Why voice biometrics?
With so many security tools on the market, it can be hard to find a solution which is equally beneficial to the customer and the enterprise. Voice biometrics is different; it allows customers to easily verify their identity without the hassle of remembering complex PINs or passwords. It can be used across a variety of platforms, including the call center and now, mobile applications, and this multi-channel accessibility makes it easier for both customers and companies to achieve their goals.
The Australian Taxation Office (ATO), the Australian government's principal revenue collection agency, chose voice biometrics for both functionalities.
How forgetful are your customers?
Organizations are recognizing growing consumer frustration with PINs, passwords and security questions; in fact, a recent survey indicated that consumers want technology that can verify their identity without using character-reliant solutions. Eighty-eight percent of Americans forget something every week. This forgetfulness is attributed to a growing phenomenon called 'digital amnesia' – the act of using technology to outsource memories.
In the same survey, 62% of respondents reported forgetting their passwords and PINs. Consequentially, 44% of these participants have begun trusting their important PINs and passwords to smart devices. Many of these lapses in memory can stem from the complex requirements surrounding passwords – the flaws in passwords become clear when the vast majority of users forget the very things meant to secure our digital memories.
Not only does this outsourcing create account vulnerability, but also makes remembering passwords a challenging process.
For ATO, multi-channel voice biometrics solved customer frustrations with accessing account information. The implementation provides taxpayers the option of using voice biometrics authentication across its online services through the mobile app, as well as in the call center. Taxpayers no longer need to remember obscure security questions or enter complex usernames and passwords to prove their identity when engaging with the agency.
Beefing up security measures
Not only is voice biometrics incredibly useful for improving the customer experience, but it also increases security. The deployment of voice-powered authentication can help reduce cases of company data breaches and fraud. Sophisticated algorithms analyze more than 100 voice characteristics and can use a caller's voice to validate their identity and protect against hackers. And best of all, individual human voices are as unique as a fingerprint – so they have the enhanced ability to replace passwords, PINs, and security questions.
In the case of ATO, this increased level of security helps keep tax and personal information protected. The organization saw the benefits of using voice biometrics – it consistently delivers a tighter security net and uses voiceprints, which has no value to a hacker. And in previous studies, the technology performed favorably compared to other authentication methods.
ATO experienced the benefits of working with voice biometrics. Not only did it solve direct concerns that the company hoped to address, but it also helped approach wider scoping dilemmas like account security and overall risk management. And in the end, that's a win in our books.
Source: http://whatsnext.nuance.com/customer-experience/elevate-multichannel-customer-experience-with-voice-biometrics/
Publish Date: February 15, 2017 5:00 AM
---
Today is Valentine's Day. Though often associated with boxes of chocolates and grand gestures, it's more importantly a day when we all stop and show appreciation for the loved ones in our lives. From wives and boyfriends to secret admirers and school crushes, Valentine's Day is about celebrating relationships of all kinds.
But companies often forget that they have a relationship with each of their customers. Just as communication and empathy are critical between significant others, those same principles also apply to business relationships. Emotion is becoming an increasingly critical part of the customer experience. A recent Forrester report states, "Customers who experience disgust, anger, or a feeling of neglect during a brand interaction are about eight times more likely not to forgive that company." The feelings consumers have toward a company can directly impact key metrics such as spend and loyalty. It's therefore essential to foster a positive emotional connection between brands and customers.
Easier said than done, right? Wrong! Here are three things your business can be doing right now in order to build emotional bonds and drive deeper customer loyalty.
Leverage artificial intelligence
In order to drive positive emotions, enterprises need to create systems that listen to and understand consumers. People want to feel like they're being heard and that their time is valued, but too often companies put customers through the wringer with frustrating and repetitive processes. Businesses should consider conversational AI that listens to customers and provides personalized, relevant information to complete tasks. Conversational AI captures and predicts the intent of conversations, allowing customers to resolve issues with ease. Additionally, AI systems are intelligent enough to detect when certain cases should be escalated to a live agent, ensuring customers reach the most appropriate channel as quickly as possible. Artificial intelligence makes it easy for customers to get what they need, which leads to an increase in positive emotion.
Provide an omni-channel experience
Customers are using more channels than ever to reach businesses - everything from apps to text messages. But to keep people happy, consistency is key. It doesn't matter if a customer is on a messaging app or calling the IVR, they expect the same experience in every channel and they don't want to repeat information they've previously provided. Omni-channel platforms connect customer service channels, carrying context from previous interactions and saving consumer preferences, which allows customers to seamlessly move from channel to channel. Consumers benefit from fast and effective interactions across all channels, resulting in increased customer satisfaction and loyalty.
Offer self-service options
Whether it's the rise of a "do-it-yourself" mindset or general fatigue of inadequate automated systems, we're seeing a craving for self-service options. When possible, customers want to solve issues on their own. By leveraging virtual assistant technology, businesses can weave in self-service capabilities across channels. Not only does this empower customers to resolve their own problems (thereby increasing customer delight), it reduces operational costs along the way.
Valentine's Day is a chance to get in touch with your emotions. But don't forget to pay attention to customer emotions too. Your business just might thank you for it.
Source: http://whatsnext.nuance.com/customer-experience/power-of-emotion-in-customer-service/
Publish Date: February 14, 2017 5:00 AM
---
Is the Loch Ness monster real? Some say yes, some say it's a myth. Myths don't only exist in the realm of fantastical creatures, but also in the more down-to-earth world of customer service. Let's take a look at five customer service myths that we frequently hear at Nuance and provide a reality check that may offer some clarity for businesses trying to optimize the customer experience.
Myth #1: The fastest way to get customer service support is via social media.
Social media is one way to get customer service, but may not always be the fastest method, as responsiveness will depend on the investment in and staffing of customer service for social media channels by a particular company. If the company has one customer service rep handling all social channels, and 100 reps handling the voice channel, you might expect a faster resolution on the voice channel, don't you think?
Myth #2: Different channels must operate in silos. It's too hard to integrate your customer contact channels.
Handling channels in a siloed manner is exactly what customers do not want! Today an omni-channel approach that seamlessly blends various channels, and maintains context and history as a consumer moves across those channels is key to high resolution rates and positive customer satisfaction and experience. Integrating multiple channels for a seamless consumer experience is one area in which the Nuance professional services team offers immense experience.
Myth #3: There will be no more live agents in the future.
Maybe in a millennium from now when robots have taken over the Earth, there won't be any live agents. However for the foreseeable future, there will continue to be a mix of purely automated self-service and human assisted self-service. For many scenarios, resolution rates are high when using automation for customer service. In other scenarios, like very noisy environments or extremely complex consumer needs, humans will be there to assist the automated environment to bring an issue to resolution. Examples of this at Nuance are our Automation Assist offering for IVR and our technology to enable the Nuance Nina virtual assistant to escalate to live chat agents when appropriate.
Myth #4: Customer service is a cost center and doesn't have the potential to generate revenue.
Really? Do the words cross-sell and up-sell mean nothing? There is absolutely an opportunity through the customer service process to generate revenue. When a customer has a service inquiry, often the resolution can lead to generating more revenue through the recommendation of another or better product that can more effectively meet the consumer's need. Additionally, call center reps can encourage customers to post positive reviews on social media sites, extending company awareness and attracting new customers. With Nuance technology, we can also enable the ability, through analytic algorithms, to determine if a consumer shopping on a company website is ready to purchase, and seamlessly connect that consumer to a live agent to close the deal. Tada! Revenue!
Myth #5: I don't need to invest in customer service technology because my customers don't expect that.
The data suggests otherwise. A national research study by Wakefield Research to 1,000 consumers in North America clearly rejects that myth. It found, in fact, that 81% of the consumers surveyed indicated explicitly that they want and would prefer intelligent technology options for a variety of scenarios. The following chart details the 5 use cases where consumers most frequently want intelligent self-service interactions: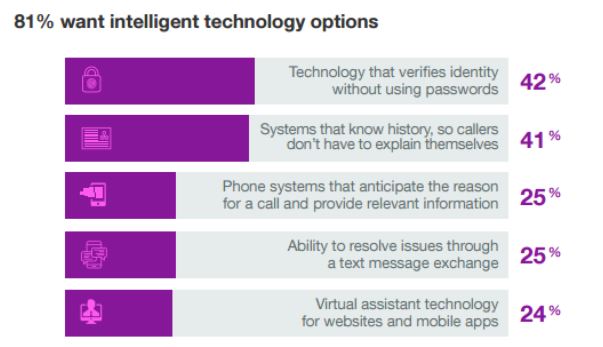 So be sure you're getting the real scoop behind some of the myths that are floating around regarding customer service. Your business success may depend on it!
Source: http://whatsnext.nuance.com/customer-experience/five-myths-about-customer-service/
Publish Date: January 30, 2017 5:00 AM