Nuance - ContactCenterWorld.com Blog Page 5
Page: 1 | 2 | 3 | 4 | 5 | 6 | 7 | 8
It's easy to spoof an IVR experience. When not properly designed, the IVR can be cumbersome and difficult to navigate, and as a result it becomes nothing more than a witty caricature. But what if many of the pre-conceived ideas consumers and businesses have about an IVR are wrong? Today, we'll debunk 5 of these myths and I encourage you to listen carefully as your opinion may be changed.
Myth #1 – Your customers care that your menu options have changed
Far too many times an IVR greets callers with the random command that they, "Listen carefully as our menu options have recently changed." Nobody cares if your company updates your IVR menu. Callers just want the issue resolved fast, and adding this type of unnecessary greeting only adds to their frustration.
The simplest fix is to drop that prompt or, if you want to take your IVR game to the next level, upgrade to a Natural Language Understanding (NLU) solution. It allows callers to be greeted with a more user-friendly prompt such as, "Thanks for calling ABC Company, how can I help you today?" Many companies are adopting this approach, which provides callers with a friendly greeting and allows them to say in their own words what they want to achieve with no need to remember menu options.
Myth #2 – Customers prefer to talk to live agents, even for the simplest transactions
Ever call a friend HOPING to leave a message but instead they actually answer? Sometimes we like to use the phone for convenience and don't actually want to have a conversation. The same is true with the IVR. Just because someone calls your company doesn't necessarily mean they want to talk to an agent.
In fact, many people are surprised to learn that 60-70% of callers who use the IVR would rather NOT talk to a human. Instead, they want to self-serve using an automated system, which satisfies customers and helps businesses. For example, the city of New York recognized there was a problem with its 311 system as call volumes rose and the call center couldn't keep up with demand. By putting in an IVR with NLU, the city of New York increased call containment rates while increasing call center capability for those callers requiring an agent. Investing in the right IVR automation yields a win/win all around.
Myth #3 – Speech recognition systems never understand
"Did you say 'Key Largo'?"
"No Chicago!"
We've all experienced the frustration of the IVR not recognizing our entry. It's annoying and fuels the myth that speech recognition doesn't work – but nothing can be further from the truth.
Today's modern IVRs utilize advanced speech recognition engines with accuracy rates at 95% or higher. Nuance's flagship automatic speech recognition product, Nuance Recognizer, has been a market leader for more than 15 years and supports more than 86 languages and dialects. Consider how FedEx implemented a natural language based IVR that accommodates both English and French speaking callers on one platform to deliver improved results.
Myth #4 – IVRs can't handle detailed information or complex queries
There is a wonderful scene in the movie Forrest Gump when young Forrest is being chased by bullies and trying hard to move fast despite the braces on his legs slowing him down. After much tension and pushing he finally breaks free of the braces and runs hard and fast – and alters the course of his destiny. Today's IVRs are that faster, unshackled Forrest, capable of so much more. They just haven't broken free of past behavior and unlocked their full potential.
An IVR you call today with NLU can handle and transact long, complex sentences with multiple pieces of information. Yet most people only speak in short bursts of 4-5 words or less. Why? Because we've been conditioned that way and haven't pushed the IVR to the next level. We have been trained all our lives to speak slowly into the IVR so it could recognize our intent. And many menus asked us to only say one word e.g. "Press 1 or say 'Sales.'" We simply haven't even considered saying much more.
That is changing. With the advent of powerful voice assistants, each of us is getting better at engaging voice recognition engines and asking more complex questions. And as more companies adopt NLU-based IVRs, customers will see increased benefits from their engagements and have a deeper, richer interaction that unlocks the IVR's full potential.
Myth #5 – The fastest way to resolve an issue is to "zero out" to a live agent
It's okay to admit it – we all get frustrated sometimes when the IVR greeting kicks in and begins to outline all the possible choices and menus. We just want to talk to a real person because we think they can help us much faster. But they can't always.
Modern, conversational IVRs that allow customers to simply ask for what they need have been shown to deliver results faster and increase customer satisfaction. For example, Delta wanted to minimize customer frustration with their IVR and encourage self-service. They also needed to stay ahead of other airlines in a competitive industry. After introducing an IVR powered with natural language understanding, Delta saw opt-out rates at the main menu drop from 37% of callers down to just 9%. Customers preferred to use the IVR instead of asking for an agent. The right improvements to your IVR can help customers appreciate the convenience of self-service.
Five myths engaged and five myths dispelled (hopefully!). Modern, conversational IVRs are in practice today at leading companies and can do much more than we give them credit for. Help your company unlock their full IVR potential and you may find that your customer's opinion will be changed.
Source: http://whatsnext.nuance.com/customer-experience/five-myths-about-conversational-ivr/
Publish Date: November 29, 2016 5:00 AM
---
The holiday season is upon us – and for many consumers, that means extra helpings of food, conviviality, and…shopping. Black Friday used to be the biggest retail day of the year, when consumers would line up outside storefronts in the middle of the night to be first in line for the newest TV set or Apple iPhone. But in today's age of the always-on, always-connected consumer, online is taking over. We kicked off this year's holiday shopping season with Singles' Day, which began in China as an e-commerce offshoot of Valentine's Day and this year drove almost $20 billion in goods purchased online in a single day. And the shopping bonanza that is Cyber Monday is less than a week away.
Retail sales for the holiday season have risen steadily since 2008, and that trend is only expected to continue this year: According to the National Retail Federation (NRF), sales are projected to reach $655.8 billion. The majority of these shoppers will be purchasing online, instead of in stores. And according to Adobe Digital Insights' 2016 Holiday Shopping Predictions, for the first time ever, mobile devices are expected to eclipse desktop in digital browsing. However, since desktop conversion rates are still nearly three times those of smartphones, this poses a challenge for retailers in converting mobile prospects into purchasing customers. How can they seal the deal when 76 percent of shoppers change their mind about which brand to purchase as a result of a Google mobile search?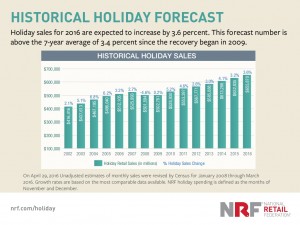 Consumers have little patience for hard-to-navigate websites
Across the globe, consumers have very little patience for websites that require them to invest more than a modicum of time and energy. They are quick to move on from websites that frustrate them – 94% report turning to third-party search engines such as Google, Yahoo!, or Bing to help them find answers. And they'll only give a company website an average of 70 seconds to find information before going elsewhere. As an added challenge for mobile shoppers, mobile websites are often inferior in quality to their corresponding desktop versions, opening up the potential for prospects to move to a competitor's site and take their business with them.
In the ultimate determination of where to make their holiday purchases, website usability is a key factor for consumers. And the stakes are high: Sixty-three percent of global consumers will stop doing business with a company whose website is difficult to use.
Using a virtual assistant can increase sales
With the rise of digital channels, consumers expect service and access to information 24/7. The need to meet the expectations of today's digitally savvy consumers is driving retailers to evolve their online experience. An innovative and cost-effective way to provide a continuous presence, responsive customer care, and a personalized interaction is to embrace self-service solutions such as virtual assistants. Deploying a virtual assistant enables enterprises to offer a faster, more effective online experience by answering questions, providing content, and guiding their customers through transactions. In the case of retailers, a virtual assistant can walk prospects through the mobile and desktop purchasing process, thereby minimizing customer frustration and creating an experience that will both increase holiday revenue and foster enduring customer relationships.
If you're interested in increasing your sales potential this holiday season – and in delivering a customer experience that encourages sustained brand loyalty well beyond it – contact us to learn more about how to deploy a virtual assistant on your desktop or mobile website.
Source: http://whatsnext.nuance.com/customer-experience/virtual-assistants-drive-increased-holiday-retail-sales/
Publish Date: November 23, 2016 5:00 AM
---
Expectations of virtual assistants can be unrealistic, as they are often shaped by the make-believe world we see in science fiction movies (think Blade Runner and The Terminator). As a result, we often seek fictional virtual assistants that can reason and sense emotion and understand our questions and be good listeners and solve our problems. But when it comes to judging a virtual assistant solution, what do you really need to get the job done? What is fact and what is myth about this technology? We're here to help you dispel 5 myths and mysteries surrounding intelligent virtual assistants.
Myth #1: Virtual assistants need an avatar
Intelligent responses? Yes. Personalized interaction? Check. But a virtual assistant doesn't have to have an avatar. Many of our most effective virtual assistants are embedded into website menus, search boxes, and mobile in-app "buttons" that enable voice or text interaction where you need it and when you need it. Avatars are "nice to have's", not must-haves. But if you do include an avatar, make sure they aren't a photograph of an actual human being. Research indicates that we still want to know – without a doubt – when we are talking with a machine.
Myth #2: Virtual assistants don't provide enough privacy or security for my personal information
Using a virtual assistant does not mean forfeiting your privacy or security. According to contact center usage research, 55 percent of consumers prefer automated self-service. In separate findings, 1 in 5 millennials seeks self-service checkout to a cashier. And regardless of age group, one of the most popular reasons for wanting automated self-service is to keep transactions and financial information private. So it's easy to see why 89% of consumers want to engage in conversation with virtual assistants to quickly find information instead of searching through Web pages or a mobile app on their own. However, it's still important for businesses to ensure the virtual assistant vendor they select meets the Payment Card Industry Data Security Standard (PCI DDS), to better protect sensitive consumer information.
Myth #3: Virtual assistants only work on a website
Customers engage with businesses on multiple channels, many averaging three or more during their customer journeys, according to research from Ovum. These channels increasingly include text/SMS, email, and messaging apps like Facebook Messenger – to name just a few. Deploying a digital virtual assistant on one or more of these channels can have significant impact on reducing operating costs by containing conversations to lower cost channels and deflecting calls from contact center agents.
Myth #4: Virtual assistants can damage a company brand with unintended responses
Virtual assistants like Nina from Nuance integrate "human supervision" to curate interactions, minimize overhead and maximize value through efficient monitoring of responses. For instance, Nina uses machine learning to automatically group and categorize questions, map them to possible answers, and then allow a person to quickly verify or update these groupings. Nina also provides the capability to transfer to an agent during the conversation without losing context, and can track all customer interactions so agents can intervene when necessary.
Myth #5: Virtual assistants can only handle simple interactions
That depends on the virtual assistant. Many can take single questions and effectively provide resolutions – like "get me an Uber." But the real complexity lies in a virtual assistant's ability to authenticate your identity, engage in multi-slot conversations (interactions that collect multiple pieces of related information for the purpose of accomplishing a specific goal or learning about a topic quickly and easily) and provide you with personalized information such as money transfers and healthcare records. Nina integrates with Nuance's Voice Biometrics capabilities to authenticate users by their voice and supports multi-slot conversational dialogs so that you can say "I want to transfer $500 to my son's bank account" and magically, it happens.
These advanced capabilities aren't science fiction. This kind of intelligent virtual assistant technology is in-market and working for companies worldwide as we speak. To learn more about virtual assistants and how your business can benefit from implementing this technology, check out our website for more details.
Source: http://whatsnext.nuance.com/customer-experience/five-myths-about-virtual-assistants/
Publish Date: November 14, 2016 5:00 AM
---
All businesses love their customers. Customers are what make a business run and when they have issues they will pick up the phone and engage. But sometimes companies can better help their customers – and themselves – by proactively reaching out to them before they need to call the contact center. The business gets to reduce their costs and the customer doesn't have to deal with a channel many people find frustrating.
The goal for any IVR is to effectively resolve the customer's issue the first time they call. But contrary to what many may think, the surest way to improve call center metrics may be to ensure your customers don't need to call in the first place. There are myriad reasons people call that could be avoided if a company simply engages the customer before the need to call arises – paying bills, changing or confirming appointments, or reordering prescriptions to name a few. Routine issues like these need never turn into a customer problem – or a number in your contact center queue – if companies simply help customers remember.
Proactively reaching out and reminding customers of upcoming deadlines or medicine to be picked up is not only good for your business costs – it's what customers want. A study by Wakefield Research found that 90% of consumers are more likely to do business with a company that reminds them versus one that does not.
Fix-it Initiative #4 – Reduce call volumes with proactive engagement
Adding proactive engagement to your customer service strategy makes sense. Start by thinking through what types of issues you can help your customers with in advance. The most popular issues include late payment fees, interruption of service, bank overdraft, or healthcare related problems. These are negative topics where the customer will feel some pain if they don't act. But businesses can offer positive engagements that will delight customers. As a real life example, my bank texted asking me to review recent purchases they considered suspicious. I handled the whole thing with a short text reply and without any need to call my bank and interrupt my time with family. Which provided great joy and yes, love, for my bank.
Reducing the need for inbound calls is always good as it allows agents more time to assist callers with more complex needs. And if someone calls after receiving a proactive message, imagine how much happier they will be, not to mention the improved odds of having their issue addressed the first time.
Picking the right channels
With so many ways to reach customers, companies must create an optimized, multi-channel approach that meets customers' unique preferences. Below is a quick breakdown of the communications consumers want – versus what they believe they get today.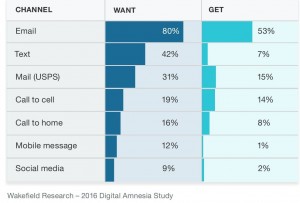 Incredibly, in our digital age, there is almost a third of people who still want a traditional letter! Clearly there is a big gap to be filled by companies seeking to offer world class customer service.
In developing any proactive engagement strategy companies must build solutions that meet 4 criteria:

Building your IVR strategy in partnership with an integrated, orchestrated outbound communications channel creates a synergy and delivers an improved customer experience. And yes, it's possible your customers might not call you anymore. But they'll love you even more because of it.
Source: http://whatsnext.nuance.com/customer-experience/improve-first-call-resolution-with-proactive-engagement/
Publish Date: November 9, 2016 5:00 AM
---
Working with AT&T and a large crowd of developers offered a view into the future of intelligent connected devices. Given that 50% of consumers say they plan to buy at least one Internet of Things product during the year, we can expect even more to come. Our involvement at this most recent hackathon in LA has prepared us for what those smart things might look like.
Vying for the "Best Use of Nuance Technology" prize, we saw a collaborative storytelling app, voice activated multi-rotor drones, interactive event maps, and a plethora of other exciting and innovative ideas. The completed projects we saw offered us a vision into the types of solutions that could be ubiquitous in the days to come.
The winner of our speech themed challenge, called 'You Are Here,' built an augmented virtual map for users to locate themselves and each other in real-time at events. The target use-case for this app includes large festivals and events such as SXSW, CES, and the like. Put simply, it's an interactive point-of-interest (POI) map that can provide best routes within an events space and even surface information about accessibility for an extended audience.
AT&T Mobile App Hackathon – Best Use of Nuance Technology Winner: 'You Are Here'
For the actual development of the app, the team used Unity to create a virtual map and some integrated plug-ins for external elements. Location information was based on device location services, while iBeacon listener was used to trigger events.
Even though the hackathon may have ended, the team plans on continuing to improve their creation with additional POI options, improved location sharing and an enhanced general framework. You can watch the team's full submission video here.
Though we are used to the concept of maps guiding us from place to place, the value of an app that can connect people more easily and convey location as well as security and accessibility information about an events venue is just a small taste of how much room there is to grow in the world of smart things.
In fact, with an estimated annual compound growth rate of 33% from now until 2021, we can expect to see a ton of development within the Internet of Things space. As more inputs are tracked and information is more readily available, it's easy to see how we are moving towards a world in which people, things and places are more connected and perhaps, closer than ever.
We're excited to continue to see what innovative solutions hackathon participants can put together and will take part in AT&T Hackathons in Atlanta and New York next month. Come hang out with us and take your shot at speech enabling an app of your own for a chance to win money and prizes! You can register for all of AT&T's upcoming events here.
Stay informed about our events and hackathon presence by following us on Twitter @NuanceDev and subscribing to the What's Next blog.
Source: http://whatsnext.nuance.com/developers/nuance-att-hackathon-creates-internet-of-things-apps/
Publish Date: November 7, 2016 5:00 AM
---
The latest Opus Research census on voice biometrics finds that the industry is expected to have more than 1 billion enrollments by 2020! Leading global organizations are kicking PINs and passwords to the curb at an accelerated pace — enabling customers to use the simple power of their voice for speedy, secure authentication across all channels (IVR, mobile, web) with biometric technologies that elevate the entire customer experience.
Is your organization fully leveraging the value of voice biometrics?
There are five major trends driving the increased adoption of voice biometrics – especially for telecommunications and financial institutions. Voice biometrics has been implemented in many contact centers due to the cost-savings businesses see as a result of shortened time to authenticate callers and increased customer satisfaction and loyalty.
While reducing costs and improving the customer experience are important, organizations also need to manage risk, fraud, security, and privacy in the wake of ever-increasing cyber-attacks and data breaches. All these factors have helped to advance the widespread adoption and state of voice biometrics technology.
Join us November 15 to hear more from Dan Miller of Opus Research and me on "5 Trends Fueling the Adoption of Biometrics Authentication in the Contact Center & Beyond" and learn:
Why voice biometrics is now essential for detecting and fighting fraud in the contact center—in addition to improving customer experience and reducing costs
How forward-thinking organizations are using voice alongside other biometric modalities – including facial and behavioral – in contact center and digital channels
New ways to satisfy customers with friction-free, omni-channel authentication
Whether you've already adopted some form of biometrics or are still using PINs and passwords, this is a webinar you can't afford to miss.
Source: http://whatsnext.nuance.com/customer-experience/trends-fueling-contact-center-voice-biometrics-adoption/
Publish Date: November 4, 2016 5:00 AM
---
Are you interested in, or planning to launch, a voice biometric solution within your enterprise? You're not alone – as businesses are increasingly realizing how this solution benefits both customers and agents. But it's important to keep in mind that deploying a successful voice biometric application isn't just about the technology. It's about planning ahead and educating your end users. Here are three important strategies to effectively deploy voice biometrics.
#1 – Communication strategy
A successful deployment requires upfront communication. Communicating the benefits of using voice biometrics will help increase the enrollment rate and create enthusiasm around the new service. During this process, explain the technology in easy-to-understand terms – inform users that biometrics allow people to use their voice to identify themselves. Additionally, be sure to highlight the key benefits, such as quick and secure authentication, and never having to remember a PIN, password or answer security questions ever again.
In addition to communicating with customers, businesses must also communicate to agents how deploying voice biometrics will affect them. Agents need to be prepared to help customers with questions. I'd recommend providing an FAQ document with pre-written answers so that quick, informative responses can be given. Agent training should be given approximately 1-3 months prior to system launch.
#2 – Enrollment strategy
Getting as many customers as possible to enroll is the key to a successful deployment. Generally, callers are most receptive to offers after the issue motivating their call has been resolved. However, with voice biometrics, the most effective time to pitch enrollment is immediately after authenticating the caller. This way, the offer can be positioned as helping the caller avoid the troublesome authentication process in the future. When offering enrollment, lead with the convenience benefit – specifically time savings. Let users know they can use their unique voiceprint to get information more quickly. Additionally, reinforce the idea that voice biometrics offers enhanced security – but do so without casting current approaches in a negative light.
Agents have a significant impact on the enrollment process as well. Since enrollment requires multiple steps, they should be trained on the overall process – including what happens after the call – so they can set customer expectations and maximize completion. For many customers, this will be their first exposure to voice biometrics, so agents should be prepared to address common questions.
#3 – Customer experience strategy
Understanding the challenges presented by traditional authentication methods will help determine whether you will deploy voice biometrics in the IVR, call center or both. Regardless of where the application is deployed, the customer's experience should be streamlined and consistent.
Voice biometrics can differentiate your business by making the authentication experience natural and effortless. 49 percent of customers say authentication is time-consuming. Voice biometrics improves the customer experience by making authentication quick and easy. Additionally, this technology offers the added benefit of heightened security, as each person's voice is unique. However, if any failures or missteps do occur, handle them gracefully with informative prompting and fall-back strategies.
By tapping into the power of voice biometrics, enterprises offer simplified and secure experience for customers, while saving agents valuable time and resources. And by following these simple strategies, your voice biometric deployment will off the ground in no time!
Source: http://whatsnext.nuance.com/customer-experience/getting-started-voice-biometrics/
Publish Date: October 20, 2016 5:00 AM
---
According to the International Data Corporation (IDC), the U.S. mobile workforce is expected to surpass 105 million employees by the year 2020, accounting for nearly two-thirds of the total U.S. workforce. What's driving this rapid growth of remote employees? For starters, smartphones and tablets have become unilaterally affordable as companies have grown comfortable with bring your own device (BYOD) programs. Additionally, wireless networks have made it easy for employees to telecommute from virtually anywhere, and provide increased flexibility to companies with large percentages of employees operating in the field, such as insurance adjusters, home care nurses, remote service associates and many more.
At the same time, exciting new technology is bringing innovation to the mobile efficiency of employees, including biometric readers, wearables, voice apps and even virtual reality. But mobility isn't just increasing productivity and enhancing communications, it's also changing business workflows.
The need for mobile capture solutions
While an overwhelming number of companies and employees agree that remote work increases productivity and drives higher efficiency thanks to convenience and fewer distractions, it also creates challenges when it comes to business process requirements. Remote employees may be enjoying the benefits of mobile efficiency, but their counterparts in finance may be struggling to get critical business information in a timely fashion. For example, expense reports, time sheets and performance data are often too slow to be delivered when needed.
The key is to identify those gaps in efficiency and address them with intuitive mobile solutions. Here are some real-world examples of business processes that can become disconnected in the field:
Remote employees who must submit time sheets and expenses for reimbursement are sometimes forced to mail them in, delaying payment and financial reporting.
Logistics companies that face time-consuming, error-prone data-entry processes and constant delays in accessing critical information.
Medical associates operating in the field who need to receive approval signatures or patient records "on the go" in order to provide life saving procedures under pressure.
Data captured in a remote environment that needs to be shared quickly with the home office in order to process a customer's request in real time, such as information related to insurance claims.
Field sales representatives who need to quickly enter purchase orders into office-based systems using their smartphone or other mobile device.
Complete mobile solutions for a completely mobile workforce
Mobile capture solutions are one way many companies are bridging these types processes in the field and connecting them with existing workflows. Recognizing that mobile devices have become business-critical tools, the right applications can enable workers to capture huge amounts of information on their smartphones and tablets and securely deliver that information back into the company's business processes. They can also use mobile solutions to improve the way they manage their workforce, which also helps contribute to increased productivity, visibility and efficiency.
Whether it's photos, eSignatures and eForms or files from mobile or cloud-based applications, any information can be easily – and securely – printed or integrated into any workflow, critical to improving productivity and saving valuable time and costs. For example, Nuance customers, TGI Office Automation and Bettenwelt GmbH & Co., were both able to increase mobile workers' productivity with the ability to capture critical information on the go.
For these organizations, mobile capture solutions helped drive information accuracy and access while integrating with existing workflows, transforming mobile processes into a new – and sustainable – competitive advantage.
Source: http://whatsnext.nuance.com/office-productivity/mobile-capture-solutions/
Publish Date: October 13, 2016 5:00 AM
---
Do you call a company first when you have a question? Probably not. I know I don't. A company's website is the first place many of us head to when we have a question. This makes sense as research shows that people want self-service that allows them to get answers with minimal hassle. We like to do it ourselves! As such, the IVR is no longer the stand-alone channel for customer service nor the default source of help.
While this shift may seem like good news for the IVR and call reduction, that's not always the case. Many consumers can't find what they need on the web despite stacks and stacks of information. And when they can't find the information they seek, they turn to the contact center. To counter this, and in order to provide the best overall customer service experience, it's imperative companies align service channels and ensure their websites complement the IVR.
Fix-it Initiative #3 – Optimize your multi-channel customer experience
When customers call the contact center after not being able to find what they want on the website they are likely to be agitated and frustrated. By enabling customers to help themselves online, companies can reduce call volumes in the contact center and improve chances for first call resolution – while making customers happier and allowing agents more time with customers who truly need it.
Introducing a new way to improve web self-service
There are many initiatives designed to improve the web experience, from improving site design and search capabilities to adding a web chat feature. But the modern, future-forward approach is to utilize a virtual assistant. You've seen them pop up on various websites. Intelligent virtual assistants are accurate, fast, and help to streamline the customer experience not only online, but also when customers need to speak with a live agent either via chat or by phone. The best virtual assistants deliver on three fronts: Speed, Accuracy, and Containment.
Speed – Customers can ask the virtual assistant anything, saving consumers time hunting through the website for information.
Accuracy – Due to advances in natural language understanding, today's virtual assistants understand what the person is looking for and can deliver the same level of fast service as a live agent.
Containment – Great virtual assistants solve customer issues and keep them out of the call center, freeing up agent time to focus on harder-to-solve calls.
One Nuance customer, Windstream Communications, implemented a virtual assistant on their website and saw benefits extend to their call center and agents: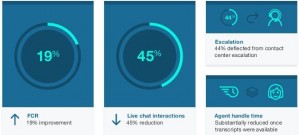 Adding virtual assistants greatly improves the customer experience and helps consumers either refine their question or avoid calling all together – both of which drive increases in first call resolution success. Companies that seize this and take a holistic approach to their customer service channels, like Windstream, can drive synergies with their IVR and see benefits they didn't expect. Stay tuned for the final first call resolution initiative in coming weeks!
Source: http://whatsnext.nuance.com/customer-experience/leverage-virtual-assistants-to-improve-call-success/
Publish Date: October 4, 2016 5:00 AM
---
Recently, I attended Opus Research's Intelligent Authentication conference to talk with other industry experts and learn more about how multi-modal biometrics and seamless identity & verification strategies can provide secure, personalized services for companies around the world. The conference was littered with real-world case studies about how intelligent authentication can build customer loyalty and create an engaging brand experience.
It was interesting to hear how the market is shaping and expanding – and two presentations in particular stood out as they identified not just benefits, but realities of true full scale releases of biometrics solutions.
Using voice biometrics instead of PINs and passwords is not only 80% faster for authentication, but is also far more secure than other authentication methods. Nuance Director of Product Strategy, Brett Beranek gave a presentation on implementing intelligent authentication solutions, such as voice biometrics. My colleague gave an overarching view of the verification landscape – Nuance alone has more than 117 million voiceprints in use by customers and has seen more than three billion verifications worldwide. Brett talked about some strong implementations with companies such as Barclays and Banco Santander, which helped decrease average handle time, increase customer satisfaction – and agent satisfaction – rates, increase containment, and decrease fraud.
But Brett was also very candid about some common pitfalls companies see when adopting intelligent authentication solutions and best practices for how to combat them:
Ensure everyone is aligned. With any rollout, it is important to make sure all teams involved are on the same page in terms of what the goal is, the reason for adoption, and the metrics that will be used to measure its success. This is even more true when deploying a voice biometrics solution, since its implementation touches everyone involved in the customer experience. It is essential that all participants are in alignment with the main goals and see how their part fits into the whole picture. Sarah Bramwell, head of IVR and telephony at TalkTalk, also gave an information presentation on how all those teams and pieces come together to create an effective and efficient customer experience.
Everyone includes the fraud team. One of the fundamental tradeoffs in customer service is between security and convenience. For example, making something as secure as possible often means adding additional steps for access, which puts barriers in front of the customer and can cause a decrease in customer satisfaction and retention. But when the fraud team isn't included from the beginning (which happens often as they aren't part of the traditional contact center team), they need to add the security component at the end, which can cause for added complexity for the customers, and even potentially throw a wrench into implementations.
Educate your team, as well as your customers. Most companies know that they need to let customers know when new offerings and tools are available for their use, such as voice biometrics for authentication. But the same is true for employees as well. Companies need to set their implementations up for success by educating customer service agents about new tools so they can better serve customers who call in, and make sure the process is as seamless and easy as possible.
Voice biometrics solutions provide increased security and a better user experience, but companies need to make sure they are supporting technology with integrated and collaborative teams. Looking for other implementation lessons and trends facing the voice biometrics industry? Maybe we'll see you – and your full customer service team – at next year's event in September 2017.
Source: http://whatsnext.nuance.com/customer-experience/voice-biometrics-lessons-from-opus-intelligent-authentication-2016/
Publish Date: September 23, 2016 5:00 AM
---
Ever since the Federal Financial Institutions Examination Council (FFIEC) issued their guidance on "Authentication in an Electronic Banking Environment" in 2001, using two distinct identity factors to secure on-line transactions has been a best practice. One of the most popular two-factor authentication methods is to require a customer to enter a one-time PIN that the company sends to the customers' mobile phone via SMS – or text messaging. Recently, the National Institute of Standards and Technology (NIST) released a preview of its draft guidance on digital authentication that says companies should begin reducing their use of SMS in this manner due to the increasing security threats posed by use of the channel. This raises the question of what alternatives are available to provide that critical second factor of authentication.
NIST is responsible for developing information security standards and guidelines, but rarely weigh in on electronic communication practices for businesses. The guidelines are in a public discussion phase expected to end Sept. 17, and it will likely be early 2018 before they complete the government's comment and approval process. To help us better understand what the recommendations are, why they matter, and what some alternative options such would be, I spoke with a security expert here at Nuance.
Advait Deshpande, CISSP, is a senior product manager in our Biometrics division and has more than 20 years of experience working with companies in financial services, insurance, healthcare, government, and other security-minded industries to ensure security best practices are being implemented.
First, the NIST guidelines are long and somewhat convoluted. Can you explain what NIST actually announced?
The new guidelines announced by NIST propose deprecation, and not discontinuation of using SMS as a second factor of authentication. Deprecation means it can be used (for now) but it is on its way out. As remote attack exploits on redirecting or intercepting SMS messages increase, the efficacy of using SMS to deliver a one-time PIN or password will decrease and will have to be phased out, as it is lacking the level of security needed to protect organizations' and customers' information.
Right now, the NIST guidelines are in the public comment phase. This is where they invite input and critical review on the proposed standards from individuals and organizations alike. It will be a little while before the standards are finalized, published by NIST and subsequently adopted by government agencies. I expect the private sector to follow suit thereafter.
What's wrong with using SMS for verification?
Over the last few years, fraudsters have gotten very sophisticated in spoofing caller IDs and faking SMS messages. It has become easy for hackers to intercept these randomly generated codes if the phone is connected to a voice over IP (VoIP) service or something similar. The codes can also be stolen by Android malware on infected devices, making SMS two factor authentication a risky proposition.
NIST states:
"Due to the risk that SMS messages may be intercepted or redirected, implementers of new systems should carefully consider alternative authenticators. If the out of band verification is to be made using a SMS message on a public mobile telephone network, the verifier shall verify that the pre-registered telephone number being used is actually associated with a mobile network and not with a VoIP (or other software-based) service. It then sends the SMS message to the pre-registered telephone number. Changing the pre-registered telephone number should not be possible without two-factor authentication at the time of the change. Out of band verification using SMS is deprecated, and may no longer be allowed in future releases of this guidance."
Does that mean that organizations can no longer use SMS for two factor authentication?
No, most companies can and will continue to use SMS for two factor authentications for two reasons. First, while using SMS to deliver a second factor of authentication is not as secure as it should be, it is still better than a single factor of authentication. Second, enterprises have made significant investments – sometimes millions of dollars as well as time devoted to training teams – in SMS infrastructure, so they can't just throw it all out at once. Companies will slowly start phasing out SMS, so it won't be used as often or for as many purposes, and eventually it will go away. But SMS will still be around for many years to come.
Proactively, enterprises should begin planning to phase out using SMS for authentication and evaluate options to replace it with another stronger factor, like voice biometrics.
NIST doesn't have the power to push regulatory action against companies who don't comply. Does that mean businesses can ignore the recommendation?
While NIST does not have direct regulatory oversight on authentication in the commercial sector, they do have considerable influence (rightfully so) on technology standards. It is very likely that the FFIEC and other regulatory organizations will follow NIST's lead in issuing guidelines deprecating or discontinuing the use of SMS as a secure factor of authentication. And if you don't think NIST has the power to end the use of a technology based on their findings, consider the story of Jess Ritchie and his bogus AD-X2 battery additive.
Is NIST recommending against two factor authentication?
Quite the contrary! NIST reiterates the risk based decision practices and strongly recommends multi-factor authentication that is risk appropriate. In their follow up blog post, NIST even went to the length of clarifying that a two factor authentication (even using SMS to mobile) is better than a single factor of authentication.
What are the ways to do two-factor authentication?
Multi factor authentication is based on using "something you know", "something you have" and/or "something you are" to construct a robust multi factor authentication design. For example:

I'm sure it's not a surprise that I happen to be a big fan of "something you are." This biometric factor has been shown to be less susceptible to traditional attack vectors and vulnerabilities.
Do customers really prefer other forms of authentication?
Customers want to authenticate in a way that's easy and secure – and in whatever form best meets those two needs. In fact, 90% of users actually prefer voice biometrics over SMS or PINs and passwords. And voice biometrics is 80% faster at confirming users' identity – which adds a "wow" factor to the customer experience. Check out what real people had to say when met with a voice biometric-enabled solution.
All forms of biometrics modalities such as fingerprint, voice, face, iris, behavioral etc. can be considered a strong authentication factor. In picking the best authentication factor, it all comes down to an effective risk analysis and value of the asset being protected.
Source: http://whatsnext.nuance.com/customer-experience/nist-guidelines-sms-voice-biometrics/
Publish Date: September 9, 2016 5:00 AM
---
Government plays a critical role in citizens' lives. From transportation to healthcare to public safety, everyday people rely on government agencies for a host of critical issues. Therefore, offering exceptional and timely service isn't an option. It's a must. When people are seeking answers to their questions or are looking to solve a problem, agencies can't afford to provide service that is sub-par. Local, state, and federal governments must consistently find fast, easy and secure ways to provide information and resources across all channels.
But – that's a tall order. Government services are often high stakes and high stress. So how do you provide an effective experience that the public can count on? In 2015, a child and family services agency figured out how. By launching an intuitive speech-enabled Interactive Voice Response system (IVR), they were able to deliver faster, more personalized assistance that met the rising expectations of citizens.
The challenge
Like so many government agencies, this child and family services agency was tasked with handling hundreds of calls each day, amounting to nearly three million a year. From inquiring about available services to checking the status of applications and payments, the citizens calling into the IVR were in urgent need. Unfortunately, the agency's legacy IVR system created long wait times and impersonal and confusing IVR menus. Additionally, there were limited self-service capabilities, forcing callers to either wade through a maze of submenus or wait for an agent. To make matters worse, important information provided by callers in the IVR wasn't captured and relayed to the agent, thereby making callers repeat themselves, which quickly drove up call handle times.
A better way
In order to provide high quality service and better meet the needs of families and children, the government agency launched a speech-enabled IVR, allowing callers to use their voice to interact with the system and efficiently navigate to the information they were looking for. The IVR offered the following capabilities to enhance the caller experience:
Natural interaction: The high-quality text-to-speech capability and natural-sounding speech recording encouraged spoken interaction with callers, and recognized both English and Spanish.
Easy authentication: The new IVR offered easy authentication, creating a simpler experience for the caller. The IVR prompted the caller to authenticate themselves by speaking their case number or social security number. The caller ID is also verified against the phone number on record for an additional layer of security, which also enables a more personalized interaction with the system.
Anticipating caller needs: After being authenticated, a unique, predictive menu capability offered personalized menu options and messages based on previous caller records and interactions. The ability to anticipate needs and offer a personalized experience allows the IVR to proactively provide relevant information to the caller, before the caller even has to ask. It additionally helps to contains calls that, in the past, would have required agent intervention.
Inform agents: If the caller opts to interact with an agent at any point, the information they provide to the IVR is then transferred to the agent, eliminating the need for the client to repeat themselves and allowing the agent to efficiently and seamlessly provide support.
Government bodies are responsible for providing critical service and assistance to people, every single day. The demands are high, but with the right tools in place, consistently reliable and impactful service can be ensured. Implementing a new IVR system can reduce costs, allowing agents to be utilized on more complex and rewarding customer interactions, thus empowering government agencies to serve citizens more effectively . This child and family services agency improved the user experience by offering more personalized interactions and increasing the number of self-service options. Additionally, they increased the containment rate and reduced the number of repeat calls. But most importantly, by streamlining the IVR and enhancing its efficiency, it allowed staff to focus on what was most important – providing help to children and families.
Source: http://whatsnext.nuance.com/customer-experience/improve-ivr-in-government-services/
Publish Date: August 24, 2016 5:00 AM
---
Our presence at recent AT&T Developer events has allowed us to offer our technology to a broader range of developers, enabling coders and programmers of all skill-levels to build speech-enabled apps for IoT. Armed with hardware kits consisting of a raspberry pi, LED lights, various connectors and other bits and bytes, hackers accepted the challenge of concocting a new, useful app that utilized speech.
The result was an impressive array of solutions showcasing the importance of voice interaction in the constantly expanding Internet of Things ecosystem. Projects often brought together multiple components including speech recognition, text-to-speech, and natural language understanding. Projects submitted included a speech-enabled self-driving car, a digital assistant, and a number of other thoughtful, creative innovations.
AT&T Shape Hackathon – Best Use of Nuance Technology Winners: TV-Bot
The winner of the "Best Use of Nuance Technology" award at the AT&T Shape Expo showcased a speech-enabled TV that allowed its viewers to use their voice as their remote. See the below diagram for a bit more information on how it actually worked: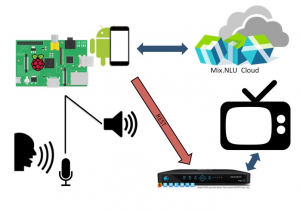 TV-bot is an A.I. bot that integrates Nuance Mix onto a DirecTV set-top box to enable voice control. Watch full video submission here.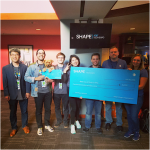 AT&T IoT Hackathon – Best Use of Nuance Technology Winners: Mirror, Mirror
"The basic idea was to hack our mornings spent staring at ourselves by creating a smart mirror." It will be able to feed you customized information – date/time, weather, trending tweets and more. Check out the full video submission here.
A clear takeaway from these hackathons is the desire to make technology more human. Kenn Harper, VP of Mobile Devices & Ecosystems put it best in his previous blog post, Democratization of voice technology and data in the age of IoT, "Natural interfaces like voice and gesture will spur consumer adoption and open up new business opportunities for the creators of all things. " So here's a question for you… what can you create?
Make sure to keep your eyes peeled for our next hackathon or meetup, follow us on Twitter @NuanceDev and subscribe to the What's Next blog to get more details on our event presence.
Source: http://whatsnext.nuance.com/developers/nuance-att-team-hackathons-tackle-next-gen-iot/
Publish Date: August 22, 2016 5:00 AM
---
Everybody is special in how we use language – how we speak, the words we use, etc. In an earlier blog post, we saw how speech recognition systems eliminate this variation by training on speech and language data that cover many accents, age groups, or other variations in speaking style you might think of. This creates very robust systems that work well for (nearly) every speaker; we call this "speaker-independent" speech recognition.
But in some cases, the individuality of the speaker matters and can be leveraged to create even better experiences – like our latest Dragon Individual and Dragon Legal offerings ,that are typically used by one user. This allows us to go beyond speaker-independent speech recognition by adapting to each user in a speaker-dependent way. Dragon does this on several levels:
It adapts to the user's active vocabulary by inspecting texts the user has created in the past, both by adding custom words to its active vocabulary and by learning the typical phrases and text patterns the user employs.
During each session, it does a fast adaptation of its acoustic model (capturing how words are pronounced) based on just a few seconds of speech from the user. By doing this, it can also adapt to how a user's voice sounds in the moment; for instance are they impacted by a cold, using a different microphone or is there a change in environment.
During the optional enrollment step, or later after a dictation session ends, Dragon will do some more intense learning in an offline mode. It continues to adapt models very well over time to a specific user's speaking patterns.
This latter point deserves more attention. Dragon uses Deep Neural Networks end-to-end both at the level of the language model — capturing the frequency of words and in which combinations they typically occur — and of the acoustic model, deciphering the smallest spoken units, or phonemes of a language.
These models are quite large and before they leave our labs, they have already been trained on lots and lots of data. One of the reasons why Neural Networks have taken off only now and not in the late 20th century when they were invented is that training is quite a computing intensive process. We use significant amounts of GPUs (Graphical Processing Unit) to train our models. GPUs were originally invented for computer graphic applications like video games. Computing images and training Deep Neural Networks have a lot in common as both tasks require the application of relatively simple calculations towards lots of data points at the same time, and this is what GPUs are good at. We use multiple GPUs in parallel in one training session to speed up the training process
But how do we apply this outside of our data centers? Adapting those Deep Neural Networks that make up the acoustic model to the speech coming from the user is similar to training them, and we want to make that happen on the user's PC, Mac or laptop – and we want it to be fast. It is a demanding task as we need to make sure adaptation works with just a little data and computationally it is a very efficient process.
Packaging this process in a way that allows the individual to run it on their desktop or laptop is the culmination of many years of innovation in speech recognition and machine learning R&D. Enjoy the result of a highly accurate Dragon experience that is fully personalized to you and your voice.
Source: http://whatsnext.nuance.com/in-the-labs/dragon-deep-learning-speech-recognition/
Publish Date: August 16, 2016 5:00 AM
---
Despite rising customer expectations and shrinking budgets, companies are increasingly expected to deliver great customer experience in the call center. My last post introduced us to first call resolution (FCR), an increasingly popular call center metric, and outlined the cost implications of not getting it right. The rest of this series will outline four proven initiatives to help improve your company's first call resolution rate. Today we're kicking it off with advice on how to improve routing and containment.
But let's take a step back. Do you know your company's FCR rate? The formula to compute FCR is straightforward – divide all the calls that come into the IVR by the number of calls resolved the first time. Having this internal-focused view of FCR will help you start the process for improvement. But remember that is only one view into the situation. And while these internal stats and graphs may suggest everything is fine, it is also essential to consider the customer's perspective on whether their issue has been resolved, because they might have a different impression. And ultimately, your organization's bottom line depends on their satisfaction and willingness to do more business with you.
Additionally, failure to take the customer's viewpoint into account could artificially inflate your FCR, resulting in hidden sources of customer churn. After all, you can't solve problems if you don't know they exist. You must therefore use a combination of internal and external sources of information to build an accurate picture of FCR success rate. The table below shares the most common sources of both internal and external data that you can use when calculating FCR.

But there's one secret many companies miss when reviewing the data. They don't consider the caller's timing and their reason for calling (caller intent). We've seen many companies mis-calculate their FCR by simply measuring it based on subsequent calls by the same phone within a pre-determined period of time – typically 24 hours. But this creates inaccuracies. I once called my cable company on Friday to address a service issue (successful!) and then called again on Saturday to add additional channels (revenue generation!). These were two very different things. Attributing the second call to the first and putting them together as "not resolved" creates a false impression and could lead you to fixing the wrong problem. There's no question that understanding caller intent provides a clearer window into resolution rates. Which leads us to our first initiative…
Fix-it Initiative #1 – Improve routing and containment
Imagine the following scenario: A customer calls your company with a problem but there's no menu option that fits the reason for their call. In that moment, they have two choices – select one of the many IVR menu options and cross their fingers that they get where they need to go, or press "zero" for the operator, who often has no context for the call and ends up misrouting the caller again anyway. Both options result in frustration and wasted time.
To avoid this dilemma, one of the best places to start is to improve intent capture. Correctly capturing intent sets the stage for a successful resolution. Think about it: if you don't know why a customer is calling, how can you expect to accurately solve their problem the first time?
To capture intent, companies have three basic options. You can use touch-tone, which gathers intent using keys on the telephone. But that's the classic "Push 1 for Billing" approach that frustrates so many people. Second, you can use speech, which captures caller intent by recognizing specific words (i.e. "Say 1 for Billing"). Or finally, intent can be captured through conversational IVRs with Natural Language Understanding (NLU), which recognizes strings of words, allowing callers to speak naturally.
Of the technologies available, natural language makes the greatest impact on FCR and is the most effective in capturing intent. Look at it this way – customers are calling your company countless times a day, for thousands of different reasons. Assigning all those calls to a restricted set of menu options means making assumptions about why they call, which is an infeasible task. So how are you supposed to ensure customers get to the right place the first time?
That's where NLU comes in. Modern IVRs today are starting to use advanced technology that let your callers say anything they'd like and your IVR will be smart enough to understand it. It recognizes both what they are saying and their intent.

With NLU you turn your IVR from a maze into an asset as customers are more likely to be directed to the right resource – quickly and without error. And you'd be surprised how callers may even enjoy the experience when your IVR goes from "Listen carefully as our menus have changed" to "Hello Cindy, how can I help you today?" The ability to resolve their call on the first attempt goes up along with their satisfaction with your company.
NLU is just one way to improve your first call resolution success. Tune in here for additional steps as we continue our series to explore strategies to ensure customers get their problem solved the first time around.
Source: http://whatsnext.nuance.com/customer-experience/address-first-call-resolution-with-natural-language-understanding-2/
Publish Date: August 15, 2016 5:00 AM