Nuance - ContactCenterWorld.com Blog Page 6
Page: 1 | 2 | 3 | 4 | 5 | 6 | 7 | 8
Despite rising customer expectations and shrinking budgets, companies are increasingly expected to deliver great customer experience in the call center. My last post introduced us to first call resolution (FCR), an increasingly popular call center metric, and outlined the cost implications of not getting it right. The rest of this series will outline four proven initiatives to help improve your company's first call resolution rate. Today we're kicking it off with advice on how to improve routing and containment.
But let's take a step back. Do you know your company's FCR rate? The formula to compute FCR is straightforward – divide all the calls that come into the IVR by the number of calls resolved the first time. Having this internal-focused view of FCR will help you start the process for improvement. But remember that is only one view into the situation. And while these internal stats and graphs may suggest everything is fine, it is also essential to consider the customer's perspective on whether their issue has been resolved, because they might have a different impression. And ultimately, your organization's bottom line depends on their satisfaction and willingness to do more business with you.
Additionally, failure to take the customer's viewpoint into account could artificially inflate your FCR, resulting in hidden sources of customer churn. After all, you can't solve problems if you don't know they exist. You must therefore use a combination of internal and external sources of information to build an accurate picture of FCR success rate. The table below shares the most common sources of both internal and external data that you can use when calculating FCR.

But there's one secret many companies miss when reviewing the data. They don't consider the caller's timing and their reason for calling (caller intent). We've seen many companies mis-calculate their FCR by simply measuring it based on subsequent calls by the same phone within a pre-determined period of time – typically 24 hours. But this creates inaccuracies. I once called my cable company on Friday to address a service issue (successful!) and then called again on Saturday to add additional channels (revenue generation!). These were two very different things. Attributing the second call to the first and putting them together as "not resolved" creates a false impression and could lead you to fixing the wrong problem. There's no question that understanding caller intent provides a clearer window into resolution rates. Which leads us to our first initiative…
Fix-it Initiative #1 – Improve routing and containment
Imagine the following scenario: A customer calls your company with a problem but there's no menu option that fits the reason for their call. In that moment, they have two choices – select one of the many IVR menu options and cross their fingers that they get where they need to go, or press "zero" for the operator, who often has no context for the call and ends up misrouting the caller again anyway. Both options result in frustration and wasted time.
To avoid this dilemma, one of the best places to start is to improve intent capture. Correctly capturing intent sets the stage for a successful resolution. Think about it: if you don't know why a customer is calling, how can you expect to accurately solve their problem the first time?
To capture intent, companies have three basic options. You can use touch-tone, which gathers intent using keys on the telephone. But that's the classic "Push 1 for Billing" approach that frustrates so many people. Second, you can use speech, which captures caller intent by recognizing specific words (i.e. "Say 1 for Billing"). Or finally, intent can be captured through conversational IVRs with Natural Language Understanding (NLU), which recognizes strings of words, allowing callers to speak naturally.
Of the technologies available, natural language makes the greatest impact on FCR and is the most effective in capturing intent. Look at it this way – customers are calling your company countless times a day, for thousands of different reasons. Assigning all those calls to a restricted set of menu options means making assumptions about why they call, which is an infeasible task. So how are you supposed to ensure customers get to the right place the first time?
That's where NLU comes in. Modern IVRs today are starting to use advanced technology that let your callers say anything they'd like and your IVR will be smart enough to understand it. It recognizes both what they are saying and their intent.

With NLU you turn your IVR from a maze into an asset as customers are more likely to be directed to the right resource – quickly and without error. And you'd be surprised how callers may even enjoy the experience when your IVR goes from "Listen carefully as our menus have changed" to "Hello Cindy, how can I help you today?" The ability to resolve their call on the first attempt goes up along with their satisfaction with your company.
NLU is just one way to improve your first call resolution success. Tune in here for additional steps as we continue our series to explore strategies to ensure customers get their problem solved the first time around.
Source: http://whatsnext.nuance.com/customer-experience/address-first-call-resolution-with-natural-language-understanding-2/
Publish Date: August 15, 2016 5:00 AM
---
Often seen as being reserved for sci-fi or spy movies, biometrics are fast becoming a game-changing technology. Providing enhanced account and information security with a simple and easy customer experience, this innovative technology can revolutionize how customers interact with your businesses. The global biometrics market is expected to grow to $44.2 billion by 2021 – a massive increase from $7 billion in 2014. And organizations are taking note. We are seeing a huge upswing in companies adopting voice biometrics for authenticating sensitive information.
But despite the growing momentum, there's still a lot that people don't know about voice biometrics. The infographic below illustrates the anatomy of voice biometrics and why major companies across industries and locations are choosing this technology for customer authentication.

Source: http://whatsnext.nuance.com/customer-experience/infographic-411-voice-biometrics/
Publish Date: August 12, 2016 5:00 AM
---
We're in an era of significant channel proliferation – new communication channels are constantly being added (Pokemon Go is the most recent example of this evolution) and mature channels are experiencing powerful changes. There are the traditional communication channels, such as IVR, email and websites. But there's also an exciting wave of channels experiencing tremendous growth, including mobile, text and social media. And let's not forget the Internet of Things, which is creating a seemingly never-ending number of innovative ways for businesses to interact with their customers, from connected cars and homes to wearables.
New channels mean challenges and opportunity
However, while these new channels present great opportunities for businesses, they also create challenges, as companies must figure out how to effectively and seamlessly communicate with their customers on a growing number of media. To navigate this evolving landscape, companies need to ensure they're providing consistent self-service experiences no matter how their customers choose to communicate. Here's why multichannel virtual assistants allow companies to do exactly that.
But why multi-channel?
Let's backtrack for a moment. Why is multichannel support so important for businesses in the first place? Multichannel matters because it's what consumers want! One-third of respondents say digital channels provide them with information they need, with less person-to-person interaction. And research shows email, mobile, and text are all rising as preferred communication channels. It's definitely not a question of if businesses should tap into multiple communication channels. It's how companies can best implement these channels. Savvy businesses must evolve how they communicate or run the risk of losing touch with their customers' needs and expectations.
Self-service is the secret sauce
So what's the secret? To start, businesses need to leverage self-service. Ninety percent of those who use automated self-service, compared to sixty-seven percent of those who don't, say customer service has a significant impact on their decision to do business with a company. In addition, 59 percent agree that automated self-service options have improved customer service – with 15 percent of respondents saying it improves customer service significantly. Among Millennials, the preference is even stronger: three-quarters of Millennial respondents say automated self-service has improved customer service.
It's clear: customers want to be able to find answers and solve their own problems – on their timetable. If it's 3am and your customer needs answers, you need to provide a friendly and cost-effective way to meet that expectation. Which is why a virtual assistant is so beneficial: a virtual assistant never sleeps. Virtual assistants empower the customer to self-serve 24 hours a day, seven days a week. And they're as engagingly upbeat and professional the first time a question is asked as they are the millionth time.
Ensure consistency at every call (or email, or click)
Along with self-service, businesses need to ensure consistency across channels in order to make multichannel service successful. Consumers are using more channels to communicate with businesses – often in tandem. Therefore, it's critical that the same information be communicated across all channels and that interactions be seamless when consumers move from one channel to the next.
Virtual assistants can do just that. A virtual assistant can hold hundreds of thousands of conversations simultaneously and communicate identical messages every time. And when information or processes change within a business, that change can be implemented everywhere all at once. The customer calling the IVR will get the same updated answer as the customer interacting with the corporate social media account on their mobile device at the same moment in time – from different parts of the world, even in different languages.
With so many channels through which to reach customers, businesses must expand their horizons and move beyond traditional communication methods. They need to follow the market and follow their customers. But to be successful in the multichannel era, businesses must focus on consistency across channels and empowering customers to self-serve. With virtual assistants, companies can provide exactly that.
Source: http://whatsnext.nuance.com/customer-experience/why-multichannel-virtual-assistant-matters/
Publish Date: August 1, 2016 5:00 AM
---
We've entered a period where consumers are attached to their phones at every turn, even going so far as to sleep with their devices. Cell phones are always around and almost always on, which means users are constantly receiving notifications. Billions of smartphones, millions of watches—even thermostats and refrigerators—are lighting up to tell us something every minute of every day. They remind us about meetings. Inform us of the latest news. To check out a new photo shared by a friend. Not only are people relying on technology for information, they are taking actions based on what technology tells them.
So it is no wonder then that consumers overwhelmingly believe the companies they do business with should also send them notifications. Eighty-four percent of Americans expect the companies they do business with to proactively send them reminders. If apps can anticipate and remind you when you are most likely to go for a run, companies are expected to remind you of an issue with your account or an upcoming appointment. And consumers are becoming increasingly reliant on these reminders in place of their own memories!
In a recent survey conducted by Wakefield Research, we found 63 percent of U.S. consumers felt critical customer service issues could have been avoided if companies had contacted them earlier. And this expectation is only rising; in March 2015, 53 percent of consumers felt proactive outreach would have helped them. And this isn't specific to one industry. Customers expect companies in all industries to send them notifications – from interrupted cable or utility service to missed bill payments from a retailer or credit card issuer.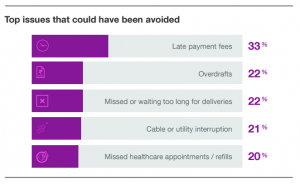 Businesses that proactively notify or inform customers on the right channel, with the right message, at the right time, and with the right response options can drive increased customer satisfaction and higher engagement rates with their customers. In fact, for customer service, the cost of a live agent making an outbound phone call or taking an inbound customer service call is high, and most customers don't even want to speak with a live person. Proactive notifications can help deflect inbound calls, and automate the outbound contact to help significantly lower operational costs in a call center, all while increasing the likelihood that customers will take the desired action.
Forgetful consumers have a way of slowing business down: not taking desired actions to drive business results, whether they forget to reorder or simply to pay, and creating inefficiencies that cost companies money, having valuable human and technical assets sit idle when customers forget an appointment. Companies need to join the notification era to avoid negative business ramifications of forgetful customers and leverage consumer preferences for preferred channels of communication, to cost effectively nudge consumers to take the desired actions and driving better business results.
Source: http://whatsnext.nuance.com/customer-experience/proactive-notifications-combat-digital-amnesia/
Publish Date: July 29, 2016 5:00 AM
---
When I see a patient, I try to give them my undivided attention, looking, listening, evaluating hundreds of small nuances as well as bigger signs to properly understand what might be going on and more importantly how to fix it. Unfortunately, there is too much being pushed into that short visit, which is usually under 10 minutes. Physicians everywhere are facing the same strains whether they're working in a busy trauma center or a private practice in the suburbs. Isn't it time for that to change?
Physicians are being asked to provide peak-performance as caregivers, but also be data-entry clerks, and coding experts, all while being more mobile and time-constrained than ever. Limitations such as check boxes and drop down menus take time and often deliver blanket statements that don't really give physicians the information we need. If a physician upstairs reads a chart on my ER patient they want to know what I thought, and my recommendation. They don't get that when technology gets in the way.
The following comment sums up the problem we want to solve: 12 patients seen, 1233 mouse clicks. It's time to ease physician frustrations and move from implementation to optimization of technology. Many of us helped hospitals install EHRs, and supported adoption efforts from day one as physician champions. Now it's time for physicians to reap the benefits.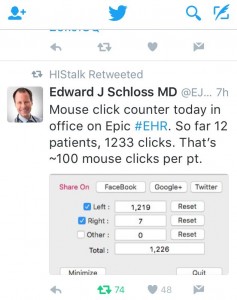 We need an easy way to create rich patient notes in the system and get information back out of it, all while focusing on patients. We need help adhering to evidence based guidelines and we need to see the whole picture of the patient without an archeological dig. Too often the details of patient's clinical needs are trapped in structured data that create ambiguous notes and leave clinicians wondering, "What's really going on with the patient?" With more date entry, more regulatory requirements, more penalties, we are stretched too thin and spend 43% of the day on computers. Patients and physicians are the biggest losers.
Fortunately for me, I'm into gadgets. I tested Google Glass, I use a lot of apps to save time in the ER, anything to preserve time while delivering better care. I latched onto speech recognition early as a way to dictate notes in between patients, and even created all kinds of shortcuts and libraries of commands I've shared with my colleagues and physicians across the country over the years. That has certainly saved time and provides a richer patient note for providers to use, but the harsh reality is all these data fields and regulatory requirements in healthcare are still winning.
Turning the corner
Now that we've gotten past adoption of technology like EHRs and computerized physician order entry (CPOE), it's time to capture some real benefits for providers, and deliver a solid answer to the question: "What's in it for Me?" (WIFM).
For patients that involves healing, better outcomes, relationships with their providers and information available that is easy to get and understand.
For physicians this involves better outcomes, access to data, time back in their day, tools to crunch data, help practicing evidence-based medicine, mobility, and access and communication with other physicians.
Patient and physician satisfaction come hand in hand. Let's improve the patient and the physician experience by swapping screen time with patient face time, and leverage these tools and technologies to increase the list of things clinicians can stop doing to make room for that face time. Now that much of the hard work is done, it's time for physicians to see the original promise of electronic medical records – improved quality, efficiency and care coordination.
Source: http://whatsnext.nuance.com/healthcare/clinicians-can-give-time-back-to-patient/
Publish Date: July 27, 2016 5:00 AM
---
"I just want it done!" That's typically the thought most people have when calling a company to address a product or service issue. I feel the same way. We don't want to call back a second, third, or fourth time. Customers want fast, intelligent customer service, and companies that help customers resolve their issues quickly have been shown to have higher overall satisfaction.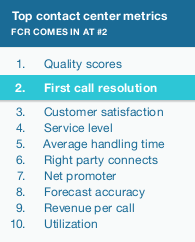 But in today's new era of customer service when expectations are higher than ever, companies must achieve the seemingly impossible—improve the caller experience while simultaneously reducing costs. One key call center metric, first call resolution (FCR), provides a clear window into how to achieve this—by properly addressing a customer's need the first time they call. It's become so important that first call resolution was ranked as the #2 metric in a Call Center Helper survey.
So why exactly is FCR so important? FCR is a critical metric because it impacts two major goals of a call center manager:
1. Cost: Consider that each time a call center agent has to take a live call it costs the company about $5 on average. If you also add up all the times someone can't resolve their issue through automation, it gets expensive. Dr. Jodie Monger, the president of Customer Relationship Metrics, conducted research to understand the impact of repeat calls on customer service organizations, and found it can be as high as almost $3M per year.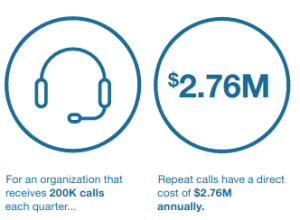 2. Customer Satisfaction: It makes perfect sense and doesn't take Sherlock Holmes to figure this out. Each additional time someone has to call back, they won't be happy and it will cost your company more money to manage. Elementary!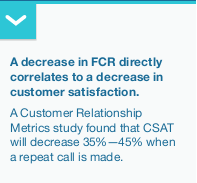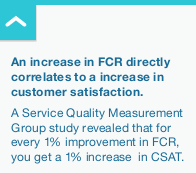 But what's the cause of poor FCR? While there are many factors that contribute to overall first call success or failure, here are the biggest drivers of poor FCR rates:
Long hold times – sure you think the music is great but who wants to wait that long?
Confusing IVR Menus – if your caller can't figure out the menu tree, chances are they'll be misrouted to the wrong department and the call won't be resolved on the first attempt.
IVR doesn't understand caller – Poor speech recognition will prompt someone to say "Agent" every time.
High agent turnover – Less experienced agents mean less valuable expertise and more un-resolved issues.
Lack of information access – If you make simple information available to a caller right in the IVR – like billing info, outage updates, current balances – chance are they will resolve the issue and be on their way.
Lack of a multi-channel strategy – Your web site says one thing, your IVR another. Callers engage from multiple touch-points. But are those channels seamlessly connected?
If any of these sound familiar, then your company is likely ready to reap significant cost savings and improvements in customer satisfaction by undertaking a first call resolution improvement initiative. Over the next several weeks this blog series will explore proven strategies and initiatives to both determine your current FCR and outline steps for improvement. Stay tuned.
Source: http://whatsnext.nuance.com/customer-experience/master-call-center-with-first-call-resolution/
Publish Date: July 18, 2016 5:00 AM
---
Call it yet another example of sad but true: The number of security breaches and attempted hacks continue to increase each year. These security attacks are not isolated to one vertical; they affect almost every industry including healthcare, finance, and retail. And when breaches do occur, they can be devastating in terms of penalties, fines and even a tarnished reputation for the organization. All of this means improving security must be a top priority.
This now includes a focus on print security. Securing the print environment is an important part of any company's overall IT security program, yet most organizations simply don't do enough to focus on this area. When you consider that 70% of companies today have experienced a data breach through their printing practices, it's easy to tell how much still needs to be done. Printers and MFPs play a major role in an organization's transfer of information. As such, print security should be considered vital to a comprehensive IT security strategy.
Print + capture = a complete security approach
Many companies today may be aware of the benefits of a print management solution as a first step to toward increasing print-related security. But what about the security of digital documents – those documents that have been scanned/captured and added to digital workflows?
A new video shows how the concept of combining print management and document capture solutions can help companies improve security for printed documents as well as those distributed in a digital form. Not only does this approach solidify security for all printing, but it supports the company's larger IT security strategy.

For example, print and capture solutions can create workflows that enable users to send documents more securely as well as audit trails to report on where each document went. This gives users peace of mind that documents are secure in the entire print and workflow process – from start to finish. Plus, they can take advantage of automated workflows to eliminate the need to re-key data, which saves time and increases productivity.
You can also see how Somerset Partnership, a leading provider of community health, mental health and learning disability services, used a comprehensive print management and capture solution to ensure the secure delivery of paper, electronic documents and sensitive data into business applications. This helped the organization increase security while improving document capture and print processes at the same time.
In considering your security plan – or future equipment purchases such as printers, scanners or MFPs – don't overlook printing. Combining print management and document capture solutions can give you the advantage you need to increase overall security and minimize the risk of security breaches.
Source: http://whatsnext.nuance.com/office-productivity/dont-overlook-print-management/
Publish Date: July 14, 2016 5:00 AM
---
In 2014, Nuance along with Commonsensereasoning.org announced plans for a Winograd Schema Challenge – a call for students, research and academia to design programs that leverage AI to demonstrate reasoning capabilities by answering Winograd Schema questions.
The Winograd Schema Challenge is an alternative to the Turing Test (short free-form questions) that provides a more accurate measure of genuine machine intelligence by posing a set of multiple-choice questions that have a form where the answers are expected to be fairly obvious to a layperson, but ambiguous for a machine without human-like reasoning or intelligence.
Yesterday, the results of the first annual Winograd Schema Challenge were unveiled at the International Joint Conference on Artificial Intelligence (IJCAI-2016) in New York. Six programs were submitted from independent researchers and students around the world, demonstrating a variety of approaches to solving challenge questions, while underscoring the difficulty machines have in understanding using commonsense reasoning to improve the understanding of human language.
Scores ranged from the low 30th percentile in answering the questions correctly to the high 50s – demonstrating that while some of the Winograd Schema questions could be handled, much more research is needed to develop systems that can handle these sorts of test. For comparison, human subjects were asked the same set of questions, with an overall average of 90.9% answered correctly.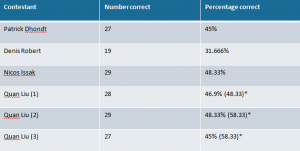 ** A problem was discovered at the last minute with unexpected punctuation the XML input impacting a handful of questions. All tests will be run through again, but unlikely to have a significant impact on the scores.
The challenge involves two rounds of testing: the first round involves Pronoun Disambiguation Problems (PDPs) that are similar, but slightly different that Winograd Schemas (WSs). A contestant must score very well on the PDPs to move on to the next round of WSs.
Professor of computer science Ernest Davis of NYU has created a large library of WSs. Winograd Schema questions are manually generated; examples include:
"The trophy would not fit in the brown suitcase because it was too big. What was too big? Answer 0: the trophy or Answer 1: the suitcase?"
"Joan made sure to thank Susan for all the help she had given. Who had given the help? Answer 0: Joan or Answer 1: Susan"
PDP's were collected from children's literature and also require commonsense reasoning to understand the relationships between object and events so that the prospering referent to a pronoun could be determined. Further, PDPs are abundant in our everyday language and occur organically. An example of a PDP is:
Babar wonders how he can get new clothing. Luckily, a very rich old man who has always been fond of little elephants understands right away that he is longing for a fine suit. As he likes to make people happy, he gives him his wallet. "he is longing for a fine suit": (a) Babar (b) old man Answer: (a) Babar
While simple for humans, AI computer systems today lack sufficient commonsense knowledge and reasoning to solve these questions. Each Schema and PDP involves a variety of different types of relationships, such as cause-and-effect, spatial, temporal and social relationships.
So what does this all mean for the state of AI and machine reasoning?
The Challenge underscored the challenges of understanding language and reasoning about the world that AI still faces. However, the Challenge also provided a baseline for subsequent systems and testing. Participants made use of a variety of technologies such as natural language parsing, knowledge acquisition and deep learning.
So now, we look to 2018 where the next Winograd Schema Challenge will be judged at the 2018 AAAI event – and given the rate of innovation and intelligence – could potentially deliver results that take the state of the art in human-machine interaction even further.
Source: http://whatsnext.nuance.com/in-the-labs/winograd-schema-challenge-2016-results/
Publish Date: July 13, 2016 5:00 AM
---
As consumers increasingly expect automated, around-the-clock availability from the companies they do business with, organizations are turning to virtual assistant technology to bolster their customer service operations. A virtual assistant at the forefront of your company's communications is the most cost-effective means of providing excellent customer service to your customers 24 hours a day. They significantly reduce the burden on live agents by answering repetitive questions and enabling your customers to self-serve. This popular technology is fast and easy to implement, but it's vital to take a moment to remember that a virtual assistant is an extension of your brand. It's critical that your virtual assistant reflects your company's values, essence and objectives. Here's a quick guide to what your business needs to consider in order to design an assistant that makes your company proud and provides a superior customer experience.
There are several elements of a virtual assistant. Some companies may choose to implement all – or just some – of these components based on how the virtual assistant fits within the company's overall customer experience.
Voice: With regard to voice, whether the sound of an assistant in an IVR, or the tone of a chat conversation on a company website, you want to select a voice that embodies the feel of the brand – playful, serious, futuristic, etc.
Name: Should companies choose to name their assistant, it's a significant decision. Just like naming a baby, companies should devote time and careful thought to naming the virtual assistant and considering all possible connotations. The name must be easy to say and should be connected to the corporate brand in some way (for example, "Dom" for Dominos).
Personality: Is she friendly and casual? Is he professional and businesslike? Once again, your corporate branding guidelines will help drive this decision. For example, a bank whose founding principles are "secure and reliable" may want to craft a personality that's more trustworthy and dependable. In contrast, a large retail chain that targets Millennials may choose a personality that's more relatable and engaging. You're creating the personality of your best and most visible customer service representative.
Visual representation: Some businesses also want a visual representation of their virtual assistant, which typically falls into two categories: avatar or abstract. Avatars are anthropomorphic visual representations and are often viewed as being friendlier because they can use natural human facial expressions and body language. But with that in mind, you want to make sure your design isn't too cartoonish to be taken seriously and doesn't fall into what people in the industry call "uncanny valley," which is a term used for computers or robots that bare near-identical resemblance to humans, resulting in people feeling uncomfortable or even "creeped out." To avoid uncanny valley, avatars should be humanlike and friendly, but not cross the line of pretending to be human. The other visual category businesses can select is abstract, which is based upon geometry and shapes. Abstract visuals are distinctly less personal and rely heavily on expert motion design in order to communicate emotions and interaction states.
Animations: The last piece of the communication puzzle that companies may want to include is body language and emotion. Design teams can create different animations for when the virtual assistant is launched, listening, speaking, etc. In addition, virtual assistants can show emotion and intelligent understanding by having various speaking animations that allow the assistant to demonstrate visual contextual awareness. For example, when a customer successfully completes a transaction, the assistant can be designed to do a happy bounce or dance.
Virtual assistants are becoming more popular every day, and they hold immense possibilities for customer service. Companies would be smart to embrace virtual assistants as part of their service strategy. But as businesses catch on to this technology, they should take care to ensure every piece of their virtual assistant accurately reflects the brand and provides a positive customer experience.
Source: http://whatsnext.nuance.com/customer-experience/building-blocks-of-virtual-assistant/
Publish Date: July 7, 2016 5:00 AM
---
Countries are constantly evaluating the level and value of the service they provide to their citizens. Earlier this week in the U.S., we celebrated the country's decision to declare its independence from Great Britain 240 years ago. More recently, Britain made a decision of its own to leave the European Union. While every situation is different, countries often make decisions to change course after evaluating their options. And companies should adopt the same considerations when evaluating the service they provide those they are designed to serve: their customers.
Nuance's work with many of the world's largest companies provides us with a unique vantage point into what makes a quality customer service experience in the IVR. As such, we've identified eight capabilities crucial to offering a leading customer experience. Use this checklist to determine where your company falls on the path to IVR modernization, and if you need to make any adjustments to better serve your customers.
IVR type – Is your system DTMF or speech-enabled? Does this provide the best experience for callers? Technologies have come a long way and natural language-based systems can provide enhanced experiences.
Audio quality – Test your IVR for sound clarity, feel, and concatenation. Concatenation? Yes, concatenation! If the speech volume is too low or the words don't flow and link together well in a cohesive sentence (concatenation) the caller experience will be poor.
Speech recognition accuracy – A good IVR understands the words you are saying. It recognizes words, speech patterns, dialects, and different languages. ¿Su IVR entiende español?
Caller intent – Does your IVR know what someone is trying to accomplish? Can it determine why they called? Getting caller intent wrong increases misroutes and customer dissatisfaction.
Conversational dialogue – People respond better when engaging with a system in a natural, conversational tone. Would your IVR benefit from an upgrade to natural language technology?
Personalization – You have tons of customer data. But are you using it to maximum advantage to speed up caller identification and reduce handle time? The possibilities nowadays are endless.
Speed – How long does it take a caller to get through your IVR? How many steps does it take for the caller to reach their goal and find a resolution for their problem or receive an answer to a question? Call your IVR to see if you are happy with the duration.
Ease of use – Customers reward companies who make life easier for them. Simplify your IVR and you'll boost customer satisfaction and your bottom line!
With these eight criteria you'll be able to re-examine your current IVR and decide if it's best to stay the course or enact change to create a better world for your customers and your business.
Source: http://whatsnext.nuance.com/customer-experience/call-center-checklist-to-leading-customer-experience/
Publish Date: July 6, 2016 5:00 AM
---
As a tech company employee, I'm a huge fan of HBO's Silicon Valley. Silicon Valley is a comedy TV show which focuses on six men who found a media file compression company, Pied Piper, in the notorious Bay Area. These characters, most notably Richard Hendricks as the company's founder, experience many struggles and accomplishments throughout the process. The latest struggle was in last week's episode, "Daily Active Users": and it was all about how to communicate.
Hendricks showcased his compression platform with the help of an outside marketing agency after releasing the beta to the world. But this was the first time it had been introduced to non-engineers. The download rate of their application was large, but there were few people actually using it. When his venture capital advisor asks if he only gave the beta to engineers, he answered: "Well yeah. I wanted to give it to people who would understand what I'm trying to do so I could get useful feedback. With all due respect, I give it to you, the one person without a computing background, and you said it felt engineered." To his credit, the words barely leave his mouth before recognition dawns on him as his venture capital advisor observes, "You're trying to sell the platform to regular people, but never actually put it in the hands of regular people."
In the world of IVR and automated customer service, we're not as actively fighting the problem of giving relevance to hyper-advanced technological platforms. But, what we are doing is developing customer service programs and processes to help solve the problems your business analysts see develop over time.
Hendricks' proposed solution to his baffled non-active user base was to "take every last dollar we have to do outreach. Tutorials. User meet ups. Create a guerilla marketing campaign that explains how to use the platform."
In our world, this is analogous to sending out mailers, guides, incentivized programs that try to convince the end-customer to make the effort to learn why this thing we created for them is so cool and so helpful. Or, sometimes, as a colleague shared with me once, going so far to ask if we could just mail call flow diagrams out to their customers so they could learn the IVR that way.
If you're asking your customer to take initiative and make the effort to learn something, you've already lost.
Unsurprisingly, this "get out the knowledge" campaign fails miserably, and with the tiny remains of their budget, the crew ends up with "Pipey", which we all recognize instantly as callback to Microsoft Word's much-hated "Clippy". In a shrill voice, he begins, "Looks like you want to compress a movie file. Can I help? You know, with Pied Piper's revolutionary neutral network, optimized, shared distribution system, it's just six clicks away!" I think we can safely all predict Pipey's imminent failure. But what's the problem?
The Curse of Knowledge: "A difficulty in imagining what it is like for someone else not to know something that you know. The better you know something, the less you remember about how hard it was to learn." – Steven Pinker, The Sense of Style
Not only have Hendricks and the rest of his engineering team forgotten what it meant to learn all of the highly technical computer science behind their platform, but that same educational journey, combined with the developing mythology of their company, has made it impossible for them to reconnect to the human core. Instead of focusing on giving their users context and an experience that gives clear answers to unasked emotional questions like "Why do I care?" and "Why do I want this?", their strategy is to tackle the intellectual problem and teach the theory.
If you want to be successful, your entire process needs to be design-led.
A few years ago, I was working with a financial institution who had recently overhauled their automatic payment programs for their mortgage customers, and had come to us to add support in the IVR.
It didn't take long for me to see that these offerings were clearly solving important problems for the business. But that I, as a consumer, had no idea what that meant for me or how I was supposed to make an informed choice about which program was right for me. I ran a thorough analysis of the programs, identifying all the ways in which they were similar and different. I shared my findings – and the troubles I was having as a consumer understanding the programs they were using – with the company. The company then was able to understand the limitations to their current program, and we worked together to develop a long-term fix, so the organization could better serve its customers. In the meantime, I created IVR prompting which identified the similarities and differences in ways the consumer could understand.
The lesson here is to involve design early and often in the development of new programs and processes. We re-connect you back to your ultimate audience and iteratively help you improve the immediate impact those new systems will have.
Pied Piper's problem is that the platform is developed for Engineers by Engineers who understand the technological complexities of their world and why this thing is so cool. Design is about telling a story. The industry thinks it understands this. But the story we often receive as consumers are like the tables ad that the episode opens with. An attempt to use metaphor to create an emotional connection with a user base. But you can't just go from Engineer/Analyst straight to marketing. You need to understand your customer.
You need design's involvement while you're solving the problem. My job is to keep you connected to that ultimate audience. To keep asking the question "Why do I care?" and to help you answer it. My job is to work with you. To take in your business needs and requirements, to understand the problems you're having and trying to solve, and to combine those with the needs and problems of your customers so that I can help you create integrated customer service solutions that make everyone's life better.
I'm here to help you unravel that Curse of Knowledge. To act as the Chief Translator between your needs and your customer's and to tell a story that actually means something.
One of the final moments of the episode features a defeated Hendricks curled up in a bathtub, regaling the litany of hurdles the team has overcome before concluding, "But I guess you just can't fight public opinion."
I'm going to steal a line from Donald Draper to answer that attitude:
"P.R. people understand this, but they can never execute it. If you don't like what's being said, then change the conversation."
And that's what Nuance's UI team is here to help you do.
Source: http://whatsnext.nuance.com/customer-experience/design-customer-involvement-critical-in-customer-experience/
Publish Date: June 29, 2016 5:00 AM
---
There is an old adage which says, "elephants never forget". According to researchers, an elephant's memory is a key part of how they survive in the wild. So it would be hard to match the memory of an elephant under any circumstance. But with the rise of smartphones and other technology, humans have taken an even larger step back.
New research commissioned by Nuance indicates that consumers have developed the habit of depending on technology more than their own memory to remember important information and commitments, leading to what is known as the digital amnesia effect. Internet-enabled devices are the catalyst behind digital amnesia, as U.S. consumers report outsourcing the memory of critical information – such as addresses, phone numbers, passwords, payment deadlines, and appointments – to smart devices.
As consumers become more susceptible to memory lapses as a result of this digital amnesia, companies need to be prepared to bridge the gap; mitigating customer forgetfulness and minimizing the cost and operational impact of increased service volume. By proactively prompting their increasingly forgetful customers to take actions, companies are helping their business – by improving efficiency, reducing payment defaults, increasing revenue – and earning customer loyalty. Nine out of 10 Americans are more likely to do business with companies that send them reminders.
But using the right channels for these proactive communications is critical. Customers expect businesses to meet them on the communication channels of their preference. And the traditional channels such as telephone and postal mail are no longer the methods of choice. Ninety-three percent of consumers say they would prefer businesses to contact them via non-traditional channels, including email, text messages, calls to mobile phones, mobile apps and social media.
But the hidden gem and Holy Grail for businesses is the text message. With virtually everyone owning a smartphone, the desire for business-related outreach via text message has skyrocketed—more than doubling in the last 12 months. Forty-two percent of consumers report a preference for communication via text message, a significant increase over the prior survey fielded in March 2015, when only 16 percent indicated a desire for this channel. It's not surprising that Millennials are the primary drivers of this trend, with 59 percent preferring customer communication via text. But it's not only Millennials who are demanding text communication. More than one-quarter of adults age 55 and over also want businesses to reach them via text messages.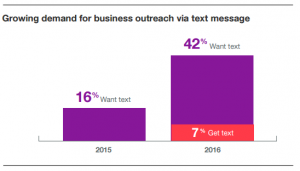 But are businesses listening to what their customers want? In short – no. At least, not yet. Only seven percent of consumers report receiving communication from businesses via text, meaning there's massive opportunity for businesses to improve and reach consumers on the channel they actually want. And to maximize this opportunity, businesses must ensure their communications are relevant, offer the ability to easily reply or take action and are in line with a high quality brand experience.
Your consumers may not have the memories of elephants, but you can give them a helping hand by being more proactive. Digital amnesia is real, but it doesn't have to hurt your business. Companies can mitigate its effects and improve customer satisfaction at the same time. And it starts with something as simple as a text message.
Source: http://whatsnext.nuance.com/customer-experience/combat-digital-amnesia-with-text-messages/
Publish Date: June 28, 2016 5:00 AM
---
In the world of customer service, IVR is a staple. It's your bread and butter. Traditional, but reliable. And many companies (smartly) invest time and resources ensuring that their IVR is successful – in first call resolution, containment, reducing misroutes and decreasing average handle time. But as I continue to work with customers to assess their automated systems, I see that some of the most successful customers often realize one thing: improving the IVR isn't a one-time effort. You have to play the long game. Making the most out of your IVR requires an ongoing and iterative commitment. And if you make that effort, companies can see improved business results and lower operating costs.
Over decades working with customers to assess the performance of their automated systems, we've identified three practices your business can adopt to enhance and elevate the performance of your IVR.
1. Understand that no IVR is an island:
It's no longer sufficient to analyze the IVR in isolation. Your customers interact with you on multiple channels, at different times, to perform different tasks. Knowing how IVR self-service performs in relation to other customer touch points is essential to understanding the overall customer experience and where efficiencies can be introduced to improve the effectiveness of automated systems and enable quick and easy customer care experiences.
When companies look at IVR performance in isolation, they risk focusing too much on one area of concern and consequently may overlook other opportunities. There are three factors that affect the number and types of calls the IVR will process and resulting automated system performance – overall experience, industry context, and business processes. Investments made in new or emerging digital channels can decrease the number and change the composition of calls an IVR will receive, because customers receive self-service outside the IVR. Changes to your industry can similarly impact the number of and significance of calls (for example, an increase in monthly account fees could affect the number and type of calls a retail bank might receive). And business process changes, such as enrolling more customers in automatic payments, could decrease overall usage, and with it, the number of payments processed through your IVR.
2. Use data to monitor your performance
This is an area with huge opportunity, both in the long-term and short-term, that's currently falling short of its potential. Every company has access to significant amounts of data, but they need to actually use that information to measure performance and implement changes. Data is more than just running reports – there are plenty of dashboards showing company data points, but companies need to look at more complex analyses to see real value.
Data on callers' usage of self-service functions, including areas of failure and agent request, can also help you predict and anticipate future customer behavior, increasing the efficiency of your IVR and improving customer experience.
3. Analyze user behavior
Monitoring your performance is important, but it becomes invaluable when you pair it with analyzing how customers are actually using your services. Unless you examine data periodically about how people are using the self-service application, and use that data to drive improvements, you may find that the performance of your application in that channel declines over time. This is often because of a divergence that develops between how your service was designed to be used and how people actually use it. This is what I like to call "usage drift." That drift can become pronounced if a lot of time has gone by since you most recently looked at user behavior and system performance together.
Having an iterative, data-driven process to compare user behavior and system design provides you with the opportunity to gain insights into developing your automated systems to meet customer needs. With this knowledge, you can get ahead of your competitors by creating personalized, anticipatory, automated solutions.
Source: http://whatsnext.nuance.com/customer-experience/tips-to-increase-ivr-performance/
Publish Date: June 24, 2016 5:00 AM
---
As the old adage goes: When life gives you lemons, make lemonade.
I was given my lemon not too long ago when I experienced a shoulder injury that basically halted my ability to type on a keyboard. As a presentation director, bid consultant and frequent blogger, the inability to type was jarring. How was I supposed to get my work done and serve my clients while waiting for my shoulder to heal? When I mentioned this issue to my web support tech team, they immediately pointed me in the direction of Dragon for my MacBook Pro.
Although I had originally learned about Dragon several years ago, at the time I didn't feel that it was a product I needed for my professional or everyday life. But with my shoulder injury taking center stage and disrupting my livelihood, I decided to give Dragon a go.
I started the training and was pleasantly surprised with its speed and accuracy. I have a unique accent –part English, part Canadian with a hint of Australian – and Dragon has been able to accurately transcribe the lion's share of what I have dictated. And while it has taken me a little while to get used to dictating as opposed to typing, I have come to love it for a number of reasons. The first being that, current shoulder injury aside, I am dyslexic and as a result writing can be a major obstacle. For instance, I sometimes mix up words when typing – from misspelling common words and homophones such as "their" and "there" to occasionally typing text that does not flow or is out of order. Because of my dyslexia, I spend nearly 20% of my time correcting the text after I have typed it. Given that Dragon can decipher language and context, the issues around homophone confusion and flow are mitigated, and I am able to publish one to two articles per week, which was unheard of for me.
The second reason that I have come to love Dragon is that it has enabled my blog to become my "lemonade". Shortly after I started using Dragon to dictate my blog, a friend of mine who also happens to be a former producer with the Canadian Broadcasting Corporation (CBC), contacted me. He asked me what I was doing differently – was I working with a writing coach, for example – because the style of my blog had changed. It was more conversational and free flowing. He could hear my voice and personality when he read it; and he loved what he read. And he wasn't the only one. Others have commented about my newly found style.
I have since introduced Dragon to other parts of my life. I am using it to dictate and reply to emails, as well as write my client newsletters and write another book. Using a high-quality performance mic, I am also able to capture my discussion notes quite well. Dragon has also alleviated a great deal of physical stress on my body. As a 70-year-old, sitting in front of a computer to type isn't in my best interest. Using my voice allows me to move around the room and dictate my thoughts for presentations and proposals, my blog and more.
Although I'm not happy about my shoulder injury, I am happy to have found a solution that has helped me realize a new level of writing.
Source: http://whatsnext.nuance.com/connected-living/speaking-coach-uses-dragon-software-to-write-after-injury/
Publish Date: June 23, 2016 5:00 AM
---
Just like technological advances before it, mobility has become a mainstay across a wide range of industries. While millennials are a driving force behind this shift, given that this younger population will account for 75% of the U.S. workforce by 2025 and the majority of these millennials (80%) are already armed with smart devices; mobility is becoming the new driving force behind today's work culture and will continue to impact the bottom line.
Enterprises of all shapes and sizes are realizing the achievable ROI with mobility. In fact, 70% of organizations see mobile solutions as essential to supporting the changing workforce (Ranstad Technologies/IDG). We've finally moved beyond debating 'if' and 'when' enterprises are going to mobilize their workforces, to what types of applications or services are going to bring the most value to businesses and their employees – whether they are Millennials, Gen Xers or members of Generation Z, who soon will be joining the workforce ranks.
Apps that foster productivity reign
With the ability to improve business processes, particularly productivity, cited as the number one benefit of mobility (according to the 2015 Enterprise Mobility study conducted by Apperian), it's no wonder that productivity apps, such as note-taking solutions, earned the top ranking for having the greatest impact on productivity and ROI.
This is extremely applicable to professionals whose jobs require endless necessary documentation of client or case interactions such as legal, public safety or social services. This aspect of the job is neither fun nor career enhancing, and often requires them to be tethered to the office. With mobility in mind, professionals want to be able to capture their thoughts while on the go and access this content from anywhere.
It's no wonder then that Evernote, with its multi-platform and cloud-management support, is used by millions of mobile professionals as a note-management tool. The wide range of Evernote's tools free users from the confines of an office and enhance collaboration and productivity from wherever their work takes them.
Access, but also creation of content leads more and more professionals looking to their mobile devices as a note-taking tool, but mobile devices small touchscreens don't lend themselves to long-form writing and detailed note taking, as noted in a recent survey. Voice driven solutions such as Dragon Anywhere, Nuance's cloud-based, professional-grade mobile dictation solution give mobile professionals the ability to think and document accurately and quickly – in the moment on their mobile device. In fact, Evernote is now integrated as part of Dragon Anywhere to synchronize notes and documents of any length between your Dragon Anywhere and Evernote accounts.
Marry the ability for real-time, long-form note taking with immediate access to content, and this is what mobility is all about.
Solutions that allow both creation and access to content in the cloud and across any platform will greatly benefit professionals who seek the freedom and flexibility that mobility brings, and can only benefit the businesses that embrace this new work culture.
Source: http://whatsnext.nuance.com/office-productivity/dragon-anywhere-and-evernote-mobile-dictation-app/
Publish Date: June 21, 2016 5:00 AM