Nuance - ContactCenterWorld.com Blog Page 6
Page: 1 | 2 | 3 | 4 | 5 | 6 | 7 | 8
As consumers increasingly expect automated, around-the-clock availability from the companies they do business with, organizations are turning to virtual assistant technology to bolster their customer service operations. A virtual assistant at the forefront of your company's communications is the most cost-effective means of providing excellent customer service to your customers 24 hours a day. They significantly reduce the burden on live agents by answering repetitive questions and enabling your customers to self-serve. This popular technology is fast and easy to implement, but it's vital to take a moment to remember that a virtual assistant is an extension of your brand. It's critical that your virtual assistant reflects your company's values, essence and objectives. Here's a quick guide to what your business needs to consider in order to design an assistant that makes your company proud and provides a superior customer experience.
There are several elements of a virtual assistant. Some companies may choose to implement all – or just some – of these components based on how the virtual assistant fits within the company's overall customer experience.
Voice: With regard to voice, whether the sound of an assistant in an IVR, or the tone of a chat conversation on a company website, you want to select a voice that embodies the feel of the brand – playful, serious, futuristic, etc.
Name: Should companies choose to name their assistant, it's a significant decision. Just like naming a baby, companies should devote time and careful thought to naming the virtual assistant and considering all possible connotations. The name must be easy to say and should be connected to the corporate brand in some way (for example, "Dom" for Dominos).
Personality: Is she friendly and casual? Is he professional and businesslike? Once again, your corporate branding guidelines will help drive this decision. For example, a bank whose founding principles are "secure and reliable" may want to craft a personality that's more trustworthy and dependable. In contrast, a large retail chain that targets Millennials may choose a personality that's more relatable and engaging. You're creating the personality of your best and most visible customer service representative.
Visual representation: Some businesses also want a visual representation of their virtual assistant, which typically falls into two categories: avatar or abstract. Avatars are anthropomorphic visual representations and are often viewed as being friendlier because they can use natural human facial expressions and body language. But with that in mind, you want to make sure your design isn't too cartoonish to be taken seriously and doesn't fall into what people in the industry call "uncanny valley," which is a term used for computers or robots that bare near-identical resemblance to humans, resulting in people feeling uncomfortable or even "creeped out." To avoid uncanny valley, avatars should be humanlike and friendly, but not cross the line of pretending to be human. The other visual category businesses can select is abstract, which is based upon geometry and shapes. Abstract visuals are distinctly less personal and rely heavily on expert motion design in order to communicate emotions and interaction states.
Animations: The last piece of the communication puzzle that companies may want to include is body language and emotion. Design teams can create different animations for when the virtual assistant is launched, listening, speaking, etc. In addition, virtual assistants can show emotion and intelligent understanding by having various speaking animations that allow the assistant to demonstrate visual contextual awareness. For example, when a customer successfully completes a transaction, the assistant can be designed to do a happy bounce or dance.
Virtual assistants are becoming more popular every day, and they hold immense possibilities for customer service. Companies would be smart to embrace virtual assistants as part of their service strategy. But as businesses catch on to this technology, they should take care to ensure every piece of their virtual assistant accurately reflects the brand and provides a positive customer experience.
Source: http://whatsnext.nuance.com/customer-experience/building-blocks-of-virtual-assistant/
Publish Date: July 7, 2016 5:00 AM
---
Countries are constantly evaluating the level and value of the service they provide to their citizens. Earlier this week in the U.S., we celebrated the country's decision to declare its independence from Great Britain 240 years ago. More recently, Britain made a decision of its own to leave the European Union. While every situation is different, countries often make decisions to change course after evaluating their options. And companies should adopt the same considerations when evaluating the service they provide those they are designed to serve: their customers.
Nuance's work with many of the world's largest companies provides us with a unique vantage point into what makes a quality customer service experience in the IVR. As such, we've identified eight capabilities crucial to offering a leading customer experience. Use this checklist to determine where your company falls on the path to IVR modernization, and if you need to make any adjustments to better serve your customers.
IVR type – Is your system DTMF or speech-enabled? Does this provide the best experience for callers? Technologies have come a long way and natural language-based systems can provide enhanced experiences.
Audio quality – Test your IVR for sound clarity, feel, and concatenation. Concatenation? Yes, concatenation! If the speech volume is too low or the words don't flow and link together well in a cohesive sentence (concatenation) the caller experience will be poor.
Speech recognition accuracy – A good IVR understands the words you are saying. It recognizes words, speech patterns, dialects, and different languages. ¿Su IVR entiende español?
Caller intent – Does your IVR know what someone is trying to accomplish? Can it determine why they called? Getting caller intent wrong increases misroutes and customer dissatisfaction.
Conversational dialogue – People respond better when engaging with a system in a natural, conversational tone. Would your IVR benefit from an upgrade to natural language technology?
Personalization – You have tons of customer data. But are you using it to maximum advantage to speed up caller identification and reduce handle time? The possibilities nowadays are endless.
Speed – How long does it take a caller to get through your IVR? How many steps does it take for the caller to reach their goal and find a resolution for their problem or receive an answer to a question? Call your IVR to see if you are happy with the duration.
Ease of use – Customers reward companies who make life easier for them. Simplify your IVR and you'll boost customer satisfaction and your bottom line!
With these eight criteria you'll be able to re-examine your current IVR and decide if it's best to stay the course or enact change to create a better world for your customers and your business.
Source: http://whatsnext.nuance.com/customer-experience/call-center-checklist-to-leading-customer-experience/
Publish Date: July 6, 2016 5:00 AM
---
As a tech company employee, I'm a huge fan of HBO's Silicon Valley. Silicon Valley is a comedy TV show which focuses on six men who found a media file compression company, Pied Piper, in the notorious Bay Area. These characters, most notably Richard Hendricks as the company's founder, experience many struggles and accomplishments throughout the process. The latest struggle was in last week's episode, "Daily Active Users": and it was all about how to communicate.
Hendricks showcased his compression platform with the help of an outside marketing agency after releasing the beta to the world. But this was the first time it had been introduced to non-engineers. The download rate of their application was large, but there were few people actually using it. When his venture capital advisor asks if he only gave the beta to engineers, he answered: "Well yeah. I wanted to give it to people who would understand what I'm trying to do so I could get useful feedback. With all due respect, I give it to you, the one person without a computing background, and you said it felt engineered." To his credit, the words barely leave his mouth before recognition dawns on him as his venture capital advisor observes, "You're trying to sell the platform to regular people, but never actually put it in the hands of regular people."
In the world of IVR and automated customer service, we're not as actively fighting the problem of giving relevance to hyper-advanced technological platforms. But, what we are doing is developing customer service programs and processes to help solve the problems your business analysts see develop over time.
Hendricks' proposed solution to his baffled non-active user base was to "take every last dollar we have to do outreach. Tutorials. User meet ups. Create a guerilla marketing campaign that explains how to use the platform."
In our world, this is analogous to sending out mailers, guides, incentivized programs that try to convince the end-customer to make the effort to learn why this thing we created for them is so cool and so helpful. Or, sometimes, as a colleague shared with me once, going so far to ask if we could just mail call flow diagrams out to their customers so they could learn the IVR that way.
If you're asking your customer to take initiative and make the effort to learn something, you've already lost.
Unsurprisingly, this "get out the knowledge" campaign fails miserably, and with the tiny remains of their budget, the crew ends up with "Pipey", which we all recognize instantly as callback to Microsoft Word's much-hated "Clippy". In a shrill voice, he begins, "Looks like you want to compress a movie file. Can I help? You know, with Pied Piper's revolutionary neutral network, optimized, shared distribution system, it's just six clicks away!" I think we can safely all predict Pipey's imminent failure. But what's the problem?
The Curse of Knowledge: "A difficulty in imagining what it is like for someone else not to know something that you know. The better you know something, the less you remember about how hard it was to learn." – Steven Pinker, The Sense of Style
Not only have Hendricks and the rest of his engineering team forgotten what it meant to learn all of the highly technical computer science behind their platform, but that same educational journey, combined with the developing mythology of their company, has made it impossible for them to reconnect to the human core. Instead of focusing on giving their users context and an experience that gives clear answers to unasked emotional questions like "Why do I care?" and "Why do I want this?", their strategy is to tackle the intellectual problem and teach the theory.
If you want to be successful, your entire process needs to be design-led.
A few years ago, I was working with a financial institution who had recently overhauled their automatic payment programs for their mortgage customers, and had come to us to add support in the IVR.
It didn't take long for me to see that these offerings were clearly solving important problems for the business. But that I, as a consumer, had no idea what that meant for me or how I was supposed to make an informed choice about which program was right for me. I ran a thorough analysis of the programs, identifying all the ways in which they were similar and different. I shared my findings – and the troubles I was having as a consumer understanding the programs they were using – with the company. The company then was able to understand the limitations to their current program, and we worked together to develop a long-term fix, so the organization could better serve its customers. In the meantime, I created IVR prompting which identified the similarities and differences in ways the consumer could understand.
The lesson here is to involve design early and often in the development of new programs and processes. We re-connect you back to your ultimate audience and iteratively help you improve the immediate impact those new systems will have.
Pied Piper's problem is that the platform is developed for Engineers by Engineers who understand the technological complexities of their world and why this thing is so cool. Design is about telling a story. The industry thinks it understands this. But the story we often receive as consumers are like the tables ad that the episode opens with. An attempt to use metaphor to create an emotional connection with a user base. But you can't just go from Engineer/Analyst straight to marketing. You need to understand your customer.
You need design's involvement while you're solving the problem. My job is to keep you connected to that ultimate audience. To keep asking the question "Why do I care?" and to help you answer it. My job is to work with you. To take in your business needs and requirements, to understand the problems you're having and trying to solve, and to combine those with the needs and problems of your customers so that I can help you create integrated customer service solutions that make everyone's life better.
I'm here to help you unravel that Curse of Knowledge. To act as the Chief Translator between your needs and your customer's and to tell a story that actually means something.
One of the final moments of the episode features a defeated Hendricks curled up in a bathtub, regaling the litany of hurdles the team has overcome before concluding, "But I guess you just can't fight public opinion."
I'm going to steal a line from Donald Draper to answer that attitude:
"P.R. people understand this, but they can never execute it. If you don't like what's being said, then change the conversation."
And that's what Nuance's UI team is here to help you do.
Source: http://whatsnext.nuance.com/customer-experience/design-customer-involvement-critical-in-customer-experience/
Publish Date: June 29, 2016 5:00 AM
---
There is an old adage which says, "elephants never forget". According to researchers, an elephant's memory is a key part of how they survive in the wild. So it would be hard to match the memory of an elephant under any circumstance. But with the rise of smartphones and other technology, humans have taken an even larger step back.
New research commissioned by Nuance indicates that consumers have developed the habit of depending on technology more than their own memory to remember important information and commitments, leading to what is known as the digital amnesia effect. Internet-enabled devices are the catalyst behind digital amnesia, as U.S. consumers report outsourcing the memory of critical information – such as addresses, phone numbers, passwords, payment deadlines, and appointments – to smart devices.
As consumers become more susceptible to memory lapses as a result of this digital amnesia, companies need to be prepared to bridge the gap; mitigating customer forgetfulness and minimizing the cost and operational impact of increased service volume. By proactively prompting their increasingly forgetful customers to take actions, companies are helping their business – by improving efficiency, reducing payment defaults, increasing revenue – and earning customer loyalty. Nine out of 10 Americans are more likely to do business with companies that send them reminders.
But using the right channels for these proactive communications is critical. Customers expect businesses to meet them on the communication channels of their preference. And the traditional channels such as telephone and postal mail are no longer the methods of choice. Ninety-three percent of consumers say they would prefer businesses to contact them via non-traditional channels, including email, text messages, calls to mobile phones, mobile apps and social media.
But the hidden gem and Holy Grail for businesses is the text message. With virtually everyone owning a smartphone, the desire for business-related outreach via text message has skyrocketed—more than doubling in the last 12 months. Forty-two percent of consumers report a preference for communication via text message, a significant increase over the prior survey fielded in March 2015, when only 16 percent indicated a desire for this channel. It's not surprising that Millennials are the primary drivers of this trend, with 59 percent preferring customer communication via text. But it's not only Millennials who are demanding text communication. More than one-quarter of adults age 55 and over also want businesses to reach them via text messages.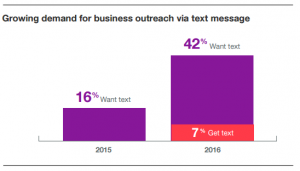 But are businesses listening to what their customers want? In short – no. At least, not yet. Only seven percent of consumers report receiving communication from businesses via text, meaning there's massive opportunity for businesses to improve and reach consumers on the channel they actually want. And to maximize this opportunity, businesses must ensure their communications are relevant, offer the ability to easily reply or take action and are in line with a high quality brand experience.
Your consumers may not have the memories of elephants, but you can give them a helping hand by being more proactive. Digital amnesia is real, but it doesn't have to hurt your business. Companies can mitigate its effects and improve customer satisfaction at the same time. And it starts with something as simple as a text message.
Source: http://whatsnext.nuance.com/customer-experience/combat-digital-amnesia-with-text-messages/
Publish Date: June 28, 2016 5:00 AM
---
In the world of customer service, IVR is a staple. It's your bread and butter. Traditional, but reliable. And many companies (smartly) invest time and resources ensuring that their IVR is successful – in first call resolution, containment, reducing misroutes and decreasing average handle time. But as I continue to work with customers to assess their automated systems, I see that some of the most successful customers often realize one thing: improving the IVR isn't a one-time effort. You have to play the long game. Making the most out of your IVR requires an ongoing and iterative commitment. And if you make that effort, companies can see improved business results and lower operating costs.
Over decades working with customers to assess the performance of their automated systems, we've identified three practices your business can adopt to enhance and elevate the performance of your IVR.
1. Understand that no IVR is an island:
It's no longer sufficient to analyze the IVR in isolation. Your customers interact with you on multiple channels, at different times, to perform different tasks. Knowing how IVR self-service performs in relation to other customer touch points is essential to understanding the overall customer experience and where efficiencies can be introduced to improve the effectiveness of automated systems and enable quick and easy customer care experiences.
When companies look at IVR performance in isolation, they risk focusing too much on one area of concern and consequently may overlook other opportunities. There are three factors that affect the number and types of calls the IVR will process and resulting automated system performance – overall experience, industry context, and business processes. Investments made in new or emerging digital channels can decrease the number and change the composition of calls an IVR will receive, because customers receive self-service outside the IVR. Changes to your industry can similarly impact the number of and significance of calls (for example, an increase in monthly account fees could affect the number and type of calls a retail bank might receive). And business process changes, such as enrolling more customers in automatic payments, could decrease overall usage, and with it, the number of payments processed through your IVR.
2. Use data to monitor your performance
This is an area with huge opportunity, both in the long-term and short-term, that's currently falling short of its potential. Every company has access to significant amounts of data, but they need to actually use that information to measure performance and implement changes. Data is more than just running reports – there are plenty of dashboards showing company data points, but companies need to look at more complex analyses to see real value.
Data on callers' usage of self-service functions, including areas of failure and agent request, can also help you predict and anticipate future customer behavior, increasing the efficiency of your IVR and improving customer experience.
3. Analyze user behavior
Monitoring your performance is important, but it becomes invaluable when you pair it with analyzing how customers are actually using your services. Unless you examine data periodically about how people are using the self-service application, and use that data to drive improvements, you may find that the performance of your application in that channel declines over time. This is often because of a divergence that develops between how your service was designed to be used and how people actually use it. This is what I like to call "usage drift." That drift can become pronounced if a lot of time has gone by since you most recently looked at user behavior and system performance together.
Having an iterative, data-driven process to compare user behavior and system design provides you with the opportunity to gain insights into developing your automated systems to meet customer needs. With this knowledge, you can get ahead of your competitors by creating personalized, anticipatory, automated solutions.
Source: http://whatsnext.nuance.com/customer-experience/tips-to-increase-ivr-performance/
Publish Date: June 24, 2016 5:00 AM
---
As the old adage goes: When life gives you lemons, make lemonade.
I was given my lemon not too long ago when I experienced a shoulder injury that basically halted my ability to type on a keyboard. As a presentation director, bid consultant and frequent blogger, the inability to type was jarring. How was I supposed to get my work done and serve my clients while waiting for my shoulder to heal? When I mentioned this issue to my web support tech team, they immediately pointed me in the direction of Dragon for my MacBook Pro.
Although I had originally learned about Dragon several years ago, at the time I didn't feel that it was a product I needed for my professional or everyday life. But with my shoulder injury taking center stage and disrupting my livelihood, I decided to give Dragon a go.
I started the training and was pleasantly surprised with its speed and accuracy. I have a unique accent –part English, part Canadian with a hint of Australian – and Dragon has been able to accurately transcribe the lion's share of what I have dictated. And while it has taken me a little while to get used to dictating as opposed to typing, I have come to love it for a number of reasons. The first being that, current shoulder injury aside, I am dyslexic and as a result writing can be a major obstacle. For instance, I sometimes mix up words when typing – from misspelling common words and homophones such as "their" and "there" to occasionally typing text that does not flow or is out of order. Because of my dyslexia, I spend nearly 20% of my time correcting the text after I have typed it. Given that Dragon can decipher language and context, the issues around homophone confusion and flow are mitigated, and I am able to publish one to two articles per week, which was unheard of for me.
The second reason that I have come to love Dragon is that it has enabled my blog to become my "lemonade". Shortly after I started using Dragon to dictate my blog, a friend of mine who also happens to be a former producer with the Canadian Broadcasting Corporation (CBC), contacted me. He asked me what I was doing differently – was I working with a writing coach, for example – because the style of my blog had changed. It was more conversational and free flowing. He could hear my voice and personality when he read it; and he loved what he read. And he wasn't the only one. Others have commented about my newly found style.
I have since introduced Dragon to other parts of my life. I am using it to dictate and reply to emails, as well as write my client newsletters and write another book. Using a high-quality performance mic, I am also able to capture my discussion notes quite well. Dragon has also alleviated a great deal of physical stress on my body. As a 70-year-old, sitting in front of a computer to type isn't in my best interest. Using my voice allows me to move around the room and dictate my thoughts for presentations and proposals, my blog and more.
Although I'm not happy about my shoulder injury, I am happy to have found a solution that has helped me realize a new level of writing.
Source: http://whatsnext.nuance.com/connected-living/speaking-coach-uses-dragon-software-to-write-after-injury/
Publish Date: June 23, 2016 5:00 AM
---
Just like technological advances before it, mobility has become a mainstay across a wide range of industries. While millennials are a driving force behind this shift, given that this younger population will account for 75% of the U.S. workforce by 2025 and the majority of these millennials (80%) are already armed with smart devices; mobility is becoming the new driving force behind today's work culture and will continue to impact the bottom line.
Enterprises of all shapes and sizes are realizing the achievable ROI with mobility. In fact, 70% of organizations see mobile solutions as essential to supporting the changing workforce (Ranstad Technologies/IDG). We've finally moved beyond debating 'if' and 'when' enterprises are going to mobilize their workforces, to what types of applications or services are going to bring the most value to businesses and their employees – whether they are Millennials, Gen Xers or members of Generation Z, who soon will be joining the workforce ranks.
Apps that foster productivity reign
With the ability to improve business processes, particularly productivity, cited as the number one benefit of mobility (according to the 2015 Enterprise Mobility study conducted by Apperian), it's no wonder that productivity apps, such as note-taking solutions, earned the top ranking for having the greatest impact on productivity and ROI.
This is extremely applicable to professionals whose jobs require endless necessary documentation of client or case interactions such as legal, public safety or social services. This aspect of the job is neither fun nor career enhancing, and often requires them to be tethered to the office. With mobility in mind, professionals want to be able to capture their thoughts while on the go and access this content from anywhere.
It's no wonder then that Evernote, with its multi-platform and cloud-management support, is used by millions of mobile professionals as a note-management tool. The wide range of Evernote's tools free users from the confines of an office and enhance collaboration and productivity from wherever their work takes them.
Access, but also creation of content leads more and more professionals looking to their mobile devices as a note-taking tool, but mobile devices small touchscreens don't lend themselves to long-form writing and detailed note taking, as noted in a recent survey. Voice driven solutions such as Dragon Anywhere, Nuance's cloud-based, professional-grade mobile dictation solution give mobile professionals the ability to think and document accurately and quickly – in the moment on their mobile device. In fact, Evernote is now integrated as part of Dragon Anywhere to synchronize notes and documents of any length between your Dragon Anywhere and Evernote accounts.
Marry the ability for real-time, long-form note taking with immediate access to content, and this is what mobility is all about.
Solutions that allow both creation and access to content in the cloud and across any platform will greatly benefit professionals who seek the freedom and flexibility that mobility brings, and can only benefit the businesses that embrace this new work culture.
Source: http://whatsnext.nuance.com/office-productivity/dragon-anywhere-and-evernote-mobile-dictation-app/
Publish Date: June 21, 2016 5:00 AM
---
When you think about bank robbery do you think about Bonnie and Clyde? Or some bad guy with a facemask holding a gun and forcing a teller to put all their money in a bag? If so, then you probably grew up watching the same shows I did, but more seriously, you may have a skewed view of today's highly successful bank robbers: fraudsters.
Today's fraudsters are growing more sophisticated and technologically savvy. And fraudsters have found a new way to steal information: impersonating company executives to authorize wire transfers to untraceable locations. Data from the World Bank shows that the remittance market is currently $527.8 billion and is growing fast; it is expected to reach $610 billion by the end of this year. That's a lot of money which is susceptible to attack. But how do these fraudsters do it and how can you protect yourself and your customers?
How fraudsters steal money
These fraudsters gather information to make wire transfer requests as believable as possible. They identify when an executive is traveling, craft an email to the victim with a request for an immediate wire transfer, and then "poof" the money is gone!
Sounds implausible doesn't it? Unfortunately, all too many have found it to be a very real scenario. A woman in Ohio almost lost her company $315,000, a company in Omaha lost $17.2 million, and another company in San Jose lost $46.7 million, all due to fraudulent impersonations and wire transfers.
According to AFP research, wire transfers are the second most popular vehicle for payments fraud, only behind checks. We are not talking small amounts; data from the U.S. Secret Service says wire transfer fraud has cost victims more than $1 billion in just 18 months.
But the good news is that there is a way to mitigate these attacks.
How voice biometrics protects companies from fraud
Multi-factor authentication, the practice of using more than one method of identity verification, using voice biometrics is a fool proof way to ensure a wire transfer request is being made by the right person. Voice biometrics leverages more than 100 unique speech characteristics to create a unique voiceprint (just as individual as a fingerprint) for each customer, making it a highly secure method for authentication.
Voice biometrics is currently being used by millions of people and being adopted by organizations around the globe, including financial institutions, telecommunication services providers, and other enterprises that require validating the identity of users within customer care channels.
Voice Biometrics are gaining ground with these enterprises because not only does it make accounts more secure from the threats posed by identify theft, social engineering, and data breaches, but it also allows for faster authentication. Unlike trying to remember PINs or passwords or even worse, those unusual security questions (your favorite pet, like you can pick just one), voice biometrics can be used with a prompted passphrase like "My voice is my password" or it can work in the background to verify identity without interrupting the normal dialog between a customer and a company representative.
So it's no wonder 90 percent of users prefer voice biometrics as an alternative to PINs and passwords.
OK, so how would it work?
In the case of a bank, the officers who are responsible for authorizing wire transfers would all enroll their voiceprint into the system by recording their pass phrase three times. Once the voiceprint is created, any time an authorization is needed they merely call in and validate the transfer. This way the poor phone attendant is not the one making the decision as to whether the person on the other end of the line is actually the CEO.
Source: http://whatsnext.nuance.com/customer-experience/voice-biometrics-protects-from-fradulent-wire-transfers/
Publish Date: June 13, 2016 5:00 AM
---
If you've been reading my series, you know that AI and machine learning (ML) can have a powerful impact on delivering the best possible customer care experience. Specifically, we're applying "big knowledge" for customer service tasks. What does this mean?
The first task we want to look at is "passage retrieval," or finding relevant text parts that contain the answer to a question. It helps to solve the "simple" intents in the customer service application we mentioned above, where customers ask for something that is (hopefully) contained in the document data base. And instead of searching for words only, and hoping that customer question and target document use the same language, we will apply what we learned in the last part of this post.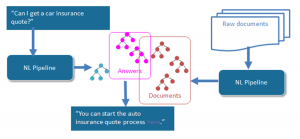 As the diagram shows, the trick is that we run both the database of documents and the question through the Natural Language (NL) pipeline and generate enhanced dependency trees. The former is done offline to compile an index of such trees and the question is processed at run time. The best matching trees are selected as the answer candidates and the text passages are then ranked, and the best candidate reads back to the customer. When we tested this at a customer we found that it worked much better than their legacy search tool, which was based on traditional word-level search. That worked reasonably well when customers used an appropriate keyword (it would find the right answer in 84% of the cases) but it degraded a lot when people were using full natural language queries (54% success). Our new solution scored 96% and 81% respectively.
Similarly, we are now using this for another typical ML task, "clustering." As I mentioned above, when customers contact the agents they may have one of several different "intents" or buckets of tasks in mind. How do we know which "buckets" exist? Of course you can do a manual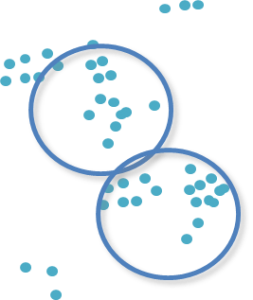 analysis, which may be very time consuming. Instead, you can also use ML with methods that try to find "clusters" of things that look similar compared to the rest of the data. In our case, imagine you look at 100,000 requests that came in, can you find 100 or 200 or 500 "buckets" that can be mapped to request types or intents? If you do this automatically the additional benefit is that you can monitor how requests change over time, as what your customers want from you may also change over time. The naive approach is to apply standard machine learning clustering approaches on the initial requests that customers have, at world level. But given what we learned in this blog series we can improve over this in two ways: First, we will not only use the initial user utterance. Instead as we can observe the entire interaction, like what the human (and automatic) agents actually do with the request, we should take that entire interaction into account when clustering. And secondly, again we will use our NLU pipeline to transform mere words into semantically enriched trees and runs the clustering algorithms in these.
Both of these approaches again allow us to reduce annotation time before a technology is put in use, and allow us to take advantage of the unstructured data that so many enterprises have readily available. The virtual assistant is in essence not only doing something useful for the end user, but also helping to translate a company's unstructured data into exactly the kind of labeled big data that will allow the virtual agent to move towards state-of-the-art AI learning.
So, big knowledge means big changes coming to customer care through human assisted virtual agents (HAVAs). With the right methods in place, they can drive a more collaborative engagement between humans and machines to create an effective and efficient customer experience for people around the world.
Source: http://whatsnext.nuance.com/in-the-labs/virtual-agents-use-machine-learning-to-solve-customer-requests/
Publish Date: June 7, 2016 5:00 AM
---
Virtually any article on customer service or customer experience these days contains one or several of the following key words: multi-channel, cross-channel, and omni-channel. Though these words are often used interchangeably, each has a different definition and application. To demystify the jargon, here's a quick guide to what these terms actually mean and how they can be applied to your business' customer interactions.
Multi-channel:
A multi-channel approach simply means that you are using more than one channel to reach customers. This concept isn't necessarily new, right? Whether it was telephone, mail, or in-person, there's almost always been more than one way to reach a company. However, with the rapid proliferation of channels in recent years – from text messaging to social media – the notion of multi-channel is more important than ever. It's expected there will be an average of nine customer experience channels for more organizations by 2017. As customers now have more channels at their fingertips, businesses must follow suit to keep up with customer preferences.
An example of a multi-channel approach is when a company offers customers multiple mediums to choose from to reach the business – whether email, phone, text, or website – and customers are given the ability to select whichever option they'd prefer to communicate through.
Cross-channel:
Cross-channel refers to the idea that a customer uses a combination of channels to perform a task. A cross-channel approach builds off the multi-channel strategy. Since customers now have access to more channels, it's natural for them to use more than one to accomplish their goals. This approach allows customers to use multiple channels in tandem.
For example, a customer who has a question regarding a product may start by looking at the company website's FAQ, then call a customer service representative to gather further specifics.
Omni-channel:
Just as cross-channel builds on multi-channel, the omni-channel approach builds upon both of the previously stated strategies. Omni-channel recognizes that customers are actively using multiple channels (often simultaneously) and aims to streamline those interactions. By saving customer preferences and information, and referencing that data in all subsequent interactions, an omni-channel approach creates a seamless and consistent customer experience across channels. Essentially, it means that all the channels a business employs work together.
For example, let's say a customer makes a payment online. But the next time around, the customer calls a representative to make the payment. In this scenario, under an omni-channel approach, the customer service rep will be able to immediately reference the information from the past payment interaction. The customer doesn't have to repeat all of their account information and preferences, because the representative already has it.
But why does this all matter? Simply put, customers don't live in a single-channel world. From mobile phones to smart watches, the way customers communicate is different than it used to be. People expect and demand to be able to use which channel they want, when they want it, where they want it. And if businesses don't comply, they'll fall behind to competitors who are more than willing to meet customers where they want to be. Furthermore, businesses who integrate these strategies will not only boost customer satisfaction, but they can save time and money while doing so by streamlining their customer interactions.
So with these definitions in mind, revitalize your customer service and put these terms to work!
Source: http://whatsnext.nuance.com/customer-experience/demystifying-crosschannel-multichannel-omnichannel-customer-service/
Publish Date: June 6, 2016 5:00 AM
---
The future is upon us. Companies are now starting to adopt technologies that can verify identity which were once thought overly futuristic (HAL had no problem identifying Dave in 2001: A Space Odyssey). Fingerprints are no longer the only unique body identifier: irises and even ears are now on the list of biometric authentication tools. But the identification opportunity that's the least understood is voice biometrics, mostly due to misconceptions about what voice biometrics actually is and whether it is secure.
Let's take a couple minutes to dispel some of these misunderstandings, so you can determine if voice biometrics is the best way for you to provide a seamless authentication experience for customers.
Myth #1: People can overhear me and will be able to steal or use my password.
For more than 20 years the internet has been telling people to "Never give out your username and password or very bad things will happen." Even my own son was leery of typing his password with me looking over his shoulder (granted, that may have been due to good reasoning). Keeping one's password safe is just good sense. Why would I speak my password somewhere where fraudsters could hear me?
The important distinction with this misconception is your voice is your password. Voice biometrics leverages more than 100 unique speech characteristics to create a unique voiceprint (just as individual as a fingerprint) for each customer. The words you speak do not grant you access to your account – the unique characteristics of your speech pattern are your password. There are both physical and behavioral characteristics of a person's voice. Physical characteristics such as the shape of your vocal tract, how your mouth moves when you speak, and the size and shape of your nasal passages are unique to a given individual. In addition, voice biometrics recognizes unique behavioral traits such as pronunciation, speed of speech, pitch, and accents. No one can steal your account information simply by hearing you speak a passphrase.
Myth #2: Everyone says I sound just like my Dad; wouldn't he be able to log into my account?
You may sound just like your Dad to everyone around you, but to the voice biometrics system you are two distinct individuals. As a matter of fact, WIRED Magazine recently put Nuance's voice biometrics to the test by comparing famous people to master mimics ­– including Kevin Spacey. While the mimics sound just like the originals, voice biometrics was not fooled.
Myth #3: My voices changes all the time. I'm worried I won't be able to get into my account if I have a cold.
This misconception is one of the most common ones, and many CIOs, contact center managers and other people consider it a show-stopper. But numbers prove otherwise.
For example, Nuance's VocalPassword solution has delivered successful authentication rates within customer-facing IVRs 97 percent of the time. On average, a person with a cold tends to experience an error rate that is about double the average. As such, a person with a cold has a 94 percent chance of getting successfully authenticated, which is still significantly higher than the 40 to 60 percent success rate customers typically experience with a PIN or password. The high success rate for people that have a cold is made possible by Nuance's approach of analyzing more than 100 aspects of each caller's voice, and a cold affects only a handful of those.
Myth #4: If someone hacks the company's database they will have access to my voiceprint.
After the Target security breach of 2014, everyone has been talking about what happens when a hacker gets your credentials. Unlike with a username and password, the hacker cannot use what they have stolen because it requires the back-end to process the voiceprint. Even if they were able to steal the recorded voice, Nuance provides playback detection to protect from spoofing. This feature tests incoming audio to see if it represents live speech or if it fraudulently uses a recording of an authorized speaker, mitigating the risk of fraudsters using voice recordings of legitimate speakers.
Infiniti Research estimates that voice biometrics can address 90 percent of fraud in a voice channel, as well as address 80 percent of fraud in a mobile channel. So even with hackers on the prowl, your data is safer with voice biometrics.
Myth #5: I don't like biometrics because it is based on something that cannot change (Fingerprint, iris, voice) and if I need to change my password it cannot be done!
Unlike fingerprints or iris', which are static biometric credentials, voice biometrics is a dynamic biometric credential. A static biometric, like a fingerprint, is unchangeable, while a dynamic biometric is constantly evolving.
Most of us have ten fingers, so there is a small amount of variability that is possible: if you enroll your right index finger to authenticate into a system, and a hacker compromised your fingerprint, you could enroll another finger. But at the end of the day, you have a maximum of ten possible credentials with fingerprint biometrics. With iris, that number drops down to two. With voice biometrics, you have an infinite amount of possible voiceprints.
Let's say that you have the following voiceprint to authenticate into your account: "My voice is my password at VB Bank." Should a malicious individual record you saying this passphrase, you could revoke this credential and create a new one where you say "At VB Bank, my voice is my password." You can easily see how there are an infinite amount of possibilities with voice, and so it's important not to lump all biometric technologies into the same boat. Irrevocability is only an issue with static biometrics.
Source: http://whatsnext.nuance.com/customer-experience/five-common-voice-biometrics-myths/
Publish Date: June 2, 2016 5:00 AM
---
The world of customer service looks vastly different than it did 20 years ago. With the pace of change, new channels and higher expectations have forced a change from what defined industry leading service even five years ago. Consumers are communicating in fundamentally different ways and the number of touch points continues to explode.
Gaining massive popularity are messaging apps such as WhatsApp, Facebook Messenger, WeChat and Viber, which tout a combined user base of roughly 2.9 billion. These apps are particularly popular among Millennials, as 50 percent of the users for the ten leading chat apps are under the age of 35. Similarly, chatbots are the hot topic in customer service right now. Companies from Facebook to Google to Microsoft are deploying these all-in-one virtual assistants as new ways to communicate with consumers. And finally, we can't forget about text messaging. In a recent survey, more than 42 percent of Americans reported wanting to communicate with businesses via text message, but only 7 percent received reminders and notification on this channel. Another 25 percent wished they could conduct customer service via two-way text.
Taken together, these trends paint a clear picture: The market is changing. Message-based communication is what consumers want. To stay relevant, businesses must adapt again.
To address this shift in consumer preference, Nuance announced Nina for Messaging, leveraging Nuance's Natural Language Understanding and conversational technologies to provide an intelligent, automated experience on popular messaging channels, through a common platform. With Nina for Messaging, customers more easily find answers, solve complex problems and execute purchases via in-app messaging, conversational text messaging, and within apps such as Facebook Messenger. The solution leverages a common mulitichannel platform, allowing businesses to cost-effectively extend a consistent self-service experience across messaging channels, while maintaining control of both data and security. In doing so, Nina for Messaging increases customer satisfaction by creating personalized, effortless experiences that allow consumers to conduct business quickly and easily.
The market momentum speaks for itself – message-based customer service will rapidly represent a quality experience. But this shift doesn't need to represent added cost to the enterprise. Fifty-nine percent of consumers agree that automated self-service options have improved customer service, according to a recent Wakefield survey. Nina for Messaging is designed to provide the self-service experiences your customers want, on the new channels they prefer.
Source: http://whatsnext.nuance.com/customer-experience/nina-for-messaging-offers-automated-self-service-via-chatbots/
Publish Date: May 27, 2016 5:00 AM
---
We all know how good customer service looks. That thoughtful touch. The extra mile. Added efficiency. And effortless interactions. But what specifically distinguishes the customer service leaders from the laggards? What do the leaders do differently? And how can other companies replicate the success model to achieve better customer service results?
The industries which consistently receive high customer service scores may surprise you. Supermarkets, fast food, banking and retail are all at the top of the list.
What do those industries have in common? And why do they hold the key to the treasure chest of customer service secrets? Across these leading industries for customer service, clear patterns emerge in how these industries help customers accomplish their goals and build an experience to admire.
Here are their secrets to success.
Self-service options. Not only do customers increasingly prefer self-service options (especially Millennials), automated self-service also saves businesses resources. Customer service leaders provide valuable tools which allow customers to solve their own problems and find their own answers, such as self-checkout lines, ATMs, drive-thru lanes, mobile apps, information kiosks, and downloadable coupons.
User control. Effective customer service allows the customer to be in the driver's seat. Let your customers do what they want to do, when they want to do it, how they want to do it and then store those decisions as future preferences.
Personalization. Everyone likes to feel special. Whether it's a store employee who knows you by name or a barista who remembers your last order, customers enjoy that personal, individualized treatment. Companies with successful customer service often use recommendation engines to help tailor the experience by predicting your next action based on previous interactions and uncovered behavioral patterns.
Relevant choices. You know the feeling – you go into the department store looking for shoes, then the salesperson spends 30 minutes trying to sell you a watch. Being presented with irrelevant, unwanted options is frustrating. When you have a goal in mind, what can help you make the right choice is critical information and a list of available options. Companies that offer great customer service cut out what's unnecessary, and only present you with the choices relevant to your current situation.
Multichannel support. Customers don't rely on one communication channel alone. They use phone, email, text, web, and mobile apps (sometimes simultaneously). Companies need to leverage an encompassing view of customers, across all channels and contact points, and must consider face-to-face, inbound, and outbound interactions.
These patterns aren't unique to the supermarket, fast food, retail or banking industries. These principles can be applied and implemented in any industry in order to achieve superior customer service success.
Source: http://whatsnext.nuance.com/customer-experience/the-keys-to-becoming-a-customer-service-leader/
Publish Date: May 26, 2016 5:00 AM
---
The IVR mindset is shifting. Originally, the essential goals of a company's IVR were containment and automation. But now there's a lot more an IVR needs to do to keep customers satisfied and allow companies to reap the business benefits of using an automated system.
Many times customers call into an IVR with the express intent of speaking to a live agent, and 39 percent of customers complain not being able to reach a real person through the IVR system is a top (and regular) frustration. Consumers now view the IVR as a gateway to the call center.
The IVR is increasingly being used as an escalation channel, where consumers only call in when they have already tried to find a solution on their own, and were unsuccessful. So by the time they call the IVR, they're already frustrated and impatient. In this environment, the purpose of the IVR is increasingly shifting. Its purpose is to provide the call center with immediate information in an effort to route callers to the right agent and reduce call handle times.
With this new purpose in mind, call center metrics are more important than ever. We need to know if agents use the information passed to them by the IVR, whether calls are being routed to the correct agent, and evaluate the length of wait and agent handle times.
There are great tools to evaluate how callers get through the IVR, how many callers are self-served, and how many callers are routed correctly.
But here's the issue: There's a dead space between the IVR and the call center, and we currently can't connect the dots between. Contact center managers need to be able to measure results – the IVR's direct impact on the call center – and thus the costs to provide customer service.
With the IVR now playing the role as gatekeeper for the call center, the two should be more integrated. This is something the industry will need to embrace as we enter the future of a phone-based customer experience.
The best strategy at this point in time is to treat the entire caller experience as a single call, because for the callers, it is.
Don't stop tracking the call after it exits the IVR. Following the call into the call center allows companies to monitor the effectiveness more acutely, showing wait time, whether the right agent was reached, whether a resolution was reached, etc. This knowledge allows you to focus on those areas in the IVR that have the most impact on your specific call center, and tailor the experience to meet your goals.
I envision a future with a logging standard, designed to log the agent actions and how they affect the overall call result. This would mean there is one repository for data, and companies can receive full-bodied information with more meaningful insights into their customer actions and adjust the experience accordingly to save money and increase customer satisfaction.
To properly judge a company's IVR, it's essential that businesses understand critical metrics such as agent-to-agent transfers and agent handle time. There must be an ongoing industry discussion to address how we can best connect the IVR and the call center. Although this is in the future, there are things companies can be doing now to gain valuable insight into what's happening in the gap between the call center and IVR.
Source: http://whatsnext.nuance.com/customer-experience/bridging-the-information-gap-between-ivr-and-call-center/
Publish Date: May 24, 2016 5:00 AM
---
I've been a writer since I was very young. In fact, long before I wrote my first book I won an employee Valentine's Day poetry contest while working for Harrah's Casino in San Diego. I even remember winning a poetry contest in elementary school. The poem was about the peace that I felt as a child when walking through the forest, listening to nature. I have come a long way since then and my transition into becoming a non-fiction writer is something that, believe it or not, happened completely by accident.
It was 2011 and I had just moved to Hawaii to renew my sense of self and purpose when I wrote my first book, "Aloha Joe in Hawaii: 'A guided journey of self-discovery and Hawaiian adventure'." At the time, I was writing by hand with pen and paper, which I felt was easier than typing on a computer. It took me a full year to write my first book by hand and another full year to type it on a computer. With that much time invested, I believed that there had to be a better and more efficient way to write.
Soon after, I had just purchased a new computer and heard about this new technology called "voice recognition software." I was really excited to hear about this and after doing some research, I settled on purchasing Dragon Naturally Speaking. It took me a little time to get the commands down and for the software program to adapt to my voice. To speed this process up, I would read a few books aloud with the software turned on. I still remember when I told my kids about my experience trying the software for the first time. Of course, they just laughed at me because apparently they had already been using this technology for several years at school.
Up until that point, I had been taking notes for a number of years on other topics that I wanted to write about, but since it had taken me so long to type the first book, I couldn't imagine how long it would take for me to type up all of this new information. But after playing with Nuance's Dragon Software, I decided to find out just how much faster I could produce my second book. The short answer is: three days.
When I gave the finished book to my editor she was pleasantly surprised. After going through everything that I had "composed" in those three days, she figured out that I had actually created enough material for not one, but TWO books! My second book, published in 2014, was titled: "Stories I Can't Tell My Kids – Yet." And the third, "Your Brain is the Key to the Universe: A Comprehensive Guide to Manifesting Your Ideal Reality and World Harmony," was recently up for a Pulitzer Prize in the General Non-Fiction category this year. It is in this book that I reflected on many current issues and also wrote about my experience using Dragon software.
I really do owe Nuance a debt of gratitude for pushing the research needed to advance this field. I am a disabled Marine veteran and I have had many injuries in my life, including disabilities in my hands, fingers, wrists, and more. Dragon software has allowed me to realize my dreams of becoming a published author.
About Joe Holt:
Joe Holt (aka Aloha Joe) is a Pulitzer Prize-nominated author, artist, photographer and life coach. He is the author of Aloha Joe in Hawaii: "A guided journey of self-discovery and Hawaiian adventure" (August 5, 2013), Stories I Can't Tell My Kids – Yet (August 11, 2014), Your Brain is the Key to the Universe (March 4, 2015). Holt's fourth-coming book, Godfather of Fisherman's Wharf, is currently in production, and he just finished his fifth book, a fictional children's story entitled "Gordy the Ferret." Both were developed using Dragon Naturally Speaking. Click here to learn more about Joe Holt.
Source: http://whatsnext.nuance.com/office-productivity/author-writes-books-faster-with-speech-recognition-software/
Publish Date: May 23, 2016 5:00 AM