Onvisource - ContactCenterWorld.com Blog
Contact Center as Strategic Asset
If you have ever thought about creating or expanding an internal contact center to improve your business, or simply outsourcing the tasks, you are in good company. In a previous post we wrote about the importance of delivering outstanding customer service. One of the main enterprise teams that makes this happen is the contact center, or front office organization. Not only do they field all types of business calls, they immediately convey either a negative or positive image of your corporate brand and style of client care. No longer considered an expensive overhead for companies, the contact center has matured into a strategic entity that can help maintain customer loyalty and contribute to brand excellence and overall growth.
Reasons for Outsourcing Contact Center Operations
There are many great reasons for outsourcing your contact center. Contact center activities are often not within a company's realm of expertise. An outsourcing company can provide full service contact center functionality. They also offer all-inclusive performance-based outsourcing services with expertise in telecommunications and customer support, and can provide full or partial services dependent upon your objectives and budgetary requirements.
The ability to always appear "open for business" is a priority for many companies, including those that deliver critical products and services. Outsourcing enables companies to focus on their core competencies while implementing short or long-term campaigns. With outsourcing, you reap the benefits of a professional contact center without incurring the cost of purchasing and maintaining expensive equipment.
Expenses associated with housing and maintaining additional workforce can be cost prohibitive to many companies as well. Companies who choose outsourcing reserve capital and resources otherwise needed to fund technology, quality monitoring, recruiting, training, incentive programs and more. Also, there are many payment plans available on the outsourcing market including a performance-based payment model where you will only pay for calls that deliver a quantifiable outcome.
Other industry payment options include:
Per transaction payment – developing campaigns based on a flat fee per transaction for predictable budget management.
Per call minute – customers who choose this payment option for inbound traffic are billed a flat rate per minute so they only pay for the exact time agents spend on the phone.
Monthly Retainer – used for programs reliant on availability and expertise rather than quantifiable results, a monthly retainer option ensures that expert agents are always available to service customers.
Per agent-per month or monthly flat fees – this is a cost-effective per-agent-per-month for ASP, or flat fees for hosted applications.
Creating New and Unexpected Opportunities
Outsourcing your contact center needs can have some unexpected and positive outcomes. Due to their expertise and technological resources, outsourcing services often identify and recommend solutions to maximize untapped revenue streams for customers. Mining and the analysis of performance reports, made possible through using an outsourcers software technologies, can help to recognize trends and discover new opportunities. Outsourcing can work with customers to create programs and expand services that capitalize on these additional opportunities.
Outsourcing services can complement your business for short term projects such as new product releases or marketing campaigns, and to achieve the goal of retaining customers and reducing the rate of customer turnover with:
Retention Programs
Churn Management Programs
Customer Contact and Loyalty Programs
Outsourcing delivers a diverse array of services and offers valuable solutions for any organization. Multiple programs can be implemented simultaneously for maximum benefit.
| Customer Transaction Outsourcing Services | Telemarketing and Campaign Outsourcing Services |
| --- | --- |
| Billing and Billing Resolutions | Acquisition |
| Collections | Win-Back |
| Customer Plan Changes-Migrations | Up Sales and Cross Sales |
| Customer Surveys | Sales & Marketing Campaigns |
| Data Collections | Lead Generation-Qualification |
| Customer Support Services and One-Call-Solution-Center | Inbound-Outbound Sales |
| Order Processing-Provisioning | Direct Mail Campaign |
| Revenue Tracking, Reconciliation & Reports | Market Trials |
| | Product Launches |
| | Target List and Data Mining-Analysis |
Outsourcing Does Not Have to be "Overseas"
About this time you might be thinking, "Yes, but I don't like talking to overseas companies myself, so why would I put my customers through that negative experience?" There can be language and accent barriers, and overly scripted and restrictive processes that are a challenge for calling customers when using overseas companies. As many large U.S. financial and technical organizations have discovered, most of their customers have a negative opinion and do not like dealing with an overseas outsourcer. U.S. agents have a much better command of the English language and are embedded in American culture. This translates into improved customer satisfaction with fewer complaints than with foreign contact center agents. To maintain customer service and loyalty, they have brought their call center operations back to the U.S.
Outsourcing your contact center operations can provide you with many options and benefits. Once you have decided on the right outsourcing company that can grow with your business, check into their flexible billing arrangements and setup the transaction processing or campaign services that best fit your needs.
Agents can be dedicated or shared, dependent upon the level of skill required and the volume of calls generated through your campaign. Many outsourcing companies have the ability to manage shifting call volume with automated call blending across inbound and outbound groups. This ensures that your contacts are never kept waiting during peak call periods.
The top-tier companies will be able to provide guidance and understand your needs and other factors to get you started. Once setup, they will furnish the information pertaining to your campaigns made available through reports that you can access via email, fax or online. Overall, outsourcing just might be the right choice for your company, ensuring that your objectives will be satisfied as efficiently and timely as possible.
"Top 10 Reasons to Outsource Your Call Center" – Infographic
Source: http://onviblog.com/outsourcing-contact-center-operations-growing-in-popularity/
Publish Date: January 21, 2016 5:00 AM
---
Customer Care Strategy
Delivering exceptional customer care, support and service should no longer be considered as a corporate obligation, but as a strategic marketing and enterprise wide initiative. As technology improves, many business software and applications have become commodities. Case in point, contact center call recording. It has been around for over 20 years and was a huge benefit to financial enterprises and retail companies. Many businesses were founded providing this front office application. Fast forward to 2016, and call recording has evolved into sophisticated workforce optimization (WFO) solutions that include call recording, quality assurance/monitoring software and even automated speech analytics.
The point here is that if you are trying to stand out in a crowded arena you must offer something that differentiates you from the noise. One thing that has become very clear to many companies is the need to deliver immediate, and great customer care. Social media, and other multi-channel customer touch points, have elevated the customer's reach beyond a telephone call. Companies must be prepared to handle inquires quickly and efficiently with a consistent message and process.
Companies that develop a cohesive customer support strategy will be able to differentiate themselves in many ways. Not only by delivering great customer care to existing customers, but also leveraging their customers to attract new prospects. It promotes credibility and enables the marketing of their customer care successes with customer case studies and testimonials. Happy customers remain loyal customers, and it is well worth the investment to keep customer care and service a high corporate priority.
As enterprise software products have become commodities, new advanced solutions can often be complex business applications to solve today's needs. Therefore, customer care takes on a different strategy that begins even before a purchase is made. Vendors must do a good job of understanding a clients problems, root causes and other issues. What exactly are they trying to solve and with what result? A tailored solution often works best, and in order to purchase a new solution, different procurement options must be available that match both their business and financial requirements. Delivering a complex solution requires the vendor to assist new clients every step of the sales process – from analysis of their needs to recognition of their return on investment (ROI).
A few steps that need to be considered for a successful customer care launch include a CRM package to monitor all customer issues. Tracking software can be setup with alerts for time sensitive matters, and pre- and post-sales information. This includes sales and implementation data, technical support, and other customer service data such as technical advisors, software updates, and even system audits.
Voice of the Customer
Truly managing to successful customer care also involves utilizing customer service tools, multi-channel analytics and customer surveys to capture, analyze and take actions in order to respond to customer needs. This is key to improving customer sentiment and customer satisfaction. Establishing excellence in providing customer communication and service programs that drive to quick resolution and closure creates customer loyalty not just customer satisfaction. Customer care is not an option it is an expectation.
Remember, every employee, from the front office (contact center) to the back office (fulfillment), both share in the responsibility of providing great customer service. A well thought out strategy will enable repeat business through up-sales of products and services benefiting the enterprise with revenue growth and sustainability.
"Four reasons to invest in B2B customer service tech"
http://bit.ly/1PhP7ju
Source: http://onviblog.com/customer-care-the-new-differentiator/
Publish Date: January 14, 2016 5:00 AM
---
Why We Need the Unification of Workforce Optimization and Big Data Management
Workforce Optimization (WFO) has experienced rapid evolution in both the market demands and the solutions that responded to those demands. The evolution started with enterprises recording telephone calls with their customers for the purpose of record keeping. Then enterprises decided to gain some additional benefits from the recorded calls by sampling some of them and conducting manual QA in order to discover and improve their agent performance and/or better manage their liabilities.
Soon it became obvious that sampling is inadequate in discovering valuable information needed to effectively optimize the customer interactions, and 100% of calls needed to be monitored and scored. This however, required a large number of quality assurance (QA) personnel in order to conduct QA for all recorded calls, leading to a financially impractical proposition. This is when speech analytics solutions came to the rescue by automating the QA process for all recorded calls.
While the industry resolved one major problem, the next challenge was created when customers, in addition to interacting with enterprises through calls, started using other channels and touch points such as desktop transactions, emails, chat, and later social media. This necessitated the enterprises to capture all interactions from all channels, resulting in massive amounts of data being captured on a daily basis. This created yet another colossal challenge, namely, Big Data Management. This phenomenal growth also made enterprises realize that they needed to transform their definition of workforce optimization from agent transaction optimization, to a holistic and multi-channel Customer Experience Management (CEM).
The big data management challenge was partially mitigated by the creation of additional analytics solutions. These solutions addressed desktop screens and a variety of text resulting from emails, chat, social media contents, customer surveys, and structured or non-structured customer documents. Therefore, the market promoted omni-channel analytics as a pioneering solution to capture massive amounts of data from multiple customer touch points, analyze and transform the big data into actionable knowledge for each of the customer touch points.
Though this was great progress in converting enormous amounts of data to actionable knowledge. The omni-channel analytics solution offered actionable knowledge for each individual channel deposited in their own data bases. However, another solution was still required to create a single and holistic view of the actionable knowledge for specific subject(s) across all channels, and across all customer touch points, by automatically analyzing the results of all omni-channel analytics and discover, aggregate, unify and present a universal actionable knowledge. The combination resulted in a solution in which the workforce optimization and omni-channel analytics were unified with big data management techniques, providing a true Customer Experience Management, or the next generation workforce optimization.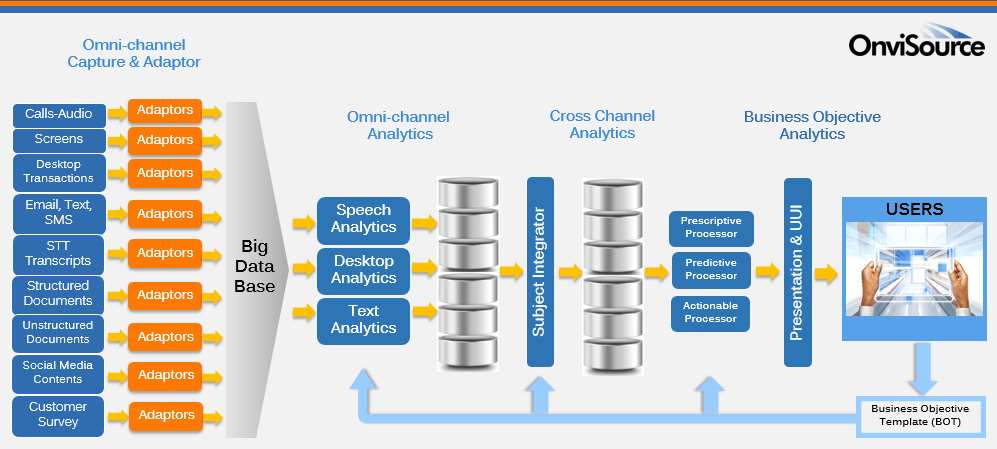 "81% of Enterprises Are Relying On Analytics To Gain Greater Customer Insights" – Forbes/Tech
http://onforb.es/1LMyfog
Source: http://onviblog.com/wfo_evolution/
Publish Date: January 7, 2016 5:00 AM
---
One of my past college instructors recently posted rather disparaging comments about Amazon.com's delivery services in the state of Texas. He obviously did not receive customer satisfaction with a recent purchase. I was very surprised to see the post because this particular instructor has always been a mellow individual, who up to this point, I don't think had a bad word to say about anyone. Therefore, I can only assume that he finally had enough run around trying to rectify his issue. It all boils down to something I have been writing about for the past year – the importance of the customer journey and providing the ultimate customer satisfaction (it better be a good experience!).
In the case above, although Amazon had contracted out a regional delivery service for the holiday season, they are still ultimately responsible for delivering customer satisfaction. They are responsible for all delivery services acting as an agent for Amazon. As he stated in his post, my instructor is a longtime advocate of purchasing goods via Amazon. This was his first negative experience and now he is asking the general public not to purchase certain items from Amazon. NewVoice agrees, 58% of consumers will never use a company again after a negative experience.
Social Media and Customer Satisfaction
There are two points I would like to highlight. The first is that my instructor knows the power of social media and is using it to vent his frustrations about a lack of customer satisfaction. He is also using it to warn other would-be buyers. He first requested that Amazon post a message about the delivery problems. When he did not get a response, he did what so many other unsatisfied customers are doing. He posted complaints on social media for everyone to see. I have yet to view an online reply from Amazon regarding this delivery issue. According to Forrester Research, 45% of consumers will abandon an online purchase if they can't quickly find answers to their questions.
The second point concerns the use of seasonal employees. Now there is nothing wrong with using seasonal employees, and I applaud companies who can put more people in work. What bothers me is the minimal training of the seasonal workers. They are typically given a script with canned responses to every question. How many of us have fallen victim to the untrained customer service representative who keeps repeating the same few answers to every question we ask? According to The Harvard Business Review, 84% of customers say that their expectations had not been exceeded in their last customer service interaction. Death by customer service rep could be the epitaph on many a customer tombstone.
Too often companies protect profits at the expense of unhappy customers. The lack of proper training, empowerment, and decision making of customer-facing staff not only frustrates the customer, and lowers customer satisfaction, it also unnecessarily stresses out the staff. I personally can't imagine anything worse than spending 8 hours a day communicating with hostile customers and having no real power, knowledge, or tools to effectively help them. According to American Express, 35% of cardholders have lost their temper when talking to customer service. As in the instructor example above, an angry customer can easily damage a company's image and brand with unforeseen, and negative results.
Read the instructor's post: http://bit.ly/1N9VTtv
100 Customer Service Statistics You Need To Know
http://bit.ly/1FD2gyg
Source: http://onviblog.com/tis-the-season-for-delivering-a-great-customer-experience/
Publish Date: December 10, 2015 5:00 AM
---
Strategic Importance of Cloud Contact Centers
Contact centers continue to grow in both size and strategic importance according to Deloitte's 2015 Global Contact Center Survey. Up to 96% of respondents anticipating growth in the next two years in support of customer and business needs. As they rapidly expand in popularity, hosted or cloud contact centers allow customer service professionals and contact center managers to focus more on their core business. They no longer have to not worry about all of the technology required to operate a successful operation. This means more time to manage contact center staffing, accounting/billing, and most importantly, delivering exceptional customer care. Another benefit is the development of new multichannel capabilities that incorporate email, chat and social media. Businesses can deploy new technology in the cloud much faster to meet customer needs.
Reasons for the growth of cloud contact centers can be seen in the many benefits cloud solutions offer.
All of the applications and services are owned and operated by the cloud service provider and maintained in the provider's data centers. Cloud services in general have many more options to support the contact center infrastructure. This can include hosted PBX, IVR, SMS, email, and seamless delivery of quality assurance, analytics, customer relationship management (CRM) and other applications. The provider routes phone numbers to the systems installed in its data centers. Numbers and other data are then rerouted to in-house agents and/or remote agents for action.
The dominant protocol used for cloud contact centers is high speed Internet VoIP (Voice over Internet Protocol) on demand service. This allows any business to benefit from low cost soft phones on the desktop. All data is stored at the service provider data center where easy remote access is available 24/7. The real value is that companies using cloud solutions are no longer responsible for system maintenance and uptime, hardware and software updates, additional IT resources, infrastructure and paying utility bills.
Cloud Contact Center Benefits
Another key advantage of cloud contact centers is the low upfront investment. Typically, monthly payments are lower than a major upfront investment in a premised-based contact center system. Monthly fees associated with cloud contact centers can better accommodate monthly cash flow. Some vendors even offer a pay-as-you-go model. Contract commitments can include discounts based on volume and options to scale up or down based on demand.
6 Compelling Reasons to Move to a Cloud Contact Center:
No Software or Hardware Maintenance Expense: There are no costs related to system support services, replacing outdated or faulty hardware or upgrading your system.
Reduced IT Expenses: Eliminate monthly expenses for maintaining systems, office space and related utilities. Support may still need to be provided for local desktops and other IT equipment.
Integrated PBX and Call Management Features: Select a provider that can offer call management features such as PBX, IVR, Auto-Attendant, and Call Screening. This type of provider will have a complete solution avoiding equipment and support expenses.
Built-in Redundancy and Disaster Recovery: No more worries about system downtime, redundancy, or maintaining continuity in disasters. Leverage distributed contact centers, 24-hour-a-day coverage, home-based agents, disaster recovery and more.
Operate from Anywhere, Anytime: Gain the competitive edge with the opportunity to staff from a better pool of talent, schedule agents more effectively, and reduce overall payroll costs.
Rapid Scaling and Feature Deployment: Quickly add or remove agent positions and seats with little impact. New features and functionality can be rapidly deployed without on-premise installations, testing, and implementation. Reduce time-to-market with new features and capabilities.
http://bit.ly/1w3waKi
Source: http://onviblog.com/cloud-contact-centers/
Publish Date: December 3, 2015 5:00 AM
---
Customer Experience Strategies
Many organizations are currently reviewing and planning corporate customer experience strategies and activities for 2016. As you review current processes and procedures and the things you would like to accomplish, looking into the crystal ball and predicting what the future may bring can't hurt your bottom line.
One clear prediction for all organizations concerns the overall customer experience and how well your customers perceive their interactions with your company. According to Accenture's 10th Annual Global Consumer Pulse Research, $1.6 trillion is lost by companies that disappoint customers with poor experiences. It's a nearly 30% increase in the money up for grabs over the last five years as customers switch companies due to a poor customer experience.
Customers are savvy buyers. They demand excellent service from you no matter whom they interact with or how – by phone, chat session, or email. They view every contact point as one company and expect a consistent experience. And it is no longer just a matter of how much something costs. Consumers, especially B2B, are more than willing to pay a small premium for a great customer experience that is handled cheerfully and efficiently.
Competitive Edge
If price is not always the winning factor, what else can distinguish your company from the competition? The competitive edge is found in delivering a great customer experience. This has to be an overall effort beginning with the pre-sale and continuing throughout the life of the customer relationship. When employees put the customer first, they create goodwill and a true partner relationship. A satisfied customer will continue to use your services and products if they are met with a familiar and pleasant attitude. More than likely, they will even forgive minor discretions or inconveniences if the overall experience is a good one.
This kind of relationship builds customer loyalty with many tangible and intangible rewards. You will receive repeat business, referrals and positive reviews of your company that yield growth and profitability. You will be able to establish your reputation and brand for excellent customer service through long term customer loyalty.
Customer Service Programs
Many companies today have accrued huge stores of customer interaction and/or Voice of the Customer (VoC) data. However, most are challenged with effectively turning it into operational assessments and actionable reports. New solutions for unifying and analyzing data offer users "Business Objectives", such as an understanding of overall voice of customer, employee and customer feedback, customer journey and customer behavior-reactions. The benefit of these solutions is that they can automatically look for the related customer-centric activities discovered through analytics, integrate the metadata of each activity, and present it as it relates to their business objective. With this type of big data management, your company can really listen to and understand your customers' true sentiment like never before.
New Year – Old Plan
You don't want to become a company that experiences big losses from losing unhappy customers. Success ultimately depends on how well you treat your customers, even more so in our "socially-enabled" society, where a negative post can have an immediate and dramatic effect on your business. As Amazon CEO Jeff Bezos passionately said, "If you make customers unhappy in the physical world, they might each tell six friends. If you make customers unhappy on the Internet, they can each tell 6,000 friends." Don't repeat last year's mistakes. Be a winning company that gains opportunities by investing and planning in customer loyalty strategies that reinforce your brand, boost your reputation and deliver a great customer experience.
The Cost of Unhappy Customers (Infographic)
http://bit.ly/VUgw7i
Source: http://onviblog.com/customer-experience-predictions-2016/
Publish Date: November 18, 2015 5:00 AM
---

The OnviSource Equipment Owners Association (OEO) members are OnviSource product users strengthening their investments in OnviSource answer service and teleservices solutions in a true member-vendor partnership. If you want a connection to the best and brightest in teleservices, the OEO and OnviSource can help make that happen.
Helping Teleservices Business Owners
The OEO is an association for business owners and operators who believe they are instrumental in their clients' success and are passionate about their contribution. OEO is a true partnership with its vendor sponsor, OnviSource, a leading provider of teleservices and workforce optimization solutions. Specialized committees work to keep the OEO organization abreast of the latest advancements in their industry.
Technical Committee – Works closely with OnviSource engineering to provide feedback regarding products, enhancements, and new feature requests.
Education Committee – Develops live and online events periodically to ensure ongoing training and education around topics of interest to the membership.
OEO Teleservices Member Benefits
INNOVATE – Learn firsthand from OnviSource and market leaders about the future of customer service and teleservices. Find opportunities to improve and grow your business.
BEST PRACTICES AND TIPS – Learn what other companies are doing. Implement the best practices for your company to maximize the investment in Onvi­Source products. Offer your suggestions for others to learn from you and your company.
NEWEST INFORMATION – The OEO is the conduit to communicate the latest product updates and announcements, as well as upcoming products and solutions.
COMMUNITY COMMUNICATIONS – Take advantage of the OEO "ListServ", an online community of like-minded teleservices operators who can directly correspond and research past discussion topics, OnviSource products, and best business practices. The OEO is the conduit to communicate the latest tele­services industry products and solutions, including industry updates and announcements.
ANNUAL MEETING – Face-to-face meetings to engage with peers about top-of-mind topics relevant to you, share ideas, receive exclusive training, learn best practices, answer each other's questions and see product demonstrations.

Chance to win generous door prizes throughout the meeting such as an iPad, and OnviSource services.
Hear new ideas and insight from new members, and helpful advice from old ones, as you share and discuss familiar problem areas.
Learn about new cost-saving products and solutions on the Onvi­Source Product Roadmap.
Relax and enjoy social gatherings with other OEO members. Past meetings included cocktail hour, river cruises, outings, and dinners.
Contact Dan L'Heureux , OEO Director, at dan@callconsult.net for additional information.
Source: http://onviblog.com/teleservices-group-transforms-business/
Publish Date: November 11, 2015 5:00 AM
---
The New Frontier – Text Analytics
In this era of progressive improvements to the customer experience, many companies are searching for new avenues to gain insight into the customer journey using text analytics. Text analytics can be defined as a process for analyzing unstructured text, extracting relevant information, and transforming it into useful business intelligence. Large corporations such as Walmart, Amazon, and Google collect massive amounts of customer data in the Petabyte range and beyond. As enterprises of all sizes struggle to uncover true customer sentiment from unstructured data sources such as social media, surveys, notations in CRM software and service notes, blogs, and many other sources, this valuable customer insight is not being utilized to its full potential.
Preventing a Poor Customer Experience
However, most companies use only a fraction of the customer data that is readily available to them. One of the value propositions for using text analytics is its ability to analyze and classify huge quantities of text and automatically extract meaningful data that really needs to be scrutinized. This yields customer experience information that previously might not have been known or recognized, and used to prevent a repeat, poor customer experience. Text analytics reveals insights into why something is happening. For example, a visitor to a website might not be able to find a product or suitable answer to a question. Text analytics can be used to discover if the issue is related to content, FAQs, or navigation problems.
Root Cause Analysis
The data gleaned from text analytics can also be used to determine the root cause of problems (known or unknown), and companies can begin to anticipate or predict problems by analyzing customer interaction data. Just as speech analytics can unveil customer sentiment by automatically identifying key words and phrases from customer telephone calls, text analytics adds to the wealth of unstructured customer information that can be extracted, transformed and loaded into subject-oriented categories delivering new possibilities for enhancing the customer experience.
Trend analysis
Tool to make strategic business decisions
Predict and forecast customer behavior patterns
Deliver an improved customer experience
Companies are realizing that all employees must listen to their customers, or they will become fair game for the competition
http://bit.ly/1Hpydkn
Source: http://onviblog.com/the-ascent-of-text-analytics/
Publish Date: November 5, 2015 5:00 AM
---
Importance of Data Analytics Solutions
The ability to leverage analytics for all of the business data your company collects in order to solve real business problems is now more affordable than ever before and available to every organization. Implementing and applying automated analytics solutions are essential for understanding all facets of your business. As many companies continue to focus on improving the overall customer experience, analytics can help you understand your customer's sentiment from any touch point (telephone, email, text, social media, etc.).
Not As Complicated As You Thought
Although there are many different types of analytics solutions available on the market, such as front office (contact center specific) and back office (transaction processing) the secret is to partner with a vendor who will help you every step of the way. Once you select a vendor, this is accomplished by first discovering the root causes, pain points, or product and service issues that may be impeding performance or profitability. Some common items or "notions" that analytics can reveal:
Excessive customer complaints about a certain service or product(s).
Trends and discovery of repeat calls ("called before…", "calling again…", "not fixed…", "still a problem…" etc.) – over time more samples can be discovered and added to the analytics search, strengthening the discovery of repeat calls improving first call resolution.
Compliance issues (internal compliance to defined business processes and external or regulatory compliance).
Repeat call subject (desktop screen or transactions) representing the repeat call can be defined by user, and automatically and in real time detected by desktop analytics – actions can be taken in real time, such as coaching, notifications, and next-best-action.
Monitoring social media sites to understand the voice of the customer (negative and positive), the competition, your brand and reputation, and selling opportunities.
Starting with a defined notion of the relevant data you want to uncover is key to your success. A vendor must allow you to use your own data for clarity, in small digestible bites, to initially demonstrate the viability of the analytics program. Set up an internal team to own the new analytics program. Run the solution as a test program, review the results, implement recommended changes, and review the outcome (benefits, ROI, etc.). You want a vendor that will educate and guide you and do the work for you, sharing results along the journey. Once you are comfortable with the technology the vendor should be able to create a tailored solution for you without a custom price, and continue to assist your future usage, growth and progress.
Multi-channel Delivery – Not as Expensive as You Thought
Analytics programs do not have to break the bank, and are now available to any organization. Many solutions are offered as on-premise, cloud services, outsourced programs, or hybrid packages. Take advantage of the delivery method that best fits your budget and business needs. Selecting the right vendor will enable you to benefit from the functionality and flexibility of multi-channel analytics solutions as well as cost effective delivery methods.
http://bit.ly/1GiyAOk
Source: http://onviblog.com/why-you-need-data-analytics/
Publish Date: October 27, 2015 5:00 AM
---
Enterprise Feedback Management Solutions – More than a Simple Survey
Enterprise Feedback Management (EFM) solutions are more than just simple surveys, they are used for actively monitoring customer and employee feedback from all customer touch points such as calls, emails, text, desktop transactions, surveys and social media channels. EFM enables views into the customer journey, and can identify and improve internal business processes to optimize and provide a high level of customer satisfaction, or discover sales opportunities, liabilities, and business intelligence.
EFM, however, requires technical abilities to:
a) Capture all data from all channels, such as structured and unstructured data (text, voice, SMS), and solicited and unsolicited input (such as social media).
b) Perform analytics on all different types of media collected from those channels, including audio, speech, text, email, surveys, screen-based transactions and social media.
Furthermore, EFM demands to provide the capability to view the tiered information (data, unified information, and actionable-predictive-prescriptive information) in a holistic and universal form in order for users to immediately see and easily understand what they have been looking for. This information now becomes a valued enterprise wide asset, not, for example, only a contact center, or other business unit performance or productivity tool.
Complete Views of the Customer Experience
OnviSource supports a true Enterprise Feedback Management solution through its multichannel capture-evaluation, called OnviForce™, and a universal view management, called OnVision™. Capturing data from multiple OnviSource platforms presents a complete view of the customer experience. The data is then analyzed for process improvements, trending detection and associated alerts, customer journey, and sharing of results through real-time, multi-channel analytics, automated actions, and dashboard and other types of enterprise reporting.
Re-defining customer feedback concepts.
Source: http://onviblog.com/enterprise-feedback-management/
Publish Date: October 21, 2015 5:00 AM