The Workforce Optimization Evolution - Onvisource - ContactCenterWorld.com Blog
Why We Need the Unification of Workforce Optimization and Big Data Management
Workforce Optimization (WFO) has experienced rapid evolution in both the market demands and the solutions that responded to those demands. The evolution started with enterprises recording telephone calls with their customers for the purpose of record keeping. Then enterprises decided to gain some additional benefits from the recorded calls by sampling some of them and conducting manual QA in order to discover and improve their agent performance and/or better manage their liabilities.
Soon it became obvious that sampling is inadequate in discovering valuable information needed to effectively optimize the customer interactions, and 100% of calls needed to be monitored and scored. This however, required a large number of quality assurance (QA) personnel in order to conduct QA for all recorded calls, leading to a financially impractical proposition. This is when speech analytics solutions came to the rescue by automating the QA process for all recorded calls.
While the industry resolved one major problem, the next challenge was created when customers, in addition to interacting with enterprises through calls, started using other channels and touch points such as desktop transactions, emails, chat, and later social media. This necessitated the enterprises to capture all interactions from all channels, resulting in massive amounts of data being captured on a daily basis. This created yet another colossal challenge, namely, Big Data Management. This phenomenal growth also made enterprises realize that they needed to transform their definition of workforce optimization from agent transaction optimization, to a holistic and multi-channel Customer Experience Management (CEM).
The big data management challenge was partially mitigated by the creation of additional analytics solutions. These solutions addressed desktop screens and a variety of text resulting from emails, chat, social media contents, customer surveys, and structured or non-structured customer documents. Therefore, the market promoted omni-channel analytics as a pioneering solution to capture massive amounts of data from multiple customer touch points, analyze and transform the big data into actionable knowledge for each of the customer touch points.
Though this was great progress in converting enormous amounts of data to actionable knowledge. The omni-channel analytics solution offered actionable knowledge for each individual channel deposited in their own data bases. However, another solution was still required to create a single and holistic view of the actionable knowledge for specific subject(s) across all channels, and across all customer touch points, by automatically analyzing the results of all omni-channel analytics and discover, aggregate, unify and present a universal actionable knowledge. The combination resulted in a solution in which the workforce optimization and omni-channel analytics were unified with big data management techniques, providing a true Customer Experience Management, or the next generation workforce optimization.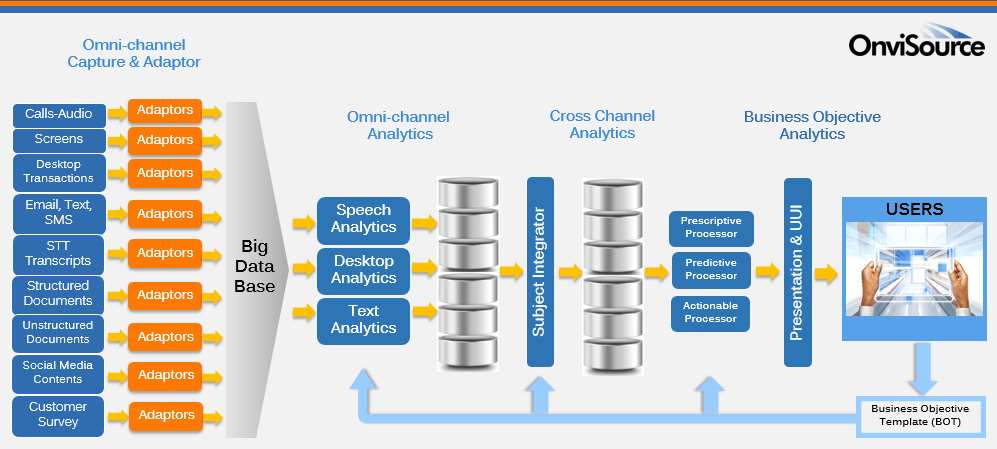 "81% of Enterprises Are Relying On Analytics To Gain Greater Customer Insights" – Forbes/Tech
http://onforb.es/1LMyfog
Source: http://onviblog.com/wfo_evolution/
Publish Date: January 7, 2016 5:00 AM
---
PREMIUM

ConceptCall
(VIEW OUR PAGE)

Аутсорсинговый контакт-центр ConceptCall| КонцептКолл специализируется на исходящем и входящем телемаркетинге: мы предоставляем услуги по осуществлению холодных звонков и продажи по телефону, проводим...

(view more)

PREMIUM

HigherGround, Inc.
(VIEW OUR PAGE)

HigherGround develops data collection, information storage, and interaction analytics solutions that easily transform data into actionable intelligence, enabling operational optimization, enhanced per...

(view more)

PREMIUM

Avizent Ltd
(VIEW OUR PAGE)

Advanced AI technology and Natural Language Processing delivered to clients in the Cloud that harnesses both voice and digital conversations. The focus is on building an environment where intelligent ...

(view more)
---

View more from
Onvisource
Recent Blog Posts:
| | |
| --- | --- |
| Outsourcing Contact Center Operations Grow in Popularity | January 21, 2016 5:00 AM |
| Customer Care the New Differentiator | January 14, 2016 5:00 AM |
| The Workforce Optimization Evolution | January 7, 2016 5:00 AM |
| Tis the Season to Deliver Customer Satisfaction | December 10, 2015 5:00 AM |
| Cloud Contact Centers Made Easy | December 3, 2015 5:00 AM |
| Customer Experience Predictions for 2016 | November 18, 2015 5:00 AM |
| Teleservices Group Transforms Business | November 11, 2015 5:00 AM |
| The Ascent of Text Analytics | November 5, 2015 5:00 AM |
| Why You Need Data Analytics | October 27, 2015 5:00 AM |
| Enterprise Feedback Management | October 21, 2015 5:00 AM |