Asterisk Tutorial 47 – SIP Provider Caller ID - pascom - ContactCenterWorld.com Blog
Introducing Asterisk and Configuring your Caller ID
We are back again and this time we are finishing of our Introduction to SIP providers. As we promised at the end of the last episode, this tutorial focuses on how to configure your Caller ID in your Asterisk Dialplan.
That of course means handing over to Mathias, our resident Asterisk expert, and letting him guide you through the sometimes complicated world of Caller IDs.
The Problem with Caller ID
Sadly, as is often the case with these things, there is no global standard when it comes to Caller ID formats and telephony providers.
Some providers configure the caller ID for you, others don't. Some providers only require you to set the originating number, while others require the whole number plus country code. Some providers us "+" to signify the international dialling code while others use "00". Some providers use a random number if you haven't configured your caller ID instead of sending the call with a Withheld (or private or anonymous…..) number.
In theory, you could just do nothing and see what happens, but the outcome is very much a case of put luck and is therefore highly unrecommended. Especially, as doing so does not convey professionalism to the call recipient.
Then of course there are other scenarios. You could have a number block from a specific provider and the provider may choose the first number in the block as your caller ID. You may want all your outbound telephony to transmit the Caller ID of your sales / customer service team as opposed to individual extension numbers.
All of this begs the question; "what do we need to do in order make our caller ID transmission more consistent and therefore more professional?"
Thankfully the answer is relatively simple.
Mathias' Top Tip
As we have already established, sadly there is no uniform Caller ID format, so the question is how do we find out which format our provider uses? You could of course ask google and read through any setup documentation your chosen provider has available.
However, documentation is not always up to date and you may get conflicting results from a google search. Just as well then that there is an easier way. Most VoIP providers use the same Caller ID format for both inbound and outbound calls.
Therefore, by simply making an inbound call to your system whilst have the sip debug running you should be able to ascertain which format your provider uses.
Configuring your Caller ID
To configure your outbound caller ID, simply follow the steps below:
Step 1 – SIP Set Debug
Enter the Asterisk Command Line Interface (CLI) and enable the sip set debug via the following command:
sip set debug peer provider
where provider = your provider peer name
Step 2 – Make an Inbound Call
As you should have already configured your Asterisk phone system to accept inbound calls via your provider (see previous tutorial), you will now be able to make an inbound call and use the CLI debug output in the first INVITE to determine the Caller ID format used by your provider as shown below: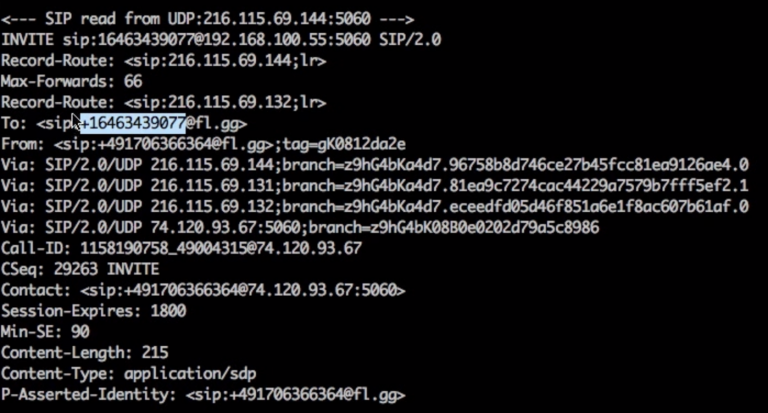 Step 3 – Update Your Dialplan
To configure your outbound call rules to show your desired caller ID, simply modify your outbound call rule in the extensions.conf by adding a new first line including the CALLERID variable as shown below. To do this you will need to be logged into your Asterisk system as the root user.
exten => _X.,1,Set(CALLERID(num)=+16463439077)
In your setup, you will need to enter the your desired caller ID number as opposed to our Manhattan number and the resulting syntax should appear similar to that below.
Step 4 – Test Your Configuration
Before testing your configuration, you will need to reload the dialplan. To do this you will need go back to the Asterisk CLI using the command asterisk -rvvvv where the "v" characters reflects the level of verbosity you wish to have and then enter the command:
dialplan reload
Don't forget to the disable the SIP debug as you will hopefully require any debug information. The next thing to do is to make an outbound call from your Asterisk PBX to a CallerID enabled phone and check to see whether your desired configurations have worked correctly.
Further Caller ID Considerations
While the above setup is relatively straight forward, but of there is more to the Caller ID function that is more complicated than the above setup. For example, you may have multiple numbers registered to your provider and therefore may require multiple outbound call rules with varying Caller IDs.
Another aspect to consider is the CLIP no screening function which allows you to transmit any number as the caller ID when making outbound calls. To test whether CLIP no screening is enabled or not, simply set any caller ID and follow the steps above and check whether the number is transmitted correctly. If not then CLIP no screening has not been enabled and you will need to contact your provider.
In addition, it could be the case that setting the caller ID did not work as sometimes you need to manipulate the Caller ID in the SIP header elsewhere using a different method. However, the good news, is that the above process is the most common.
More Info
pascom are the developers of the mobydick phone system that businesses love. Based on Asterisk, mobydick provides businesses a flexible, fully featured Open Standards phone system to meet today's communication needs.
Why not take mobydick for a test spin with our free community download and find out how it can support you and your business communications.
For more on our mobydick phone system and to arrange a free personalised demo, give us a call on +49 991 29691 200 / +44 203 1379 964 or drop us a line via our website.
Until next time – Happy VoIPing!
Previous Tutorial
Source: http://blog.pascom.net/asterisk-tutorials/asterisk-tutorial-47-sip-provider-caller-id/
Publish Date: May 11, 2016 5:00 AM
---
PREMIUM

Future Gen International Pte Ltd
(VIEW OUR PAGE)

Outsourcing provider of English Call Centre services, Audio Transcriptions, Big Data ETL (Extract, Transform, Load) , Big Data Visualization, Big Data Predictive Model Generation

PREMIUM

CTI Software
(VIEW OUR PAGE)

CTI Software is the creator of custom application called Davos, which complements the telephone client solutions with intelligent features such as automated call attendant, call recording and archivin...

(view more)

PREMIUM

HigherGround, Inc.
(VIEW OUR PAGE)

HigherGround develops data collection, information storage, and interaction analytics solutions that easily transform data into actionable intelligence, enabling operational optimization, enhanced per...

(view more)
---

View more from
pascom
Recent Blog Posts:
| | |
| --- | --- |
| Nexbridge UK SIP Provider pascom Interoperability | October 17, 2017 5:00 AM |
| What is Unified Communications? | September 29, 2017 5:00 AM |
| pascom 16 Focuses on UCC UX | September 26, 2017 5:00 AM |
| Summer Special: Cloud PBX Bundle | July 17, 2017 5:00 AM |
| pascom Boosts UC Offering with UK Hosted PBX | May 8, 2017 5:00 AM |
| pascom Launches UK Hosted PBX | May 5, 2017 5:00 AM |
| pascom Launch Hosted mobydick Telephony Service | October 4, 2016 5:00 AM |
| mobydick 7.13 Release | September 12, 2016 5:00 AM |
| Asterisk Tutorial 58 – Asterisk AMI Originate Dial | July 27, 2016 5:00 AM |
| Asterisk Tutorial 57 – Asterisk AMI Connect & Authenticate | July 20, 2016 5:00 AM |