4 Best Practices Of Using QA Software In The Contact Center - PlayVox - ContactCenterWorld.com Blog
"This call may be recorded for quality assurance purposes" is a line we hear nearly every time we call a business.
However, how many contact centers actually follow through on the "assuring quality" promise? In a world where customer service is becoming increasingly important to a company's success, we can't just stand still and not take action.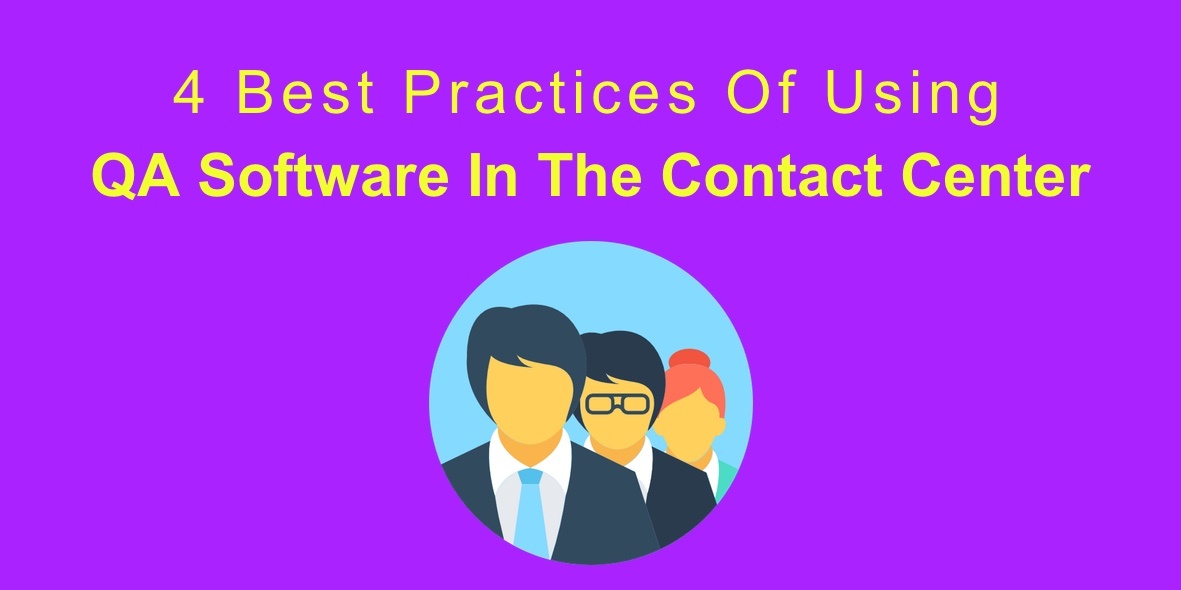 Contact centers that take the time to analyse these calls and other interactions are able to provide exceptional customer service and make improvements to their business model such as:
Increased customer satisfaction.

Streamlined customer service.

Engaged and high performing agents.

Improved first-contact resolution statistics.

Identifying ways to boost their bottom line.
For any contact center that wants to improve, they need to monitor its performance. Quality assurance software like PlayVox is one of the best ways to achieve this as it provides a simple, user-friendly solution for data collection, analysis, training and agent improvement.
Whether you are thinking about using quality assurance software for the first time or you are seeking to improve your own processes, here are four best practices for using QA software in your contact center.
1. Focus on agent coaching and training
A sign of an excellent quality assurance program is one that emphasizes coaching and avoids creating an "us vs. them" mentality. By using PlayVox's intuitive training program, contact center managers can easily create personalised coaching sessions that focus on that agent's areas of improvement.
A good training program is also crucial to empowering new agents and sparing them from feeling incompetent with knowledge gaps further down the line. While regular coaching sessions are important, it is necessary to make sure they are tailored as much as possible to improve agent engagement.
By focusing on tailored coaching, training and recognising your agents for good results, you will create an environment of ongoing feedback and highly skilled agents that will feel empowered to improve and deliver exceptional customer service.
2. Monitor across several channels
We are in the age of the omnichannel, and as a result, contact center agents are no longer just operating over the phone. These days there is also live chat, email or texts and your quality assurance program needs to extend to every channel where your agents interact with customers.
**6 tried and proven methods to creating customer connections through chat and SMS**
However, with the sheer mass of interactions that contact centers experience on a daily and weekly basis, it is important to make sure that your quality assurance software lets you quickly find interactions across platforms with personalised filters.
This will save managers and team leaders time and allow them to centralize and speed up the training and ongoing improvement process within your contact center.
3. Detailed call monitoring and performance checks
The contact center industry is a wealth of information. An overwhelming amount of client data is collected on a daily basis through each and every agent-customer interaction. For some contact centers, tackling this mountain of data to train staff and improve processes can seem intimidating.
PlayVox QA assurance software helps filter this information so managers can schedule regular performance checks and keep their agent's customer handling skills under check. By referring to real statistics about the competency levels of their agents they can ensure performance metrics are being met.
Call monitoring also gives managers the opportunity to closely analyze calls and use them as valuable examples for problem-solving and impeccable customer service. For the agents, it gives them the chance to learn how to deliver perfect customer interactions and develop long-term relationships.
**6 harmful coaching practices that are hurting your customer service**
These regular performance checks help agents get feedback faster and adjust how they handle individual customer interactions to provide a higher level of customer service.
4. Efficient quality process
It's all good to have a quality assurance program in place, but is it time-consuming? How long does it take you to pull statistics on teams or individual performance?
To evaluate your agents faster, obtain quality statistical data on your team's performance - you need to eliminate the use of multiple spreadsheets and software. Doing so will streamline your quality assurance process and in turn, increase team productivity by providing agents with faster feedback and statistics on their meeting their objectives.
**Why you need to get rid of spreadsheets in your call center**
In conclusion
When done right, quality monitoring software in contact centers have the potential to increase sales, engagement, productivity and staff retention significantly. By implementing these best practices, you can make your call centres QA program count, and your customers will benefit as a result.
Curious to learn more about PlayVox's QA assurance software? Find out how we can help!
Source: http://blog.playvox.com/4-best-practices-of-using-qa-software-in-the-contact-center
Publish Date: March 31, 2017 5:00 AM
---
PREMIUM

Avizent Ltd
(VIEW OUR PAGE)

Advanced AI technology and Natural Language Processing delivered to clients in the Cloud that harnesses both voice and digital conversations. The focus is on building an environment where intelligent ...

(view more)

PREMIUM

ConceptCall
(VIEW OUR PAGE)

Аутсорсинговый контакт-центр ConceptCall| КонцептКолл специализируется на исходящем и входящем телемаркетинге: мы предоставляем услуги по осуществлению холодных звонков и продажи по телефону, проводим...

(view more)

PREMIUM

CTI Software
(VIEW OUR PAGE)

CTI Software is the creator of custom application called Davos, which complements the telephone client solutions with intelligent features such as automated call attendant, call recording and archivin...

(view more)
---
View more from
PlayVox
Recent Blog Posts:
| | |
| --- | --- |
| How To Improve Your Customer Service With Quality Assurance | June 23, 2017 5:00 AM |
| Benefits Of Using Both CRM & QA Software Together | April 5, 2017 5:00 AM |
| 4 Best Practices Of Using QA Software In The Contact Center | March 31, 2017 5:00 AM |
| Boost Your Contact Center QA With PlayVox's Third-Party Integrations | March 29, 2017 5:00 AM |
| 5 Ways Your Call Center Can Seduce Millennial Customers And Turn Them Into Raving Fans | March 24, 2017 5:00 AM |
| Lowering Inbound Call Volume To Improve Your Customer Experience | March 17, 2017 5:00 AM |
| How To Use Customer Satisfaction Surveys To Gain Actionable Insights For Your Call Center | March 15, 2017 5:00 AM |
| How Upwork Improved Their Customer Service And Upskilled Their Agents With PlayVox | March 10, 2017 5:00 AM |
| 5 Ways Virtual Agents Can Improve Website Customer Engagement | March 8, 2017 5:00 AM |
| How To Ensure Data Security And Privacy In Your Call Center | March 3, 2017 5:00 AM |
Industry Champion Award Leaderboard