The Secret to Training a Multi-Generation Call Center - PlayVox - ContactCenterWorld.com Blog
Do we learn the same way we did 50 years ago? Biologically maybe. But the way we learn has drastically changed in the last half-century. Technology being the main cataylst for this generational learning curve.
Training call center employees is expensive, especially if the center has turnover issues (which most do). Managers spend countless hours onboarding employees, only for them to quit a month in.
---
The one size fits all approach didnt work for No Child Left Behind, and it doesn't work for adults in the workplace either. Creating an engaging learning environment where employees want to stay starts by examinging their generational differences and needs.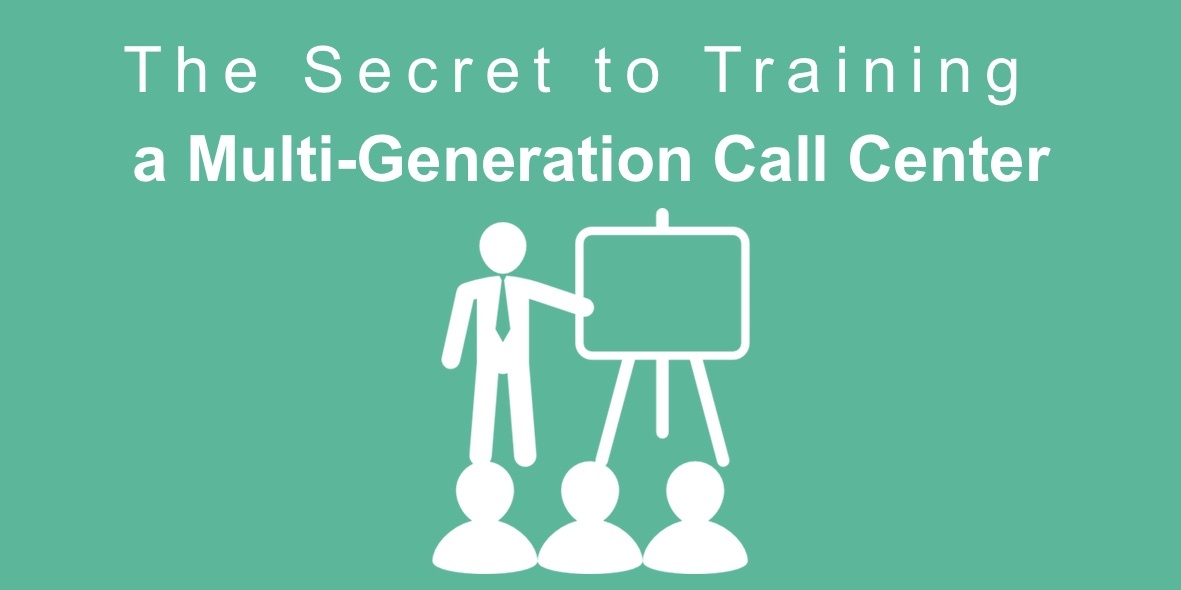 To help you choose the best method for training contact center employees, consider the pros and cons of each training method and how it aligns with your generation demographic.
The traditional classroom
Generation :)
Generation :(
The classroom setting is something we are all very familiar with. A classroom setting gives the opportunity to deliver key information all at once to a large group of employees. It's ideal for introducing new members to the company, share general company updates explain changes in procedures, or even give a refresher on existing knowledge.

The classroom setting can also be used for incorporating storytelling teaching, using real situations to make a point, or have employees break into small groups to analyze call scenarios together.

Cons: Traditional classroom teaching can be one of the most boring and ineffective training methods if used incorrectly. A monotone voice, endless lecturing and lack of interaction will put students to sleep. In addition, don't count on quizzes to test what students have retained as they might just have studied for the exam and will forget the information later on.
Roleplaying call scenarios
Training through roleplaying is an excellent way to give new contact center employees the feeling of real hands-on experience without throwing them into the lion's den. We learn much faster by doing and experiencing things ourselves, and roleplaying gives employees a chance to practice performing the duties of their job without the side effects.

TIP: Pair experienced employees, who can roleplay as customers, with new employees, who can practice handling different types of calls. This will not only train but create a coaching and feedback session for newcomers.

Cons: While roleplaying can give employees an experience very similar to being on the job, scenarios tend to be more simplistic than real calls, and the pressure of the job is absent. Try using audio or scripts from real calls to give employees a more accurate experience and provide feedback.

**See how to provide meaningful feedback for your call center employees**
On-the-job training
Providing on-the-job training is certainly an efficient way to give employees real-life experience. Staff begins to work right away and learn as they go. It's low cost and quick. There's no substitute for the authenticity of on-the-job training, and employees will learn quickly when given the opportunity to take real customer calls.

Cons: Just because on-the-job training has little to no downtime and gives new employees experience, don't assume it's the answer to all your training needs. Throwing new hires into the job too soon can be risky. They can easily become overwhelmed, and without proper support and guidance, they may develop bad habits.

Be sure that employees have some basic training before throwing them out on the field. If possible, pair new employees with a mentor during the initial stages of their on-the-job training so they can get immediate feedback and have someone to come to their rescue if necessary.
Job shadowing
Job shadowing gives new hires the chance to follow and observe a more experienced employee and learn the ropes through their guidance. Shadowing has many benefits, as it gives new hires a chance to see what a successful worker looks like in action. It exposes employees to the same real-life scenarios they would see on the job, but without the pressure of having to respond themselves.
Job shadowing also gives veteran employees who do their jobs well an excellent leadership opportunity, as they can showcase their knowledge and skills.

Cons: Managers must be careful when selecting employees to be shadowed. Choose employees who you have confidence in and who will model the kind of work and behavior you want to see in new employees. Select staff who don't mind taking the time to explain things and can give clear, concise explanations as they work.

Avoid using shadowing as the only training for a new hire. Instead, try combining it with hands-on experience.
Online learning management system
Using an online learning management system for your contact center training enables new employees to train at their own pace and availability.
Information can easily be broken down and when training is completed, the information remains accessible online. This means even seasoned veterans of the company can have one place to go and review anything they need to brush up on at any time.

Not to mention online learning is a one-time effort from the teacher's part and can be reused over and over with incoming hires.

Cons: Just like with traditional classroom teaching, it's easy for employees to become bored and tune out when using an online learning management system. If the lessons presented within the system are not engaging, employees can easily just click through modules without even trying to absorb any information.

Keep online learning interesting by using instructional videos or gamification elements to reward and engage staff.


---
No one call center teaching methos is best. Figure out what methods your staff is most receptive to and mix and match to find the perfect fit depending on the information you need to be passed along?
Looking for a online learning management system for your call center? PlayVox offers the solution to improve your call center quality and employee engagement!
Source: http://blog.playvox.com/which-call-center-training-method-works-best-for-you
Publish Date: June 29, 2016 5:00 AM
---
PREMIUM

Future Gen International Pte Ltd
(VIEW OUR PAGE)

Outsourcing provider of English Call Centre services, Audio Transcriptions, Big Data ETL (Extract, Transform, Load) , Big Data Visualization, Big Data Predictive Model Generation

PREMIUM

HigherGround, Inc.
(VIEW OUR PAGE)

HigherGround develops data collection, information storage, and interaction analytics solutions that easily transform data into actionable intelligence, enabling operational optimization, enhanced per...

(view more)

PREMIUM

Avizent Ltd
(VIEW OUR PAGE)

Advanced AI technology and Natural Language Processing delivered to clients in the Cloud that harnesses both voice and digital conversations. The focus is on building an environment where intelligent ...

(view more)
---

View more from
PlayVox
Recent Blog Posts:
| | |
| --- | --- |
| How To Improve Your Customer Service With Quality Assurance | June 23, 2017 5:00 AM |
| Benefits Of Using Both CRM & QA Software Together | April 5, 2017 5:00 AM |
| 4 Best Practices Of Using QA Software In The Contact Center | March 31, 2017 5:00 AM |
| Boost Your Contact Center QA With PlayVox's Third-Party Integrations | March 29, 2017 5:00 AM |
| 5 Ways Your Call Center Can Seduce Millennial Customers And Turn Them Into Raving Fans | March 24, 2017 5:00 AM |
| Lowering Inbound Call Volume To Improve Your Customer Experience | March 17, 2017 5:00 AM |
| How To Use Customer Satisfaction Surveys To Gain Actionable Insights For Your Call Center | March 15, 2017 5:00 AM |
| How Upwork Improved Their Customer Service And Upskilled Their Agents With PlayVox | March 10, 2017 5:00 AM |
| 5 Ways Virtual Agents Can Improve Website Customer Engagement | March 8, 2017 5:00 AM |
| How To Ensure Data Security And Privacy In Your Call Center | March 3, 2017 5:00 AM |