Simple Ways to Reduce Call Center Turnover - PlayVox - ContactCenterWorld.com Blog
With call center turnover rates at 25%-35%*, it is a challenge to maintain quality customer service. The success of your organization depends on your staff, and if they're quitting, you need to ask yourself why.
High call center attrition rates are heavy on the wallet. Between hiring, training, benefits and salaries, it is estimated that up to a quarter of annual staff expenses does down the drain.
With that said, one of your main objectives should be to keep your call center attrition rate low by focusing on employee retention.
Employee retention doesn't necessarily mean higher salaries and bigger bonuses. Here are several methods to effectively retain call center staff and reduce call center turnover rate.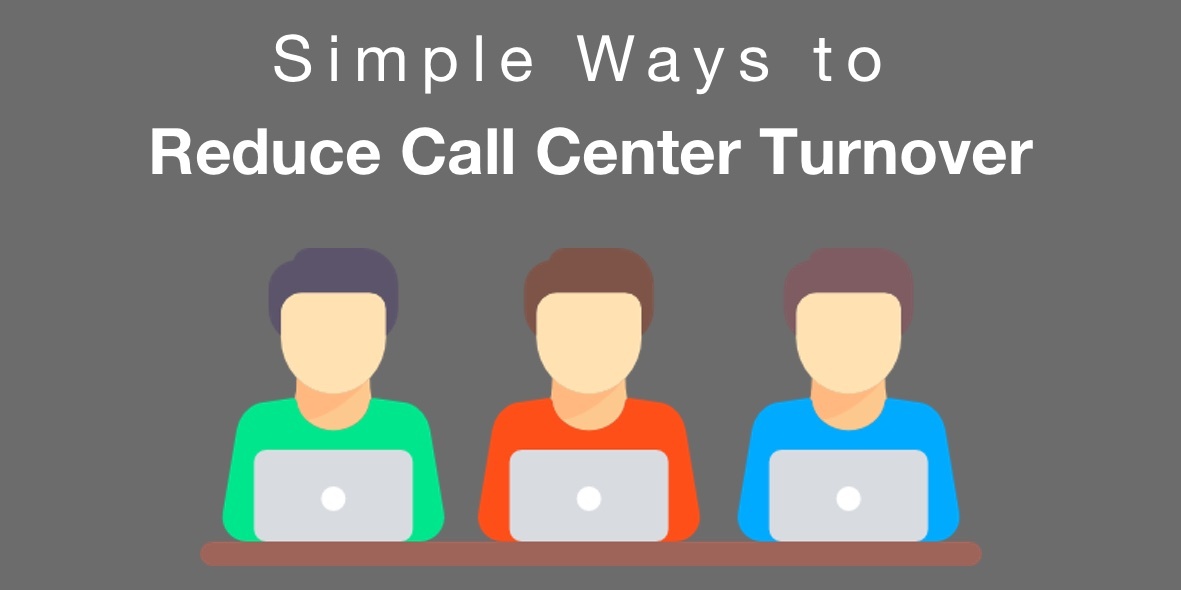 Balanced culture
Set the tone. Make your potential candidates and staff want to work for your organization. Set a harmonious and balanced workplace where employees enjoy working. Some ideas:
Ergonomic workspaces
Fully-stocked break rooms
Good lighting
Spacious desks
Access or discounts to a gym
Next, go beyond the workplace and focus on your staff. Offer flexible schedules, an open-door policy for easy communication with management, and a reasonable amount of paid vacation days.
All these are factors that help contribute to the well-being of your employees and is guaranteed to help reduce call center attrition rates.
**Find out the signs of employee burnout and how to avoid it.**
Hire well
Retention begins from the core. Know your employee profile and where to look for them. Consider the candidate's personality, cultural fit within your company and skills for the job.
**See the importance of a strong call center culture and how to do the same.**
Be clear about the job description and expectations of the job. You don't want your candidate to feel overwhelmed or disappointed once they begin. It's best they know what to expect and opt out before you they sign the contract.
Train well
What's the age demographic you are hiring? Decide which
training method is best according to generational needs
. Often times a variety of learning techniques are needed to accomodate a vast array of needs.
Employees should feel inspired after the initial onboarding period, not defeated and fearful. The more engaging your training methods are, the more likely you are to keep new employees.
Provide career development opportunities
We all strive to grow and improve ourselves continuously, both personally and professionally.
Over achieving employees should not only be rewarded, but given the opportunity to a career path. Having a goal of growth gives staff a long-term goal while KPIs and rewards are more short-term.
Providing employees with long-term goals is a reason to stay and grow with a company that will help them develop their skills and knowledge.
Speaking of rewards, here's
some ideas to spark engagement
.
Give employees the right tools
Go beyond the desk and chair. Giving them the right tools means having
good management
, effective
software
and tried and proven processes.
Having a smooth structure in place lets staff integrate easily and perform their jobs to the best of their abilities without having to sweat the small stuff.
Factors such as CRM system delays, or communication issues between departments or within management can be a roadblock for staff and be a major stress factor. As a result, they are unable to do their job and will be more likely to feel disengaged and unattached.
**Check out our call center horror stories told by customers.**
Hold an exit interview
Employees who are no longer committed to the call center are more likely to share their thoughts about their experience in the workplace.
Take advantage of this moment by asking them to describe their experience and what could have been done better on both sides. Use this feedback to improve the experience for the next round of hires.
---
With these methods of reduceing call center attrition, you can focus more on offering
excellent customer service
and stop worrying about high staff expenses and constant new hiring and training.
Looking to improve employee engagement? PlayVox offers
the perfect platform
to do so!
*Source: Deloitte's Global Contact Center Survey Results 2013
Source: http://blog.playvox.com/reducing-call-center-turnover-for-quality-customer-service
Publish Date: July 8, 2016 5:00 AM
---
PREMIUM

Avizent Ltd
(VIEW OUR PAGE)

Advanced AI technology and Natural Language Processing delivered to clients in the Cloud that harnesses both voice and digital conversations. The focus is on building an environment where intelligent ...

(view more)

PREMIUM

HigherGround, Inc.
(VIEW OUR PAGE)

HigherGround develops data collection, information storage, and interaction analytics solutions that easily transform data into actionable intelligence, enabling operational optimization, enhanced per...

(view more)

PREMIUM

ConceptCall
(VIEW OUR PAGE)

Аутсорсинговый контакт-центр ConceptCall| КонцептКолл специализируется на исходящем и входящем телемаркетинге: мы предоставляем услуги по осуществлению холодных звонков и продажи по телефону, проводим...

(view more)
---

View more from
PlayVox
Recent Blog Posts:
| | |
| --- | --- |
| How To Improve Your Customer Service With Quality Assurance | June 23, 2017 5:00 AM |
| Benefits Of Using Both CRM & QA Software Together | April 5, 2017 5:00 AM |
| 4 Best Practices Of Using QA Software In The Contact Center | March 31, 2017 5:00 AM |
| Boost Your Contact Center QA With PlayVox's Third-Party Integrations | March 29, 2017 5:00 AM |
| 5 Ways Your Call Center Can Seduce Millennial Customers And Turn Them Into Raving Fans | March 24, 2017 5:00 AM |
| Lowering Inbound Call Volume To Improve Your Customer Experience | March 17, 2017 5:00 AM |
| How To Use Customer Satisfaction Surveys To Gain Actionable Insights For Your Call Center | March 15, 2017 5:00 AM |
| How Upwork Improved Their Customer Service And Upskilled Their Agents With PlayVox | March 10, 2017 5:00 AM |
| 5 Ways Virtual Agents Can Improve Website Customer Engagement | March 8, 2017 5:00 AM |
| How To Ensure Data Security And Privacy In Your Call Center | March 3, 2017 5:00 AM |