6 Easy And Creative Call Center Rewards and Recognition Ideas - PlayVox - ContactCenterWorld.com Blog
Keeping employees happy and motivated can be a challenge in any workplace, and is especially the case for call centers. Although you may be thinking that employee happiness seems a little too 'touchy-feely' to be a major concern, research shows that happy employees are more productive. This is where employee incentives come into play, at the juncture of happiness and productivity.
And while many employees may prefer that you, in the words of Jerry Maguire, 'show them the money,' cash bonuses are not the only way to show your employees that you value their hard work.
**4 non-monetary ways to boost agent performance in the call center**
Here are 6 call center rewards and recognition ideas to congratulate your agents for a job well done.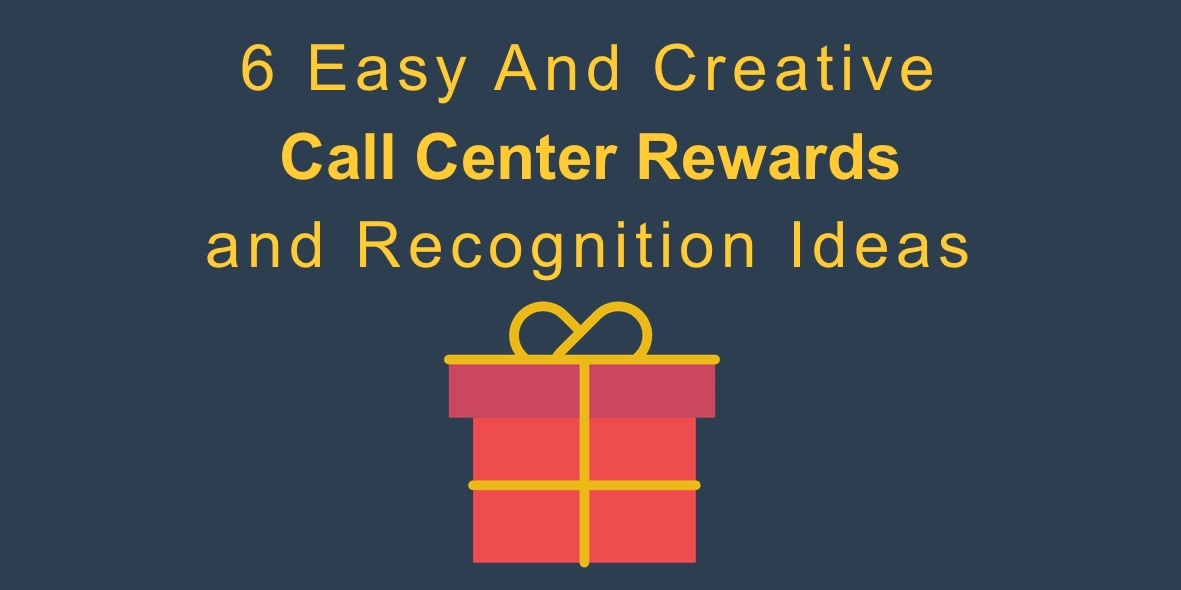 1. Preferential scheduling
The only thing that people value as much (maybe more) than money is time. For many call center employees, the opportunity to select or at least influence the time slot of their work shift is an enticing motivator.
Consider dividing staff into three tiers based on KPI results and letting them get first, second and third pick. Then, each quarter, allow employees to re-bid for their shift assignment, with preferences awarded according to their results from the previous quarter.
This system has the benefit of giving employees more (though not ultimate) control over their time in exchange for quality work, while also offering those at the lower tier an incentive to keep reaching for the top during the next quarter.
This same incentive can be applied by having employees bid for PTO (paid time off) dates. When multiple employees are competing for the same days off, the tiered system can be used to reward those who have been working hard with a greater chance of getting the time off when they want.
2. Perks of convenience
Have you ever been trudging your way through a mundane and tiresome day, but then suddenly happen upon an unexpected convenience that brightens up your perspective? The car in front of you kindly (and blindly) pays for your coffee in the Starbucks drive-thru, or you're lucky enough to snag the best parking spot at your local megamart.
Small perks of convenience like this can add a glint of optimism to an otherwise unremarkable day.
Consider offering your agents perks that make their workday more convenient or enjoyable. Offer preferential parking spaces, sought-after seating locations (near a window or in a reserved office, for example), or allow the employee to choose his/her own break or lunch times. These small perks add up to a brighter day for employees who have earned it.
3. Team Competition
Organize your employees into teams who are working toward an incentive based on their cumulative stats. This allows you to make the most of your incentives budget with a reward that can be inexpensively shared (a pizza party, for example). This also has the beneficial components of cooperation, team camaraderie, and, yes, a little bit of friendly social pressure to work hard.
**Why you need to use gamification to engage call center employees**
4. Team work
Inspire your staff to develop measurable, important goals for the office as a whole to accomplish together. Maybe all of your agents are experiencing an efficiency lag, or customer satisfaction ratings are not as high as you'd all like them to be.
For maximum buy-in from employees, collect and curate their suggestions for whole-team improvement goals. Then, develop a reward that everyone can enjoy together as a result of reaching this target: an office party, casual Friday, a group outing on a workday, or something else that rewards the achievement while also building your team connection.
**Why you should allow your agents to socialize more**
5. Personalize, personalize, personalize
Nothing says 'I appreciate you' like a generic Subway gift card or a company logo coffee mug. Employees can see through this thin facade of appreciation to the reality within: these types of rewards require little money and even less thought on behalf of the employer.
If you decide to use giftable commodities as a motivational element, why not mix it up a little to make employees feel recognized as individuals? For example, employees celebrating their one year anniversary at Two Rivers marketing are given a caricature drawing of themselves. Get on etsy.com and order a customized name acronym item for the employee.
Personalized items such as this have the added benefit of making the employee feel that he (or she) has a place in your work environment, that he is more than just a faceless drone for the company. This has positive implications for loyalty and work ethic.
6. Raffle!
If you think your employees will only be motivated by a 'big-ticket' item, consider developing a raffle system for employee performance. Employees who reach a certain benchmark of success (a certain number of 'highly satisfied' customers or a specific amount of accumulated points) will be entered into a raffle for a large, buzzworthy reward item.
Ideas could include a weekend hotel stay, concert tickets, or a sizable cash prize. The frequency of these raffle drawings could depend on your budget and/or the schedule of your data retrieval. Either way, non-winning employees' names could remain in the drawing for next time, incentivizing employees to keep working hard to increase their odds more and more for each cycle.
---
Whether you're trying to boost morale, encourage loyalty, inrease productivity, or all of the above, having a quality rewards program for your employees is key to developing an ideal workplace.
Don't forget that spontaneously and genuinely acknowledging your employees' strengths is the foundation of any call center rewards and recognition idea. But getting creative with a rewards system that speaks to your employees could be the spark that ignites them to strive for more.
Want to gain more knowledge about how to improve quality within your call center? Subscribe to our blog in the box below!
Source: http://blog.playvox.com/6-easy-and-creative-call-center-rewards-and-recognition-ideas
Publish Date: November 15, 2016 5:00 AM
---
PREMIUM

CTI Software
(VIEW OUR PAGE)

CTI Software is the creator of custom application called Davos, which complements the telephone client solutions with intelligent features such as automated call attendant, call recording and archivin...

(view more)

PREMIUM

Future Gen International Pte Ltd
(VIEW OUR PAGE)

Outsourcing provider of English Call Centre services, Audio Transcriptions, Big Data ETL (Extract, Transform, Load) , Big Data Visualization, Big Data Predictive Model Generation

PREMIUM

Avizent Ltd
(VIEW OUR PAGE)

Advanced AI technology and Natural Language Processing delivered to clients in the Cloud that harnesses both voice and digital conversations. The focus is on building an environment where intelligent ...

(view more)
---

View more from
PlayVox
Recent Blog Posts:
| | |
| --- | --- |
| How To Improve Your Customer Service With Quality Assurance | June 23, 2017 5:00 AM |
| Benefits Of Using Both CRM & QA Software Together | April 5, 2017 5:00 AM |
| 4 Best Practices Of Using QA Software In The Contact Center | March 31, 2017 5:00 AM |
| Boost Your Contact Center QA With PlayVox's Third-Party Integrations | March 29, 2017 5:00 AM |
| 5 Ways Your Call Center Can Seduce Millennial Customers And Turn Them Into Raving Fans | March 24, 2017 5:00 AM |
| Lowering Inbound Call Volume To Improve Your Customer Experience | March 17, 2017 5:00 AM |
| How To Use Customer Satisfaction Surveys To Gain Actionable Insights For Your Call Center | March 15, 2017 5:00 AM |
| How Upwork Improved Their Customer Service And Upskilled Their Agents With PlayVox | March 10, 2017 5:00 AM |
| 5 Ways Virtual Agents Can Improve Website Customer Engagement | March 8, 2017 5:00 AM |
| How To Ensure Data Security And Privacy In Your Call Center | March 3, 2017 5:00 AM |