Four Common Call Center Problems That Lower Quality And How To Overcome Them - PlayVox - ContactCenterWorld.com Blog
Call centers are the front line of customer service but many common call center problems can stand in the way of top-tier customer service.

It is well known that a call center is one of the toughest work environments, which can result in increased agent absenteeism, agent turnover and costs while decreasing customer service quality, team morale and effectiveness. Therefore, when the professional environment is unhealthy, business dooms.
But this is only the tip of the iceberg. There are several other concerns that need to be addressed and companies have now started focusing on enhancing the quality of service. Agents should be more than ever skilled and equipped not just for script reading but for more complex problems. They need to be able to act autonomously should a problem arise.

So what are the biggest problems that call centers are facing today? And how can you improve efficiency and optimization? Below we discuss 4 common problems call center managers are dealing with today, and how to overcome them.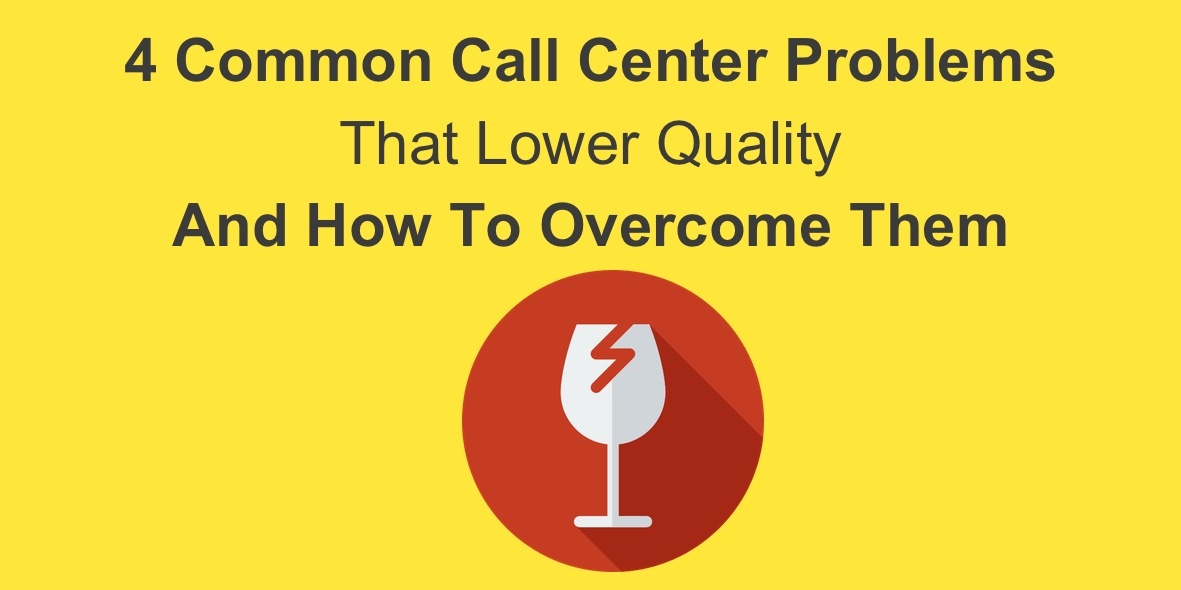 Common Call Center Problem No 1.
Agent attrition
Employee attrition has long been an issue in high-volume hiring environments, such as call centers. Cramped in a cubicle 9-10 hours a day, answering calls of frustrated customers, low pay, and slim benefits could be why agents do not see a future in this environment.

According to a recent Linkedin report, in addition to the law wages, compensation still remains one of the biggest challenges in recruitment for a call center.

In addition, a call center employee with aspirations can easily get discouraged given the little or no room for growth in a monotonous job. As a result, agents and employees have high rates of burnout, turnover, and poor performance.
**Check out the 13 ways to boost call center performance**

Solutions
Recognize and reward
Most call center agents only communicate with superiors when something is going wrong. However, call center managers should recognize and acknowledge the effort as well as the outstanding performance of their agents. It is the easiest approach to build trust, strengthen agent-manager relationships and bring positive energy to the workplace.

Competitive pay and benefits
Call center agents work hard, and rewarding them for a job well done, will keep them motivated and willing to stay in the company. Compare company benefits and wages to other call centers in the industry as well as offer incentives and even reward programs to compete for the best talent.

Control and training
It is crucial that skilled and motivated agents are able to not only handle a conversation successfully but to gain customer trust as well. Coaching agents with traditional training methods can be quite time-consuming and not necessarily the most effective way.

Instead, the agent should be trained to provide value to the company. See how you can teach agents to deliver personalized customer service.

Gamification
Gamification is transforming call centers. With the right game mechanics, tools, tactics and techniques, managers can transform their call center into a customer-centric operation by motivating employee engagement and achievement.
**Don't use gamification in your call center? Here's why you should!**

Common Call Center Problem No 2.
Low customer satisfaction
According to SQM, a U.S. customer survey research, 20 to 30 percent of a call center's call volumes are call backs from previous, unresolved issues.

Although most dissatisfied customers will not complain, even worse, they will leave and never come back.

And even if the call center compensates customers to make up for their bad experience, it takes 7 positive experiences on average to make up for one single bad one.

Solutions
Provide IVR
An optimal solution to enhancing customer satisfaction and loyalty is by providing an Interactive Voice Response or else skills-based routing. When the customers call, they will have a more personalized experience.

IVRs collect information about customer's needs and will transfer the customer to the most appropriate agent or department. In addition to the reduction of operational costs, the advanced system can place high-value callers to the front of the waiting queue meaning that even if all agents are busy, the team will never lose a high-value customer.
**Is your Interactive Voice Response (IVR) doing more harm than good?**
Customer surveys
Make customers the spotlight of your call center, and constantly ask for feedback and opinions. Customers will provide you with a wealth of information about your product, service, agents and more. All you need to do is listen.

Reassess your KPIs
Metrics by which you measure agent performance could potentially be harming your customer service. KPIs such as AHT pressure agents to handle call within a certain amount of time, leading them to transfer the call more than necessary, "accidently" get disconnected and provide a generic service.

Review your scorecard and make sure agents are focusing on metrics that really matter and don't backfire.

Common call center problem No 3.
Not putting employees first
A decrease in call center performance levels can be the result of many things, including low morale. Call centers have learned to place a lot of importance on their customers, forgetting to check in on their staff every once in a while.

KPIs such as customer satisfaction (CSAT) are more commonly used than employee satisfaction (ESAT). According to a recent survey by ICMI, nearly half of respondents do not track employee satisfaction within the call center.

An over-reliance on traditional metrics such as Average Handling Time and Speed To Answer, make it difficult for agents to improve because such metrics ignore quality, overwork agents and ultimately lead to a decrease in performance.

Solution
Focus on non-traditional metrics
Focus on qualitative and quantitative metrics, such as real-time customer feedback, balanced scored cards, and Net Promoter Score which all work to further improve performance levels.
**More important that Net Promoter Score? Agent Promoter Score**

Common problem No 4.
Too many tools
Many call centers are using multiple and outdated software to help them with their day-to-day operations instead of using a single tool.

This means agents in some call centers are opening and closing up to 10 different software to resolve a single query and spending an enormous amount of time on administrative tasks.

Solution
Integration
Adopt new software that will integrate with the existing ones in the call center. Or opt for a platforms that already have multiple systems integrated into it, such as ZenDesk or PlayVox.
ZenDesk provides a cloud-based customer support platform which allows quicker and easier interaction between businesses and customers, giving agents the ability to handle multiple systems from one single source.
PlayVox, which easily be integrates with ZenDesk, provides the tools to run the QA operations of your call center, centralizing training, coaching and evaluation tools.
---
Are you struggling with one of these common call center problems? Share with us how you tackled the issue and resolved it in the comment box down below!


Source: http://blog.playvox.com/four-common-call-center-problems-that-lower-quality-and-how-to-overcome-them
Publish Date: October 19, 2016 5:00 AM
---
PREMIUM

HigherGround, Inc.
(VIEW OUR PAGE)

HigherGround develops data collection, information storage, and interaction analytics solutions that easily transform data into actionable intelligence, enabling operational optimization, enhanced per...

(view more)

PREMIUM

CTI Software
(VIEW OUR PAGE)

CTI Software is the creator of custom application called Davos, which complements the telephone client solutions with intelligent features such as automated call attendant, call recording and archivin...

(view more)

PREMIUM

Avizent Ltd
(VIEW OUR PAGE)

Advanced AI technology and Natural Language Processing delivered to clients in the Cloud that harnesses both voice and digital conversations. The focus is on building an environment where intelligent ...

(view more)
---

View more from
PlayVox
Recent Blog Posts:
| | |
| --- | --- |
| How To Improve Your Customer Service With Quality Assurance | June 23, 2017 5:00 AM |
| Benefits Of Using Both CRM & QA Software Together | April 5, 2017 5:00 AM |
| 4 Best Practices Of Using QA Software In The Contact Center | March 31, 2017 5:00 AM |
| Boost Your Contact Center QA With PlayVox's Third-Party Integrations | March 29, 2017 5:00 AM |
| 5 Ways Your Call Center Can Seduce Millennial Customers And Turn Them Into Raving Fans | March 24, 2017 5:00 AM |
| Lowering Inbound Call Volume To Improve Your Customer Experience | March 17, 2017 5:00 AM |
| How To Use Customer Satisfaction Surveys To Gain Actionable Insights For Your Call Center | March 15, 2017 5:00 AM |
| How Upwork Improved Their Customer Service And Upskilled Their Agents With PlayVox | March 10, 2017 5:00 AM |
| 5 Ways Virtual Agents Can Improve Website Customer Engagement | March 8, 2017 5:00 AM |
| How To Ensure Data Security And Privacy In Your Call Center | March 3, 2017 5:00 AM |
Industry Champion Award Leaderboard