What Is Quality In A Call Center And What Does It Mean? - PlayVox - ContactCenterWorld.com Blog
Anyone who has placed a call to a customer service contact center has heard this recording: "For quality and training purposes, this call may be recorded or monitored." But what is quality in a call center, and how do managers use it to train agents and improve service?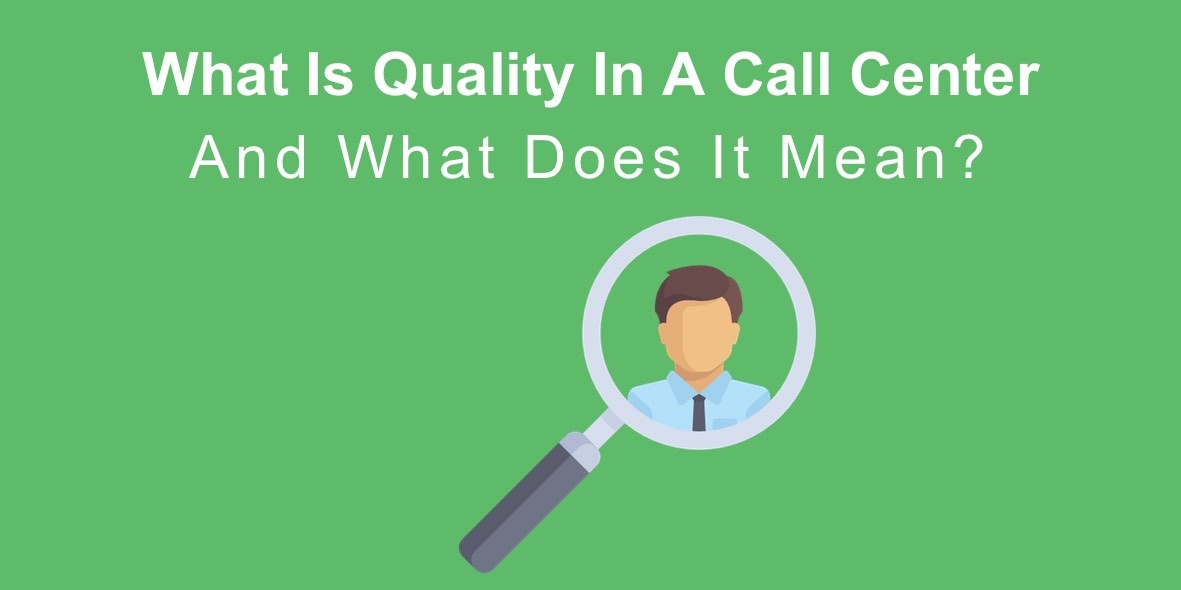 What is quality in a call center?
Quality call monitoring is essential to a successful call center. Call center managers and quality assurance specialists have a responsibility to keep an eye on call center operations, ensuring a consistently positive experience for each and every customer. In addition to monitoring quality and consistency in the customer call experience, the quality department can also manage the call center's efficiency in order to keep costs low.
More than a machine
A great deal of information can be gathered by the call system itself, such as average handling time (AHT), call volume, and hold times. However, the quality of care provided to a customer cannot be measured solely by a computer system. Often times, it takes a trained human ear to really listen to the interaction to ensure that qualities such as courtesy and positivity are being conveyed during each and every conversation. This is where quality monitoring and scorecards come into play.
**Automating your quality call center processing 101**
A third-party perspective
Although some companies maintain an internal team to continuously monitor call quality and adherence to standards, a third party is also necessary to ensure consistent results.
Quality assurance specialists bring with them a trained skill set that may not be attainable within the call center itself. Moreover, the impartial perspective of a third party monitoring system can ensure reports and recommendations that are unbiased and fair.
What does the quality department do?
Quality monitoring is about more than just listening in to identify problems. It is about consistent monitoring of customer satisfaction achieved by agents who are skilled in their jobs. It is about training and refocusing agents so they can best meet the needs of the customer and the company.
Monitor calls to ensure uniform customer service
Through research and development, call centers have determined what customers want and need from their service experience. Certain greetings, positive phrases, and call formats that are proven effective should be adhered to in order to ensure uniform customer service.
**Personalized customer service phrases for rock star agents**
This is where the quality department comes in. By monitoring calls on an ongoing basis, the quality department can make sure agents are giving customers service that is consistent across the board.
Ensure that agents are meeting compliance guidelines
Call centers, like most business entities, are subject to certain rules to protect the consumer. For example, call centers are not allowed to record or permanently store full credit card information for customers, and customers must be notified that their call may be recorded or monitored.
Due to the ubiquitous presence of call centers worldwide, keeping up with compliance standards can be tricky. But in order for the call center to function legally, these and other guidelines must be followed, and quality monitoring can ensure this compliance.
Work with managers and agents to develop scorecards
A scorecard is used to determine agent effectiveness according to measurable benchmarks. Ideally, agents themselves will help to develop these benchmarks in collaboration with their managers and QA specialists.
Benchmarks of quality should be measurable, actionable, and should respond to the needs and desires of the customer. The quality department can ensure that these scorecards are developed properly.
These scorecards may evolve over time to reflect the changing needs of the customer and the developing goals of the call center, and the quality department can help to oversee this development to ensure that scorecards continue to align to company goals and priorities.
Check for adherence to the scorecard
In addition to helping call centers develop meaningful, measurable, and actionable scorecards, the quality department must also monitor adherence to these established guidelines.
This means listening or clicking in on calls or points of contact and seeing how the agents measure up to the agreed upon standards of quality. But the quality department should be more than just a Big Brother watching and listening to agents as they work. Quality should also work cooperatively with agents to create action plans to improve any areas of deficiency.
Data analysis
In addition to collecting data in the form of scorecards and KPI's, the quality assurance department is also responsible for analyzing this data in order to make it useful to management and agents.
Some say there is such thing as too much data, but if that data is analyzed in a useful way to spur impetus for meaningful change, then the quality department has made this data collection worth the time and effort.
**Using data mining to improve the customer experience in your call center**
---
So what is quality in a call center? Successful quality monitoring is more than just a Big Brother watching over and listening in on call center agents.
To maximize consistent service quality, there must be trust and cooperation between quality specialists, management, and agents.
Rather than merely identifying problems, the quality department can analyze results of data collection to create action plans and additional training that can improve the overall experience of customers, managers, and the agents themselves.
It's easy for a call center to fall into bad habits that can spread among agents and go unnoticed by management. Investing in quality assurance can nip these problems in the bud to maintain a productive, successful call center for all.
Source: http://blog.playvox.com/what-is-quality-in-a-call-center-and-what-does-it-mean
Publish Date: December 2, 2016 5:00 AM
---
PREMIUM

CTI Software
(VIEW OUR PAGE)

CTI Software is the creator of custom application called Davos, which complements the telephone client solutions with intelligent features such as automated call attendant, call recording and archivin...

(view more)

PREMIUM

HigherGround, Inc.
(VIEW OUR PAGE)

HigherGround develops data collection, information storage, and interaction analytics solutions that easily transform data into actionable intelligence, enabling operational optimization, enhanced per...

(view more)

PREMIUM

Avizent Ltd
(VIEW OUR PAGE)

Advanced AI technology and Natural Language Processing delivered to clients in the Cloud that harnesses both voice and digital conversations. The focus is on building an environment where intelligent ...

(view more)
---

View more from
PlayVox
Recent Blog Posts:
| | |
| --- | --- |
| How To Improve Your Customer Service With Quality Assurance | June 23, 2017 5:00 AM |
| Benefits Of Using Both CRM & QA Software Together | April 5, 2017 5:00 AM |
| 4 Best Practices Of Using QA Software In The Contact Center | March 31, 2017 5:00 AM |
| Boost Your Contact Center QA With PlayVox's Third-Party Integrations | March 29, 2017 5:00 AM |
| 5 Ways Your Call Center Can Seduce Millennial Customers And Turn Them Into Raving Fans | March 24, 2017 5:00 AM |
| Lowering Inbound Call Volume To Improve Your Customer Experience | March 17, 2017 5:00 AM |
| How To Use Customer Satisfaction Surveys To Gain Actionable Insights For Your Call Center | March 15, 2017 5:00 AM |
| How Upwork Improved Their Customer Service And Upskilled Their Agents With PlayVox | March 10, 2017 5:00 AM |
| 5 Ways Virtual Agents Can Improve Website Customer Engagement | March 8, 2017 5:00 AM |
| How To Ensure Data Security And Privacy In Your Call Center | March 3, 2017 5:00 AM |
Industry Champion Award Leaderboard