Trends In Customer Service To Watch Out For In 2017 - PlayVox - ContactCenterWorld.com Blog
Doesn't it feel like only yesterday when live chat was all the rage?
Over the last few years, the customer support industry has evolved thanks to cutting edge technology. Gone are the days when customers had to write handwritten letters to voice their complaints. These days all it takes are a few swipes on the keyboard and a couple of clicks for clients to make their voices heard.
But what will the New Year have in store for customer support? Here are the top three trends in customer service to watch in 2017.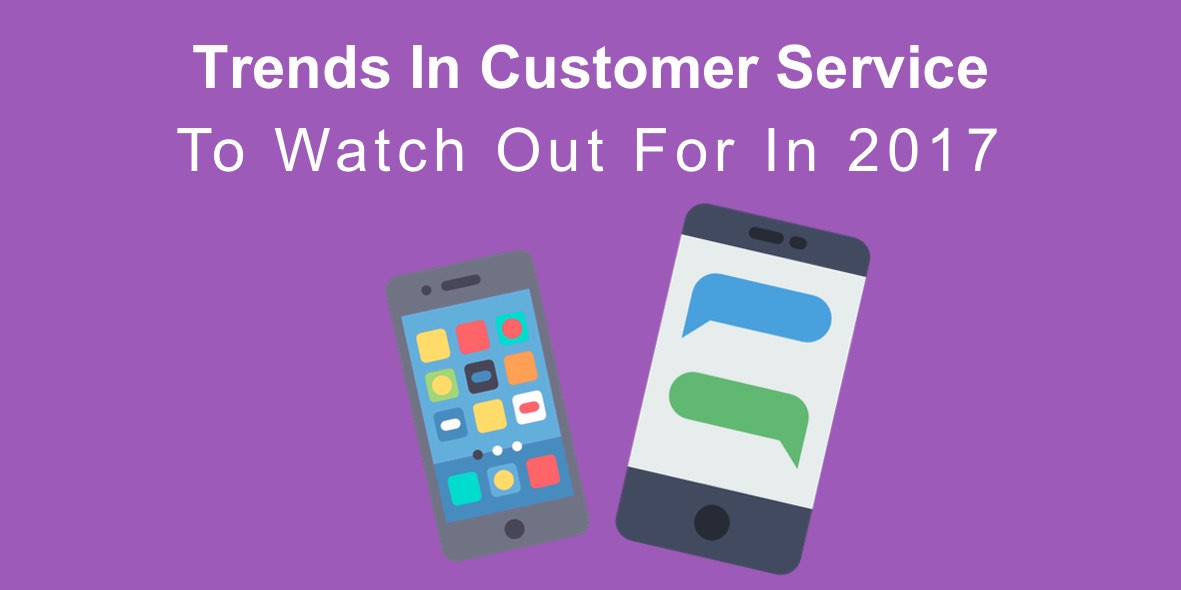 1.Instant messaging support
Over the last few years, consumers have become more reliant on tools like social media to air their grievances and make contact with brands. In 2016, we saw the growth of instant messaging apps like WhatsApp and Facebook Messenger which has lead to experimenting with these platforms as customer support tools.
**Whatsapp: The future of customer service**
In 2017, this trend in customer support is going to continue to grow as consumers begin to demand a more permanent connection to brands on platforms they use every day. What this means is that companies are going to have to adapt to be able to monitor the quality of customer service going out across these platforms and work hard to maintain this direct connection with their customer.
2. Virtual speech assistance
In 2016, we saw voice technology like Apple's Siri become more advanced and start to gain traction in different industries.


In 2017, this technology trend will be one to watch to see how it disrupts the industry. How will companies exploit this trend to develop their strategy? Will we start to see more virtual speech assistant apps to help with customer support?
Only the next twelve months will tell if this is a fad or if voice solutions are the next big thing in virtual customer support.
**Speech analysis: The future of QA monitoring
3. The evolution of omnichannel
With all the various channels companies have to monitor, it is no wonder that omnichannel support was a huge trend in 2016.
However, as we move into the New Year, this piece of technology will continue to evolve and become more intuitive. Data mined from this method will enable businesses to develop strategies around personalised support and predict and avoid issues before they even occur.
What this could mean, is that a trend will emerge in 2017 where companies start to reduce the number of ways they can be contacted and focusing on a few key ones, like instant messaging, that work best for them.
4. The rise of the silver surfers
Since 2013, technology heavyweights like Gartner have been preaching that generation 50+ represent a more important demographic than X and Y when it comes to technology. In 2017, we will start to see this trend spill over into the customer service industry as the Silver Surfers shed stereotypes and embrace technologies like live chat or call backs.
Again, this reinforces the trend that instant messaging support will be massive in the New Year to keep customers happy.
5. The year of interactive email
Haven't heard of interactive emails yet? Well by the end of 2017, you will more than likely be on its bandwagon shouting its praises. Trends in customer service are aligned towards this new way in which email can be consumed.
Gone are the days where emails have to be static pieces of information. In 2017, we will see the rise of emails where customers can interact with drop down menus and make purchasing decisions without having to click a link.
Imagine sending out emails where customers can give instant feedback straight from their inboxes. Or providing your customers with an interactive troubleshooting email that can take them through numerous steps before contacting support as a last resort.
It is a massive opportunity for companies to stop making bad email and engage their list with great emails that can solve their problems.
6. The Power of Personalization
It is no secret that these days customers crave personalization. They don't want to feel like another number, but at the same time, they do not want their privacy breached. In 2017, customer service will need to tread the fine line between offering a service that makes consumers feel special sans the creepy factor.
**How to train agents to personalize customer service**
When personalisation is done right, it will be one of the most powerful trends in customer service. The ability to use data such as likes and dislikes to create a better - more personalised service is a competitive advantage that will set the leaders apart from the pack in 2017.
---
To summarise, technology will continue to play a significant role in trends in customer service. Instant messaging will be the big player to watch in the New Year and how companies choose to adapt to these changes will be a deciding factor in their success for 2017.
To keep our customers happy, we need to keep our fingers on the pulse of change and deliver great support on the right channels at the right time.
Source: http://blog.playvox.com/trends-in-customer-service-to-watch-out-for-in-2017
Publish Date: December 6, 2016 5:00 AM
---
PREMIUM

Future Gen International Pte Ltd
(VIEW OUR PAGE)

Outsourcing provider of English Call Centre services, Audio Transcriptions, Big Data ETL (Extract, Transform, Load) , Big Data Visualization, Big Data Predictive Model Generation

PREMIUM

HigherGround, Inc.
(VIEW OUR PAGE)

HigherGround develops data collection, information storage, and interaction analytics solutions that easily transform data into actionable intelligence, enabling operational optimization, enhanced per...

(view more)

PREMIUM

Avizent Ltd
(VIEW OUR PAGE)

Advanced AI technology and Natural Language Processing delivered to clients in the Cloud that harnesses both voice and digital conversations. The focus is on building an environment where intelligent ...

(view more)
---

View more from
PlayVox
Recent Blog Posts:
| | |
| --- | --- |
| How To Improve Your Customer Service With Quality Assurance | June 23, 2017 5:00 AM |
| Benefits Of Using Both CRM & QA Software Together | April 5, 2017 5:00 AM |
| 4 Best Practices Of Using QA Software In The Contact Center | March 31, 2017 5:00 AM |
| Boost Your Contact Center QA With PlayVox's Third-Party Integrations | March 29, 2017 5:00 AM |
| 5 Ways Your Call Center Can Seduce Millennial Customers And Turn Them Into Raving Fans | March 24, 2017 5:00 AM |
| Lowering Inbound Call Volume To Improve Your Customer Experience | March 17, 2017 5:00 AM |
| How To Use Customer Satisfaction Surveys To Gain Actionable Insights For Your Call Center | March 15, 2017 5:00 AM |
| How Upwork Improved Their Customer Service And Upskilled Their Agents With PlayVox | March 10, 2017 5:00 AM |
| 5 Ways Virtual Agents Can Improve Website Customer Engagement | March 8, 2017 5:00 AM |
| How To Ensure Data Security And Privacy In Your Call Center | March 3, 2017 5:00 AM |