14 Curated Links to Get Your Call Center QA Assurance Program Kickstarted - PlayVox - ContactCenterWorld.com Blog
Whether you're starting or improving your call center quality assurance program, processes always require a lot of work and research.
To cover as much about quality assurance processes as possible, we've centralized a few helpful tools and articles from around the web to save you time and energy searching.
From the preparation of a QA program, to scorecards to KPIs, below you'll find our top recommended articles to help you build and improve.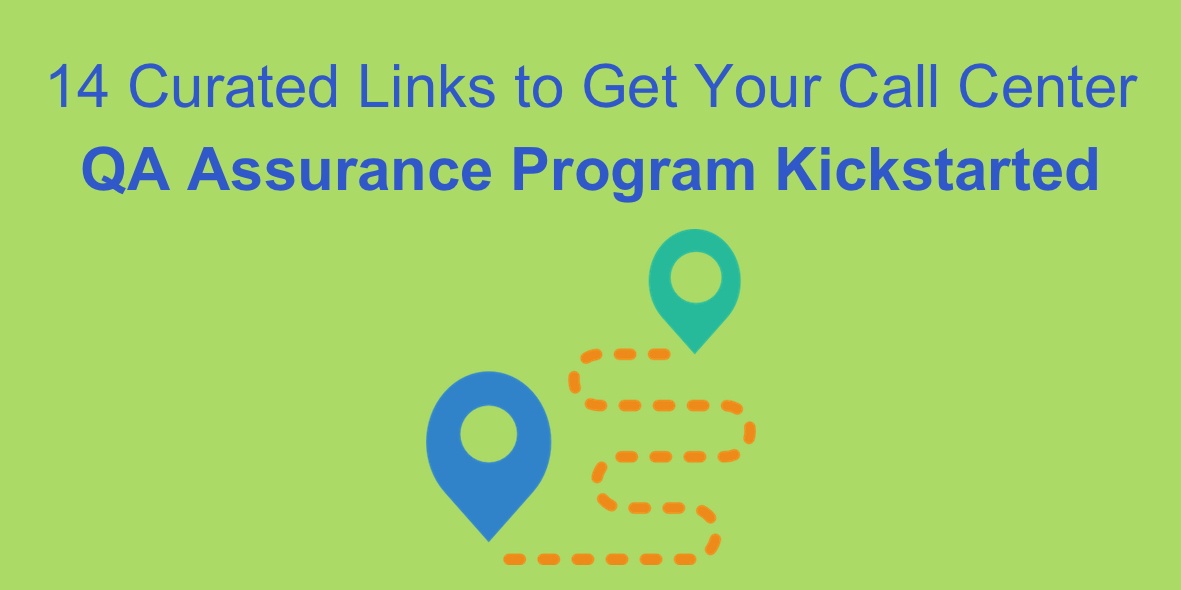 Start on a solid base
Establish a good base on how to go about building a strong, result-oriented program for both management and front level employees by starting to develop these important points.
These points will start guiding the way you create your Quality assurance program and ensure you get the most out of your processes.
5 Things To Know Before Creating A QA Monitoring Program
Answer all your technical questions
Many of the technical quality assurance questions that might arise while creating your quality process can be found here.
Whether you're wondering about scoring, QA training or how to select customer calls, VPI will answer 20 of the most important questions regarding call center QA and performance management.
20 Call Center QA and Performance Management Questions Asked and Answered
Creating a scorecard
Designing your call center quality score cards is possibly one of the most important things in your call center.
It will define how agent feedback is done as well as the training opportunities and improvements that will shape the call center.
In short, your call center can only be as good as your scorecard.
This helpful list of points will help guide your item selection when formulating your scorecard evaluation form.
Sample Call Center Call Scoring Evaluation Form Items
Sample scorecard
Quality scorecard evaluations come in many shapes and forms. If you're curious to see how other companies structure their evaluations, Zappos generously shared their QA scorecard so you can see how they grade, their point system and structure so you can build and improve on their model.
Transforming score card data
Once enough data has been collected from the scorecards, it's time to analyze the information, extract results and improve processes.
See how to use the results to their full potential so you can implement change, train and reward staff adequately.
How To Turn Raw Data From Your QA Scorecard Metrics Into Gold
Defining KPI's
Among the favorite KPIs of call centers, Net Promoter Score (NPS) runs high. And why not? After all, NPS measures the willingness of a client to recommend a brand, product or service to their family and friends.
However, this article will provide great insights as to why Agent Promoter Score could be a potentially more important KPI and why staff are just as important if not more than your customers.
More Important Than Net Promoter Score? Agent Promoter Score
In a sea of endless KPIs, determining the most relevant ones for your scorecard can be downright confusing. Should you choose Average Handling Time or First Call Resolution? Should you really measure Adherence to Schedule or is it harming the office morale?
ICMI share their "
Seven Metrics to Watch for Call Center Success
"
and
Ameyo give you their top metrics
so you can better define your priorities.
Quality program success story
There's nothing more inspiring than real life success stories. Find out how Zappos turned their QA program upside down and opened up the channels of communication within their Quality team.
A Zappos Lesson in QA Management
Quality assurance for small and medium businesses
If you're a small organization, don't think that a Quality program is unnecessary, intimidating or expensive.
With some careful thought and planning, a QA program can be easy to build, standardize quality and reduce customer experience no-no's.
8 Steps To Building A QA Program For Your Support Team From Scratch
Hiring the right QA manager
A team is as good as each member in it. Hiring right is a key part to ensuring a good fit and a lower attrition rate.
Don't know what to look for when hiring a QA analyst for your support team? This article will highlight key skills to look for on resumés and during interviews.
Skills To Look For When Hiring A QA Analyst For Your Support Team
Making QA a team effort
Quality assurance is not always well seen. Often, it's viewed as a way to monitor employee activity when in reality its main goal is to improve call center quality and delight customers.
Learn how to gamify the process through competition and recognition so all staff can contribute and feel included.
How To Integrate Competition And Recognition In Your QA Monitoring Program
Improving and discovering pain points
If after this you're still having trouble pinpointing what needs fixing in your call center, this article will discuss a few common pain points that contact centers usually face.
5 Factors Harming the Quality of Your Contact Center
But if you're a perfectionist, you know that no matter how well things are going, there is always room for improvement.
Find inspiration through these
35 Ways to Improve Your Call Center Quality Assurance Program
.
---
Liked our curated list of call center QA tools? Subscribe to our blog and receive QA advice and tips for improvement straight to your mailbox!
Source: http://blog.playvox.com/14-curated-links-to-get-your-call-center-qa-assurance-program-kickstarted
Publish Date: October 14, 2016
---
PREMIUM

HigherGround, Inc.
(VIEW OUR PAGE)

HigherGround develops data collection, information storage, and interaction analytics solutions that easily transform data into actionable intelligence, enabling operational optimization, enhanced per...

(view more)

PREMIUM

ConceptCall
(VIEW OUR PAGE)

Аутсорсинговый контакт-центр ConceptCall| КонцептКолл специализируется на исходящем и входящем телемаркетинге: мы предоставляем услуги по осуществлению холодных звонков и продажи по телефону, проводим...

(view more)

PREMIUM

CTI Software
(VIEW OUR PAGE)

CTI Software is the creator of custom application called Davos, which complements the telephone client solutions with intelligent features such as automated call attendant, call recording and archivin...

(view more)
---

View more from
PlayVox
Recent Blog Posts:
| | |
| --- | --- |
| How To Improve Your Customer Service With Quality Assurance | June 23, 2017 |
| Benefits Of Using Both CRM & QA Software Together | April 5, 2017 |
| 4 Best Practices Of Using QA Software In The Contact Center | March 31, 2017 |
| Boost Your Contact Center QA With PlayVox's Third-Party Integrations | March 29, 2017 |
| 5 Ways Your Call Center Can Seduce Millennial Customers And Turn Them Into Raving Fans | March 24, 2017 |
| Lowering Inbound Call Volume To Improve Your Customer Experience | March 17, 2017 |
| How To Use Customer Satisfaction Surveys To Gain Actionable Insights For Your Call Center | March 15, 2017 |
| How Upwork Improved Their Customer Service And Upskilled Their Agents With PlayVox | March 10, 2017 |
| 5 Ways Virtual Agents Can Improve Website Customer Engagement | March 8, 2017 |
| How To Ensure Data Security And Privacy In Your Call Center | March 3, 2017 |