PlayVox - ContactCenterWorld.com Blog Page 3
In today's world of cutthroat international competition, companies are always looking for an edge. First-class customer service, along with good products and services, makes you stand out from the rest.
Research says that empowering call center agents to make decisions in the moment is one of the best, most efficient ways to make your customer experience a good one. Agents are on your customer-relations front line. Their direct personal experience with your customers gives them valuable information and insight into how to create the best customer service.
---
Here are some tips on how to empower your call center agents.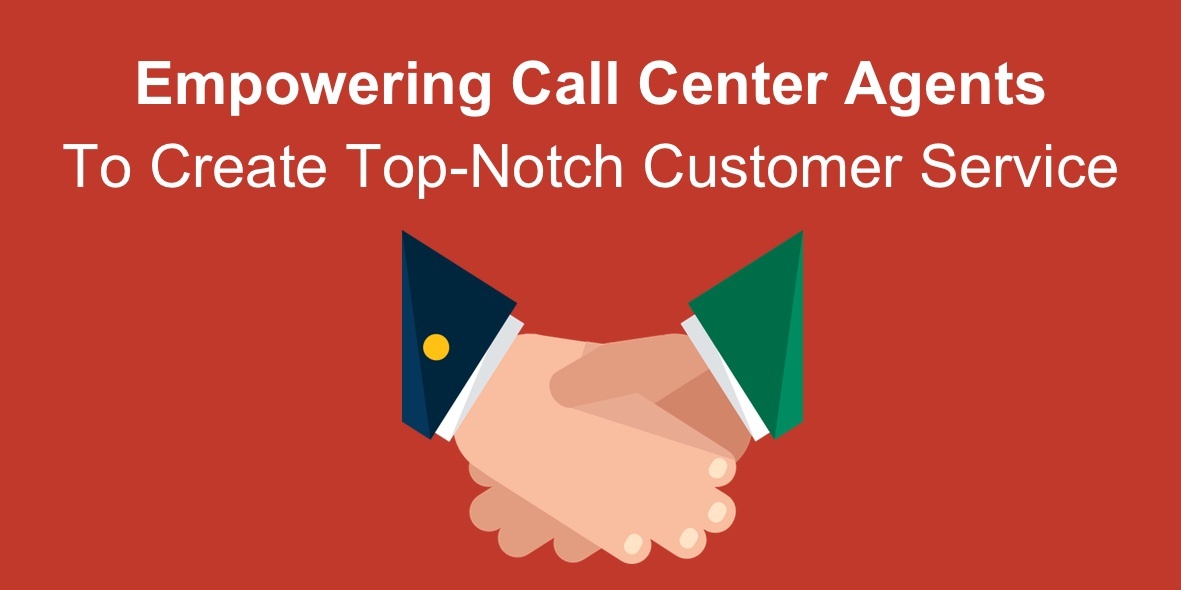 Hire people with the right attitude
It takes a special kind of person to make the best of an empowered culture. Look for self-motivated people who will thrive in that atmosphere. You might consider giving applicants personality tests and conducting group interviews to see how people communicate and interact.
Start with small steps
You can't just wake up one day and decide to have an empowered workforce, especially if your company has been running on more authoritarian lines. You need your people's trust and full support. Empower your employees in small matters first. Let them pick the food in the office vending machines. Get their feedback on the office dress code. Show that you value their opinions on small matters and you'll have their full buy-in when you move on to larger things.
Have a plan in place
Building an empowered workforce isn't an impulsive decision─it will change your company dynamics at all levels. Set policy as to how your agents are empowered and to what extent. What happens if they go too far? Which customers call for the most leeway?
Create an empowerment culture
Respect your agents. Make sure that they have the support of all departments. For instance, can they easily call for assistance from Engineering? Empowering call center agents means that they need to able to get the necessary assistance to implement their decisions.
Train, train, train
Training people to make informed decisions is a much more complex and difficult task than training them to follow a set of rules.
You might need to change your training regimen altogether.
Make sure your people know what to expect before you let them loose in the wild.
**The secret to training a multi-generation call center**
Capture and share best practices
Don't just talk about how not to do things wrong. Show your agents the times when everything went right. Let them listen to recordings of your top agents successfully dealing with difficult problems.
It's a great idea to ask your best agents to help with training─it shows your appreciation and respect, and they will have invaluable insights to offer.
Don't punish people for making mistakes
Empowering call center agents means allowing them to make decisions with consequences. If you punish someone for trying to implement one of your initiatives you'll lose the trust of the entire team.
Involve your entire organizational structure
The roles of your managers and supervisors will change drastically under the new regime. With agents able to make decisions, managers will be acting more as coaches and advisors instead of monitoring rules compliance.
Get a great knowledge management system
Give your agents the best information you can. Integrate all customer information into a unified CRM. Logs from past calls, pending requests, social media, email (and everything else you can think of) should be easily accessible. Your agents need the complete picture to make the best decisions.
**6 creative ways to improve productivity for call center agents**
Give your agents a usable, unified interface
Don't trap your agents in multi-tab hell. A unified, easily-searchable interface will help them find the right information at the right time.
Track the right metrics
You'll need to figure out how to measure the behavior you want. Average handle time won't tell you much about how good that customer experience was─in fact, if the customer feels the problem wasn't solved, it might have been a terrible customer experience!
First call resolution percentages or metrics based on customer loyalty will tell you more about what you need to know to monitor and test your empowerment initiatives.
**In with First Call Resolution and out with Average Handling Time**
Reward the right stuff
It doesn't do any good to empower your agents to go the extra mile if you're still rewarding them based on how fast they get the customer off the phone. Set up your metrics to measure the excellence of the customer service and you'll see who your best performers are.
Listen to your agents
Set up focus groups where your agents can discuss their frustrations and brainstorm ideas. They might be able to see opportunities invisible to people who don't have their boots on the ground.
Give your agents input into schedules
Empowering your agents works best when you support initiatives in all ways. Let your agents pick their schedule preferences. You could put up a trade board where they can swap shifts, or even set up a system for them to set their own breaks.
Involve your team in the big decisions
Let your agents know the reasons behind management decisions. Get their feedback. You don't need to follow every suggestion, but knowing that you value their opinions makes your employees feel more engaged─they're valued team members, not just robots to do your bidding. If they know the company's goals and plans for the future, they can make decisions to support them.
---
Empowering call center agents gives your company the flexibility to create the best possible customer service. The people who know the best action to take in the moment are usually the people who are there facing the situation.
Source: http://blog.playvox.com/empowering-call-center-agents-to-create-top-notch-customer-service
Publish Date: December 13, 2016 5:00 AM
---
Assuring quality in the call center should be a top priority for any company. Customers' contact with call center agents can be their only personal interaction with a company, and making a good impression with high quality customer service can mean the difference between a returning customer and a closed account. Here are 17 call center quality assurance tips to up your game.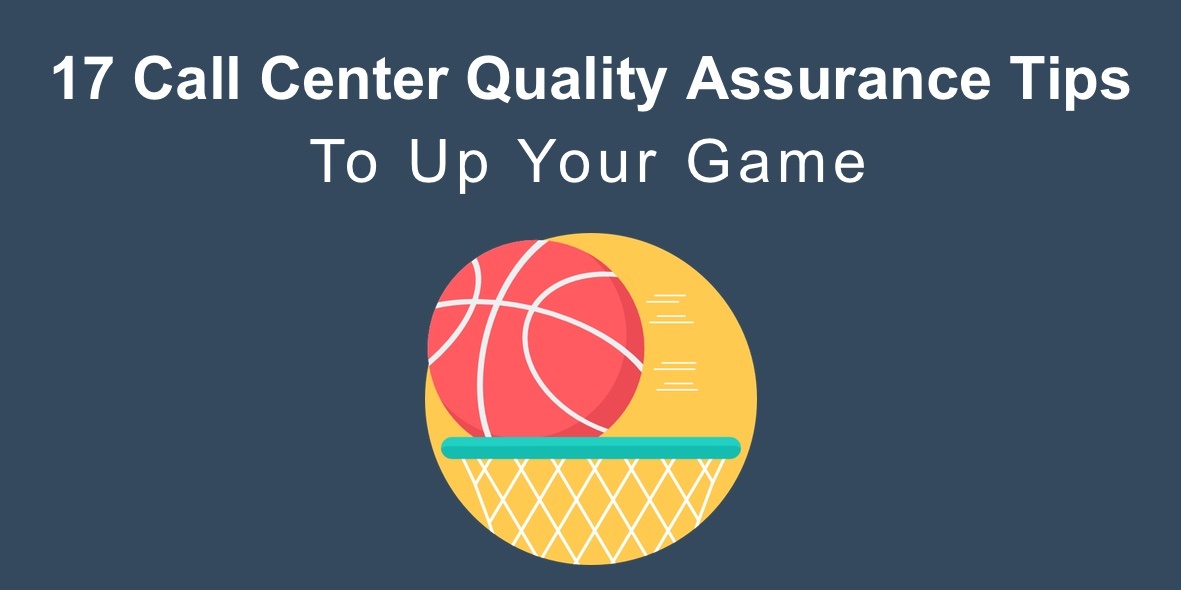 1. Define customer satisfaction by measurable data
Rather than chasing around a myriad of subjective indicators of customer satisfaction, decide on a few key factors to measure-- e.g. Average Handling Time (AHT) or First Call Resolution (FCR)-- and dig deeply into this data for optimal solutions.
**In with First Call Resolution and out with Average Handling Time**
2. Encourage self-assessment
By encouraging your agents to self-assess their effectiveness periodically, you heighten their self-awareness in terms of service and reinforce the idea that quality assurance is not just a top-down process.
3. Make monitoring the norm
Agents who expect that monitoring can be happening at any time are more likely to stick to their scripts and remain aware of the quality and effectiveness of their customer service. Rather than monitoring sporadically, make call monitoring the habitual norm in your call center.
4. Record subtly
Along with monitoring consistently, quality assurance specialists should monitor in a way that is unobtrusive to agents. This will ensure that the data collected during such monitoring is a truly candid representation of the average quality of a call.
**Speech analysis: The future of QA monitoring**
5. Standardization is key
For data to be reliable, it must be collected in a standardized way. Make sure that call monitoring and KPI collection are conducted in a consistent manner to ensure reliable results.
6. Share evaluation criteria with agents
Agents should not have to wonder how they are being evaluated during a call. Standards of quality measurement should be transparent to all parties involved to ensure a fair, productive assessment. An agent who knows how quality is defined is better prepared to achieve it.
7. Establish a dispute process for agent evaluation
Agents should have a predefined process to follow if they feel they have been evaluated unfairly or that their evaluation is not representative of their day-to-day quality. Allow agents to seek a second evaluation if they feel the first was not conducted with accuracy.
8. Evaluation results should prompt coaching and development
Evaluations should amount to more than a pat on the back or a wag of the finger. They should be designed to collect data in a way that leads to a continual process of coaching and improvement.
**4 die-hard call center coaching tips to hold everyone accountable**
9. Seek out a third-party perspective
Although call centers can certainly maintain internal teams or individuals to monitor quality on an ongoing basis, it is essential that they also solicit feedback from an outside source. Free from internal bias and uninfluenced by goals or allegiances, a third-party quality monitoring service can provide a uniquely accurate and fact-based assessment of call center quality.
10. Recalibrate often for reliable data
To ensure quality monitoring that is fair and reliable, it is necessary for evaluators to meet together and recalibrate their scoring periodically to ensure consistency. Prepare a batch of representative calls and have each member of the quality team evaluate them individually, Then, share and discuss results, referring to the scorecard to find common ground where there are discrepancies.
11. Gather all stakeholders periodically to share call center quality assurance tips
Agents can begin to feel isolated by their headsets, and managers' communication can feel scattered unevenly amongst agents. Getting the whole team together to discuss quality (including recognizing positives and tackling issues) means a more unified and forward-thinking team overall.
12. Define what is on-script and what is off-script
Assuming you have a well-developed script that everyone is happy with, make sure you have clear parameters defining the extent to which it should be followed. What, if any, portions of the script can be used flexibly or omitted altogether as the circumstances require?
13. Solicit customer feedback
A brief, simple survey conveying the customers' satisfaction at the conclusion of a service experience can give valuable insight into your call center quality. Compiling this feedback in a way that is useful for coaching and training purposes is even better.
**Voice of the customer in contact centers and why yours may be failing**
14. Make training and coaching a natural extension of quality monitoring
Quality assurance should not exist in a vacuum. For agents to value the process (and not resent it), it should be part of the bigger picture of ongoing training and coaching opportunities. This training should be conducted collaboratively and meaningfully, not punitively.
15. Save examples of rock-star calls to use for training
Learning by example can be very effective, and agents can be reminded of what high quality customer service looks/sounds like by revisiting a stellar example of it.
**The secret to training a multi-generation call center**
16. Reward agents regularly
Make sure quality assurance is a tool used not only to spot problems, but to recognize excellence. Reward agents for a job well done and they will be motivated to keep striving for success.
**6 easy and creative call center rewards and recognition ideas**
17. Assign a dedicated individual or team to monitor quality
For in-house quality monitoring, management should carefully select an individual or team who will conduct the process with integrity. Managers have enough on their plate without having to be quality monitors, too.
**5 factors harming the quality of your contact center**
---
There are no one-size-fits-all solutions for ensuring great customer service for a given company. But combining some of these call center quality assurance tips with a well-implemented quality monitoring procedure should be a step in the right direction.
Source: http://blog.playvox.com/17-call-center-quality-assurance-tips-to-up-your-game
Publish Date: December 8, 2016 5:00 AM
---
Technology is changing the way we assess quality.
Call center quality assurance jobs are being revolutionized by innovative technology. At the forefront of this innovation is the development of speech analytics, which has the potential to totally transform the way contact centers analyze calls and mine data.
This technology can now determine what is said during a call, who said it, and even speculate the emotional state of each person by analyzing vocal inflection. What's more, analytics software programs designed for call center QA can compile this data on a massive scale, revealing trends, problems, agent competence, and customer satisfaction to an extent that was once unimaginable. This has profound implications for agent training and development, and for the fate of call center quality assurance jobs themselves.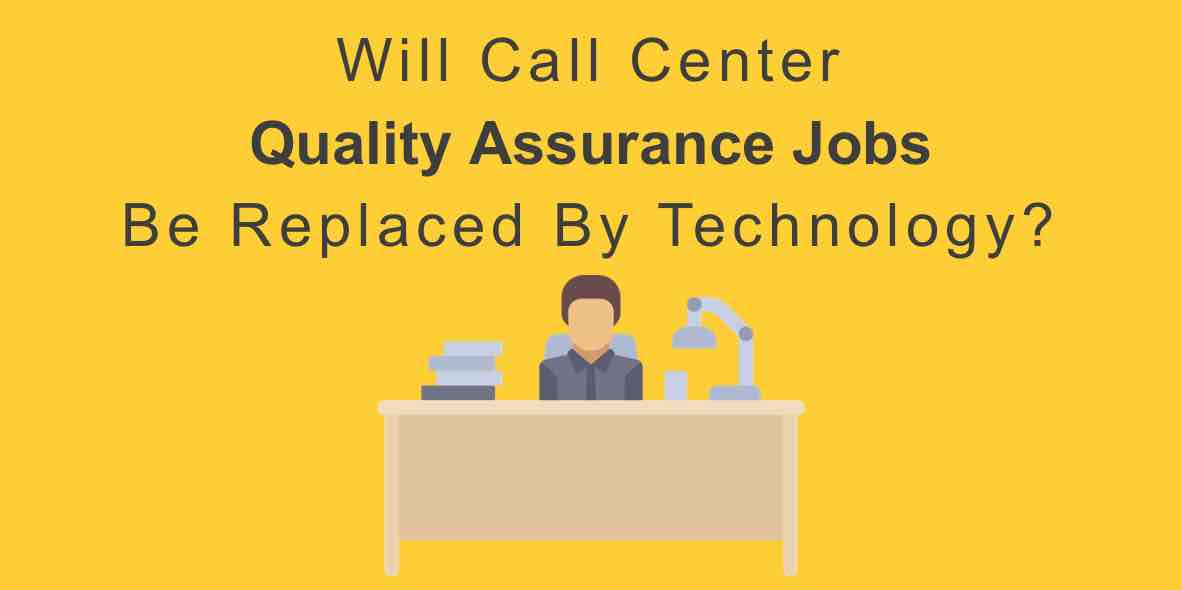 Emerging quality assurance technology cannot replace the human workforce
Researchers and analysts have begun to speculate whether this technology has the potential to make the human workforce of call centers and quality assurance obsolete. Although most of the operational tasks of quality assurance in call centers may eventually be taken over by machine, a human workforce will still be needed to put this wealth of data and analysis to productive use for teams of human agents.
Despite speculation by researchers and market analysts that call centers are the new "factory floor," what makes a call center different than a fully-automated factory is the central role of the customer.
Customer interaction is not a product that can be poured into a mould, dropped onto a conveyor belt, boxed, shipped, and sold. Human capital cannot be digitized, compartmentalized, and modernized like a saleable commodity.
Present in any human interaction is the need to listen intently, think critically, and respond appropriately. Call center quality assurance that is fully computerized cannot possibly pick up on the subtle nuances of human interaction that characterize meaningful communication
**How to train agents to personalize customer service**.
A quick search of call center quality assurance jobs reveals that the skills and tasks required for this position extend beyond the capabilities of even the most advanced machine.
A representative sample of such a job lists responsibilities such as "develop and implement improvement strategies," "manage communication," and "lead calibration meetings". As sophisticated as modern technology may be, actions like "develop," "implement," "manage," and "lead" can only be executed in a meaningful way by a complex and competent human being.
The term 'specialist' in itself reveals the complex nature of this role. Leadership cannot be fabricated by an algorithm, prepackaged, and sold to a team of agents. QA specialists will still be in demand despite advances in technology.
What technology cannot capture
Speech analytics technology can offer a wealth of information about interactions between agents and customers.
**Speech analysis: The future of QA monitoring**
For example, this technology can transcribe entire conversations and log them into a searchable database. It can detect and scalably report incidents in conversations such as agents and customers talking over one another (an indication of a dissatisfied customer) or long pauses in the conversation (indicating a knowledge deficiency on behalf of the agent). It can even assess calls in real-time and suggest best-next-steps for agents, increasing the efficiency and effectiveness of even the greenest of agents.
But despite its amazing capabilities, QA technology cannot entirely replace a specialized human ear. For example, although a computerized QA system may classify an agent's rote, on-script interaction as successful, there may be more to the story.
Customers today are turned off by standardized interaction. Thus, whether or not the agent followed the script to a T may not be a good indicator of the customer's overall impression of this interaction.
According to Help Scout, the most requested improvement in customer service is better human service. Customers want to feel they are being spoken to as individuals. As sophisticated as speech analysis technology may be, capturing the empathy, enthusiasm, sensitivity, well-timed and appropriate humor, or responsiveness of a human interaction is a task suited best to humans themselves.
Technology is an ally to call center quality assurance jobs
Instead of viewing innovative quality assurance technology as an enemy to call center quality assurance jobs, contact centers should embrace this technology as a valuable tool to add to their QA arsenal.
The scaleable potential of this technology is by far the biggest boon to QA specialists.
Rather than spend valuable time monitoring calls, spot-checking recordings, or compiling scorecard data, QA specialists can let the technology do this operational work for them.
This frees up more time for digging meaningfully into this data and developing, implementing, and managing team initiatives for improvement. Essentially, innovative QA technology has the potential to take the grunt work out of quality assurance, clearing the way for more substantial work to be conducted by QA specialists.
It's not time to worry
Contact center jobs in the U.S. are growing at an increasing rate, with a net growth of nearly 8,000 jobs in the first quarter of 2015 alone. During this period and beyond, automation software, CRM systems, and QA monitoring software including speech analytics have been steadily developing, but the demand for high quality, onshore customer service continues to grow as well.
Innovative quality assurance technology has the potential to empower management and agents to make meaningful improvements to their overall operations. Most importantly, any improvement in contact center quality means a better experience for the customer, a result that everyone can agree is worth any growing pains along the way.
Source: http://blog.playvox.com/will-call-center-quality-assurance-jobs-be-replaced-by-technology
Publish Date: December 7, 2016 5:00 AM
---
Doesn't it feel like only yesterday when live chat was all the rage?
Over the last few years, the customer support industry has evolved thanks to cutting edge technology. Gone are the days when customers had to write handwritten letters to voice their complaints. These days all it takes are a few swipes on the keyboard and a couple of clicks for clients to make their voices heard.
But what will the New Year have in store for customer support? Here are the top three trends in customer service to watch in 2017.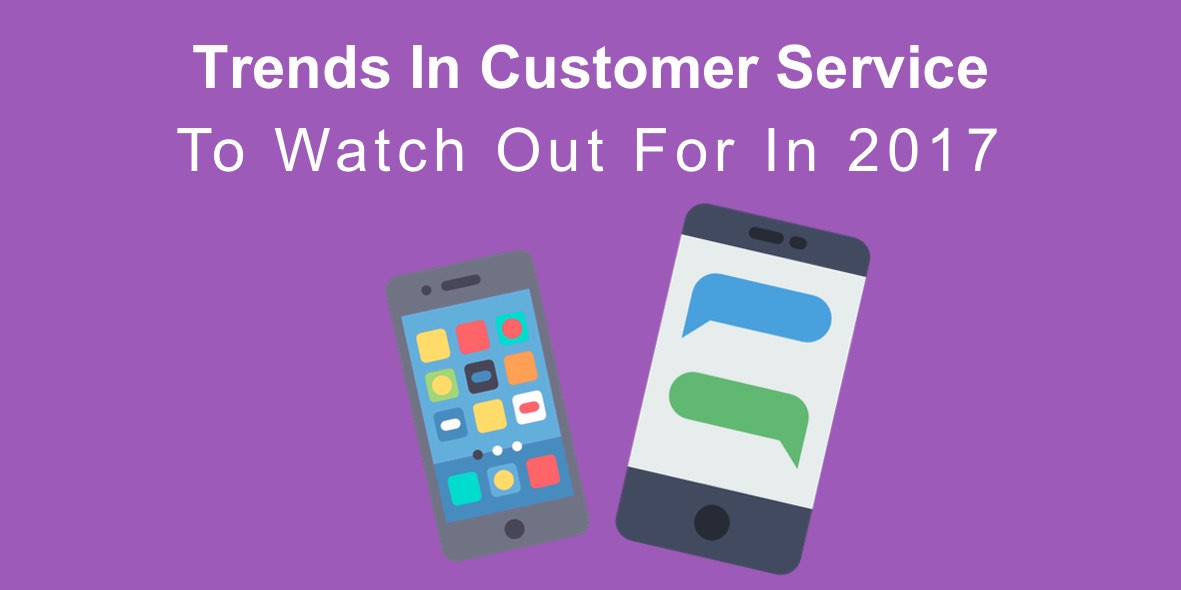 1.Instant messaging support
Over the last few years, consumers have become more reliant on tools like social media to air their grievances and make contact with brands. In 2016, we saw the growth of instant messaging apps like WhatsApp and Facebook Messenger which has lead to experimenting with these platforms as customer support tools.
**Whatsapp: The future of customer service**
In 2017, this trend in customer support is going to continue to grow as consumers begin to demand a more permanent connection to brands on platforms they use every day. What this means is that companies are going to have to adapt to be able to monitor the quality of customer service going out across these platforms and work hard to maintain this direct connection with their customer.
2. Virtual speech assistance
In 2016, we saw voice technology like Apple's Siri become more advanced and start to gain traction in different industries.


In 2017, this technology trend will be one to watch to see how it disrupts the industry. How will companies exploit this trend to develop their strategy? Will we start to see more virtual speech assistant apps to help with customer support?
Only the next twelve months will tell if this is a fad or if voice solutions are the next big thing in virtual customer support.
**Speech analysis: The future of QA monitoring
3. The evolution of omnichannel
With all the various channels companies have to monitor, it is no wonder that omnichannel support was a huge trend in 2016.
However, as we move into the New Year, this piece of technology will continue to evolve and become more intuitive. Data mined from this method will enable businesses to develop strategies around personalised support and predict and avoid issues before they even occur.
What this could mean, is that a trend will emerge in 2017 where companies start to reduce the number of ways they can be contacted and focusing on a few key ones, like instant messaging, that work best for them.
4. The rise of the silver surfers
Since 2013, technology heavyweights like Gartner have been preaching that generation 50+ represent a more important demographic than X and Y when it comes to technology. In 2017, we will start to see this trend spill over into the customer service industry as the Silver Surfers shed stereotypes and embrace technologies like live chat or call backs.
Again, this reinforces the trend that instant messaging support will be massive in the New Year to keep customers happy.
5. The year of interactive email
Haven't heard of interactive emails yet? Well by the end of 2017, you will more than likely be on its bandwagon shouting its praises. Trends in customer service are aligned towards this new way in which email can be consumed.
Gone are the days where emails have to be static pieces of information. In 2017, we will see the rise of emails where customers can interact with drop down menus and make purchasing decisions without having to click a link.
Imagine sending out emails where customers can give instant feedback straight from their inboxes. Or providing your customers with an interactive troubleshooting email that can take them through numerous steps before contacting support as a last resort.
It is a massive opportunity for companies to stop making bad email and engage their list with great emails that can solve their problems.
6. The Power of Personalization
It is no secret that these days customers crave personalization. They don't want to feel like another number, but at the same time, they do not want their privacy breached. In 2017, customer service will need to tread the fine line between offering a service that makes consumers feel special sans the creepy factor.
**How to train agents to personalize customer service**
When personalisation is done right, it will be one of the most powerful trends in customer service. The ability to use data such as likes and dislikes to create a better - more personalised service is a competitive advantage that will set the leaders apart from the pack in 2017.
---
To summarise, technology will continue to play a significant role in trends in customer service. Instant messaging will be the big player to watch in the New Year and how companies choose to adapt to these changes will be a deciding factor in their success for 2017.
To keep our customers happy, we need to keep our fingers on the pulse of change and deliver great support on the right channels at the right time.
Source: http://blog.playvox.com/trends-in-customer-service-to-watch-out-for-in-2017
Publish Date: December 6, 2016 5:00 AM
---
Anyone who has placed a call to a customer service contact center has heard this recording: "For quality and training purposes, this call may be recorded or monitored." But what is quality in a call center, and how do managers use it to train agents and improve service?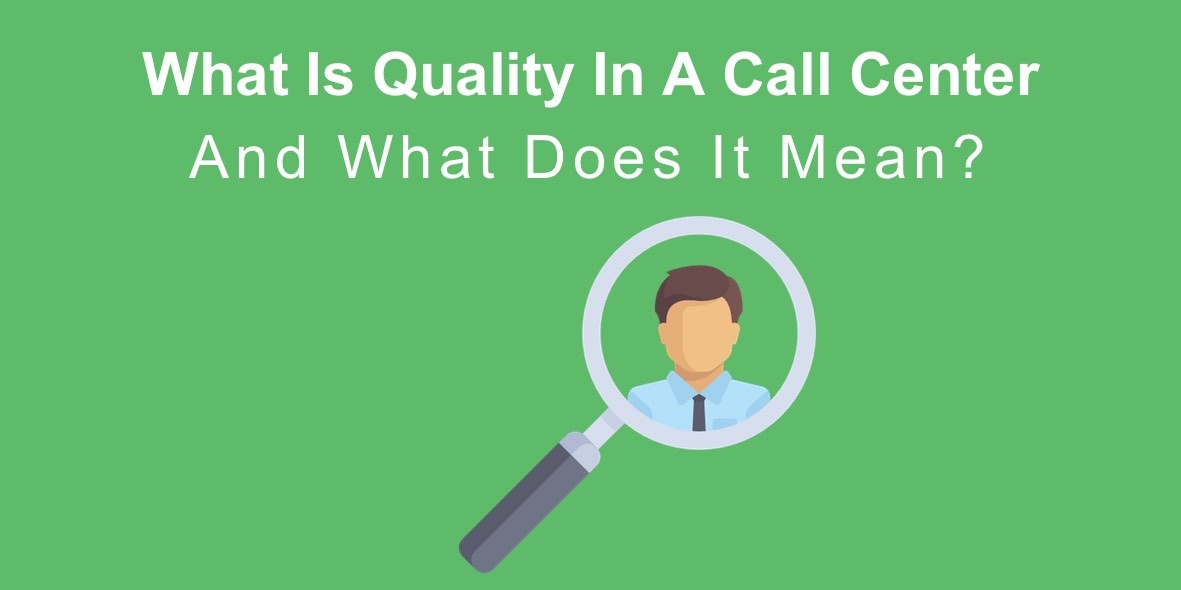 What is quality in a call center?
Quality call monitoring is essential to a successful call center. Call center managers and quality assurance specialists have a responsibility to keep an eye on call center operations, ensuring a consistently positive experience for each and every customer. In addition to monitoring quality and consistency in the customer call experience, the quality department can also manage the call center's efficiency in order to keep costs low.
More than a machine
A great deal of information can be gathered by the call system itself, such as average handling time (AHT), call volume, and hold times. However, the quality of care provided to a customer cannot be measured solely by a computer system. Often times, it takes a trained human ear to really listen to the interaction to ensure that qualities such as courtesy and positivity are being conveyed during each and every conversation. This is where quality monitoring and scorecards come into play.
**Automating your quality call center processing 101**
A third-party perspective
Although some companies maintain an internal team to continuously monitor call quality and adherence to standards, a third party is also necessary to ensure consistent results.
Quality assurance specialists bring with them a trained skill set that may not be attainable within the call center itself. Moreover, the impartial perspective of a third party monitoring system can ensure reports and recommendations that are unbiased and fair.
What does the quality department do?
Quality monitoring is about more than just listening in to identify problems. It is about consistent monitoring of customer satisfaction achieved by agents who are skilled in their jobs. It is about training and refocusing agents so they can best meet the needs of the customer and the company.
Monitor calls to ensure uniform customer service
Through research and development, call centers have determined what customers want and need from their service experience. Certain greetings, positive phrases, and call formats that are proven effective should be adhered to in order to ensure uniform customer service.
**Personalized customer service phrases for rock star agents**
This is where the quality department comes in. By monitoring calls on an ongoing basis, the quality department can make sure agents are giving customers service that is consistent across the board.
Ensure that agents are meeting compliance guidelines
Call centers, like most business entities, are subject to certain rules to protect the consumer. For example, call centers are not allowed to record or permanently store full credit card information for customers, and customers must be notified that their call may be recorded or monitored.
Due to the ubiquitous presence of call centers worldwide, keeping up with compliance standards can be tricky. But in order for the call center to function legally, these and other guidelines must be followed, and quality monitoring can ensure this compliance.
Work with managers and agents to develop scorecards
A scorecard is used to determine agent effectiveness according to measurable benchmarks. Ideally, agents themselves will help to develop these benchmarks in collaboration with their managers and QA specialists.
Benchmarks of quality should be measurable, actionable, and should respond to the needs and desires of the customer. The quality department can ensure that these scorecards are developed properly.
These scorecards may evolve over time to reflect the changing needs of the customer and the developing goals of the call center, and the quality department can help to oversee this development to ensure that scorecards continue to align to company goals and priorities.
Check for adherence to the scorecard
In addition to helping call centers develop meaningful, measurable, and actionable scorecards, the quality department must also monitor adherence to these established guidelines.
This means listening or clicking in on calls or points of contact and seeing how the agents measure up to the agreed upon standards of quality. But the quality department should be more than just a Big Brother watching and listening to agents as they work. Quality should also work cooperatively with agents to create action plans to improve any areas of deficiency.
Data analysis
In addition to collecting data in the form of scorecards and KPI's, the quality assurance department is also responsible for analyzing this data in order to make it useful to management and agents.
Some say there is such thing as too much data, but if that data is analyzed in a useful way to spur impetus for meaningful change, then the quality department has made this data collection worth the time and effort.
**Using data mining to improve the customer experience in your call center**
---
So what is quality in a call center? Successful quality monitoring is more than just a Big Brother watching over and listening in on call center agents.
To maximize consistent service quality, there must be trust and cooperation between quality specialists, management, and agents.
Rather than merely identifying problems, the quality department can analyze results of data collection to create action plans and additional training that can improve the overall experience of customers, managers, and the agents themselves.
It's easy for a call center to fall into bad habits that can spread among agents and go unnoticed by management. Investing in quality assurance can nip these problems in the bud to maintain a productive, successful call center for all.
Source: http://blog.playvox.com/what-is-quality-in-a-call-center-and-what-does-it-mean
Publish Date: December 2, 2016 5:00 AM
---
What is the best way to ensure that customers are delighted by their service experience? Is it tracking KPI's like AHT or FCR? To be sure, metrics are an important component to managing a well-functioning call center. But beyond and between the numbers, how do you create a customer experience that truly makes the customer feel engaged and valued? The answer is in the quality of agent-to-customer interactions as a whole.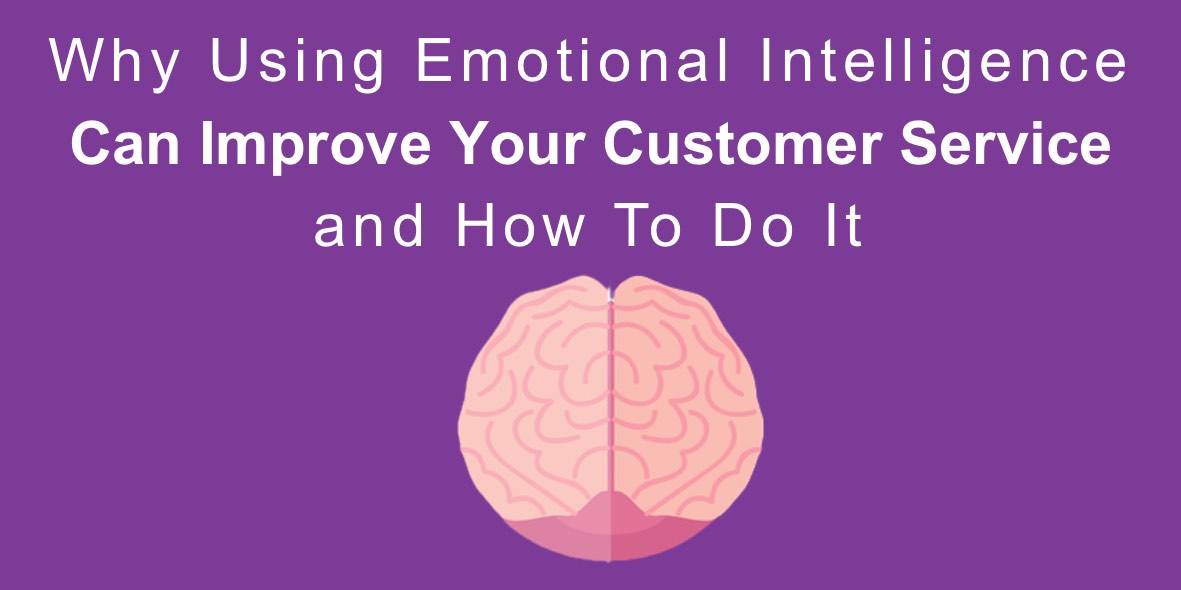 Agents who infuse their customer conversations with a human element are able to respond to customers in a way that not only satisfies their service needs, but also strengthens the customer relationship.
What is emotional intelligence?
Emotional intelligence is the ability to recognize one's own emotions and the emotions of others in a way that facilitates satisfying, productive interactions and relationships. According to Daniel Goleman, the American psychologist credited with popularizing the notion, emotional intelligence consists of five elements:
Self-awareness: The ability to recognize your own feelings and how they affect others
Self-regulation: The ability to control or redirect emotional impulses, especially those that are negative
Motivation: A passion to work for reasons other than money
Empathy: Recognizing others' feelings and responding appropriately
Social skills: The ability to manage relationships and build social networks
Clearly, emotional intelligence and customer service go hand-in-hand. Customers today are concerned with more than product pricing and innovation; they want to be "wowed" with a personalized, engaging customer journey.
**How to train agents to personalize customer service**
Why should emotional intelligence and customer service be top priorities for your call center?
Customer loyalty
A customer who experiences emotionally intelligent service is likely to become loyal to the company because their engagement with the brand has been heightened and enhanced by this personalized, human interaction. A customer would rather return to a company where they know they are valued as an individual than take their chances at a new company.
**10 best reward programs for loyal customers**
Word-of-mouth
Customers who have been "wowed" by emotionally intelligent customer service are likely to share this enthusiasm for the brand with others. This means positive mentions on social media and an influx of new customers who trust a personal recommendation more than typical marketing efforts.
Increased sales
A comprehensive study from Rutger's University found that salespeople at L'Oreal sold, on average, $91,370 more in company products when they were hired on the basis of their emotional intelligence.
Improved agent attrition
It's not only the customers who benefit from emotionally intelligent interactions with a company. Agents and call centers themselves benefit as well, since agents who are emotionally intelligent have a 63% lower rate of turnover.
**Boost your call center attrition rates with these three tips**
Increased productivity
Researchers have determined that the most productive employees in positions of average complexity (e.g. salespeople) owe a third of this productivity edge over their peers to technical and cognitive ability, and two-thirds of it to higher emotional intelligence.
So what does it look like when emotional intelligence and customer service are successfully married? For starters, the conversations unfold more naturally as a result of the emotionally intelligent agent sensing any tension or negativity and responding to it with skill and sensitivity.
Listening and expressing empathy for the customer will be as much a part of the conversation as problem-solving and/or pitching and upselling. Finally, the conversation will end with a customer who is not only satisfied, but happy.
How can you build emotional intelligence in your agents?
1. Train agents in the skill of active listening
A common emotional need people have is to feel as if they're being heard. Rather than firing back a response as soon as the customer is finished stating their query or concern, agents should first listen actively and repeat the concern back to the customer.
This not only has the benefit of eliminating inefficiency caused by a faulty understanding of the issue, but it gives the customer a sense that their needs are valid and understood by the agent. This sense of validation starts the conversation off on a solid foot of practical and emotional understanding.
**Top 6 call center quality assurance best practices**
2. Use ongoing data collection to customize customer interactions
Some customers like their service conversations to be brief, straightforward, and focused on the facts. Others prefer a more personable approach, including small talk or casual banter. Some customers are calling with a routine query whereas others are following up on a complicated issue.
Knowing these differences and approaching the conversation accordingly, especially for a returning customer, can make all the difference. Encourage agents to keep a detailed log of customer interactions, including history and preferences, to put customers at ease in the way that suits them best.
3. Give agents practical skills for emotional intelligence and customer service
Of the five components of emotional intelligence, three of them-- self-awareness, self-regulation, and empathy-- are a direct result of becoming aware of emotions on both sides of the interaction and responding accordingly.
Why not train agents in the skill of doing just that? Agents-in-training could include think-alouds during and/or after their customer interactions (real or simulated) to identify customers' feelings and hypothesize the best approach, and to recognize or anticipate their own feelings and how to manage them.
---
Keeping emotional intelligence in mind when hiring, training, and supporting your call center staff is an investment that will pay off in many ways. From increased customer satisfaction and loyalty, to a healthier, more productive work environment for your agents, emotional intelligence awareness and training has the potential to improve all areas of call center operations.
Source: http://blog.playvox.com/why-using-emotional-intelligence-can-improve-your-customer-service-and-how-to-do-it
Publish Date: November 30, 2016 5:00 AM
---
You're tracking KPI's. You're managing queues and hold times. Your call center seems to be running like a well-oiled machine. Or is it? Here are 7 call center mistakes you don't realize you're making.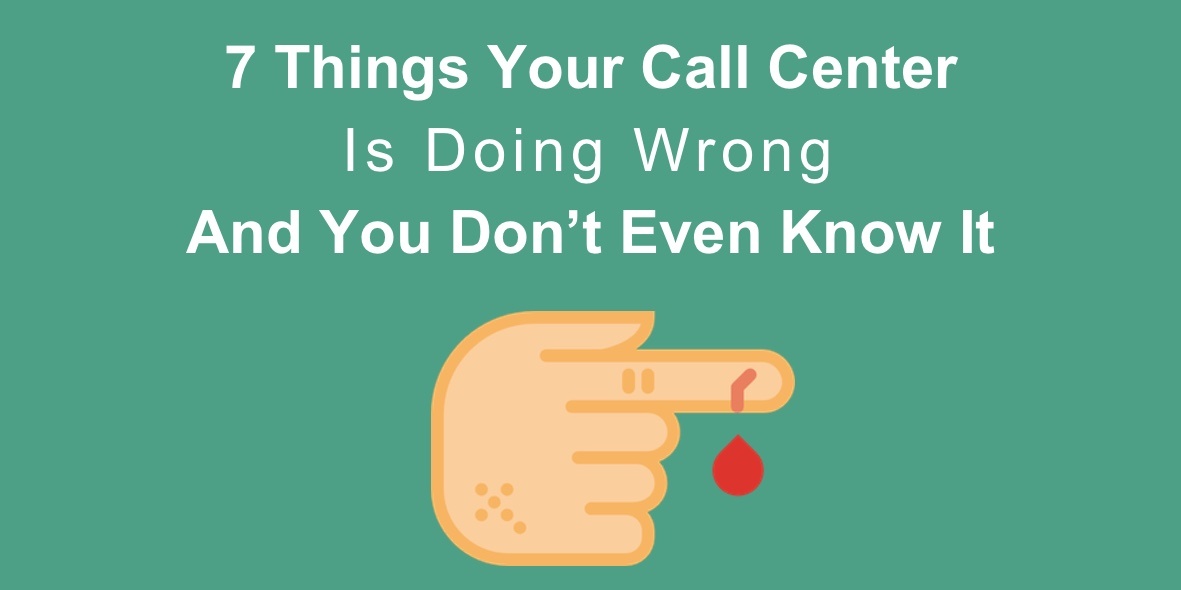 1. Telling customers to visit the website
From the perspective of agents, management, and the higher-ups of a company, directing customers toward the website makes sense. Many customers' issues can be resolved there while incurring zero service costs to the company. Plus, customers will be there, meandering around a space designed specifically to lure them into clicking for more goods and services. It's a win-win, right? Wrong.
Consider where your customer is coming from. A customer only puts themselves through the inconvenience of calling the contact center directly because:
They already tried the website and couldn't figure out how to accomplish what they were trying to do, or

They're more comfortable resolving the issue with a real person on the phone than using the website.
In either case, pushing them towards the website is sure to rub them the wrong way. This push conveys the message that the agent doesn't have time to deal with the customer one-on-one, or, worse, that the customer is stupid for not being able to figure out how to resolve their own issue using the website.
"At the end of the day, people may not remember what you said or did, but they will remember how you made them feel" -Maya Angelou.
2. Asking customers for the same information repeatedly
In a time when information is available at the touch of a screen or scroll of a mouse, it's unbelievable that we're still talking about this one.
Whether it's the same agent asking for the same info, or the customer having to repeat him/herself with every (also annoying) transfer of the call, consider the potential messages this sends to the customer:
I wasn't listening

I

was

listening, but I didn't think it was important enough to write down

I'm too lazy to look up your name in the system, so just tell me again

This company is inefficient
Not exactly the impression we want to make on customers, is it? Make sure you have a real-time data system in place that prevents this from happening.
**9 ways real-time data can improve customer service**

3. Multiple calls and/or transfers to fix one problem
Having to call a company more than once to resolve an issue means waiting on hold more than once, listening to the automated menu more than once, explaining the issue more than once, and catching the agent up on what happened during the previous unsuccessful call(s). That's a lot of time spent on the inconvenient or inefficient components of the customer experience.
Consider tracking your FCR (first call resolution) rate and making this a key target for you agents.
**In with First Call Resolution and out with Average Handling Time**
Make sure agents are well-trained in all aspects and offerings of the company to reduce the need for transfers.
Finally, consider implementing start-to-finish agent ownership over each customer. This way, even if the customer has to be transferred to resolve an issue, they begin and end with the same agent who can ensure that the customer is highly satisfied with their resolution.
This heads off one of the most common call center mistakes, and seals the interaction as friendly, personalized, and successful.

4. Trying to upsell to customers before resolution of an issue is yet complete
With good intentions or directives from management, agents often look for opportunities to upsell new or upgraded products to the customer. But timing is everything. A customer who is still struggling to value and enjoy their last purchase due to yet-unresolved service issues doesn't want to be pitched to. That's like a waiter offering a steak to a customer who is choking on a walnut in her salad. This is not only inconsiderate but makes the customer feel like their dollars are more important than their satisfaction.
**Cross-selling techniques that actually work**

5. Not owning up to call center mistakes
Agents need to remember that their advantage in providing superb customer care is the human element, and sometimes part of being human is making mistakes. The key to turning a mistake into a still-loyal customer is to bring out this human element.
Admit to the mistake. Apologize. Let the customer talk out their frustration and express sympathy. Don't dwell on who to blame; rather, focus on fixing the problem. Your customers will thank you for it.

6. Focusing on the wrong metrics
Many companies measure call center agent success based on the number of calls coming through and the end-result customer satisfaction marks. But CRM software offers much more than this in terms of meaningful measurement of contact center success and agent performance. For example, focusing on the number of calls taken by an agent may indicate that he/she keeps the calls short by frequently transferring the customer to another agent. While this number may look good on paper, the reality may be that this agent is actually causing inefficiency in resolving customer issues.

7. Not enough ongoing training for agents
Call centers deal with a high rate of turnover. For this reason, managers are reluctant to spend much money on training and onboarding new agents. But this may be a vicious cycle.
**Boost your call center attrition rates with these three tips**
Perhaps the turnover is so high because the onboarding and training are conducted so minimally. Inadequate training can make agents feel unskilled, undervalued, and overwhelmed by the demands of the job. Does that sound like a good foundation for employee loyalty?
---
Looking to improve the quality of your call center and manage your agents from one single platform? PlayVox can help. Try our risk-free trial today!
Source: http://blog.playvox.com/7-things-your-call-center-is-doing-wrong-and-you-dont-even-know-it
Publish Date: November 28, 2016 5:00 AM
---
The old adage that the Customer is King is even more true today than it has been in the past. The stakes are higher than ever for call centers to consistently provide top-notch service to customers.
According to a survey conducted by Dimensional Research, 95% of customers report that they tell others when they have a bad customer service experience, and customers are 50% more likely to share a negative customer service experience on social media than a positive one. Thus, as important as it is to make the customer happy, it is perhaps even more important to avoid making the customer unhappy. Here are the 7 most common customer service complaints and how you can address them.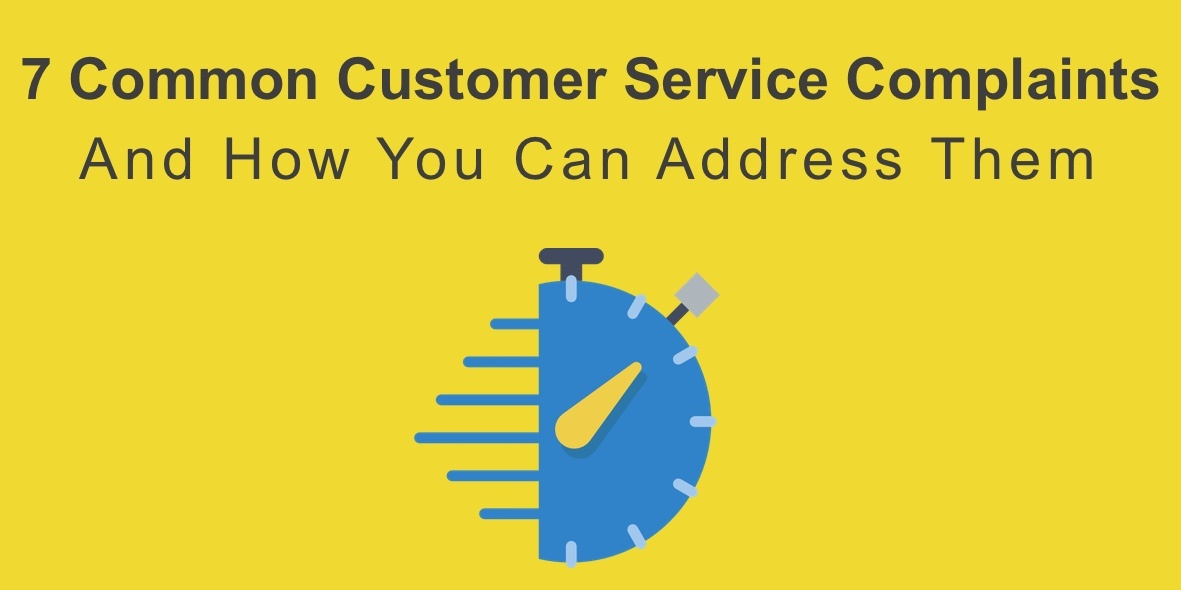 Customers hate…
1. Being transferred over and over
Trying to reach a solution to a complex problem shouldn't make the customer feel like a reluctant dancing partner. A customer would much prefer to work with one knowledgeable, dependable agent rather than being transferred repeatedly from agent to agent.
**Call center horror stories told by customers**
Solution
One way to resolve this issue is to make sure agents are trained across all areas of sales and service.
Another solution is to make sure the customer connects with the best agent for their concern the first time. This can be accomplished through use of an automated menu at the beginning of the call (see #2) or by having different phone numbers for different areas of service. Dedicated service from one person from start to finish means a solution or sale, and a satisfied customer.
**Is your interactive voice response doing more harm than good?**
2. Having to re-explain their issue repeatedly
This one goes hand-in-hand with being transferred from agent to agent. To be sure, a customer who is already frustrated with a product issue is likely to become more frustrated every time they have to relive the experience by explaining it to yet another agent.
According to a study by Harvard Business Review, 59% of customers reportedly expend moderate to high effort in order to get their issue resolved. Surely we can do better than that.
Solution
Fortunately, this problem is not complicated to solve. Agents need to keep a detailed record of the interaction as it unfolds in real time. This way, if the customer has to be transferred to another agent who can better assist them, the information they've already shared can be passed along, too.
3. Dealing with an automated system instead of a real person
Does this sound familiar? Please enter your 9-digit reference number, followed by the pound sign. [beep boop beep] I'm sorry, that is not a valid entry, please enter your 9-digit… [click].
According to research conducted by American Express, 67% of customers admit they've hung up the phone out of frustration because of not being able to speak to a live person. Chances are, these customers take their business elsewhere (about 59% probably would).
Solution
Rather than grumpify their customers right at the opening phase of the all with an automated system, call centers should consider making direct human contact a high priority in their customer service plan. Creating custom numbers or extensions according to service categories can help to divide and assign calls without the customer ever having to encounter a creepy robot voice.
4. Waiting for too long on hold
This is one of the most common customer service complaints. Ever wonder where they come up with the music people have to listen to while they're on hold? Of course you have. Everyone has. Because everyone has been stuck on hold long enough to start wondering. In his movie The Cable Guy, Jim Carrey impersonated it perfectly for its odd sultriness and utter predictability.
Solution
Call centers need to keep a close eye on their queues, their peak volume times, and their average wait times to make sure customers are getting an efficient service experience.
5. Feeling like they're not actually being listened to
Being listened to is akin to feeling valued. There is a reason that companies use customer service agents instead of merely relegating customer needs to a fully computerized system. By definition, an "agent" is one who acts on behalf of another to exact a change or effect. But before an agent can respond, he or she must first aim to understand a customer's needs accurately and completely.
Solution
Agents should be trained in the area of active listening. Rather than simply gathering information from a customer and generating a corresponding solution, agents should ask questions and rephrase customers' problems back to them to ensure complete understanding before arriving at a one-size-fits-all solution.
**How to train agents to personalize the customer service**
6. When agents who aren't knowledgeable give rote responses instead of expert advice
Maybe this is a no-brainer, but in order for customer service representatives to help others with a product, they need to fully understand the product for themselves.
Solution
Whether it's a game console, a coffeemaker, or a software package, agents should be as intimately familiar with the ins and outs of the product as an everyday user would be.
7. Late response time on electronic messages
Customers in the digital age expect answers and solutions faster than ever before. Thus, late electronic response time is quickly becoming one of the most common customer service complaints.
On social media channels, a majority of customers expect an answer within an hour. For emails, customers wait for a response to come within 6-24 hours.
Solution
A customer service center must monitor their wait time, and ensure that they are prepared to staff and train agents in order to meet such expectations.
---
It's practically impossible to keep all customers satisfied. Nonetheless, it's important you listen to your clients and keep a keep eye on common customer complaints in order to improve your service to maintain and grow your relationships.
Source: http://blog.playvox.com/7-common-customer-service-complaints-and-how-you-can-address-them
Publish Date: November 23, 2016 5:00 AM
---
Real-time data for customer service has the power to customize, prioritize, and synthesize the needs of your customers. Gone are the days when customer service data is simply logged by agents to be compiled and reviewed later by managers and analysts. Rather than using such data after the fact, agents now have access to real-time data for customer service in order to provide the best possible customer care.
Here are 9 ways you can use real-time data to improve customer service.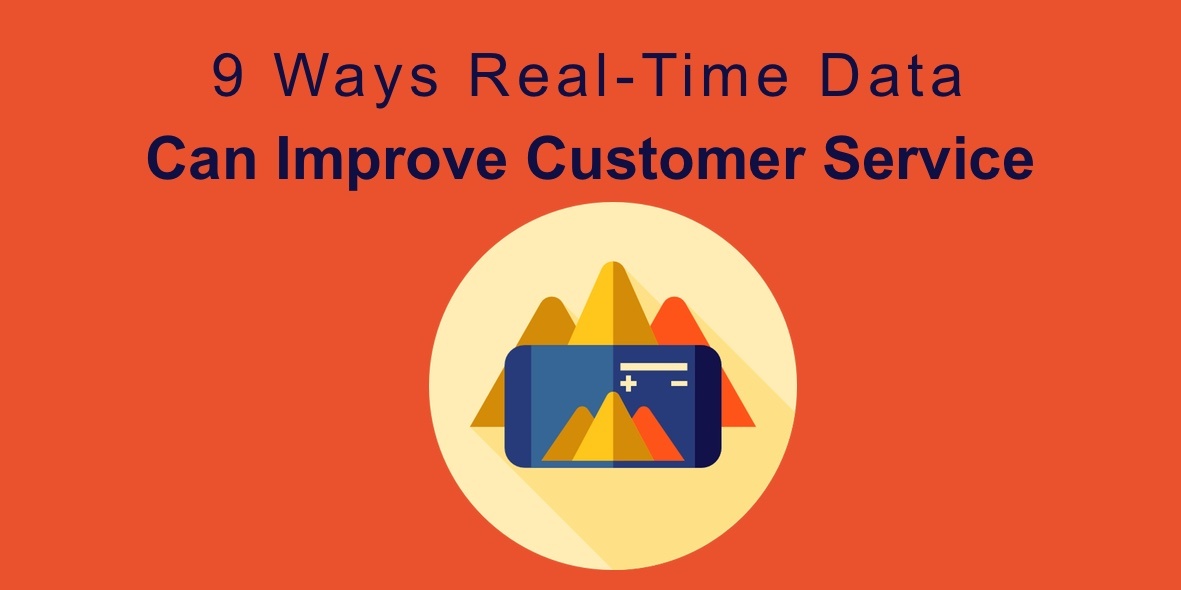 Monitor traffic
Real-time data can show you who is visiting your site, when the peak traffic times are, and even which specific areas of your site are getting the most traffic at a given time.
This gives insight as to the most popular products, features, or services of the company, allowing you to steer curious or floundering customers in the right direction to generate leads.
Get ahead of the storm
Real-time data for customer service can give call center agents insight into who and how many people are having problems with the company's system or services.
Knowing what queries, needs, or concerns are surging up can help call centers to manage these concerns in a timely and satisfactory manner for customers.
Furthermore, real-time data resulting from such interactions can indicate to agents which resolutions are making customers the happiest, informing how best to problem-solve with current and future customers on the same or similar issues.
Gain perspective
Real-time data gives perspective from the past to inform the needs of the present. Someone who has called for help on the same issue 5x should be dealt with differently than a first-timer.
Knowing a customer has already been transferred three times to resolve the issue spells out a different approach as well.
Call center agents who can pull up some up-to-the-minute stats on the customers they work with are at a significant advantage to making the customer feel valued and resolving the issue in the most satisfactory way.
Harness social media trends
Whether good, bad, or merely mentionable, people flock to social media to post their experiences with a company. Call centers need to be privy to these interactions in order to best gauge their customers' interaction with the company in real time.
**11 steps to handling customer complaints of social media**
What do customers want? What are they buying? What problems are they having? Keeping a finger on the social media pulse of their customer base means call center agents can be better poised to serve their needs.
Integrate channels
If all goes well, a customer who calls in with a service request may end up wanting to make another purchase right there on the phone. Keeping customer data updated in real time for agents across all channels (phone, email, social media, face-to-face) and for all purposes (marketing, sales, service) means never missing an opportunity to provide timely, relevant service and maximize customer sales and satisfaction.
**Five benefits of providing omnichannel customer service**
Target promotions
Being able to see customer purchases in real time allows you to promote other goods/services at the right time, to the right person. A customer whose data indicates that she has been lingering in a bookstore for over an hour on a Saturday afternoon could be sent an offer from a local cafe about their coffee specials and comfortable lounge area.
Putting real-time information in the hands of sales, marketing, and service agents means they can target promotional goods and services to the right customer who is in the right place at the right time, rather than blasting out annoying (and often ignored) spam offerings.
Use real-time data for customer service ratings
Customers can be asked to rate their overall experience via text message, email, or at the end of a call. Agents can constantly monitor these stats, digging down to see what solutions lead to the highest customer satisfaction outcomes and using this insight to inform current and future responses to customer service issues and queries.
**Top 6 call center quality assurance best practices**
Help agents up their game
A skilled sales or service agent knows how to be perceptive of a customer's wants, needs, and concerns, and how to package and pitch an offer accordingly. Whereas this skill can often be attributed to good instincts as a salesperson, experience also plays a vital role.
Combining real-time customer data with machine learning means a system can suggest to the agent what offers are most likely to appeal to customers. A real-time system such as this has the potential to improve the effectiveness of even the greenest salesperson or service agent, to the advantage of the customer and ultimately the company.
Maximize agents' time
Sales and service agents with access to real-time data about their customers spend far less time dealing with commonplace issues. Since accurate real-time data makes mundane issues easy to resolve in the beginning phase of the call, agents are freed up to spend their time and valuable expertise resolving complex issues or inquiries from their customers.
**4 non-monetary ways to boost agent performance**
---
The ubiquitous nature of customer data demands that companies harness it for the best possible competitive advantage. Those who fail to do so will surely fall by the wayside of their more data-savvy rivals. By tapping into real-time data for customer service, agents position themselves to best serve customers who are living in the now.
Source: http://blog.playvox.com/9-ways-real-time-data-can-improve-customer-service
Publish Date: November 22, 2016 5:00 AM
---
Did you know that 52% of the time someone sits down at their computer, opens their web browser and visits a webpage, the first page they visit is Facebook?
People spend a huge portion of their day on social media. Likely because businesses immediately took advantage of the plentiful marketing opportunities, the average user now expects customer service options through social media as well. Not only that, they expect the customer service to stay consistent in quality and branding through the other channels your call center offers.
So, it's not hard to imagine social media as a driving force in brand awareness, but do customers really use it to contact and resolve problems? According to the Nielsen Social Media Report 2012 almost half of consumers do. We can speculate that nearly 5 years later, that percentage continues to grow. As your presence on social media increases, so will your inquiries.
To help you manage standard quality and help your agents handle online queries, we'll share a few tips on how to use social media for customer support in order to meet customer expectations.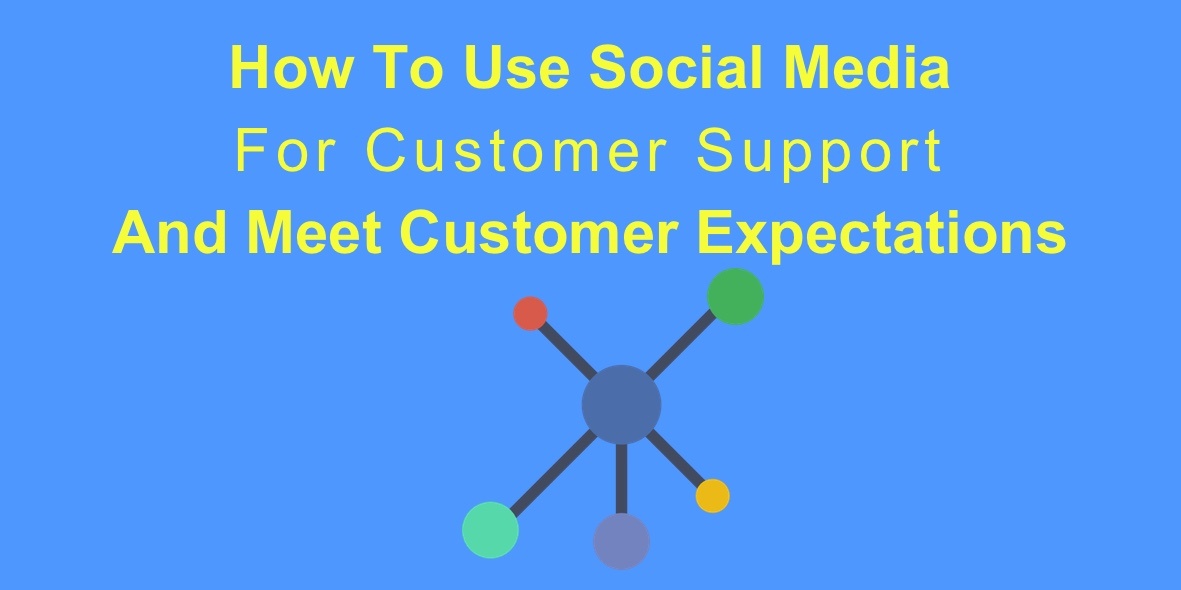 Consistency is key
When using social media for customer support, your driving theme should be consistency. From the shop to the call center to Twitter, customer service solutions should be uniform. Leslie Ament, SVP & Principle Analyst of Hypatia Research Group insists that while companies often offer a silo, or top to bottom approach to customer service on social media, customers are looking for consistency across channels.
**9 tips for consistent quality across channels for award winning customer service**
According to the research group, over 80% of businesses fail to create a omnichannel customer service experience, even though customers insist on it.
**5 benefits of providing omnichannel customer service within the call center**
Choose your channels wisely
Decide where to focus your resources when using social media for customer support. 83% of Pinterest users are women interested mostly in crafts, food and fashion. While it is unlikely a company that manufactures truck hitches would want to dedicate resources to Pinterest, your fried chicken batter company may be able to cultivate a following and in-turn provide customer support.
Demographic statistics are available from plenty of research groups so take some time to do your research and match the right channels to your customer demographics in order to decide where you need to be present on the web.
Social media sites and apps also make it easy to search for mentions of your business. Once you know where you're being talked about the most, or where you have the potential to be talked about the most, you'll know where to dedicate your customer service resources. So, now that you know which channels to integrate as part of your omnichannel strategy, what exactly does this mean for your customer service department and how can you accomplish it?
Answer questions on social media and encourage conversation
Social media is unique because the majority of the interaction and your image is controlled by the customer. According to Conversocial, 88% of customers who don't receive an answer from company in question will not make a purchase from them.
This means that you need to keep the conversation moving and strive to respond to all those that are talking to you and about you.
Follow social media etiquette
Do not erase comments unless they are clearly spam and do not continue conversation with a customer that only wishes to vent. Again, your impression is controlled by the customers and it is easy to lose control of it on social media. The consequences of a dissatisfied consumer in your shop or on the phone are pale in comparison to the effects one dissatisfied customer can have on social media.
**11 steps to handling customer complaints on social media**
Make it easy for your customers
Customers want their inquiries on social media to be a one stop shop. Don't refer customers to a phone number or website when using social media for customer support. Customers make their inquiry on social media out of convenience and these outlets provide you with all the necessary tools to communicate with the customer that reached out to you.
Asking them to move to a new location to solve their inquiry, unless absolutely necessary, will only frustrate and confuse them.
Respond in a timely manner
It's also important to remember that, as far as customers are concerned, social media is like live chat. They expect a response almost immediately.
According to a survey by the Oracle, over half of Twitter consumers expect a response under two hours. This is not always an achievable goal, but it suggests that separating out inquiries that may be quickly responded to will help you reach faster response times overall.
**Customer service responce and waiting time on social media**
Keep tabs on common inquiries
Keep track of what your customers are talking about on and off your social media pages. What problems are they having? What questions keep popping up over and over?
Obviously, the more often and more quickly they get a solution to their problems, the more likely they are to have an overall positive customer service. You may even be able to preemptively solve the problem for them. Providing direct links to solutions of commonly recurring issues will save your staff's time and please your customers.
**When to be proactive when it comes to customer service**
---
By knowing what customers expect from you on social media and other channels, you will be able to train your customer service representatives accordingly so they can tackle any situation that arises. And with all the available data and statistics, to determine the times of day users are most active to help you determine staffing schedules if necessary.
If your company's social media presence surpasses the ability to monitor these trends yourself, consider investing in software to track them for you. Not only will your representatives appreciate the additional history on the customer they're interacting with, but it will provide you with an overall sense of how your brand is being talked about and help you maintain uniform and quality customer service across the scope.
Source: http://blog.playvox.com/how-to-use-social-media-for-customer-support-and-meet-customer-expectations
Publish Date: November 18, 2016 5:00 AM
---
Keeping employees happy and motivated can be a challenge in any workplace, and is especially the case for call centers. Although you may be thinking that employee happiness seems a little too 'touchy-feely' to be a major concern, research shows that happy employees are more productive. This is where employee incentives come into play, at the juncture of happiness and productivity.
And while many employees may prefer that you, in the words of Jerry Maguire, 'show them the money,' cash bonuses are not the only way to show your employees that you value their hard work.
**4 non-monetary ways to boost agent performance in the call center**
Here are 6 call center rewards and recognition ideas to congratulate your agents for a job well done.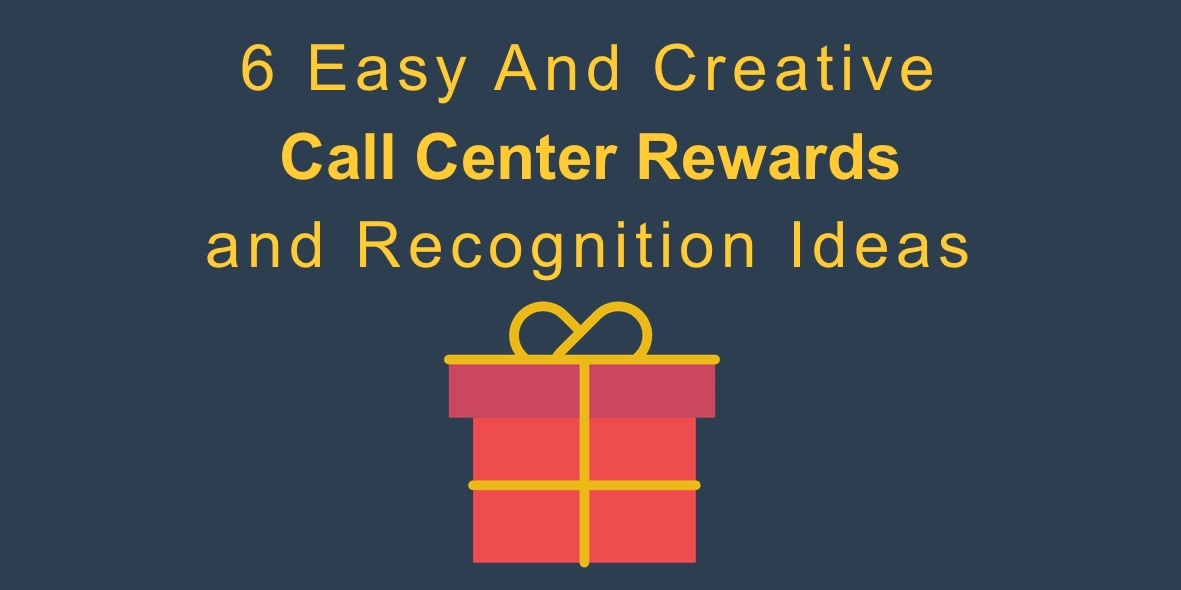 1. Preferential scheduling
The only thing that people value as much (maybe more) than money is time. For many call center employees, the opportunity to select or at least influence the time slot of their work shift is an enticing motivator.
Consider dividing staff into three tiers based on KPI results and letting them get first, second and third pick. Then, each quarter, allow employees to re-bid for their shift assignment, with preferences awarded according to their results from the previous quarter.
This system has the benefit of giving employees more (though not ultimate) control over their time in exchange for quality work, while also offering those at the lower tier an incentive to keep reaching for the top during the next quarter.
This same incentive can be applied by having employees bid for PTO (paid time off) dates. When multiple employees are competing for the same days off, the tiered system can be used to reward those who have been working hard with a greater chance of getting the time off when they want.
2. Perks of convenience
Have you ever been trudging your way through a mundane and tiresome day, but then suddenly happen upon an unexpected convenience that brightens up your perspective? The car in front of you kindly (and blindly) pays for your coffee in the Starbucks drive-thru, or you're lucky enough to snag the best parking spot at your local megamart.
Small perks of convenience like this can add a glint of optimism to an otherwise unremarkable day.
Consider offering your agents perks that make their workday more convenient or enjoyable. Offer preferential parking spaces, sought-after seating locations (near a window or in a reserved office, for example), or allow the employee to choose his/her own break or lunch times. These small perks add up to a brighter day for employees who have earned it.
3. Team Competition
Organize your employees into teams who are working toward an incentive based on their cumulative stats. This allows you to make the most of your incentives budget with a reward that can be inexpensively shared (a pizza party, for example). This also has the beneficial components of cooperation, team camaraderie, and, yes, a little bit of friendly social pressure to work hard.
**Why you need to use gamification to engage call center employees**
4. Team work
Inspire your staff to develop measurable, important goals for the office as a whole to accomplish together. Maybe all of your agents are experiencing an efficiency lag, or customer satisfaction ratings are not as high as you'd all like them to be.
For maximum buy-in from employees, collect and curate their suggestions for whole-team improvement goals. Then, develop a reward that everyone can enjoy together as a result of reaching this target: an office party, casual Friday, a group outing on a workday, or something else that rewards the achievement while also building your team connection.
**Why you should allow your agents to socialize more**
5. Personalize, personalize, personalize
Nothing says 'I appreciate you' like a generic Subway gift card or a company logo coffee mug. Employees can see through this thin facade of appreciation to the reality within: these types of rewards require little money and even less thought on behalf of the employer.
If you decide to use giftable commodities as a motivational element, why not mix it up a little to make employees feel recognized as individuals? For example, employees celebrating their one year anniversary at Two Rivers marketing are given a caricature drawing of themselves. Get on etsy.com and order a customized name acronym item for the employee.
Personalized items such as this have the added benefit of making the employee feel that he (or she) has a place in your work environment, that he is more than just a faceless drone for the company. This has positive implications for loyalty and work ethic.
6. Raffle!
If you think your employees will only be motivated by a 'big-ticket' item, consider developing a raffle system for employee performance. Employees who reach a certain benchmark of success (a certain number of 'highly satisfied' customers or a specific amount of accumulated points) will be entered into a raffle for a large, buzzworthy reward item.
Ideas could include a weekend hotel stay, concert tickets, or a sizable cash prize. The frequency of these raffle drawings could depend on your budget and/or the schedule of your data retrieval. Either way, non-winning employees' names could remain in the drawing for next time, incentivizing employees to keep working hard to increase their odds more and more for each cycle.
---
Whether you're trying to boost morale, encourage loyalty, inrease productivity, or all of the above, having a quality rewards program for your employees is key to developing an ideal workplace.
Don't forget that spontaneously and genuinely acknowledging your employees' strengths is the foundation of any call center rewards and recognition idea. But getting creative with a rewards system that speaks to your employees could be the spark that ignites them to strive for more.
Want to gain more knowledge about how to improve quality within your call center? Subscribe to our blog in the box below!
Source: http://blog.playvox.com/6-easy-and-creative-call-center-rewards-and-recognition-ideas
Publish Date: November 15, 2016 5:00 AM
---
Using automated software for call center quality insurance sounds like a sure way of managing high-volume transactions quickly and efficiently with as little error as possible. But before you implement any automated software, including speech analytics, to facilitate your quality assurance process, it's important you be aware of the potential setbacks your call center can face so you can find the best fit for your needs.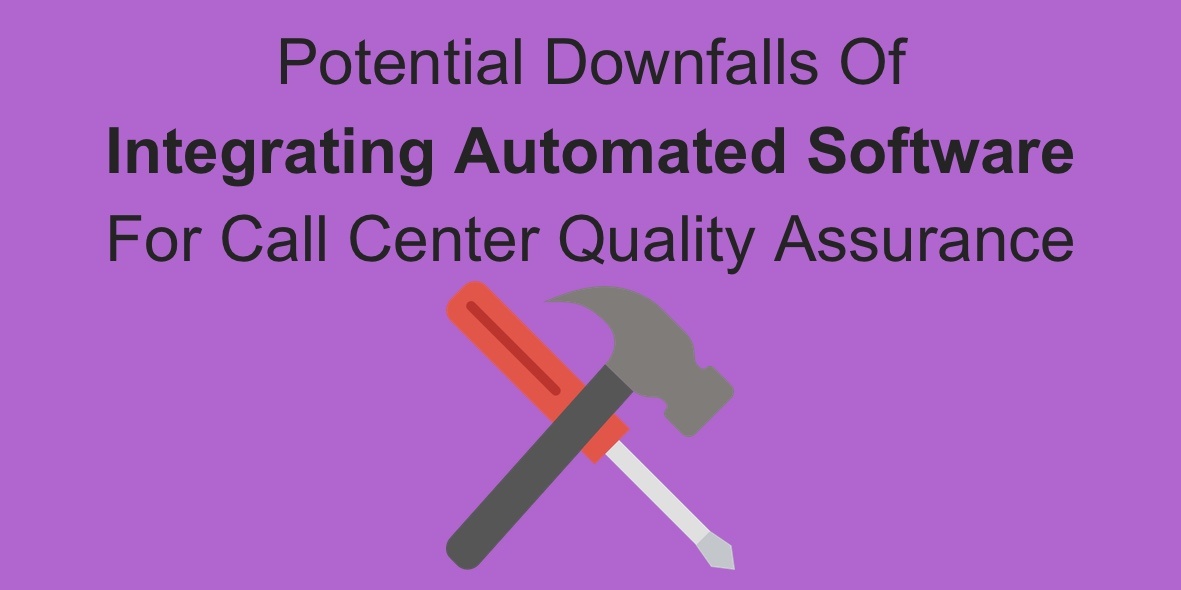 Let's take a look at the potential downfalls of integrating automated software for your call center quality insurance program.
Forget skills
Perhaps this is not so much of a concern for your call center as it is for the staff who use and work with your automated software.

As we get used to living in a world where we are consistently accompanied and assisted by technology, we start to forget how to do things on our own. An obvious example of this can be seen with the use of smartphones. Grammar and punctuation skills are no longer needed. Our phones now have voice recognition which allows us to speak instead of type, and predictive text which corrects misspelled words.

Way to make us lazy!
**Read about the shocking call center horror stories told by customers**

The same applies to the use of automated software in the call center. Speech analytics software is able to replace our analytical and typing skills for example. Even if this seems harmless and perhaps even amazing, over time, as we increase our use of software within the workplace, these become skills that employees will not have a chance to develop.
**Speech analytics: The future of QA monitoring**
High upfront costs
Automating any process within your call center quality insurance, no matter how small the process, can come at a hefty price.

The upfront cost of any software is expensive. Not to mention the time and effort it'll take for staff to put it in place. Of course, the idea is to quickly see a return on investment as the automated software should be able to manage larger amounts of work within a smaller amount of time, and process information at a much faster rate than human capacity. The goal is for the cost to eventually be lower and the return to be higher than it would be to invest in human capital.

According to Everest group research, ROI on automated software can be up to 800 to 5500% within the first year of use. Not too shabby…

Risk of implementation failure
Although the automated software itself can sound promising, improper implementation or poor use of the software can prove otherwise. To avoid rendering your automated software useless or even worst, a waste of time and money, use all the assistance you can get for your call center quality assurance software implementation.

Contact the customer success team of your new automated software. Software companies that care about their customers will have an onboarding program and will work with you and your staff to successfully adopt and use their automation program.

There's always tips and tricks to better use software in order to get the most for your money. Be curious and ask. You'll be surprised what you can learn.

Compatibility, maintenance, upgrades, and downtime
You might have found the best automated software on the market. But have you checked if it can easily be integrated with your current system? Ensure that you are aware of the time it will take to integrate both systems and the onboarding process, time and learning curve to use your new software.

And before you sign the contract, read the fine print and know what will be included in your automation package for your call center quality assurance. Check for upgrade fees, customer reviews, assistance and maintenance fees.

Some software have guarantees that expire, and others only provide assistance within a given amount of time after purchase.

Others might not be all that they promised or might have a lot of downtime in their service. Find the time to read reviews, ask for references and do your research well before you compromise. And remember, most of the time, you get what you pay for
---
At the end of the day, the potential downfalls of using automated software for your call center quality insurance are minimal compared to the benefits. Nonetheless, it's important to take into consideration all possible outcomes when searching for and integrating a new automated software so you can get the best fit for your call center quality insurance program.

Are you looking to automate and centralize agent training, feedback and quality monitoring? Our PlayVox platform can help you meet your quality insurance needs. Find out how by checking out our demo today!
Source: http://blog.playvox.com/potential-downfalls-of-integrating-automated-software-for-call-center-quality-assurance
Publish Date: November 11, 2016 5:00 AM
---
Customer loyalty is a huge win for all businesses and should be the ultimate priority. Why? For one, take it as a compliment. It shows you're running the business the right way. In addition, it is far less expensive than bringing in new customers, considering the marketing costs for customer acquisition. Plus, your dedicated customers will sing your praises and be your biggest advocates.
So, how exactly do you get customers to be your #1 fan? It's all about building relationships, starting with your call center.
A lot of the magic of relationship building happens within the call center, whether its agents speaking directly to customers, resolving issues or answering questions through online media channels. According to Forrester Research, 64% of customer interaction happens before and after the actual sale.
Therefore, you need to make a great first impression that will take them through a lasting memorable experience and will bring them back time and time again.
Here are three secrets to building customer loyalty and creating an extraordinary customer experience that will lead to a fulfilling and beneficial relationship for both the company and its consumers.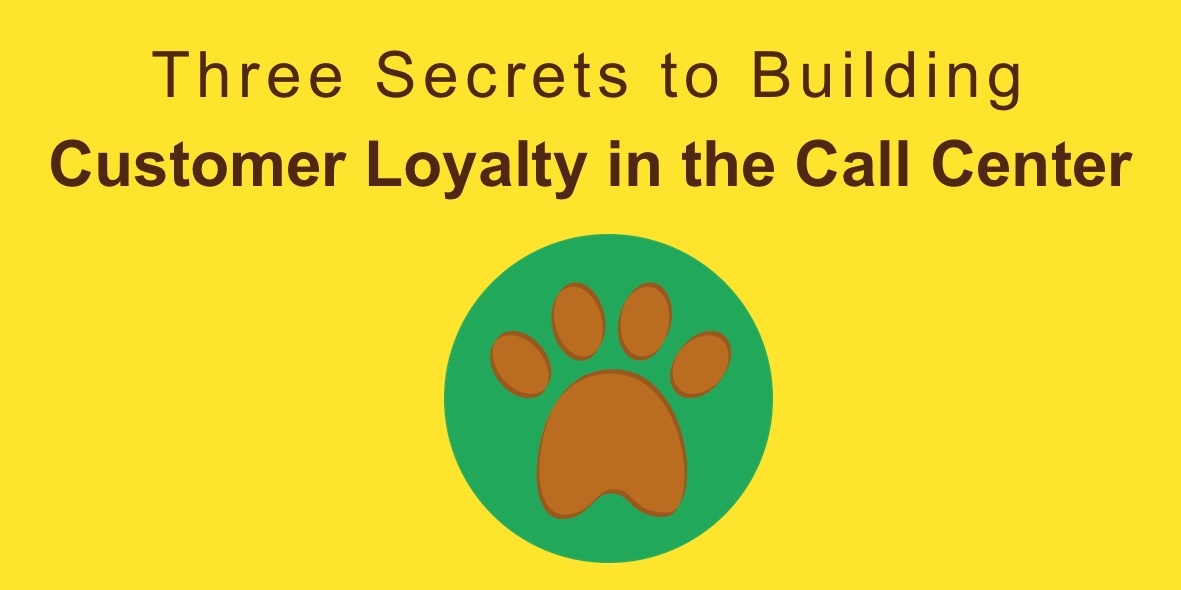 Hire for smiles
Consider basing your hiring criteria on other factors other than an agent's resumé. Take into consideration a magnetic personality versus a just a proficient profile. What can change a customer experience from mediocre to amazing? It's not so much dependent on the information the agent knows but more about the manner in which the service is given. It's in the tone of voice, confidence of ability and eagerness to help.
Take Apple for example, one of the most profitable stores in the world. They credit their success not to their products but to their outstanding customer service that keeps people coming back. Carmine Gallo, author of The Apple Experience: Secrets to Building Insanely Great Customer Loyalty, probed into Apple's hiring process. Employees are hired based on 90% passion and 10% technical abilities. "You can't teach friendly," Gallo says. Your agents can be trained to operate your company's CRM software. However, when serving a dissatisfied customer, friendliness and patience should come naturally.
Another question to consider: "do they have grits?". In other words, do they have the confidence to work under pressure. Customer service agents often deal with complex issues and occasionally emotional customers. It can be challenging to set aside personal feelings and still be engaged to deliver a great customer experience, despite the negatives. Agents who have a natural passion for wanting to make a change for the better are more likely to be the ones who will go above and beyond to find effective solutions.
Empathy and consistency
Consistency in quality customer service will create trust and build your company's reputation for dependability. Customers will most likely return for your services if they feel comfortable and secure, knowing they'll be taken care of each and every time. This will lay the foundation towards a budding relationship of customer loyalty.
To be successful in providing consistent service, training your staff well is essential in establishing your vision of the ultimate customer experience. All service agents need to be trained depending on their skills and area of expertise to create a standard level of quality and uphold consistency, no matter which service expert the customer works with.
**9 tips for consistent quality across channels**
Start communication off with a warm personalized greeting. Call agents may feel the initial greeting with a customer is insignificant; however, it can set the tone to how a customer will evaluate their experience with them. Greeting customers with sincerity will convey the message that you value their time and you truly appreciate them choosing your service.
**Personalized customer service phrases for rock star agents**
Sending out a big warm hello can also be done on social media channels and actually may be one of the biggest missed opportunities to spark new relationships. Here's an example. 70% of companies ignore customer complaints on Twitter. Also on Twitter, 83% of consumers say they love getting a reply from companies.
Take advantage and have service agents be the first to approach customers to let them know they are eager to help, for the good and the bad. Consumers will really take notice and appreciate a proactive approach.
**When to be proactive when it comes to customer service**
Offer incentives and make the first move
It's a fact that people love perks! Reward your returning customers with frequent buyer discounts. If you provide a service, a referral rewards program would still benefit your customers while gaining new business. Customers will be happy to hear from agents to learn of the rewards they have accrued. It's also an opportunity to inform them of new products and services.
Be creative as there are an endless number of ways to show customers your appreciation. Display a promotional image and ask customers to 'caption this'. Offer a prize for the video with the most votes saying why they love your company. The more invested you become with your customers, the more excited they become and feel naturally inclined to promote your business.
Whether a customer makes a purchase or not, the right tools and technology should be in place within the call center for agents to be proactive when it comes to reaching out to customer.
Let's say a customer wasn't able to make a purchase or use the service, agents should always send them off with an invitation to return.
Or for example, many shoppers will often add items to their virtual cart but never finish the transaction. Abandoned cart emails can be sent to remind customers what they have left behind and by the way, it's on sale too!
Perhaps a person thinks a product is too complex and changes their mind even after speaking with an agent. The agent can then follow up by offering an in-store demo (if available) or sending a link of a 'how-to' tutorial. Customers will return to where they feel most valued and wanted.
Whether your call center agents are making sales or troubleshooting, the fundamental goal is to ensure the customer is smiling at the end of their experience. There is a direct correlation between how customers feel about the service and how likely they are to recommend your business to others.
---
According to Invesp marketing firm, 60-70% of a company's business comes from existing customers. Not to mention, it costs 5x as much to attract a new customer than to keep an existing one satisfied. Save your money and let your loyal customers do the promoting!
If your call center agents can provide effective solutions and consistent service, your company will continue to reap the benefits of customer loyalty over the long term.
Looking to build customer loyalty within your company? What have you implemented within your customer service support?
Source: http://blog.playvox.com/three-secrets-to-building-customer-loyalty-in-the-call-center
Publish Date: November 10, 2016 5:00 AM
---

Omnichannel is a hot word in the call center world right now. Everyone wants to be present everywhere across the web for fear of missing out.

But dispersing our energy across the web could be a potential downfall for spreading ourselves thin and providing sub-par customer service when our goal was to do just the opposite.


So if you're ready to do omnichannel, how do you figure out which channels to adopt beyond your phone lines in order to delight your customers and help guide the way down the customer journey?

Omnichannel is not just about using different channels beyond voice, it's about giving clients the option to choose how they want to get in touch with your brand.

At the end of the day, they do not differentiate between one channel and the next, and neither should you. Channels should work together to provide a uniform customer service. Make the customer feel as if it was the same agent who was communicating across the various channels.

So back to the point, just how do you choose the right channels for your omnichannel strategy? Let's take a look!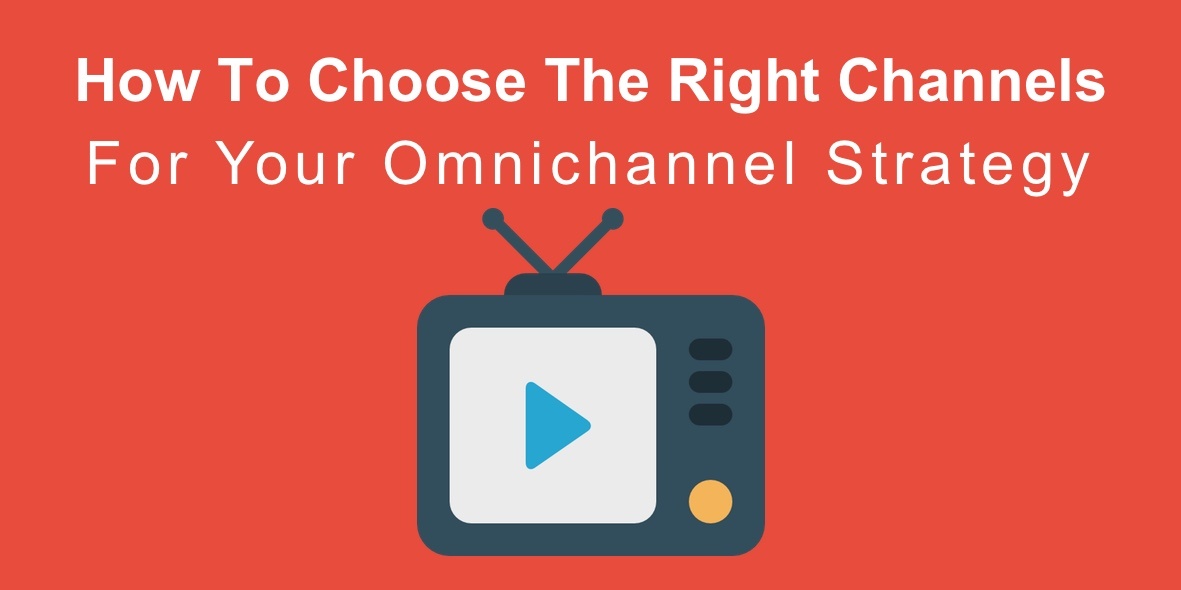 Find out why clients are coming to you
Discovering the main reason why customers are reaching out to you is a great first step to uncovering which channels should be part of your omnichannel strategy.
One way to do this it to visualize the client journey. Standard stages include awareness, research, purchase, use and support to name a few. Depending on your product, each stage could be optimized with a support channel. It's all about the context.
Let me give you a few examples.

If you receive quite a few customer complaints about the use of your product, consider opening a suggestion forum where people can recommend ideas for improvement and others can vote it up. Every few months, the most voted idea gets implemented. The result: a positive outlet to redirect negative feedback. Check!

What about if you get clients asking a lot of questions about how to use your product? After a while, you might see a recurring trend of common topics. Instead of having agents continuously having to explain, why not create a YouTube channel where you can post 'How To' videos and still interact with clients in the comment box.

Starting to get the idea? By analyzing the main reasons why customers reach out to your brand can be a clear indicator of which channel you should be present on. Not to mention, extending beyond voice service would free up your phone lines and give agents a chance to exert more challenging tasks.
**6 creative ways to improve productivity for call center agents**

Run analytics on your customer journey
If you have already selected channels for your omnichannel strategy, how do you double check to know that they are the right ones? In today's age of technology, we have it pretty easy. Most platforms provide in-depth analytics into customer behavior and show us how visitors engage with our content.

Low ratings, visits, views and shares and high bounce rates can indicate that a new strategy needs to be put in place. This could mean revamping the content, changing the way you interact on the platform, or perhaps simply redirecting your energy elsewhere.


Ask the client how they prefer to be contacted
This is pretty straightforward. Gain insights by simply asking customers how they would like to get in touch with you and what's the best way to contact them.

By asking customers how to they prefer to be contacted, you let them be in charge of the communication. Give them the power to control the way they communicate with you and with which frequency. By interacting with the consumer the way they like to be engaged, you're more likely to get a positive response and a higher conversion rate, click-through rate, or improvement in whichever KPI goal you've set.
Now that you know where and how often to interact with clients, you need to figure out the how. Improper use of a channel can easily land you in the SPAM mailbox or stop you from appearing in the newsfeed. Interactions must feel organic and not pushy. A good rule of thumb for a positive interaction is to engage with the consumer the same way they would with their friends and family.

Despite companies' efforts to provide excellent customer support, 50% of clients still feel like their customer service experience was difficult. By leveraging technology and providing clients with the right channels for your brand, communication can become effortless and seamless on the users part.


---
Remember, choosing the right channels for your omnichannel strategy doesn't mean needing to engage on all channels, it means focusing on what works for your organization and being able to act on what your data says works.
Source: http://blog.playvox.com/how-to-choose-the-right-channels-for-your-omnichannel-strategy
Publish Date: November 3, 2016 5:00 AM
---
Omnichannel. The word is quickly creeping its way into our call center vocabulary. We are just beginning to understand it and use it right.

Yet, for many contact centers, this may seem like a scary and unnecessary step. After all, why fix something that isn't broken, right?

But the value of omnichannel in the call center goes beyond 'just' adding another channel for our consumers.

Omnichannel for call centers means moving beyond the voice channel into new territory. It's all about taking the client conversation to where they feel the most comfortable and engaging with them there. It's about providing a seamless customer experience from one channel to the next to help the client move along their customer journey.

Below we'll walk you through why you should consider omnichannel in your call center and how you can benefit from it.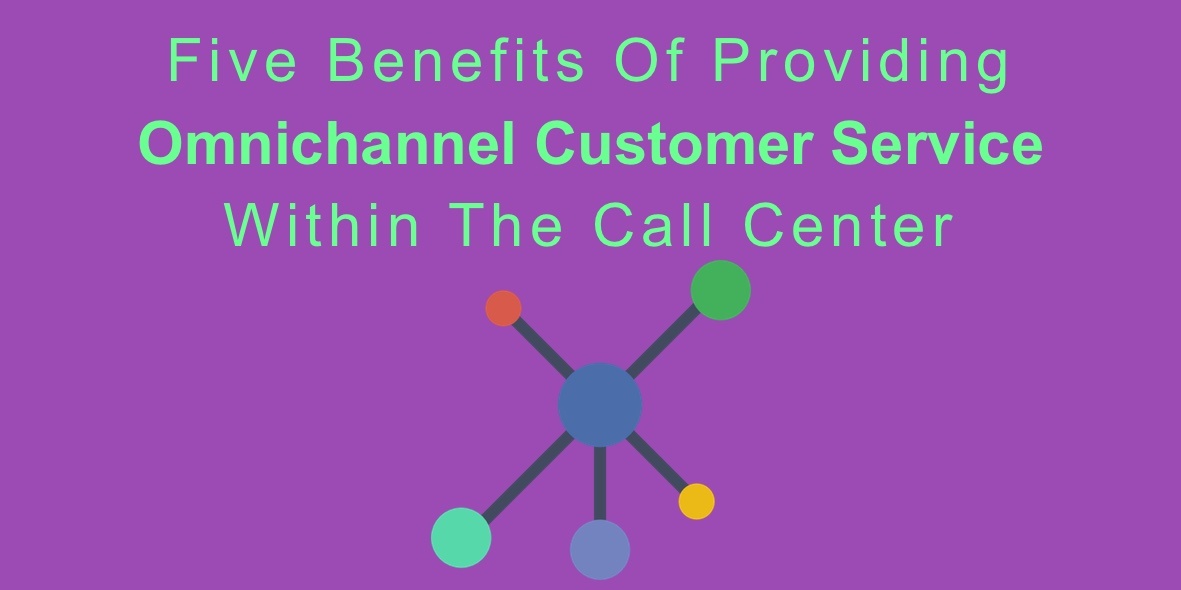 Why you need to consider omnichannel customer service in your call center
Let's say you have not yet adopted another channel apart from your phone lines. Today, it might work and customers might be okay with it, but with ever-changing customer needs, phone support will not be enough to attend to your customers five years from now.
In a recent ICMI survey, 53% of clients said they preferred live chat over phone service. This means that if your product is a good fit for live chat and you are not using it, you are not meeting more than half of your clients' expectations in terms of customer service.
Live chat is just one example.

Other popular channels include:
Forums
YouTube
Webinars
Social media
**Why you need customer self-service and how to do it**

Benefits of omnichannel customer service in the contact center
1. Gain greater customer insights
Omnichannel such as chat, social media, forums and even webinars, leave a recorded written customer trace. Depending on what you do with this data, accumulating customer information in its context can give you a wider scope into how your clients interact with your brand and their different needs across the various channels.

Such information can allow you to tweak and improve your customer service to better cater to your clients.

2. Maximize agent productivity
An agent can only attend to one customer at a time when on the phone. While other channels such as this listed above can serve anywhere from a couple of customers (chat) to hundreds and even thousands at a time (webinars and videos).

This frees agents' time so they can focus on handling more complex issues and bring real added value to the call center.
**Creative ways to improve productivity for call center agents**

3. Bring out the best in your agents
As agents are able to quickly respond to clients queries, this means more time can be spent training agents for more challenging situations.
They can go beyond assisting the standard operational day to day calls and handle more elaborate cases.
Not only is this a bonus for your call center, but agents will feel more empowered and gain a greater sense of responsibility, making them more likely to feel fulfilled and stay within your organization.

4. Avoid attrition
In line with the point above, another benefit of omnichannel is the challenge it presents for agents. The challenge of having to handle more complex cases, needing more in-depth training and the added value they bring, all contribute to an increase in employee satisfaction.

This directly contributes to their wellbeing within the organization and could potentially help decrease attrition.
5. Save on call center costs
Although omnichannel sounds like more time and money, it's actually more cost-effective than dedicating all your agent potential to phone channels. Popular channels today are more of the 'self-help' kind as many clients prefer to search for the answer themselves before turning to an agent.

These self-help channels take a huge operational bulk off your agents shoulders, helping you save on staff hiring and letting technology do the heavy lifting.
---
Omnichannel is the future of customer service. To stay top of mind and in our customers' hearts, we must learn to adapt and improve so we can keep on surprising and delighting our customers.
Source: http://blog.playvox.com/five-benefits-of-providing-omnichannel-customer-service-within-the-call-center
Publish Date: October 28, 2016 5:00 AM