PlayVox - ContactCenterWorld.com Blog Page 5
With call center turnover rates at 25%-35%*, it is a challenge to maintain quality customer service. The success of your organization depends on your staff, and if they're quitting, you need to ask yourself why.
High call center attrition rates are heavy on the wallet. Between hiring, training, benefits and salaries, it is estimated that up to a quarter of annual staff expenses does down the drain.
With that said, one of your main objectives should be to keep your call center attrition rate low by focusing on employee retention.
Employee retention doesn't necessarily mean higher salaries and bigger bonuses. Here are several methods to effectively retain call center staff and reduce call center turnover rate.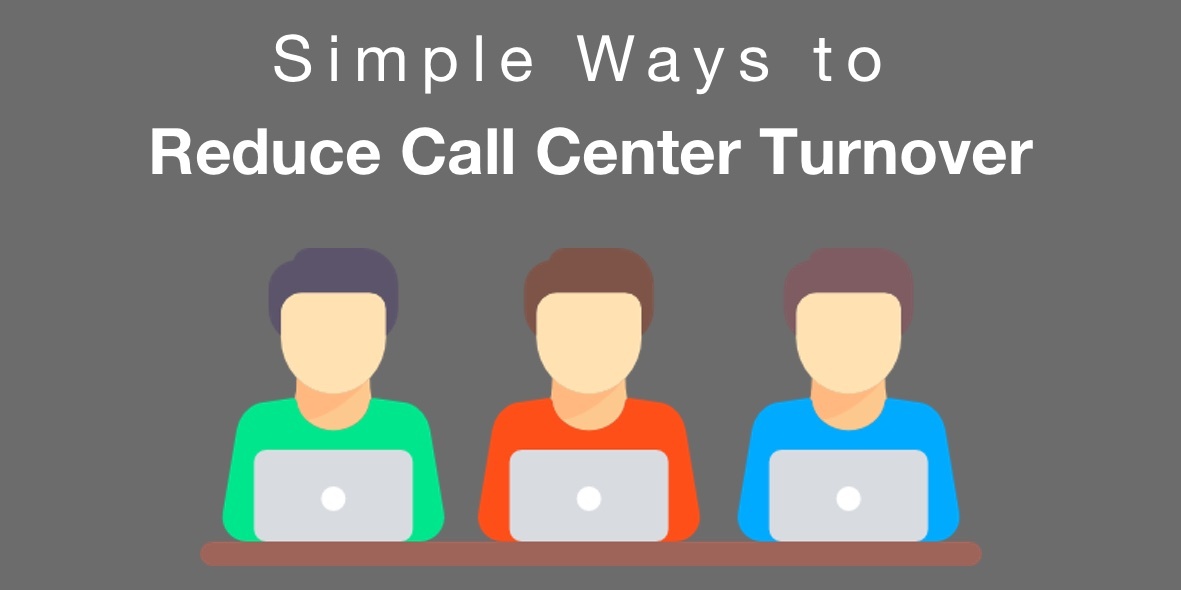 Balanced culture
Set the tone. Make your potential candidates and staff want to work for your organization. Set a harmonious and balanced workplace where employees enjoy working. Some ideas:
Ergonomic workspaces
Fully-stocked break rooms
Good lighting
Spacious desks
Access or discounts to a gym
Next, go beyond the workplace and focus on your staff. Offer flexible schedules, an open-door policy for easy communication with management, and a reasonable amount of paid vacation days.
All these are factors that help contribute to the well-being of your employees and is guaranteed to help reduce call center attrition rates.
**Find out the signs of employee burnout and how to avoid it.**
Hire well
Retention begins from the core. Know your employee profile and where to look for them. Consider the candidate's personality, cultural fit within your company and skills for the job.
**See the importance of a strong call center culture and how to do the same.**
Be clear about the job description and expectations of the job. You don't want your candidate to feel overwhelmed or disappointed once they begin. It's best they know what to expect and opt out before you they sign the contract.
Train well
What's the age demographic you are hiring? Decide which
training method is best according to generational needs
. Often times a variety of learning techniques are needed to accomodate a vast array of needs.
Employees should feel inspired after the initial onboarding period, not defeated and fearful. The more engaging your training methods are, the more likely you are to keep new employees.
Provide career development opportunities
We all strive to grow and improve ourselves continuously, both personally and professionally.
Over achieving employees should not only be rewarded, but given the opportunity to a career path. Having a goal of growth gives staff a long-term goal while KPIs and rewards are more short-term.
Providing employees with long-term goals is a reason to stay and grow with a company that will help them develop their skills and knowledge.
Speaking of rewards, here's
some ideas to spark engagement
.
Give employees the right tools
Go beyond the desk and chair. Giving them the right tools means having
good management
, effective
software
and tried and proven processes.
Having a smooth structure in place lets staff integrate easily and perform their jobs to the best of their abilities without having to sweat the small stuff.
Factors such as CRM system delays, or communication issues between departments or within management can be a roadblock for staff and be a major stress factor. As a result, they are unable to do their job and will be more likely to feel disengaged and unattached.
**Check out our call center horror stories told by customers.**
Hold an exit interview
Employees who are no longer committed to the call center are more likely to share their thoughts about their experience in the workplace.
Take advantage of this moment by asking them to describe their experience and what could have been done better on both sides. Use this feedback to improve the experience for the next round of hires.
---
With these methods of reduceing call center attrition, you can focus more on offering
excellent customer service
and stop worrying about high staff expenses and constant new hiring and training.
Looking to improve employee engagement? PlayVox offers
the perfect platform
to do so!
*Source: Deloitte's Global Contact Center Survey Results 2013
Source: http://blog.playvox.com/reducing-call-center-turnover-for-quality-customer-service
Publish Date: July 8, 2016 5:00 AM
---
Do we learn the same way we did 50 years ago? Biologically maybe. But the way we learn has drastically changed in the last half-century. Technology being the main cataylst for this generational learning curve.
Training call center employees is expensive, especially if the center has turnover issues (which most do). Managers spend countless hours onboarding employees, only for them to quit a month in.
---
The one size fits all approach didnt work for No Child Left Behind, and it doesn't work for adults in the workplace either. Creating an engaging learning environment where employees want to stay starts by examinging their generational differences and needs.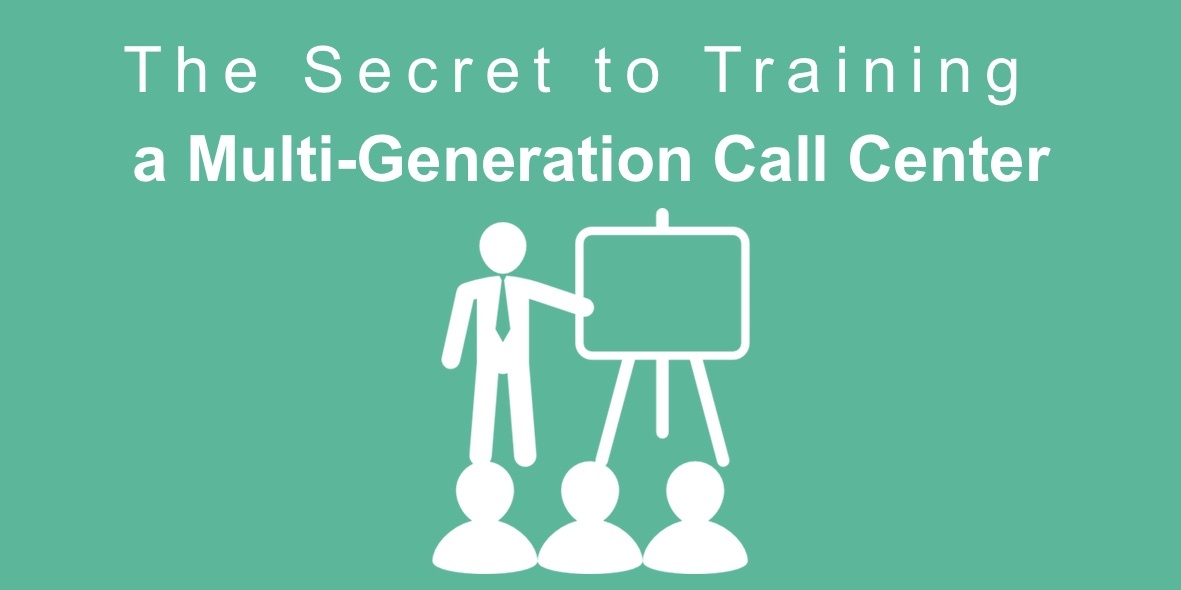 To help you choose the best method for training contact center employees, consider the pros and cons of each training method and how it aligns with your generation demographic.
The traditional classroom
Generation :)
Generation :(
The classroom setting is something we are all very familiar with. A classroom setting gives the opportunity to deliver key information all at once to a large group of employees. It's ideal for introducing new members to the company, share general company updates explain changes in procedures, or even give a refresher on existing knowledge.

The classroom setting can also be used for incorporating storytelling teaching, using real situations to make a point, or have employees break into small groups to analyze call scenarios together.

Cons: Traditional classroom teaching can be one of the most boring and ineffective training methods if used incorrectly. A monotone voice, endless lecturing and lack of interaction will put students to sleep. In addition, don't count on quizzes to test what students have retained as they might just have studied for the exam and will forget the information later on.
Roleplaying call scenarios
Training through roleplaying is an excellent way to give new contact center employees the feeling of real hands-on experience without throwing them into the lion's den. We learn much faster by doing and experiencing things ourselves, and roleplaying gives employees a chance to practice performing the duties of their job without the side effects.

TIP: Pair experienced employees, who can roleplay as customers, with new employees, who can practice handling different types of calls. This will not only train but create a coaching and feedback session for newcomers.

Cons: While roleplaying can give employees an experience very similar to being on the job, scenarios tend to be more simplistic than real calls, and the pressure of the job is absent. Try using audio or scripts from real calls to give employees a more accurate experience and provide feedback.

**See how to provide meaningful feedback for your call center employees**
On-the-job training
Providing on-the-job training is certainly an efficient way to give employees real-life experience. Staff begins to work right away and learn as they go. It's low cost and quick. There's no substitute for the authenticity of on-the-job training, and employees will learn quickly when given the opportunity to take real customer calls.

Cons: Just because on-the-job training has little to no downtime and gives new employees experience, don't assume it's the answer to all your training needs. Throwing new hires into the job too soon can be risky. They can easily become overwhelmed, and without proper support and guidance, they may develop bad habits.

Be sure that employees have some basic training before throwing them out on the field. If possible, pair new employees with a mentor during the initial stages of their on-the-job training so they can get immediate feedback and have someone to come to their rescue if necessary.
Job shadowing
Job shadowing gives new hires the chance to follow and observe a more experienced employee and learn the ropes through their guidance. Shadowing has many benefits, as it gives new hires a chance to see what a successful worker looks like in action. It exposes employees to the same real-life scenarios they would see on the job, but without the pressure of having to respond themselves.
Job shadowing also gives veteran employees who do their jobs well an excellent leadership opportunity, as they can showcase their knowledge and skills.

Cons: Managers must be careful when selecting employees to be shadowed. Choose employees who you have confidence in and who will model the kind of work and behavior you want to see in new employees. Select staff who don't mind taking the time to explain things and can give clear, concise explanations as they work.

Avoid using shadowing as the only training for a new hire. Instead, try combining it with hands-on experience.
Online learning management system
Using an online learning management system for your contact center training enables new employees to train at their own pace and availability.
Information can easily be broken down and when training is completed, the information remains accessible online. This means even seasoned veterans of the company can have one place to go and review anything they need to brush up on at any time.

Not to mention online learning is a one-time effort from the teacher's part and can be reused over and over with incoming hires.

Cons: Just like with traditional classroom teaching, it's easy for employees to become bored and tune out when using an online learning management system. If the lessons presented within the system are not engaging, employees can easily just click through modules without even trying to absorb any information.

Keep online learning interesting by using instructional videos or gamification elements to reward and engage staff.


---
No one call center teaching methos is best. Figure out what methods your staff is most receptive to and mix and match to find the perfect fit depending on the information you need to be passed along?
Looking for a online learning management system for your call center? PlayVox offers the solution to improve your call center quality and employee engagement!
Source: http://blog.playvox.com/which-call-center-training-method-works-best-for-you
Publish Date: June 29, 2016 5:00 AM
---
Live chat should no longer be an innovative support channel. It's a must. Live support gives clients the chance to receive immediate answers to their questions, without having to wait 24-48 hours.
Today, live support is a channel expected from clients. Gone are the days when phone customer service was enough to address concerns. Nowadays, everyone expects answers effortlessly and immediately. A recent study showed that 44% of consumers stated that having their questions answered by a live person during an online purchase was a key feature to making a purchase. In fact, 63% of customers say they're more likely to return to a website if it offers live chat customer service.

So if that doesn't convince you to start offering live chat support service, maybe this will...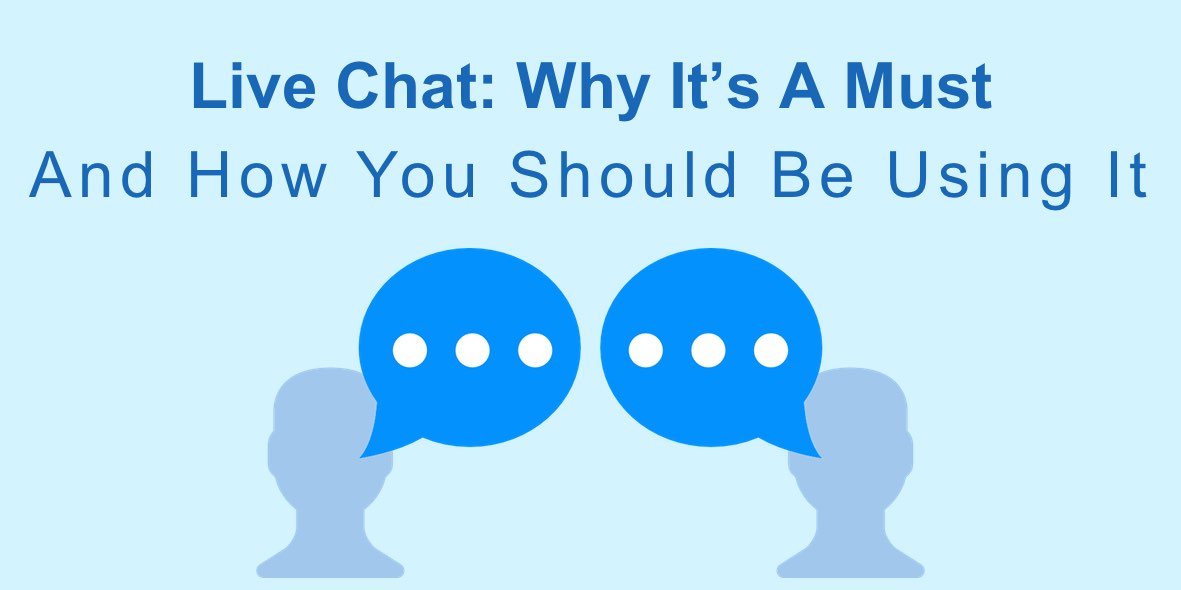 The benefits of live chat customer support

1. Save money and increase efficiency
Live chat support allows agents to juggle more than one customer at a time. They can switch between multiple chat windows putting fewer clients on hold and answering several customers at a time.
Doing so reduces the time spent on each customer interaction. Plus, as agents are able to handle multiple calls at the same time, you can save on staff expenses while maintaining quality customer service.
2. Increase sales
Live chat has been shown to increase the number of sales and average order value for businesses. Customers with doubts about the product or service can enter in a conversation with the company right away to have any doubt clarified before making their decision. It helps them move along the customer journey.

It's easier to sway a customer who is on the fence and strike when it's hot, instead of answering the next day. Not to mention, live chat also helps to upsell, as agents can suggest other products that customers may be interested in based on what they have previously viewed on the website.
**See how to provide excellent customer service in your call center**

3. Stand out from the crowd
As obvious as live chat may seem for businesses, live chat support service is still not very common. Many companies don't offer live chat yet.
Take advantage of this and distinguish yourself from your competitors by offering a live support service. A customer who is shopping around is more likely to be swayed by a website offering live chat, as they can talk with a real person instantly and resolve their concerns on the spot.

It's a small investment that can give you a big edge.
4. Connect with customers
You can enter in a conversation with customers on social media but live chat somehow seems just a bit more intimate.
**See how to handle customer complaints on social media**
Chat support offers an excellent opportunity to communicate one-on-one with customers. This kind of personal communication helps create a stronger bond between the company and the customer.
Customers know they'll receive personalized help creating happier customers and more repeat business for you.

If you're ready to make the leap to live customer service, here's a few tips to creating a great chat service the ensure quality customer service.
How to Use Live Chat

1. Tackle the challenges of written and live support
Just like phone support, agents also need training for live chat. Apart from intact spelling and grammar, more subtle communication practices must be acquired. Things such as tone can easily be misinterpreted when writing, therefore clarity is key.
Sarcasm and other nuances which can be picked up over the phone are hard to detect in writing.

Agents should also be able to communicate to the client frequently and keep them updated on progress. If an agent must consult a question, it's important that they tell the client they are doing so and check back after a few minutes if they need additional time.

2. Be human
Customers reach out through live chat support to contact a human, not a robot.
Apart from agents introducing themselves and asking the client what they need help with, they should avoid scripted texts. Customers easily pick up on it and hate it. If it was obvious on the phone, it's even more so through chat.
Scripted answers should serve as a guide but agents should be able to improvise and be natural. By doing so, it makes the conversation more personal.
3. Adapt to the customer
Don't think you have to be connected 24/7. If you know your clientele and their shopping habits, you might only need to be connected within a certain time frame every day.

Based on this, you can determine when you'll need more manpower and schedule agents according to traffic fluctuations.

4. Collect data
Live chat is great for improving and providing quality customer support thanks to the data it collects. Every conversation becomes a transcript which can be analyzed much quicker than a phone conversation. Customer complaints and pain points can be spotted much easier in order to be acted right away.
Not to mention, inserting VOC surveys within chats get a much higher response rate and allows to gain a well-rounded overview of how agents are doing.


---
Looking into offering a live chat customer service? Service such as ZenDesk, can help you take your business a step further? And if you're looking for improved quality customer service, PlayVox can take your call center the extra mile. Find out how here.
Source: http://blog.playvox.com/live-chat-why-its-a-must-and-how-you-should-be-using-it
Publish Date: June 24, 2016 5:00 AM
---
IVR also known as the Interactive Voice Response is a beloved and hated tool within the contact center world, depending on who you ask and how it is used.
Originally created in the 70's, it has grown from touch tone keypad to voice recognition.
IVR was created with the best intention in mind. Benefits of IVR are many when used correctly, saving both staff and customers time as well as reducing contact center expenses.
Yet could it be that something so good be negatively affecting your customer service?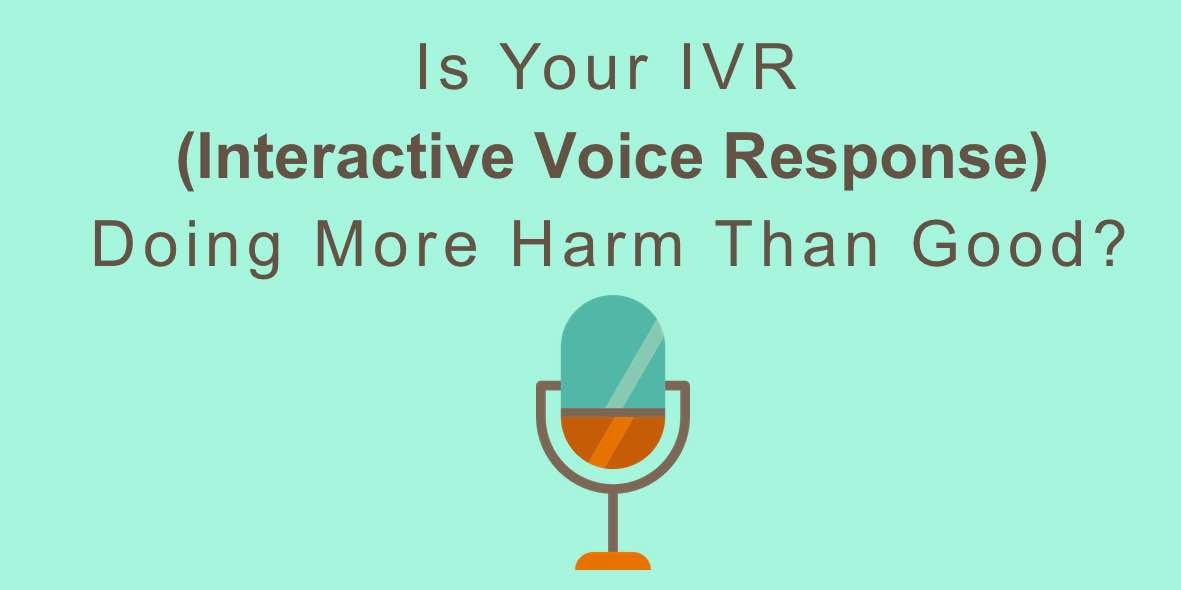 Benefits of IVR (Interactive Voice Response)
Points customers in the right direction
IVR is meant to help clients move along their customer service journey by connecting them to the right department and gather the necessary information needed for and agent to assist them.

Reduces staff expenses
With an IVR, customers don't always need to be connected to an agent at all. If it's a general question, the IVR can assist the customer and give them the necessary information they are asking for.

Answers to account information and FAQs can easily be handed out without the need of being transferred to an agent.

As a consequence, fewer agents are needed, resulting in lower staff expenses. Your agents can focus on giving improved customer service and first call resolution, resulting in happier customers.

**Do you give more importance to First Call Resolution or Average Handling Time?**
IVR does not equal better customer service
It's clear that IVR is a great time and money saver, so why are we still debating it?

Ever been stuck on a complicated IVR and ended up repeating, screaming and hanging up because it wasn't doing what you needed it to?

Point proven.

IVR maps can be are long and confusing, voice recognition can be of poor quality and the entire process can plain out stress the client instead of making their lives easier.
Quality IVR needs quality logistics
Just because you have an IVR doesn't necessarily mean you are cutting costs and giving a quality experience to your customers.

It depends on how agent logistics are being handled.
How are you organizing the shifts of your agents?
Have you analyzed peak hours, holidays and months?
How are you managing the number of agents according to peak activities?
Poor logistics can result in overworked agents, which can directly impact your customer service. Agents are an integrated part of your IVR and also need to be taken into account.


**See how to boost call center retention rates **
The importance of human touch
Gartner studies show that by 2020, customers will manage 85% of the relationship with a company without interacting with a human.
**Looking to provide a more personalized customer service?**
It might be debated that clients preferring automated self-service have doubled to 55% in the last five years. And it's true that as a first resource, customers like to do their own online research browsing through forums, blogs, videos, tutorials and FAQs to get their answers before picking up the phone.

However, if clients still need further assistance, they expect a human to guide them through the technicalities they were unable to figure out themselves.
Even if having a reliable, intuitive and intelligent IVR system for your customer service experience is essential, we cannot underestimate the power of the human touch when it comes to customer service.
As of today, no machine can empathize and deduct from logical reasoning like a human does.
Constructing a smooth IVR experience
Options are good, but too much of a good thing is not. When interacting with an IVR, keep options limited. Having customers listen until Option 9 is every clients' nightmare.

In addition, IVRs can also serve the purpose of collecting customer data in order for agents to attend them faster once they are connected. Yet, many times, the same information gets asked twice. Why is there a disconnection between the IVR and the agent? It's a bump in the customer service road that needs to be fixed.
---
IVRs is not the answer to cheaper and better quality customer service. IVR is a mere tool, and must be used and set up the right way for it to work.

Is your IVR up to par or in need of some revamping? What do you recommend doing to have an all-star IVR? Share your thoughts in the comment box down below!






Source: http://blog.playvox.com/is-your-ivr-interactive-voice-response-doing-more-harm-than-good

Publish Date: June 17, 2016 5:00 AM
---

Social media is a more direct and personal way for your brand to connect with customers. However, customer service on social media has also become an outlet for clients to tune into when their issues are not being addressed or dealt with effectively through other channels.

Because of the nature of social media being such a public and open space, for the sake of your business and brand reputation, it's best that every customers' cry for help be solved as soon as possible

Below, we lay down a plan of action for you to adequately handle customer complaints on social media.


1. Be aware
The internet is an infinite space for sharing information. That's what makes it so great, yet so scary. You can only respond if you are aware the information or complaint is out there. It's easy if it's on your social media page or account as you can control when you receive notifications depending on the type of interaction a client has with your organization.

But how do you catch brand mentions outside your social sphere?

Set up alerts for your brand mention across the web using free tools such as Google Alerts or tools available within your current CRM. Whatever you do, don't let a customer complaint on social media wander around without addressing it.
2. React quickly
Being responsive to a customer complaint on social media shows you are willing to take responsibility and that you care about your customers' experience. Not to mention it stops an issue from growing and taking a life of its own as other readers add and comment on the original concern.
**See examples of excellent customer service examples and how to do the same.**
3. Put yourself in their shoes
Social media is most likely not the first outlet that your angry customer has tried to contact you through. Customers turn to social media because they feel they are not being seen or heard through other channels. It's a way to get your attention. When you get in touch, thank them for contacting you and be understanding of their frustration.

4. Do your research
Understand your customer's complaint and research their case well within your company before replying. If you can solve their issue without much further discussion, bonus points for you. By knowing your stuff without having to contact the client to have them explain everything all over again, you'll impress your unhappy client and turn the cards in your favor in the eyes of your social media followers.
**See how to speak the language of personalized customer service.**

5. Take it elsewhere
If the case too complex to resolve on social media, offer to connect with your client on an adequate channel. By steering the conversation away from the public's eyes, you are able to better control the situation in case it escalates.

6. Stay cool
Don't expect unhappy customers on social media to be polite.

However, don't take it personally and lose your cool. No matter how rude, being empathetic to their situation always helps. It's the brand they're angry with, not you.

By staying professional and keeping the brand voice you avoid feeding the fire and your followers will respect and appreciate you for it.

7. Say sorry
Such a powerful word, yet so underused. It's hard to admit wrongdoing but when your brand is at fault no matter the reason, it's important to acknowledge it.

Customers don't care if your provider did not deliver or the post office was on strike. Apologize and propose a solution instead of giving an excuse.

8. Provide a solution
Social media is used as the last resort for customers to reach out to your brand. Propose a solution to their problem, if not you can expect it to escalate whether it be through them or other users.

No one wants a YouTube videos with hundreds of thousands of view of someone sharing how bad of an experience they had with your brand.

Offer a discount, a freebie, an add-on or that they try your service again free of charge. You're guaranteed a huge return on investment at little cost to you.

9. Correct misinformation
Sometimes customers make it look much worse than what it really is. While interacting in a public space, it's important to not only resolve the issue publicly but tone it down and share the reality of the situation if there is any misinformation.

Don't paint the picture pink, but if your product was delivered 2 days late when the customer said it was a week, mention it politely when providing a solution.

10. Recognize and ignore trolls
There's a difference between an unhappy customer and a social media troll.

Social media trolls complain for the sheer pleasure of getting a reaction out of your brand and your followers. They are not looking for a solution and have no legitimate complaint.

They can usually be spotted due to their poor grammar and punctuation, their use of capitalization throughout entire sentences, hate speech and personal attacks.

Block, delete, report and move on.

11. Let your advocates do the dirty work for you
Who doesn't love loyal brand followers? They know you better than you know yourself and always have your back. When someone asks a question about your brand, they'll answer, when someone trashes you, they'll defend you.

Your love is rock solid.
---

Believe it or not, handling customer complaints on social media can be a gift in disguise. The whole world can see how your company strives to make things right and please their customers. When you fix a situation of an unhappy customer publicly, you reassert your brands' credibility and gain loyal followers.

Ready to tackle the challenge of social media and brand reputation?

.
Source: http://blog.playvox.com/11-steps-to-handling-customer-complaints-on-social-media
Publish Date: June 15, 2016 5:00 AM
---
The number one reason that customers stop doing business with a company is because of the poor service they received. Go online, and you'll find thousands of YouTube videos of people sharing the gory details of their customer service horror story at a particular business and how badly they were treated.

With more selection and access to information than ever before, potential customers will probably keep in mind the 10 minute YouTube rant they saw next time they decide on where to buy a product from.
Smart companies understand the value of their current customer base, and recognize the power of delighting them in order to keep them coming back for more. They know that acquiring a new customer is much more expensive than maintaining an existing one.

And not to mention that it is by focusing on existing clients that companies are able to broaden their customer base through the ever-so-powerful word of mouth.

With that said, organizations can begin to do so by ensuring that every point of contact and interaction with a customer ends on a positive note. These connections essentially strengthen or break a customer relationship.

Let's take a look at how to have drive consistent quality across customer service channels for an award-winning customer service.

Locate your customers
A big challenge for companies is choosing what social media platform to be present on. Do you open an account on Google+, LinkedIn, Pinterest, Instagram, Facebook or Snapchat? Or just do all three?

To make it easy and help you determine where to focus your time and energy: just be where your customers are.

See where customers and potential clients are talking about your brand, or similar products. Are they tearing apart the competition on Reddit? Join the conversation and provide the solution they are clearly looking for.

To find out where your customers are, search each social media site for mentions of your brand or particular keywords of interest.

Don't leave dialogue about your brand unanswered, be there to pounce on the opportunity when presented.

Prepare your agents well
Training provides a standard quality across employees. Do they have an answer to how to approach different scenarios? Give them the tools they need to put a smile on every customer's face.

Have a complete and up-to-date knowledge base for reference, continuous training opportunities, and regular feedback.
**See how to give productive feedback**
Have a good CRM system
Customers can't tell agents apart whether they contact your call center through email, chat or phone. You're all ONE brand. Therefore, when they are on the phone repeating the situation already discussed through email, it's normal when they can get annoyed.

With a good CRM system to record client history and information, your call center is guaranteed to provide quality across channels for an award-winning customer service.

You'll be able to anticipate their needs and give more valuable information for consistent quality across the different points of contact.
Already have a CRM and want to take it to the next level?

Use VOC
In-house metrics are super important when it comes to quality monitoring. However, don't underestimate the voice of the customer. Through a few well-though out questions, you can find out if they are thrilled with your service and what they would like to see more of.

Call center scorecards and quality metrics are essential to have a positive VOC, therefore, let the customer be your guide to how good of a service you are giving. Has your team exceeded AHT and having a hard time measuring FCR? If your VOC is positive, all is in order.

**Are you giving priority to AHT or FCR?**

Read critically
Sure 100% of call center agents are literate, but are they understanding and reading between the lines of a customer's issue?

Help your agents develop their cognitive reading skills and see the important message within a customer email, chat or even CRM history.

In addition, clients might not always be fluent in the language being used in your customer service. Agents must be able to piece the puzzle together and discern the message.

And not only might the customer message be poorly drafted, but address several concerns at once. Agents must be able to read completely and address each concern individually.

Although seemingly easy, it's so frustrating for clients to receive incomplete or wrong answers simply because the agent did not read a query well.

Use the brand voice
Your company has established a culture, mission and uniform image to project onto the world. Your call center needs to reflect that image. The accent, wording, tone of voice, and skill of your agents all communicate brand image.

If you have a company selling hearing assistance earpieces for the elderly, consider avoiding teenagers selling and assisting with the product. Instead, go for more senior profiles who can better understand the needs of our clients and will be more relatable.

Speaking the same language doesn't limit itself to speaking English, but means using the same dialect, tone of voice, accent, and even way of thinking.

Be quick to respond
Time is of the essence when a client sends a query. Whether it be through chat, email or phone, don't keep them waiting.

When it comes to live help such as phone or chat support, a customer expects an instantaneous response and little to no waiting time.

Social media should constantly be monitored and a few hours to respond is usually acceptable.

As for email, an answer is expected within 24 hours.

Leave room for improvisation
Agents should have access to a library of high-quality prewritten content to use to answer customers' questions. Or better yet, a complete forum with answers to common challenges they might encounter when dealing with a customer.

But customers easily pick up on canned chat responses and don't care for them at all. Agents come off as mindless robots when all a customer really wants is to deal with a human. As a result, agents need to be able to switch from template to free text when needed.

Monitor the conversation
Your agents are on the right channels and are busy connecting with customers and resolving queries. You have taught them well and have placed all necessary tools at their disposal. Now what?

Your call center must continue analyzing ongoing conversations in order to continuously close the gap in the customer service experience.

By monitoring the conversations across channels through objective metrics, you can provide actionable feedback to improve agent performance and customer service.


---
Trying to achieve uniform customer service quality across channels? What challenges have you faced?




Source: http://blog.playvox.com/9-tips-for-consistent-quality-across-channels-for-award-winning-customer-service
Publish Date: June 10, 2016 5:00 AM
---
Which call center doesn't strive for quality? Step one to call center quality and stellar customer service starts with quality call center staff. A well built onboarding program is one of many the tools to go about achieving uniform quality and great customer service.
While the turnover rate in call centers is high, with just over one in four employees leaving their call center positions each year, a successful onboarding program can increase employee retention rates by up to 25%. Not too shabby.
Before we even begin the onboarding process, it's important to hire well. Call center managers must determine the criteria of the employee they are looking for and tailor the hiring process accordingly in order to attract and hire the right staff.
Choosing the right employee can save the organization a hefty amount of money annually as the cost of training and hiring each new employee can be two or three times as much as the employee's salary.
Having a great onboarding program helps to reduce these costs and increase retention rates by integrating new employees with the company culture, showing new employees the ropes of how to succeed in their position, and helping new hires get off to a productive and happy start in their new work environment.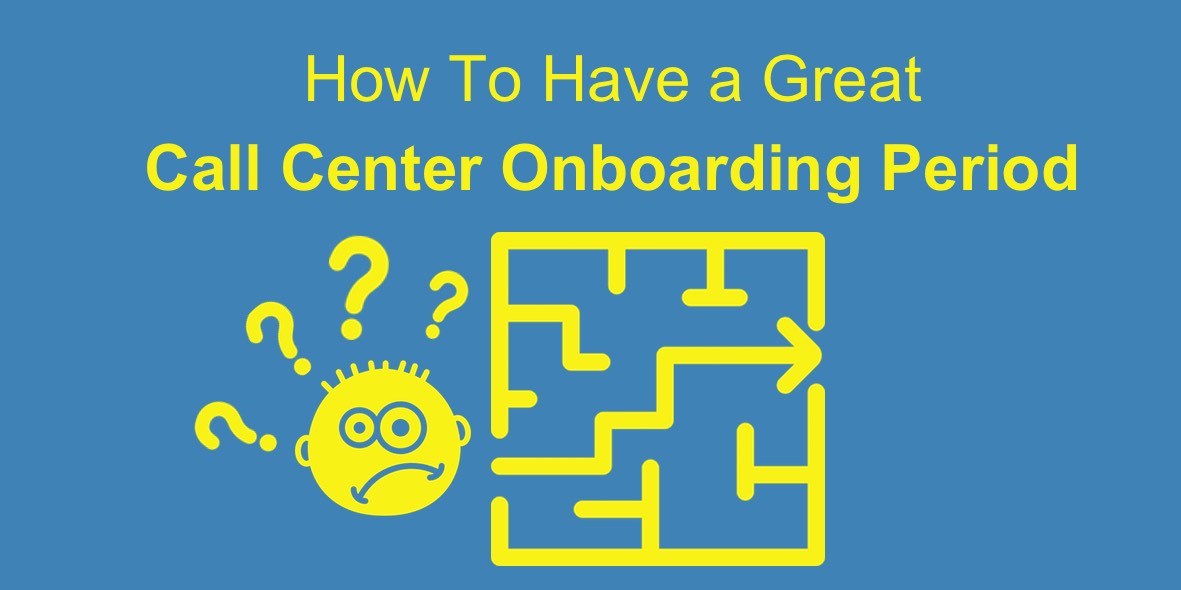 Create a knowledge database
A lot of information is delivered during the onboarding process, and it's easy for new employees to be overwhelmed and not remember the technicalities afterwards. By creating a knowledge database of forum, such as a wiki, employees can easily access key information at any point in time.
Find a way to keep the database up to date that's easy and works best for everyone. Allowing employees to add to the database themselves also ensures that valuable information that might otherwise be overlooked will be included. With everything in one place, new and old employees alike have one go-to spot to look up anything they need to know.
Make training interactive
Software training can be boring. Typical software training involves new hires passively watching while a trainer demonstrates how to use the software. However, most people learn better through hands-on experience.
Consider creating a series of interactive training modules. With interactive modules, employees actually use the software themselves, following instructions to explore different features and accomplish set tasks. This allows employees to learn by doing, rather than watching.
As a bonus, employees can also move at their own pace through modules, so they don't have to waste time with things they already know and can spend more time learning what they need to know.
Gamify the process
Gamification, the process of turning ordinary tasks into a game. A growing number of organizations are adopting gamification as a means of motivating their staff.
Bringing out our inner child, it's natural to want to progress to the next level or get the next badge or reward. In the workplace, gamification rewards employees for completing certain tasks or reaching performance goals.
During the onboarding process, creating a "beginner's level" for new hires can help them get acclimated. This will also get employees engaged and motivated to complete training. Rewarding employees for completing certain training modules, or offering quizzes on training materials with rewards for high scores, can encourage new employees to learn skills quickly.
**Find out how PlayVox can help you gamify your call center.**
Provide social support
Even if a new hire learns how to do their job quickly, that's no guarantee that they'll stick with the company. If employees feel isolated, they're more likely to dislike their job and eventually quit. Social interaction and a positive call center culture can contribute greatly to job satisfaction.
Offering social events for new employees to get to know one another can help. Creating opportunities for employees to socialize outside of work-related functions can also create a more pleasant work environment for all employees.
Provide peer mentors
Call center employees often work in isolation, and this can leave new hires feeling lost and unsure about where to turn for help. Assigning an experienced employee to mentor new hires can help tremendously. A peer mentor gives new employees someone to go to with simple questions, and a mentor system can help new employees get acquainted with less formal aspects of the job, integrating them fully into the company culture.
Additionally, giving new employees a mentor gives them deeper company insights that they otherwise might not have known about. Simple things such as who to ask or what to do when problems arise can easily be shared through a little socializing.
Extend the onboarding period
While it's important to get new hires working as soon as possible, offering continued support after the typical onboarding period allows new employees to start working while still getting help when they need it.
Consider putting new employees in less demanding areas that allow them to learn the ropes without overwhelming them. Placing new employees in one area of the office, where they can be monitored and supported, can help, too.
This is also where having a mentor or support network can help, as it allows new employees to quickly get one-on-one support when needed.
Follow up with new hires
Conduct surveys of employees after several weeks or months to get feedback on your onboarding program. See what areas employees continue to struggle with, and provide additional training for these employees.
Surveying new hires can also shed light on improvements that need to be made to the onboarding period and offer employees a chance to give feedback and know that their opinion is valued.
---
Have any tips to share in order to have a great call center onboarding period? Share it with us in the comment box down below!
Source: http://blog.playvox.com/how-to-have-a-great-call-center-onboarding-period
Publish Date: June 8, 2016 5:00 AM
---
Quality assurance can often times be a disconnected process from the rest of the contact center operations. While quality managers are busy trying to improve agent performance, support managers are focused on keeping clients happy.

Although both managers have different responsibilities, their end goal is the same. This might not be clear at first sight as the relationship between QA and support managers is not always well-defined and often times the communication and data get lost in translation.
To keep the QA process running smoothly and transparent starting from an agent's performance to the happy customer, here are a few tips on how to align quality and support managers for maximum results.

Quality is not the bad guy
Time and time again we have discussed how quality monitoring is constantly portrayed as a negative activity within the contact center. Agents see it as a sort of Big Brother that keeps a close eye on their every move. Yet, QA's main purpose goes way beyond employee monitoring.
**See how to do balance customer service with quality and quantity.**
To weigh in on this topic, we brought in Danielle Fisher, an expert in customer success strategy in call centers for over a decade:
One way to help QA monitoring move away from being seen as the villain is by having quality managers stop acting like 'quality cops'. QA managers can begin to do so by partnering up and creating processes and direct lines of communication with support managers.
QA should do more than pass along data. They should make it transparent for support managers to take next best actions. They should make it visible to agents in real time. The result? Accountable support leaders. Engaged agents.
Support managers should also play a part in erasing the negative image of QA assurance. As they have immediate contact with customers, they can relay the results of the implemented QA activities and their direct impact on customer service. This serves as a motivator, builds a sense of teamwork, and gives QA the credit it deserves.

How can this be done? Through manager collaboration.
Manager collaboration
Even if QA and support managers have very different responsibilities, their individual results could drastically improve if they worked together to identify performance gaps.

Forget quality managers gathering data in the form of fancy reports and passing it along to customer service managers for them to figure out what to do with the information.

There should be a regular, open, and ongoing discussion between both parties in order to create an improved performance improvement program for the agents.

A complete program comprising of well-built training, feedback and coaching sessions taking into account both the ever-changing customer needs and agent performance gaps.
**See more ideas for team activities and how to create a strong call center culture.**
Having a transparent alliance between QA and customer support, helps both parties better do their job and connects the whole contact center so everyone feels part of the same team, working towards the same goal.
---
How are you working to align QA in your contact center? Share your ticks of the trade with us down in the comment box down below!
**Check out more about call center quality assurance best practices**
Source: http://blog.playvox.com/make-the-most-of-your-call-center-quality-assurance-using-this-trick
Publish Date: June 1, 2016 5:00 AM
---
Quality assurance and monitoring is a tough job. However, it's a very necessary one. Quality monitoring is what ensures that customer service standards are met and excelled through the use of an adapted set of metrics to measure agents' performance.

But once the data is gathered, what do we do?
How do we analyze it and take action upon it?
If one of your main responsibilities is to analyze this data and create and implement action plans to meet the metric goals, fear not, we've got you covered.

Quality is often times disconnected and left behind, with no real action taken on the data provided. Yet it's so valuable as it shows us the good, the bad and the ugly. So don't take quality metrics for granted, here are a few ways to take it to the next level and improve your customer service.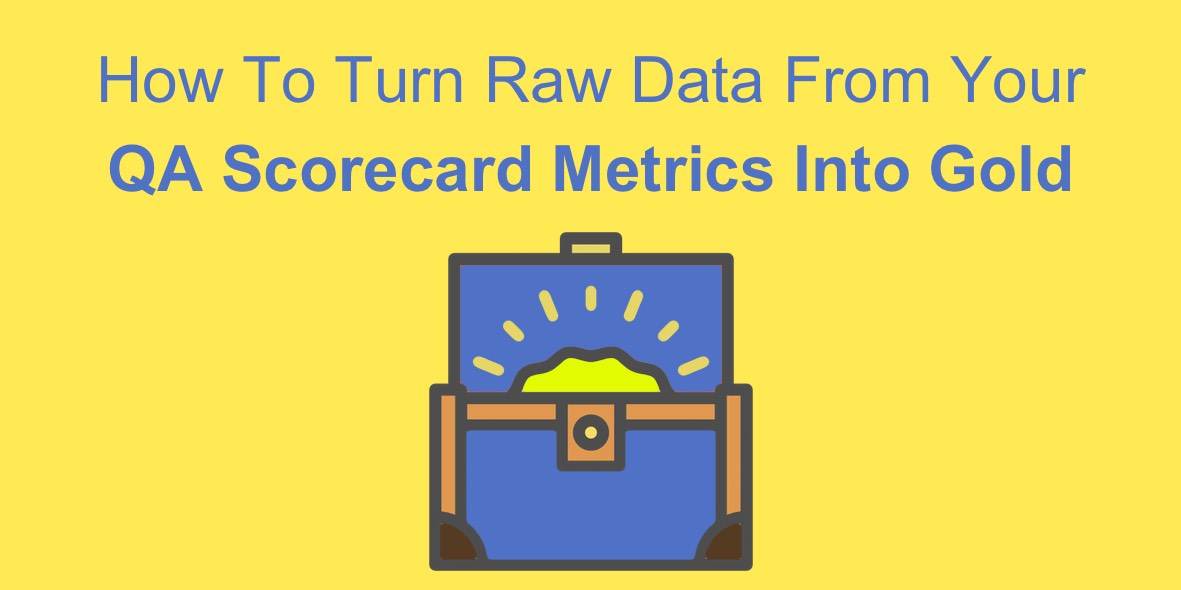 Give factual feedback
If you have put in place the right metrics to measure quality, you'll have a great base to give factual and productive feedback to your agents. Use it to back up your case and make productive suggestions. Having the right data can help provide objective reasoning to improve and change and agent performance.

TIP: Remember to hand out feedback in a objective and useful manner. Be empathetic and show willingness to help an agent improve.
Read more tips about how to give great coaching feedback.
Drive data to the agent in real-time
Wouldn't it be great if the agent could see how they did with a client a few minutes after the communication ended? By having a software in place where the customer can rate the the quality of the service and pass the information along to the agent immediately, management can save an immense amount of time (and money).
Plus, it lets the agent how they did while the event is still fresh in their mind; they can rectify skills and behaviors in a self-directed fashion.
Coach underperformers
The truth is in the numbers and once your data is analyzed, it will be easy to spot who is meeting their metric objectives and who is not. To be on par, start with those who need a little boost. Data from QA scorecard metrics can give you the outlook to provide coaching to those in need. Whether you provide hands-on coaching or coaching through specific software, this is the opportunity to set new goals for underperformers to help them catch up to their coworkers.

TIP: Set a deadline and a clear path to how to go about reaching agreed upon expectations.
Reward overachievers
QA data also makes it clear to see who is going above and beyond. It's important to let employees know they are valued. Don't be shy and show your appreciation through a clear reward system. It could be a program such as Extra Mile points to be redeemed for gifts. Or public recognition of a job well done.

TIP: Smaller achievements shouldn't go unnoticed either. As a manager, recognize agents by showing your appreciation publicly. Whether you voice their merit vocally or in writing through an online communication platform or a simple office white board, showing a little love is always welcomed and motivating.

In essence, the key to making the most out of the data produced from QA scorecard metrics is to drive the information back to agents so they can improve front-line customer service.


---

Having tons of raw data can be confusing, time-consuming and a headache to decipher. Why not eliminate the fuss? With the help of the right software to analyze the information, it can be presented to you in a user-friendly way so immediate action can be taken, making your job just that much easier.

We don't mean to brag, but at PlayVox we provide solutions so you can manage QA, Employee Feedback, Communication and even Training from a single platform. Say goodbye to excels in the contact center and become a Call Center Quality Rock Star.

Find out how to better your Salesforce or Zendesk quality process with PlayVox today!
Source: http://blog.playvox.com/how-to-use-raw-data-from-qa-scorecard-metrics
Publish Date: May 27, 2016 5:00 AM
---
Quality and quantity seem like two contradictory ideas that couldn't possibly go hand-in-hand. However, unlike call center myths would have you believe, call center agents must be superhumans and make both quality and quantity work at the same time.
Especially with KPIs such as AHT, call center agents feel pressured to maintain calls under a limited amount of time while trying to provide a quality customer service.

This challenge can be more easily tackled with a little help from technology.

Using the right tools, contact center agents can effectively handle calls while keeping the customer happy.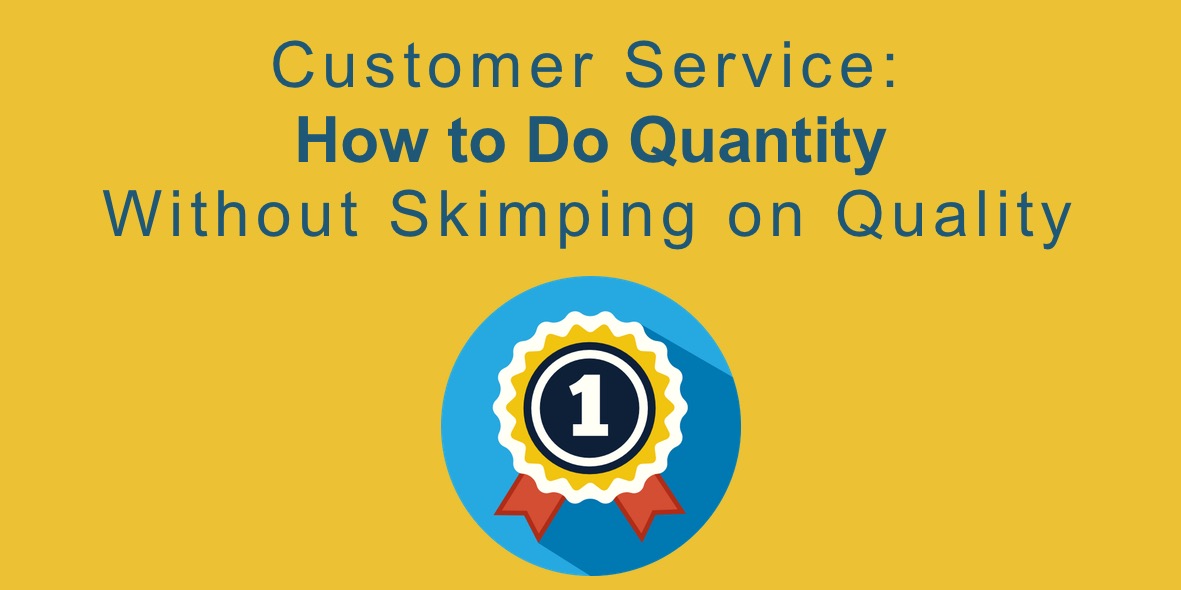 1. Let the customer help themselves
Save agents and customers time by providing a self-help service. Be this a forum, FAQ or YouTube videos, put the most common questions and answers at the hands of customers for them to easily find. Customers will thank you for putting this information at their disposal and agents will be grateful they don't have to explain how to reset a client's password for the hundredth time.
2. Redirect the call to the right person
Perhaps your client got lost in the IVR. Somehow they ended up in the wrong agent's hands. To avoid having the customer re-explain their case over again, agents should be able to listen carefully and explain the situation to the next agent on the line. This not only saves the next agent time but saves a lot of frustration on the client's part and verifies that the next agent is indeed the right person to handle the case.

It's a small detail that makes all the difference. Both the customer and your colleague will thank you for it.

**Read more examples of excellent customer service stories and how to do the same.**
3. Access complete customer history
It's probably not the client's first time calling. Meaning that they will most likely have a history with the brand and its customer service. Save time and provide a personalized customer service all at once by having agents read up on the customer's notes to anticipate their needs. Tools like Salesforce, Zendesk, and Five 9 can help you do this more efficiently.
This will save time as agents won't have to review the customer's issue from scratch. Thanks to the notes, they will be able to see what has already been tried and tested, helping them find the next best action.
4. Offer to call back instead of placing on hold
This one seems pretty self-explanatory, however, it is not practiced enough. If a client has a complicated issue that requires a bit of investigation, don't be afraid to offer to call them back instead of placing them on hold. By offering to call back, the agent frees up the customer and avoids having them wait too long while letting them research the case with less pressure of having to meet the AHT.
5. Analyze feedback and the metrics
When all is said and done take a look at agents' performance metrics and see if they were able to meet their goals in terms of quality and quantity.

From there, adjust the metrics and coach or reward as necessary. Quality monitoring software like PlayVox can help scale these practices in real time and offer more transparency across teams. Coupling platforms like Zendesk or Salesforce with PlayVox is a smart move toward increasing efficiency while still offering the best support possible.
**See 4 non-monetary ways to boost agent performance in your call center**
---
The catch is to stay quick without losing quality. But at the end of the day, if a choice should be made over AHT or First Call Resolution, customers should always come first.


Source: http://blog.playvox.com/customer-service-how-to-do-quantity-without-skimping-on-quality
Publish Date: May 19, 2016 5:00 AM
---
Call center quality assurance and quality monitoring is one of the main assets that helps provide outstanding customer service. Yet, due to lack of communication, more often than not QA is seen as a top-down process; instead it should be an integral part of the contact center.
Focusing on how to improve quality and the role it has in a call center, we will take a look at how to bring typically isolated quality assurance practices to an integrated model.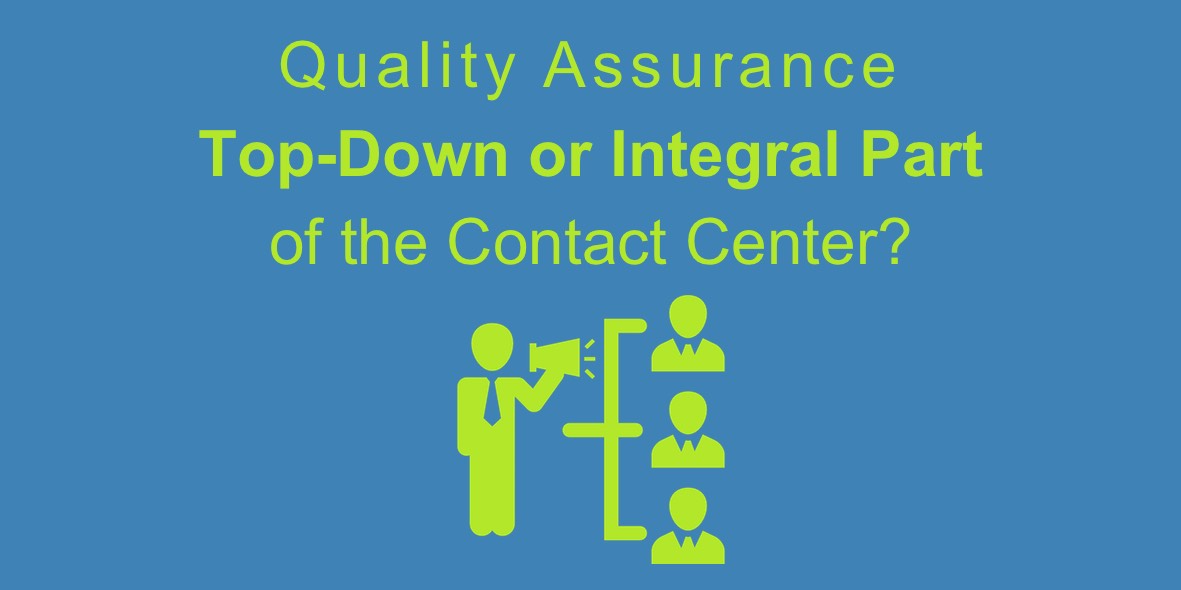 Consolidate technology
Quality assurance needs quality tools. But we know the reality. Most of us use one program for call recording, one for quality reports, and yet another for distribution of the information. Often times the latter is done manually through Excel or Google docs. The entire process is disconnected and inefficient.
This delay results in customer support team leaders and agents not getting the metrics they need quickly enough. This top down approach is insane. How can team leaders take next best actions to improve agent skills (ie. coaching, recognition) when they don't have the quality reporting and analytics they need in real time?
Instead, consider a quality management tool that can do it all.
There are many tools out there that can work together to integrate call recording, analytics reports and customer intelligence such as Zendesk (better for ticketing) and Five9 (better for calls). PlayVox integrates with both so quality analysts, support managers, and agents are working toward an integrated approach to improve the customer experience.
By using the tool that centralizes all quality monitoring steps, not only will you save time and keep the process going smoothly, but employees across different departments will have access to all the information enabling them to better understand the why and how to their job.
Let feedback flow from all directions
You can easily break away from the stereotypical feedback sessions given from managements to front-line employees.
How can you do it?
If you use a consolidated platform, quality reports will be transparent and visible to team leads and agents in real-time. Team approach.

Have team managers coach to specific metrics using automated form technology, not just face-to-face or manually.

Attach calls or tickets to that coaching form so that quality, managers, and agents can see what's being referred to.

Allow agents to give their feedback around that coaching session. Comment, reply, etc so that it's a two-way system, not top to bottom.

Organize general trainings for newcomers in order to set standard guidelines and expectations on how to manage calls.

Hold regular group sessions where agents can listen, analyze and score each others calls as a group.

Schedule one-on-one sessions for those who need further coaching in order to work one specific issue and give them the opportunity to debate if needed.
Quality provides the data and should have visibility to how team managers are using that data to coach agents to improve behaviors and skills. Agents should also have direct visiblity on quality and be able to give their feedback. Consistent coaching and feedback is key.
This transparent, team approach creates more interactivity and empowers agents to improve customer satisfaction. It also holds team managers accountable for being effective at their job.
**Read about how to give productive feedback**
Consolidate processes
Quality assurance and monitoring usually feels separated and isolated from other departments. As a result, data does not get analyzed properly and results do not get passed on to the agent for them to improve customer service. It's time to link the chains together!
Get the ball rolling so it becomes an automatic process without the need for management input.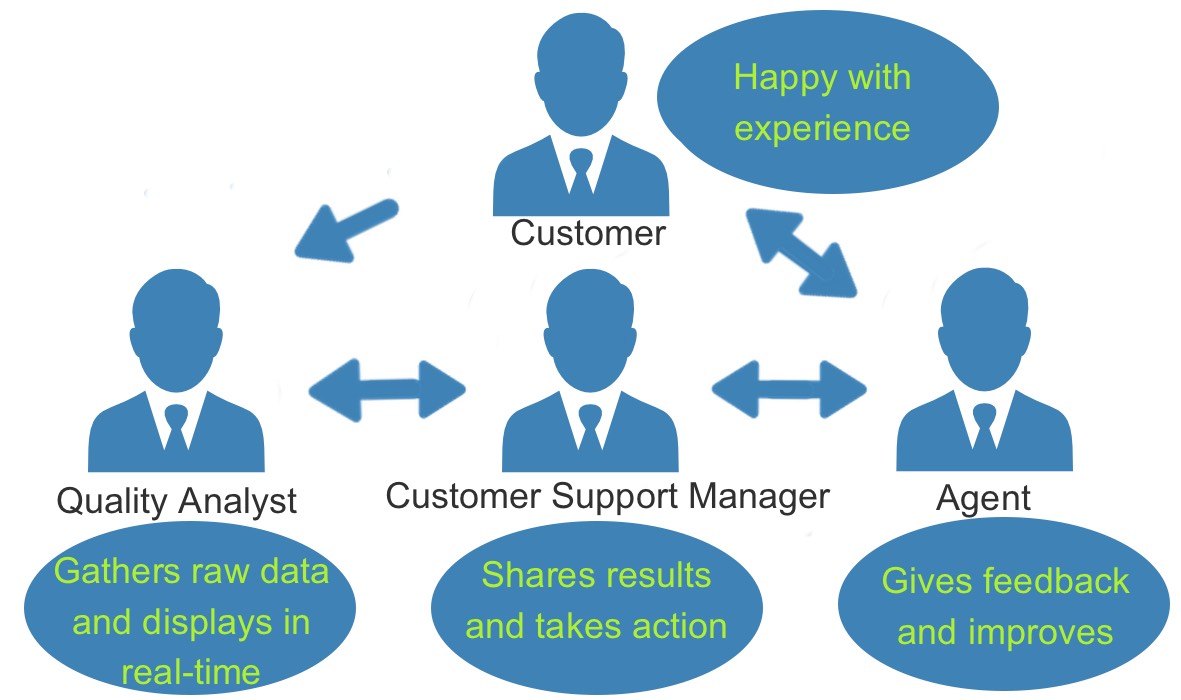 1. Connect Quality Analysts to Customer Support Managers so that they can pass on the data that needs to be analyzed. This can be done through automatic report sending and shared access to a common drive.
2. From there, the results need to successfully reach the ears of the agents. One easy way to do so is through scheduled regular feedback sessions in any of the previous forms mentioned above.
3. From there, agents will have all the tools and knowledge at their disposal to improve and give data to Quality Monitoring so the process can keep rolling.
---
By syncing all departments together, there should be no need for management to get involved, removing the hierarchical appearance of Quality and turning it into a team effort.
Source: http://blog.playvox.com/quality-assurance-top-down-or-integral-part-of-the-call-center
Publish Date: May 13, 2016 5:00 AM
---
It's common that management can feel disconnected from front line employees. Because of this, management can forget the stress and energy required to handle calls and resolve customer issues all day, every day. It's a tough job but someone's got to do it.

As a result, it's important to keep employees satisfied in order to maintain low turnover and customer service quality high.

But before employees come asking for help or telling you they won't be continuing any longer, keep your eyes open for signs of burnout symptoms within your office before they even approach you. Instead, be the first to approach them.
Be in touch with staff and make sure that motivation levels are maintained. If you spot someone who looks like they need a boost or has had a sudden drop in performance or morale, reach out and see what you can do to help that person.
It is important to spot and correct signs of burnouts before they become a full-grown problem.
Employee burnout not only affects your company performance but can cause some real damage to your employees. Staff who experience burnout can suffer from anxiety, depression and severe and chronic health conditions. It's something we probably wouldn't even wish for our worst enemy!

So avoid bad vibes and keep your call center employees in tip top shape, here are a few tips to avoid employee burnout and stop signs of burnout in their tracks.

Give employees flexibility
There is nothing more demotivating than for a person to not feel in control of their lives. Employees are grown-ups and should be able to take their own decisions when it comes to choosing their work schedule, vacation days, and appropriate workload. Each person is different and only they know what fits them best.

By giving employees the choice to manage their time and work, they can handle their work-life balance their way they see fit. By empowering staff to be in control of their time management, you're guaranteed to have more fulfilled and productive employees.
Set a friendly environment
A huge percentage of our lives is spent at work, therefore, we should try to make it as pleasant as possible don't you think? The workplace should be a safe environment where people can collaborate, be productive, and even make friends. Create an environment that people feel comfortable in and that is pleasant to come to every morning.

**Learn more about why it's important to let your agent socialize.**

Do not tolerate bullying or harassment and I have the right procedures in place if such issues arise.


Be on the same page with your employees
When hiring, hire people who you think would be a good fit in your call center, not just the first person for the job.

Are your values aligned?
Do they understand the company's goals?
Will you accommodate any specific needs or requirements the employee might have?
**Learn why and how to create a strong call center culture.**

What about job expectations? Is it clear to your employees what you expect of them? But even more important, are the expectations attainable and there is a clear path to how to go about achieving it?

Being clear and straightforward from the start avoids misunderstanding and disappointment further down the line.


---

The most important is to be able to spot and stop burnout symptoms before they get worse and attack the employee's mental and physical health.

Have you ever dealt with employee burnout? If so, how did you handle the situation? Share your experience with us in the comment box below!
Source: http://blog.playvox.com/signs-of-employee-burnout-and-how-to-avoid-it
Publish Date: May 11, 2016 5:00 AM
---
Every single company we know out there claims that customers are their top priority, and everything revolves around their clients. Yet, how many do we know actually live by this rule?

Outstanding customer service is not only for expensive products and services. No matter how small, every customer is entitled to top notch service.

We've all heard those incredible stories of above and beyond customer service where brands respond personally to individual customers, surprise their customers in times of hardship and basically act like their best friends.

Yet personally, it's easier to recall customer service horror stories than incredible ones.

We decided to ask a few people to share inspiring examples of excellent customer service that they've experienced. Not only are they fantastic but they are extremely easy to replicate. Who said it had to be hard?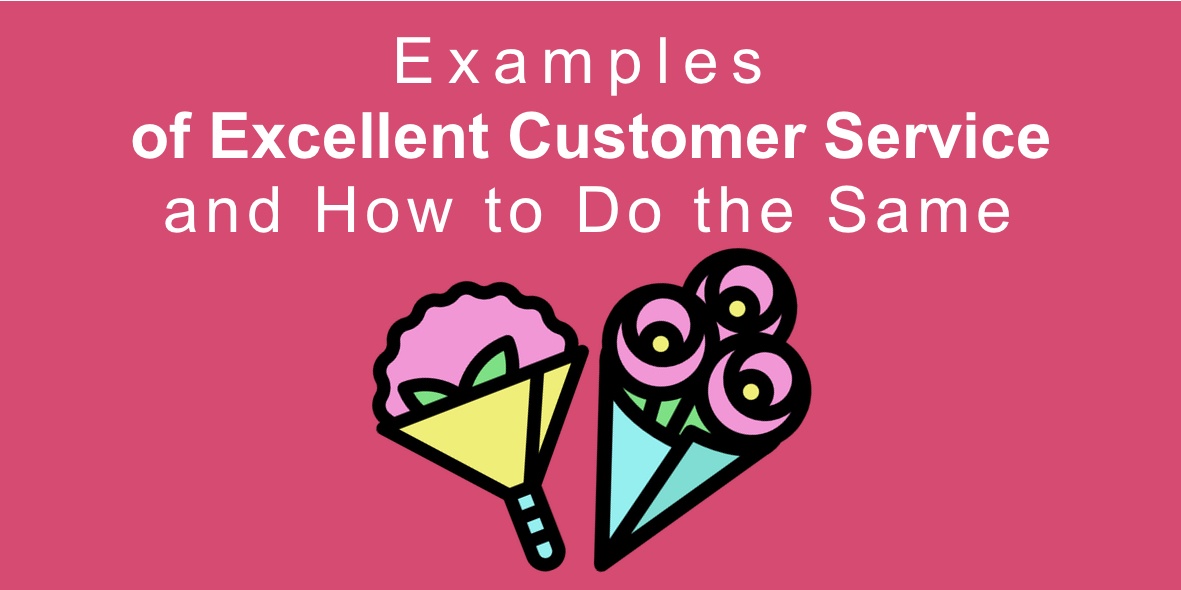 Anticipating the next move
Susan (Mommy Blogger, Colorado)
I'm not a techie but I bought a social media bot service to promote my website. I wrote to the company because I was not able to perform a certain task and Alex from their support community wrote back telling me that he had taken a look at the backend of my website and that the system I was using did not coincide with their program, but that I should contact my hosting company because they could probably change it.

It really appreciated the fact that he had taken the time to see what was truly the matter instead of giving me a generic non-relevant answer.

How to apply it:
Anticipate a customer's questions and research their case before responding. Don't respond for the sake of responding with links to your company's forums which you think would be helpful (which usually aren't). The customer wants to interact with a human, not a computer.
Something just for you
Thomas (Foodie, Florida)
There was an ice cream shop that just opened in a not so busy area close to my home and during the first month they opened, every time a customer walked through the door, all the employees would sing for each person. It was so welcoming that despite its not so great location, the ice cream store was constantly filled to the brim. It was a great feeling to receive such a special welcome for buying something as simple as an ice cream.

How to apply it:
Make your customers feel special. Even if you're doing it with all other customers, give them that extra something that will make them smile. Whether it's calling them 'rockstar' or telling them they're awesome, making them feel unique is a sure bet to win them over.
**See how call center agents can personalize their service**

Adding a human touch
Karen (Stay-at-home mom, Arizona)
One time I was grocery shopping when halfway through my list, I realized I had forgotten my wallet at home. I approached the cashier and explained my situation, who then told me not to worry and that I could finish doing my groceries and he would bring them to my home along with the credit card processor so I could pay by card back home.

I was grateful that I didn't have to make the trip home to pick up my wallet and as I didn't have enough cash to pay, was super happy he brought along the credit card processor. It's definitely not something you see every day!

How to apply it:
The individual of the company broke away from procedures to accommodate a customer's needs. Even if procedures are in place, don't be afraid to add a human touch and see if you can go beyond your day to day tasks to make a customer happy.

Throw in a little extra
Jeremy (Writer, California)
The first time I rented an apartment on AirBnb in Europe, a lovely young lady welcomed me into her apartment and handed me the keys. After she showed me the amenities, she went on to tell me that she had bought a few basic ingredients so I could make my own breakfast in the morning. I was won over by the small attention and it made by stay just that much nicer.

How to apply it:
When you have a long-time customer, or a customer that gets a premium service, feel free to show them your gratitude by offering them a special attention or discount, add-on service, etc. If they a huge asset to your company, take them out to lunch, send flowers on their birthdays and gift baskets on Christmas. It's a small cost that can bring lifetime business and positive word of mouth.


---

You don't have to fly cross-country for incredible customer service. However, you should give your customer success managers and agents the liberty to provide experiences that stand out and that won't easily be forgotten. Adding a touch of human warmth is sometimes what can make all the difference.
Source: http://blog.playvox.com/examples-of-excellent-customer-service-and-how-to-do-the-same
Publish Date: May 6, 2016 5:00 AM
---
It's in our nature to continuously strive for more, better and bigger. Let's be honest, call center pay will not make millionaires. However, if you're looking to get more out of working in a call center, we're here to help.

As a call center employee and depending on the offer and structure of your organization, there are ways to get a bit more than just your monthly paycheck.

Let's talk about a few ways to earn more money working in a call center; because there are better things you can do besides working those unwanted shifts to earn an extra buck.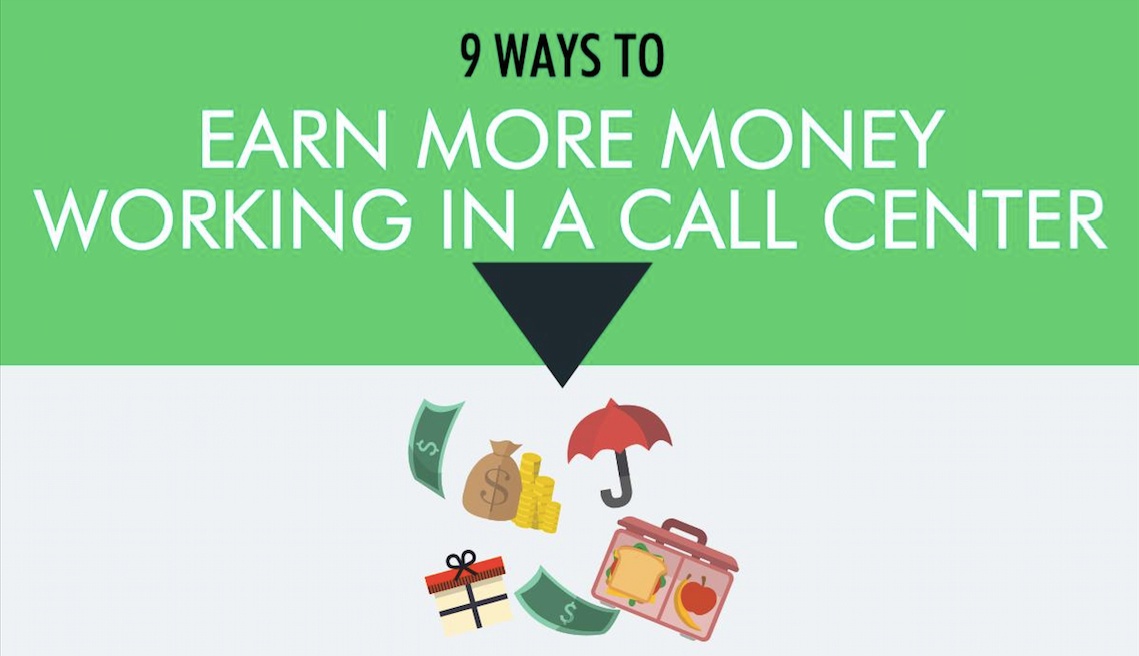 1. Sales commissions
Are you the type of salesman that can convince anyone to buy just about anything? If so, you might want to get paid based on commission along with a base instead of receiving a fixed monthly income.

You call center offers 12% commission? Nothing is set in stone and everything can be negotiated. Try increasing your commission percentage. Even a one or two percent increase can make a big difference in your salary if your ringing in large sales.

2. Ask about the extras
Working in a call center might not sound like the sexiest job. However, don't be afraid to ask about the perks. You might be surprised to find that as a call center employee, you are entitled to transportation aid, food vouchers, insurance benefits and more. You won't get if you don't ask. And these extras can add up to several hundred dollars a month.

3. Employee referral
I've known several companies which offered rewards based on the level and skill of the employee you referred that got hired. If you hear that your company is looking for the next Steve Jobs, publish the offer across your extensive social network and put it to work for you.

But first, find out if your call center will reward you for doing so. And if no program has been established, talk to management to see what they can do about it.

4. Know your performance metrics
Be aware of the metrics your measured against and the goals that you are expected to meet. By doing so, you're able to align your tasks to reach those goals and be the employee of the year.

5. Set target bonuses
Discuss with your boss and define clear goals which would entitle you to a bonus. Make sure they are challenging yet attainable and not unrealistic.

6. Performance reviews
Now that you have set clear goals to reach in order to receive your bonus, you must also set dates for performance reviews. Without performance reviews, management will not be able to see that the target goals were met and you will not be able to cash in your hard work.

This will define if you are entitled your bonus or need some extra coaching in order to get there.
***Read about best practices for call center coaching***

7. Show initiative
As a front-line employee, you receive great insights that management doesn't have access to. Be sure to speak up about any new idea that your call center could potentially benefit from.

By voicing your ideas, not only do you show that you are a dedicated employee, but you demonstrate that you are able to think outside the box by providing solutions.

8. Be a team player
Working in a call center tends to provide a stand-alone environment. Be different and be the team player of call center employees. Help your coworkers when in need, listen when necessary and be the person that people can count on when they need support.

It's by being a team player that you become a team leader.
***Read about why socializing is important in the call center***
9. Learn a new skill
What does it take for you to reach your desired job? Do you need to improve your communication skills, tech skills or industry expertise?

Whatever it may be, pinpoint the area of improvement and work on it. Bonus points if you work with a mentor that can monitor your progress and be a legitimate voice to vouch for you at the time of asking for that raise or better job.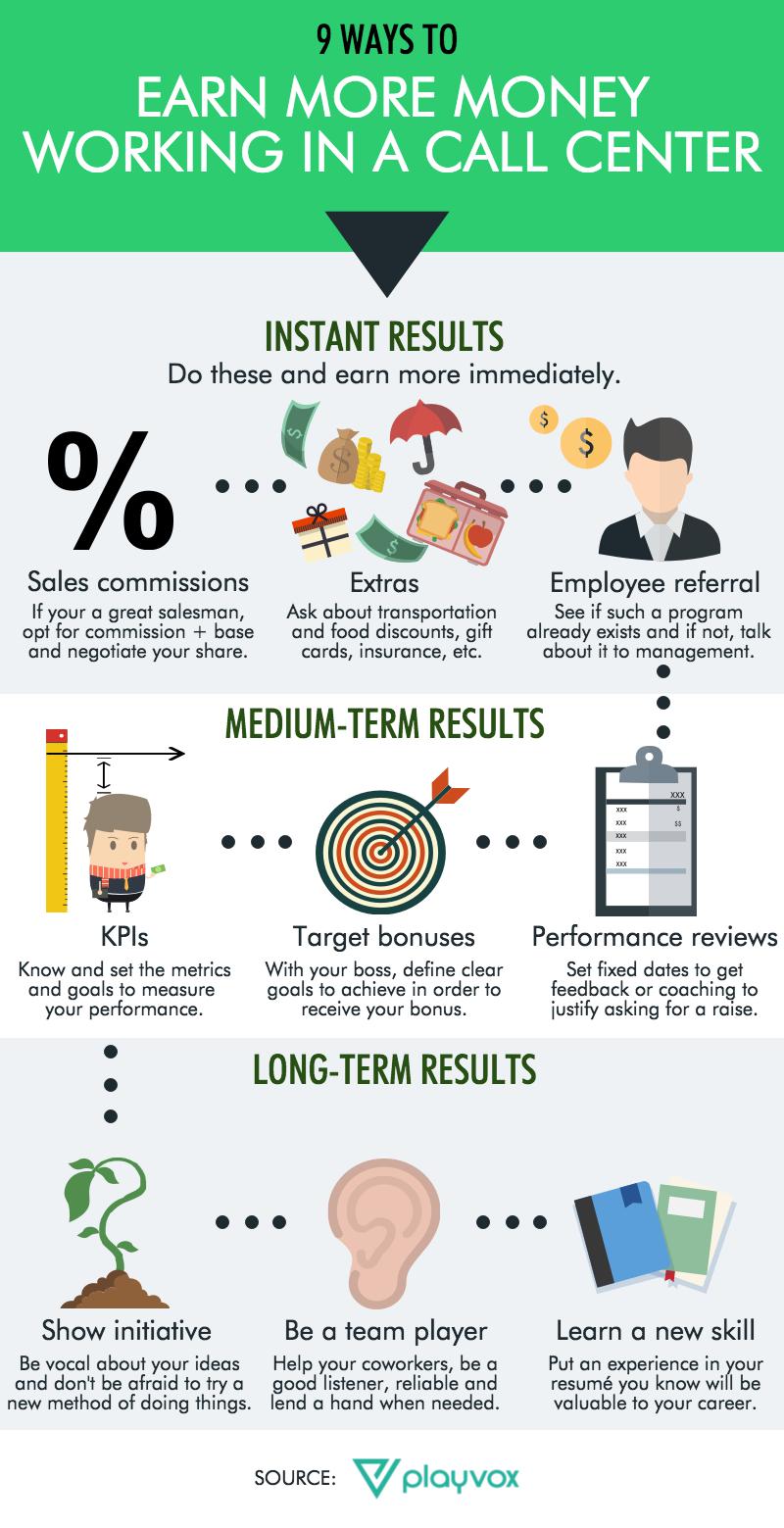 ---

OK sure, there might be no easy way to earn more money working in a call center. As a call center employee, you must work hard and show for your work which is essentially what will lead you to more opportunities and a better salary.

No guts, no glory!
Source: http://blog.playvox.com/how-to-earn-more-money-working-in-a-call-center-infographic
Publish Date: May 4, 2016 5:00 AM
---
The job of a call center agent would be easy if all they had were happy customers calling to say how great their service is. Unfortunately, it's not always the case.
For the most part, customers call when they have a problem. This means it's very probable agents deal with more than one unhappy customer a day. While some customers keep their cool more than others, many will be hurried, stressed, and unfortunately, even rude at times.
However, working in the customer service industry it's our job to find solutions to their issues and give them great service, even if it might seem hard to do at times.
We are only human and it's normal we react to stress. Nonetheless, it's important we understand that the customer has nothing against us personally and it's our job to empathize and solve their queries.
As customer service is often done through phone, chat or email, a huge part of our communication is lost: our body language. Experts say body language is 80% of what we communicate to another person.
With this absent, we must emphasize the second most important communication tools: our tone of voice followed by our words. By knowing how to master both, you will be on the path to customer service success.
So you don't have to search for your words or regret what accidently slipped out of your mouth, here are a few customer service phrases to help you get started on the job.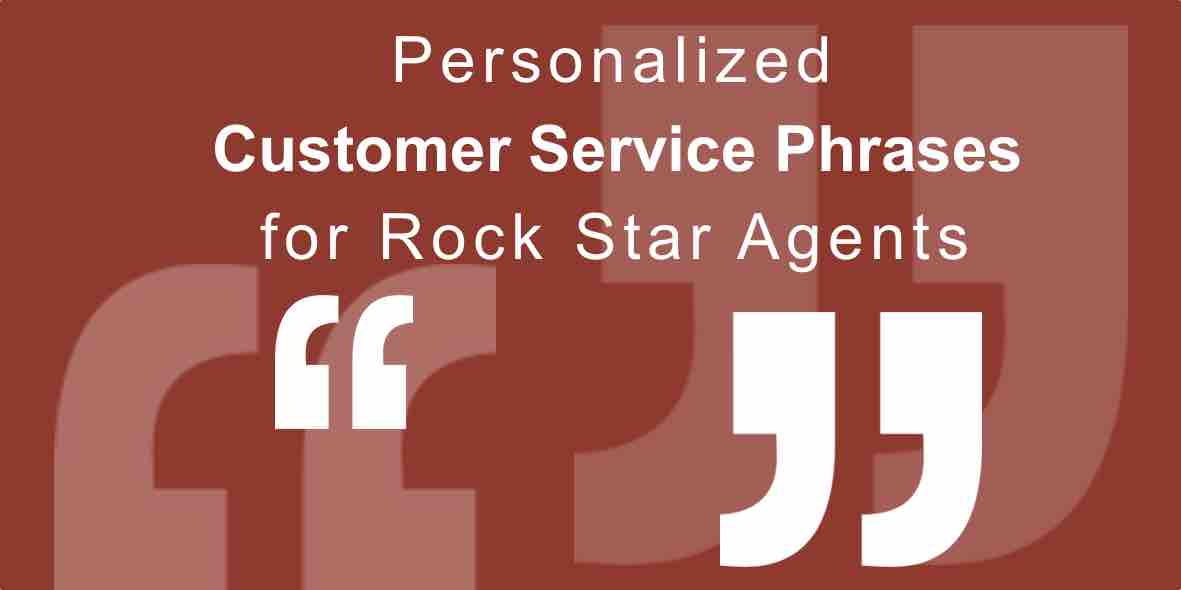 Openers
"Good morning/afternoon/evening!" my name is … how can I help you?

Nice to meet you, my name's … How can I assist you today?
Tackling a problem
Do you mind holding while I check on that?

I can certainly help you…

I understand you are… , let me see what I can do to help you.

That's a great question, let me see what I do for you (name of client)

I know how confusing it can be when…

I'm sorry this happened to you (name of client)

(Name of client), I understand your concern. Let me see if I can reorient your call to someone who might be able to better assist you.
Closing a call
I'm glad I could help, have a great day (name of client).

It was my pleasure assisting you today (name of client).
Is there anything else I can do for you (name of client).

Do you have any other questions for me today (name of client)?
Your opinion helps us improve. Would you have a minute to tell us/share what you thought of my assistance?

Thanks for your honesty and taking the time to tell us…..
---
These starter customer service phrases show that as an agent, you are willing to collaborate and able to empathize with the customer. In addition, inserting the client's name in your conversations makes it more personal and doesn't sound like the typical canned answer.
***Learn more about giving personalized customer service***
Do you have any advice as to how to handle a sticky situation with a customer or how to push the right buttons without adding to the fire? We'd love to hear more about your ideas in the comment box below!
Source: http://blog.playvox.com/personalized-customer-service-phrases-for-rock-star-agents
Publish Date: April 29, 2016 5:00 AM