The Fastest, Easiest Way to Add Secure Phone Payments - Plum Voice - ContactCenterWorld.com Blog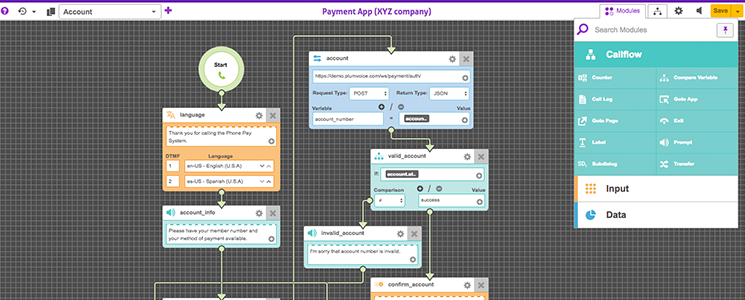 Simplicity. It's something that many people want, but few attain. This especially rings true when we're talking about telephony. Combining telephony with other complex tasks, like payment processing certainly doesn't lend itself to simplicity either.
Yet many companies, especially those that process recurring payments, find themselves navigating on a daily basis. Using an interactive voice response (IVR) solution helps to reduce staffing needs, but IVR adds yet another layer of complexity to the equation.
Too often, IVR is a time suck, pulling valuable resources away from other projects. This makes it difficult to manage. Historically, you've always needed developers to write code for a custom IVR or use a turnkey IVR that is next to impossible to customize. Neither of these options leaves much room for simplicity.
Don't Settle
As a company that deals with telephony, payments, and IVR every day, we set out to deliver the simplicity that companies need. First, we created Plum Fuse, which removes the need to write code in order to build an IVR by providing an intuitive, visual, drag-and-drop app editor.
Visualizing the application creation process has lots of benefits. Having a visual reference to refer to in real-time makes it easier to see changes and how they relate to other aspects of the application. Creating and editing voice applications has never been easier.
While Fuse offers a level of reliability, flexibility, and security unmatched in the IVR industry, it remained clear that even greater simplicity was possible. Therefore, we built payment processing application for you.
Discover Simple
Our pre-built IVR payment application is configured to allow customers to pay bills over the phone using either a credit card or a bank account. Companies can use the app as is, or, because it's an app on the Fuse platform, users can customize, update, and change the stock app to fit the needs of their customers and business.
Built by IVR experts, our payment app saves companies weeks or even months of development time. With this app and Plum Fuse, it's easy to test and deploy your application in a matter of hours or days.
Because payments include sensitive financial data by default, our app is also a PCI-DSS compliant. In fact, the entire Fuse platform is PCI-compliant. Plum Voice is the only custom IVR vendor to offer this level of data security.
Decisions should never be made in a vacuum. Thanks to VoiceTrends, Plum's purpose-built analytics toolkit, Phone Pay provides actionable data about your payment application.
Regardless of the type of payments your company processes, recurring or otherwise, the new pre-built payment app from Plum Voice provides you with a simple yet powerful solution that lets you get up and running quickly, and to process more payments, faster.
Sign for Fuse today and try it for yourself.
Source: http://www.plumvoice.com/resources/blog/phone-payments-simplified/
Publish Date: May 11, 2017 5:00 AM
---
PREMIUM

Avizent Ltd
(VIEW OUR PAGE)

Advanced AI technology and Natural Language Processing delivered to clients in the Cloud that harnesses both voice and digital conversations. The focus is on building an environment where intelligent ...

(view more)

PREMIUM

ConceptCall
(VIEW OUR PAGE)

Аутсорсинговый контакт-центр ConceptCall| КонцептКолл специализируется на исходящем и входящем телемаркетинге: мы предоставляем услуги по осуществлению холодных звонков и продажи по телефону, проводим...

(view more)

PREMIUM

CTI Software
(VIEW OUR PAGE)

CTI Software is the creator of custom application called Davos, which complements the telephone client solutions with intelligent features such as automated call attendant, call recording and archivin...

(view more)
---
View more from
Plum Voice
Recent Blog Posts:
| | |
| --- | --- |
| Bring Your Own Telecom: Is it Worth Doing? | July 26, 2018 5:00 AM |
| Visa Verified: Plum Voice Secures a Listing on Visa's Global Registry of Service Providers | July 12, 2018 5:00 AM |
| What You Need to Know about Poor Call Quality | June 7, 2018 5:00 AM |
| Fairly Allocate Call Transfers to Multiple Contact Centers | May 17, 2018 5:00 AM |
| Making Natural Language Processing Feasible with Artificial Intelligence | February 8, 2018 5:00 AM |
| Outsourcing or DIY? Find the Right IVR Development Approach | November 30, 2017 5:00 AM |
| IVR That Saves $5M per Month | November 16, 2017 5:00 AM |
| The Limitations of Speech Rec & How to Combat Them | November 2, 2017 5:00 AM |
| Why Not All IVR Software Is Created Equal | October 17, 2017 5:00 AM |
| How to Get More From Your IVR with Artificial Intelligence | September 28, 2017 5:00 AM |